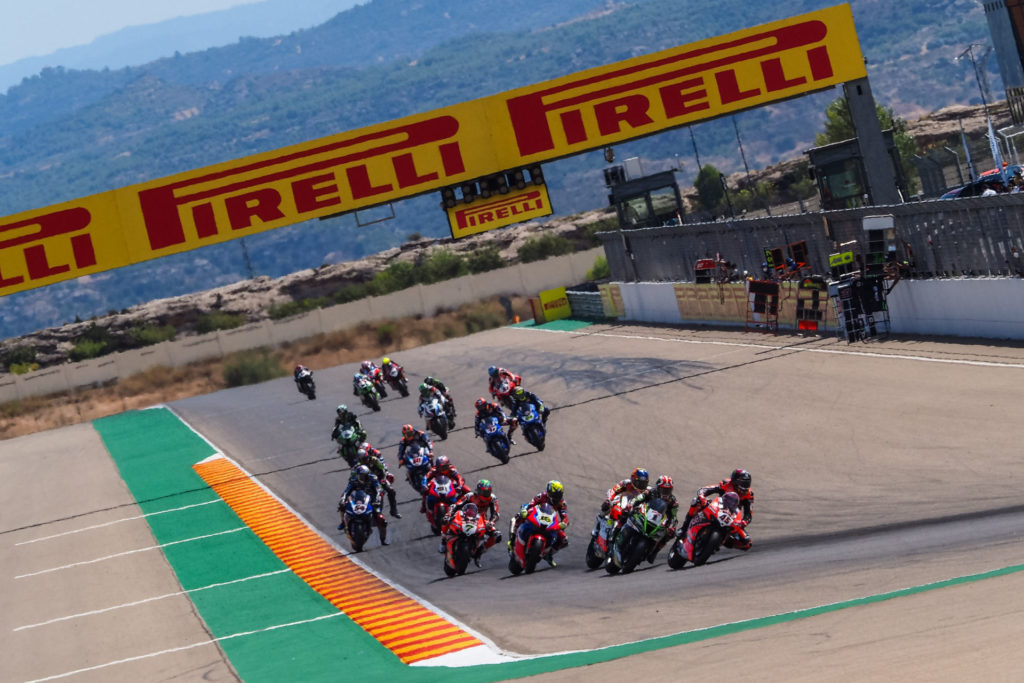 More, from a press release issued by Dorna WorldSBK Press Office:
#TeruelWorldSBK – Day 3
Rea battles Rinaldi to claim thrilling Teruel Race 2 win
Race-long fight between Jonathan Rea and Michael Ruben Rinaldi ends with Rea taking his 96th WorldSBK career victory
A thrilling battle in the MOTUL FIM Superbike World Championship between Jonathan Rea (Kawasaki Racing Team) and Michael Ruben Rinaldi (Team GOELEVEN) was the story of the day at the Pirelli Teruel Round as the reigning Champion extended his Championship lead to 36 points. The pair duelled throughout the majority of the 18-lap race with Rea coming out on top; Scott Redding (ARUBA.IT Racing – Ducati) finishing in third place.
Redding passed Jonathan Rea (Kawasaki Racing Team WorldSBK) on the opening lap but two corners earlier than he managed in the morning's Tissot Superpole Race, with Redding passing the reigning Champion at Turn 13 to take the lead of the race having lost out to Rea at the start of the race.
It was Michael Ruben Rinaldi (Team GOELEVEN) who took advantage of the Redding and Rea battle on Lap 6 when Redding and Rea went wide at Turn 8 fighting each other, allowing Rinaldi to cut back through Turn 9 and get the run on both riders; eventually diving down the inside of Redding to take the lead.
Rea was able to get ahead of Redding and pull out a gap of around one second to Redding, allowing the five-time Champion to start applying pressure to Rinaldi. It would take Rea until three laps left of the race before he could pass Rinaldi; the Italian rider not buckling under the pressure of racing with Rea, coming home to finish second behind Rea and claiming his third podium in three races. Rea had a couple of huge moments during the race; making a superb save after running wide while trying to pass Rinaldi while he also had to make another save at Turn 1 shortly after passing Rinaldi.
Redding was unable to respond to the leading duo and came home in third place, securing a podium place but finds himself now 36 points behind Rea in the Championship standings. Leon Haslam (Team HRC) secured his best result of the 2020 season with fourth place, finish more than a second clear of Alex Lowes (Kawasaki Racing Team WorldSBK) in fifth. The duo finished five seconds ahead of Michael van der Mark (PATA YAMAHA WorldSBK Official Team); the Dutchman coming home in sixth place.
Michael van der Mark's teammate, Toprak Razgatlioglu, finished in seventh place ahead of Loris Baz (Ten Kate Racing Yamaha); Baz finishing more than five seconds behind Razgatlioglu and holding off the challenge from GRT Yamaha WorldSBK Junior Team duo Federico Caricasulo and Garrett Gerloff as five Yamaha machines finished inside the top ten.
Eugene Laverty (BMW Motorrad WorldSBK Team) just missed out on a top ten finish with 11th place, less than a second away from Gerloff. Marco Melandri (Barni Racing Team) scored a points finish with 12th place, with Xavi Fores (Kawasaki Puccetti Racing) in 13th. Matteo Ferrari (Motocorsa Racing) secured another points finish on his WorldSBK debut with 14th place, ahead of Roman Ramos (OUTDO Kawasaki TPR). Takumi Takahashi (MIE Racing Honda Team) was the last classified runner in 16th place.
Tom Sykes (BMW Motorrad WorldSBK Team) became the first retirement from the race when he pulled into the pits on the opening lap while Maximilian Scheib (ORELAC Racing VerdNatura) crashed out on Lap 4. Alvaro Bautista (Team HRC) crashed out at Turn 7 on Lap 5, forcing the Spanish rider to retire from the race. Chaz Davies (ARUBA.IT Racing – Ducati) was another retirement from the race after a crash on Lap 13 while he was running in the top five, while Sylvain Barrier (Brixx Performance) also did not finish the race.
P1 Jonathan Rea (Kawasaki Racing Team WorldSBK)
"It was a great day. In the Tissot Superpole Race, I just didn't have the opportunity with Scott. In the early laps, he had a really good rhythm. In Race 2, I just tried to go and got aggressive in the first few laps. It was all fine and fun. And then with Michael at the end, he had good rhythm, he was strong in some sectors and I was strong in others, especially corner entry, turning around the corner and initial traction. I couldn't find an opportunity, but he ran a bit wide at Turn 5 and I capitalised on the exit. From there, I just put my head down. It was an incredible day for the Kawasaki Racing Team."
P2 Michael Ruben Rinaldi (Team GOELEVEN)
"It was a great weekend for us! This afternoon was a little bit colder and I have the soft tyre on like yesterday, but it didn't pay off because Jonny used the SC0 tyre. With it being cooler, the tyre did not work as well for us. I tried to fight Jonny, but I couldn't. I did my best and I'm happy."
P3 Scott Redding (ARUBA.IT Racing – Ducati)
"I tried something different with the tyres and like I expressed earlier this weekend, being a heavier rider, you can't really use the SCX tyre, I tried it but have no rubber left. Rinaldi had rubber left and that's what showed in the pace from the middle to the end of the race. It's hard sometimes when you're struggling with your bike, and the bike works better with a certain tyre, but I can't really use it. I tried to use it then to be sure with my mind, but I didn't finish strongly, and Rinaldi could still be strong. It upsets me a little bit, I believe I could've won the today. We've suffered a lot here at MotorLand Aragon and that's a shame, but we'll still keep fighting. We go onto other tracks and I'm sure that'll favour us a bit more."
More, from a press release issued by Yamaha:
Pata Yamaha Maximise Potential on Challenging Aragón Sunday
Pata Yamaha WorldSBK Official Team with Rizla riders Michael van der Mark and Toprak Razgatlıoğlu both maximised their potential to finish in the top seven during Race 2 at MotorLand Aragón today.
With stiff competition on arguably the most challenging circuit of the season for the team, the Pata Yamaha riders had their work cut out for them from the start of the six WorldSBK races held at this venue within the last two weekends.
Van der Mark fought to a strong result from a tough situation with sixth-place in Race 2, climbing through the field from 12th following yesterday's disappointing qualifying session. He had finished 10th in the Tissot Superpole Race after a valiant effort to try and overhaul Tom Sykes on the final lap for the third row of Race 2. As only the top nine positions earn grid positions, he was forced yet again to start from 12th in the second feature race.
For Razgatlıoğlu, the story of today was a promising one, as he started from seventh on the grid in the sprint race due to his improved qualifying position from yesterday. Despite finishing in the same place as he started in both of the Sunday races, the young Turkish rider improved his rear tyre wear management to maintain strong pace even in the final stages of Race 2.
The Pata Yamaha team now looks forward to the next round, just down the road at Circuit de Barcelona-Catalunya on 18-20 September. After a successful private test in Barcelona prior to the WorldSBK season restart, both riders are eager to have another shot at the podium and fight for victory as soon as possible.
Michael van der Mark: SPRC – P10 / Race 2 – P6
"It was a difficult Superpole Race this morning, I was expecting more but I didn't have a good feeling with the bike and we didn't have the grip I was hoping for, so I was really disappointed to finish 10th. The goal was to get up at least one row and have a better starting position for Race 2 – we didn't, and had to start P12 again. I made up the places really quick in the main race and just got into a rhythm. I couldn't do more than to stay consistent. It was a long race and I think we maybe chose the wrong rear tyre, but finishing sixth overall coming from 12th isn't that bad. On the whole, I think there have been a lot of positives this weekend, it just didn't come together in today's races, mainly due to the qualifying position."
Toprak Razgatlıoğlu: SPRC – P7 / Race 2 – P7
"Today, my team did incredible work for me to find a good set-up on my Yamaha R1. This weekend we tried our best but it was only possible to finish in seventh, so while I cannot be fully happy, I really want to thank the team for all their incredible work to help me over the past two weeks. At this Aragón track, I really tried my hardest to be fast but it was not possible in the end. Next race, we will try our best to be closer to the front. Now I am third in the championship again but it is a close fight, so we will see how everything goes in the next races – I want to fight for the win again."
Paul Denning, Team Principal
"It's been a challenging two weeks for the Pata Yamaha team here in Aragón, as we expected. But the team, engineers and riders honestly couldn't have given any more. On Michael's side, yesterday's qualifying problems came back to haunt us yet again today. To come from 12th on the first lap and expect to have a good position in a 10-lap Superpole Race against such quality competition was a tall ask even in the best conditions. A poor start from 12th in this afternoon's feature race again made things difficult, so to come through strongly to sixth position was a positive result. Toprak has been a step behind Michael in each of the races here at Aragón – this afternoon was also tough but he gave 100 percent on every lap, always fought for the maximum position and definitely learnt a lot especially today in terms of tyre management and improving in the latter part of the race. He's now back to third in the riders' championship with Michael not far behind in fifth. Barcelona and Magny-Cours will suit the R1 far better and we aim to be back on the podium there."
More, from a press release issued by Kawasaki:
Race Two Win For Rea
Jonathan Rea (KRT) scored second place in the Tissot-Superpole race today before taking his 96th career race win at the Teruel WorldSBK round in Motorland Aragon – extending his championship lead in the process. Alex Lowes (KRT) continued to ride through illness and posted sixth and then fifth place finishes today.
In the opening ten-lap 'sprint' race Rea took the holeshot and led for much of the first lap, only to be passed by eventual race winner Scott Redding. Rea was finally second in this morning's race, holding off the challenge of Saturday race winner Michael Ruben Rinaldi.
Lowes was a gritty sixth in the Superpole race after setting the fastest lap of the race – all while still suffering from the effects of gastroenteritis.
Race two, run over 18 laps, saw Rea once more opt for a conventional SC0 rear race tyre when most of his rivals went for the SCX super soft. He was second for most of the race, which was led by first Redding and then Rinaldi, but Jonathan took the lead on lap 16 and rode clear to record his eighth race win of the year.
With Redding finishing third Rea now has a 36-point advantage in the championship standings, with three rounds and nine individual races left to run.
With more laps to complete in race two than in the sprint Lowes began to feel the effects of his gastroenteritis to an even greater degree this afternoon. He mustered all his efforts and got a fifth place finish and 11 important championship points as a reward for his good pace and perseverance. Even after such a draining weekend, and being in seventh place overall, Lowes is only 20 points from the third place rider in the championship.
After the two back-to-back Motorland Aragon race weekends five-time champion Rea leaves with 243 points in total, Redding has 207, Toprak Razgatlioglu 147, Chaz Davies 141, Michael van der Mark 133, Rinaldi 131 and Lowes 127.
An almost literal home race for the KRT squad is next up in the championship calendar, with Montmelo in Barcelona hosting round six of WorldSBK, between 18 and 20 September.
Jonathan Rea, stated: "We got off to a good start in the Superpole race but when Scott came past quite early it disturbed my rhythm a bit. He set a very good pace. I was strong in the first part of the circuit and although I enjoyed the ten-lap race I realised that today it was going to be second. In race two I realised that instead of managing the race I needed to go through, and then I had a huge 'moment'. I went all in, full gas in that race. You have to ride on 100% but not make any mistakes. It was more a race for me trying to be clean and not making any errors. With the entry speed I could carry and the stopping performance from the Ninja ZX-10RR – also how we kept the tyre until the end – I felt like we had a better package."
Alex Lowes, stated: "I have struggled all weekend but I did not complain too much on Friday and just tried to be positive. Since Tuesday morning I have been unable to keep food inside so it was a tough weekend. The set-up changes we made on the bike were good today and allowed me to have some decent results. I could not do any more and I was quite proud of my efforts. I was a shame not to be able to use our potential a bit more. Even this morning, in the short ten-lap race, I was able to go from seventh to near the front but I just didn't have the energy to keep going."
Xavi Fores (Kawasaki Puccetti Racing) scored 16th and then 13th places today, for 13th overall in the championship. Maximilian Scheib (Orelac Racing VerdNatura Kawasaki) was 15th and then a non-finisher in race two. He is now 19th overall. Roman Ramos (Outdo Kawasaki TPR) was 20th then 15th and sits 22nd overall.
More, from a press release issued by Barni Racing Team:
#TeruelWorldSBK: Melandri recovered to the 12th position in race 2 at Aragon
Aragon (SPA), 6 September 2020. Marco Melandri placed himself in P12 in Race 2 of the Pirelli Teruel Round at Motorland Aragon, Spain. The result makes the weekend a little less bitter after the Barni Racing Team's rider had retired in Race 1 on Saturday and ended the Superpole Race in P17. Thanks to the four points gained today Melandri rises to 23 points in the Championship standings (P16).
Superpole Race 
Started from the seventeenth spot in the sprint race (10 laps), Melandri was able to start well going up to the fourteenth position, but He was not able to defend it for a long time. Already during the first lap the Ducati Panigale V4 R of the Barni Racing Team was relegated to seventeenth position. Melandri then continued to fight with Xavi Fores (Kawasaki): the two were the protagonists of an overtaking and counter-overtaking with the Spaniard who won the duel at the end of the 10 laps. Thus Melandri was seventeenth under the checkered flag.
Race 2
The plot of Race 2 changed, Melandri was finally more comfortable on the Ducati Panigale V4 R and started the comeback soon: five overtaking in the first five laps brought him in eleventh position, then with a steady pace in 1'51 and a half the #33 picked up and overtook Gerloff (Yamaha). After a good battle with the American, fighting throughout the last lap in a group comprising also Caricasulo, Baz and Laverty, Melandri went wide in braking and was overtaken by three riders crossing the finish line in P12.
Marci Melandri
Superpole Race: P17 – Race 2: P12
"In race 2 we managed to set the bike a little bit better, but I still have the problems in braking. I could not even exploit the engine on the straight because I was struggling even at the exit of turn 15, and then I suffer in all the braking: on the last lap I tried to play the eighth place, but in the braking I was wide and I lost three positions."
Marco Barnabo, Team Principal:
"Today we have seen some progress, this means that work always pays off. Finally we had a growing race with a good pace, but on the last lap the lack of feeling in braking penalized us a lot. It's a very complicated season, but the only thing we can do is to continue to give 100% to honor commitments made by always working to the maximum of our potential."
More, from a press release issued by Aruba.it Racing Ducati:
#TeruelWorldSBK. Scott Redding dominates the SuperPole Race and finishes Race-2 on the podium (P3). Chaz Davies crashes with 6 laps to go after a solid race
Scott Redding wins the first Superpole Race of the season and finishes third in Race-2. Chaz Davies makes important progress but does not find the feeling in Race-2 and crashes six laps from the end when he was in fourth position.
Redding reacts in the best way to the crash in Race-1 and manages to conquer the Superpole Race at the end of a perfect race. The British riders' start in Race-2 is excellent and allows him to stay in the lead until lap 7 when he is involved in a tough fight with Rea (Kawasaki) and Rinaldi (Ducati). Redding has to manage the soft tire and with five laps to go he tries to push to get back into the fight for the first place but he has to settle for the third step of the podium.
Chaz Davies' Sunday started with great confidence thanks to the excellent warm-up and the fifth place in the Superpole Race. Chaz starts well in Race-2 and immediately attacks Bautista (Honda) for the fourth place. After the crash of the Spanish rider, Davies tries to close the gap with the podium group but with six laps to go he loses the front and crashes.
P3 – Scott Redding (Aruba.it Racing – Ducati)
"We've had a bit of trouble on this circuit. I said that I was not particularly happy to race for two consecutive weekends on the same track especially because when you start with some problems it is always difficult to find the final solution. I tried to race with soft rubber but it was not a good choice because since mid-race I had grip problems. In any case, we are still in the race to win the championship. It is clear that we will have to improve but we will not give up and we will continue to work intensively with the team and all the Ducati Corse guys".
DNF – Chaz Davies (Aruba.it Racing – Ducati)
"We started well today because the feeling in the warm-up was very good and the race pace allowed me to be incisive in the SuperPole Race. Unfortunately, I was not able to reach the podium that would have allowed me to start from the front row in Race-2, but the feeling was still positive. For this reason, I can't understand the reasons of the grip problems we had since the start of Race-2: maybe the higher temperature affected, maybe the "0" tire didn't work at its best. We will have to understand what happened. It is very frustrating to close the weekend with a crash".
Marco Zambenedetti (Ducati Corse Superbike Technical Coordinator)
"In these two consecutive weekends at the Motorland circuit, we have shown the goodness of our project thanks to the results obtained by the factory team riders and Michael Rinaldi. Unfortunately, this was not enough to come out winners from Aragon even if we were able to react well after Scott Redding's crash on Saturday. We must continue to work hard to improve in the next races".
More, from a press release issued by Team Go Eleven:
KING OF ARAGON
After yesterday's amazing race it was difficult to confirm the result, but on this track Go Eleven and Michael Ruben Rinaldi wrote WorldSBK history!
In Superpole Race, the 24-year-old from Sant'arcangelo di Romagna immediately entered the top three, as spectator of excellence for the battle between Jonathan Rea and Scott Redding. Michael followed the two "title contenders" creating a slight gap on the other riders, trying to fight for the first two positions. The last three laps he was able to defend himself setting a strong pace, taking home the second podium in two races. P 3, first row maintained for Race 2 and goal achieved!
Race 2 starts with 5 degrees less on the asphalt than yesterday, slightly changing the track conditions. The Go Eleven rider defends his starting position well and immediately sets off in pursuit of the usual duo, Scott and Rea. First laps studying and then as soon as there is a small possibility…he takes the inside on both: first the World Champion and then the British Ducati rider. Thus the Italian began an unsustainable rhythm, which can only be pursued by Kawasaki-Rea . The two run away, with the Northern irish putting pressure on Michael for the whole race: In the last five laps, the pressure becomes insistent, Rea goes in but makes a mistake and risks the highside, then goes back and strongly goes in to curve six. For a while Michael tries to stick to the exhausts of the number 1 green, but in the end he had to "settle" for second position. Another podium, another incredible performance, which it is as good as yesterday's: today he showed everyone that he has the head to become a great champion. A star is born at Motorland Aragon!
It ends the perfect, magical weekend of Go Eleven! Three races, first, second and third, two fastest laps, second position in Superpole. Asking for better for our team, for an independent team made up of a few people, all very passionate and professional, is impossible! A huge thank you goes to those who made this weekend possible, to all the sponsors, to those who follow us from home, to those who have always believed in us! The dream has come true and now we have to try again, starting from the next stage: Barcelona, Montmelò Circuit, 18-20 September.
Michael Rinaldi (Rider):
"This weekend was amazing! Yesterday we got an unexpected victory and today we took home two more podiums: third in Superpole Race and second after a good battle with Rea in Race 2! I really enjoyed myself, I pushed more than 100%, but today, also due to the different weather conditions, I was unable to replicate what I did yesterday. But a great race, Rea pushed till the end to try to win, and fighting with a five-time World Champion is great. Even though this time he got the better of it, I'm already glad to be there to fight. I'm also very happy for the team, because we had an unbelievable weekend."
Denis Sacchetti (Team Manager): 
"A young talent fighting the greatest SBK rider of all time, a stellar one on one … I didn't sweat that much even when I was racing! Today we have not only watched the battle between two monsters, but also the epic challenge of David against Goliath, a small private team that challenges the giants, an incredible teamwork, a group of people, a family that goes beyond…everything, beyond all plausible logic. Today it was important for all of us to confirm ourselves there at the top, fighting for the victory, to show that yesterday's performance was not just a coincidence. I don't have many words, for us it was a week to frame. For all the people who work, support and follow Go Eleven; we wrote a page of history!"
More, from a press release issued by GRT Yamaha WorldSBK Junior Team:
Both GRT drivers in the Top 10
The last day of racing at the Aragón Circuit signaled further growth for the GRT Team which, for the first time this season, brought both of its drivers to the top ten in Race 2. The gap from the leaders continues to narrow. .
The morning began with the Warm Up, a session in which a constantly improving Caricasulo set an excellent fifth time, while Gerloff was 14th. Shortly after, in the Tissot Superpole Race, the two drivers finished in 12th and 13th position respectively, but with a smaller gap from the leader than in the past. In race 2 the two rookies then closed the weekend in the best way, crossing the finish line in ninth and tenth place, after a constant and concrete race.
After a positive and error-free Sunday, Caricasulo is happy: "It was a beautiful day. We have significantly reduced the gap from the first Yamahas, and also compared to the leader. Our pace has improved even more, and race 2 was, together with the Superpole Race, the race in which we were closest to the leaders, in terms of the gap, so I'm happy. For the next race we will try to take with us all the experience we had here, to try to make another nice weekend in progression. "
Gerloff, on the other hand, has mixed emotions after the second weekend in Aragón: "It was a positive and useful weekend, because we learned a lot and collected a lot of information regarding the set-up. I'm a little disappointed though, because the results haven't shown it, despite our great potential. For some reason things didn't go as expected in the race, but in general we have improved a lot, and we have a better idea of ​​the direction to take. This is very positive, so I can't wait to hit the track in Barcelona, ​​a circuit that I immediately liked during testing. We hope to get to the track, and to be fast immediately with the set-up we have without upsetting. I am also very happy to be able to stay close to the other Yamahas,
The Technical Coordinator Damiano Evangelisti, on the other hand, is fully satisfied with the progress made by the team and the drivers: "Today I am really very happy. We have achieved the goals we had set for ourselves. We aimed to improve the second part of the race, and we succeeded. In the sprint race, both drivers arrived within ten seconds of the first, while in race 2 they suffered a gap of 22 seconds, the smallest gap since the beginning of the season. The goal has been reached, now we have to consolidate this position and in the last races of the season try to take another step and get closer. If we can close the gap by a few more seconds, we can get into the top eight, and I think this is a possible result, because both the team and the riders are doing a great job and we really want to improve further. As usual, I thank everyone. Now we rest for a week and prepare the work program for Barcelona, ​​where however we also have the test data from last month. "
After today's results, the GRT team duo occupies the 12th position (Gerloff, with 39 points) and 13th position (Caricasulo, with 36) in the WorldSBK world championship standings. The next appointment will be held in two weeks, during the weekend of 18-20 September, on the Barcelona circuit. The first free practice session on Friday will take place at 10:30, with FP2 following at 15.