All-Time Lap Record: 1:37.462, Jonathan Rea, 2019
Race Fastest Lap Record: 1:37.462, Jonathan Rea, 2019
Race Fastest Lap: 1:38.034, Chaz Davies
FIM Superbike World Championship
San Juan Villicum Circuit, Argentina
October 13, 2019
Race Two Results (all on Pirelli tires):
Jonathan Rea, UK (Kaw ZX-10RR), 21 laps, 55.799 miles, Total Race Time 34:33.478, 96.879 mph
Chaz Davies, UK (Duc Panigale V4 R), -5.158 seconds
Toprak Razgatlioglu, Turkey (Kaw ZX-10RR), -14.511
Michael Van Der Mark, Netherlands (Yam YZF-R1), -17.046
Alvaro Bautista, Spain (Duc Panigale V4 R), -17.771
Alex Lowes, UK (Yam YZF-R1), -18.976
Eugene Laverty, Ireland (Duc Panigale V4 R), -33.901
Leandro Mercado, Argentina (Kaw ZX-10RR), -35.233
Jordi Torres, Spain (Kaw ZX-10RR), -36.783
Leon Haslam, UK (Kaw ZX-10RR), -37.478
Michael Rinaldi, Italy (Duc Panigale V4 R), -44.053
Loris Baz, France (Yam YZF-R1), -45.623
Leon Camier, UK (Hon CBR1000RR SP2), -51.082
Marco Melandri, Italy (Yam YZF-R1), -66.298
Sandro Cortese, Germany (Yam YZF-R1), -70.768
Markus Reiterberger, Germany (BMW S1000RR), -70.937
Ryuichi Kiyonari, Japan (Hon CBR1000RR SP2), -72.519
Alessandro Delbianco, Italy (Hon CBR1000RR SP2), -7 laps, DNF, retired
Tom Sykes, UK (BMW S1000RR), -6 laps, DNF, mechanical
World Championship Point Standings (after 34 of 37 races):
Rea, 601 points (clinched 2019 World Championship)
Bautista, 460
Lowes, 305
Van Der Mark, 304
Razgatlioglu, 299
Haslam, 257
Davies, 249
Sykes, 219
Melandri, 173
Torres, 132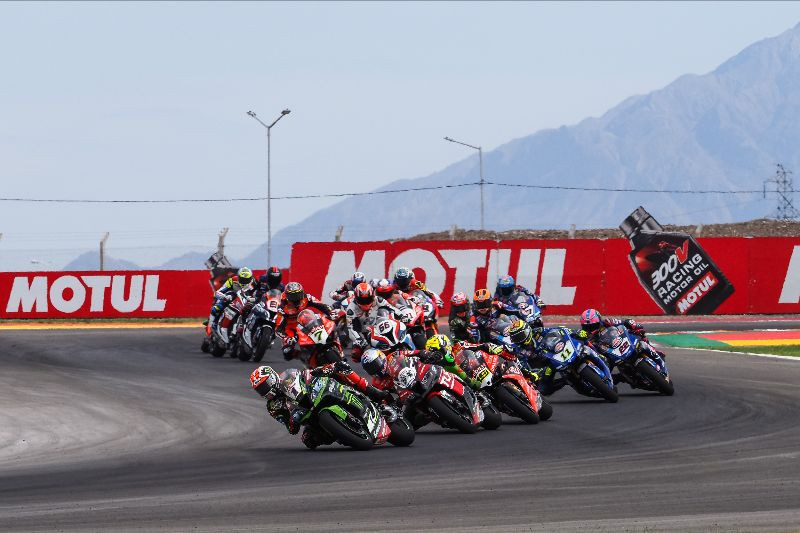 More, from a press release issued by Dorna WorldSBK Press Office:
Rea makes the double on Sunday in Argentina
2019 World Champion victorious in Race 2 as Davies comes back strong
The final race of the weekend at the Motul Argentinean Round was a thrilling spectacle, with plenty of hard action and big moves all the way through the pack. Despite making his own mistakes and needing to fight in the early stages, Jonathan Rea (Kawasaki Racing Team WorldSBK) romped to win number two of the weekend, holding off the opposition.
Off the start and into Turn 1, Jonathan Rea held on to his first position, whilst Alvaro Bautista (ARUBA.IT Racing – Ducati) and Toprak Razgatlioglu (Turkish Puccetti Racing) battled behind. Sandro Cortese (GRT Yamaha WorldSBK) was a fast starter and into fourth, whilst Alex Lowes (Pata Yamaha WorldSBK Team) and his teammate Michael van der Mark were fifth and sixth. Chaz Davies (ARUBA.IT Racing – Ducati) had dropped to seventh.
With the race beginning to take shape, Rea pulled away from Bautista, whilst Toprak Razgatliolgu was as relentless as ever, chasing down Bautista. Bautista and Rea in-turn were trading fastest lap times. Chaz Davies had picked off the Yamahas ahead of him one by one, using the top speed advantage of the Ducati Panigale V4 R down the long straights of San Juan to good effect. The next target for the Welshman was Razgatlioglu, who was going to need to fight hard to resist the former WorldSBK runner-up.
There was drama up front for Rea, who made a big mistake at Turn 8 and ran completely off the circuit, allowing Bautista to take the lead for the first time. However, Rea wouldn't give in and a lap later, on Lap 8, Rea fought back and pushed his way back to the front at Turn 7, shoving Bautista wide. The squabble between the two heavyweights allowed Razgatlioglu and Davies to close up.
With 13 laps left to go, Davies took third from Razgatlioglu with a strong move at Turn 10 on the Turkish rider. The former WorldSSP Champion from 2011 was now a move on a mission and soon, caught his teammate. Bautista tried to fight but Davies powered ahead of his teammate two laps later to take second. 2.6s to close down on the race leader, Davies had plenty of work to keep him occupied for the remainder of the race.
Bautista however was in more problems and with 9 laps to go, as Toprak Razgatlioglu had regrouped and was immediately able to get ahead of the Spaniard, sweeping around the outside at Turn 2 to take third from the Race 1 winner. Bautista was losing time to Michael van der Mark hand over fist and needed to get to the end of the 26-year-old Dutchman got him.
Further down the field, Leandro Mercado (Orelac Racing VerdNatura) was having an incredible race, climbing all the way up to the fringes of the top ten. The home hero picked off Jordi Torres (Team Pedercini Racing) and at Turn 10 with eight laps left, dived up the inside of factory Kawasaki rider Leon Haslam to take eighth place. A lap later, and Eugene Laverty (Team Goeleven) was up ahead of Haslam and Torres. Ahead of all of them, Michael Ruben Rinaldi (BARNI Racing Team) was a sitting duck.
With four laps to go, Mercado got ahead of Rinaldi at Turn 15, sparking a massive roar from the partisan crown trackside. However, Laverty got ahead of the pair of them on the front straight, pushing Mercado back to eighth whilst the Irishman went in pursuit of his best result since Aragon. In terms of Mercado, he had come from 19th to eighth; an astonishing comeback.
Out front on the final lap, Jonathan Rea was uncatchable and took victory for a fourth time in Argentina and now, extended his consecutive point-scoring finishes run to 45 – the first time a rider has ever achieved this. Chaz Davies was up into second whilst Toprak Razgatlioglu completed a stellar weekend with another podium, his sixth in seven races. Fourth belonged to Michael van der Mark whilst Alvaro Bautista limped home to complete the top five. Alex Lowes was up to sixth.
Eugene Laverty put in a strong ride up to seventh, but ride of the day went to home-hero Mercado, who stormed from last on the grid to eighth, much to the delight of the crowd. Jordi Torres (Team Pedercini Racing) was ninth ahead of Leon Haslam in 10th. Sandro Cortese slipped to 15th, having run as high as fourth in the early stages.
P1 – Jonathan Rea (Kawasaki Racing Team WorldSBK)
"After a difficult weekend, I think we got the bike right today and I felt really good, so massive thanks to my crew. We were still suffering in some area but in the rest of the track, my ZX-10RR was working so well. Thanks to all the fans to come to see us, I am happy we were able to put on a good show for them. Now I will enjoy a good time with my team in Argentina and I can't wait to be back into action in Qatar".
P2 – Chaz Davies (ARUBA.IT Racing – Ducati)
"I didn't know what to expect today because the track has been changing so much. My bike work really good in the race. I got such a terrible start, and maybe it was my worst start of the year so far. I had to come through, and I used quite a bit of the tyre. I felt like I had an excellent pace and Johnny was getting even closer, but unfortunately, I run out of grip towards the end of the race, but overall I can't complain about that. I am pleased, and I feel like it was a solid performance to end the weekend".
P3 – Toprak Razgatlioglu (Turkish Puccetti Racing)
"This weekend we were able to achieve three podiums, and we are happy with that. We tried a different setup for Race 2, but it didn't work well as at the end of the race tyres were completely destroyed. These points are important for the championship because now we really close to the third position in the standings".
More, from a press release issued by BMW Motorrad WorldSBK Team:
A frustrating run of results for the BMW Motorrad WorldSBK Team at the Circuito San Juan Villicum
13.10.19
Circuito San Juan Villicum
The final day of racing here at the Circuito San Juan Villicum approached us, and with temperatures considerably down compared to yesterday this meant for much safer racing conditions. Tom Sykes got off to a solid start gaining 5 places on the opening laps putting himself into P8. Leon Haslam passed Sykes the following lap relegating him into ninth position. Tom would ride a lonely race from then on out to take P9. Markus Reiterberger having struggled all weekend didn't manage to make the dream start and held P17 on lap 1. Markus got himself into a battle with the number #23 of Kiyonari throughout the race however the German would eventually come out on top – final position P17.
The final race of the weekend was upon us and the BMW pair took to their new starting positions, Sykes now P9 and Markus retaking P17. Sykes again got his BMW S 1000 RR off the line well and looked to be battling with the top 6 until a small mistake ran him wide dropping him down into P11. The bad luck didn't stop there as on lap 6 Tom Sykes's bike had a technical problem at T10 forcing him to retire from the race. Markus Reiterberger's final race of the weekend ended in P16.
The BMW Motorrad WorldSBK Team will now turn their attention to a fortnights time where they will participate in the final race weekend of the 2019 WSBK Championship in Qatar. (24/26 October)
Marc Bongers, BMW Motorrad Motorsports Director:
"Today was probably one of our most difficult days of the season. On paper, the Superpole Race was not so bad for Tom as at least he managed to get on the third row for the start of the main race. But with this new model of bike we don't have any data to work with, so everything is new for us, with every setting we try, we are chasing the perfect set-up. All we can do is take all this data with us and when we come back here again, we will have a better position to start with. So it's been really difficult for us, but we must take the positives and build on this. Markus has also really struggled and didn't find a comfortable setting, but we just have to close the book on this event and re-energise as we get ready for Qatar, where hopefully we can start on the front foot."
Shaun Muir, Team Principal:
"It was a difficult end to a disappointing weekend. Unfortunately, we retired from the main race as a result of a technical issue with the clutch. However, we have to be realistic and say that we were never going to get a good result. We just didn't understand why we were so far behind and what we needed to do to remedy this issue. We didn't have consistent track conditions to enable us to find a solution. The track was catastrophic on the first day, okay yesterday morning, then extremely hot in the afternoon, and this morning it was back to being acceptable – these conditions meant that the lap times varied drastically. As a result, we were unable to gradually draw the necessary conclusions as to which direction we needed to take. We will now take the data we collected back with us, and will analyse why we weren't as competitive as we had hoped this weekend."
Tom Sykes:
"It's been a difficult weekend. We made some improvements on the greasy track condition and I honestly felt we had a consistent race pace during that last race, but we ran into difficulty with the bike which meant we had to retire. Overall, it's been a challenging weekend for the whole BMW Motorrad WorldSBK Team, but like I said it wasn't the easiest of track conditions; however, given the circumstances I feel we gathered some very valuable information for the future. We will put this weekend behind us and move on to the next race in Qatar, where hopefully we can take another step forward."
Markus Reiterberger:
"We had much better weather conditions today. It was cooler, which meant that the racing line on the track was in a much better state. Unfortunately, I made two mistakes on the first two laps of the Superpole Race and went too wide. As a result, the race didn't go well for me, and I crossed the finish line pretty far down the field. We made a few changes for the second race, and I felt relatively okay on the bike in the race itself. Points would have been achievable, and I battled with Sandro Cortese on the final three laps, but unfortunately, it wasn't enough to get the point. Generally, we are still a little bit too slow and we need to find the reason why. I hope that I will end the season on a personal high in Qatar. We all pulled together here, and I'm grateful for that, even if we weren't rewarded with a good result."
More, from a press release issued by Moriwaki Althea Honda Team:
In Argentina Leon Camier finishes in the points in Race 2, Kiyonari struggles to find the pace.
The final day of the Argentinean round at the San Juan Villicum Circuit played out in cooler conditions with respect to the rest of the weekend, the air temperature having dropped from 32°C on Saturday to 21° Celsius on Sunday.
After finding good feeling with his bike set-up, Leon Camier finished the Superpole race in 12th place and Race 2 in 13th place, fighting inside the top ten for a long while during both races, but dropping back in the final stages. Ryuichi Kiyonari struggled to maintain a competitive race pace and closed sprint race and Race 2 in 18th and 17th place respectively.
The Moriwaki Althea Honda Team will now fly back to Europe before heading to Qatar where the Losail Circuit will host the 2019 WorldSBK season finale in two weeks' time.
Leon Camier
SUPERPOLE RACE: 12 – RACE 2: 13
"I felt very good on my bike in the sprint race. I made a good start, the bike worked really well, and I was feeling strong in certain areas with respect to the riders around me. Unfortunately, I suffered particularly with tyre wear in the final stages and this caused me to lose both time and positions. Up until that point, I had been able to fight with Haslam and Sykes. It would have been hard to beat them, but I had a good feeling and could manage to stick with them. In the second race I once again felt pretty good in the middle of the group, maybe just losing a little in acceleration compared to the others but we were able to use our strengths to hold our position. Again though, we suffered more than the others with a drop in tyre performance at the end. Anyway, since having come back from injury, I was able to get a better idea of where we are with the bike today, I could see the improvements we have been able to make and where we might be able to improve further. So that's very positive".
Ryuichi Kiyonari
SUPERPOLE RACE: 18 – RACE 2: 17
"It has been a very difficult weekend for me, both in terms of my feeling with the track and with my bike. Today, with lower temperatures, the grip was much better, but I was not able to adapt quickly enough to the changed conditions, even if they were better than they had been earlier in the weekend. Usually, even when my results are not good, I can see a progression in terms of feeling, but this time I just could not improve enough. I'm very sorry for the team, for how this weekend went in general. I can only say that I'll try to do better in the last races at Qatar, a track that I like very much".
More, from a press release issued by Yamaha:
Positive Conclusion to Pata Yamaha's Argentine Adventure
Pata Yamaha WorldSBK rider, Michael van der Mark, took a hard fought fourth place finish in today's WorldSBK Race 2 at Circuito San Juan Villicum in Argentina, having caught and passed yesterday's race winner, Alvaro Bautista, with just four laps of the race remaining. With Alex Lowes finishing in sixth position this afternoon, the Pata Yamaha teammates are now separated by just a single point in the championship standings, with Lowes currently holding the advantage in third place.
Lowes and van der Mark started today's 21-lap WorldSBK Race 2 from the second row of the grid, having finished this morning's Superpole Sprint Race in fifth and sixth places respectively. The two Pata Yamaha riders made a good start and, while both were quick to find their rhythm, neither had the outright pace needed to compete for the podium today.
Lowes rode a solid but lonely race to sixth place, lacking the additional pace needed to close the gap to van der Mark ahead of him. The Dutchman managed to find a little bit extra in the closing stages of the race to catch and pass Bautista for fourth place, but the gap to the podium contenders was insurmountable in the few laps remaining.
GRT Yamaha Supported WorldSBK rider, Sandro Cortese, was looking to build on his solid top-ten finish in the Superpole Race this afternoon, but the reigning Supersport World Champion and his crew took a gamble on tyre choice that didn't work as expected and Cortese was disappointed to finish only 15th after struggling for rear grip from lap seven onwards.
Argentina proved another difficult weekend for Marco Melandri, who continues to struggle to adapt the bike to suit his particular riding style. The veteran Italian and his crew have worked tirelessly to find a solution but so far to no avail. Melandri was frustrated to finish 15th in the Superpole Race this morning and then to only improve by one place to finish 14th in Race 2 this afternoon.
The penultimate round of the 2019 FIM Superbike World Championship in Argentina proved a painful one for Loris Baz. The Frenchman crashed out of the Superpole Race on the opening lap, at the same corner at which he crashed in qualifying on Saturday morning, but bounced back this afternoon to pick up championship points with a 12th place finish in WorldSBK Race 2.
Michael van der Mark
Pata Yamaha WorldSBK – P4 – Championship P4 – 304 Points
"If you look at the results then it's not been too bad here in Argentina. It's been a difficult weekend for everyone, I think, but fourth place yesterday was a good start for me. In the Superpole Race this morning I didn't really have a good feeling and I struggled a bit with the bike, but we made quite a big change for Race 2 and I felt a lot stronger from the start. Of course there were some areas where I'd have liked to be a little better but, anyway, I picked up another fourth place on a track that proved difficult for us last year, so we must be happy with these points and now look forward to Qatar, where I'm sure we will be even stronger and able to fight for the podium once again."
Alex Lowes
Pata Yamaha WorldSBK – P6 – Championship P3 – 305 Points
"I had a bit of a frustrating start to Race 2. I've had a few issues back shifting to first gear and on the opening lap I got a slipstream from Sandro on the straight and was maybe in a bit too fast and I couldn't get the gear to go in. It was shame, because when you lose track position it's really difficult to recover. I had good pace, but not quite enough to catch back after losing ground. Michael was in a similar situation in the Superpole Race; he was matching my pace but didn't have that little bit extra needed to close on me. I felt I rode quite well today, made no mistakes and I enjoyed the race, but I didn't want to be finishing sixth. But now we need to focus on the final round in Qatar. I'm looking forward to racing there and defending my third position in the championship."
Marco Melandri
GRT Yamaha Supported WorldSBK – P14 – Championship P9 – 173 Points
"This has been another weekend where I've struggled a lot. My main strength is my riding style and, unfortunately, this doesn't seem to be compatible with the bike. Every time I tried to push harder after a few laps I made a lot of mistakes and lost ground. It looks like me and the bike are working in opposite directions still. I've tried many things with the team to find a solution this season but, as the results show, we're still looking."
Sandro Cortese
GRT Yamaha Supported WorldSBK – P15 – Championship P11 – 126 Points
"This morning I had a good Superpole Race after a strong start, and I was looking forward to more of the same in Race 2 this afternoon. Again, I got a good start, but we took a gamble on tyre choice which proved to be a step too far and, after seven laps, the rear tyre was completely done. To be honest, I'm not sure how I managed to finish the race. I'm disappointed and it's a shame because I think I could have finished with a good result today but, again, we didn't take the chance that was open to us. So, yes, a big disappointment today."
More, from a press release issued by Kawasaki:
Two Wins For Rea In Argentina
WorldSBK champion Jonathan Rea took his Ninja ZX-10RR to the top step of the podium twice today, winning both the ten-lap Superpole Race and Race Two. Leon Haslam (KRT) battled hard today and finished eighth and tenth. Two third places for Toprak Razgatlioglu (Turkish Puccetti Racing) ended his weekend on a high.
The penultimate round of the 2019 season ended up providing two fast and competitive races on Sunday, each won by Rea to extend his all time record score of race victories to 85.
In the cooler conditions of Sunday at Circuito San Juan Villicum the pace improved greatly and Rea set a new lap record – and track best – of 1'37.462, on lap three of the 'sprint' race. His opening Sunday race win also earned him the top grid spot for the final race of the weekend, and thus Jonathan also became the 2019 Tissot-Superpole Award winner, for the best overall qualifying performance.
In the ten-lap Tissot-Superpole fight Rea was in command from the start, easing away to win by over two seconds from Alvaro Bautista. Haslam was eighth, having started from 14th on the grid.
In Race Two Rea got involved in a tense early fight with Bautista, before his pace told and he eased away to score his second race win of 2019 and his 14th of the season.
Now starting from eighth place on the grid for the final race at the 4.276km long circuit Haslam was finally tenth in Race Two, after losing early ground in a collision with another rider. Three points scoring races all together in Argentina keep Leon sixth overall in the championship standings, with one more round to go.
Kawasaki Racing Team WorldSBK won the Teams' Award today, with one round to go. Kawasaki leads the Manufacturers' standings by 37 points with just the final three individual races to be run.
The season finale, to be held under floodlights as is now traditional, will take place at the Losail International Circuit in Qatar, with WorldSBK racedays on Friday 25th and Saturday 26th October.
Jonathan Rea, stated: "That was really positive, especially the Superpole race where I felt really strong in the cooler conditions. The grip level was really high so I was able to push the bike and manage it. The sensations felt quite normal. We made a change overnight, on the front of the bike, just to give me a bit more front confidence in trail braking to stabilise the bike. That enabled me to carry that much more entry speed. We knew Alvaro was one of the strongest guys and to race with him I was going to have to be really strong on the brakes and corner entry. Kudos to the guys because we came up with a really good set-up. Yesterday I made too many mistakes in the race and that gave Alvaro too much breathing room, so now I am really happy to win both races today."
Leon Haslam, stated: "Starting from 14th on the grid was hard work. We made it to sixth in the long race yesterday and eighth in the first race today, and I do not think we could have done much more because the passing around this circuit has been hard. I was really looking forward to that last race. I got a good start and then got tangled with Tom Sykes. As I went up the inside of him he came into me and I think it was my handlebar that got caught in his fairing. That dropped us back to pretty much last. We came through to battling for eighth position, I think, at one point but we had destroyed the rear tyre and ended up going backwards for the last five, six or seven laps."
Already crowned top Independent Rider, Toprak Razgatlioglu put in another strong weekend performance with two third places today. In doing so he drew himself to within six points of the third placed rider, ensuring an exciting season finale in Qatar next time out. Toprak is currently fifth, but with a clear aim to finish third by season's end.
Toprak Razgatlioglu, stated: "More podiums, but in the sprint race the bike felt like it was not turning. After we changed the set-up the bike gave me an incredible feeling. But my tyre was finished. This was a problem for all riders but I tried for second place, but it was not possible. I am happy to take another podium. We will see how things are in Qatar because I am very close to the top three in the championship."
Home rider Leandro Mercado (Orelac Racing VerdNatura Kawasaki) was tenth in the sprint and a truly combative eighth in front of his enthusiastic Argentinean countrymen in Race Two. Leandro is now 14th overall.
Jordi Torres (Team Pedercini Racing Kawasaki) was 11th and then 9th today and enters the final round in 10th place overall, six points up on the next nearest rider. All five Kawasaki riders in Race Two finished inside the top ten positions.