Editorial Note: Use the scrolling and zoom tools in the bottom left corner of the PDF viewer to see all pages of the results.
More, from a press release issued by Dorna WorldSBK Press Office:
#AragonWorldSBK – Day 2
Championship protagonists battle it out as Redding claims victory
Championship lead changes hands again after long battle between Scott Redding and Jonathan Rea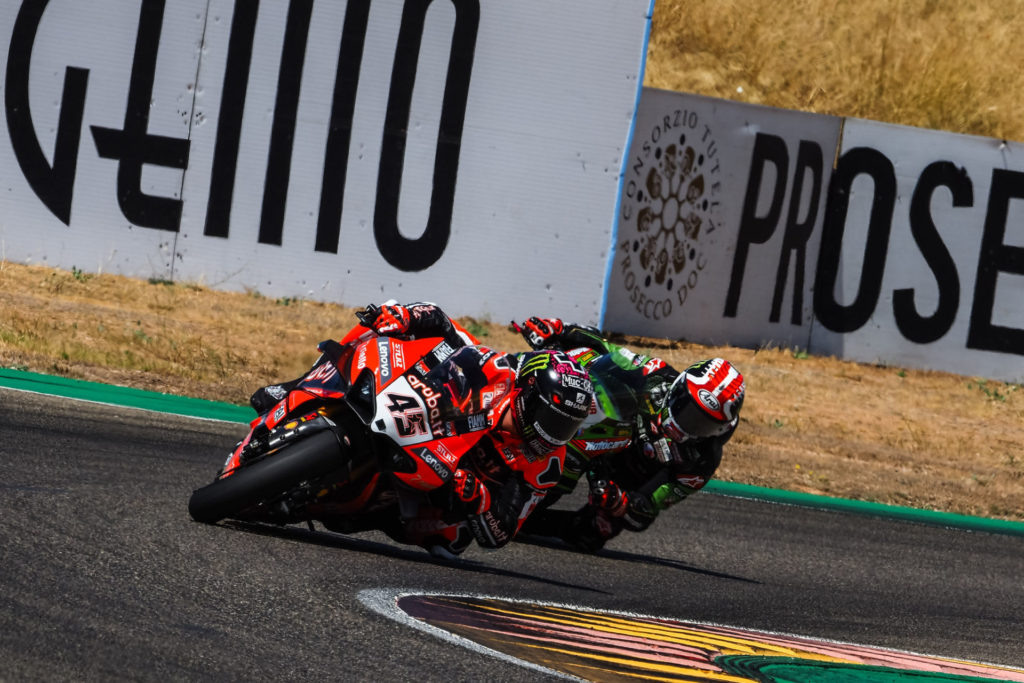 A titanic battle between the two Championship leaders ended with Scott Redding (ARUBA.IT Racing – Ducati) taking victory as well as the points lead in the MOTUL FIM Superbike World Championship after the sensational battle at the Prosecco DOC Aragon Round at MotorLand Aragon after holding off multiple challenges throughout.
Redding started the race from third place and held position in the early stages while polesitter Jonathan Rea (Kawasaki Racing Team WorldSBK) fought his way back through the field after a poor start, Rea back in the lead after just a couple of laps. Rea was passed by Redding on Lap 7 of 18 but was able to keep with Redding after the overtake although not able to make the move; the Ducati's straight-line speed helping keep Redding ahead. As Rea continued to pressure Redding, the pair went side by side with Rea looking to make his way back into the lead but a mistake on Lap 14, where Rea went wide, allowed Redding to stay in front.
Davies was able to get by Rea just a few laps later and started to close in on Redding, finishing the race just three tenths behind Redding as they battled for the lead; the pair claiming a Ducati 1-2 finish after Davies battled through from ninth, with Rea claiming a podium on his 150th start for KRT. The result means Redding moves back into the Championship lead but with plenty of points still available to claim.
Michael Ruben Rinaldi (Team GOELEVEN) once again secured a fourth-place finish in 2020 as his impressive form continued, with the Italian rider putting on a late-race move on Michael van der Mark (PATA YAMAHA WorldSBK Official Team) finishing in fifth place. Toprak Razgatlioglu (PATA YAMAHA WorldSBK Official Team) was another rider who fought his way back through the field as he finished in sixth place, after starting outside the top 10, although finished ten seconds behind his teammate.
Loris Baz (Ten Kate Racing Yamaha) was classified in seventh place despite starting on the front row and taking the lead at the start as Baz looked for another podium in 2020. There was a battle between Baz and Xavi Fores (Kawasaki Puccetti Racing) towards the end of the race with the pair separated by just a second at the end of the race. Federico Caricasulo (GRT Yamaha WorldSBK Junior Team) finished in ninth place with Leon Haslam (Team HRC) completing the top ten.
It was a strong race performance from Leandro Mercado (Motocorsa Racing) as the Argentinian rider claimed an 11th place finish, ahead of Sylvain Barrier (Brixx Performance) in 12th. Roman Ramos (OUTDO Kawasaki TPR) marked his 100th WorldSBK start with a points finish as the Spaniard completed his first race since his return to the Championship, ahead of another mid-season returnee in Marco Melandri (Barni Racing Team). Takumi Takahashi (MIE Racing Althea Honda Team) secured his first points finish of the season with 15th in Race 1 at MotorLand Aragon and also claimed the team's first points of 2020.
Eugene Laverty (BMW Motorrad WorldSBK Official Team) finished in 16th place after a dramatic rush to start the race; the Irish rider coming off his bike on the lap to the grid with the team fixing his machine on the grid. Laverty was given a ride-through penalty during the race but was able to finish ahead of Lorenzo Gabellini (MIE Racing Althea Honda Team).
Christophe Ponsson (Nuova M2 Racing) had a crash during the race at the corkscrew section which put the Frenchman out of the race on his Aprilia while Alex Lowes (Kawasaki Racing Team WorldSBK) also retired from the race; Lowes coming off his bike as he came over the crest of the hill. Tom Sykes (BMW Motorrad WorldSBK Team) pitted in the early stages of the race with the British rider retiring while Garrett Gerloff (GRT Yamaha WorldSBK Junior Team) also suffered a crash in the first half of the race. Alvaro Bautista (Team HRC) and Maximilian Scheib (ORELAC Racing VerdNatura) both retired from the race after separate incidents on the same lap.
P1 Scott Redding (ARUBA.IT Racing – Ducati)
"I've got to thank the Aruba Ducati team. Honestly, we have struggled a lot. The main thing I've found with me and my team this year, which is very good, is that we never give up. We weren't holding back in any practice session, and I just tried to keep my head clean. I said after Superpole I didn't feel that good, but we did make an improvement and it just gave me confidence. When I was in the race and behind the guys, I could see where I was struggling and what I was maybe doing wrong. I managed clean my laps up a bit, I felt good. I thought I'd try to pass Jonny and then hold my own. I just did consistent laps one after the other, and then I think him and Chaz started battling which gave me a bit of breathing space at the end. We've got a little bit of work to do as I wasn't completely happy with how the bike was reacting in the last bit of the race, but I was just managing and to come away with a victory today is spot on."
P2 Chaz Davies (ARUBA.IT Racing – Ducati)
"I was trying to save some tyre yet make some inroads on those two. It worked for a few laps, I was gaining a couple of tenths on them but then they gained a couple of tenths on me and I thought I'll need to go harder here, I'll need to use some more tyre to get to them. With seven to go, it was hammer down. I started pulling them in bit by bit but by the time I got there, I'd used the last bit of shred of tyre we had left and it wasn't enough to put myself in a position to have a run at Scott on the last lap. Scott rode flawlessly in the last two laps. I was looking for a crack and a mistake somewhere, but he rode really well so hats off to him. I really enjoyed that one, it was a cool race. Coming from ninth always make it a little bit more interesting and we've got another five of those to look forward to!"
P3 Jonathan Rea (Kawasaki Racing Team WorldSBK)
"We were definitely lacking a little something today. I felt really good with the bike to be honest, but I just couldn't fight. I tried to put my head down at the beginning. I anticipated the lights and they didn't go out, so I held on to my clutch and then I got a bad drop. When I got track position, and Scott came to the front, he did a really good job keeping good rhythm, but I was just there but just not enough to go through. We go back tonight, put our heads together and come back stronger tomorrow."
More, from a press release issued by Yamaha:
Valuable Points for Pata Yamaha with Top Six Finishes at Aragón
Pata Yamaha WorldSBK Official Team with Rizla riders Michael van der Mark and Toprak Razgatlıoğlu enjoyed a solid result in fifth and sixth positions respectively during Race 1 at MotorLand Aragón today.
After making refinements to the set-ups of their Yamaha R1 machines in preparation for the first points-paying race of the weekend, both riders were determined to be able to fight for the podium.
However, with less than a second covering the top 12 riders in an incredibly tight Superpole session this morning, the Pata Yamaha riders found themselves starting uncharacteristically from the third and fourth rows of the grid, with Van der Mark in eight and Razgatlıoğlu in 11th.
Van der Mark made an impressive jump to fifth position within the first few corners of the opening lap, carving his way through the competition. He was able to stick to the tail of the leading group of riders and at one point make a brief appearance into the podium positions. The Dutchman maintained his own pace in fourth for the second half of the race and was caught only by Michael Ruben Rinaldi's Ducati at the long back straight on the penultimate lap.
Despite finishing behind his teammate in sixth place, the abrasive nature of the Spanish circuit was more challenging for Razgatlıoğlu. The young Turkish rider gained five positions through a series of early overtakes, but struggled with grip over the race distance.
As per WorldSBK's unique three-race weekend format, the two Pata Yamaha riders will have a chance to improve their grid position for the second full-length race in the morning during a thrilling 10-lap Tissot Superpole Race, where the top nine positions determine the first three rows and offer crucial additional points towards the overall championship. The sprint race takes place at 11:00 local time (GMT+1) followed by Race 2 at 14:00.
Michael van der Mark: P5
"We made some changes this morning on the bike after yesterday, and I was feeling strong. In FP3 I felt really good with the bike and then in Superpole I was happy with my lap, but it was just not enough to be on the first two rows because the field was so close. Eighth was not ideal but I did at least have a decent start in the race, gaining a couple of places in the first few laps. I had good pace but I struggled in some areas to stay with the guys in front of me. That meant I had to play catch up every lap and at a certain point I was just a little bit slower and struggling more. I'm happy with the overall pace and unfortunately Rinaldi passed me at the end, but I think if we can improve the bike on some small areas, for sure we can fight for a podium tomorrow."
Toprak Razgatlıoğlu: P6
"In the race, we made a good start but in the end the rear grip didn't feel too great, similar to Portimao. Normally we would try a different set-up for this and usually that would work well, but in the race after five or six laps I felt the grip drop and then in the last few laps there was another big drop. Sixth position is OK, but I'm not happy because normally if there is a good feeling with the grip I can go with the front group. We will try maybe a different set-up to help this, and I will also try to improve – we will see tomorrow."
Paul Denning, Team Principal
"Qualifying was very, very close and unfortunately we just fell the wrong side of the first and second row lap times and created ourselves some difficulty starting from the third and fourth rows. Michael in particular made an awesome start and rode a very strong first lap. This helped to set up a very solid finish in P5, eight seconds from the winner. Those numbers are not "exciting" but this is a circuit where we've always struggled, honestly speaking, and with some refinement for tomorrow we think this potential can be improved further. Toprak simply had a tough race, but P6 and solid points was as good as we could hope for. In typical fashion, some hard passes and aggressive moves at the start of the race meant that he was at least able to score very good points. We'll move on to tomorrow, try to improve the tyre life further and do our best to run with the fast guys."
More, from a press release issued by Barni Racing Team:
Saturday on defence for Barni Racing Team at Aragon 
Aragon (SPA), 26 August 2020. At the end of a rather tough Saturday, Barni Racing Team rider Marco Melandri, riding the Ducati Panigale V4 R, finished Race 1 in fourteenth position and gained two points in the championship standings. The result came at the end of a race that has never seen the #33 approach the top positions.
Superpole
After continuing to look for the right setup in the FP3 in the morning, Melandri was unable to make the most of the soft tire in the twenty-five minutes of qualifying session. He obtained his best lap in 1'51.014 , time that placed him in 19th position on the starting grid of Race 1.
Race 1
Going out from the seventh row Melandri was not able to recover, but he finished the race without taking too many risks until he crossed the finish line in 14th position.
The Superbike riders will be back on track tomorrow at nine o'clock for the warm-up map, soon before the double race on Sunday: Superpole Race at 11:00 am, on the distance of 10 laps and Race 2 at 2:00 pm.
Marco Melandri
Superpole: P19 – Race 1: P14 
"Especially in the first part of the race I was not able to ride as I would have liked, I went wide on a couple of turners because I found problems in braking and cornering. For tomorrow let's change direction completely and try to understand what can be a good road to improve."
Marco Barnabo, Team Principal:
"I'm very sorry for how things are going and I'm even more sorry because I see everyone giving 100% to get out of this difficult situation: from the rider to the mechanics on the track to those who work from home, everyone is doing his best. The team is making a great effort also from an economic point of view and when the results we expect are so far it gets even harder. This is racing and we don't give up. We just have to keep working as we are doing and work hard to find a solution."
More, from a press release issued by Aruba.it Racing Ducati:
#AragonWorldSBK – Race 1. Another extraordinary one-two for the Aruba.it Racing – Ducati team: Scott Redding triumphs and returns to the top of the World Championship as Chaz Davies finishes second after a spectacular comeback
For the second time in the 2020 WorldSBK season, the Aruba.it Racing – Ducati team conquers the two highest steps of the podium. After the one-two in Race-2 at Jerez de la Frontera, Scott Redding and Chaz Davies make another masterpiece in Race-1 of the Prosecco Doc Aragon Round.
Starting from the third position after a convincing qualifying, Scott Redding builds his victory since the first laps when he doesn't lose contact with Rea (Kawasaki). On lap 8, the English rider takes the first position that he controls well until lap 14 when Rea tries to attack him. Scott defends himself well and forces Rea to make a mistake, conquering the third victory of the season that allows him to return to the lead of the Superbike World Championship standings.
Chaz Davies' Superpole is not incisive and forces him to start from ninth place. Once again the Welsh rider is the protagonist of a spectacular comeback. In the first six laps he recovers five positions and after the crash of Lowes (Kawasaki) – also thanks to an extremely solid race pace – he starts chasing Rea overtaking him with 3 laps to go. In the last lap, Chaz also tries to attack Scott finishing only 3 tenths from his teammate.
Scott Redding (Aruba.it Racing – Ducati)
"I'm really happy because until this morning the feeling was certainly not the best one. Maybe something has changed in the Superpole, but the conditions were not ideal. I tried to stay focused, thinking only of not losing contact with the leading group to achieve a good result. During the race, the feeling with the bike grew, and I managed to take this great victory that I dedicate to the whole team that never gave up doing an extraordinary job".
Chaz Davies (Aruba.it Racing – Ducati)
"It is clear that the starting position did not help me, but I got off a good start, and in the first laps, I managed to keep a good pace to recover positions. The feeling was positive, and I closed the gap between the leading group and me. I tried to manage the tires then when I saw that Scott and Rea were gaining advantage I pushed to the maximum. I think if I had one more lap, I could have overtaken Scott, but he was still very good at defending himself without allowing me to attack him".
Marco Zambenedetti (Ducati Corse Superbike Technical Coordinator)
"It was an excellent first race. We confirmed the good feelings we had already in the tests of two weeks ago with Chaz, while with Scott, we made a little more effort and still managed to find a solid base of set up. Also, the result obtained by Michael Rinaldi (P4) confirms the goodness of the work we are doing. This gives us great confidence ahead of the next five races that we will compete on this circuit, but it is clear that there is still room for improvement. We still have to work, and we will try from tomorrow to do it better than the others".
More, from a press release issued by BMW Motorrad Motorsport:
BMW Motorrad WorldSBK Team experiences a difficult Saturday in WorldSBK at MotorLand Aragón.
Round four of the 2020 FIM Superbike World Championship at MotorLand Aragón.
Tom Sykes crashes in Superpole.
Sykes retires from race one, Eugene Laverty is 16th.
Alcañiz. It never rains but it pours – that just about sums up Saturday at MotorLand Aragón (ESP) for the BMW Motorrad WorldSBK Team. The circuit near Alcañiz is hosting the fourth round of the 2020 FIM Superbike World Championship (WorldSBK). Tom Sykes (GBR) and Eugene Laverty (IRL) finished 14th and 18th in Superpole qualifying. In the race itself, Sykes had to retire and Laverty came home in 16th place.
In the final few minutes of Superpole qualifying on Saturday morning, Sykes was on course for a top result. On his flying lap on qualifying tyres, he and the BMW S 1000 RR set the fastest time for the first sector. However, he then crashed out. As such, he had to settle for 14th place on the grid, with Laverty in 18th.
Laverty then fell on the way to the grid for race one, due to a mechanical error. He was able to start the race, and managed to work his way into 14th place. However, he was then handed a ride-through penalty as the team had worked on the bike on the grid for too long. This resulted in him dropping back and eventually narrowly missing out on the points in 16th place. Sykes climbed into 11th place in the early stages of the race but was then forced to retire on lap four with a technical issue.
Quotes after race one at MotorLand Aragón.
 
Shaun Muir, Team Principal BMW Motorrad WorldSBK Team: "In Superpole, it was just not to be. Tom gave his all, he was clearly on for a front row start if he would have been successful completing the lap. But that's what Superpole is like. From there it made it difficult to start from so far back. Eugene just had a front end problem, a lot of chatter, and effectively it is one lap and gone. So that was Superpole. We then had a brake-line fault, a mechanical error. For that, we apologize to Eugene, we will give him a better bike tomorrow. On Tom's side, we had a recurring fault on the oil pressure and he had to retire the bike. We found the problem, and again, we are going to do better as a team, we will overcome these problems and make sure that they will not happen again. We will put today behind us and focus on tomorrow. We had a good team brief with all the guys, we consulted, we are going to make amends and come out fighting tomorrow, clean the slate and finish on a high. That's what we do in a situation like this and it builds the team stronger as a group."
Eugene Laverty: "My first lap in Superpole was my fastest one and I wanted to build from there but unfortunately I had problems with the front when I wanted to go with the qualifying tyre at the end and I wasn't able to get a lap in as I went off the track. So starting from way down the field is always going to be tough but unfortunately in the sighting lap, we had a brake issue so I had to jump off the bike. I managed to get the bike back to the grid and the guys worked fantastically to repair it just about on time to get me starting the race. But unfortunately we ended being given a ride-through penalty because we were still working on the bike after the three-minute mark. Then Christophe Ponsson hat a massive crash in front of me and I had to go through the gravel to avoid him. So just everything that could go wrong did in a sense. I just have to forget today and work towards tomorrow."
Tom Sykes: "It was a pity as the BMW S 1000 RR is just so easy to manage and so enjoyable and it feels like what I expect from a race bike. Regarding my crash in Superpole, I think I was just a little bit caught out. I did not do anything stupid but obviously I ran over the edge of the tyre on the front. It was a little bit my mistake and was disappointing because today with the set-up that we got, I have to say credit to all the guys, things were coming to the right place. In Superpole, I was on a potential pole position lap so obviously disappointed that I made a mistake. I left myself with a lot of work in the race but we made a good start and I was in a position where I felt comfortable, knowing that the lead is only a couple of seconds down the track. We had a very good race pace all weekend and today we were got to see if it was where it needed to be. But then we had a technical issue which was only a small oil leak but we had to pull out. Looking at the lap times I think we would have been able to be very strong. We'll keep working and tomorrow is another day."
More, from a press release issued by Kawasaki:
Rea Third In Aragon Opener
Kawasaki Racing Team rider Jonathan Rea scored a podium position today by finishing third in the opening 18-lap WorldSBK race at Motorland Aragon. Alex Lowes (KRT) was a strong starter from the second row but he was to highside out of the race, without significant injury.
After setting an all-time new track best in Superpole qualifying Rea took the lead from his team-mate Lowes on the first lap of the opening race at the 5.077km long circuit, with Scott Redding providing close company for them both.
Rea held the lead for seven laps until eventual race winner Redding passed him. Jonathan stayed in contention for the win until running slightly wide into turn 12 with a few laps to run, and he then had to fight to keep the rapidly closing Chaz Davies behind him. Davies would eventually pass with three laps to go and Jonathan finished this season's first Aragon race in a close third place.
Lowes was in a strong position after his fast early push but shortly after he had been passed by Redding he was to crash when his rear slid around quickly and then gripped again, causing him to suffer a painful fall.
In Tissot-Superpole, shortly before race one, Rea reached another personal landmark in his career, earning his 25th pole position start. He was on record breaking pace at Motorland with his 1'48.860 Superpole lap time. Lowes, still working on race set-up in the earlier stages, jumped up the order at the end of Superpole qualifying and started race one from fourth spot.
With two more races this weekend and three more at the same venue next week the KRT team's technical staff now have some real race data to work on to find an even better overall race set-up for each rider. Tomorrow there will be a 10 lap sprint race in the morning and then a second full distance 18-lap race in the afternoon.
Jonathan Rea, stated: "We were just lacking a little something today in the race but I was really happy with the Superpole qualifying session. We worked on a bit of a 'time attack' in the beginning, then when I put the Q rear tyre in I had some traffic behind – but I needed to find the rhythm and we took pole position. In the race I felt really good with the bike but I just could not fight. I had a really bad start but I tried to put my head down in the beginning and got to the front. When I got track position and Scott came through he did a really good job keeping up a good rhythm. I was just about there, but not close enough to go through. It was good in the first three sectors, and it was only two or three tenths of a difference, but when guys like Chaz and Scott are on it you cannot afford to lose that kind of time in a critical area. It was frustrating because at the start of the race I felt comfortable to let Scott lead and the pit-board gap was increasing to third place. We will put our heads together tonight and come back stronger tomorrow."
Alex Lowes, stated: "I was working with a race setup at the start of Superpole in the cooler conditions, so when I used the Q tyre I knew I could do a good lap. It was a shame to just miss out on the front row but fourth place was good. I did a couple of race simulations in the recent Aragon test so I was confident of my pace. I wanted to get a good start, which I did, and then when Scott passed me on the back straight I thought, 'OK, just sit here'. Then I crashed and I need to check the data because it was a strange one. It spun a lot, to the point where the traction control could not save me, and then it kicked back a lot. A strange crash in an unexpected area but the good thing is we have five more races here at Aragon and my pace is pretty strong."
Xavi Fores (Kawasaki Puccetti Racing) was a season best eighth place in race one, having qualified 13th, with Roman Ramos (Outdo Kawasaki TPR) 13th in the eventual race classification. Maximilian Scheib (Orelac Racing VerdNatura Kawasaki) was having a strong ride for a time but fell at turn one on lap 13 and eventually retired.
More, from a press release issued by GRT Yamaha WorldSBK Junior Team:
Aragón day 2: Caricasulo in the top-10, Gerloff finishes his race in the gravel
Both GRT riders showed strong growth during Saturday's sessions, with the help of the colder temperatures. The continuous improvement today bodes well for tomorrow, when there will be two more possibilities to aim for the top.
In FP3 on Saturday morning, Caricasulo immediately managed to find the right set-up and set an excellent 10th time, less than 8 tenths from the leader, while some problems emerged for Gerloff, only 15th. Everything then changed in the Tissot Superpole, with the Texan in 10th place and the Italian in 16th due to a strategic error. It was in the race, however, that both GRT riders showed their full potential: Gerloff seemed on track for another top-10, having hooked the second group, but, pushing to keep up their pace, he crashed at turn 5. Caricasulo, on the other hand, maintained a good pace throughout the race and moved up to ninth place at the checkered flag.
After a good second day, Caricasulo is satisfied not only with the final result, but also
with his improvement compared to yesterday: "Today was a rather positive day. Thanks to all the work we did yesterday after FP2 we managed to hit a bike that in my opinion has
improved a lot. Unfortunately my qualifying was not good due to a mistake in strategy and we started from the back, but race 1 went well, we managed to maintain a good pace and we were consistently faster than in practice. We will keep this base to improve even more tomorrow. "
Gerloff, on the other hand, is disappointed with the outcome of Race 1, but is satisfied with his pace and can't wait for that arrived on Sunday: "It was a positive and a negative day at the same time. This morning, between FP3 and qualifying, we made many changes to the bike, and I was able to stay closer than ever to pole position time, even if the final position He didn't show it. It was great to qualify between the two factory Yamaha riders. In the race I had a good start, the bike was strong and I was able to follow the second group, between 5th and 10th place. I climbed up to eighth and was catching Toprak (Razgatlioglu) and Baz. Then Bautista overtook me, and as I pushed hard to follow him, I had a weird accident. I say weird because the data they show that I didn't do anything different than the previous lap, but today there was a strong wind, which could have affected. I remain of the opinion that it was a positive day, and I can't wait for tomorrow. I just hope that everything goes according to plan, to cut into the positions I think I can aspire to. "
Even the words of the Technical Coordinator Damiano Evangelisti express satisfaction for the constant growth of the GRT team throughout the weekend: "Saturday went well for we. Not entirely, because unfortunately Garrett crashed on the sixth lap of race 1, but we still managed to demonstrate the potential of the team and our boys. We got a good start in FP3 with Federico, who improved his pace a lot compared to yesterday, while Garrett struggled. In this situation, the good fortune of having two teammates able to share their respective information with each other was useful. We transferred Federico's good solutions to Garrett's bike, and this helped him during Superpole, where he was 10th, a very good result for us. Federico had a small problem, however, and was 16th, not being able to use the soft tire adequately, and this starting position certainly affected his race 1. However, what pleases us most is that both riders were able to express their full potential in the race. Garrett was in the top group and was battling Toprak (Razgatlioglu) and Baz, keeping their pace, but a slightly wide trajectory at Turn 5 betrayed him. We will rebuild his bike, and he can look forward to tomorrow with great optimism. Federico, on the other hand, was fast, fought to get back in front, and finished ninth. But, as I often say, what is most important to us this year is to limit the gap from the leaders, and this was the race in which we suffered the least gap from both the winner and the best Yamaha. Garrett's disappointment aside, today was an extremely positive day. We are confident for tomorrow: we want not only to repeat ourselves, but to improve even more. "
Thanks to today's points, Caricasulo climbs to 15th place in the world championship standings, with 19 points, while Gerloff is 13th, again with 22 points. To find out if the GRT Yamaha WorldSBK Junior Team riders will continue to close the gap to the leaders in tomorrow's races, tune in for the Warmup at 9, and for the Tissot Superpole Race and Race 2 at 11 and 14 respectively.