Race Lap Record: 1:39.175, Jonathan Rea, 2018
All-Time Lap Record: 1:39.012, Marco Melandri, 2018
FIM Superbike World Championship
San Juan Villicum Circuit, Argentina
October 12, 2019
Race One Results (all on Pirelli tires):
Alvaro Bautista, Spain (Duc Panigale V4 R), 21 laps, 35:38.957, 93.913 mph
Jonathan Rea, UK (Kaw ZX-10RR), -1.562 seconds
Toprak Razgatlioglu, Turkey (Kaw ZX-10RR), -1.765
Michael Van Der Mark, Netherlands (Yam YZF-R1), -16.996
Alex Lowes, UK (Yam YZF-R1), -22.535
Leon Haslam, UK (Kaw ZX-10RR), -25.840
Tom Sykes, UK (BMW S1000RR), -31.928
Jordi Torres, Spain (Kaw ZX-10RR), -41.819
Leandro Mercado, Argentina (Kaw ZX-10RR), -46.835
Alessandro Delbianco, Italy (Hon CBR1000RR SP2),-63.500
Markus Reiterberger, Germany (BMW S1000RR),-73.699
Michael Rinaldi, Italy (Duc Panigale V4 R), 1:42.061, -3 laps, pitted
Eugene Laverty, Ireland (Duc Panigale V4 R), DNS
Marco Melandri, Italy (Yam YZF-R1), DNS
Ryuichi Kiyonari, Japan (Hon CBR1000RR SP2), DNS
Sandro Cortese, Germany (Yam YZF-R1), DNS
Chaz Davies, UK (Duc Panigale V4 R), DNS
Leon Camier, UK (Hon CBR1000RR SP2), DNS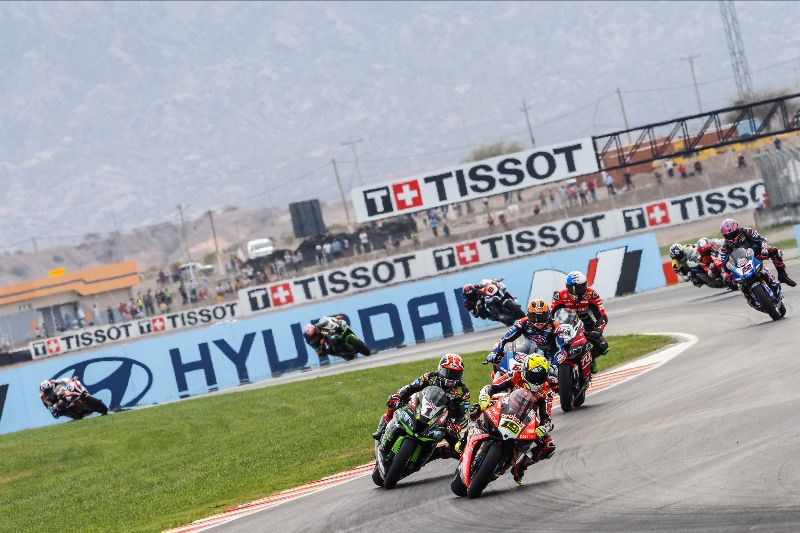 More, from a press release issued by Dorna WorldSBK PRess Office:
Bautista returns to winning ways in his first visit to San Juan  
The Spaniard blasts to victory in Race 1 ahead of 2019 World Champion Jonathan Rea and Turkish rider Razgatlioglu
The opening race of the Motul Argentinean Round at the Circuito San Juan Villicum would see a frantic race for WorldSBK's second visit to South America. It was a thrilling duel at the front between four race winners in 2019, with an enthralling battle making it one not to miss. Coming out on top and returning to the forefront of the battle for wins, Alvaro Bautista (ARUBA.IT Racing – Ducati) stormed to success in San Juan.
With the race getting underway, it was Jonathan Rea (Kawasaki Racing Team WorldSBK) who got the launch and barged his way ahead of Alvaro Bautista at Turn 1, but Michael van der Mark (Pata Yamaha WorldSBK Team) capitalised on the two ahead of him nearly colliding to take the lead. Toprak Razgatlioglu (Turkish Puccetti Racing) was right in contention and nearly clashed with 2020 teammate van der Mark. Alex Lowes (Pata Yamaha WorldSBK Team) was a strong fifth place whilst Tom Sykes (BMW Motorrad WorldSBK Team) had risen to sixth early on.
The race settled down, and the leading four began to battle with each other. Bautista set a strong pace out front, but Jonathan Rea's relentless pace meant that a battle soon ensued out front. Swapping and changing between the top two in the Championship. A pattern began to form, with Bautista's Ducati strong in a straight line but Rea's Kawasaki able to be all over the Spaniard in the corners. Waiting to pick up the pieces were Razgatlioglu and van der Mark, whilst Leon Haslam (Kawasaki Racing Team WorldSBK) began to pick his way through the field.
With 16 laps left to complete, Michael van der Marks started to drop back from the leading three, as the pace increased. Bautista began to slam in fastest lap after fastest lap and two laps later, Razgatlioglu was the next to be jettisoned from the leading group. Jonathan Rea valiantly remained with the Spaniard, getting ahead briefly at Turn 6, only for Ducati power to prevail. Rea would stay on the back of Bautista for a few lap laps, but the five-time Champion couldn't live with the pace of Bautista.
Meanwhile, Tom Sykes had dropped back, as had eighth-place starter Alessandro Delbianco (Althea Mie Racing Team), down in tenth and battling hard with home-favourite, Leandro Mercado (Orelac Racing VerdNatura), both having superb races inside the top ten. Behind them, Michael Ruben Rinaldi (BARNI Racing Team) had suffered badly and pulled into the pits, although he returned to the track later on.
Further ahead of the battle for the lower positions in the top ten, Alex Lowes was being reeled in by Leon Haslam. The battle between the two was now turning from contract signatures to on-track positions, although the 'Pocket Rocket' looked like he would have more pace than Lowes in the closing stages. However, it wouldn't be the case and Lowes would eventually hold on to fifth position.
With Bautista clearing off at the front, the battle for second ignited, as Razgatlioglu closed in on Jonathan Rea. The Northern Irishman was making mistakes, particularly at Turn 6, allowing the Turkish star to get on terms. But neither would be able to challenge an incredible Bautista, who returned to winning ways after taking a round off at Magny-Cours. Jonathan Rea took second and resisted Razgatlioglu's onslaught. The Turk wrapped up the accolade of Best Independent Rider in 2019. Fourth went to a determined Michael van der Mark whilst teammate Alex Lowes completed the top five.
Sixth position was Leon Haslam, who faded in the closing laps, whilst Tom Sykes was seventh and top BMW. Eighth place went to Jordi Torres (Team Pedercini Racing), as the second Independent rider home. Leandro Mercado made it to ninth position to the delight of the home crowd, making up for missing FP3 and the Tissot Superpole session. It was a second top ten of the season for a sensational Alessandro Delbianco, with the Honda rider making it all five manufacturers inside the top ten.
Before the race began, there was a division about riders racing due to the dusty track conditions. The following riders elected not to race, meaning 12 riders took to the track for Race 1: Chaz Davies (ARUBA.IT Racing – Ducati), Sandro Cortese (GRT Yamaha WorldSBK), Marco Melandri (GRT Yamaha WorldSBK), Leon Camier (Moriwaki Althea Honda Team), Ryuichi Kiyonari (Moriwaki Althea Honda Team) and Eugene Laverty (Team Goeleven).
P1 – Alvaro Bautista (ARUBA.IT Racing – Ducati)"It's my first time riding here in San Juan and I am so happy that I was able to get the victory at this amazing track with all these amazing people supporting us! Today was really difficult riding on the slippery surface of the asphalt. I just tried to keep calm and avoid mistakes. I didn't really focus on my performance but more on not making any error, trying to ride as smooth as possible. I hope tomorrow we will be able to enjoy other amazing battles".
P2 – Jonathan Rea (Kawasaki Racing Team WorldSBK)"To be honest, it was a really difficult race today. The conditions of the track were not perfect and it was more about trying to manage my race. I feel really good with my bike and I want to thank all my guys because we made a last-minute change for these conditions and I think it worked. I tried to be with Bautista, but then I made a mistake because I was riding over my head to stay there. I made a few mistakes but I really hope that the track will be a little bit better tomorrow, but for today I am quite content with the podium".
P3 – Toprak Razgatlioglu (Turkish Puccetti Racing)"It has not been so easy for me, but I think all riders were struggling today. In the final two laps, I pushed to the limit in the attempt to reach the second position. But then I saw it was impossible for me to reach Johnny, so I decided to settle there in the third position and bring home another podium. I am really happy about this result. Let's see how will be tomorrow".
More, from a press release issued by BMW Motorrad WorldSBK Team:
A dramatic first race of the weekend at the Circuito San Juan Villicum for the BMW Motorrad WorldSBK Team.
12.10.19
Circuito San Juan Villicum
Following yesterday's Free Practice the BMW duo of Tom Sykes and Markus Reiterberger took to the track ahead of Superpole. Tom struggled to find a comfortable setting with the current track conditions and failed to make an impact on the front two rows having used the 'Q' tyre in the final parts. Despite using the 'Q' tyre this did not improve Toms time which put him in P13 ahead of race 1. Equally Markus Reiterberger struggled with the lack of grip during qualifying and opting for the 'Q' tyre didn't work in the team's favour – final position P17.
Race 1 soon approached us and there was drama from the outset with 6 riders refusing to participate due to safety concerns (Sandro Cortese, Marco Melandri, Eugene Laverty, Chaz Davies, Leon Camier and Ryuichi Kiyonari). With now an empty looking grid the race got underway and Tom worked his way through to P7 opening lap. Sykes found himself in an early battle with Michael Ruben Rinaldi and Leon Haslam joining the party just behind. Leon managed to pass Tom relegating him now into P7. Sykes would bring his BMW S 1000 RR across the line to claim P7.
Markus Reiterberger lined up P17 on the grid and with the 6 absent riders turned into T1 sitting in P11. Local hero Tati Mercado passed Markus on lap 2 which put him back a place into P12, Markus held this position for the majority of the Race but with Rinaldi dropping down the order meant Markus would finish the Race in P11.
Shaun Muir, Team Principal:
"Superpole was very difficult for us. We went into the Superpole like most riders with the first exit trying to find a good balance of the bike. Then we put the qualifying tyre on but did not make any progress. Tom normally does a very good step with the qualifying tyre and this time we could not improve the position. In the race, again we went a bit into the dark with a setting we wanted to try on the bike to give him some more mechanical grip. This appeared to make some progress forward but it was a very long race and the conditions were difficult so we are happy to come home with the seventh position.
On Markus' side, he simply struggled with his confidence and could not find the balance of the bike and therefore cannot come into the corners aggressively. And we know that on a circuit like this the competition level is so high and we must lift ourselves to that level. At the moment, Markus is finding that very tough – but he's being professional and we will continue to try to find improvements overnight and make a step forward for tomorrow."
Marc Bongers, BMW Motorad Motorsports Director:
"In general, a seventh place is not too bad, but it's a result that should not be classified as such as quite a few riders did not participate. While probably only two of them would have been in front of us, the issue is that we lost 1.5 seconds per lap to the front. The track conditions are very, very tricky but it seems that other teams have found a solution to better cope with that. We need to be able to do the same. We made some changes and now have to analyse to which degree they have a positive impact. Our lap times have improved but in general we are too far away from the front."
Tom Sykes:
"Obviously we have really strange conditions this weekend, which is a shame. Here in Argentina, the circuit layout is absolutely fantastic, the fans are so passionate for the racing and unfortunately we have these bad conditions. We sat down and tried to get the best set-up for the BMW S 1000 RR. Honestly to finish seventh we had some good luck for this but we will take it and continue to set up the RR for the next race. We definitely got a lot of information that we will use for tomorrow to improve.
This is completely new territory for us really and completely different surface conditions. We just need a little bit more time to adjust and we have seen the potential of the package in the wet and the dry. Hopefully now we have a lot of information to make a good step for tomorrow trying to keep a good solid run of results. The only downside is that our starting position on the grid is not ideal for the sprint race which ultimately sets you up for the big race. So we will see and keep working overnight and try to make the most of the situation tomorrow."
Markus Reiterberger:
"Conditions in Superpole have been really difficult. It was much hotter than yesterday and even then the riders had said that it is dangerous to ride because it's far too slippery; there's too much dirt on the track and as result there is no grip. You have a line of a maximum of a metre you can use. If you leave that line you are close to crashing. It seems that the track had been cleaned over night and all was fine in the third free practice session. In Superpole, however, conditions were even worse which was very unusual. In these extremely bad conditions I could not qualify well and that's how I started into the race. Many of the other riders did not participate. We sat together in the team and said: 'We will race!'. The grip indeed was a bit better as it became cooler, but the race itself was a bit lonely for me. I had a good start and improved by two positions but then I hit the dirt in the first corner and nearly crashed. Then I had two more moments and all I did then was to bring it home and to at least collect some points finishing eleventh. It's difficult conditions for all that we have to cope with. So I want to take the opportunity to thank my team because also with bad conditions and results we keep standing together, and together we give our very best."
More, from a press release issued by Kawasaki:
Rea Second And Haslam Sixth In Argentina
Having qualified third fastest in Superpole Jonathan Rea (KRT) took second place in a tough 21-lap Race One at a hot and dusty Villicum circuit, finishing just 1.5 seconds from the win. His team-mate Leon Haslam took his Ninja ZX-10RR to sixth, having started from 14th place on the grid. In scoring his 11th podium of the season Toprak Razgatlioglu (Turkish Puccetti Racing) won the Independent Rider' title, with almost two rounds to spare.
After some tough qualifying and practice sessions on the dusty and slippery Circuito San Juan Villicum track surface, the first 21-lap race went ahead on time, after a longer than normal FP3 session and then Tissot-Superpole qualifying.
Third on the grid for the start of the race, Rea and three other riders, including eventual race winner Alvaro Bautista, jostled for track position in the early laps. The fight remained between those four for five laps, then the break was made on lap ten as Bautista moved ahead.
Rea used all of his championship-winning skills to finish a tricky race safely in second place, while keeping Razgatlioglu behind him in third place.
Having never raced at Villicum before, Haslam's push to his Race One sixth place was a strong effort from a rider who started on the fifth row of the grid – especially in the tricky track conditions and on asphalt that peaked at 45°C.
Leon remains sixth overall, with two more Villicum races to come before he heads to Qatar for the final round in two weeks time.
Jonathan Rea, stated: "It was a very difficult race. As we know the conditions were not the best so it was more a case of managing myself and the bike inside the limits. But of course I got excited a few times because I could see my pace compared to Alvaro was quite similar. I was much stronger in a lot of the circuit and there were a couple of key areas where he was that bit stronger. I was just riding on the limit to be there so that meant when you take liberties in all the critical areas of the track I was making some mistakes – and just running onto the dirty stuff penalised me a few times. There are lessons to learn for tomorrow. Pere and myself made a last minute change, just before the race, to forget about out-and-out pace and to look after the tyre. That was the biggest thing because we knew the tyre was going to drop. So massive kudos to Pere because the change was quite significant. I felt like in the end we looked after the tyre a little bit, but too many mistakes penalised us."
Leon Haslam, stated: "It was one of those races and it is a new venue for me. I felt the track was really difficult, especially coming back from 14th place on the grid. I ran off the track several times and the narrow line was so hard, especially in racing conditions. We did what we had to do, finished the race and we will do the same again tomorrow."
Toprak Razgatlioglu became the Independent Riders' Champion today, after securing podiums in all the most recent eight rounds, including his first two career race wins last time out in France. He also has a strong chance of finishing third overall in the full WorldSBK championship.
Toprak Razgatlioglu, stated: "In the race I think in the race it was not bad but there was sliding, but better than in qualifying. I tried a different tyre in qualifying and we used it in the race and I got a podium again. I tried to pass to Jonathan but it was not possible. I have secured the Independent Riders' title. A great result for me and the team, who have worked so hard for me, and who well deserve this victory!"
Jordi Torres (Team Pedercini Racing Kawasaki) was eighth in the 21-lap Villicum race today, with local rider Leandro Mercado (Orelac Racing VerdNatura Kawasaki) ninth. In Superpole Torres had been 12th while Mercado could not set a time. Leandro was allowed to start the race because of his strong earlier performances in practice.
More, from a press release issued by Yamaha:
Both Pata Yamahas in the Top Five in Argentina
Race
The Pata Yamaha WorldSBK team continued their run of positive form in today's Race 1 in Argentina, with Michael van der Mark finishing in fourth place and teammate Alex Lowes following him across the line in fifth. The result means that van der Mark moves to within three points of Lowes, as the Pata Yamaha pairing continue to dispute third place in the championship standings.
Ten Kate Yamaha Supported WorldSBK rider, Loris Baz, was ruled unfit to race by circuit medical staff following a crash in the final turn during the early stages of today's Superpole qualifying session. Baz sustained contusions to his left wrist, with the impact severe enough to cause extensive swelling but no other damage. The Frenchman's injury will be reassessed ahead of warm-up tomorrow morning, but Baz is confident that he'll be passed fit to ride.
Also absent from today's Race 1 grid were Sandro Cortese and Marco Melandri. While the GRT Yamaha team had their Yamaha R1's ready to race, both riders felt the inconsistent surface of the San Juan Villicum track was not conducive to safe racing and opted not to take their place on the grid. In total six riders made the decision not to race due to safety concerns, leaving a depleted grid of just 12 riders to contest WorldSBK Race 1.
The condition of the San Juan Villicum circuit has been a major discussion point all weekend, with riders expressing their concerns about the dirty surface and the newly resurfaced areas of the track even before anyone had turned a wheel in anger.
Efforts by circuit staff to clean the track surface on Thursday afternoon proved woefully inadequate and conditions on the opening day were treacherous, with surface dirt and seepage from the new asphalt causing a severe lack of grip, a problem that was exacerbated as the track temperature increased.
While a full day of track sessions yesterday meant that a much wider clean line was available to riders in the final free practice session and qualifying today if riders were forced offline by a mistake or by a rival, the level of grip available dropped significantly.
The condition of the San Juan Villicum track was significantly below the standard expected of a circuit on the world championship calendar on arrival, and unfortunately, it remains below this standard, despite the improvements as a result of use and maintenance over the past two days.
Despite the problems, today's WorldSBK Race 1 ran the full distance and, while times were slower than expected due to the tricky conditions, was concluded without a single incident and with all 12 protagonists picking up championship points at the chequered flag.
Track conditions are expected to improve further tomorrow, as the forecast is for overcast skies and an ambient temperature significantly lower than the last two days.
Michael van der Mark
Pata Yamaha WorldSBK – P4
"Conditions weren't ideal again today, which made for a tough race, but we were expecting that. I got a good start from the front row after qualifying in second and then had a nice four-way battle at the front for a few laps. We managed to pull away quite quickly from the guys behind us, but after seven laps I started to struggle with the rear grip and I couldn't stay with the lead group. Today was more survival then a real race, but I scored some really good points and we know where we need to improve for tomorrow."
Alex Lowes
Pata Yamaha WorldSBK – P5
"I didn't have the pace I was expecting in the race. At first, I was on the back of the leading group, but they were a bit quicker than me as I wasn't comfortable stopping the bike and getting it into the corner, so that was tough. I knew I could do 1'42 consistently and I tried to keep that pace until the end. I knew Leon Haslam was catching me, but I couldn't really go any faster, so it was a case of ensuring I didn't make any mistakes, as running even a little offline and onto the dirty part of the track lost you a lot of time. It was a little bit frustrating, but I managed to get fifth and we have plenty of information that we can use to find improvements for tomorrow. Overall, not too bad, but a shame how it all turned out on the grid ahead of the race. But anyway, the focus is now on tomorrow and challenging for the podium."
Sandro Cortese
GRT Yamaha Supported WorldSBK – DNS
"First of all, I feel very sorry for the fans, my team, our sponsors and my crew, who put in a lot of work to have the bikes ready to race today. Maybe Marco and I look bad now because we opted not to ride, but I stand by my decision because I believed the track was simply not safe to race on today. We offered a solution to the problem, suggesting two full length races tomorrow in the cooler conditions that are predicted, but this was rejected. despite the fact that it is us that have to race on a track with so many issues that impact on our safety. Today has left me disappointed."
Marco Melandri
GRT Yamaha Supported WorldSBK – DNS
"It's a shame not to race, because this track is so beautiful, but we saw in Superpole that with the increase in temperature the seepage from the new tarmac made it very difficult to ride with a reasonable margin for safety. For me it made no sense to race in dangerous conditions today, when there was an option to run both races tomorrow, when it's predicted to be overcast with temperatures around 11 or 12 degrees lower than today. That would have provided a much better show for the fans, but the idea was rejected. It was a shame for everyone today actually, but safety must be the priority always."
More, from a press release issued by Aruba.it Racing Ducati:
World Superbike in Argentina: fantastic victory by Álvaro Bautista at San Juan Villicum.
Chaz Davies decides not to take part in Race 1
Álvaro Bautista (Aruba.it Racing – Ducati) returned to his winning ways at the San Juan Villicum circuit in Argentina today with a superb performance in truly challenging conditions. Starting from pole position after clinching his fourth Superpole trophy of the season, the 34-year-old from Talavera de la Reina (Spain) first had a terrific battle with the newly-crowned world champion Jonathan Rea (Kawasaki) in the early laps, before breaking away from the northern Irish rider, then he increased his lead and went on to score his sixteenth win of the year.
The precarious conditions of the asphalt were not considered to be conducive to racing by several riders, including Chaz Davies, and as a result they decided not to take part in the race for safety reasons.
Tomorrow the ten-lap Superpole race will take place at 18.00 CET, while Race 2 (21 laps) will start at 21.00 CET.
Álvaro Bautista (Aruba.it Racing – Ducati #19) – 1st
"Today I'm extremely happy to have won the race given the fact that I've never even seen this track before. We also picked up the Superpole so it's been a perfect day. This morning luckily the track improved a lot over yesterday and the times came down by almost four seconds. The increase in temperature complicated the situation in Superpole, because the grip level dropped and it was difficult to do one fast lap. In the race the track remained insidious and I had to be much more careful than in other races. I tried only not to make mistakes and keep focussed especially in the initial scrap with Jonathan, with the intention of maintaining a constant pace. I want to thank all the team for their great work today, tomorrow we'll try and keep this level."
Chaz Davies (Aruba.it Racing – Ducati #7) – DNS
"Firstly, I'm disappointed with the way this day was managed. In my opinion it was important that all the riders were united but unfortunately this didn't happen. Fifteen out of the 18 riders weren't intending to take part in the race because of the difficult track conditions. Unfortunately, five minutes before the start some of them probably felt pressure to go on track, going against the decision taken before all together. We had proposed modifying the schedule and do two long races tomorrow to give the organizers the opportunity to improve the track conditions but our wishes weren't taken into account. From my point of view safety is paramount and in certain situations they have to listen more to the views of the riders. All this should be considered in a constructive manner to improve in the future. We already discussed this issue in the various meetings of the Safety Commission. I'm sorry but it's a shame to come and race at this fantastic circuit and find ourselves in this situation. Now let's forget about today and focus on tomorrow's races."
More, from a press release issued by Moriwaki Althea Honda Team:
Leon Camier and Ryuichi Kiyonari sit out Race 1.
Deeming the track conditions at the San Juan Villicum Circuit this afternoon unsuitable for racing, both Leon Camier and Ryuichi Kiyonari chose to sit out today's Race 1, a decision taken by a total of six WorldSBK riders. The team respected their decision.