2019 Tests Complete For KRT In Spain
After experiencing two days of good weather at the Jerez de la Frontera tests KRT duo Jonathan Rea and Alex Lowes have completed their final on track preparations before the winter break. Both riders experienced positive outcomes from their testing plans.
Five times World Champion Rea ended up fastest rider of all after setting the best lap of 1'38.397, using a qualifying tyre in the last few laps.
Even after the effects of a large oil spill, which left the entry to Turn One covered in cement dust for the last hour, Rea improved his own existing best time before the action finished at 18.00hrs
Rea also concluded the work he and the team had been carrying out on machine set-up to take into the next tests in Iberia in late January, and then into the 2020 WorldSBK season itself.
Lowes, a first time Kawasaki rider for the coming season, undertook only his second test sessions on the official Ninja ZX-10RR but placed fourth fastest overall.
Lowes, who had a fall right at the end of the available tack time, lost his chance to set a single better lap time but spent most of his test working on overall set-up and improvements in braking. He has now settled into his new working environment and is ready for more at the next series of track tests in late January.
Almost all of KRT's rivals were also present at Jerez, providing a good measure of where the overall Kawasaki effort stands in the ambition to retain championship titles in 2020.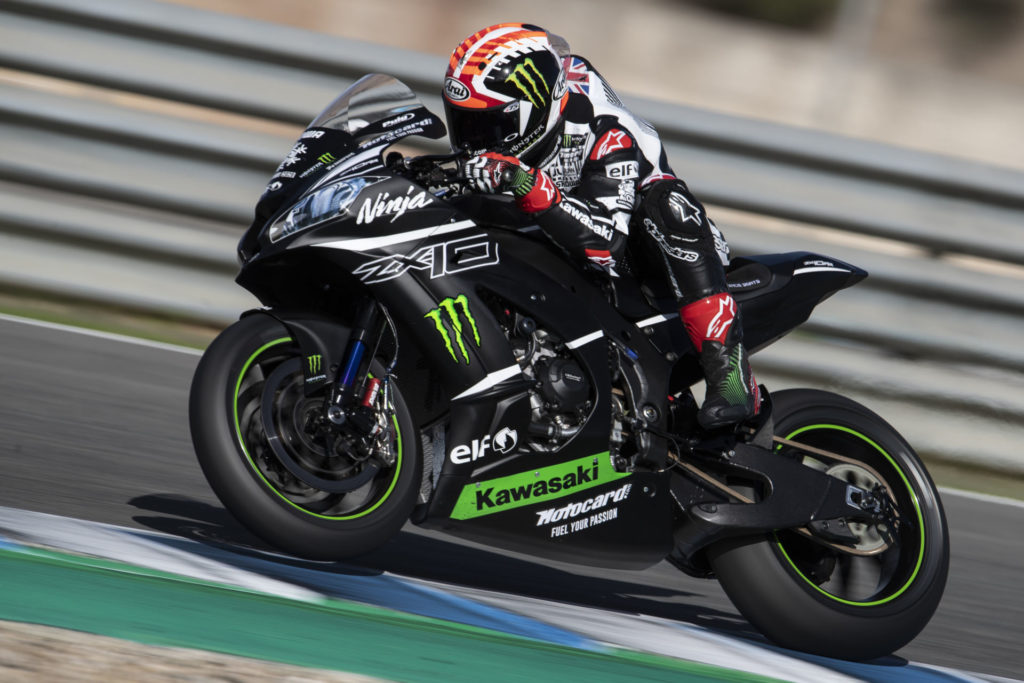 Jonathan Rea, stated: "Overall it was pretty good. I had good motivation for this test. Normally at the end of a busy season it is easy to get lost but we focused on quality rather than quantity. We did a lot of back-to-back testing of things we had ideas to try out during the year. Then we tested some new items and new ideas. The biggest thing was in my riding position on the bike and getting used to the rear brake lever on the handlebar, plus some different engine braking. Aside from that Pirelli brought some different tyres. At the end we could do a time attack with a qualifying tyre and that put us right there. It was hard at the end doing that, because a couple of hours before the session finished there was oil all over Turn One. The track was compromised a bit but I still feel that we did a really good job at this test, both with our outright pace and also consistency. We are where we should be and I am really happy to sign off on an incredible 2019."
Alex Lowes, stated: "The test was really positive as my feeling with the bike was very good. After the Aragon test, Marcel and I wanted to work on the braking because how I rode my old bike was a little bit different. But already from the first laps here we made a big step, and today I felt really comfortable with the braking. This, I am really happy about. We did some longer runs today and I could keep it in a nice consistent pace, which was another really good thing. Obviously, at the end I fell while using a qualifying tyre but that was just a small detail. I have had instantly a good connection with all the mechanics and working with Marcel is really easy. It has been real good fun to be here with two good days and good weather; it has been enjoyable."
Pere Riba, Crew Chief for Jonathan Rea, stated: "We did the best lap time with the Q tyre, after the oil spill. Jonathan did very well at this test so I am happy, as usual. I am always happy because he is always there. We collected almost all the information we wanted during these winter tests – just one small item is missing – but we can test that in January. We understood the balance of the bike that we have been using in the last couple of races, and we also worked with the suspension and electronics, quite deeply. In some small details we collected a lot of information, also with a different bike balance. We found positives here, positives there, so depending on track conditions and layouts we can use this one, or another one. This was the target of the winter tests. Jonathan was enjoying the bike and we go into the winter break at the top of the lists again. This makes for a little bit happier Christmas."
Marcel Duinker, Crew Chief for Alex Lowes, stated: "I am a very happy crew chief. We set targets for the previous test at Aragon and also here in Jerez. Here, we even went a bit further than our target and we tried everything we needed to try. On fresh tyres, and over distance, we can match the fastest guy on track at this moment. What else can we wish for? I am already looking forward to January."
As well as the official KRT squad's efforts at Jerez Xavi Fores rode the  Kawasaki Puccetti Ninja ZX-10RR at these tests and finished 11th fastest. Pedercini Racing Team rider Lorenzo Savadori enjoyed his first ride on the Ninja ZX-10RR and finished up 15th fastest.
More, from a press release issued by Aruba.it Racing Ducati:
Aruba.it Racing – Ducati wrap up 2019 with two days of busy testing for Chaz Davies and Scott Redding at the Jerez de la Frontera circuit in Spain
The final two days of testing for the Aruba.it Racing – Ducati team in 2019 concluded today at the Circuito di Jerez – Angel Nieto, with Scott Redding and Chaz Davies ending up fifth and ninth quickest overall on their Ducati Panigale V4 R machines.
Making the most of two days of ideal weather conditions, the two British riders continued with their scheduled testing work, focussing mainly on the bike set-up and trying out some new tyre solutions brought by Pirelli to the Jerez circuit.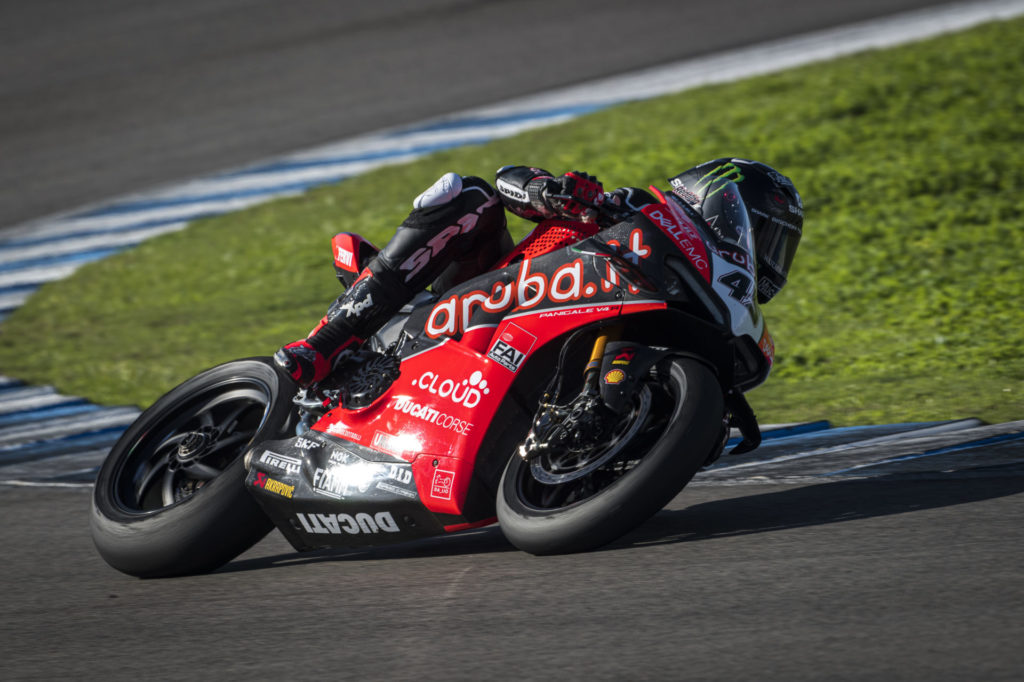 Scott Redding (Aruba.it Racing – Ducati #45) – 1'39.466 (70 laps)
"Today we tried to find a bit more rear grip, something that I've struggled with here at Jerez since yesterday, and thanks to the work of the guys in the team in the end we found something that helped a lot. We're still not where we'd like to be but we're making progress. As well as testing the new tyres brought by Pirelli, we managed to work a bit more with the electronics, which are totally new to me in Superbike. In general I was quite happy by the end of the test, it's good to have that bonding between myself and the Panigale V4 R and know which direction to work in ready for the 2020 season."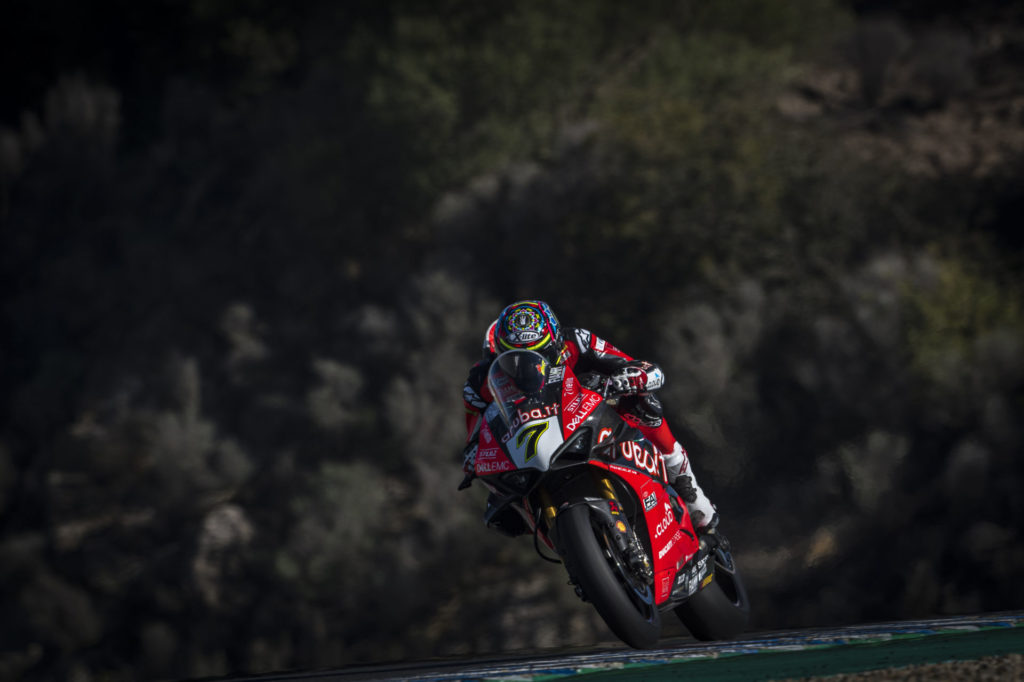 Chaz Davies (Aruba.it Racing Ducati #7) – 1'40.000 (77 laps)
"It was a busy couple of days, and all in all I'm pretty satisfied. We had some new parts to get through but mainly we were just trying a lot of different things to find a good base set-up. I think we learnt a few things, working on the rear of the bike to help the weight transfer, one goal which we improved at this track. Now it'll be nice for me and the team to have a break and recharge our batteries but it doesn't take long before you want to go racing again next season."
The World Superbike teams and riders will next be back on track from 22nd to 27th January 2020 when the Aruba.it Racing – Ducati team will be involved in four days of testing, first at Jerez (Spain) and then at Portimão (Portugal).
More, from a press release issued by BMW Motorrad World Superbike Team:
BMW Motorrad WorldSBK Team conclude the first test of the 2020 season at the Circuito De Jerez
BMW Motorrad WorldSBK Team's Tom Sykes and Eugene Laverty today concluded their first two-day test of the 2020 season at the Circuito De Jerez in Spain. Eugene Laverty threw his leg over his new BMW S 1000 RR for the first time on Thursday and managed to gel with the bike straight away. Throughout the opening day Laverty went through his testing plan and completed 60+ laps setting his fastest lap time of 1'40.971, putting him in P10 at the end of day 1.
Sykes looking to build on his solid maiden season with the BMW Motorrad WorldSBK Team got to work on the opening day by making multiple changes to his RR which included adjustments to the swingarm, rear shock and electronics. Tom's fastest lap of the day ended with a 1'40.431 and he lapped a total of 50 laps landing him in P7 (+1.224) behind Jonathon Rea in P1.
Day 2 at the Circuito De Jerez and both Sykes and Laverty continued to work through their testing schedules, however with multiple red flags interruptions throughout the day. Laverty made some changes to his BMW S 1000 RR from day 1 with front fork spring adjustments and trying different electronic strategies. Eugene managed to go faster from his 1'40.971 on Thursday with a 1'40.328 putting him in P10. Sykes equally made some changes to his bike on the final day and as a result circled a 1'39.587. Final position P6.
 Shaun Muir, Team Principal:
"We've completed two full days of testing with Tom and Eugene, we got through an awful lot of work and are generally pleased with the outcome. We've found a clear direction for Tom on his chassis set-up which let's us move forward in a specific direction we know he will be comfortable with. We got through a big list so we're really pleased for Tom. Eugene had to take some time to get used to the electronics package on the BMW S 1000 RR and over the Christmas break we will further work on a strategy for him. He was getting quicker and quicker but only until the point where he was ready to push, but we are still very happy with his first test as he was running consistent times. Overall, we are happy going into the break, we've had no major issues and can ready for the tests in January."
 Marc Bongers, BMW Motorrad Motorsport Director:
"Already during the final stages of the past season, we have been working intensively on the further development of the BMW S 1000 RR for 2020. Our first winter test in Jerez de la Frontera has been very productive. Among other things, we were able to test various chassis variants, new shock absorber elements, a range of tyre options, and electronic updates. Tom had a few minor issues at the start of day one, but they were resolved quickly and we were able to complete the busy programme, which included many test points. Eugene first had to find his feet on the RR, but was soon able to start to configure the bike to his own personal requirements. We are happy with the progress he has made at his first test with the RR. We must now analyse the large amount of data and comprehensive rider feedback we have received, which will help determine the direction we will take to start the 2020 season."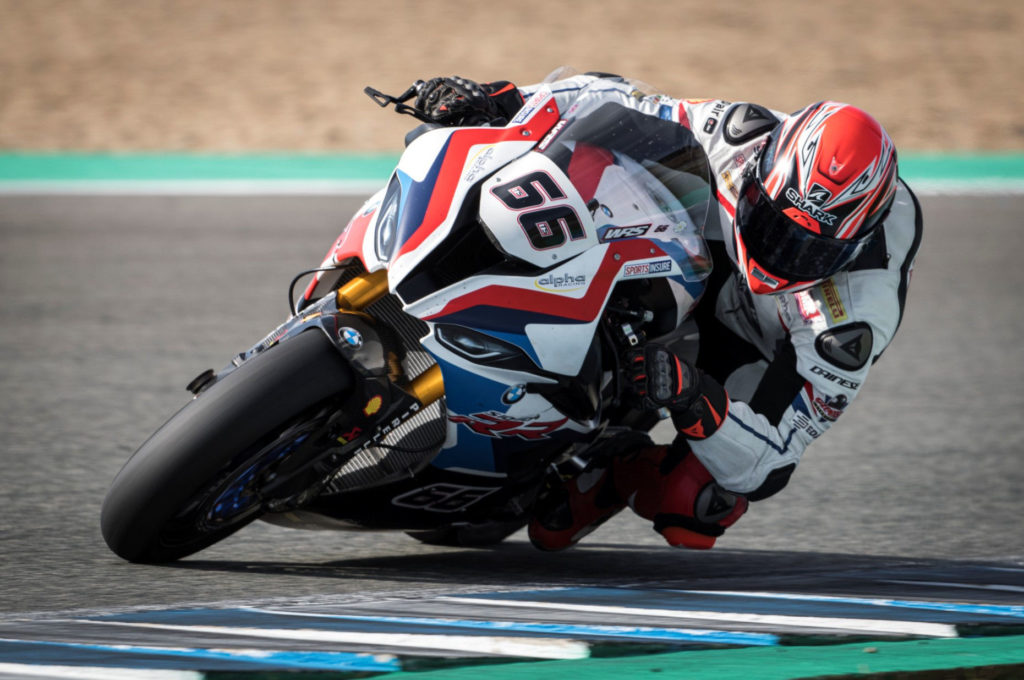 Tom Sykes:
"I think we had a very strong test and credit to all the BMW Motorrad WorldSBK Team. We've had a big list to go through and the boys have worked hard. I am very satisfied with what we achieved. We really tried a lot on the BMW S 1000 RR, definitely made progress and for me now I can go into the winter feeling happy with our performance. Certainly on race tyres as well, we found quite a step and also over the distance. The bike was working nice and we obviously tried the qualifying tyre at the end. It was incredible but after two strong sectors I unfortunately made a small mistake in the hairpin and crashed. But I was interested in how the bike feels with high grip and I also went for another lap after the crash. For me that was good because we have extra information going into the winter. Overall it was a good test with a consistent track to work through a very big list and that's what we needed all season. Thanks to the whole team and the guys back at the factory for working so hard to make things possible.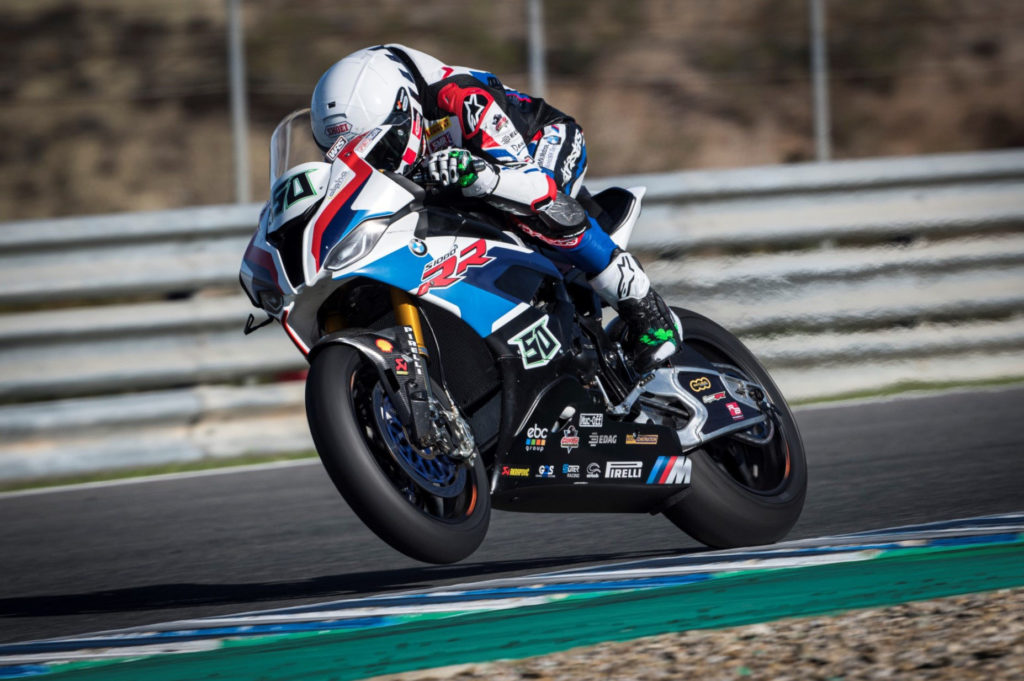 Eugene Laverty:
"Overall, it was a good test. Riding the bike I can tell this is the best chassis I've ever ridden. The way the bike turns and enters the corner is incredible. It's surprising just how physical it is to ride right now. We have to get the power under control for the corner exit. Once I can get that it will be even more ride-able. Right now I can wrestle it for one lap if we wanted to get a lap time but for test that is not necessary. So we've been working and just trying to tame the beast a little bit so we can get a bike that is going to be comfortable for 20 laps. The chassis is incredible and that's the important thing. The base of the bike is good, now it's just another fine-tuning of the electronics."
More, from a press release issued by Barni Racing Team:
Barni Racing Team concluded the two-days test at Jerez
Jerez de la Frontera (SPA), 29th November 2019. Second winter test session of WorldSBK ended at the Angel Nieto Circuit in Jerez, Southern Spain. The team led by Marco Barnabò took to the track with Michele Pirro, Ducati MotoGP test rider and Barni Racing Team rider in the italian Championship. Pirro replaced the injured Leon Camier. The Brit, injured on his left shoulder and wrist during the Aragon test, has been still resting as a precaution, but he will be regularly on the saddle of his Ducati Panigale V4 R during the the upcoming tests in January.
Thanks to favorable weather conditions in both days Pirro toke the 2020 pre-season testing programme another step further on the Ducati Panigale V4 R working mainly on the setup at the front of the bike and on electronics.
The rider from San Giovanni Rotondo concluded the first day with 41 laps and the 11th time overall (1'40.995).
On the second day Pirro stopped the activity around 15.30, putting together 38 laps and having improved by more than half a second his previous fastest lap. The time of 1'40.427 placed him on 12th position overall.
Marco Barnabo, Team Principal:
"First of all I have to thank Michele, who has been made available in a such a short time. He worked professionally as he has always done. We would have been to be on track with Camier, but we preferred not to take risks letting him to recover at 100% for the next test here in January. In any case, these two days were very positive trying new setup solutions at the front and working on the electronics in view of 2020."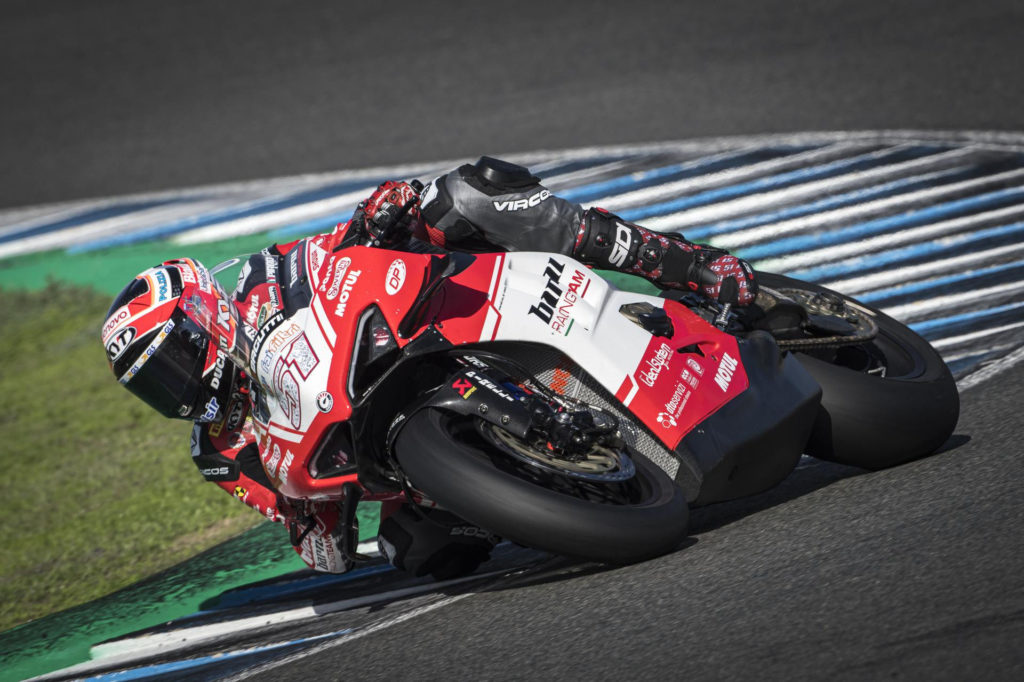 Michele Pirro:
"We worked a lot with new components on the suspensions, I have to say that I found a better feeling comparing the WorldSBK weekend in Misano. Showa is doing a great job, but the whole bike is growing. I think that with the team we had a good job even though we in the second day we rode only half a day."
More, from a press release issued by Yamaha:
Razgatlioglu and Van der Mark Race Ready After Positive Jerez Test
Toprak Razgatlioglu and Michael van der Mark are eager to return to action in 2020, after rounding out the 2019 season with a positive two-day test in Jerez. Razgatlioglu showed just how quickly he's adapted to the Yamaha R1 he'll campaign in Pata Yamaha with Rizla colours next year, by posting the second quickest time of the test. Loris Baz and van der Mark finished hot on the heels of the 23-year-old Turkish rider, with all three Yamahas inside the top five. It was also a positive test for the GRT Yamaha rookies, Garrett Gerloff and Federico Caricasulo, who took advantage of almost perfect weather conditions in Spain to continue their familiarisation with the WorldSBK specification Yamaha YZF-R1.
Between them Razgatlioglu and van der Mark completed more than 300 laps of the 4.423km Jerez circuit over the course of the two-day test, as they worked their way through an intensive test schedule as part of Yamaha's ongoing development program for the 2020 season. The two Pata Yamaha riders were assisted in this task by Yamaha EWC and test rider, Niccolò Canepa, who finished the test ahead of a number of WorldSBK regulars in eighth place on the timesheet.
While Razgatlioglu, van der Mark and Canepa focussed on development, Caricasulo and Gerloff continued their adaptation to the GRT Yamaha R1 machines on which they'll make their WorldSBK debuts in 2020. Caricasulo ended the test 13th on the timesheet, despite losing most of the second afternoon due to a crash on dropped oil on the entry to Turn One, with teammate Gerloff finishing one place further back, but just a tenth of a second behind his teammate.
While four of the five Yamaha riders can now look forward to some much-needed time off over the winter break, van der Mark will have to wait another couple of weeks before finally hanging up his leathers for the season. The 27-year-old heads this weekend to South East Asia, where he'll attend an event in Jakarta as a guest of Yamaha Indonesia. The next stop on van der Mark's travel itinerary will be Malaysia, where he will contest the inaugural 8 Hours of Sepang race for Yamaha alongside MotoGP regulars Franco Morbidelli and Hafizh Syahrin.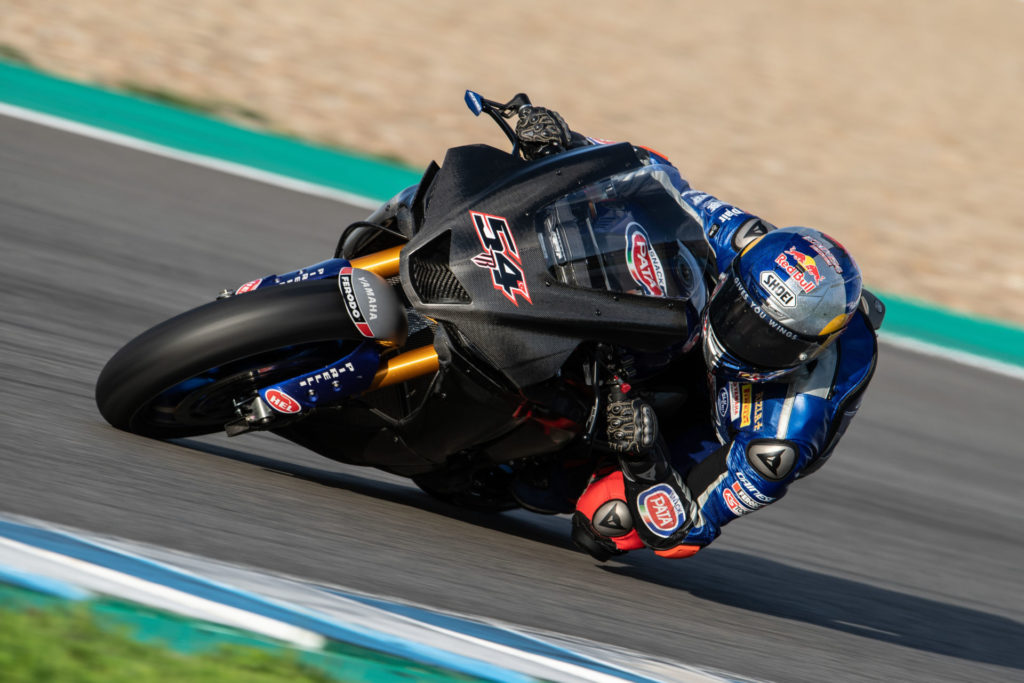 Toprak Razgatlioglu
Pata Yamaha WorldSBK Official Team – P2 – 1'39.226
"It's been a solid two days for me aboard the Yamaha R1 here in Jerez. The conditions meant we were able to complete a lot of laps and test a lot of new parts on the bike, with very positive results. The focus here was on evaluating new components rather than chasing a fast lap, but my lap times have been consistently quick, so I'm happy about that. We had some issues with the rear spinning up out of the turns, which was losing me some time, but we managed to make a big improvement in this area this afternoon ahead of my race simulation. I think I've adapted now to the Yamaha, as my feeling with the bike is good. I leave Jerez a little bit tired after such an intensive test program, but happy with second place on the timesheet and with the progress we've made."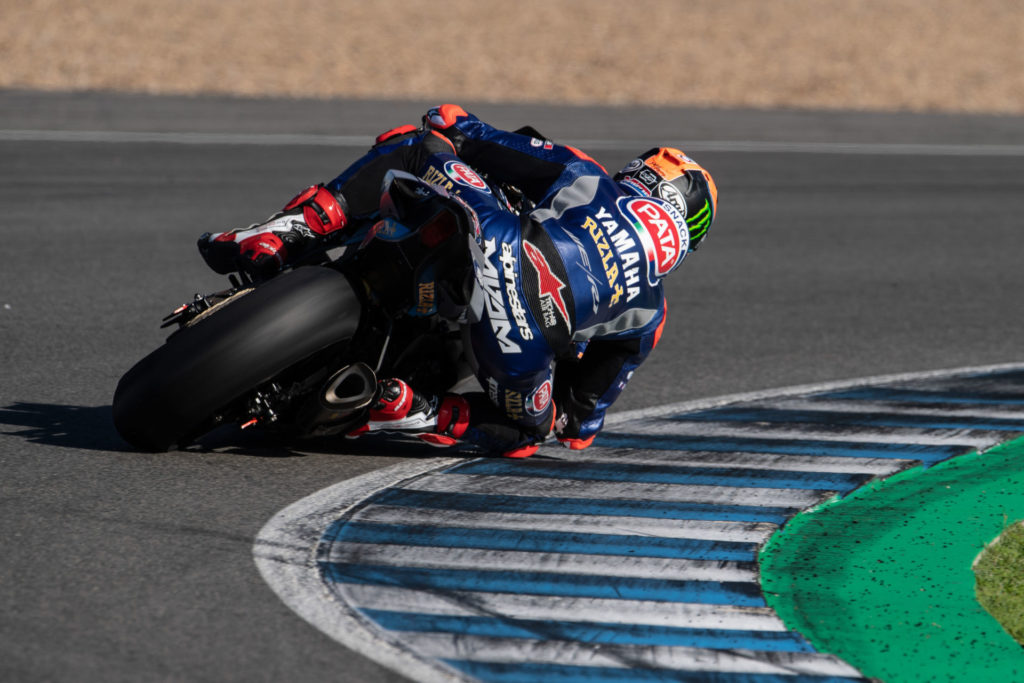 Michael van der Mark
Pata Yamaha WorldSBK Official Team – P4 – 1'39.287
"After the rain in Aragon it was good to come here to Jerez and have almost perfect conditions for the final two days of testing this year. Normally in testing you have both positives and negatives as you work your way through the program, but these two days were overwhelmingly positive. We completed a lot of laps, trying different things on the bike, and we managed to find a solution to the spinning issues we had during the second half of the season. Working with my new crew has also been easy; it's already like we've spent a season together, so this test was a great way to end 2019 on a high note and I'm already looking forward to getting back on the bike in January."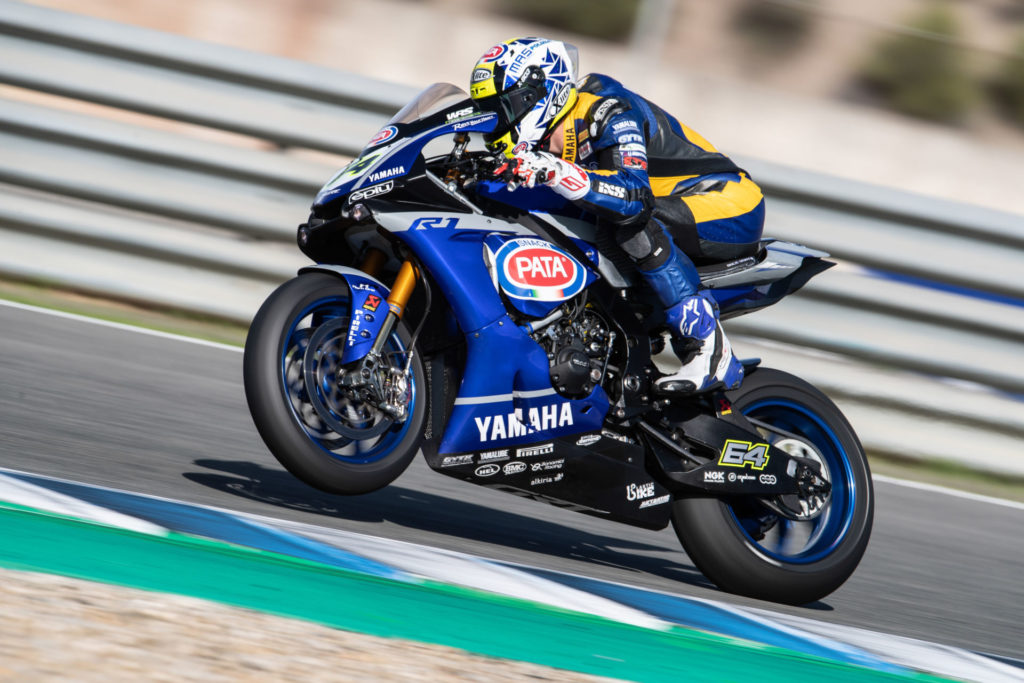 Federico Caricasulo
GRT Yamaha WorldSBK Junior Team – P13 – 1'40.613
"For me, this has been a very positive test. We improved a lot, both in consistency and pace, and we finished the two-days closer to the fast guys than we were in Aragon. I was hoping to push for a good lap time on the qualifying tyre at the end, more to get a feeling with the tyre than anything else, but it wasn't possible after I had a big crash on oil dropped on the entry to the first turn this afternoon. Anyway, I leave here happy with where we are right now and I'm already looking forward to picking up where we left off today when we return to Jerez in January."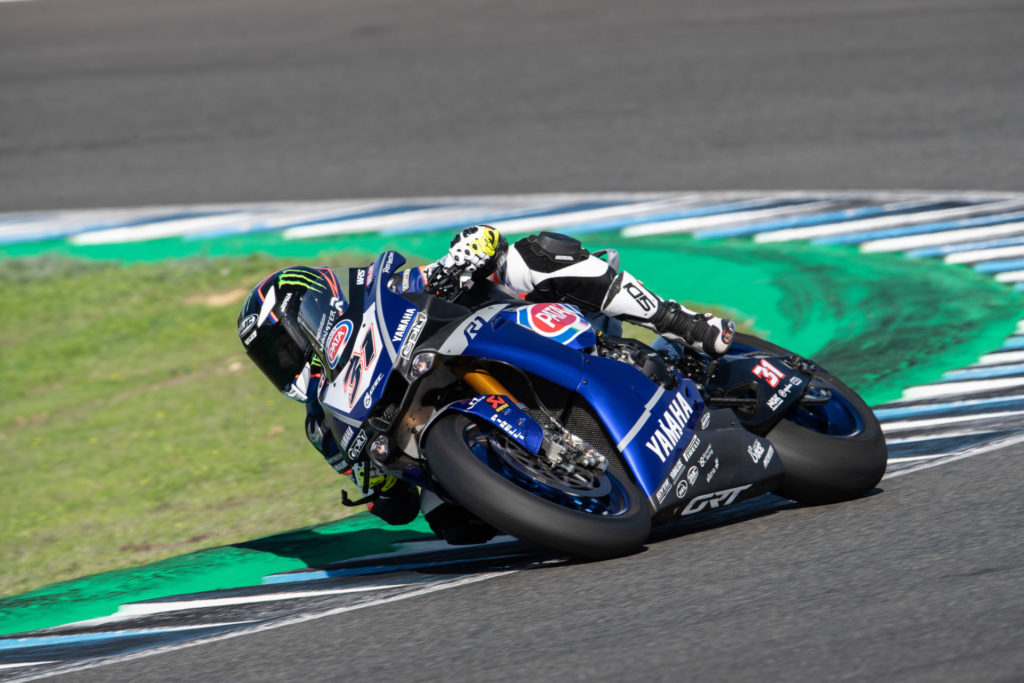 Garrett Gerloff
GRT Yamaha WorldSBK Junior Team – P14 – 1'40.714
"It's been good to get some time on the bike in the better conditions we've had here in Jerez, as it's made it easier for me to assess the differences from lap to lap. This was a problem at the first test in Aragon because of the wind, the effect of which was unpredictable. The feeling with the bike is good, but the Jerez track feels a little more connected in terms of the rhythm and the flow so, for me, to be consistent on every lap has been a little bit tricky. Luckily, we have the data from the official team, so I've been able to make comparisons, but there are definitely a few things I need to work on. We've tested a lot of things on the bike, with the normal mix of positives and negatives but, overall, the feeling is good, and we just need to keep working in the same direction when we return here in January."