SERT WINS ENDURANCE WORLD CHAMPIONSHIP!
SERT: GSX-R1000 – 2019/ 2020 EWC World Champion
Suzuki Endurance Racing Team has clinched its 16th Endurance World Championship crown at the fourth and final round at Estoril in Portugal.
Etienne Masson, Gregg Black and Xavier Simeon recorded 416 laps of the Estoril Circuit aboard their GSX-R1000 to finish the 12 Hours of Estoril in fourth position and claim the season victory by 18 points over runners-up YART.
SERT started the race from fourth on the grid on Saturday morning. Gregg Black had the first stint and, as usual, he performed well as soon as the race began as he achieved the holeshot.
Lap by lap, the SERT set their pace by staying close to the leaders, but without taking any risks. The first part of the event went according to Team Manager, Damien Saulnier's battle plan. And as a result, by the eighth hour, the #2 Suzuki was fourth in the provisional classification and earned a seven-point bonus.
Masson, Black and Siméon then ensured very fast stints in order to keep the pressure on their main rivals. However, the magic of endurance racing also lies in its twists and turns, and during this final under pressure, the SERT were not spared: Two mechanical warnings (engine mounting bracket and gearshift selector) during the eighth and 10th hours of the race did not prove a major issue to the highly-efficient SERT technical staff who managed to repair rapidly without losing much time.
Damien Saulnier – Team Manager:
"I have a thought for the former SERT team, without whom we would not be here today. I also think about Vincent Philippe who was with us for the victory at the Bol d'Or. But I am also very proud of my new team. The SERT have always been a great human history and it is important for me to continue in this direction. I would also like to thank our partners, Dunlop, Motul, Yoshimura and of course all the others that helped us a lot and with whom we will continue the adventure."
Gregg Black:
"Last year we missed the title. But we did it in 2020 with a new team. It has been a complicated year and this last race wasn't easy either because we had to manage our advantage in the championship. However, we remained focused on our goal until the end. The SERT is a great team. I am very happy to be part of it and I hope to have many more great moments within this family!"
Etienne Masson:
"This title makes me extremely happy! I've been running after it since 2016, since Anthony's accident. What happened next was very complicated. We had to get up and fight every day. Then we had to manage the new SERT and start almost from scratch. Finally, we had to deal with Vincent's departure and the arrival of a new rider. There were many things to deal with, but everything worked very well from the beginning. The competition is getting tougher and tougher but the SERT never gives up!"
Xavier Siméon:
"It's not easy to adapt to Endurance racing when you come from MotoGP. My teammates had a few doubts, I had doubts too. Nevertheless, I was warmly welcomed and in order to thank them, I gave 100% during the races. I feel something special for this team. My father was part of the family 20 years ago, as he was a Suzuki dealer. As for me, I also was European Champion with Suzuki. I hope that in the future I will also be able to celebrate a full title with the SERT!"
More, from a press release issued by Honda Pro Racing:
Second place for F.C.C. TSR Honda France at the 12 Hours of Estoril
12 Hours of Estoril
Circuito do Estoril, Portugal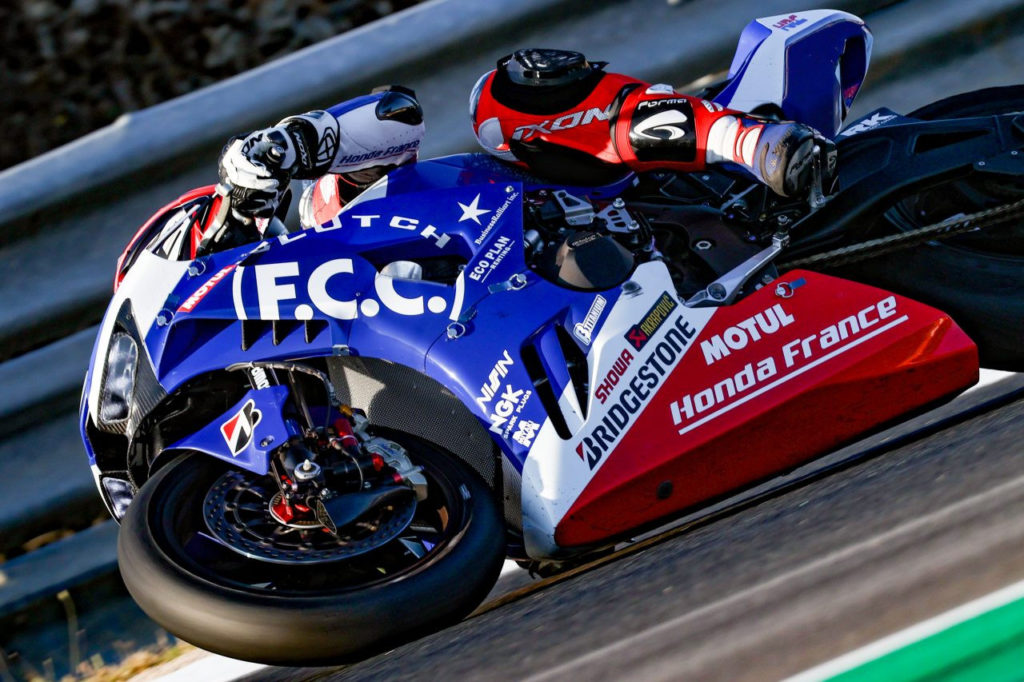 F.C.C. TSR Honda France have wrapped up the 2019/2020 FIM Endurance World Championship in third place after the grand finale took place at Estoril yesterday (Saturday 26 September), where Freddy Foray, Mike Di Meglio and Josh Hook finished second aboard the all-new Honda CBR1000RR-R Fireblade SP.
Coming into the final round F.C.C. TSR Honda France were sitting second in the overall standings after their win last time out at Le Mans moved them 40 points behind series leaders SERT, but it was also mathematically possible for eight other teams to be in contention of the 2019/2020 EWC title.
The 12 Hours of Estoril was a new challenge for all endurance teams, historically the Suzuka 8 Hours hosts the season finale in July, but due to COVID-19 the season was reshuffled after some event cancellations, which saw the 24 Heures Motos (Le Mans) much later in the year and Estoril as the final race. Even at a new circuit F.C.C. TSR Honda France were looking strong from the first practices and hungry for the title fight.
Di Meglio started the 12-hour race for the team in second place after a strong qualifying session and once the flag had dropped the opening laps at the 4,182km circuit were frantic, with positions changing as the tyres warmed up to the cool morning temperature. At the first pit stop, Hook took over from Di Meglio and F.C.C. TSR Honda France were sixth.
At the end of the eight-hour mark all eyes were on the championship as SERT were down in fourth and they needed to stay in the top-ten to still be in with a chance of taking the title. Meanwhile, Honda's endurance specialists were putting pressure on race leaders YART, maintaining second place and often taking back the lead thanks to Honda's pit stops strategy. As a result of their good performance F.C.C. TSR Honda France took nine bonus points at the end of the eighth hour, boosting their championship ranking.
Around 11 hours and 20 minutes in to the race, F.C.C. TSR Honda France made their final pit stop, where they were sitting second and roughly one-minute and 10s behind YART, who needed to have a final 'splash and dash' stop. Coming down to the final minutes YART made their stop and managed to stay seconds ahead of the chasing Fireblade, where Di Meglio brought the team home in second place, 24 seconds from the win, having completed 421 laps.
Finishing the 2019/2020 FIM Endurance World Championship season in third place (24 points behind winners SERT), F.C.C. TSR Honda France made a stunning comeback from the 8 Hours of Sepang last December where they were 12th in the overall standings. Dominating the 24 Heures Motos they led from start to finish and were promoted in the standings to second place as they arrived at Estoril.
Dates for next year's FIM Endurance World Championship are yet to be announced but F.C.C. TSR Honda France will be looking to start where they finished after showing the potential of the all-new 2020 Fireblade, where in its debut EWC race it took the win at Le Mans and finished this weekend's 12-hour on the podium in second place.
Freddy Foray 5
Finishing second isn't that bad, I would like to thank my teammates who finished the race and who did an extraordinary job on such a physical circuit like Estoril. I have some shoulder issues that are depriving me of strength in my arms, which caused me some trouble in Le Mans and even more in Estoril where we needed to have a strong pace. I will make the most of the inter-season to resolve this problem and I hope that I'll soon be able to fully enjoy riding this fantastic bike.
Mike Di Meglio 5
The race was intense, we started with a tyre choice that wasn't ideal for us. Then we managed to get a good race pace, and I think we could have fought for the victory towards the end, so the pleasure would have been even better. But I think that we have to accept this second place, it is a great result anyway. Everybody did a great job and it was only the second race on this new bike, so all in all it's only positive experience for next year.
Josh Hook 5
We had a good bike throughout the race and we had the pace to win the race. It was definitely hard during the back-to-back stints towards the end. There are definitely some things we have to improve on in the pit lane, because I think this cost us a good chance of winning this race. But we have to be happy with the result, we finished second, our lap times were good and even if it's not a win it's a good result. When your bike is amazing, it doesn't matter where you are. The team has made an amazing job in here and I want to say a big thank you to the team and everybody who was involved. I am already looking forward to next year.