Positive Suzuka 8 Hours Test For Kawasaki
Regular Kawasaki Racing Team WorldSBK riders Jonathan Rea and Alex Lowes swapped one race spec Kawasaki Ninja ZX-10RR for another as they took part in a recent two-day test at the Suzuka circuit in Japan, in readiness for the famous 8 Hours race there in early August.
As well as the two KRT riders, who are both team-mates and rivals on track at the WorldSBK rounds, several regular KRT/Provec technical and management staff joined the Japan-based KMC personnel to work on the co-operation they will rely on when they all come back to race for real at the famous Suzuka circuit. Over 30 people will be involved in the process come race weekend.
Leon Haslam will also join Jonathan and Alex in the official Kawasaki Suzuka 8 Hours team for race weekend itself.
This test gave the assembled personnel the chance to get to know each other, refine new combined working processes to maximise efficiency in the pits, as well as improving the potential of the bike and riders on track. Both Alex and Jonathan enjoyed their new partnership as they worked towards a common goal of winning what is arguably the single biggest racing event in Japan.
The greatly revered Suzuka venue does not feature particularly large pit boxes so a lot of planning and practice goes into the choreography required for rapid wheel changes, refuelling and logistics. In the world of EWC competition, time saved in the pits is at least as important as time won on the track.
The processes in getting the European-based staff to Japan for this test have been extensive and exhaustive but it proved well worth the effort of all involved, especially as track conditions ranged from fully wet to dry, and all points in between. This gave everyone a wide spread of working conditions to understand before the racing starts for real a month from now.
As well as optimising overall settings and getting used to the different technical package required by the EWC regulations, the team will use Bridgestone tyres at Suzuka, not the sole-supplier Pirelli tyres used in WorldSBK.
Both Rea and Lowes have won the Suzuka 8 Hours in their own right before, but this is the first time they have been paired-up to be on the same bike. This is also Alex's first Kawasaki ride at the Suzuka 8 Hours. Track surface and layout familiarisation was also important for the riders, especially as the global pandemic has cancelled the two most recent attempts to run this iconic race meeting.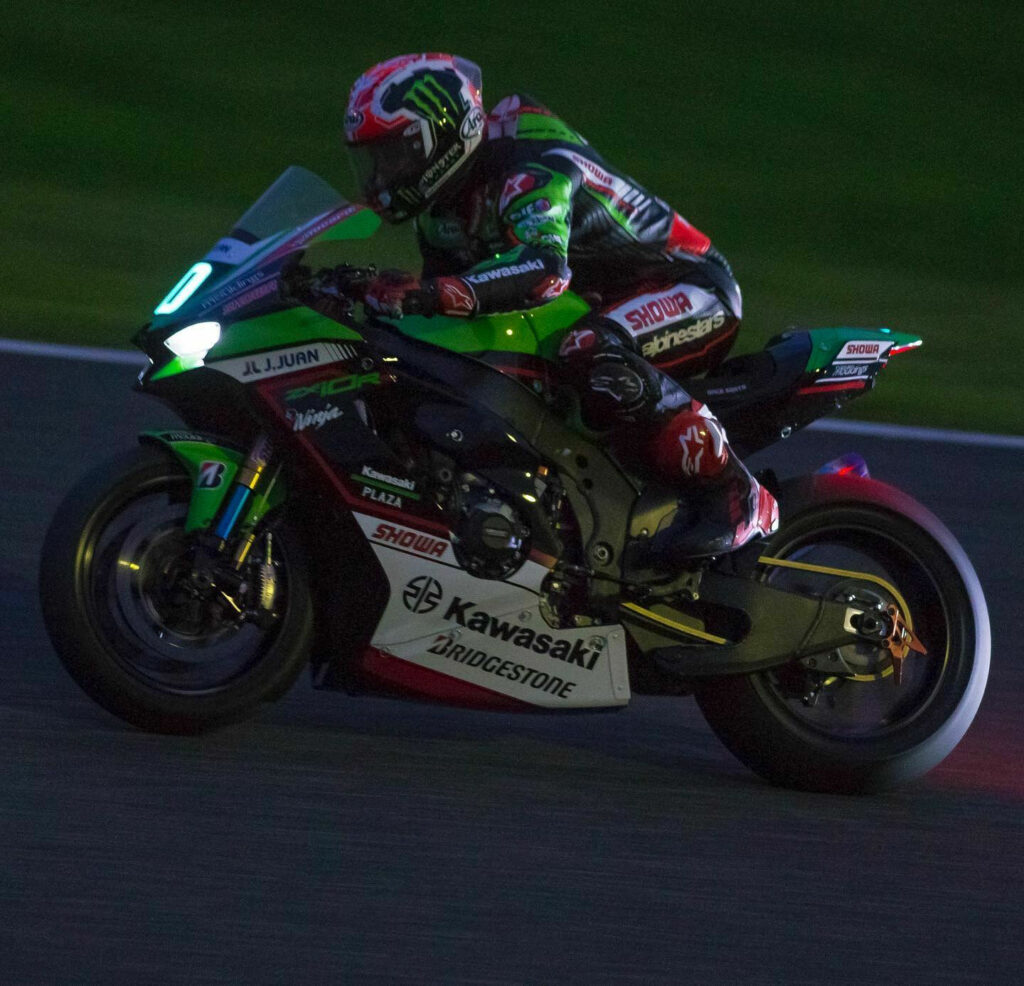 Jonathan Rea, stated: "First and foremost it is always nice to be back in Japan and ride the Ninja ZX-10RR in Endurance format. It is very different from the WorldSBK bike, especially in electronics, fuel mapping strategy and tyres. The circuit is quite new so the first day was a bit of a learning process to get back up to speed. Step-by-step I felt better and better. Every run we were able to do I was going faster, so we will keep the link towards race weekend. It is really nice to have the KRT team there and also to share the garage with Alex. It is really nice, everything is calm, everybody knows each other. I am looking forward to going back in a few weeks to see all the fans and really absorb the race atmosphere. It is one of the biggest challenges of the season. I am excited about it, especially after this positive test."
Alex Lowes, stated: "It has been great to be here in Japan. My first time in green at the Suzuka 8 Hours! We had a good couple of days work with our preparations for this year's race. It is nice to work with Jonathan, as normally I am racing against him. So to work together to try and improve the bike set-up has been really good, as has the atmosphere in the team. I am looking forward to coming back for the race. I felt better on the bike every lap that we did. Adjusting from WorldSBK obviously takes a little bit of time, and this race is a little bit different. But overall, it was a really positive test and I am really excited to be joining Johnny and Leon next month for the 2022 Suzuka 8 Hours."
Guim Roda, KRT Team Manager, stated: "For our first riding day we completed four sessions; the first one was in the rain and other three in the dry – or near dry conditions. In fact, for the last ten minutes of fourth session there were some small drops of rain so we decided to stop early. On the technical side we are working alongside KMC to find a good chassis set up for the Ninja ZX-10RR and to define the best engine strategy that will fit with the overall race and riding strategy. Endurance racing is real science, and you have to consider many factors as part of an overall strategy plus everyone involved has to understand this and the role they play. In terms of the riders both Jonathan and Alex are building a rhythm gradually with the bike, tyres and track. Both are former winners here, so they know how to work methodically towards the race itself.  In the pit box, the main focus is to create an efficient environment for us to all work together; the KRT Provec members with KMC engineers working as one support team for this particular race. Our combined years of experience and understanding of efficient organisation makes this task easier than it might seem. It is encouraging and motivating to have the support of KMC Japan and we will combine to build something solid using KRT's WorldSBK project as base. Our mission for the 2022 Suzuka 8hours is simple, we want to create a very strong, stable and successful project and this goal is progressing well."