Yamaha Racing Heritage Club Goes Back to the Future at Mugello
The Yamaha Racing Heritage Club enjoyed a spectacular two days at Mugello on the 21st-22nd of July as part of the Yamaha Racing Experience, uniting legendary riders and their modern-day contemporaries on some historic two-stroke machinery.
Do you own a Yamaha race bike, whether on or off-road? Find out if you are eligible to become a member of the YRHC and start the registration process by clicking here.
Now in its second year, in 2023, the Yamaha Racing Heritage Club (YRHC) is honouring the 50th anniversary of the revolutionary two-cylinder liquid-cooled TZ350 production racer that was brought out in 1973, based on the factory YZ634 ridden by Jaarno Saarinen to second in the 1972 FIM 350cc World Championship.
Plus, 2023 also marks the 25th anniversary of the ground-breaking R1 superbike, which has achieved numerous successes over the years since its introduction in 1998, including two FIM Superbike World Championships (2009 & 2021) and four consecutive Suzuka 8 Hours victories (2015-2018).
The Yamaha Racing Experience (YRE) at the magical Mugello Circuit in Italy provided the perfect opportunity for stars of the past and present to come together to celebrate both of these iconic machines in what proved to be a truly memorable occasion. The YRE is usually an exclusive event only open to owners of Yamaha's flagship R1M, but for the first time, it was expanded to include invited members of the YRHC to allow them to join in the fun.
Over the two days, the YRHC members got to take part in several dedicated track sessions alongside two legendary Venezuelan riders whose names are synonymous with the TZ, 1975 FIM 350cc World Champion and 1978 FIM Formula 750 World Champion Johnny Cecotto and double FIM 250cc World Champion (1983 & 1986) Carlos Lavado.
To complete the connection from the past to the present, they were joined by Yamaha's current crop of riding superstars from the FIM Superbike World Championship and the Endurance World Championship, who all race the R1.
These included Pata Yamaha Prometeon WorldSBK Official Team's 2021 Superbike World Champion Toprak Razgatlıoğlu and 2020 Supersport World Champion Andrea Locatelli, GYTR GRT Yamaha WorldSBK Team's double Supersport World Champion (2021 & 2022) Dominique Aegerter and 2020 Moto2 World Champion Remy Gardner, GMT94 WorldSBK Team's 2022 Supersport World Championship runner-up Lorenzo Baldassari, Yamaha Motoxracing WorldSBK Team's 2022 British Superbike Champion Bradley Ray, plus Yamalube YART Yamaha EWC Official Team's 2017 Endurance World Champion Niccolò Canepa.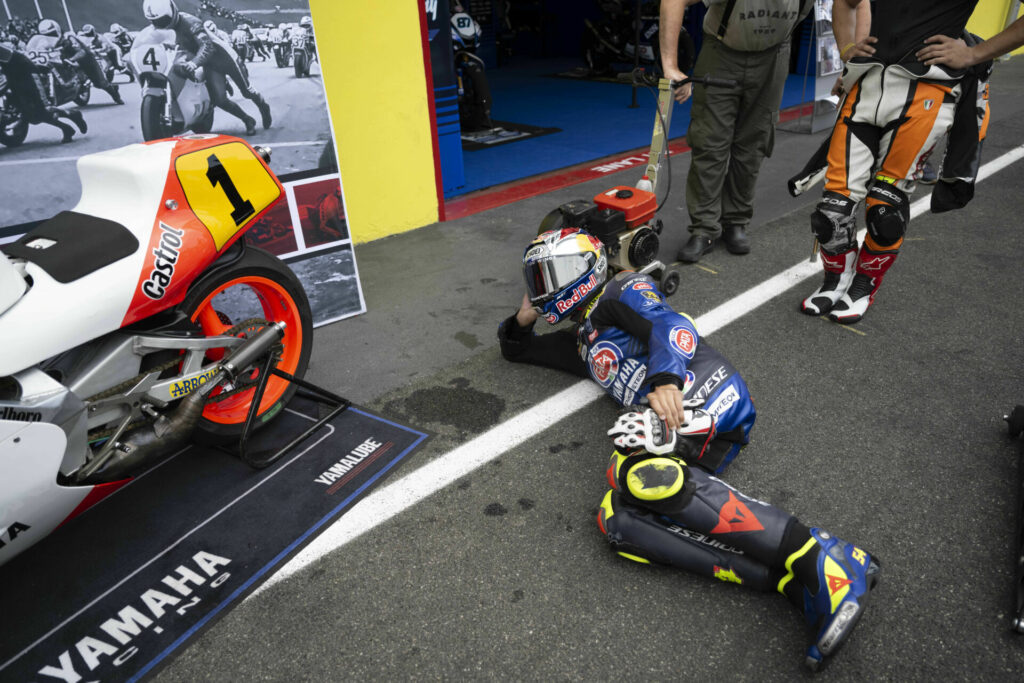 During the event, the modern-day Yamaha riders got to fulfil their childhood dreams by trying out some seminal two-stroke machines, including Eddie Lawson's 1986 FIM 500cc World Championship-winning YZR500 0W81, Freddie Spencer's 1993 ROC Yamaha YZR500, Christian Sarron's 1978 TZ750, plus replicas of the YZR750 0W31s that Steve Baker and Cecotto rode to the FIM Formula 750 World Championship in 1977 and 1978 respectively.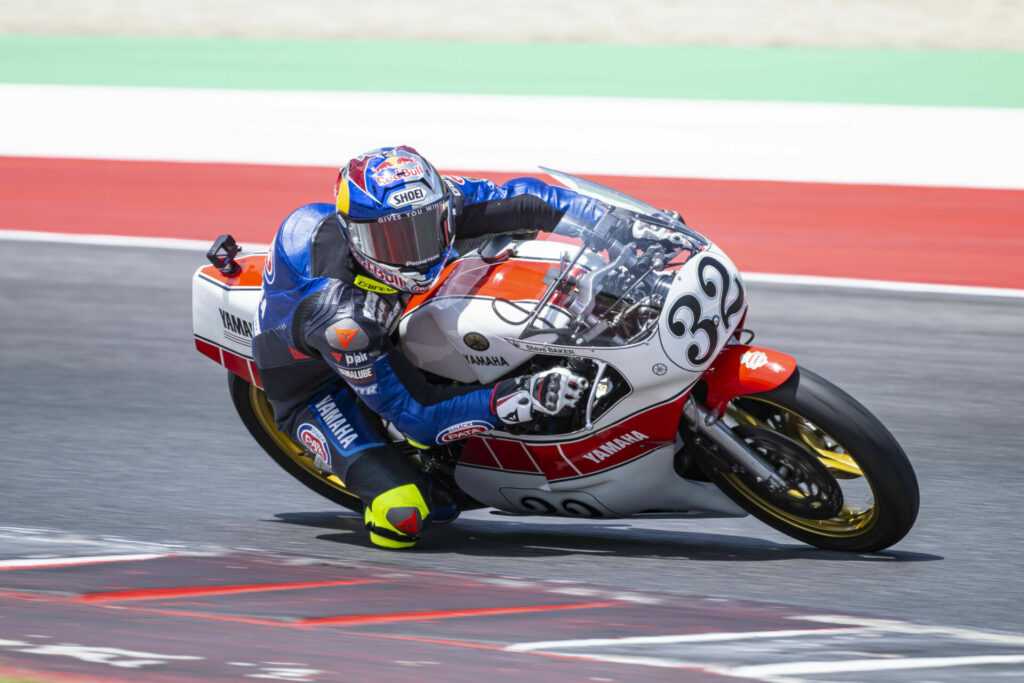 Having been given a taste of what it was like to race on a classic two-stroke, the WorldSBK and EWC riders returned the favour by giving Cecotto and Lavado a chance to take to the track on something more akin to what they ride competitively, a pair of the latest-spec R1Ms. Both sets of riders embraced the opportunity in a joyous celebration of all things Yamaha, showcasing how racing is truly a part of the manufacturer's DNA.
To complete its second year, the YRHC will honour Yamaha's long history of success in off-road racing and commemorate the 50th anniversary of the YZ series of bikes at the Veterans MX of Nations at Foxhills in England on the 24th-28th of August. The event will feature three-time 125cc MX World Champion Alessio Chiodi, former Yamaha factory motocross team manager Michele Rinaldi, and several historic YZ machines from throughout its fifty years of racing.
As you can see, the YRHC was set up to safeguard and recognise Yamaha's rich racing legacy by allowing owners of classic race bikes to become members, register their bikes on the official database, receive advanced technical support, and participate in some very special events.
Would you like to join the YRHC? If you own a Yamaha race bike, whether on or off-road, find out if you are eligible to become a member and start the registration process by clicking here.
Paolo Pavesio
Director Marketing & Motorsport – Yamaha Motor Europe
"What an event! It is the first time we have invited members of the YRHC to the YRE, and it turned out to be a truly memorable moment. I have rarely seen so many smiling faces, and to see the YRHC members get to ride on track alongside Johnny and Carlos, as well as our today stars from WorldSBK and EWC. It was incredible to see the younger riders try out our legendary two-stroke bikes and, for Carlos and Johnny to get the chance to ride the R1M. It was a wonderful event that brought together the past and present of Yamaha to celebrate the 50th anniversary of the TZ alongside the 25th anniversary of the R1, and I think it was something extraordinary for the YRHC members to experience. Technology may have moved on a lot, but racers share a similar passion no matter the era they are from, and it was great to see that shared with the YRE customers and YRHC members over the two unforgettable days in Mugello."