Triumph TE-1 Prototype Testing Completed: "This Has Been About A Bigger Ambition…"
by Michael Gougis
It's not just one of the best-looking electric motorcycles to date. Triumph's TE-1 is fast, powerful, and pushes the bar for electric motorcycles forward, with a charging time half that of the quickest charging electric motorcycles on the market.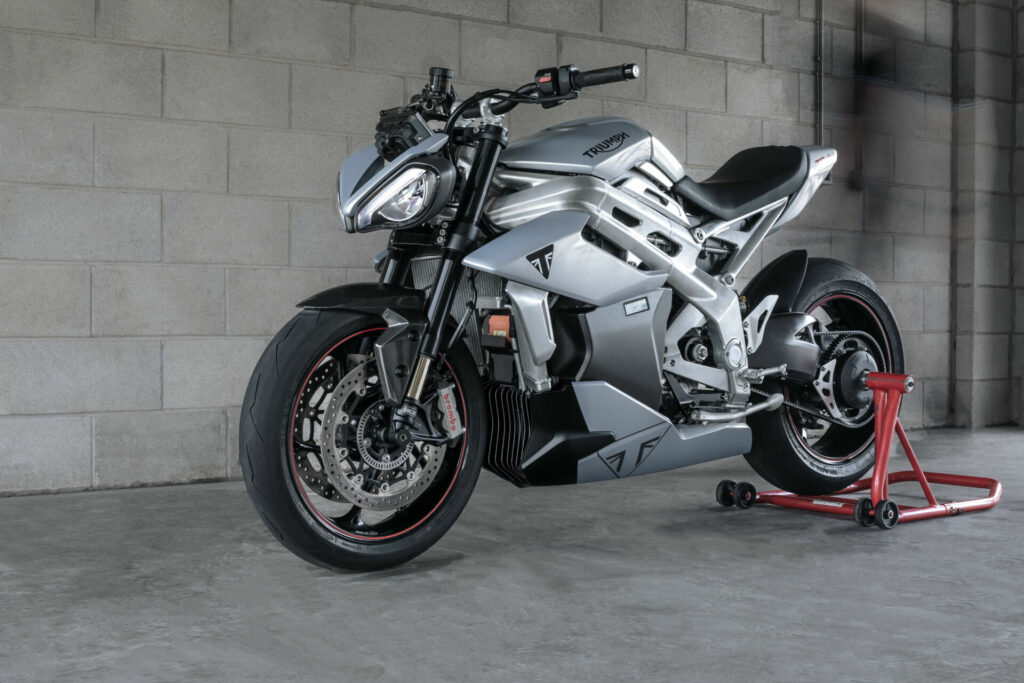 Triumph has wrapped up the development of its electric motorcycle prototype, the TE-1, and the company says the partnerships created during the process and the lessons learned have given it a clear path to the electric motorcycles it will be bringing to market.
While Triumph is more than satisfied with the prototype's performance, "This has been about a bigger ambition," said Miles Perkins, Triumph Head of Brand Management, in an international teleconference introducing the final version of the prototype TE-1.
The TE-1 project was designed to push Triumph's knowledge of how to build an electric motorcycle, and to incorporate the knowledge of others in the field who have know-how that is applicable to the future of electric bikes. Williams Advanced Engineering, a spinoff of the longstanding Formula One company, provided technical support that is absolutely at the cutting edge of electric vehicle technology – the company makes the batteries for the Formula E, Extreme E and ETCR electric racing vehicles.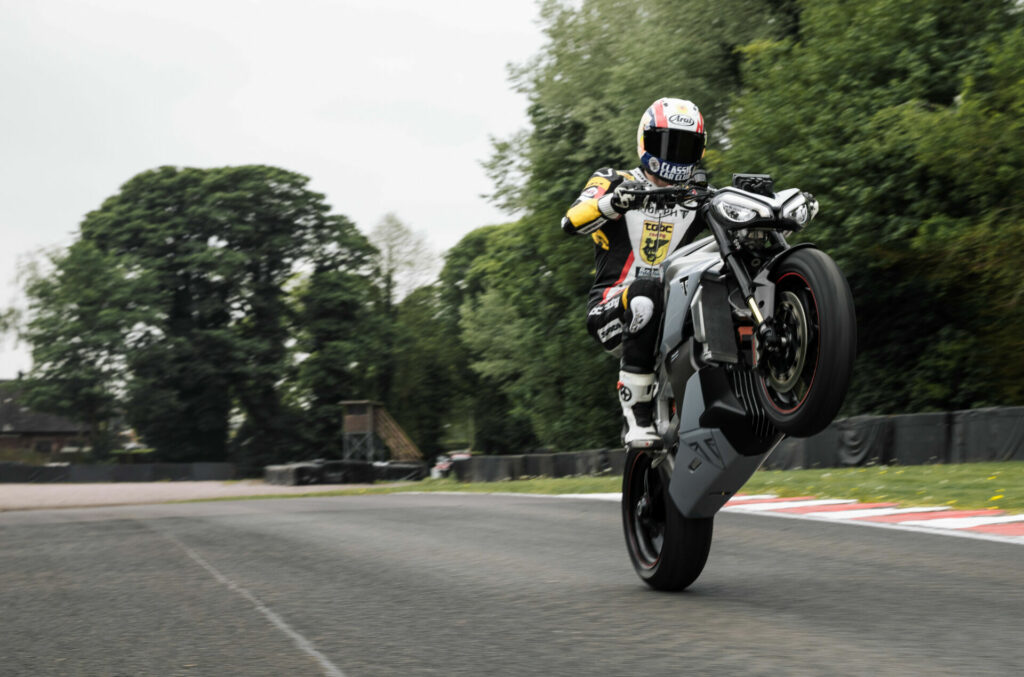 With the TE-1's track testing by two-time Daytona 200 winner Brandon Paasch used to finalize settings and specifications, the company's final prototype looks like this:
– Weight: 220 kg (485 lbs.)
– Range: 100 miles (160 km)
– Power: 175 bhp, 80 lbs.-ft. torque
– Four riding modes, lean angle sensitive traction control and ABS, wheelie control, adjustable rear wheel braking regeneration and reverse.
Triumph chose to go with a 15 kWh battery, made up of 900 cells in eight different modules. While this battery capacity is smaller than some of the more upscale models on the market currently, it is in line with the mid-range electric motorcycles. The downside is the more limited range; the upside is the speed of recharging and the lighter weight. The TE-1 is nearly 100 pounds lighter than the Energica Ego that forms the basis of the current MotoE racing machines.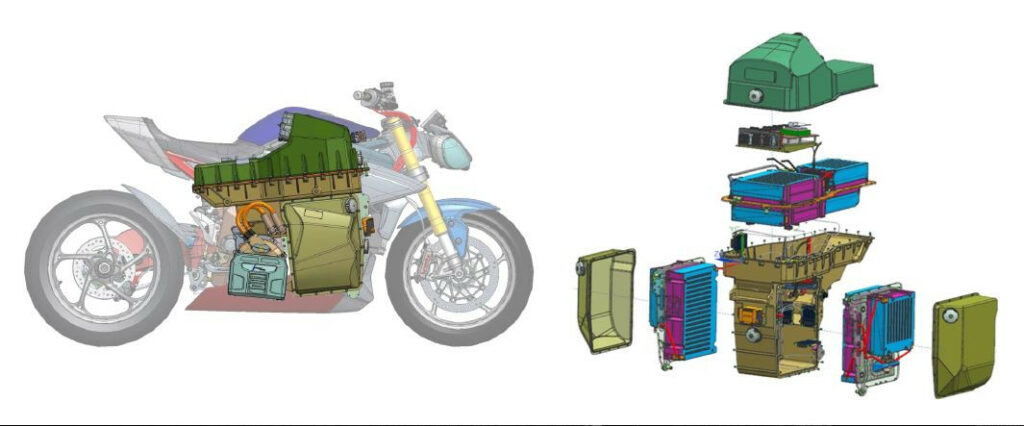 It is unusual in its configuration, which has batteries in a tapered stack where a conventional motorcycle's engine would be, and also in a nearly horizontal line along the centerline of the machine, through the area where an airbox would be found and under the seat. The tapered shape narrows the machine at the bottom for cornering clearance and the overall configuration of battery, inverter and motor leaves the center of gravity exactly where it is on the firm's Speed Triple.
The company chose to go with a Williams-derived 50 kw DC charger, which can take the battery pack from zero to 80 percent charged in 20 minutes, the company claims. In addition, because the machine's two independent cooling systems – one for the motor and inverter, the other for the batteries – keep the battery pack at optimum temperature, recharging can begin immediately after a ride.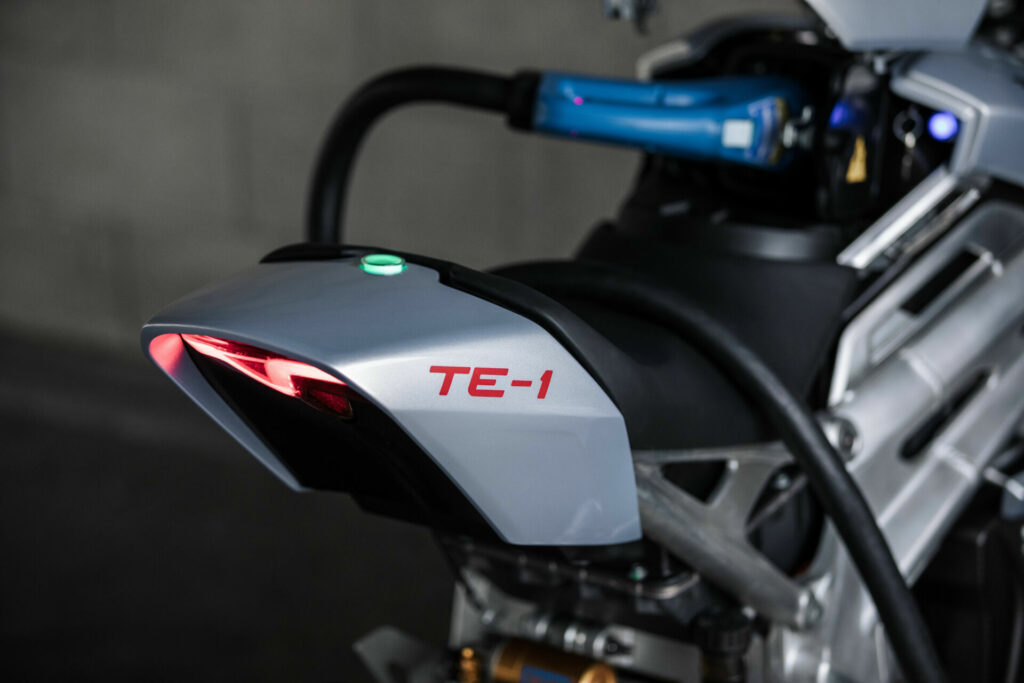 The 175 bhp motor, developed with Williams for the machine, spins to 17,500 rpm, and is lighter than other units in its output category, the company says. The motor and inverter combined weigh only 15 kilograms, says Steve Sargent, Chief Product Officer for Triumph.
"Williams have gained a lot of knowledge in getting a lot of power out of a small package," he says.
The running gear – suspension, brakes, etc. comes from the company's gas-powered Speed Triple, although the machine's aesthetics are derived from its Street Triple lineup. The physical similarities to the Speed Triple sped the development process, because algorithms for vehicle dynamic management systems like ABS transferred directly to the TE-1.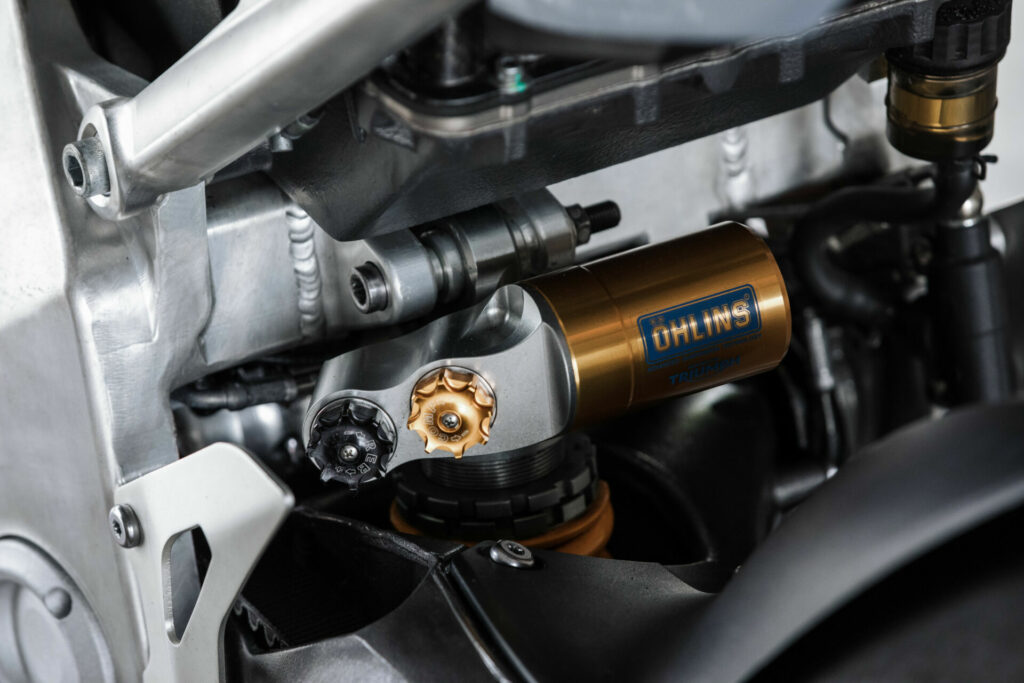 The TE-1 is equipped with a lighting system, although it does not have turn indicators. While it is not homologated for street use, "it's not a million miles away," Sargent says. And while the lessons learned here will drive the development direction of Triumph's production electric motorcycles, the biggest challenge is economic. Building the machine at a price point that customers will find acceptable remains a difficulty, Sargent says.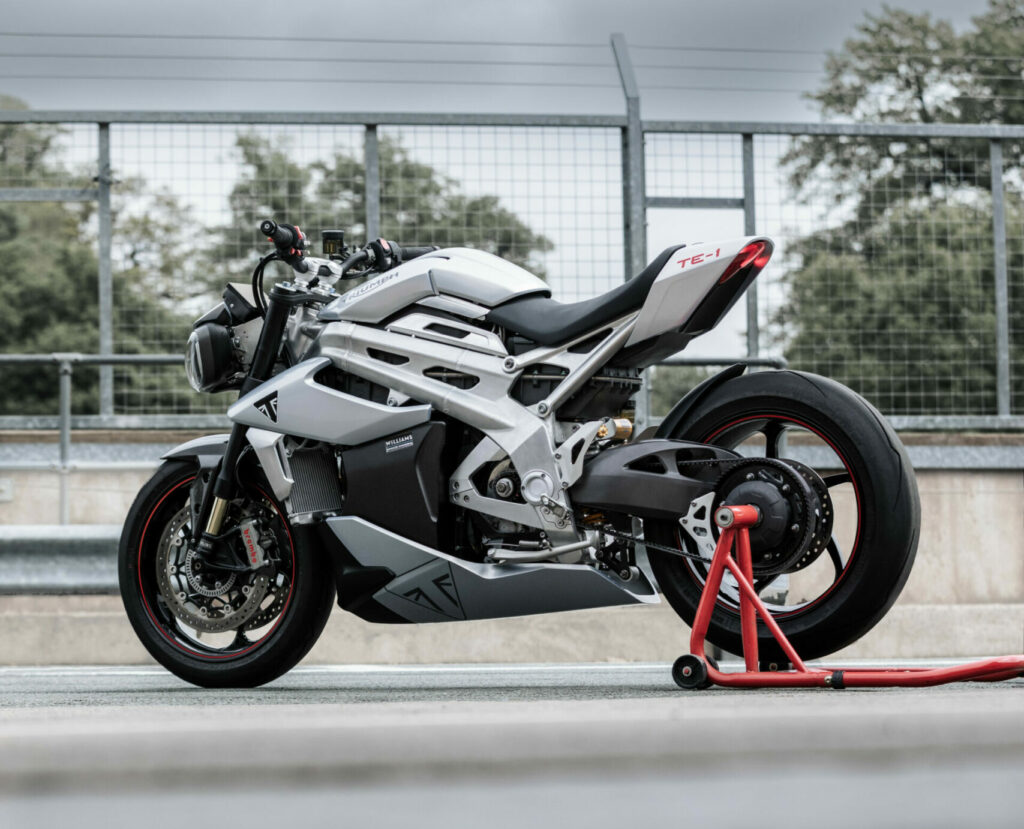 Riding Triumph's Electric Prototype – And Making The List With Evel Knievel
by Michael Gougis
Winning the Daytona 200 for the second time, this time on a Triumph, helped Brandon Paasch land a track test riding gig on the company's electric prototype machine. And while he was in England for the evaluation, he found himself immortalized on the company's Avenue of Legends, on the list with some of the world's most well-known motorcyclists – including stuntman Evel Knievel.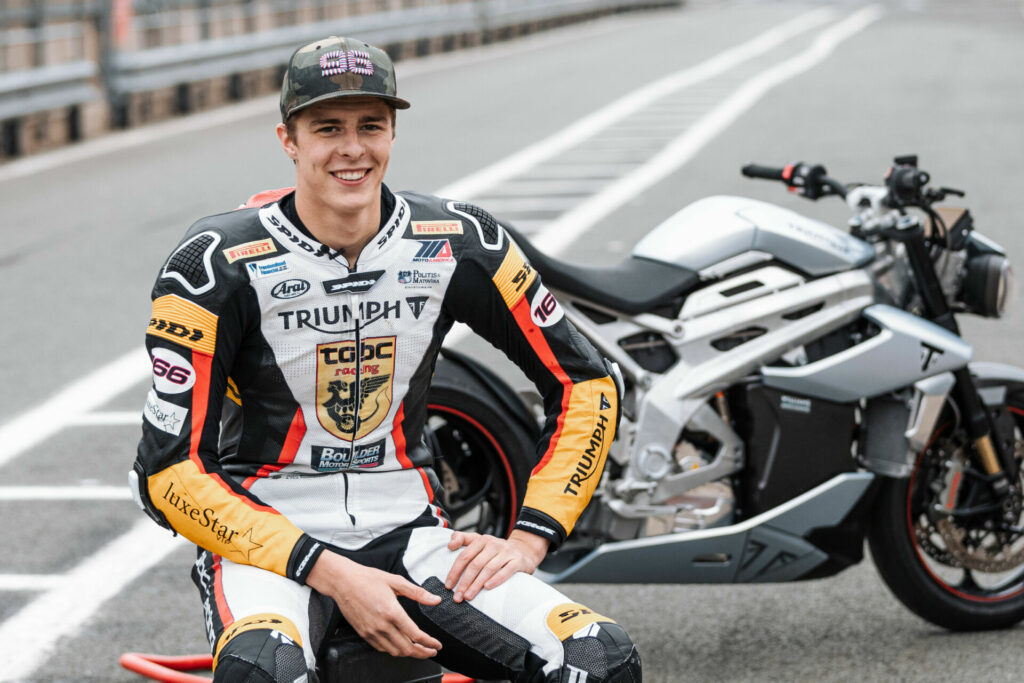 What Paasch found was a machine that hid its weight well, he says. "I think it'll be a really cool bike," Paasch told Roadracing World.
The story began shortly after Paasch had earned the second of his back-to-back wins at Daytona, this time on a Triumph Street Triple 765 in race trim. (Paasch actually owns one of the company's Daytona 765 Moto2 machines, which was not eligible for the race as it is a limited-edition model.)
The company wanted to do something to honor the accomplishment, and Paasch wanted to expand his involvement with the company beyond racing. So the visit to Triumph HQ for the unveiling of his plaque was scheduled along with the test of the TE-1 electric prototype.
Paasch's plaque is next to those of Peter Hickman, who took Triumph's latest victory at the Isle of Man, and Alex Marquez, who won the first Moto2 World Championship contested with Triumph's 765cc three-cylinder engines. The Triumph Avenue of Legends includes names that are icons in the sport, he noted, with racers like Gary Nixon and perhaps the original stunter Evel Knievel represented. (While Knievel may be most well-known for riding Harley-Davidson motorcycles, the infamous failed Caesar's Palace jump of 1967 took place on a Triumph T120 TT Special 650.)
"There were some pretty cool people there, and I was on that list!" Paasch says.
Shortly afterward, Paasch showed up for filming duties on the dyno on the TE-1, and then spent the day testing the prototype at Oulton Park.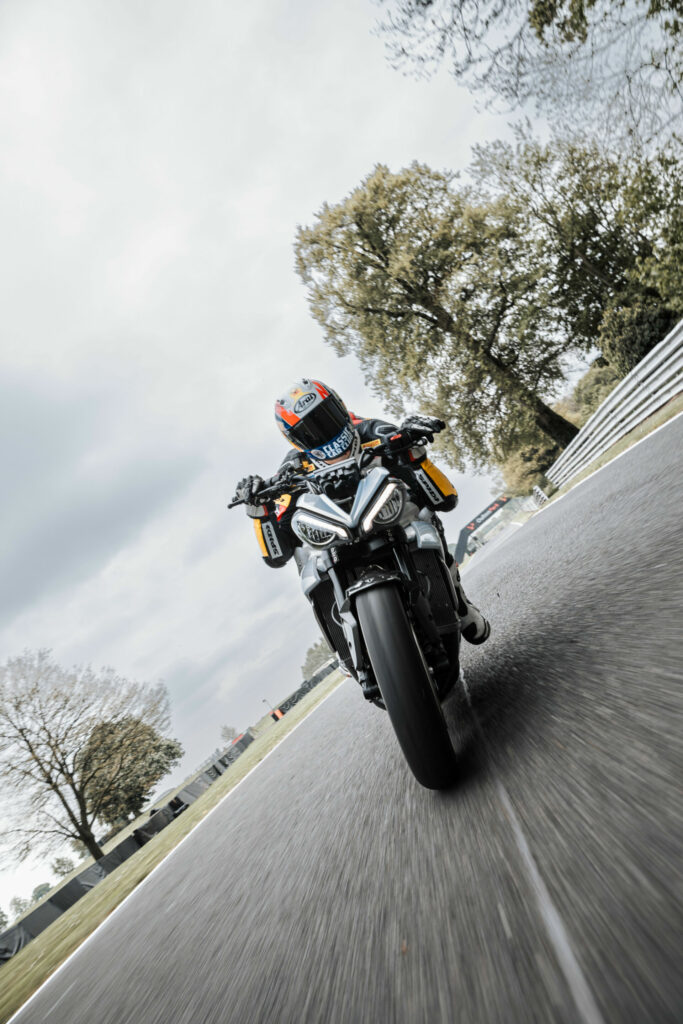 "It was interesting going through all the briefings – what to do if it breaks, what to do if it catches on fire. I haven't been to school for a while, so keeping that stuff in my head was a challenge at first," Paasch says.
Paasch's prior experience with electric bikes was limited to a dirtbike that he nearly looped when he grabbed a handful of throttle, so he approached the TE-1 with a little more restraint.
"I thought I've be a little more careful," he says. "It's super torquey. It doesn't feel heavy when you ride it. They did a really good job with that. It doesn't feel like a heavy electric bike. It feels like a nimble Street Triple."
Paasch liked one other thing in particular about the TE-1 – the styling. The belt drive, the single-sided swingarm – all added up to a unique and positive visual impression, Paasch says.
Read more in an official press release issued by Triumph:
TRIUMPH TE-1
PROJECT COMPLETION WITH FINAL PROTOTYPE TESTING RESULTS
Triumph announces the official completion of the TE-1 electric development project, with the release of the final prototype test results which exceed the project objectives and demonstrate the incredible success of this unique collaboration.
·     100 Mile Range
Significantly exceeding the real-world range of the equivalent electric motorcycles available today, with a category-leading 100-mile (161 km) range, based on live
testing and official projections
·     175 HP Peak Power (130 kW / 177PS)
The TE-1 prototype delivers an incredible standard of acceleration, achieving
3.6 seconds 0-60mph, and an outstanding 6.2 seconds 0-100mph
·     20-minute charge time (0-80%)
A game-changing outcome, faster than today's equivalent electric motorcycles
·     485 lbs, with an incredible power-to-weight ratio
Up to 25% lighter than comparable electric motorcycles currently available
·     Stunning final prototype that demonstrates Triumph's class-leading USPs and hints at the exciting future to come for Triumph fans across the world
o  Pure, unique, and characterful new electric-Triumph soundtrack that builds to a hair-raising crescendo
o  The ergonomics, geometry, and weight distribution of a Speed Triple, with the scale and visual impact of a Street Triple
o  Triumph's signature thrilling feel and neutral handling, with the throttle and torque delivery map equivalent to a Speed Triple 1200 RS
o  A style and presence that is 100% Triumph, with signature design DNA
The unique collaboration between Triumph Motorcycles, Williams Advanced Engineering, Integral Powertrain Ltd, and WMG, University of Warwick, funded by the Office for Zero Emission Vehicles through Innovate UK, was set up to create ground-breaking developments in specialist electric motorcycle engineering and innovative integrated technology design.
The extensive live testing program, which involved numerous assessments of the bike's performance on the rolling road, as well as on track, provided vital direction into the final set-up and calibration of the TE-1 prototype demonstrator, which has now delivered on all its targets and objectives.
Now officially complete, the live testing phase of the Triumph TE-1 project has seen the prototype demonstrator exceed expectations and achieve some incredible outcomes, delivering on all project objectives of accelerating electric motorcycle development and innovation, setting new standards for the sector overall, including final battery and range performance. The expertise and capabilities developed throughout the project now pave the way for the exciting electric future to come from Triumph Motorcycles.
Category-leading 100 Mile range
Exceeding the real-world range of the equivalent electric motorcycles available today, the Triumph TE-1 prototype has achieved all project targets with regards to the energy capacity of the Williams TE-1 project developed battery, with an incredible 100-mile (161 km) range, based on official testing and projections.
Regenerative braking has been successfully implemented for TE-1, with scope for further optimization, as well as greater efficiencies in the motor generator unit and transmission, which could improve the range further for the future of Triumph electric motorcycles.
Performance that matches the Speed Triple 1200, with an even faster 0-100mph
With a level of performance similar to the current Speed Triple 1200, the TE-1 prototype delivers an impressive 175 hp (130kW / 177PS) peak power, as well as peak torque of 80 lbft (109Nm), for instant responsiveness, smooth controlled power all the way up through the rev range, and a completely exhilarating ride.
The TE-1 has also achieved an incredible standing start acceleration official test result of 3.6 seconds 0-60mph and 6.2 seconds 0-100mph.
With further refinement of the electronics, including the traction control system and front wheel lift control, the team responsible for delivering the TE-1 project anticipate that performance could be enhanced further, harnessing the full torque potential to enable even quicker standing start acceleration.
Daytona 200 Champion Brandon Paasch participated in the final testing phase, both in engine performance evaluation and with the final set-up of the prototype through track testing.
"The throttle response on the TE-1 is kind of incredible, it's very torquey and when you first touch the throttle it's instant power, which is obviously what I love as a motorcycle racer – I love when it's super-torquey and picks up right away, so for me it was a really great experience", said Brandon. "I got to peg this thing all the way from zero to 100% throttle and it's unbelievably quick, it pulls like crazy."
Game-changing 20-minute charge time
Advances in battery and charging technologies that have been developed as part of the Triumph TE-1 project, in collaboration with Williams Advanced Engineering (WAE), have resulted in a game-changing 20-minute charge time (0-80%), successfully delivering against the ambitious targets laid out by Innovate UK, the government's research and innovation agency that supports business led R&D funding and UK business growth.
485lb overall weight
With an overall weight of 485lb (220kg), the TE-1 prototype is lighter than the equivalent electric bikes available currently, by up to 25%, giving it an incredible power-to-weight ratio. Having a physical size and scale comparable to a Street Triple, but with the ergonomics, geometry and weight distribution of a Speed Triple, the TE-1 delivers a completely thrilling ride, while being confidence-inspiring, nimble, and compact.
"I wish I'd had this at Daytona, that acceleration in this chassis, and how it corners – wow!" said Brandon Paasch. "I think this would be a really nice motorcycle to ride on the street, just based on how nimble and agile it is, and how light it feels."
Triumph's signature thrilling feel and neutral, confidence-inspiring handling
With a throttle action and torque delivery map directly engineered from a Speed Triple 1200 RS, the track testing and dynamic rider assessments on the TE-1 prototype demonstrator deliver a level of handling that matches Triumph's current triple cylinder internal combustion sports performance motorcycles.
The TE-1's exhilarating level of performance and acceleration, combined with its engaging and dynamic riding package, result in a bike that delivers all of Triumph's signature feel, and world-renowned neutral handling – a smooth, predictable ride, that is agile and nimble, great in the corners, with a controllable power that incites confidence and guarantees fun.
A pure, unique, and characterful new electric-Triumph soundtrack that builds
to a hair-raising crescendo
Distinctive and thrilling soundtrack, building to the most spine-tingling crescendo – the Triumph TE-1 prototype's pure and characterful sound is considered to be more appealing and exciting than any of the equivalent electric motorcycles currently available, thanks to its unique helical gear pair primary transmission.
With noise levels tested at Mira's external noise measurement facility, the TE-1 successfully achieved all noise standards set by the R41 homologation tests for wide open throttle, cruising and urban.
A style and presence that is 100% Triumph, with signature design DNA
Instantly recognizable as a Triumph, the TE-1 prototype's muscular presence utilizes signature design cues from the brand's iconic modern history of performance motorcycles, while clearly being a bike of the future. Now updated with its final body panels and paint scheme, the prototype demonstrator brings a style and presence that is 100% Triumph, with all the brand's signature design DNA, from its aluminum frame to its distinctive twin headlights and head-down focused stance and poise.
Project TE-1 Completion
"We have already seen an incredibly positive reaction to the TE-1 prototype from motorcyclists all around the world, where many people are telling us that for the first time, they are seeing an electric motorcycle as desirable, and something that they would genuinely want to own. Being the first step in our journey towards developing our future approach to electric powertrain technology, the TE-1 prototype and the incredible results it has achieved in its intensive testing program has provided crucial insights and capabilities that will ultimately guide our future development. Of course, the final production motorcycle will not be exactly what you see here today, but rest assured, the models we do develop will encompass all its learnings and its exciting dynamic spirit." – Steve Sargent, Chief Product Officer, Triumph Motorcycles.
Overall, the key objective of the TE-1 project has always been focused on developing electric motorcycle capability, to provide an input into Triumph's future electric motorcycle offering, driving innovation, capability, and new intellectual property, and enhancing the credibility and profile of British industry and design.
The achievements in the live testing phase, exceeding current benchmarks and targets, provide a platform with great potential for future development in electric motorcycle performance.
"We are incredibly proud to be able to share such positive outcomes from the completion of Project Triumph TE‑1, where the prototype demonstrator has exceeded many of our initial targets and expectations. Everyone on the team is thrilled with the results we have achieved with our partners, and how the outcomes of the project will feed into the electric future to come from Triumph." – Nick Bloor, CEO, Triumph Motorcycles.
Williams Advanced Engineering (WAE)
"WAE are delighted to have been involved in this exciting program to deliver the TE-1 prototype. Since its conception in 2018, all the partners have worked with collaboration, innovation, and passion to bring the boundary breaking prototype to life. It is pleasing to hear positive rider comments which confirm that the dynamics of the bike are aligned with Triumph's DNA. This has been underpinned by the class leading Battery and Control System that WAE has produced within a lightweight and integrated package. This core WAE technology has allowed us to exceed performance and charging targets for the battery which we look forward to seeing in future powertrains." – Dyrr Ardash, Head of Strategic Partnerships, Williams Advanced Engineering.
Integral Powertrain Ltd.'s E-Drive Division
"We're delighted to see the final TE-1 motorcycle testing phase completed and with that, further validation of the performance and efficiency of our Scalable Ultra-Integrated Motor and Inverter.
For the TE-1 application, the motor has achieved peak and continuous power densities of 13kW/kg and 9kW/kg respectively; 60% higher than APC technology roadmap targets for 2025. All this has been achieved using materials and processes compatible with volume automotive production and on a length scalable motor platform. The motor scalability concept deployed on TE-1 has provided a springboard for a new scalable motor architecture, to be announced later this year, which will provide similar performance levels but much greater manufacturing scale than previously.
The ultra-integrated inverter concept, also scalable such that the number of Silicon-Carbide power stages increases for larger diameter motors has really delivered on performance (capable of >500kW) and gives us the opportunity to optimize for production or meet much higher power requirements.
We're really proud to have been a key part of this exciting project which has been a landmark for electric motorcycles and British industry." – Andrew Cross, Chief Technology Manager, Integral Powertrain Ltd.
WMG, University of Warwick
"To meet our ambitious emission reduction targets in the UK we will have to rethink the way we travel, not only transitioning from ICE to electric propulsion vehicles, but also encouraging a modal shift away from private cars. Electric two wheelers have a pivotal role to play in the transport revolution as a zero-tailpipe emission option.
In our partnership with Triumph, WMG used our research experience in electrification to demonstrate manufacturers can deliver products with a lower emission burden as well as outstanding performance-offering customers an EV that is great fun to ride." – Prof. David Greenwood, CEO, WMG centre High Value Manufacturing Catapult, University of Warwick