SUZUKI ANNOUNCES LIMITED EDITION GSX-R1000 TO CELEBRATE 100TH ANNIVERSARY
Suzuki has announced a new GSX-R series of models that will go on sale in a number of Suzuki markets worldwide to celebrate the firm's 100th Anniversary.
The flagship superbike sports the same retro-inspired livery as the GSX-RR MotoGP machine, with the traditional blue and slate silver colour scheme paying homage to Suzuki's early Grand Prix machines of the 1960s.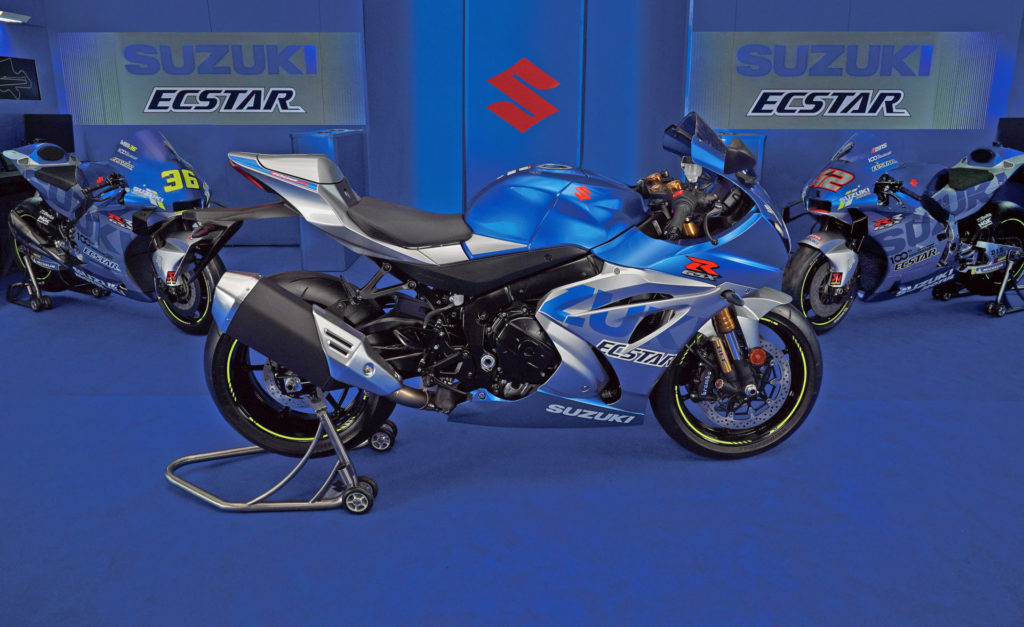 The GSX-R1000R – which has won races and championships in the UK, the USA and Australia, plus the Senior TT on the Isle of Man following its launch – also shares more than just paint with the GP racer, and utilises the same variable valve timing system to boost both torque and peak power. It also gets a comprehensive suite of electronics, which includes 10 traction control modes, a quickshifter and auto-blipper, launch control, and lean angle-sensitive ABS.
2020 marks 100 years since the inception of the Suzuki Loom Manufacturing Co. The firm began the production of motorcycles in 1952 with the launch of the Power Free, and two years later changed its name to Suzuki Motor Co. Ltd. Since then it has gone on to produce some of the most iconic motorcycles of the 20th and 21st century, including the complete GSX-R series – most notably the genre-defining 1985 GSX-R750F and the 2001 GSX-R1000 K1 – the GT750, GSX1100S Katana, and RGV250.
More, from a press release issued by Suzuki Motor of America, Inc.:
Suzuki Announces New and Returning 2021 Models
GSX-R, RM-Z, and KingQuad ATV models lead the way in 100th anniversary year.
Brea, CA (September 9, 2020) Suzuki celebrates its 100th anniversary as a company in 2020. Founded originally as a loom manufacturer in Hamamatsu, Japan, Suzuki has evolved into a global leader of automotive, marine, motorcycle, and ATV products. The performance-driven DNA of Suzuki is alive and well in all of its first release 2021 powersports models, including race-ready Suzuki GSX-R sportbikes, RM-Z motocross machines, DR-Z Off-Road/DualSport motorcycles, and KingQuad and QuadSport All Terrain Vehicles.
Sportbike models – 
In 1985, Suzuki revolutionized the sportbike category with the introduction of the original GSX-R750. This year also marks Suzuki's 60th year in racing, a milestone celebrated with the MotoGP team's retro-inspired livery. The MotoGP GSX-RR's traditional blue and slate silver paint scheme pay homage to Suzuki's early Grand Prix machines of the 1960s.
The family of GSX-R ultra-high performance motorcycles including the GSX-R600, GSX-R750, and GSX-R1000R continues this tradition of Suzuki excellence and all three models will sport the striking limited edition 100th Anniversary Edition color scheme featuring the iconic blue and slate silver from that historic Suzuki era. Available in limited numbers, these eye-catching GSX-R models may be nostalgic for some, yet love at first sight for others.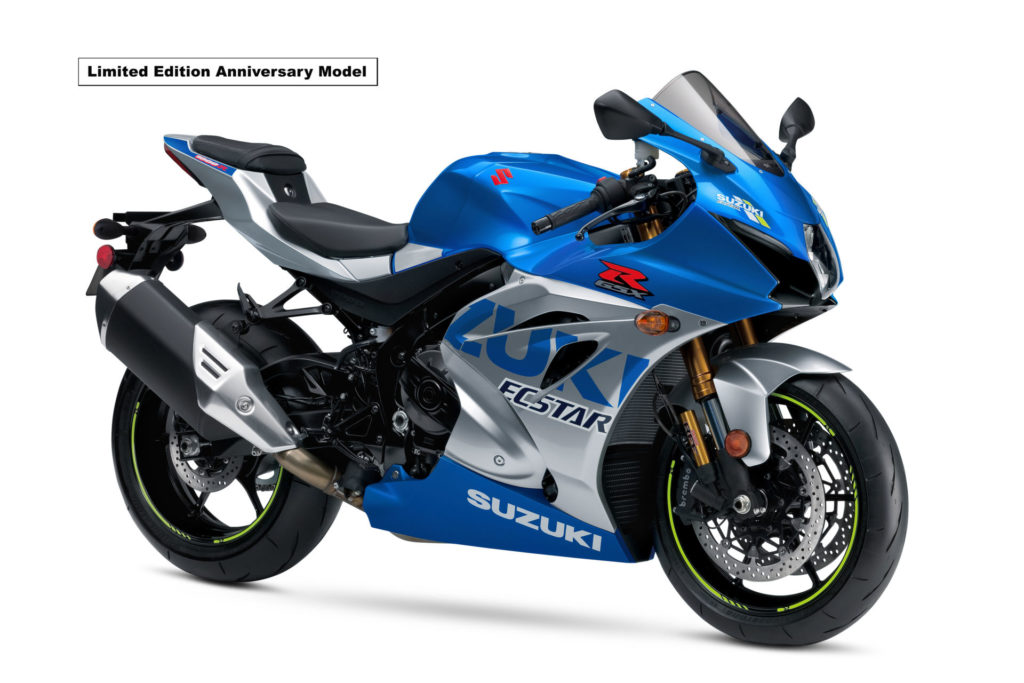 2021 Suzuki GSX-R1000R 100th Anniversary Edition

MSRP $17,999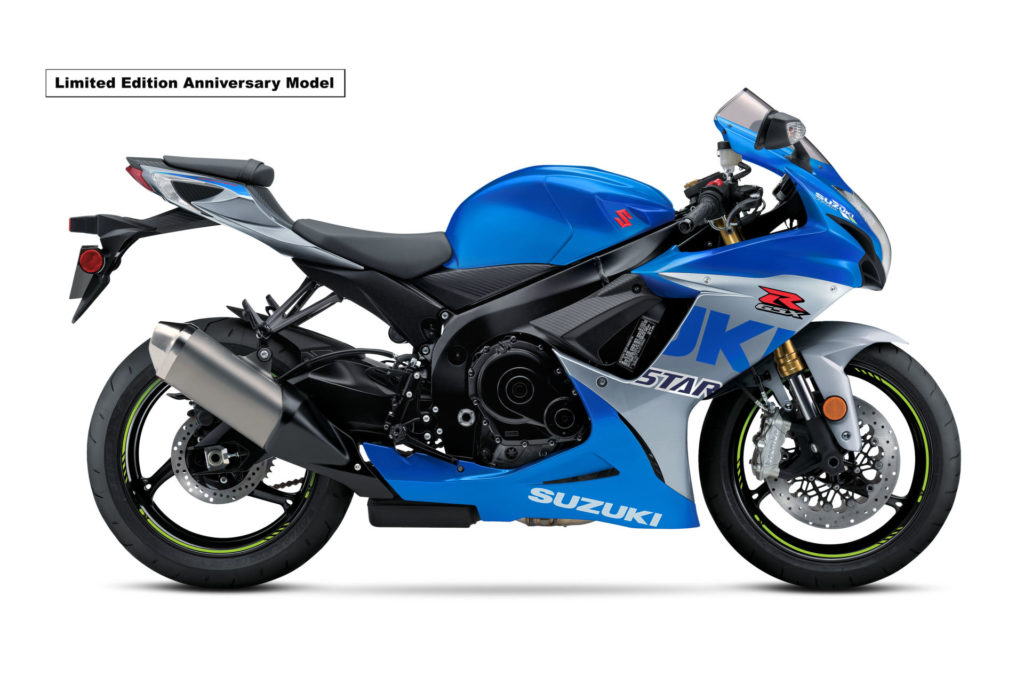 2021 Suzuki GSX-R750 100th Anniversary Edition

MSRP $12,699

2021 Suzuki GSX-R600 100th Anniversary Edition

MSRP $11,599

DualSport/SuperMoto models –
Suzuki DualSport and SuperMoto machines are some of the most versatile, reliable, and fun-to-ride motorcycles available on the market.
The 2021 line-up of Suzuki DR-Z's include the tough and durable DR-Z400S for go-anywhere capability and the best-of-both-worlds SuperMoto, DR-Z400SM. The DR-Z400S and DR-Z400SM both return with new colors and stylish graphics treatments for 2021.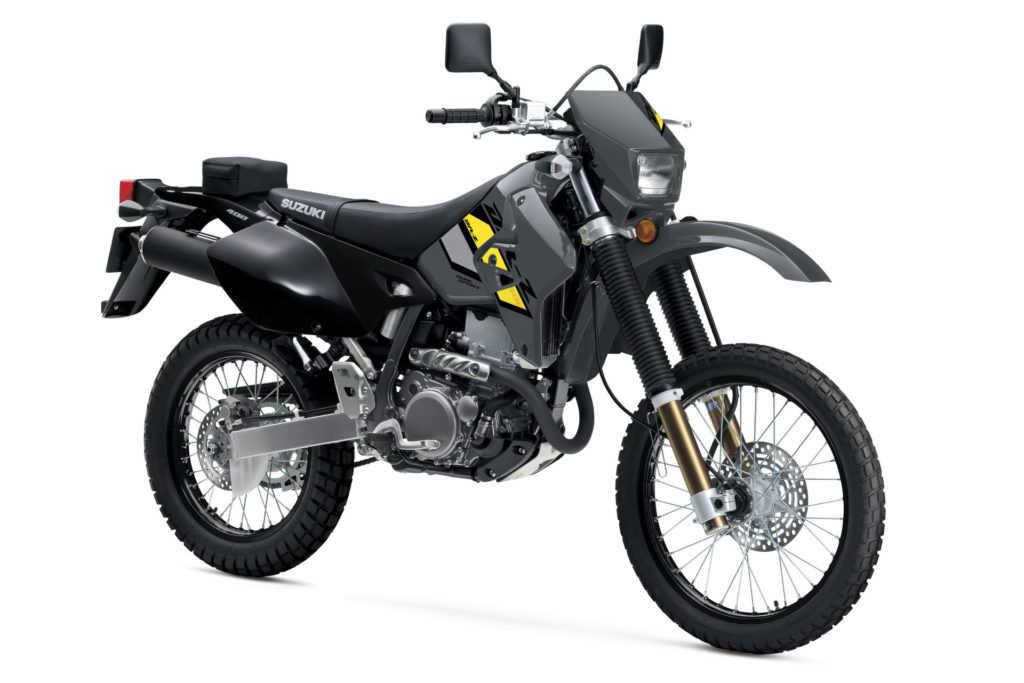 2021 Suzuki DR-Z400S

MSRP $6,899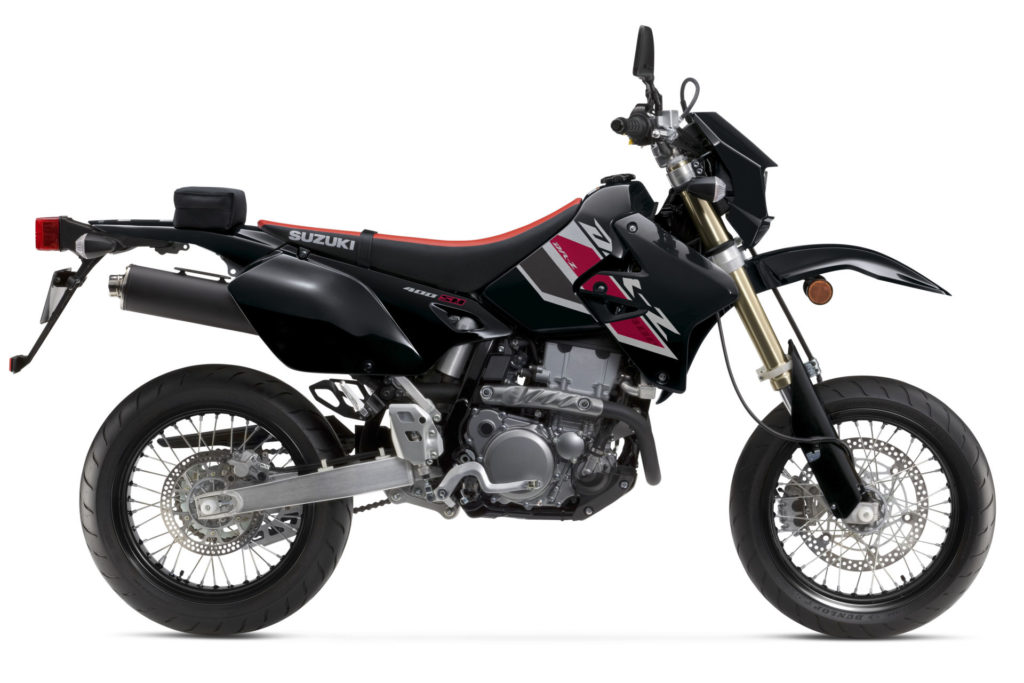 2021 Suzuki DR-Z400SM

MSRP $7,499

Off-Road models – 
If family fun is what you're looking for, Suzuki off-road motorcycles are just what you need. Suzuki off-road machines provide young and smaller stature riders with a great blend of durable off-road performance, premium features, and champion-approved RM-Z styling.
The DR-Z50 is the ideal way to introduce young, beginning riders to the sport of motorcycling. This compact, Suzuki-built mini-bike brings ease and convenience to riders just getting started on two wheels. The DR-Z125L is the perfect next-step in Suzuki Off-Road motorcycles and is built to deliver big bike performance to a size-appropriate motorcycle. Both the DR-Z50 and DR-Z125L return with new graphics for 2021.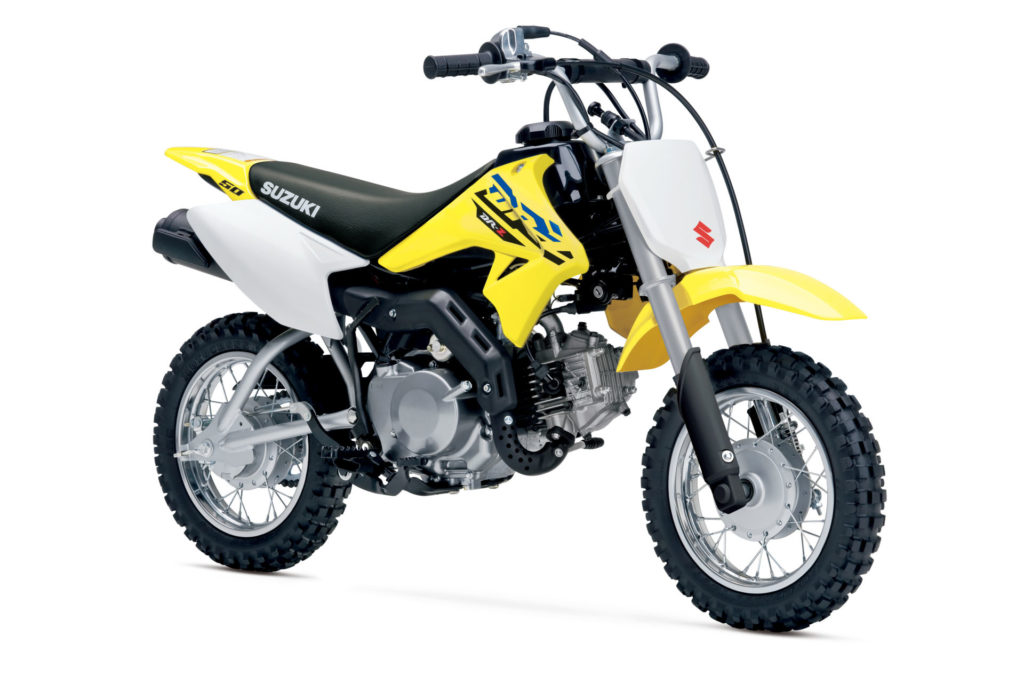 2021 Suzuki DR-Z50

MSRP $1,799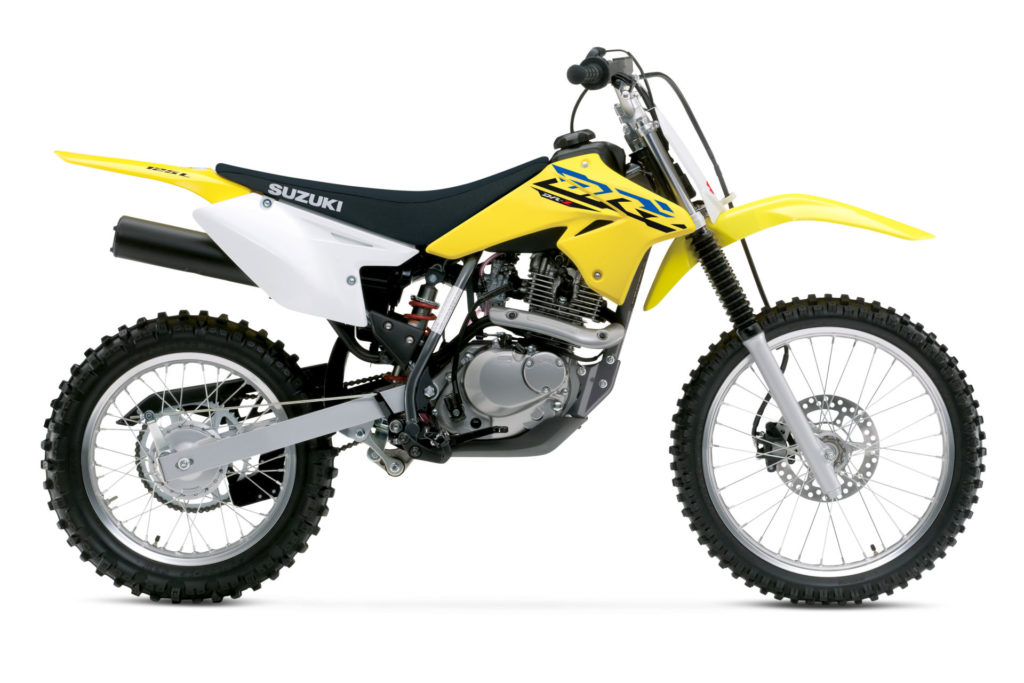 2021 Suzuki DR-Z125L

MSRP $3,349

Motocross models –
As one of the winningest brands in the history of the sport, Suzuki's motocross machines remain the champion's choice, as their sleek, cutting edge appearance, powerful, yet reliable engine, and natural ergonomics continue to deliver on Suzuki's racing identity.
The RM-Z250 and RM-Z450 siblings epitomize Suzuki's "Winning Balance" philosophy with strong brakes for controlled stopping power, a wide spread of engine torque with high peak power, and a strong, light, and nimble chassis that remains the class standard for cornering performance and extraordinarily precise handling. Add to that leading ergonomics, beautiful styling and unmatched reliability and you've got the perfect race-ready machine.
The RM-Z250 and RM-Z450 return with updated graphics for 2021, as well as the ability to now tune the electronic fuel injection, and ignition system for maximum performance, thanks to Suzuki's mobile device-based MX-Tuner 2.0 and proven fuel-coupler system that are included with each 2021 RM-Z250 and RM-Z450. Now you can easily tune your motorcycle to suit track conditions or your riding preference from the convenience of your personal device.
The RM85 returns with updated graphics for 2021 and continues to carry on the powerful tradition of racing excellence and like its larger RM-Z cousins, the RM85 delivers Suzuki's renowned handling for both experienced junior racers and rookie riders alike. With its reliable two-stroke engine, smooth power delivery and lightweight handling, the RM85 is the perfect motocross bike for anyone learning to race—and striving to win.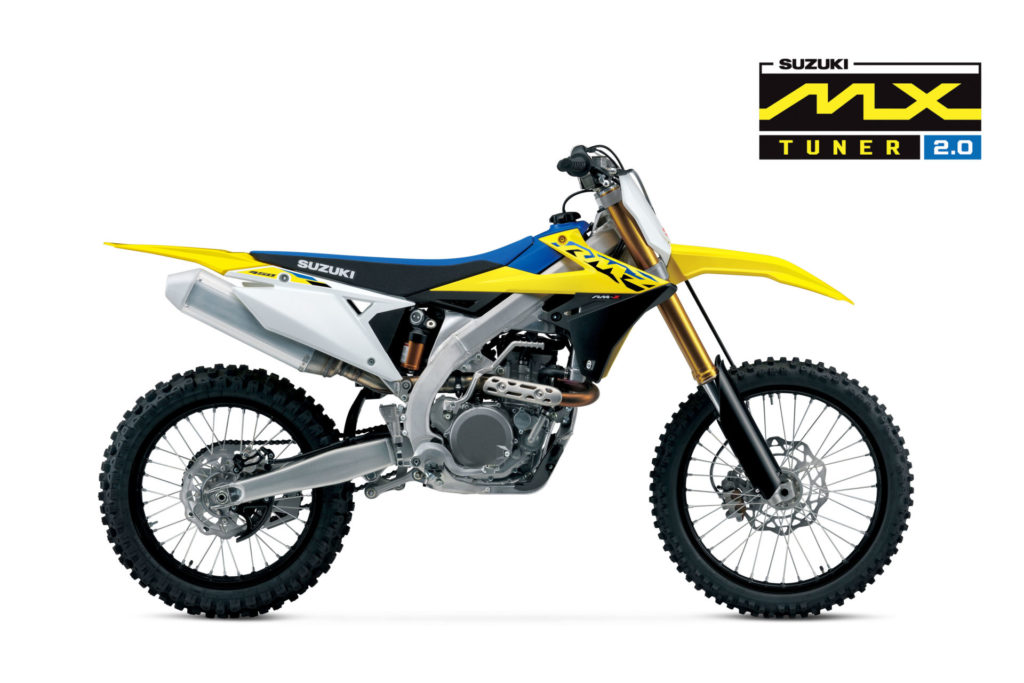 2021 Suzuki RM-Z450

MSRP $8,999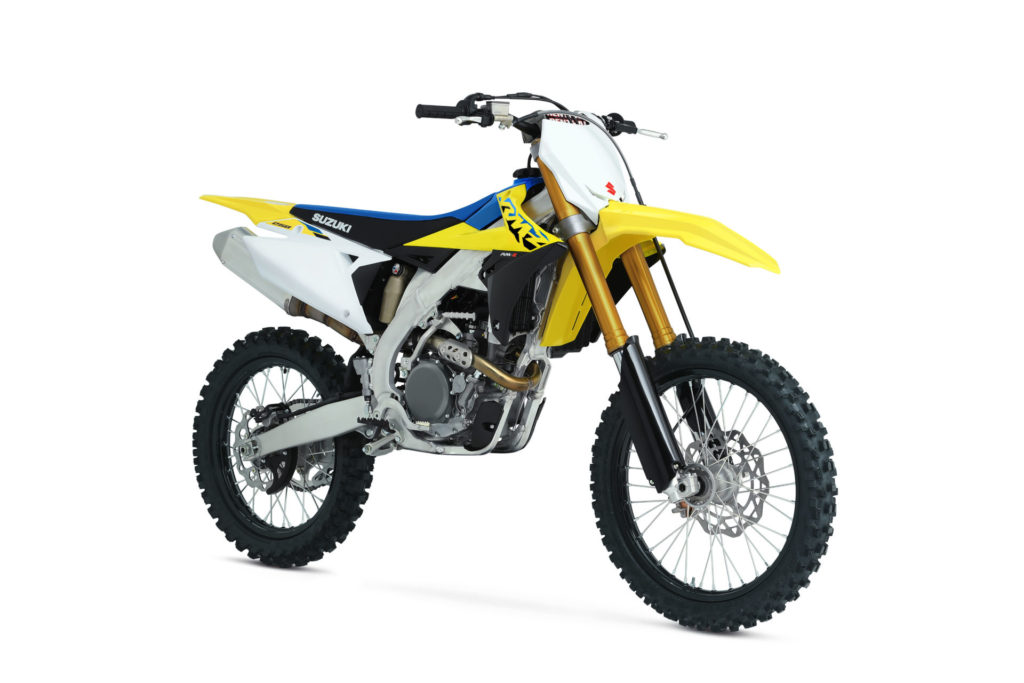 2021 Suzuki RM-Z250

MSRP $7,899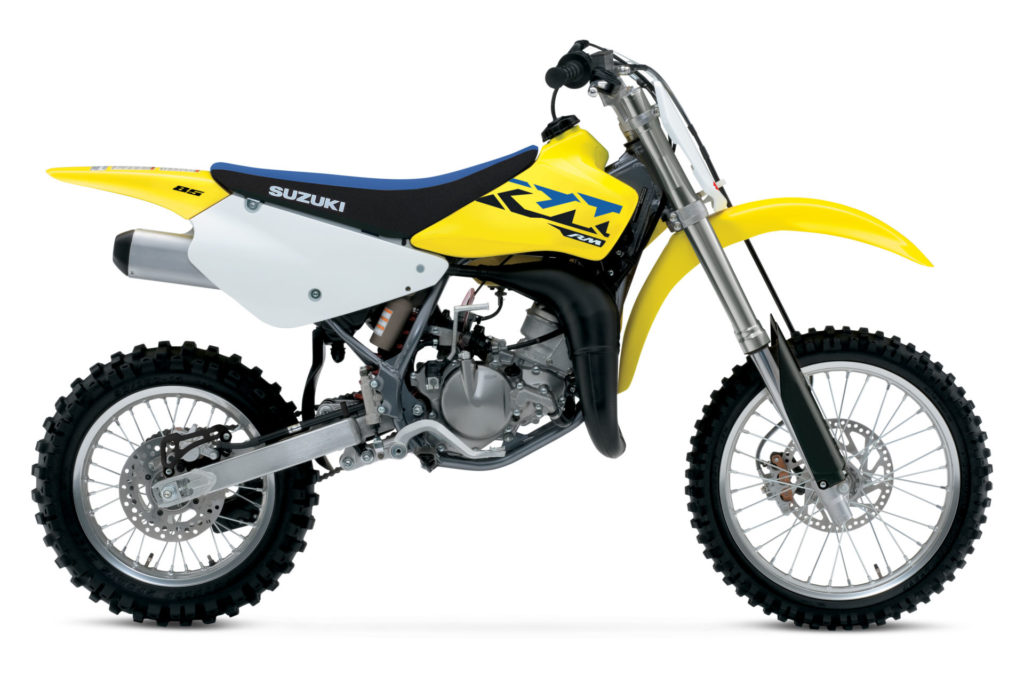 2021 Suzuki RM85

MSRP $4,299

KingQuad models – 
KingQuad ATVs are legendary for their performance, reliability, and ruggedness. The 2021 models will be no different as Suzuki, the inventor of the 4-wheel ATV continues its tradition of building the world's best utility-sport ATVs. It's not just an ATV, it's a KingQuad ATV.
The 2021 KingQuad 750 and KingQuad 500 models offer two brand new colors including a new Metallic Matte Rocky Gray on KingQuad 750AXi Power Steering SE+ and KingQuad 500AXi Power Steering SE+ models and a fresh new True Timber Kanati camouflage pattern on KingQuad 750AXi Power Steering SE Camo and KingQuad 500AXi Power Steering SE Camo models.
All new for 2021, Suzuki KingQuad 500 and KingQuad 750 Power Steering models now feature versatile new carrier covers. Engineered from reinforced polypropylene plastic, these high-impact, multi-purpose carrier covers increase the functionality of your KingQuad. Designed to increase the usefulness of the steel cargo racks already found on the unit, these convenient new covers fit precisely to maximize versatility. Smooth, yet with a textured, grippy surface, you can easily secure an appropriate load or use as a flat working surface when in the field. The surface of the covers have a deep and wide rib design for optimal water drain. Plus, the all-new carrier covers can be easily removed if needed. Their functional and modern design also gives the KingQuad an all-new clean and finished look that's tough and rugged front to back. Standard KingQuad 500 and KingQuad 750 models can also accept the high-impact carrier covers as an optional add-on.
If a smaller KingQuad with all the performance, durability, and style is what you're looking for, the 2021 KingQuad 400 ATVs will fit you just right. The 2021 KingQuad 400ASi SE+ also features the stunning new Metallic Matte Rocky Gray color, while the 2021 KingQuad 400ASi Camo and KingQuad 400FSi Camo get the striking new True Timber Kanati camouflage pattern as well.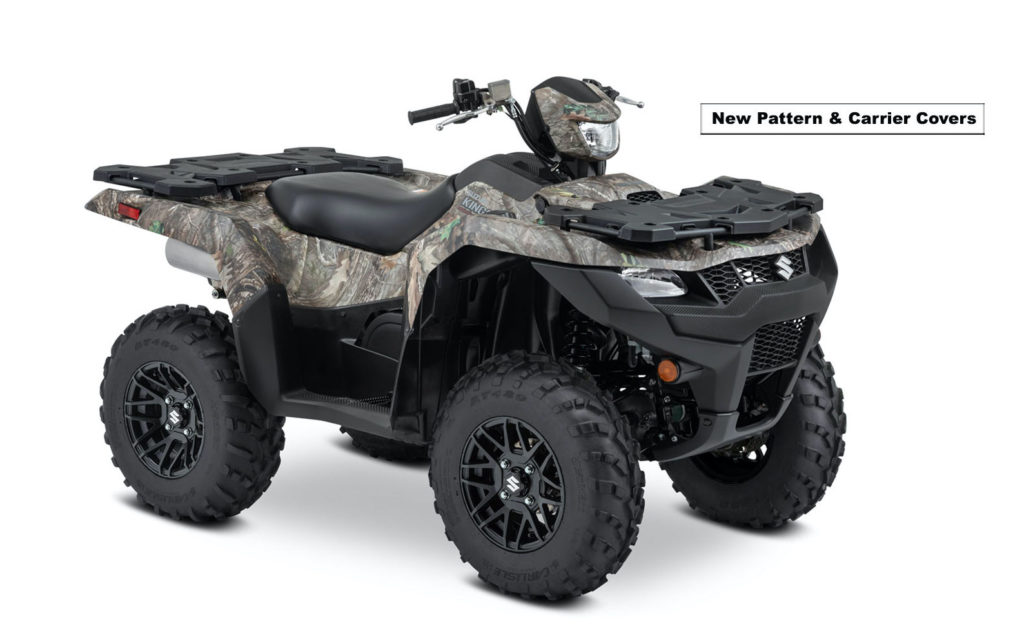 2021 KingQuad 750AXi Power Steering SE Camo

MSRP $10,599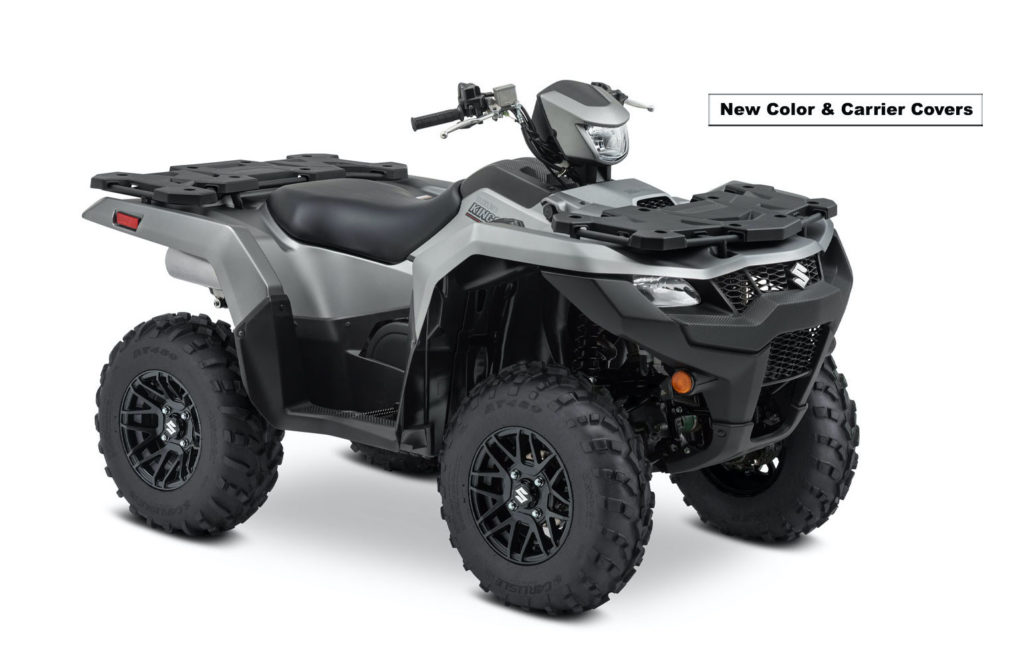 2021 KingQuad 750AXi Power Steering SE+

 MSRP $10,599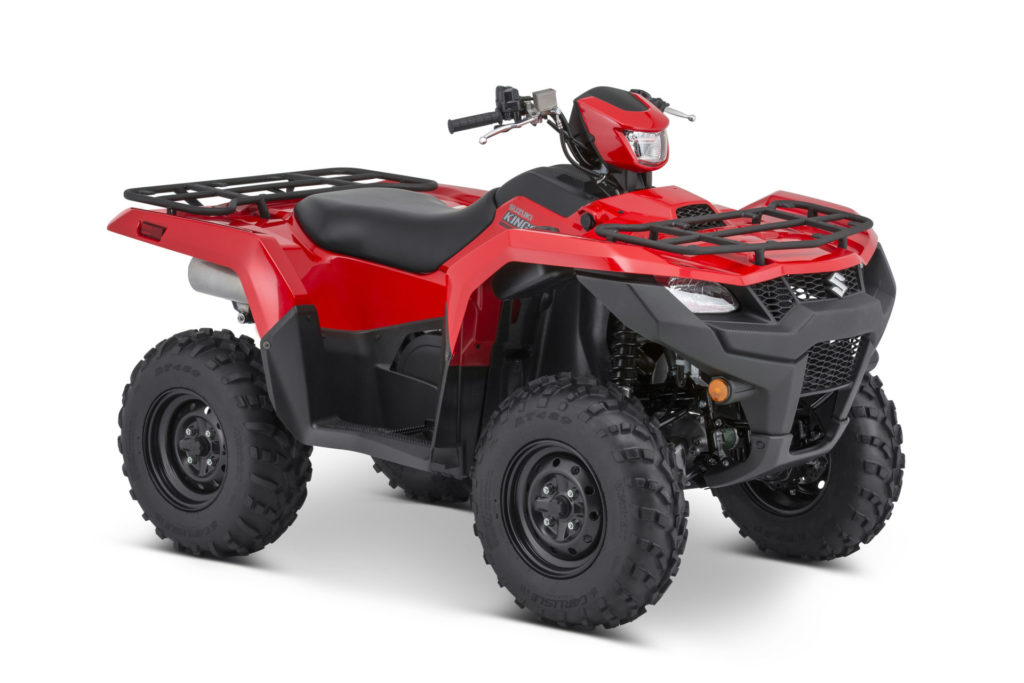 2021 KingQuad 500AXi

 MSRP $7,599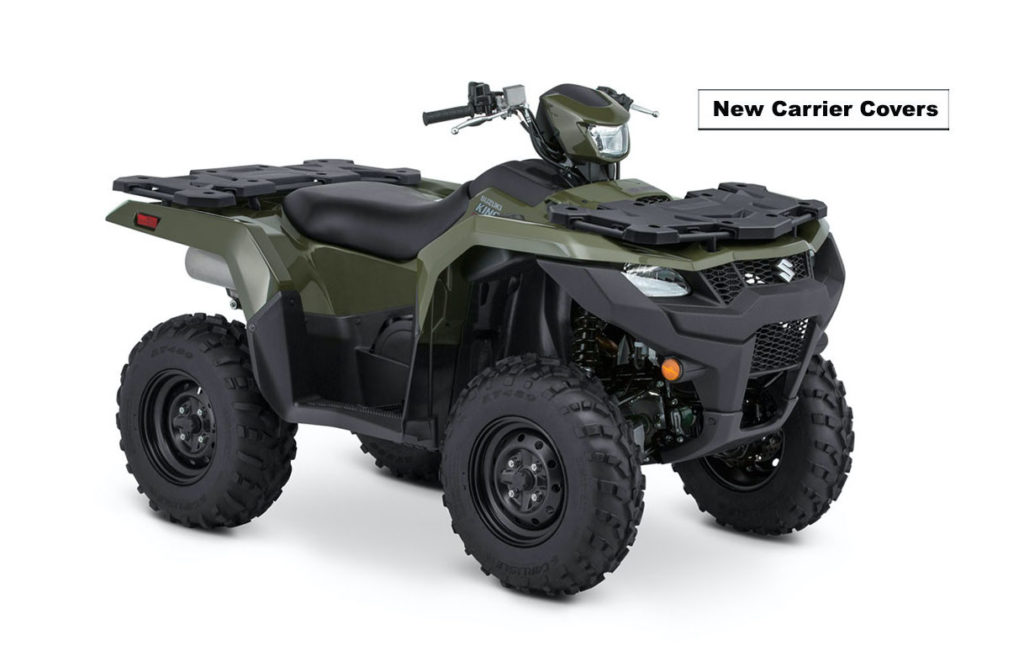 2021 KingQuad 500AXi Power Steering

MSRP $9,099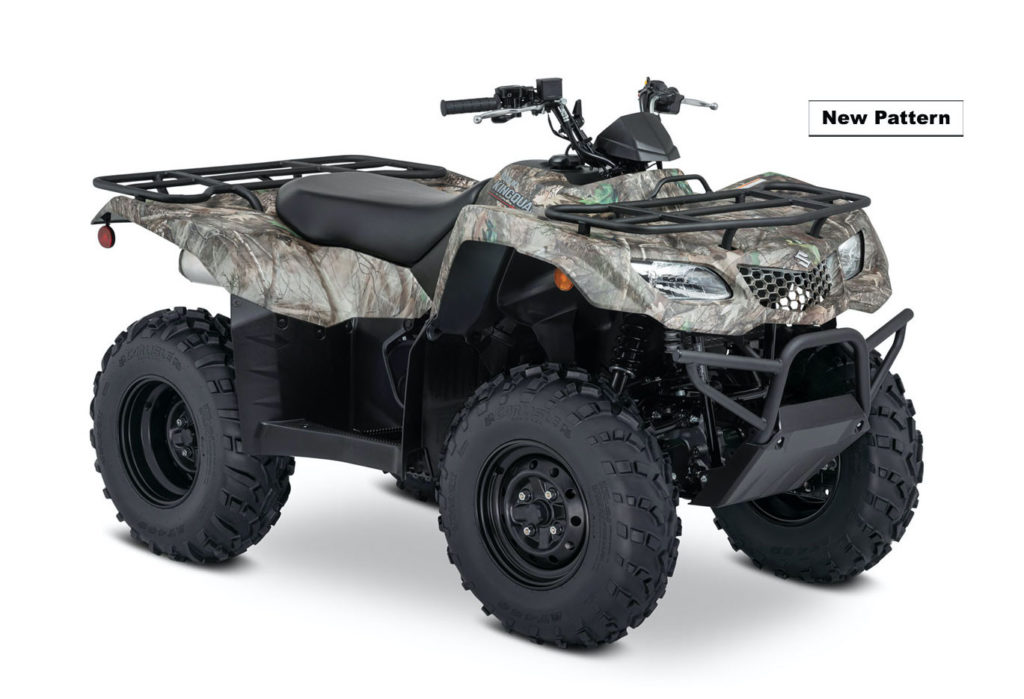 2021 KingQuad 400ASi Camo

MSRP $6,999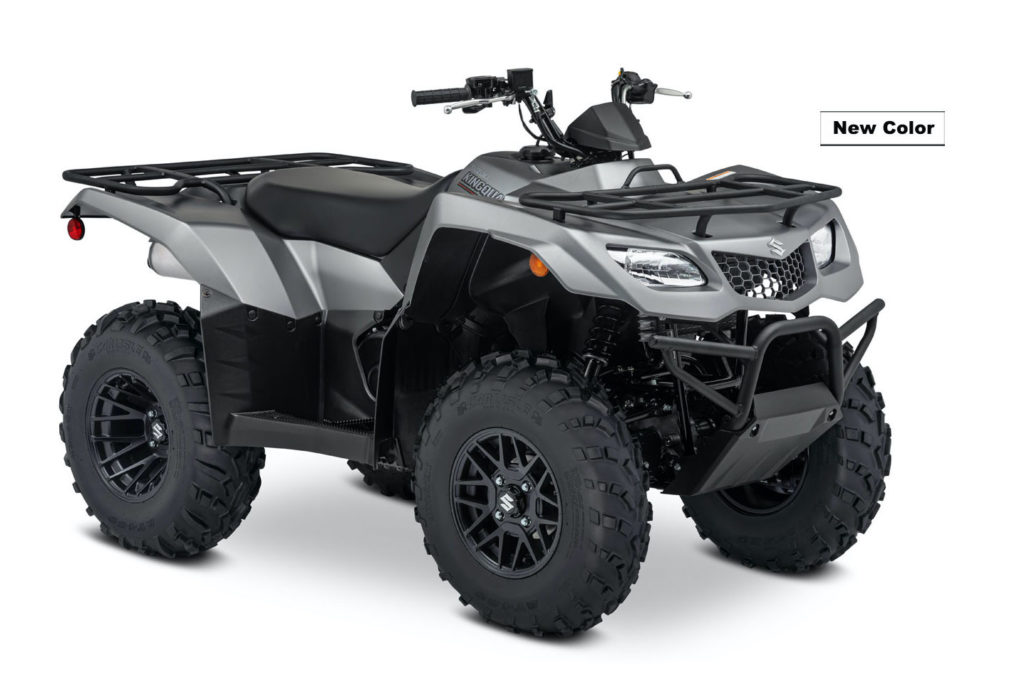 2021 KingQuad 400ASi SE+
MSRP $7,149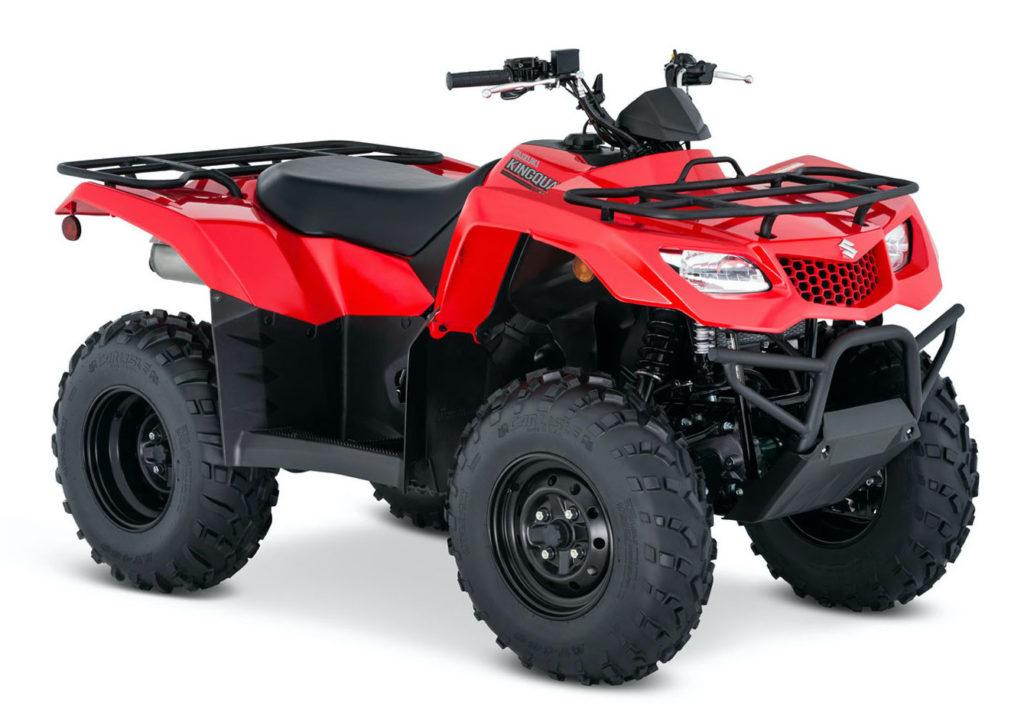 2021 KingQuad 400FSi 
MSRP $6,599

QuadSport models –
Suzuki QuadSport Youth ATVs are ideal for adult-supervised riders to develop their off-road riding skills. Convenient features like an automatic transmission and electric starter help make the QuadSport Z50 and QuadSport Z90 easy to operate while those skills are being formed.
The QuadSport Z50 is built for adult-supervised riders ages six and older, while the QuadSport Z90 fits adult-supervised riders ages 12 and older properly. Get the little ones started on Suzuki QuadSport youth ATVs so your whole family can experience the fun of the outdoors and the joy of riding a Suzuki! Both the QuadSport Z50 and QuadSport Z90 return with new graphics for 2021.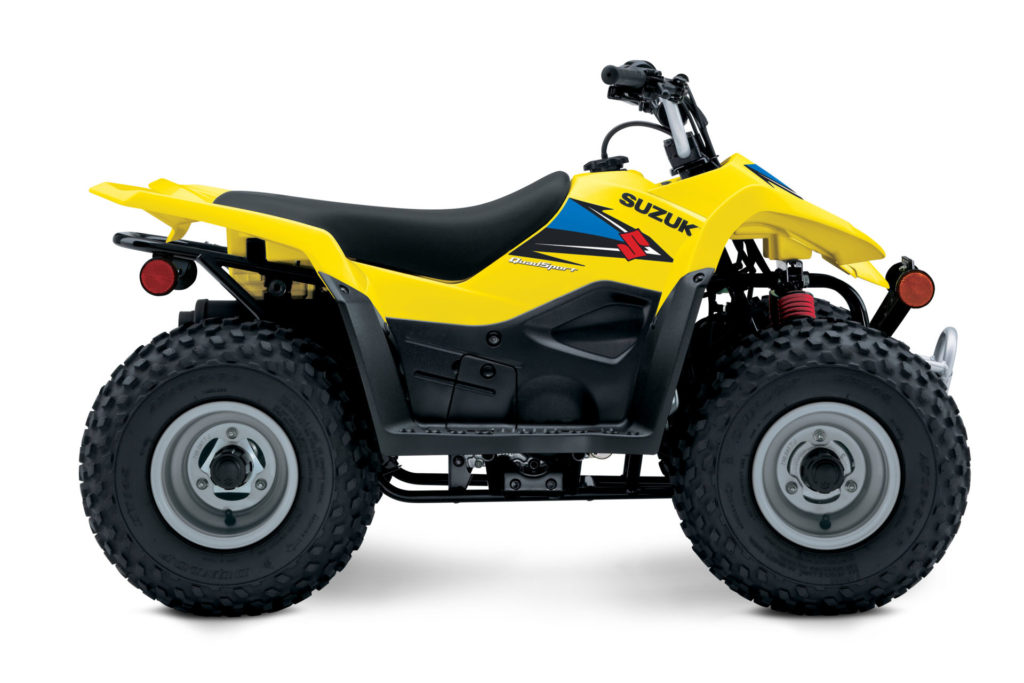 2021 Suzuki QuadSport Z50

MSRP $2,149

2021 Suzuki QuadSport Z90

MSRP $2,999

Suzuki Motor of America, Inc. is excited for riders to see and experience the new 2021 Suzuki models. Look for these new models to start arriving in local Suzuki dealerships soon. To see the complete line-up of Suzuki models, head to www.SuzukiCycles.com for all the latest information, specs, and photos.