Copyright 2021, Roadracing World Publishing, Inc.
"If I Can Spin The Wheel And Drag A Knee A Little Bit During The Day, Then I've Accomplished What I Came For …"
By Michael Gougis
So you're a legend in the world of motocross and supercross, established a successful business career, raced stock cars, raced off-road four-wheelers, and been named to the Motorsports Hall Of Fame Of America. What's left when you want to hang it out a bit, really get an adrenaline fix from a two-wheeler?
If you're Jeremy McGrath, you hook up with your friends at Kawasaki at a track day at Auto Club Speedway, fire a ZX-10R onto the banking and pin it.
"I have dirt bike eyes, right?" the seven-time AMA 250cc Supercross Champion said in a recent interview in the paddock of the Southern California racing facility. "You get out here and you have streetbike eyes and you're going 170 mph down that straightaway on that ZX-10R and you're like, holy ****!
"You have to have a lot of nerve. I keep telling these guys, 'I can't even make it to the braking zone.' It's nerve-wracking. These bikes are so incredibly fast. I have to make sure that I keep the respect for these things. The rest of the track's really fun, but that straightaway speed – that's incredible!"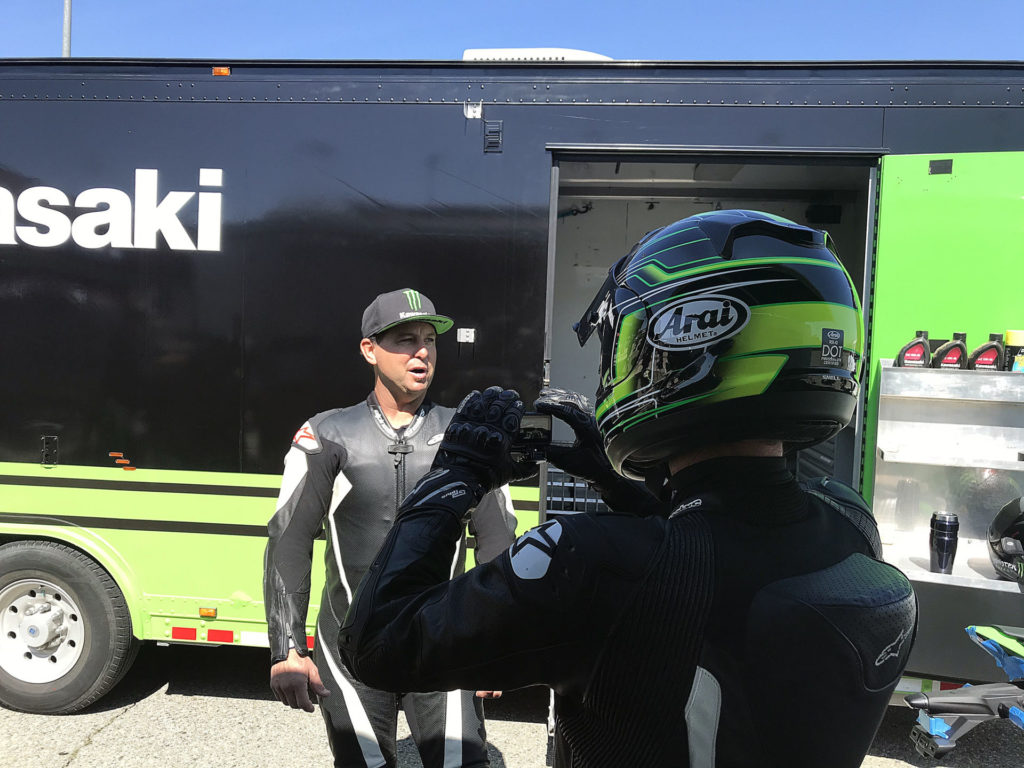 McGrath had joined the Kawasaki Motors Corp. USA crew – Media Relations Supervisor Brad Puetz, development rider and Suzuka 8-Hours veteran Derek Keyes and others – as they scrubbed tires and put miles on media test units. The bikes were slathered with blue painter tape to protect the finish from the blasting gravel and grit that is typical of the Auto Club Speedway circuit.
McGrath, who rides road courses about twice a year, offered some insight into why track days are so popular, and can be so thrilling, even to someone who has absolutely scaled the peaks of competitive motorcycle racing. Road courses demand specialized skills, and McGrath talks with a genuine humility about learning the demands of riding a sportbike at speed.
"It's been a while since I've been out on a road racing track, so it's always a good time. I'm such a fan of road racing, and I have been for so many years, and I've gotten to do several track days, but every time I get to do it, man, I just forget how much fun it is," McGrath says.
"Riding a bike with two wheels is what kind of transfers over (from riding in the dirt). But I would say that riding, your technique and everything out here, is the opposite of everything you ever do on a dirt bike. When I first started riding road racing or road bikes, I thought, 'There's no way you can lean these things over because they will never stick.' I'm just a dirt guy. You have to really get used to it. You have to really figure out how to trust the tires. Once you do, your body's hanging off, and those are the things you need to do on a track like this. If you did it on a dirt bike, you're gonna crash!
"So the things I have to consciously tell myself, the things I really need to concentrate on, is not to lean the motorcycle over like a dirt bike. I have to keep it as straight up as I can and get my body off the bike. Instead of being one with the bike, I have to get off the bike. And that's where I'm a little bit tight out there, because I'm not 100% on the technique. I mean, I know what to do, I know what I'm looking at, but looking at it and seeing it for years and doing it is a whole different thing. So I just really try to concentrate on my technique, because if I don't, I'll just fall back into bad habits for road racing."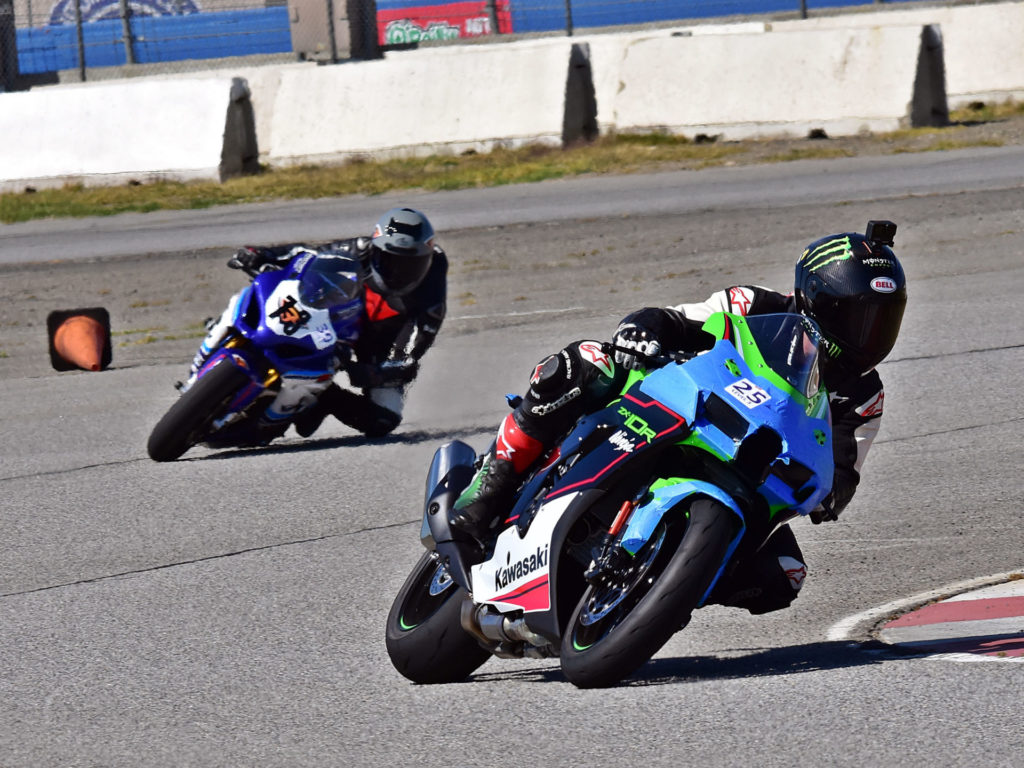 McGrath enjoys the process of learning, because with skill comes greater enjoyment. "When I rode for Yamaha in the 1990s, I went out with Anthony Gobert and Aaron Gobert — we went to Willow, the big track at Willow. I had never ridden a road race bike! I was like, 'What in the world am I doing here?' I was so scared to lean the thing over it was not even funny. I should have never been out there.
"But then, lo and behold, I started racing Supermoto after that and really learned about the tires. And that really taught me a lot about riding street bikes and street tires and kind of the things you need to do. It gave me a lot more knowledge about how a slick works."
McGrath enjoys the demands of a new discipline, especially one that's supposed to be fun, not an all-or-nothing career. "To me, it's a challenge. I don't know what I'm doing out there completely. I'm trying to learn and get better. And that's what makes it so fun. Sometimes I might get bored on my dirt bike, right? Because I've kind of done all of that. Unless I'm willing to scare myself these days on my dirt bike, then I don't get too wild out there.
"But here, it's so fun because I'm learning every corner, every lap, every session. I ride twice a year (on a road course). So every time I go out it's like a brand new sport to me! That's the part that makes it really fun.
"I think if I took it any more seriously, then it might get a little more dangerous because I know that I'm capable of going faster. But look, I'm never going to race streetbikes, I'm never going to race for trophies. I'm just here with my buddies having a great time. If I can spin the wheel and drag a knee a little bit during the day, then I've accomplished what I came for."