Roadracing World started this exclusive special feature recognizing the most promising young road racers as an answer to pessimists who claimed America had no new, up-and-coming young racers. This edition of the Roadracing World Young Gun Awards marks the 26th consecutive year of showcasing an abundance of new talent.
Roadracing World Young Guns have won:
FIM MotoGP and FIM Superbike races and World Championships;
MotoAmerica and AMA Pro races and Championships, including 11 AMA Pro Superbike Championships;
A KTM RC Cup World Final race;
The Daytona 200 (11 times);
WERA National Endurance Championships and WERA National Challenge Championships;
ASRA/Formula USA Grand National and CCS National Championships;
AMA Road Racing Grand Championships and Horizon Awards;
USGPRU National Championships;
Many regional and local titles.
The competition has continually become more intense as more – and younger—racers with higher levels of accomplishment are nominated, and the level of achievement required to make the grade keeps getting tougher.
We've spent the last several months accepting nominations and evaluating road racers between the ages of 10 and 18 (as of the start of the 2022 season) who have, at a minimum, won Expert-level road races and/or Championships or had outstanding results as an Amateur/Novice. Most of the riders included here have done far more than the minimum.
The young riders recognized here are the most promising young road racers in North America. All have earned the title of Roadracing World Young Gun.
We will feature one Young Gun per day, presenting them in alphabetical order.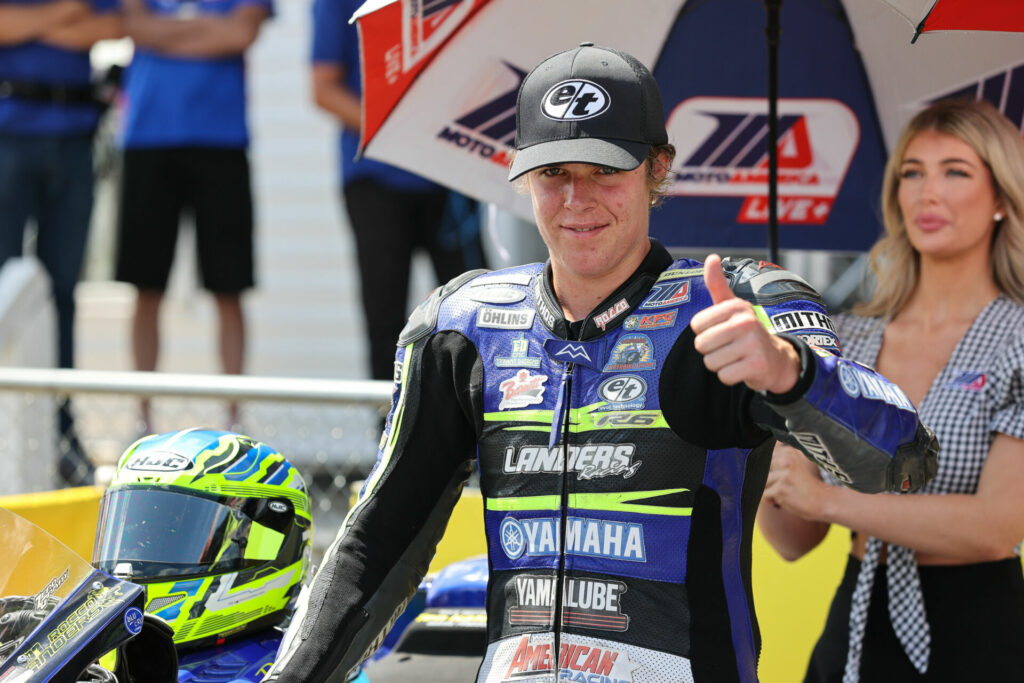 Rocco Landers
Age: 17.
Current home: Burns, Oregon.
Current height/weight: 5'11/165 pounds.
Current school grade level: Graduated High School.
Began riding at age: 2 years.
First road race: 2010, Buttonwillow, California, SC MiniGP, Blata Cup, 1st Place.
Current racebike: Yamaha YZF-R6.
Current tuners/mechanics: Stoney Landers (father), Will Eikenberry.
Primary race series: MotoAmerica Supersport.
Sponsors: CVMA, SoCal Track Days, Track Daz, Mithos, KFG Motorsports, California Superbike School, Keith Code, Joe Roberts, J4orce Training, Racer's Edge Performance, Yamaha, M-Tech Motorsports, Dunlop, Ohlins, SBS, Berringer Brakes, Tyrant Designs CNC, HJC.
Recent racing accomplishments: 2021 season, finished 4th in MotoAmerica Supersport Championship (4 podium finishes), 2020 season, won MotoAmerica Twins Cup Championship (9 wins and 12 podiums in 12 races), won MotoAmerica Junior Cup Championship (15 wins and 18 podiums in 18 races); 2019 season, won MotoAmerica Junior Cup Championship (won 14 of 17 races), won five CVMA class Championships, won multiple races and titles at Dunlop Invite event; 2018 season, finished 4th in RFME CEV (Spanish) 85cc GP National Championship, 18 race wins with CVMA, 3 race wins with WERA West; 2017 season, finished 5th in RFME CEV (Spanish) 85cc National Championship; 2016 season, finished 9th in CIV (Italian) 50cc MiniGP Championship; 2015-2010, multiple mini road racing Championships and race wins.
2022 racing goals: Win as many Supersport races as possible and the Championship.
Racing career goals: Win races and Championships in World Superbike and MotoGP.
Racing heroes: Wayne Rainey, Ronnie Mack, Ben Spies.
Favorite track: Sonoma Raceway.
Favorite hobby: Riding flat track.
If I wasn't racing I would be…: Moping around.