Former professional racer-turned-police-officer Grant Lopez was one of eight law enforcement officers decorated recently for heroism related to their actions during the terrorist attack December 6, 2019, at the Naval Air Station (NAS) in Pensacola, Florida.
Lopez, the 2000 Formula USA Champion and a race winner in AMA Pro 750 Supersport and AMA Pro Formula Xtreme, turned to a career in law enforcement in 2002, following the terrorist attacks on September 11, 2001, and joined the Escambia County (Florida) Sheriff's Office in 2003.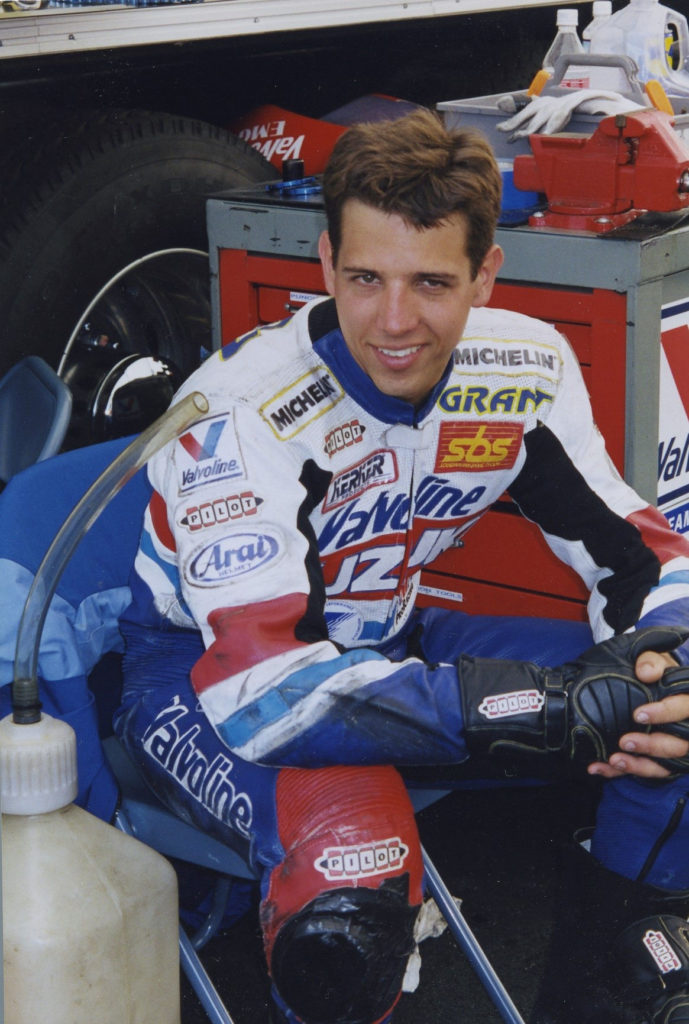 On December 6, 2019, shortly after he started his shift doing traffic enforcement on his BMW R 1250 RT-P motorcycle, 48-year-old Senior Deputy Lopez said he got a call of an active shooter situation at NAS Pensacola.
"Since I was on the motorcycle I was able to respond very rapidly," said Lopez. "Between being in close proximity and being on the motorcycle helped me to be one of the first ones there."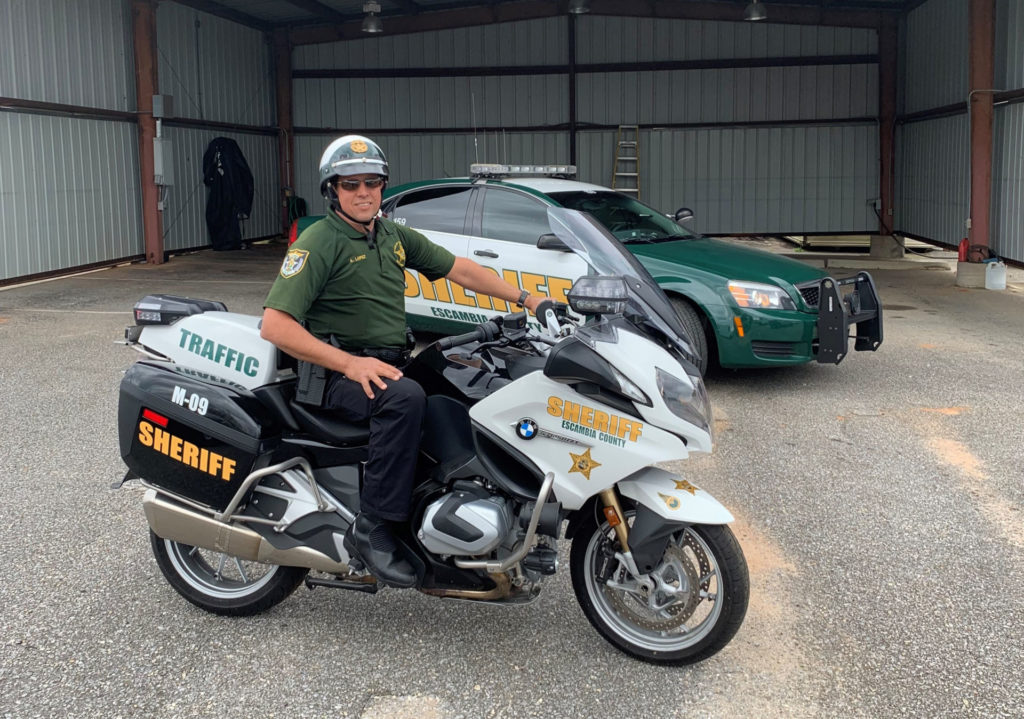 Riding a motorcycle allowed Lopez to cut through traffic lined up at the military base's front gate but it also hindered him because he said he had a hard time hearing his dispatcher over his siren.
"I turned my siren off when I got to the front gate and I heard 'Chapel'," said Lopez, who visits the naval base frequently to ride escort duty during military funerals. "I knew where the chapel was, so I made good time. All the rest of the guys ended up going to the northeast side of the [chapel] building, and it [the shooting] was actually in a building south of the chapel. I rode up on the south side of the chapel and a citizen there told me there's a shooter in the building. So, I was right there."
Lopez said he initially entered the building with NAS security officers, got separated from them, and then linked up with different officers from his department who entered the classroom building from another entrance and engaged the shooter.
"There were shells and smoke everything," said Lopez. "There was some shooting up north toward the main entrance. I went up there. I was with two [officers] who were shooting at the subject upstairs [on a balcony]. There were three of us at this corner and they were firing up."
Without a clear line of fire, Lopez said he instead tried to fight off "tunnel vision" and survey the situation better.
"I guess that put me in a spot to see his legs running on that upper balcony," said Lopez. "He was running to the east on the upper balcony, opposite of this foyer or whatever we were in. I don't know how I figured it out, because I had never been in that building before, but in my mind I imagined him running south over me in a hallway like the one we were in, just one floor up.
"I don't know if I saw a reflection showing the hallway or I heard the footsteps, but somehow I put it together that he was running down a hallway above us. And when I came in I had passed a stairwell to the left just inside the door.
"I cleared it, looked at it, considered it real hard, and decided to bypass it and go up the hall because the smoke was up the hall where I had encountered the other deputies.
"I yelled, 'He's running to the back stairwell! He's running to the back stairwell!' I didn't know if they were comprehending me or not, but I ran back down that hallway to that back stairwell. I got on my knee there and took aim up the stairwell.
"I must have just beat him by a second because sure enough here come those footsteps -thump, thump, thump. He came running down the stairs. As soon as he turned the corner I identified him and shot him.
"I struck him [in the chest] and he stopped, but the slide locked back on my weapon [pistol]. I dipped back around the corner trying to correct the malfunction of my weapon.
"He started yelling and shooting and coming down the stairs. So, I ran down around the corner to the next hallway back to the north, made an immediate left. He came after me down the hall where the other officers were.
"I ducked into a classroom to keep working on my weapon, while they were firing north and south down this hallway. It was essentially pure panic at that point.
"I finally got my weapon fixed and ready. I heard a couple more shots. I looked out, and he's lying on the ground. I approached him, kicked the gun away from him, and he was dying right there.
"Then everyone started coming in. We got everyone out of the building. I did get a female out of the building. Her legs were riddled with holes. I don't know how many times she was shot, but it was a bunch, a lot of blood. I put her in an office chair and got her out. Other officers were getting other people out. There were quite a few other people inside locked in classrooms, but we eventually cleared the whole building."
***
At about 6:50 a.m. local time on December 6, 2019, Second Lieutenant Mohammed Alshamrani, age 21, a member of the Royal Saudi Air Force who was training to be a pilot at NAS Pensacola, conducted "an act of terrorism" motivated by a "jihadist ideology," according to the FBI. Armed with a 9mm semi-automatic handgun, multiple ammunition magazines, and 180 rounds of ammunition, Alshamrani went on a 15-minute shooting rampage, killing three unarmed U.S. Navy sailors and wounded eight others, including two members of the Escambia County Sheriff's Office, until he was shot dead.
According to Lopez, the suspect was struck by multiple gunshots, including his single shot, and died at the scene.
For his actions, Lopez was one of eight officers to receive the Medal of Valor, the highest award a law enforcement officer can receive, from the Escambia County Sheriff's Office during a ceremony January 31, 2020.
"This Medal of Valor is awarded for an act of gallantry, courage, and compassion above and beyond the call of duty. This conspicuous and singular act was knowingly entered, risking great bodily harm or death, in an effort to save the lives of others. The wearer of this medal exemplifies the biblical admonition found in John 15-13; 'No greater love hath no man than this that a man lay down his life for his friends.' The singular distinctive acts of Senior Deputy A. Grant Lopez reflect great credit upon themselves, the Escambia County Sheriff's Office and the professional Law Enforcement," read the official award citation.
Others to receive the Medal of Valor included Lopez's colleagues Sgt. Mike Hoyland, Deputy Matthew Keebler, Deputy Matthew Housam, Deputy Jonathan Glass, and Deputy Matthew Tinch along with Department of Defense police officers Captain Robert Johnson and Captain Charles Hogue.
Deputies Glass and Tinch along with Captain Hoque were wounded in the gun battle with the terrorist.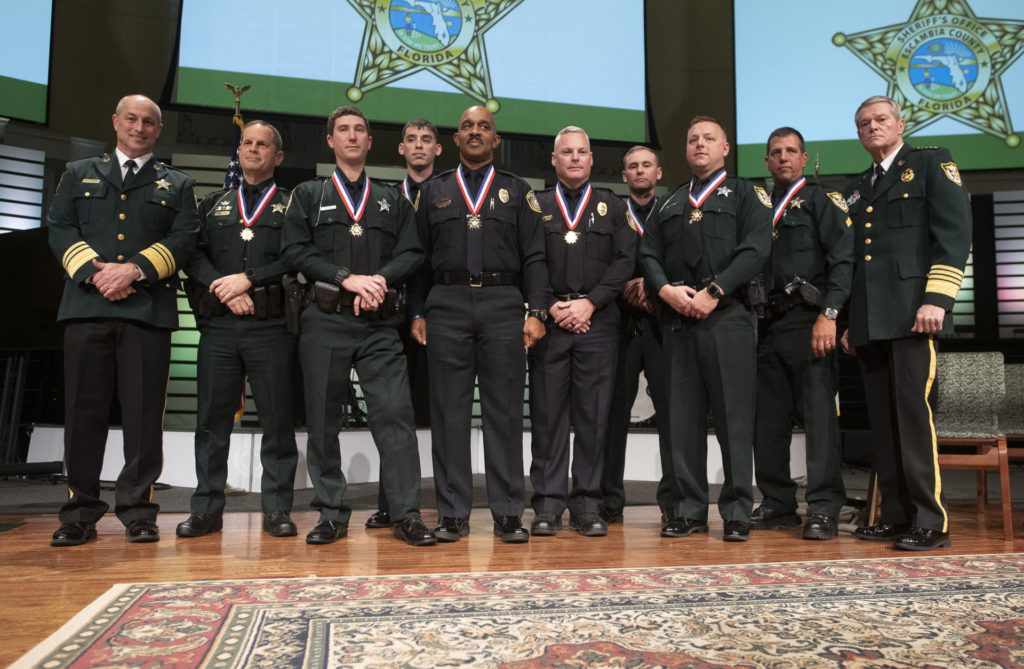 In addition, the FBI commended U.S. Marines Gunnery Sgt. Ryan Maisel and Staff Sgt. Samuel Mullins for running to the active shooter scene unarmed and rendering first aid to victims and Navy Aircrewman Ryan Blackwell, who was shot five times while shielding other victims and helping them escape.
Naval Aircrewman (Mechanical) 3rd Class Mohammed Sameh Haitham, Naval Aircrewman (Mechanical) 3rd Class Cameron Scott Walters, and Navy Ensign Joshua Kaleb Watson were killed by the terrorist.
"It was a very bad day because three people lost their lives," said Lopez, a married father of two who last raced professionally in 2001. "Me and the guys who were with me just had the opportunity to show we could do our jobs and would do our jobs and not think twice about it. So, it was cool to be recognized for that.
"You hope you'll never be tested that way, right? No one really knows how they are going to do if they are tested. I guess I did pretty good. It's something to look back on and be proud of.
"On the other side, you think about our war heroes who get sent out to battle and do this all of the time. This was one guy wreaking havoc in a building. Yeah, he was moving fast and was prepared and determined. I don't know.
"I'm a patrol deputy and I did exactly what I was supposed to do and did it well along with my comrades, but when you look at the things people did in World War II and throughout the history of our country, there's plenty of people who have done way more. I keep that in perspective, you know."
To see local news coverage of the Escambia County Sheriff's Office's awards presentations, go here.