Todd Schuster, a master fabricator involved from the starting days of AMA Superbike, died today, January 24th, at Pascack Valley Hospital in Westwood, New Jersey. He was 76.
Schuster worked with Udo Gietl on the Butler & Smith BMW AMA Superbike team in 1976, on Ron Pierce's BMW AMA Superbike in 1977, on John Long's BMW AMA Superbike program in 1978, and on American Honda's AMA Superbike and F1 program in 1980-1987. Schuster was well-known for fabricating everything from oversized fuel tank modifications to frame and swingarm modifications, to special parts.
He is survived by a cousin.
May he rest in peace.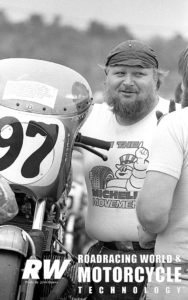 (Above) Another shot of Todd Schuster with Ron Pierce's BMW R90S AMA Superbike, at Loudon, New Hampshire in 1977. Photo by John Owens, Copyright 2020, all rights reserved.
Read more here: