Racer and MotoAmerica crew chief Dustin Apgar, 42, of Buckeye, Arizona died Saturday morning, March 27th in the crash of a powered paraglider he was flying. Apgar worked with Bartcon Racing as the crew chief for rider Dominic Doyle in MotoAmerica Junior Cup competition.
Apgar is survived by his wife, Kim Apgar, and young son Dustin Apgar, both of Austin, Texas, and by his mother Mary Apgar of Lincoln, Vermont.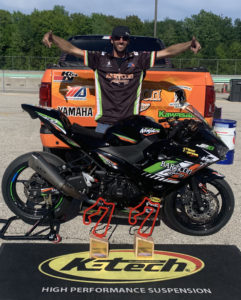 Bartcon Racing owner Colin Barton told Roadracingworld.com, "After having a very successful season with Dominic, Dustin was returning this year to (be) crew chief and work with both Kayla Yaakov and Keagan Brown in the Junior Cup Series."
More information will be posted as it becomes available.
Godspeed, Dustin Apgar.