Provisional 2024 Northern Talent Cup calendar
The new era of the NTC begins, with seven rounds and 14 races planned alongside MotoGP™, WorldSBK and the IDM
The provisional calendar for the 2024 Northern Talent Cup can now be revealed! It's a whole new era of competition as the Cup welcomes Honda as the single manufacturer and Pirelli as tyre supplier, in line with much of the Road to MotoGP™, and the seven-round, 14-race calendar can now be revealed.
A pre-season test starts the action at Oschersleben, before competition then begins at the classic TT Circuit Assen alongside WorldSBK, as is becoming NTC tradition! From there the Cup heads for the Sachsenring, Oschersleben and Most alongside the IDM, before a second round at the Sachsenring alongside MotoGP™ at the German Grand Prix.
From the biggest sporting event in Germany, the NTC heads back to the TT Circuit Assen, this time alongside the IDM, before the season finale sees the NTC make its debut at the awe-inspiring Nürburgring to bring competition to a close.
Check out the full calendar below!
2024 PROVISIONAL CALENDAR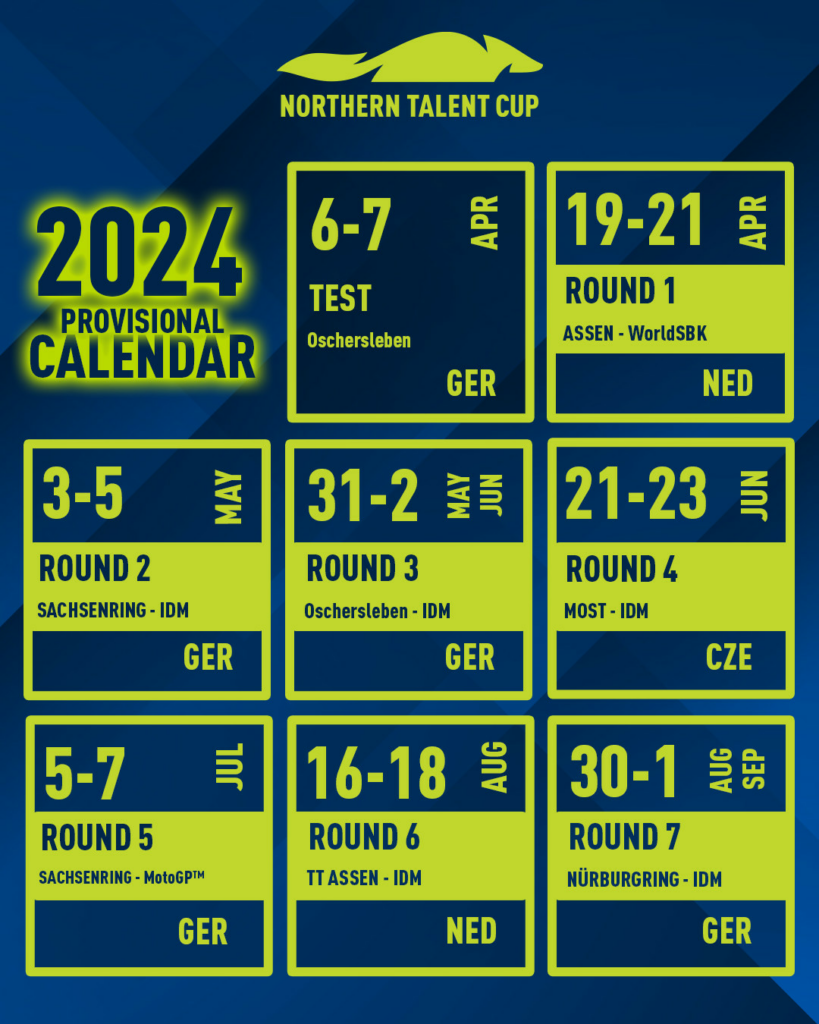 Be part of the new era of the Northern Talent Cup!
Applications for 2024 remain open for prospective competitors until December 31st
A new era is coming for the Northern Talent Cup in 2024, and prospective teams and riders can still apply to join the grid! Registration is open at northerntalentcup.com until the 31st of December for all those looking to take their place on the Road to MotoGP™.
The NTC switches to Honda NSF250 R machinery from 2024, bringing it in line with similar competitions such as the Idemitsu Asia Talent Cup, and like much of the Road to MotoGP™ the Cup also welcomes Pirelli as tyre supplier. A number of fast faces from the NTC have already graduated into the Red Bull MotoGP Rookies Cup on the next step on the Road to MotoGP™, and there's now another year of opportunities up for grabs.
The 2024 NTC grid will be limited to 26 entrants and riders must be born between January 1st, 2005, and February 28th, 2010, to be a minimum age of 14 before the first round. Riders from different racing backgrounds can apply, with no road racing experience necessary as other disciplines can also translate into road racing success. All nationalities can also apply, but the NTC aims to discover talent from across northern and central Europe.
If individual riders apply, they must also choose a Team Name and have a Team Manager. Riders must also have at least one mechanic and a legal guardian.
Any Team Application should specify a Team Manager, who will be the main contact with the organisation, and the team can comprise a rider and two mechanics. Mechanics can also be family members or acquaintances.
KEY DATES
Application deadline: 31st December 2023
Confirmation of full time riders: 19th January 2024