By Michael Gougis
Dee
Ridgeway and Michael Dean met on a street ride several years back, and
continued working together when Ridgeway, a former club racer, started doing
track days again – Dean is a coach at Team Pro-Motion Sportbike. When Dean
wanted to start his own motorcycle operation, Ridgeway helped him in the
specialized world of marketing and data analysis, as well in getting the
business set up.
The
two companies — MAD 4 Motorsports in Delaware and Predictive Analytics Group
in Delaware – have collaborated on a Ninja 400 race/track-day machine that will
be raffled off, with proceeds going to the Roadracing World Action Fund, which raises money to buy and facilitate
deployment of soft barriers (made by Airfence and Alpina) at racetracks around the country.
Entry
into the raffle comes with the purchase of a $40 sticker/decal package, and the
bike will be raffled off within 30 days of 400 packages being sold. The packages
consist of stickers and decals from all of the companies that have contributed
to the product.
Which
is, in a word, amazing.
On
the dyno, the bike makes more than 48 horsepower. It comes with a full
Yoshimura exhaust; Power Commander with ignition module and quickshifter; Vortex
rearsets and lever guards; race bodywork; paint and decals; throttle kit;
windscreen; air filter; seat pad; swingarm spools; GP Suspension fork
cartridges; Penske racing shock; Woodcraft Technologies clip-ons; brake lines;
brake pads and additional aftermarket products that make the bike track-ready.
In addition, it comes with all OEM parts and vouchers for a set of Pirelli
Diablo Rosso 2 tires, a number plate set, and a voucher for an Evolve GT track
day.
The
official statement from Mad 4 Motorsports and Predictive Analytics Group reads:
"Partnering
with well known vendors such as Bauce Racing, Superbike Unlimited, Hustle Hard
Racing Performance, Iconic Motorbikes, and others – MAD 4 Motorsports and
Predictive Analytics Group are offering a giveaway with the purchase of a $40
sticker/decal kit for a 2019 Kawasaki Ninja 400 in race / track trim w/all the
OEM hardware included. Participating vendors are providing product discounts to
decal kit buyers and all giveaway proceeds will be donated to the Roadracing
World Action Fund, Inc. The Project and detailed build Information can be
followed on Mad4Motorsports Facebook and Instagram @Mad4motobikebuild."
Dean
is a graduate of the Motorcycle Mechanics Institute (MMI) who has worked as a
technician since 2010, and is an accomplished racer as well as a track-day
coach. Ridgeway is a former CCS racer who does track days aboard a Honda
CBR1000RR SP2 and a built 1999 Yamaha YZF-R1, among other machines.
To
enter the drawing, click HERE.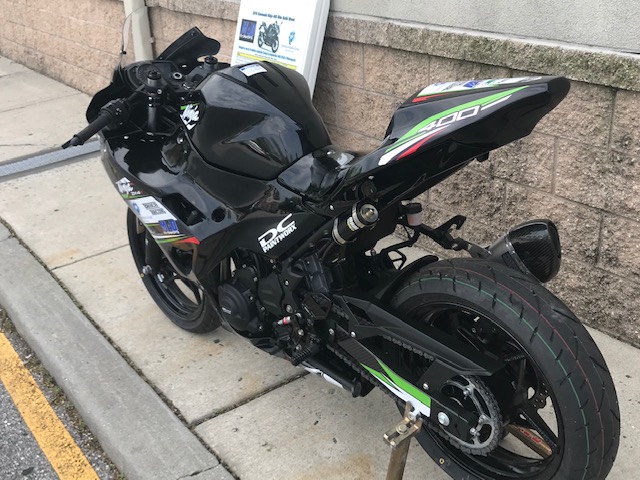 (Above) Case
covers are a good idea for any machine headed for the track, and the Penske
shock handles suspension duties at the rear.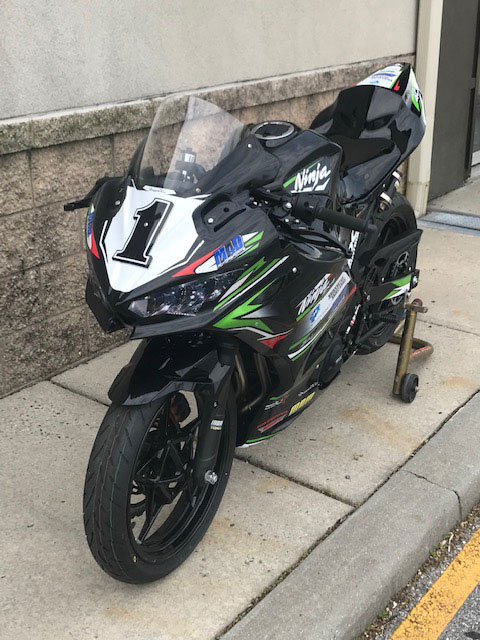 (Above) Race
bodywork, GP Suspension cartridges, steel braided brake lines and racing brake
pads – the Mad 4 Motorsports/Predictive Analytics Group Kawasaki Ninja 400 is
built to be ready for the track.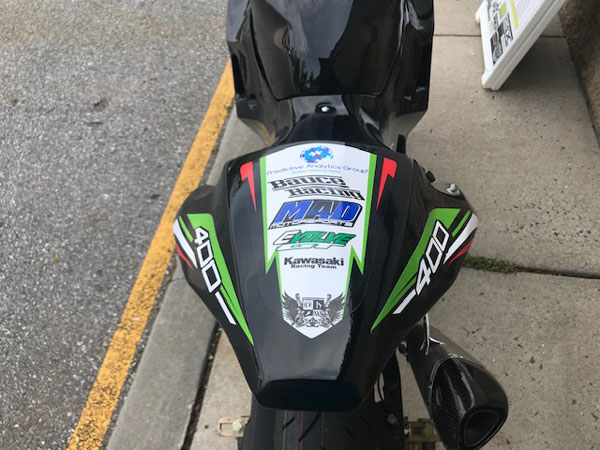 (Above) Yoshimura
exhaust and Power Commander help the project Kawasaki Ninja 400 make more than 48
horsepower at the rear wheel. Race
bodywork comes with paint and decal set. Superbike tailsection includes seat
pad.