"Oh Yeah, This Thing Pulls!"
By Michael Gougis
Geoff Cesmat has helped build some of the most potent racebikes to hit the circuits of the U.S.
During his five decades involved in motorcycle road racing, Cesmat (who is now semi-retired) has served as engine builder and crew chief for many teams, like Erion Racing and Graves Motorsports Yamaha, and worked with many riders, including: Tommy Aquino, JB Beach, Ben Bostrom, Jason DiSalvo, Garrett Gerloff, Chris Fillmore, Jamie Hacking, Roger Hayden, Tommy Hayden, and Clinton Seller, to name a few.
During those years, however, Cesmat never got a chance to ride one of the big-bore racebikes he often tuned. And anyway, he was more interested in combining street comfort with track performance.
So, Cesmat, age 66, has blended those elements into his personal street ride, a slick, potent, naked and upright 2006 Yamaha YZF-R1. It was been a long ride to get the project to where it is, but Cesmat — an accomplished racer himself since the 1970s and a current competitor with MRA in Colorado — says the result is well worth the effort.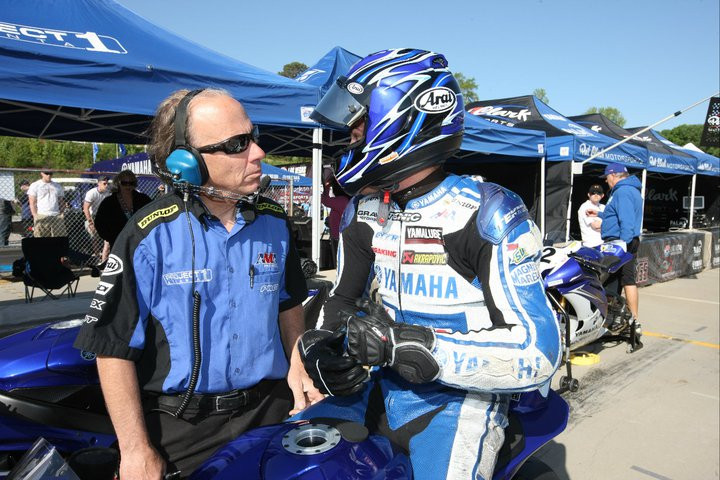 "I kind of have had this idea of doing a bike like this for a while. For me, this goes back to the Colorado road racing scene. For many of those years, one of the big things there was racing small bikes, converted dirt bikes, single-cylinder, enduro four-strokes," he says. "Easy to ride, handled good, comfortable, something you could deal with. For the last 12 or 13 years, I've been riding Supermoto bikes. And I just ride them on the pavement, races, track days. I really enjoy that. You're not sore after riding all day.
"Then a few years ago, I picked up a KTM, a 690 Duke. I've done a track day or two on that, and it was just perfect–-except when you're racing with guys on 600s and big bikes. You get to the straight, and they're just like, see ya! OK, well, this is a problem. The R1 project is basically to have a bike that works, feels and handles like that 690, but with proper horsepower."
Someone else at the Graves shop had a stock, low-miles 2006 R1 for sale. Cesmat bought it, stripped off the bodywork and started to build his dream bike.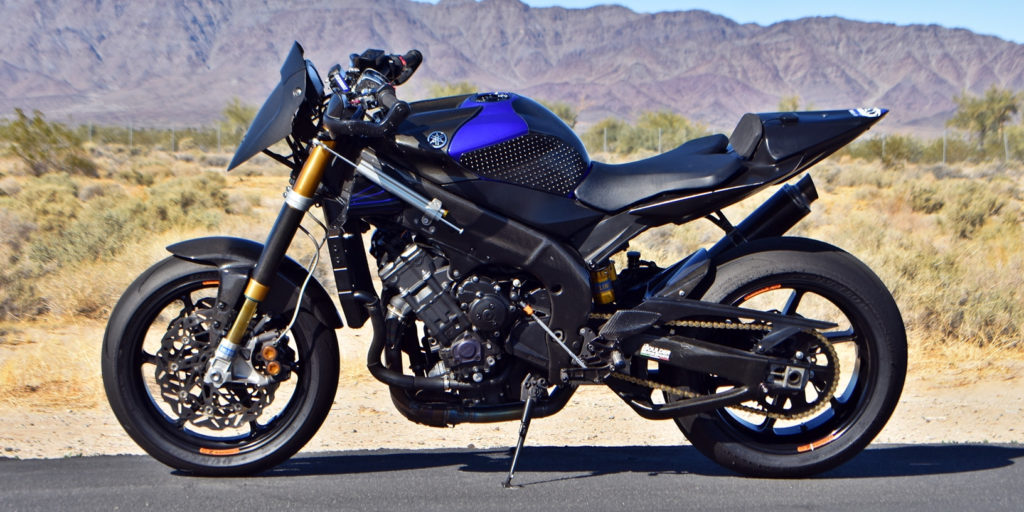 An over-the-counter Öhlins shock went onto the rear to match the Öhlins forks. Braking rotors and Performance Friction pads were mated to Goodridge twin brake lines to eliminate the junction box for the stock 1-into-2 lines. An aftermarket upper triple clamp with mounts for a tubular handlebar went on, as did a tubular handlebar.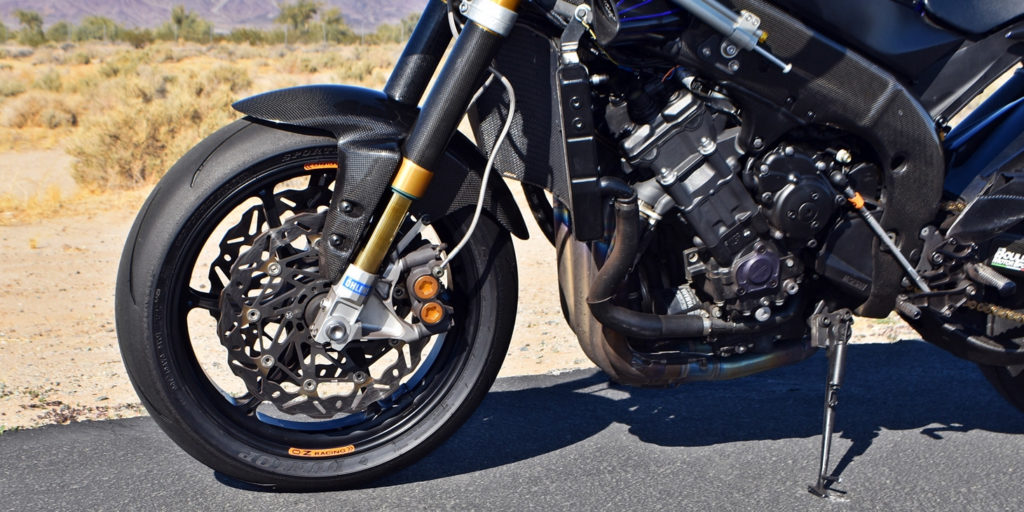 An eBay dirt bike headlight went on the front; an eBay Saddlemen seat went on the back, as did a home-built fender eliminator and LED strips for turn signals. The engine was left stock with the exception of some ECU tweaking and carbon fiber inlets sourced from a Ducati Streetfighter 848 and modified to fit. Cesmat said he remembered–and loved–the intake sound of the old Yamaha five-valve sportbikes, and wanted to emulate that.
A Termignoni titanium replica of the YZR-M1 MotoGP racebike of the time went on, in part because Cesmat "wanted to get that butt heater situation out from under the seat, clean that area up," he says.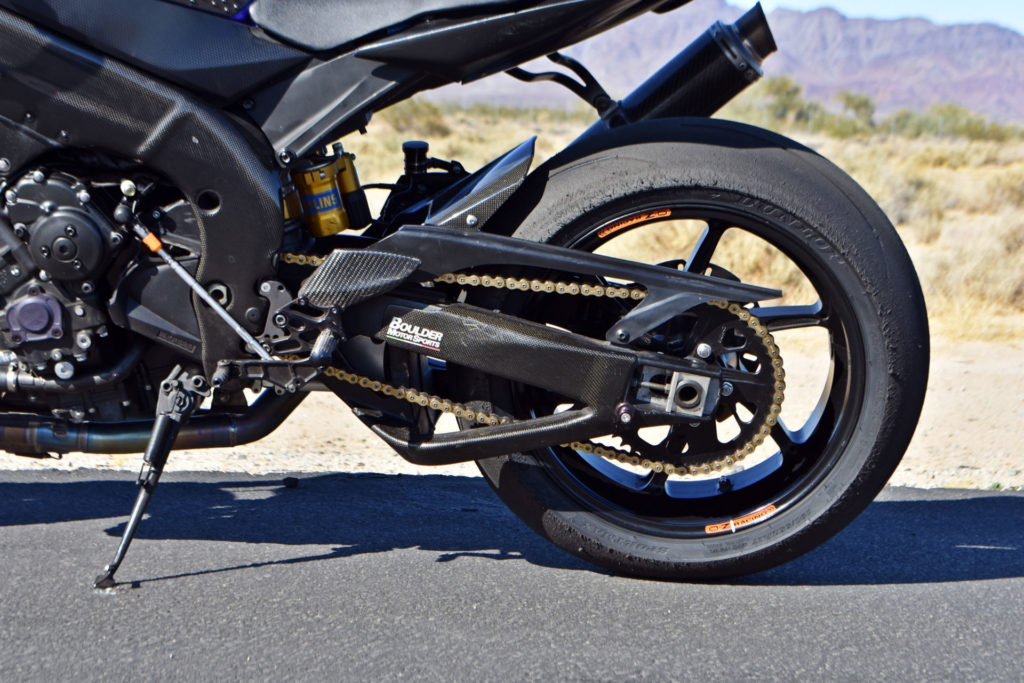 To say Cesmat is happy with the bike would be an understatement.
"I always liked the look of the bike, liked the look of the engine, the way the frame looked. But I had never ridden a modern sportbike," he says. "And now that I have, I have a lot of respect-–more than I did at the time–for the guys racing those. Even on the street, you get it up to 9,000 rpm and you can barely hang on. I can't imagine what it's like at 14,000 rpm…
"The power feeling, the way it runs. I get on it and I think, oh yeah, this thing pulls! It's such a nice feel, so smooth, cruising down the road. It's pretty neat. Like any modern big-bore bike, you wind it up in any gear and you're doing 100 mph…"