FIRST PERSON/OPINION:
By David Swarts
The end of MotoAmerica Junior Cup Race Two April 24 at Michelin Raceway Road Atlanta will likely be remembered for a long time. Unfortunately, it may not be remembered for good things.
It may not be remembered for 14-year-old Kayla Yaakov becoming the first woman to win a MotoAmerica race.
It may not be remembered for 17-year-old Max Van winning the first MotoAmerica race of his career.
It may not be remembered for MotoAmerica Race Control making a very tough but arguably correct call enforcing rules and regulations while knowing their ruling would not be a popular one.
But there were some positive takeaways that are worth remembering.
On the last lap of Junior Cup Race Two, Yaakov led Joseph LiMandri Jr., Gus Rodio, Cody Wyman, Van, Hayden Bicknese, and Levi Badie across the start/finish line. This was the fourth time Yaakov had led across the stripe thanks to the passes she had been making throughout the race under braking at Turn 10 and Turn 12.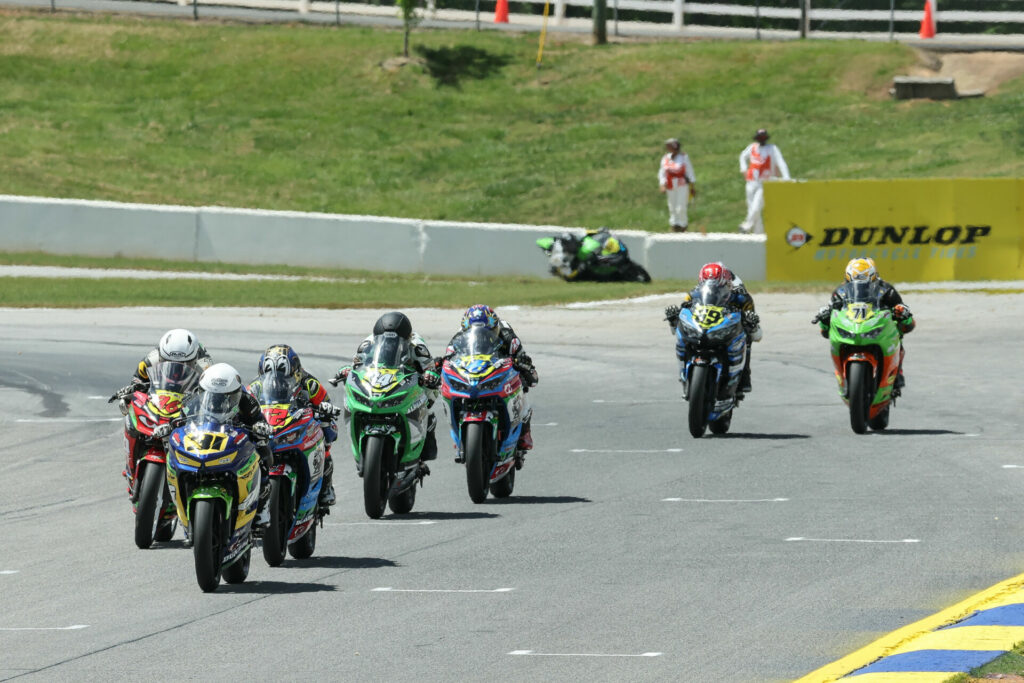 Van made a big braking move of his own going into Turn One, went from fifth to first, and led the seven-rider swarm around the track and down the back straightaway.
As the riders came down the hill toward Turn 10, they fanned out jockeying for position.
Yaakov went to the extreme rider's left, braked late enough to pass Rodio, Wyman, and Van to take the lead, and still made the corner.
Yaakov then held her lead to the checkered flag, apparently taking the race victory ahead of Rodio, Wyman, and Van. Badie, meanwhile, lost control exiting the final corner, crashed, and caused LiMandri and Bicknese to crash in a chain-reaction. All three riders were seen walking away from the scene, which was one positive.
On the cool-down lap, emotions took over Yaakov, whose 24-year-old brother Dylan Quaid had died five months earlier and whom she had dedicated her 2022 racing season to. Yaakov constantly pointed to the "For Dylan" sticker on her helmet during the cool-down lap.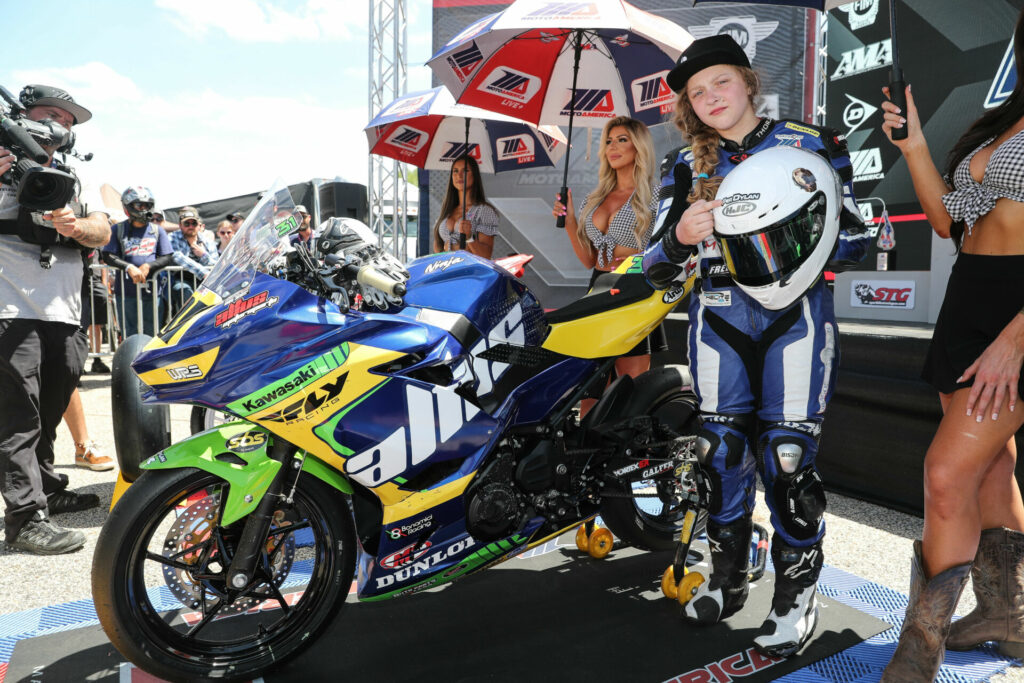 Then after Yaakov got back to the podium and started receiving congratulations from her father, crew, and friends, all of the podium activities came to a halt. Radio communications from Race Control said to hold the podium ceremony because the finish was under review.
During this time, officials reviewed video replays of the last-lap action from Turn 10. It showed Yaakov on the far rider's left of the track passing three riders to take the lead. Meanwhile, over on rider's right and deep in the braking zone of the corner there was a cornerworker standing at ground level holding a yellow flag stationary while a crashed rider was being dealt with in the run-off area of Turn 10.
But it was a stationary yellow flag and you can pass under a stationary yellow flag, right? It's only a waving yellow flag that outlaws passing, right?
That's the way most racers in America are taught while coming up through the system.
But MotoAmerica runs under FIM rules, which do not allow any passing under any yellow flag, waving or not. Under FIM rules, a stationary yellow flag tells riders there is a dangerous situation near the track, and a waving yellow flag tells riders there is a dangerous situation on the track. So, riders are supposed to exercise caution in both situations and not pass each other.
It didn't matter, however, because Yaakov said she never saw the single stationary flag, and who could blame her? She had three or four riders between her and the flag on one side of the track while she was on the other side of the track already at the limit of braking trying to pass for the lead.
Then Race Control informed officials in the podium area that Yaakov, Rodio, Wyman, and Badie had all been docked two finishing positions for passing under a yellow flag.
Once she was informed, Yaakov broke down in tears again, but these were different tears.
"It was such a horrible feeling," Yaakov exclusively told Roadracingworld.com. "It was so indescribably bad. It's crazy. I was so infuriated and sad at the same time. It was a horrible roller coaster of a weekend."
Van, who said he saw the flag and was subsequently passed by three riders – Yaakov, Rodio, and Wyman – in Turn 10, was elevated to first place. But instead of being able to bask in the spotlight of his career-first victory and enjoy everything that comes with it, Van had to stand on the podium and listen to the gathered crowd boo. It's not clear who the crowd's boos were directed toward, but they had an effect on Van, who tried to make the best of a bad situation.
"Today, I don't really feel like I deserve this win," Van said in the post-race press conference broadcast on MotoAmerica Live+, Facebook, and elsewhere. "I'm really sorry to Kayla. She rode a great race and, honestly, I feel like she deserves this."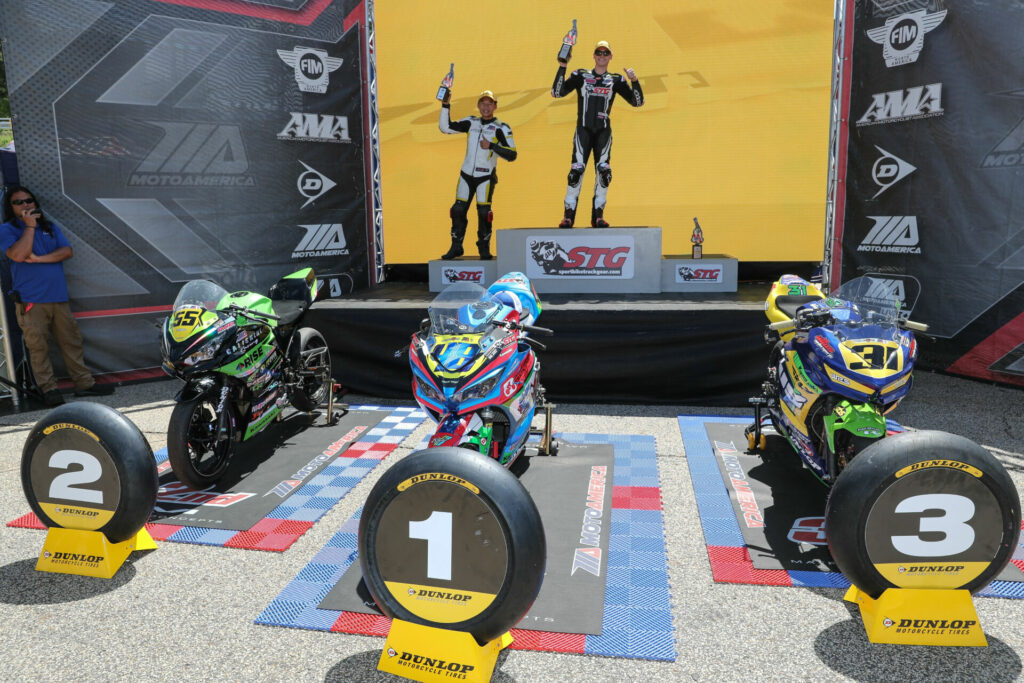 While it may seem like no one involved with Junior Cup Race Two left Road Atlanta feeling happy, I'm pretty sure there were two people who took away some positives – the fathers of Van and Yaakov, former racers Brian Van and David Yaakov.
Max Van, who trained hard during the off-season and lost 24 pounds to help his racing program, took everything negative that came his way and turned it into a positive by giving all due credit to Yaakov for the race she rode even though it came at the sacrifice of enjoying his own career-first win. And he didn't do it because someone told him or coached him to do it. He did it on his own.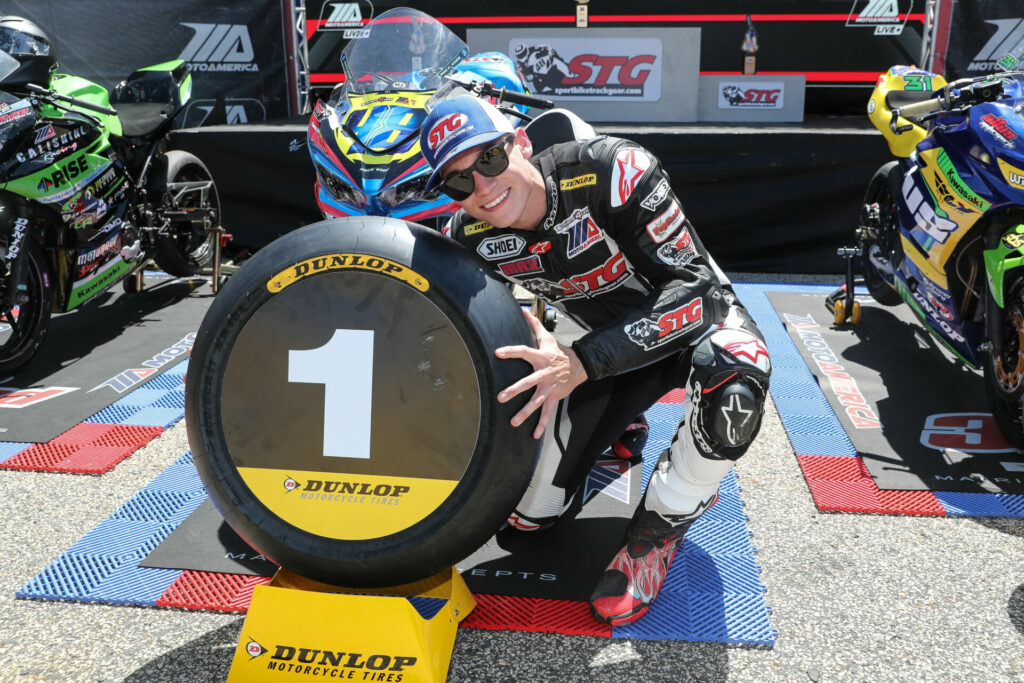 Kayla Yaakov, meanwhile, took it all as another one of the many tough life lessons that racing comes with and she plans to use the experience as fuel going forward.
"It is what it is. I don't make the calls," Yaakov told Roadracingworld.com in a one-on-one interview shortly after the race. "I'm just really happy that we were able to win, and that's the biggest thing, to see that progression. Jason Pridmore, out at Chuckwalla this winter, said, 'You're going to win a race this year.' To have it happen was insane.
"We'll see. We'll go into VIR with our head up and try to take some of this anger and put it into the track and try to do it again. Maybe I'll be the first rider to win my first MotoAmerica race twice."
And to those people who are speculating that Max Van's father Brian Van, the owner and founder of SportbikeTrackGear.com, used his position as the sponsor of the Junior Cup class to ask for the review of the race finish or to ask for any other special considerations, you're wrong. Brian Van unequivocally told me he did not make any protest of the outcome of the race, and for anyone who knows him like I do, that scenario never even entered my mind for a second. That is not the way he operates, personally or professionally.
"There was absolutely no interference whatsoever from anybody on this call for the passing under a yellow," MotoAmerica President Wayne Rainey told Roadracingworld.com. "It all came 100% from Race Direction. They took the decision per the rule in the rulebook and the information that they had, and they made their call. Obviously, it was very unfortunate the timing of it and the knock-on effects that it's had, but there was no influence from anybody, from a race team, from a sponsor, from a rider in how the decision was made. None whatsoever."
More, from a press release issued by MotoAmerica:
MotoAmerica Explains Junior Cup Penalties From Road Atlanta
Passing Under Yellow Caution Flags At Road Atlanta Resulted In Penalties
IRVINE, CA (April 27, 2022) – Four riders from SportbikeTrackGear.com Junior Cup race two at Michelin Raceway Road Atlanta on April 24 were penalized for passing under a yellow caution flag on the final lap, which has since caused controversy in the racing community. The riders penalized were Kayla Yaakov, Cody Wyman, Levi Badie and Gus Rodio. Following the penalties, Yaakov was demoted from first to third, Wyman from third to fifth and Rodio from second to fourth. Badie crashed in the final corner on the last lap, which neutralized his penalty as he failed to finish.
With Yaakov docked two positions, Max Van was declared the winner, his first-career victory in the MotoAmerica Championship. Aden Thao was second with Yaakov third, Rodio fourth, and Wyman fifth.
The decision to penalize was based on the following:
When a rider racing behind the lead pack crashed on the penultimate lap in Turn 10, yellow flags were immediately deployed in the appropriate locations both on the back straight leading to Turn 10 and directly adjacent to Turn 10. Stewards left their positions and went into the gravel trap to assist the downed rider. Per international rules, a standing yellow flag denotes hazards off the racing surface, while waving yellow flags denote hazards on the track surface itself. As the rider was not on the track, and since there was no debris on the track, a standing yellow flag was deployed, according to the rules. As the lead pack approached the yellow-flag zone, the downed rider was still in the gravel trap near his bike, and stewards were still present providing assistance. At the point when the leaders entered the yellow-flag zone, several riders continued to race through both yellow flags in Turn 10 and making passes before the finish.
Race control was immediately aware that an infraction may have occurred. Flagging stations radioed reports that passing under yellow flag had occurred, prompting a review of footage from numerous camera angles. Race control, which consists of the Race Director, AMA/FIM Safety Officer, and the Riders Representative, all reviewed the evidence and unanimously concluded that there was indeed passing under the yellow flag. This review was not instantaneous, and it took several minutes to ensure that the correct ruling was made.
"First of all, it's unfortunate that all of this transpired as it impacted several riders, their teams, our sponsors and our fans." said MotoAmerica COO Chuck Aksland. "It was heartbreaking for Kayla Yaakov, who lost what would have been her first-career victory in our series, and it wasn't the way Max Van wanted to win his first race either. Unfortunately, these things happen in racing. However, yellow flags are there to protect fallen riders and the cornerworkers who are assisting those riders and they are of paramount importance and a key component of our safety procedures. The decision to penalize came as quickly as possible and was not the result of a protest, as some had originally thought. It was a decision made by race control, which is made up of three people and headed up by our Race Director. In the days since our race, class sponsor SportbikeTrackGear.com and race winner Max Van have been unfairly targeted by some. This was a MotoAmerica and AMA decision, and we stand by both the decision and the penalties that resulted from those decisions."
About MotoAmerica
MotoAmerica is the North American road racing series created in 2014 that is home to the AMA Superbike Championship. MotoAmerica is an affiliate of KRAVE Group LLC, a partnership that includes three-time 500cc World Champion, two-time AMA Superbike Champion, and AMA Hall of Famer Wayne Rainey, ex-racer and former manager of Team Roberts Chuck Aksland, motorsports marketing executive Terry Karges, and businessman Richard Varner. For more information on MotoAmerica, visit www.MotoAmerica.com. Also make sure to follow MotoAmerica on Twitter, Facebook and Instagram.