FIRST PERSON/OPINION:
How We Did NOT Allow Advanced Electronics To Ruin Our Race Team
By Richard Stanboli, Attack Performance owner/crew chief/electronics engineer
We have been debating advanced electronics in Superbike racing for the past two decades and we have seen it go through several iterations before landing on the current World Superbike kit electronics from Magneti-Marelli (Marelli) and in 2019 the addition of the MotoAmerica intermediate-level MoTeC (Motec) system.
At the end of last season, I read about one team's negative experience (https://www.roadracingworld.com/news/death-of-an-a…) and wanted to share ours. We found the Marelli SKS kit for the Yamaha to be the most complete, turn-key, affordable, reliable, and competitive system that we have ever used, and I will explain why.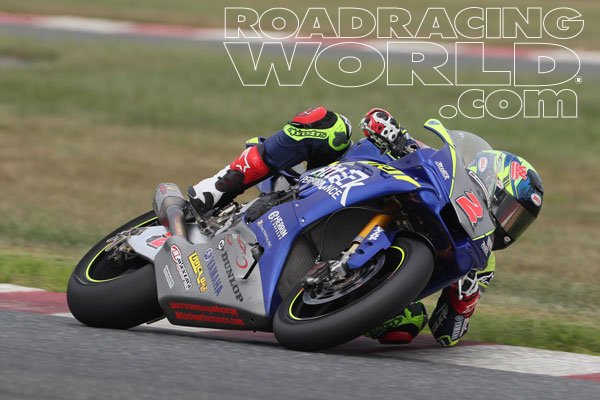 (Above) Josh Herrin (2) at speed on his Attack Performance/Herrin Compound Yamaha YZF-R1 MotoAmerica Superbike during the 2018 season. Photo by Brian J. Nelson.
In the past, for those who are not familiar with setting up aftermarket electronics, you would purchase an ECU (Engine Control Unit) from Motec, Marelli, Pectel, etc., and it would arrive pretty much as a useless box. If you were lucky, they would have a very basic automotive base map that you could not even consider using.
Before you could start the engine, you would spend several days, or weeks, configuring the firing order, engine synchronization (camshaft position vs. crank position), sensor calibration, coil outputs, servo motor calibration, stepper motor calibration, base maps, communication to the dash and other CAN (Controller Area Network) devices. The list seemed endless, and if for some reason you did not get all of that correct you probably would not make it out of the dyno room with your engine intact.
So why would we take a huge step backwards and work real hard just to get back to step one?
You may think it is the advance tuning, but this is only one part of the equation. The more complex strategies were not developed until later so the most important advantage at that time was the data. Visualizing the functions accurately gave the user the ability to fix an issue in a short amount of time, and speed is everything in racing.
So, why not just add a logger?
That would be the easier method, but it did not have the synergy that you would get from an ECU with an internal logger or an ECU with a good CAN stream to an external logger. Furthermore, you rarely could get a data stream from the OEM ECU and if you did the speed was so slow and the channels were so basic that it made the data useless.
At the end of 1999 we built our first fuel-injected Yamaha YZF-R7 [AMA Formula Xtreme racebike) powered by an YZF-R1 engine. We chose to use Motec, a well-known automotive ECU. Little did we know the development that was in store for us.
During our first run on the dyno we found out the hard way. The R1 cam sensor would change polarity at high rpm, affecting the synchronization and ignition timing. That ended our first day abruptly and made for a very long evening. After much struggle, time, and expense, we finally had a competitive machine, and by the end of the season we were on the podium at the Macau Grand Prix.
In 2001, we were picked up by Suzuki, and we took what we learned from the Yamaha and applied it to the Suzuki. Since the GSX-R1000 was a brand-new model, the first ever, we received the bikes very late and had zero time for testing. We assumed since we already took our lumps with the R1 that we should be good, but again it was a learning experience.
Our first event was at Infineon Raceway and the bike misfired all the way to the top of the podium. It turns out that the Suzuki cam sensor was prone to producing a noisy signal causing the misfire. After that event and many hours on the dyno, we fixed the issue. We went on to win many races but due to rider injuries the AMA Pro Formula Xtreme Championship had to wait until 2002.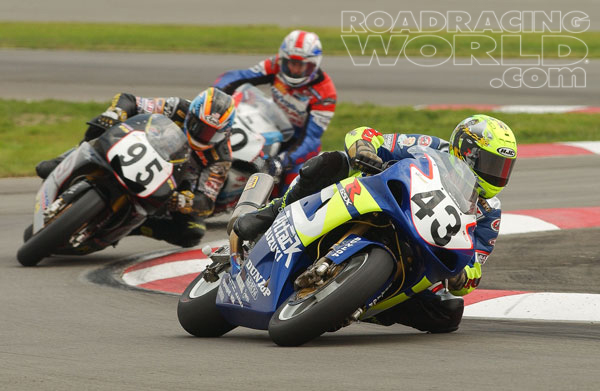 (Above) Jason Pridmore (43), riding his Attack Performance Suzuki GSX-R1000 AMA Formula Xtreme racebike, leading Roger Hayden (95) and Tom Kipp in 2002. Pridmore won the 2002 AMA Formula Xtreme Championship. Photo by Brian J. Nelson.
By now we were confident in our knowledge of the Motec electronics, or so we thought. With every new model came new challenges. We even had one ECU that would shut-off mid-session due to high-frequency engine vibration. That was a tough one to diagnose.
From 2004 to 2011 we spent most of our time as a factory-supported team with Kawasaki and mostly used the Motec and Marelli ECUs in Superbike, Formula Xtreme, and Supersport. We continued to move our same ECUs from one model to another and we were getting better at adapting them to suit different models. With every software update came new strategies and several of them were works in progress. It took quite a bit of testing to make progress with these new strategies. Again, we had good success with Formula Xtreme wins, two Daytona 200 wins, and some Superbike podiums.
The last big challenge was our MotoGP project in 2012 and 2013. MotoGP had been going through several challenges with ECU rules and, as a wildcard, the MotoGP Marelli option was not available. We chose the newest of the Motec ECUs, the M1. The programmability and the advanced data logging capability put it very close to the Marelli.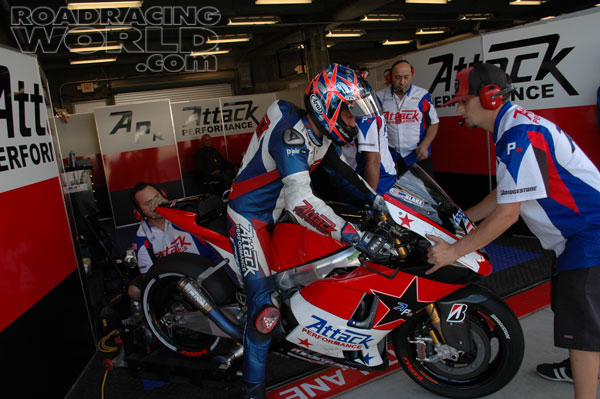 (Above) Richard Stanboli (second from right) with the APR MotoGP racebike he designed and built from pieces of billet aluminum and rider Blake Young at the Red Bull Indianapolis Grand Prix at Indianapolis Motor Speedway in 2013. Photo by David Swarts.
This new Motec ECU had all-new hardware, software, licensing, strategies, programmable firmware, etc. The "from scratch" challenge came back in a big way, and we found ourselves struggling with a limited baseline, limited test time, and new strategies that were not ready for prime time.
Our first MotoGP event was spent chasing wheel speed noises that caused the ECU to turn off all the rider aids. Consequently, we missed (barely) the qualifying cutoff. After that failed event, we were even more determined to do well, so it was back to the workshop and then to the track to confirm the fix. At the very next MotoGP we scored two World Championship points!
From 2014 to 2017, we did not field our own team but contracted to other teams–Riders Discount and Meen Motorsports. Meen Motorsports had partnered with Flash Tune (FTECU), which developed through the 2016 season a reflash of the R1 original equipment ECU. This gave us the capability to easily win the 2016 MotoAmerica Superstock 1000 Championship and with that result in hand the team decided to go "100%" into the MotoAmerica Superbike class in 2017.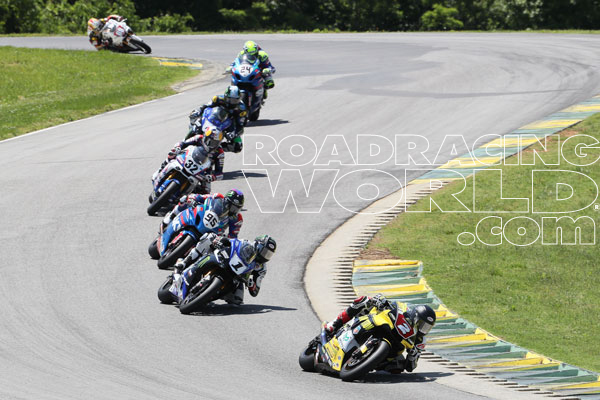 (Above) Josh Herrin (2) leading a MotoAmerica Superbike/Superstock 1000 race at VIRginia International Raceway on his Richard Stanboli-tuned Meen Motorsports Yamaha YZF-R1 Superstock 1000 racebike in 2017. Herrin won the 2017 MotoAmerica Superstock 1000 Championship. Photo by Brian J. Nelson.
Our position was that we would support the team but with the stipulation that we would be on the same level of equipment as the other teams. This meant the whole package: Electronics, engines, suspension, etc. Everything was agreed to, but through various forms of Meen Motorsports' mismanagement the equipment never materialized. We found ourselves spending many costly hours — and more than the cost of a complete World Superbike Marelli SKS kit — pushing the reflash concept, but at the end, time and rules did not allow the development of a competitive package.
And I reiterate, it was costly!
This put us in an unfamiliar position of debating the continuation of support, but then the Meen Motorsports team folded a few races before the end of the 2017 season.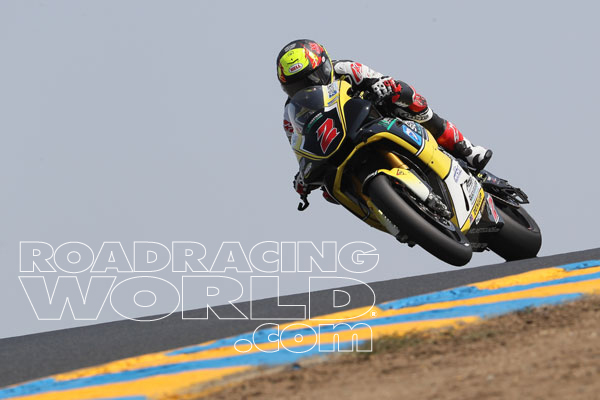 (Above) Josh Herrin (2) on his Meen Motorsports Yamaha YZF-R1 Superbike at Sonoma Raceway during the 2017 MotoAmerica Superbike season. It was the last event where Herrin raced this motorcycle. Photo by Brian J. Nelson.
After the failed season with Meen Motorsports, we swore that we would only go racing again if we controlled the budget and management. This meant that it would have to be an in-house team. Josh Herrin was jobless, and we were looking at our semi-truck, thinking of dusting it off. Josh spent most of the winter asking other teams for a ride, but he finally found himself back at our shop. At this point it was past the end-of-year holidays and we thought there was no way we could put a program together and build a proper Superbike. Not being afraid of a challenge, we said "OK, let's give it a try."
At the end of January, Yamaha stepped up with some product support and we had a couple of bikes on February 1, 2018. To say the least, it was going to be a big challenge.
After some back and forth, we opened a line of communication with YME (Yamaha Motor Europe), placed the order for the World Superbike Marelli SKS system way past the ordering deadline, and we prepared for the worst possible scenario.
The timing was very bad. Normally, you need some lead time, more than we had, for delivery of the Marelli SKS system. YME with some help from Yamaha Motor Corp, U.S.A. pulled some strings and everything went into process.
Once the door was opened with Yamaha Motor Europe, we received a flood of information: Software, documentation, wiring diagrams, a proven base map from the World Superbike test at Philip Island as well as a proven base map from the Yamaha Motor Corp., U.S.A., and a direct line of communication with the development engineer, Michele Garda.
The base map was so complete that I personally was amazed and felt a little guilty. The fueling, ignition timing, sensor calibration, CAN communication, strategy maps, were all there. It was a late Christmas for this race team! The biggest challenge was building the harness to spec, which was a small percentage of the challenge we faced with the MotoGP project.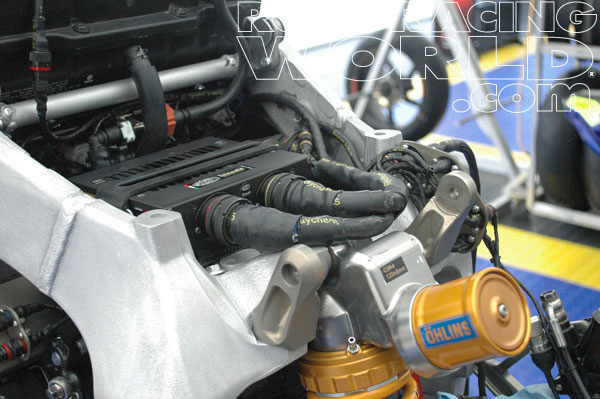 (Above) The Magneti Marelli ECU and custom wiring in the Attack Performance/Herrin Compound Yamaha YZF-R1 Superbike before it ran for the first time at Circuit of The Americas (COTA) in 2018. Photo by David Swarts.
Just to give you the idea of timing: Paul St. Clair with the Monster Energy/Yamalube/Yamaha team flashed our Marelli ECU with the U.S. version of the software in the Yamaha transporter while the team was loading for the first event of 2018. At this point, we did not have a running motorcycle or any familiarity with the strategies. Back to the shop we went to make a few changes to the harness and start the bike, but it would not start. The throttle would not calibrate, so instead of wasting a lot of time at the shop we decided that we would head to Road Atlanta and ask Paul or Vito (Bolognesi, with Magneti Marelli USA) to help us with the diagnostics. We were now out of time and just barely finished the bike and off we went.
On the way to Road Atlanta our transporter's differential exploded, leaving us stranded in Shreveport, Louisiana. Without enough time to fix the transporter and no desire to have it picked clean at the repair shop parking lot, we decided to babysit the transporter, skip the Road Atlanta round, and head to COTA (Circuit of The Americas), the very next week's event.
Once arriving at COTA, we spent setup day adding the final touches to the bike. Paul and Vito came over and within a few minutes the throttle was calibrated and the bike ran! Now came the hard part, making the bike competitive. We had yet to turn a single lap, eerily reminding me of our first race with the Suzuki in 2001. We won that race, so maybe lightning would strike twice.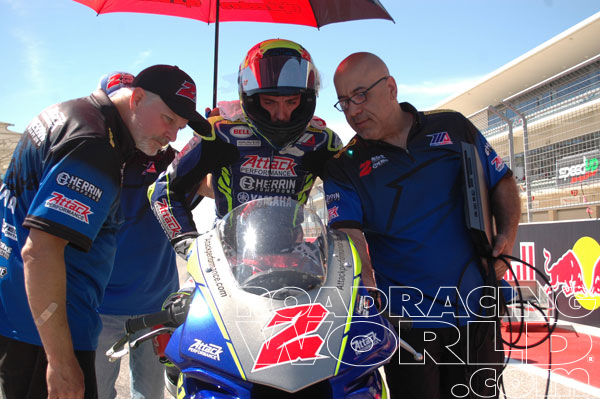 (Above) Richard Stanboli (right) explaining to Josh Herrin (center) the layout of the dashboard and functions of the buttons for their Magneti Marelli electronics prior to a MotoAmerica Superbike Race at Circuit of The Americas. Photo by David Swarts.
The first two sessions were a struggle, almost mirroring our first Suzuki adventure. We just missed qualifying for Superpole and had to start in P12. One more long evening with the data, a night of sleep for the rider, and we found ourselves on the grid for Race One.
Boom! The skies turned dark, it start raining, and I started laughing. No-one had any wet time, and this was exactly the break we needed. A few clicks on the suspension, some ride height changes, our best guess on the strategies, and few minutes later we are leading Race One! We ultimately finished second, which was not a bad outing. Even [MotoAmerica President] Wayne Rainey commented that he did not think we would finish the race…citing the earlier experiences of the team featured in the previous electronics article about Marelli.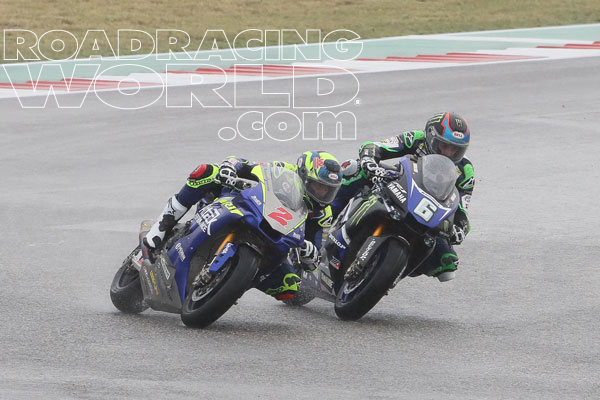 (Above) Josh Herrin (2) battling Cameron Beaubier (6) for second place in MotoAmerica Superbike Race One at COTA in 2018. Herrin finished second. Beaubier crashed, picked up his bike, and was still able to finish third in the wet race. Photo by Brian J. Nelson.
We would go on to continue the development of our bike and electronics with podium finishes at nearly every event and a couple of MotoAmerica Superbike race wins. The reliability and consistency were great, and we only had one failure due to an OEM connector that overheated, killing the engine during pre-race warmup at New Jersey Motorsports Park. Unfortunately, that DNS took us out of contention for second place in the 2018 MotoAmerica Superbike Championship and relegated us to third. But, overall, it was not a bad season for such a fast and challenging beginning.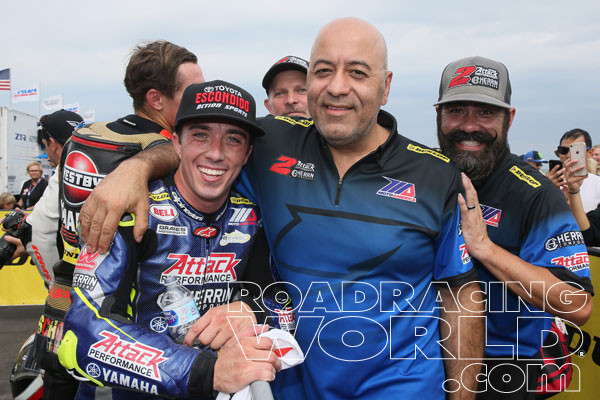 (Above) Josh Herrin (left) went on to win two MotoAmerica Superbike races on Richard Stanboli's (center) Attack Performance/Herrin Compound Yamaha YZF-R1 Superbike in 2018 and finished third in the Championship. Photo by Brian J. Nelson.
Update:
Since I started writing this article, I had the opportunity to look at the new Motec GPR MotoAmerica Superbike electronics kit and software and, in my opinion, it is a significant step back from the Marelli SKS kit. Even though I am a fan of Motec product, I must honestly say that it comes up short in race readiness, strategy potential, and cost savings.
Race readiness: The Motec system does have sensor calibration for each model of motorcycle but the strategies are basic and have no baseline. As per World Superbike rules, teams using the SKS kit would be provided, by the factory, the most recent software which includes race-ready strategies. This is something each team using the Motec system will have to develop on their own, costing time and money.
Strategies: The Motec system is not torque-based. The Marelli system has strategies that rely heavily on torque models. The Yamaha Marelli SKS kit has the engine torque tables, both positive (acceleration) and negative (deceleration), modeled by the factory race team and ready for prime time. This means that the operator just needs to tell the ECU the amount of torque or force he would like to apply at the rear wheel for any situation and the ECU calculates the amount of throttle opening or torque, by adjusting ignition cut and timing. These torque models take a significant amount of dyno hours to replicate and are almost priceless. With the Motec system the operator will need to tell the ECU how much throttle or ignition cut to give the bike at any situation, and he will have to calculate or estimate how much torque or force would be applied to the rear wheel, including changes for any sprockets and transmission selection. It is substantially more work for the operator and will take away from other time-sensitive tasks. The torque-based strategies also make the Marelli more consistent from one event to another as well as race distance.
Cost: The Marelli SKS system comes in at €8,000, about $9,000 U.S., while the pricing of the MotoAmerica Motec system is right at $6,000 U.S. However, the Motec system does not include an IMU (Inertial Measurement Unit), lambda sensors (one vs. four in the SKS kit), suspension sensor, brake pressure sensor, oil pressure sensor, and download cable. You pay a bit more for the SKS kit up front, but the investment is recovered in very short order. As a past-to-present comparison, a complete Superbike advanced electronics system a decade ago would cost in the vicinity of $30,000 and hundreds of hours to make it 100% functional.
Marelli's Wintax analysis software is more of an "engineering" level tool and Motec's i2 Pro has a more user-friendly interface. The difference is like that of Windows and Apple. Once you take the time to learn each key and feature then both systems offer about the same analytical functionality. If we had to do it again all over again, without a doubt, we would go with the Marelli.
What does this mean for the future of the sport? Older racers, some of those who rode for us, tell me that they should just remove all the rider aids, while current World Superbike front runners tell me that they would like to ride MotoAmerica because the series and motorcycles are so much like World Superbike.
This reminds me of the first time I walked into NASA's Jet Propulsion Laboratory and all the old drafting tables where slowly being replaced with computer design stations. The days of flat-slide carbs and throttle cables are over. What will happen when electric-powered motorcycles become more mainstream, put throttle cables on rheostats? Should we just throw out our smart phone calculators and bust out the abacus?
Going backwards is not an option and those who would like to remain in this sport and race at the front, which is totally possible, should learn the new tools, quit whining, and start winning.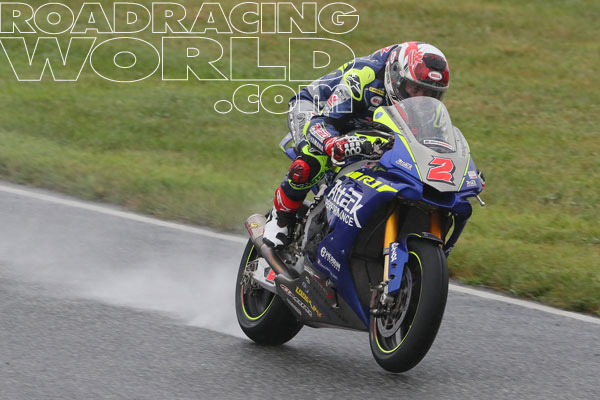 (Above) Josh Herrin (2) on his way to victory in MotoAmerica Superbike Race Two at New Jersey Motorsports Park in 2018. Photo by Brian J. Nelson.