Schneider starts the Northern Talent Cup season on top
The German was quickest on both days of testing, with Moor for closest company on the timesheets
Tuesday, 19 April 2022
The Northern Talent Cup recently concluded two days of pre-season testing at Oschersleben, with the class of 2022 now ready to race and looking ahead to the season opener alongside MotoGP™ at Le Mans.
Two days of dry weather gave the grid – with a whole host of rookies joining this season – chance to maximise track time, but it was Dustin Schneider (Goblin Racing) top of the pile on both days as the German threw down the gauntlet early in 2022 in terms of laptime.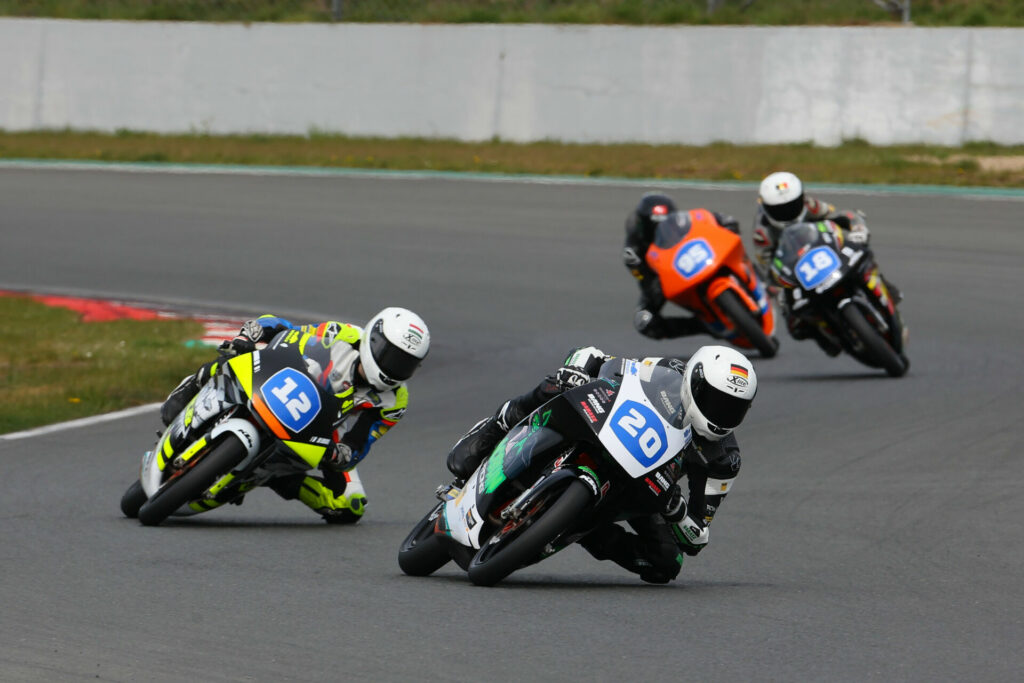 The field also did a race simulation on Day 2, and once again it was Schneider on top – pulling away by some margin. Second went to a stunning rookie performance from Rocco Sessler (MCA Racing), with experienced Hungarian Tibor Varga (Forty Racing) completing the podium.
Day 1
Schneider was quickest with a 1:36.024 to lay a marker down on the first day of action, with Rossi Moor (Fairium Next Generation Riders Team) second but only 0.073 off. Valentino Herrlich (Busch und Wagner Racing Team) was third on Saturday, although a full second further back as the order got much closer behind the leading duo.
Loris Veneman (TeamNL Open Line) was within a tenth of Herrlich, and it was a rookie completing the top five as Sessler started impressing early to end the day 0.060 off the more veteran Dutchman ahead of him.
There were a number of crashes and some technical incidents on Day 1, but all riders ok.
Day 2
Schneider made it both days on top as the German improved his best laptime down to a 1:35.913, becoming the only rider into the 1:35s at the test. Herrlich improved to a 1:36.567 to go second on Day 2, and although he remained third overall, the gap got cut in half in a good step forward.
Varga moved up into third quickest on the second day of action, the Hungarian another in a group of riders who all managed to get into the mid or high 1:36s. Veneman was fourth once again on Day 2, with Lennoxx Phommara (Team Phommara) completing the top five. From second to tenth, however, was split by only half a second.
Some big news saw Moor suffer a crash that ended his testing early, rider ultimately ok following a full check up at local hospital. The number 92 is already looking ahead to Le Mans, hoping to be back fully fit.
Danish rookie Julius Frellsen (Frellsen RR) and Swiss rookie Levin Phommara (Team Phommara) also crashed and headed for the Medical Centre, riders both passed fit.
That's a wrap on first touch with 2022, now it's time for the field to go into race mode as the NTC saddles up for the first time alongside MotoGP™ at Le Mans. Don't miss it!
Editorial Note: Use the scroll and zoom tools in the bottom left corner to better see all pages and all sessions, including the race simulation, of the result sheets.
NTC_2022_OSC_T_Day1_FullResults

NTC_2022_OSC_T_Day2_FullResults