Double Victory for Quattro Plant Wicked Coatings Kawasaki
The Quattro Plant Wicked Coatings Kawasaki team enjoyed a sensational day of racing at Saturday's International North West 200 road races with Glenn Irwin and James Hillier giving them a 1-2 in the Superbike race for Kawasaki's first victory in the class since 1977.
Their joy was then further increased when Hillier took his maiden NW200 success after leading the Superstock race from start to finish.
The riders were faced with extremely challenging conditions all day with cold temperatures and rain falling on the North Coast of Northern Ireland but they started the Superbike race well in the end with James taking the lead on the opening lap and Glenn tucking in behind on the second.
Opting to use the Superstock-spec Kawasaki ZX-10RR, James extended his lead to 0.8s as he got better drive out of the corners although Irwin was able to close in once he'd got the Superbike up to top speed. Conor Cummins joined the duo at the head of the field to make it a three-way battle for the lead.
On the final lap it looked like James would hold on for his first NW200 win but Glenn had other ideas although it wasn't until the Juniper chicane that he finally sealed the position. Hillier took his eighth NW200 podium, the fifth time he's finished in second place with Cummins completing the rostrum in third.
However, James only had to wait a few more hours to finally claim his first victory around the 8.9-mile circuit when he dominated proceedings in the six-lap Superstock race. Taking the lead from the start, his lead at the end of the opening lap was an almost unheard of nine seconds and by half-race distance he'd increased it to 20 seconds!
As the race wore on, the rain began to fall once more and he eased his pace but almost too much as Davey Todd, Dean Harrison and Richard Cooper began to close in. The Hampshire rider had enough in reserve though and duly clinched his maiden NW200 success while Glenn crossed the line in eighth place after dropping back in the closing stages.
With first, second, third and fourth from his four races, James was duly crowned Man of the Meeting to conclude a memorable week for both the 34-year-old and the whole team.
Glenn Irwin said: "It was flat out all the way in the Superbike race and it was nice to have the race with James and Conor as they're two really good friends and riders who I have so much respect for. We've trained together over winter but James was so much quicker than me through Church and Dhu Varren so I knew I had to try something different on the last lap which I did at Magherabuoy.
"I was quicker than him on some parts, particularly through Black Hill and I got a good run through there on the last lap and was able to make the pass. It was an awesome race though and so much fun to be a part of even though conditions were tricky."
James Hillier said: "I'm delighted to finally get my first NW200 win and to do it in such a manner is brilliant. I didn't believe my pit board when I saw +20s as I never expected to have such a big lead but conditions were getting worse as the race wore on and I eased the pace slightly which was almost too much as they closed right in but I got the job done and the bike and tyres were faultless.
"I thought the win may have come earlier in the Superbike race when I was again on the Superstock bike. It worked really well there were definitely some parts of the track where it was stronger than the Superbike. I felt really comfortable on the bike compared to the Superbike which I'd struggled a bit with in practice and I can't really complain about coming second. The top step would have been nice but I'm so pleased for the team that we got a 1-2 and it's put me in a great place ahead of the TT."
Pete Extance, Team Owner, said: "It's been an amazing day for the Quattro Plant Wicked Coatings Kawasaki team and for Kawasaki UK with their first Superbike win at the North West 200 since 1977. Both riders rode a superb race in very tricky conditions and they did an amazing job to bring the bikes home in first and second. In the
Superstock race, James set about his task with an excellent start and, full of confidence after making the right tyre choice, he led from start to finish.
"To open up a 20s lead at the NW200 is unheard of given the quality of field and he took a well deserved victory. I'm so pleased for both riders and they've worked well as teammates all year. It's a terrific boost for James ahead of the TT and also for Glenn going into the next British Superbike round where he'll be looking to climb back up the leaderboard."
Hillier now heads to the Isle of Man TT races with Irwin and new team recruit Hector Barbera contesting round three of the Bennetts British Superbike Championship at Donington Park next weekend.
To keep up to date with the latest news from Quattro Plant Wicked Coatings Kawasaki you can visit the?website?or follow the team on?Facebook,?Twitter and Instagram
More, from a press release issued by Buildbase Suzuki:
Cooper takes runner-up finish on North West 200 debut and fastest newcomer record
Buildbase Suzuki's Richard Cooper enjoyed a successful road racing debut this week, coming away from the International North West 200 with a second place finish on his superstock GSX-R1000R, along with the title of fastest ever newcomer at the event.
Cooper – who currently leads the National Superstock 1000 Championship – worked steadily throughout Tuesday and Thursday's practice sessions, which took place in glorious sunshine, to improve his pace around the 8.97m circuit, and qualified eighth fastest in both the superstock and superbike classes. In Thursday's superstock race he got away with the leading group, but kept his head, rode at a comfortable pace, and crossed the line in sixth, coming away with the title of fastest newcomer in the process with a lap speed of 120.659mph on his GSX-R1000R.
With the weather changing for Saturday's action and leading to delays and changeable track conditions, Cooper raced his GSX-R1000R superbike, shod with wet tyres, to another impressive sixth place finish.
Tyre choice was the big decision for the event's second superstock race, with a mostly dry track littered with damp and wet patches, and the ever-present threat of rain. Electing for a wet front and intermediate rear, Cooper made his way through the pack on the opening lap to move into second place, the position he would contend all the way to the chequered flag.
Swapping positions with his rivals – and also closing in on the race leader in the latter stages – Cooper grabbed second on the run into Juniper Hill for the final time to finish runner-up by just three seconds.
The final superbike race was cancelled due to the adverse weather conditions and worsening visibility.
Richard Cooper, "Coming into this event I knew I was going to take my time, learn, and build up my speed. We took small steps forward since we started on Tuesday and just got faster and faster every time we went out, whether that was on the superbike or superstock machine. In the first two races, even when I got away with the fast group at the front, I held back because it wasn't time to push, I needed to still go at my pace. For the second superstock race it was different; I felt comfortable – I've won in those conditions on a superbike – and felt I could attack and push harder. But to come away with a podium this week is a dream to be honest.

"But the team was perfect. I always said I wouldn't come and do this event unless everything came together and with the Buildbase Suzuki team I've got a team around me that I trust completely and a team that has loads of experience doing this, plus with the GSX-R a bike that worked really well all week. I got on the bike for the last superstock race and Steve [Hicken – team manager] told me we were going with a wet front and intermediate rear, and I just got on it and rode it and look where we ended up. I don't know what gearing or suspension settings we were running or anything. So I can't thank them enough for the hard work this week to get us to this point."
More, from a press release issued by Honda Racing:
Weather conditions disrupt play at the North West 200
The Honda Racing roads team, with Ian Hutchinson and David Johnson had a mixed experience at this year's International North West 200 in Northern Ireland, as on the final day of the event weather conditions affected play for the final races.
With glorious conditions for practice and qualifying on Tuesday and Thursday, the team were able to put into practice all the hard work from pre-season testing with the Honda CBR1000RR Fireblade SP2 and the CBR600RR at the 8.9-mile road circuit.
During Thursday's final qualifying session, Johnson unfortunately had a small crash in the Supersport session, and although unhurt from the incident he was left bruised and sat out the evening's opening Supersport and Superstock races.
Teammate Hutchinson took a sixth-place finish in the Supersport race, making his way through the pack from tenth on the grid. In the Superstock race he was making progress aboard the CBR1000RR Fireblade SP2 and had started chasing down third place, but during the fourth lap he was forced to retire with a small technical issue.
During Saturdays' races, conditions were intermittent and always with a threat of rain, the schedule was disrupted throughout the day. With on-track conditions tricky, 'Hutchy' and 'Davo' sat out the morning races waiting for a dryer track. Hutchinson headed out for the Superstock race, but came in after the first lap due to the weather conditions.
With deteriorating conditions at the 8.9-mile Triangle circuit, the North West 200 organisers called off the final Superbike race once the riders had carried out their sighting laps.
The Honda Racing squad will now have a quick turn-around as they set their sights on the Isle of Man TT races, which takes place from Saturday 25 May until Friday 8 June.
—
The Milenco by Padgett's Motorcycles team enjoyed success with the CBR600RR, as Davey Todd took his maiden international road-race victory in yesterday's Supersport race, with teammate Conor Cummins also on the podium in third place. Cummins also scooped a second rostrum finish, claiming third in the Superbike race with the Honda CBR1000RR Fireblade SP2.
Ian Hutchinson 4
Conditions yesterday were less than ideal, we made a call quite early on not to race after the Supersport sighting lap, but as the day went on it looked like the track was drying, so we changed the plan and aimed to go out in the Superstock and Superbike races. But conditions really deteriorated and the organisers cancelled the Superbike race, which was the best thing to do considering the circumstances. In terms of race weeks, it hasn't been the best for us, missing most of the races yesterday, but we were able to get good track time earlier in the week and make sure our pre-season testing had gone in the right direction for the roads. I'm glad we don't have to now wait long until the TT, as I'm keen to get there and just get going now. We know what areas need work and hopefully we'll get a lot of track time over there ahead of the races.
David Johnson 20
It's been an odd week with the small off on Thursday; missing those races and then with the weather yesterday – it's not quite what I had planned coming into the week! The guys have done such a great job in the run up to the NW200 with all the bikes, and I am sorry we couldn't reward them for all their efforts this week. I am feeling good now as we look to the TT with everything we've been able to get done at the North West, and I just hope the TT organisers have booked some sunshine!
Jonny Twelvetrees
Team Manager
The North West 200 hasn't gone to plan for us in terms of the races, with the weather and Davo missing Thursday, but what we have come away with is knowing that all the hard work during the pre-season has paid off. When we were on-track both riders were making good progress and of course, there's always areas where you can improve but on the whole we're going to the TT happy with where we are, and the packages we have across Superbike, Superstock and Supersport. It's always a hard decision for the organisers when the call is made to cancel racing, but rider safety is paramount, it's just a shame for the teams, riders, fans and of course the event when these things have to happen. We now have a super-quick turn-around during the week to get everything unloaded, prepped and then re-loaded and off to the TT!
More, from a press release issued by Be Wiser Ducati:
Weather Thwarts Seeley And Be Wiser Ducati At NW200
Alastair Seeley and the Be Wiser Ducati team saw their hopes of victory at the 90th anniversary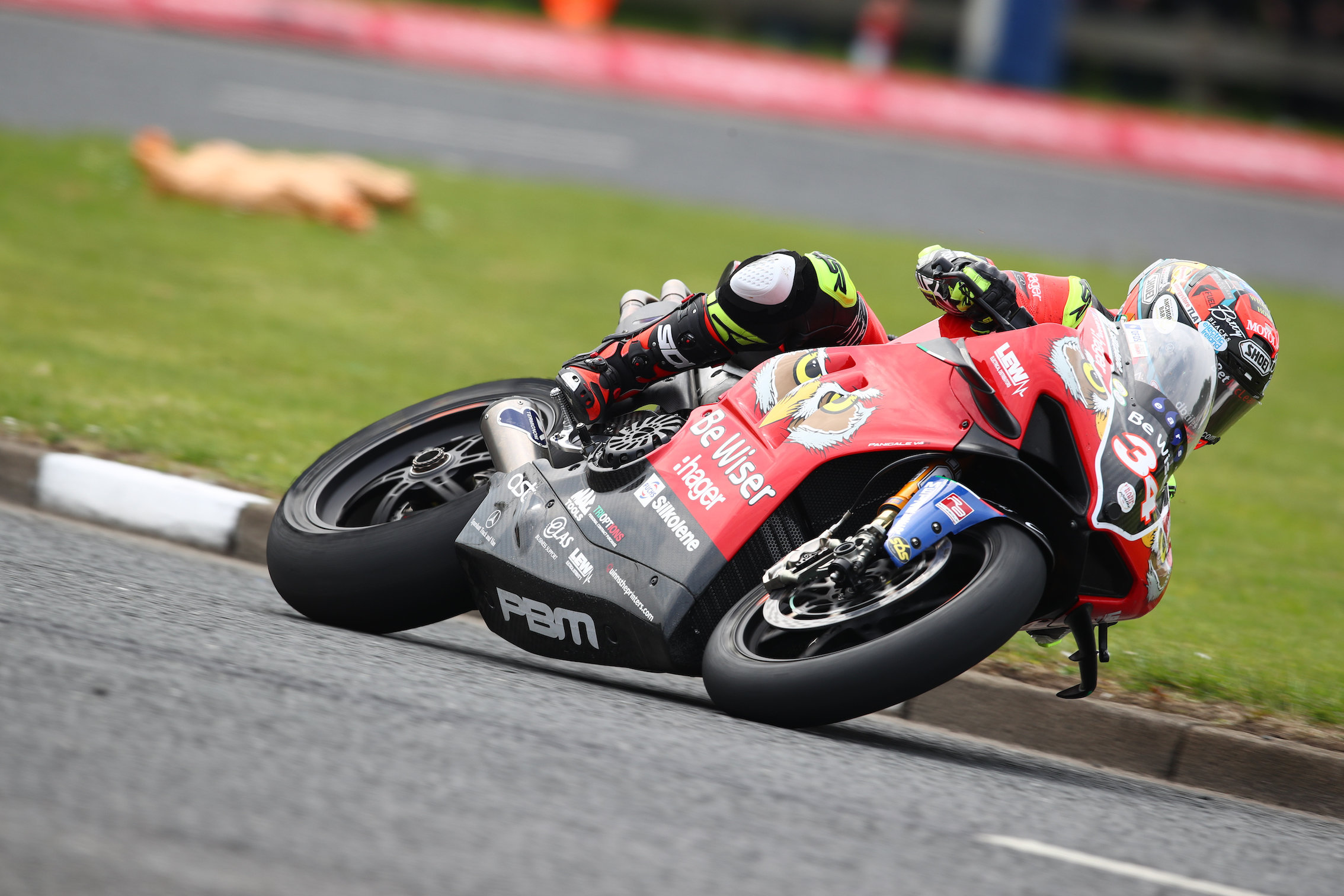 fonaCAB International North West 200 in association with Nicholl Oils thwarted by inclement weather on the Causeway Coast of Northern Ireland yesterday with one of the Superbike races cut to four laps and the second NW200 feature race cancelled completely.
Nevertheless, the 24-times winner from Carrickfergus posted a time inside the lap record during qualifying and finished in a solid fifth place on the factory-supported Be Wiser Ducati Panigale V4 R in the solitary Anchor Bar Superbike race.
The 8.9-mile circuit linking the towns of Portstewart, Coleraine and Portrush had been blessed with fine, sunny weather during qualifying and the 39-year-old 'Wee Wizard', having his first competitive outing on the bike for Paul Bird's Penrith-based team, posted the third quickest time on Tuesday with a time of 4m 28.050s putting him on the provisional front row.
Thursday's second and final 45-minute qualifying session saw superb conditions once more and Alastair was able to improve his lap time by more than six seconds and although his lap time of 4m 22.044s (123.231mph) kept him in third place, he was only 0.277s adrift of pole position man Glenn Irwin.
Such was the pace of the top three riders, they all lapped inside the outright lap record of 123.207mph and were over three seconds clear of fourth placed Michael Dunlop.
Unfortunately, Saturday dawned wet and misty and numerous delays meant the first Superbike race didn't get underway until 4.25pm but when it did, a good start by Seeley saw him lead the field into York Corner. By the end of the lap, he found himself in third place behind the Kawasaki pairing of Hillier and Irwin and as the race progressed, he was locked in battle with Derek Sheils for fourth.
With the rain continuing to fall, conditions were extremely tough all around the public road circuit and after encountering a few stability issues at high speed Alastair exercised caution to bring the bike safely home in a solid fifth place.
As the day wore on, conditions failed to improve and a combination of rain, fading light and descending mist meant the second Superbike race was cancelled with proceedings for the day brought to an end just after 7.15pm.
Alastair Seeley: "The dry sessions in qualifying on Tuesday and Thursday were very positive as I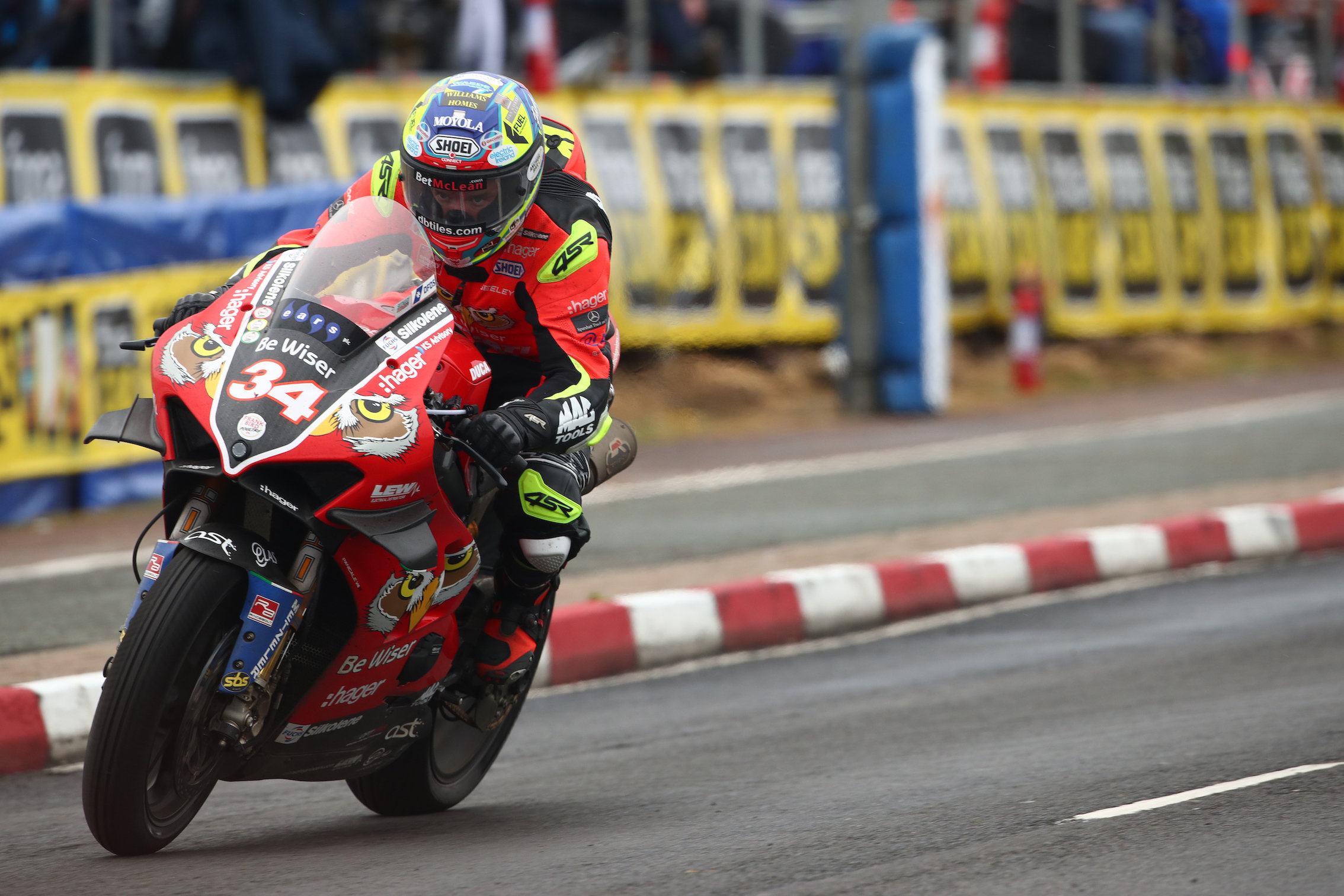 was P3 on both days and on Thursday I improved my time by six seconds. It was the fastest I've ever been around the NW200 circuit and with very little testing time I'd say that was an outstanding result. It set me up perfectly for race day but, unfortunately, Saturday saw tricky conditions as it was both damp and greasy. With no wet time on the bike it was tough and in the first race, I experienced high speed instability and a lack of drive grip, but I brought the bike home in fifth place. The second race was cancelled so it was a slightly disappointing event, but I'll be back next year fighting for the wins. I have to say a big thank you to the PBM team and Be Wiser Ducati for the opportunity to ride the new V4 R and for all their help through testing and race week. I hope I get the chance again someday."
Johnny Mowatt, Team Co-ordinator: "After a promising qualifying session on Thursday and securing a front row start with the brand new Be Wiser Ducati V4 R by being on lap record pace, race day didn't go to plan due to bad weather and long delays which put paid to really showing the potential of Alastair on board the bike. It's a real shame for everyone involved with the event including all the spectators who came to see us race. From everyone at PBM, we'd like to thank Alastair for his professional approach from the minute we made contact and hopefully in the future things could be different."
Anchor Bar Superbike race (4 laps)
1 Glenn Irwin (Kawasaki)
2 James Hillier (Kawasaki)
3 Conor Cummins (Honda)
4 Derek Sheils (Suzuki)
5 Alastair Seeley (Be Wiser Ducati)
6 Richard Cooper (Suzuki)
For further information, please visit www.nw200.org and also the updated PBM website www.pbmuk.net.
Twitter: @PBM_Team
Facebook: /PBMBeWiserDucatiBSB
Instagram: PBMotorsport
More, from a press release issued by KMR Kawasaki:
McWilliams and KMR Kawasaki take NW200 victory
Jeremy McWilliams overcame inclement weather conditions at the International North West 200 road races on Saturday to give KMR Kawasaki yet another Supertwins race victory at the event. And with Michael Rutter finishing third for the second time in three days and Matthew Rees finishing fourth, it was another superb day for Ryan Farquhar's team.
The fine weather of Tuesday and Thursday around the 8.9-mile circuit had been replaced by rain and cold temperatures on Saturday and it was 5.20pm before the 4-lap race finally got underway and although two crashes on Thursday almost led to him withdrawing, McWilliams duly took his place on the grid.
Conditions were far from ideal on the North Coast which led to a number of riders, including KMR Kawasaki front runner Derek McGee, opting out of the race and there was drama on the opening lap when Thursday evening's race winner Stefano Bonetti high-sided out of the action at York Corner.
That allowed Rutter to take the lead from McWilliams and Christian Elkin but by the end of the lap it was McWilliams who was in front with Rutter now in third ahead of Rees, Joseph Loughlin and Italian Francesco Curinga.
The second lap saw McWilliams and Elkin pull clear and they exchanged positions regularly with Elkin leading into University only for McWilliams to take over at Mathers Cross. At the end of the lap though, it was Elkin in first with Rutter in a comfortable third ahead of new fourth place man Curinga.
On the run towards University on lap three, 55-year old McWilliams hit the front again and started to edge away and although his lead going into the fourth and final lap was only half a second, it gave him a bit of breathing space of which he took full advantage.
Aided by the fastest lap of the race, 104.441mph, on the fourth and final lap, Jeremy was able to edge further clear and he duly took the chequered flag from Elkin by 1.3s for his third NW200 victory. Further back, Rutter took another podium position in third, his 34th in total at the event, with Rees taking a best ever finish of fourth to conclude another good day, and meeting, for Farquhar and his team.
Ryan Farquhar: "It's a weight off my shoulders to get the NW200 out of the way with no injuries to any of the riders and to wrap it up with another win is superb. Conditions were really difficult and I spoke to all of the riders and said there was no pressure from me to ride and it was entirely up to them. Derek had already had a good second place finish in the Supersport race so decided to sit it out with the TT ahead and I was 100% behind his decision. Darren James and Ryan Gibson also sat it out."
"Jeremy had already had two crashes on Thursday but he put in a superb ride and after a good, clean battle with Christian took a well-deserved win. Michael had another excellent ride as well to make it two podiums from two races and a 1-3 was almost as good as our 1-2-3 in 2012! It's taken a lot of time, work, effort and money to get here and I perhaps took on too much with six bikes as we now have a lot to do to be ready for first practice at the TT. A win and two third place finishes is a pretty good return though so massive thanks to all my family, friends and sponsors as it wouldn't be possible without them."
Ryan and the team, which will consist of McGee, Rutter, Rees, Lee Johnston and Gary Johnson, now head to the Isle of Man TT Races with first practice on the Mountain Course getting underway on Saturday 25th May.
J M Paterson Supertwin race (4 laps)
1 Jeremy McWilliams (KMR Kawasaki)
2 Christian Elkin (Kawasaki)
3 Michael Rutter (Bathams/KMR Kawasaki)
4 Matthew Rees (Rees Racing/KMR Kawasaki)
5 Joseph Loughlin (Kawasaki)
6 Francesco Curinga (Paton)