More, from a press release issued by North America Talent Cup:
IT'S DI MARIO AND SHEDDEN AGAIN AT ROAD ATLANTA FOR ROUND 6 OF THE NATC
The battle between the top two contenders for the championship continues, but with a plot twist.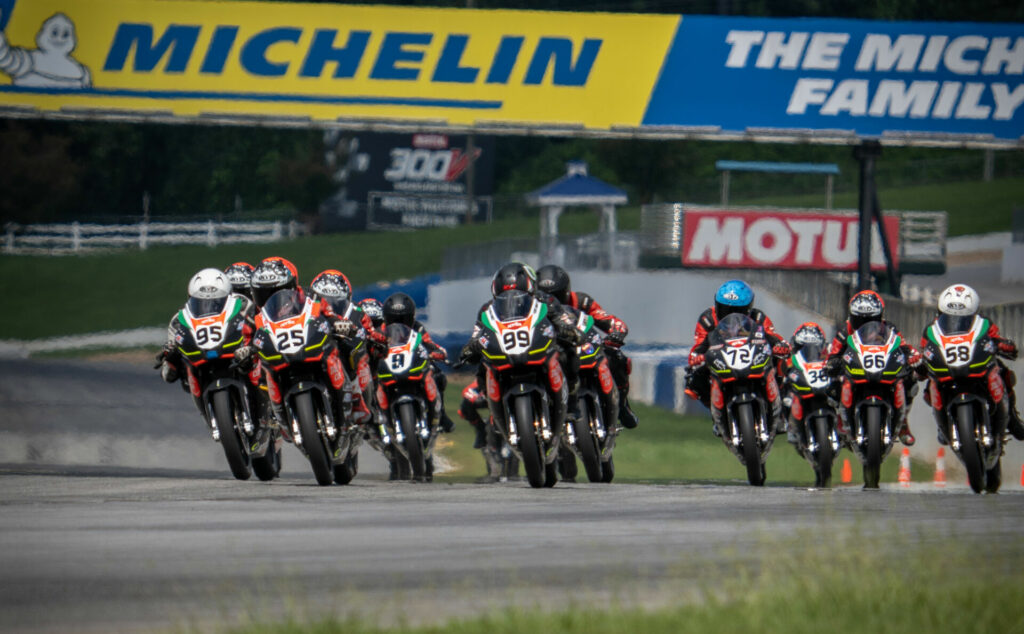 ATLANTA, GA – Alessandro Di Mario regains the number one spot in the championship. While Jesse Shedden finished both races first, he falls fifteen points behind Di Mario due to a technical disqualification in race one.
Shedden had a great weekend on track, with two first place finishes. His skill on the brakes gave him the advantage over the top group of riders. Unfortunately for him, a post-race tech inspection revealed his carb needle was adjusted outside of that allowed by the rulebook. Shedden was subsequently disqualified from race one, handing the 25-points over to his main rival in the championship, Alessandro Di Mario.
A new rivalry has emerged for third in the championship race between Alex Enriquez and Logan Cunnison. Enriquez leads Cunnison by only four points. Both riders finished on the podium; Enriquez with a second-place finish in race one, and Cunnison with two third place finishes.
Some of the frequent front-runners struggled at Road Atlanta, while others found something extra. Jack Beaudry of Canada had a banner round. After first practice, he increased his pace dramatically, finishing third fastest. Beaudry qualified seventh and finished race one P5 and race two P7.
The final round will take place alongside MotoAmerica at Barber Motorsports Park in Alabama, September 23-25. The final race will determine who takes top honors in the NATC inaugural season.
The new North America Talent Cup aims to provide riders across the continent with a vital link to professional road racing. The NATC is considered a stepping-stone between the FIM MiniGP North America Series and professional series such as MotoAmerica's™ Junior Cup or international feeder series like the Red Bull MotoGP Rookies Cup or FIM Moto3™ Junior World Championship.
The North America Talent Cup is proud to partner with WERA to support the future of American road racing talent.
To learn more about the North America Talent Cup, visit: www.northamericatalentcup.com
To learn more about the WERA, visit: www.wera.com
About NATC
The NATC is a one-make spec-series of teams and riders, using the successful Northern Talent Cup as a blueprint. The limit on entries is 20 riders between 13 and 16 years of age in 2022. The spec-motorcycle will be the Aprilia RS250 SP2; a machine developed by Aprilia in partnership with Ohvale and proven to offer a competitive platform for developing talent. The NATC is designed to create close competition in a cost-effective manner. In its first year, the NATC will race throughout the continental U.S., with seven designated rounds taking place alongside MotoGP™, MotoAmerica™, WERA, and MRA.
About WERA 
WERA, based in Canton, Ga., is one of the oldest and largest national sanctioning bodies conducting motorcycle racing at road courses across the United States. Since 1974 WERA has enabled thousands of racers at all levels the opportunity to compete across the country. WERA offers a Rider's School with entry-level racing, pro-am racing and vintage racing for anyone with a motorcycle.
About the FIM North America 
FIM North America is one of six Continental Unions (CONUs) recognized as geographical subdivisions and accountable to the Fédération Internationale de Motocyclisme (FIM). It was founded in 1998. The national federations who are members of FIM North America are, by virtue of their geographical area and their membership in the FIM, the American Motorcyclist Association and the Canadian Motorcycle Association. FIM North America establishes an annual calendar of Continental Championship events and other activities and declares champions in designated disciplines and classes. Its member federations issue CONU licenses to riders participating in FIM NA events as well as those who are participating in Continental Championship events organized in other CONUs. For more information, visit fim-northamerica.com.