Offseason Facility Enhancements Propel New Jersey Motorsports Park Into Exciting 2021 Season
As we race into the 2021 season, New Jersey Motorsports Park is excited to share facility upgrades that will enhance the New Jersey Motorsports Park experience.
Track Drainage Enhancements
Water management and track drainage enhancements are underway on Thunderbolt Raceway at Turn 3, and the Back Straight between 3 and 4, as well as in Turns 10, 11 and 12. When rain hits at New Jersey Motorsports Park, water will now drain faster getting us back up to speed sooner!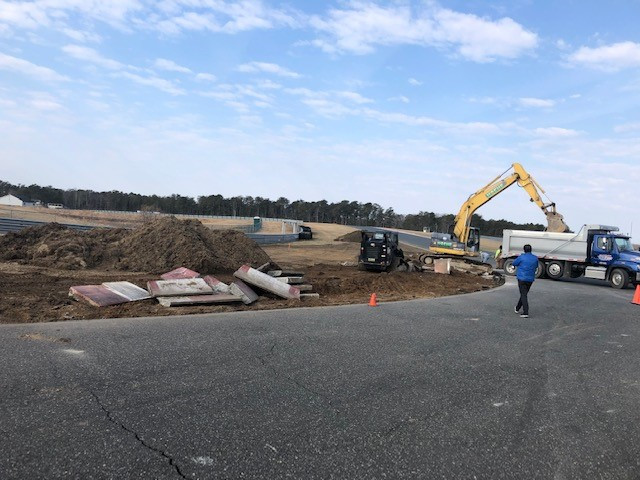 New Curbing at Thunderbolt Raceway
New Curbing will be installed on Thunderbolt Raceway at the Chicane of Turn 3. New curbing will also be installed at Turn 10!
Paddock Upgrades
Asphalt had been laid in the paddock at Thunderbolt Raceway, at the pod adjacent to the VIP Suite Garages! The formerly grass paddock area is now paved making for a cleaner, more accessible paddock in the VIP Suite area.
More New For 2021 Enhancements at NJMP
Paintball New for 2021 are five Rapid Fire! paintball games debuting this March at Battlegrounds Paintball. The new "Rapid Fire!" games allow groups and individuals of all ages to compete against one another or on teams in a non-contact, range style TARGET version of Paintball! This March, you can try Rapid Fire! Paintball for only $10 per session, just the cost of paint! Rapid Fire! paintball will be another exciting addition to NJMP's group event options that also include axe throwing, go karting and meals at the Finish Line Pub.
Karting New to our 2021 season at Tempest Raceway is our Loyalty Program. To begin collecting and redeeming points, a Clubspeed account must be created (May be created ahead of time on our website or, NJMP online booking system or in person at our karting office). It's that easy! Additionally, Karting After Dark returns this April, Friday-Sunday, sunset-10pm.