Schiranna, Italy
For 2020, MV Agusta's aim for its premium hypernaked Brutale 1000 RR is to keep all of the performance that its name suggests, yet make that performance available to a wide range of riders, including those new to the marque.
In a video conference from Schiranna, Italy, executives from the company introduced the new model as not just a new motorcycle, but the product of new and innovative thinking and processes from the company.
"Inside of MV Agusta in the last five years, not only have we been looking at bringing new technologies directly to the bike, we're also pushing the boundaries inside of MV Agusta, looking to adapt and apply new technologies to our thought processes, in our internal procedures, in our engineering department, in our marketing department," said Brian Gillen, MV Agusta R&D Director, in a live video presentation from Schiranna, Italy.
MV Agusta has produced its Brutale naked bikes for nearly two decades. Unlike many other machines in its category, the bike is not a detuned sportbike with tubular handlebars and smaller (or nonexistent) fairing panels.
"This motorcycle is born directly as a naked, and has been developed as such. It is not an undressing of a supersport," said MV Agusta Design Director Giorgio Mazzotti.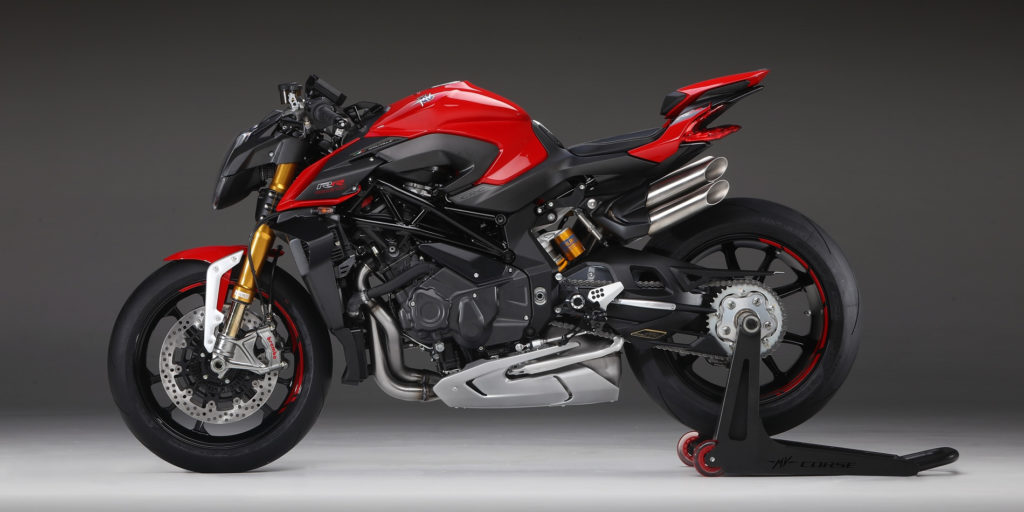 The Brutale 1000 RR is the production version, so to speak, of the limited edition Brutale 1000 RR Serie Oro introduced last year. That bike, with a claimed 212 horsepower, was marketed as the fastest naked bike available; the Brutale 1000 RR is just a tick less powerful, at a claimed 208 bhp. The bike will go head-to-head in the marketplace with naked hypersports from KTM, Kawasaki and Ducati.
But ultimate power wasn't the only goal for MV Agusta with this machine, Gillen said.
"The Brutale RR is born from a completely new mentality inside of the design and development area. That new mentality is not only absolute power, being the most powerful hypernaked model in the market, but that we need to be able to make this bike much more approachable to all of the riders," he said.
Central to accomplishing that goal is the inclusion of rider-friendly, sophisticated electronic rider aids. Launch control, wheelie control and traction control are standard, as are electronically controlled Ohlins forks, shock and steering damper. Multiple power maps are available, as are clutchless upshifts and downshifts, courtesy of the electronic shift assist. The Bosch 9 ABS system includes a race mode and an anti rear-wheel lift electronic strategy.
The latest iteration of the Brutale features revised hardware in the engine compartment as well. A new cylinder head with CNC-machined combustion chambers carries overhead cams with cam followers that are treated for lower friction. Primary gears and transmission gears also receive low noise/friction treatments, and the piston rings are designed for reduced friction as well. The crankshaft is lightened, and titanium connecting rods are standard.
Other features include forged aluminum wheels and Pirelli Supercorsa SP V3 radial tires, Brembo Stylema front brake calipers, and bodywork and downforce-producing wings constructed from carbon fiber as well as thermoplastic materials.
Developing this machine incorporated the use of cutting-edge design technology and theories, Gillen said. Thousands and thousands of hours of computer modeling, simulation and design have gone into the latest Brutale, something that reflects a change throughout the company.
"The last five years have seen another industrial revolution, and … that means technologies are changing so quickly that we have to keep pushing, not only to apply existing technology, but to learn and adapt to new technologies that are coming out every single day," he said.
Overall, the machine reflects state-of-the-art design parameters, although MV Agusta has incorporated or retained specific design elements that give the Brutale its identity. The inline-Four engine displaces 998cc via a 79mm x 50.9mm bore and stroke. Each cylinder has two exhaust and two intake valves arranged in a radial configuration, and the exhaust system has two outlets per side, exiting the bike midway between footpeg height and seat height in a manner that draws attention to them. Wheelbase is 55.71 inches, and the claimed dry weight is 410.06 pounds. The trellis frame is mated to a single-sided swingarm.
The front brake rotors are 320mm, and a Brembo radial master cylinder feeds the radial-mounted, single-piece, four-piston calipers. The rear disc is 220mm, and the twin-piston caliper also is Brembo. In a touch of old-school charm, the official factory spec sheet for the bike lists a claimed top speed – in this case, in excess of 186 mph.