More, from a press release issued by Dorna:
Zarco takes a stunning pole position to lead French 1-2 in Czechia
Zarco shines, Quartararo crashes and Dovizioso suffers his worst ever premier class qualifying on a dramatic Saturday in Brno
Saturday, 08 August 2020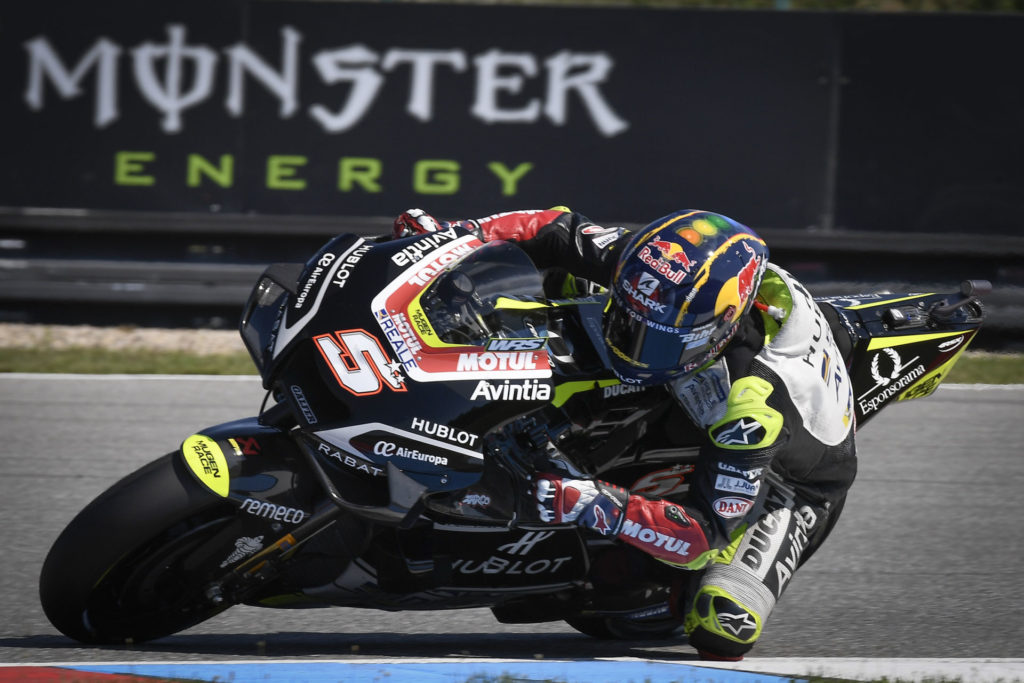 Many expected Brno may bring a shake up, but few could have expected the stunning and unpredictable qualifying sessions at the Monster Energy Grand Prix České republiky. It's Johann Zarco (Esponsorama Racing) who will start from pole as the Frenchman pulled an incredible three tenths clear in Q2, with Fabio Quartararo (Petronas Yamaha SRT) crashing out on his final lap and forced to settle for second. Franco Morbidelli (Petronas Yamaha SRT) completes the front row just eight thousandths off his teammate, with some serious headlines further down the field too…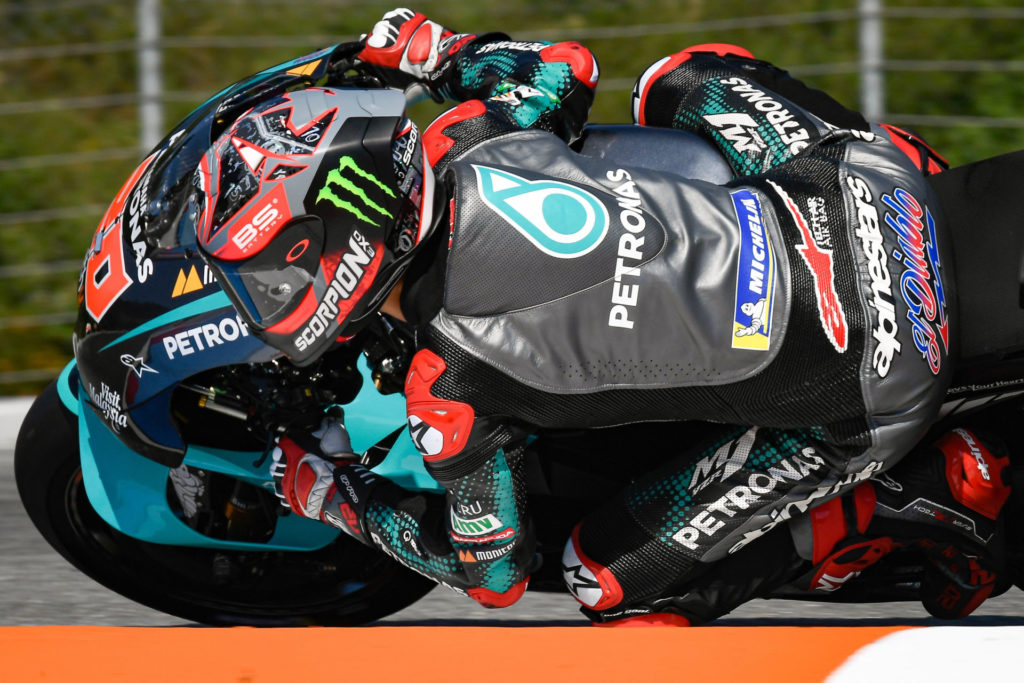 2018 winner and last year's second place finisher, Andrea Dovizioso (Ducati Team) starts 18th after his worst ever premier class qualifying. KTM are the only factory team with both riders on the first three rows. Repsol Honda are the two last bikes on the grid with Stefan Bradl and Alex Marquez. Jack Miller (Pramac Racing) didn't make it out of Q1. Aleix Espargaro (Aprilia Racing Team Gresini) makes it another Independent Team 1-2-3-4, as it was on Friday, as he equalled Aprilia's best qualifying in MotoGP™…
It began in Q1 as we saw a host of big names from the front in Jerez fighting it out to even move through, setting the scene for the next shake up of the day. There was some late drama on the timing screens too as on the last lap for many, it looked like it would be a one shot wonder from Alex Rins (Team Suzuki Ecstar) sending him through first, to be closely followed by Takaaki Nakagami (LCR Honda Idemitsu)… but then the Japanese rider's lap disappeared. Cancelled for exceeding track limits at Turn 12, that left him out the graduation zone and boosted Brad Binder (Red Bull KTM Factory Racing) into second. No one could better the South African's effort, and he moved through alongside Rins. Leaving Dovizioso, Miller, Nakagami and Friday's third fastest man, Miguel Oliveira (Red Bull KTM Tech 3), out the fight for the top 12.
Come Q2, it was was Maverick Viñales (Monster Energy Yamaha MotoGP) who crossed the line first with a 1:56.6, with teammate Valentino Rossi pretty much matching the Spaniard's time to slot into P2, pipping Morbidelli. Red Bull KTM Factory Racing's Pol Espargaro then blitzed the lot of them to go provisional P1 with a 1:56.1 as the Austrian factory continued to shine, but the KTM wouldn't stay at the summit long as Quartararo hit next to set the first 1:55 of the weekend – a 1:55.990. He didn't know it at the time, but that would remain his quickest effort.
Aleix Espargaro was giving the Championship leader some attention too, and the Spaniard had Quartararo a couple of bike lengths ahead, made the most of it and improved despite the Frenchman not quite managing to do so. Viñales then took a provisional front row before Rins went P6 on his opening fast lap, but a gaggle of riders were all setting red first sector times just ahead of the Suzuki. Morbidelli, Rossi, Binder and Zarco were all in close proximity, with the latter going faster than everyone. Halfway round, Morbidelli – spearheading the group – was under his teammates' time by two tenths, but it was the Frenchman at the back of the group who had a stunning three tenths in his pocket. Would he hold onto it?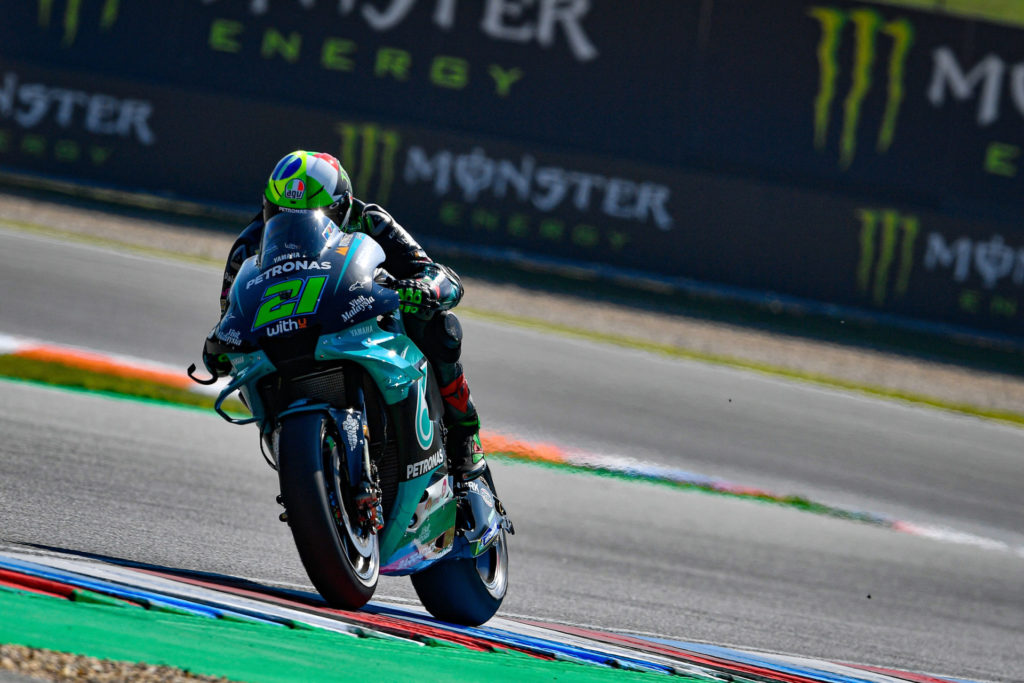 He would. Zarco flew to the top of the pile for an incredible provisional pole position, with Pol Espargaro going P2 with a stunning lap for the Spaniard as well. The number 44's joy was shorter lived, however, as the KTM rider had set it when passing yellow flags for a crash for Cal Crutchlow (LCR Honda Castrol) at Turn 9. There was one man left to try and overcome Zarco's incredible laptime, with Quartararo the last man over the line for his final push and only seconds to spare.
The number 20 was on a personal best lap but still down on Zarco by over a tenth half way round, needing to find something in the final quarter of the lap. He pushed and kept pushing but this time too far, sliding into the gravel at Turn 13 and kissing goodbye to a fifth pole in a row – rider ok and Zarco left to his stunning pole position for the Czech GP.
'El Diablo' is still starting second ahead of Morbidelli, with Aleix Espargaro heading up Row 2. Maverick Viñales is fifth and the first factory rider on the grid, with Pol Espargaro taking P6 and a second row start despite the heartbreak of seeing his earlier, faster lap cancelled.
Brad Binder impressed as ever with a P7 in Q2, the South African ensuring KTM are the only factory with both factory team riders on the first three rows. The rookie is joined on that third row by Danilo Petrucci (Ducati Team), a direct entrant to Q2, and a quiet but solid day's work from Team Suzuki Ecstar's Joan Mir in P9.
Rossi completes the top ten and lost out to Mir by only 0.003, although 'The Doctor' got the better of Alex Rins by half a tenth as the number 42 Suzuki took eleventh. Crutchlow, despite his heroics to move through on Saturday, was left in P12 after his crash. Oliveira, Miller and Rabat complete the fastest fifteen.
That's it from a shaken, stirred and stunning Saturday of action at Brno. Can Dovizioso and Miller make their way through the field? What can Zarco do on Sunday? Will Quartararo make it three-in-a-row? With less race day drama, what can KTM achieve? And who has the race pace to go the distance?  Find out on Sunday at 14:00 (GMT +2) as the premier class go racing at the Automotodrom Brno.
Johann Zarco: "I still cannot believe that I'm on pole and I did it, it's just fantastic. I  was feeling good on Friday and Saturday on the new tyre, I was able to do a pretty fast first lap and that was already positive to go straight to Q2. Because I'm on the way back, learning many things. I need to improve because the others improved a lot in the last two years. But in qualifying, on the first tyre I wasn't that fast and I was a bit worried because it was warm, sliding more than the morning, but I was keeping calm. I was following a group in front of me and that way I could control my lap. And then I w s surprised at this super good laptime. So let's take the good from now and see tomorrow with a good start if we can stay with the top guys at the beginning, this will be really important to have a good race."
More, from a press release issued by Red Bull KTM Tech3:
Row 5 and 6 for Red Bull KTM Tech3 pair in Brno
Following his breathtaking third position on Friday, Miguel Oliveira was off a decent start today as well, but lost the front of his KTM RC16 on the way to another strong lap time. Nevertheless, the Portuguese managed to regain his confidence this afternoon and missed out on a Q2 spot by just 0.037 seconds, ready to tackle the field tomorrow from the fifth row of the grid.
Yet, Red Bull KTM Tech3's Iker Lecuona showed some steady progress throughout the weekend so far. He lowered his Friday's personal best by impressive 1.614 seconds in Qualifying and concluded Q1 in P6, which means the MotoGP rookie secured his best grid position ever in the premier class, having to launch off from row six at 14:00 local time on Sunday.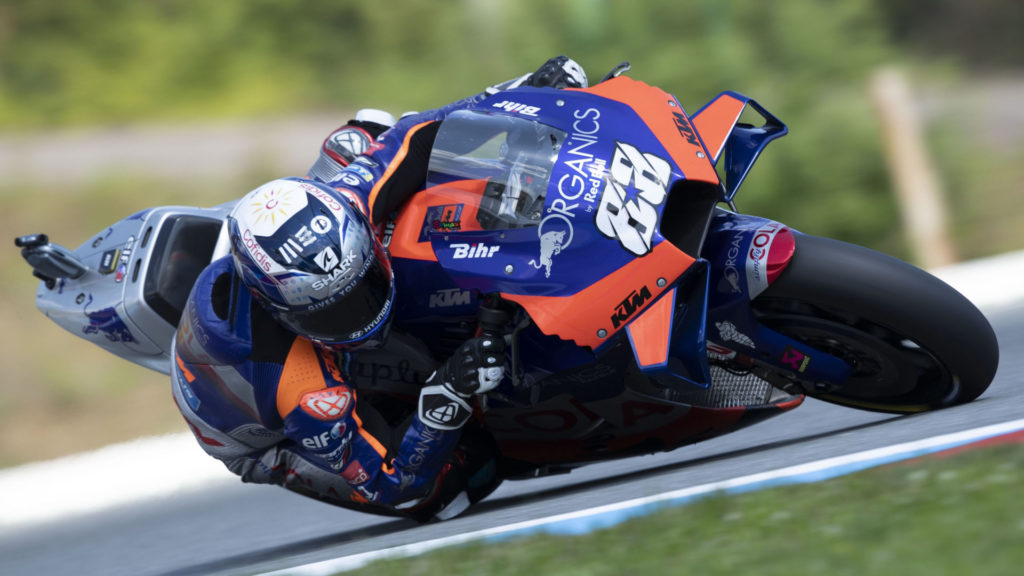 Miguel Oliveira
 
Position: 13th
Time: 1:56.328
Laps: 7
"Overall, it was a positive day. We started with high hopes this morning. I had a crash on my fast lap, which could have been a good time to be inside the top 10. We knew that going through Q1, it's going to be difficult. Anyway, I gave my all, but it was not enough, very tight. But I am very positive and confident for the race tomorrow. I feel like it's going to be a lot different. We are in a good position, we worked well, so we should be relaxed and focused for tomorrow."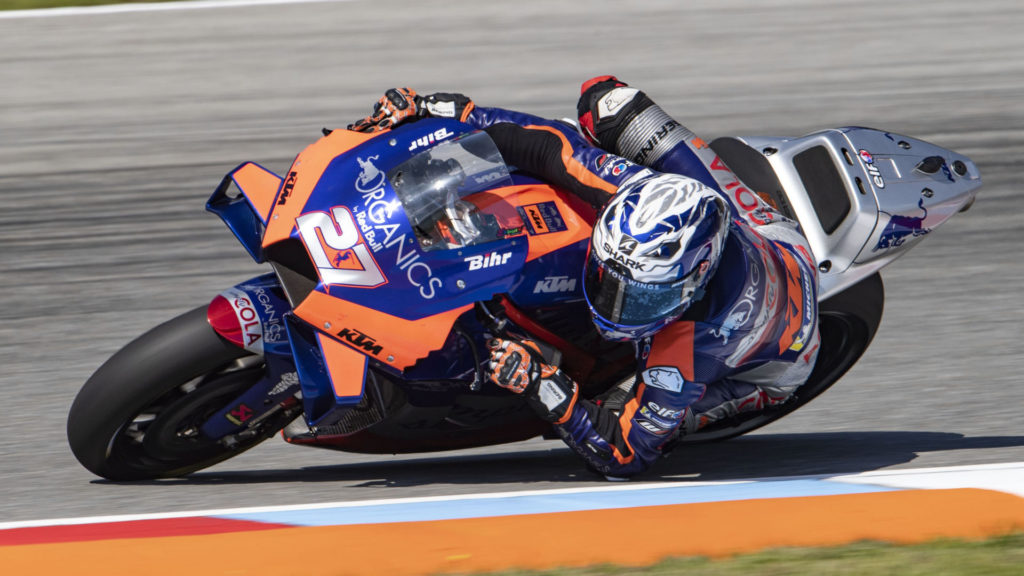 Iker Lecuona
 
Position: 16th
Time: 1:56.764
Laps: 7
"Today I'm really happy, because this morning I managed to improve with the bike and also regarding my pace. I feel better overall. I continued to improve. I knew it was possible to have a really good Qualifying and finally, I improved my lap time a lot and I ended up just around one second to the top. So, the gap is very small compared to yesterday and this morning. I'm really happy and want to thank my team for all the hard work. I'm curious to see what we can do in the race."
More, from a press release issued by Pramac Racing:
Czech GP – Difficult qualifying for Jack, tomorrow will start P14
It was a difficult saturday for the Pramac Racing team, who run it through qualifying with only Jack Miller after the injury of Francesco Bagnaia who has already returned to Italy for surgery on his right tibia. During the FP3 Jack tried to push hard, the feeling was quite good and the team worked very well to solve some problems we had yesterday during the free practice. Unfortunately Jack didn't make the Top 10 to gain direct access to the Q2. At the end of the first run of Q1 Jack was in second position with his best time of 1:56:352 but in the second time attack the Australian rider didn't improve the time and tomorrow will start from the fifth row (P14) on the grid of the Grand Prix of the Czech Republic scheduled tomorrow at 14:00 at the Brno circuit.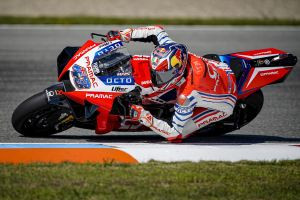 Jack Miller
We had some problem to find the right feeling with the tires. The feeling I have with the bike is good, my pace is good, but I cannot be aggressive as I want. It's looking like we are having a complicate weekend, but I will try to do my best tomorrow, having a good start and then we will see.
More, from a press release issued by Aprilia Gresini Racing:
APRILIA SENSATIONAL IN BRNO: ALEIX RIDES THE RS-GP TO THE SECOND ROW
The good signs seen yesterday were confirmed during today's sessions in Brno (Czech Republic). Aleix started the day off confirming direct access to the second qualifying session (Q2) with a sixth-place time. Once there, he made no mistakes, turning two incredible laps, the fastest of which in 1'56.074 to earn the fourth spot on the starting grid. The second-row spot is the perfect birthday present for Romano Albesiano, Technical Director of Aprilia Racing, who, along with his team, provided Aleix with a revamped and competitive bike, in spite of the fact that it is still a fledgling project and not fully developed, confirming great potential on which to build the 2020 season.
It was a more complicated day for Bradley Smith, especially when it came to squeezing as much as possible from his bike in qualifying. The Q1 session was conditioned by a crash in the early stages, but without physical consequences for the rider. Bradley managed to get back on the track and stop the clock at a time that places him in the seventh row on the grid.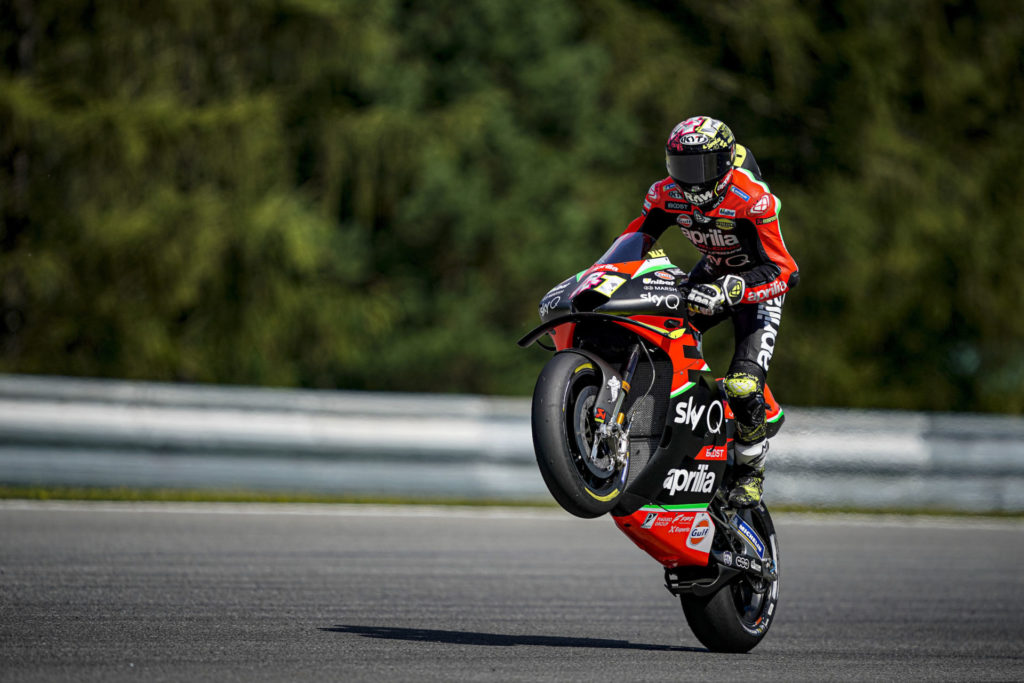 ALEIX ESPARGARO'
"Besides the position, I am happy about the feeling with the bike. We changed the setup quite a bit and I was back to having the same, good sensations as I had at the beginning of the season. If I'm honest, I didn't expect it, since here in Brno we have always struggled a lot. Starting from the second row will certainly help, but I am especially pleased with our race pace and the step forward that we have made. Now we need to confirm our potential in the race. That will be the real proof of our growth. I expect a very difficult race for everyone. Tyre wear will be the key, especially after the mid-race point."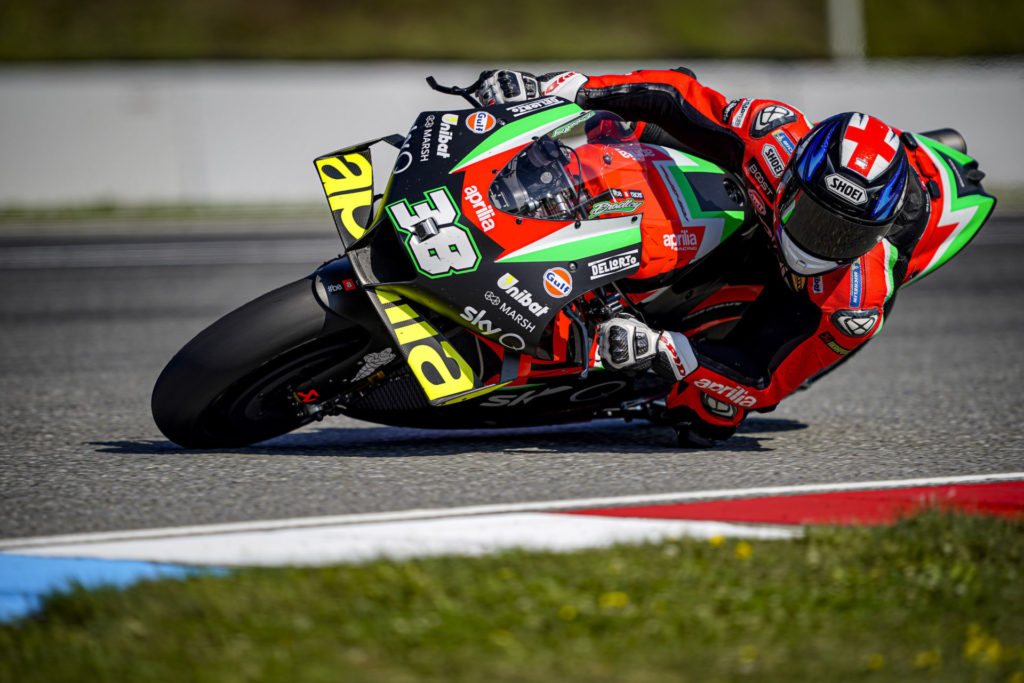 BRADLEY SMITH
"I'm obviously a bit disappointed. At the beginning of Q1, I was in a good position to do a fast lap, but unfortunately, I went beyond the limit and I crashed. Looking at FP4, on the other hand, our race pace doesn't seem to be too far off of our goals. We have a few ideas to improve, also in view of the upcoming races. The direction Aleix has identified seems to by paying off in terms of performance. Maybe for my characteristics, the bike becomes a bit more difficult to ride, but the times don't lie, so we'll try to explore that direction in terms of the setup. In any case, today was a great result for the team and for this project, which is confirming that it has great potential."
More, from a press release issued by Repsol Honda:
Testing day in Brno for Repsol Honda Team
One lap pace eludes Alex Marquez in Brno as Stefan Bradl gains more speed during a busy day, the Repsol Honda Team pair ready to fight forward on Sunday.
Saturday in Brno was a day of contrasts for MotoGP rookie Alex Marquez, the 2019 Moto2 race-winner was pleased with his race pace but continued to search for one-lap speed. Having cut 1.2 seconds off his best time from Friday to Saturday morning, Alex ended Free Practice 3 just 1.298 seconds off first but down in 19th and would enter Q1 as a result. After a few minutes of running in Free Practice 4, Alex Marquez suffered a fall at Turn 8. Unharmed, Alex re-joined the session and showed strong race pace throughout. A difficult Q1 session saw the rookie struggle to put together an ideal lap, he will line up on the seventh row of the grid for tomorrow's race as a result but is prepared to be aggressive off the line and show his pace.
Stefan Bradl started his Saturday in the Czech Republic with a big step forward, improving his best time from Friday by almost a full second in FP3. The German was just 1.4 seconds off the top spot, but down in 20th place in the session as less than a second split the top 17 premier class riders. His progress was made more impressive as the German test rider spent much of the day assessing a number of different options and settings for HRC. He will start the Czech Grand Prix from 20th.
Cal Crutchlow, winner of the 2016 Czech GP, took top Honda honours with 12th place on the grid for Sunday's race after avoiding further injury in a fall during Q2.
Tomorrow's 21-lap Czech GP begins at 14:00 Local Time, weather forecasts predicting very similar conditions to those seen today.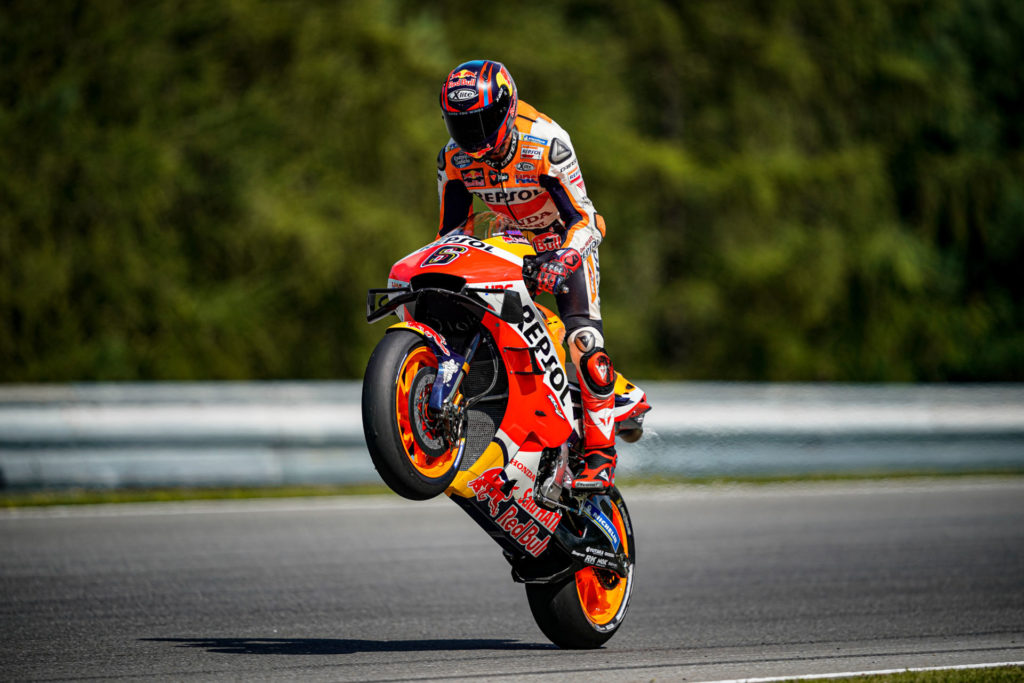 Stefan Bradl
20TH  1'57.573
"Today the feeling was coming better on the bike and still we are improving with each lap. We still are searching for some grip around the circuit, but I think many other riders are also working on this area. It's been a busy day, trying settings and working with HRC so we have not been able to fully concentrate on our one lap speed for Qualifying. Tomorrow's race will help us a lot and I think it will be the most beneficial time for me to learn and understand the bike more. Let's see what happens, it will be a long race."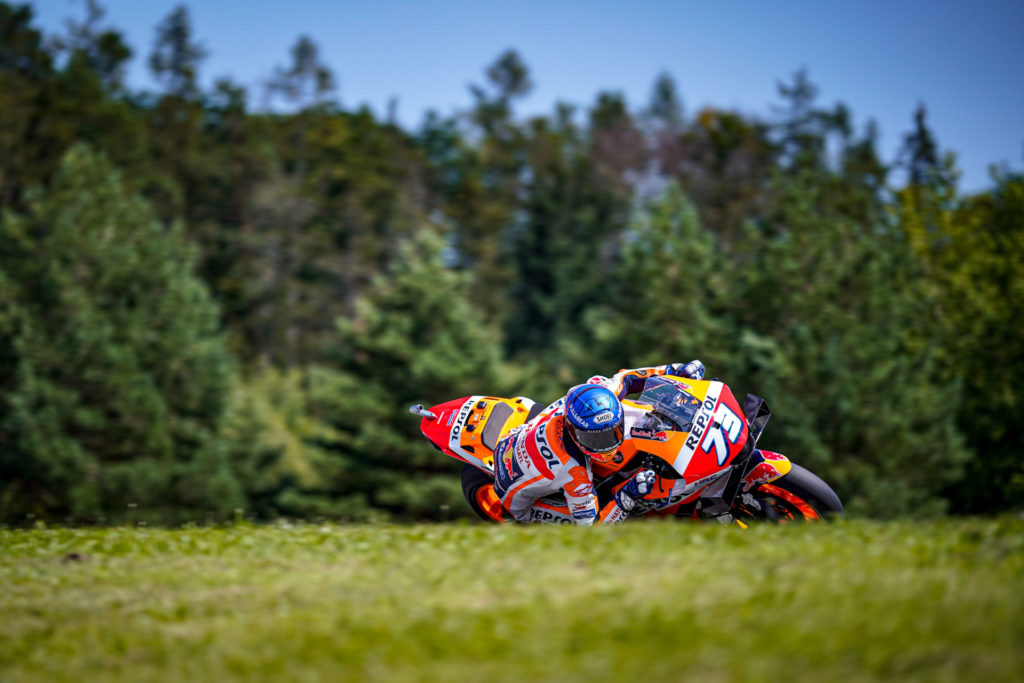 Alex Marquez
21ST  1'57.606
"It was a tough day today when we look at the final position. I still need to work on getting the most out of the new tyre. Quali was a negative, but in FP4, apart from the crash, it wasn't such a bad session and all weekend our pace has been OK. I know starting from the back will make it difficult tomorrow but I am feeling positive and it will be long race so pace will be important. We still need to define our tyre choice, but I think with our race pace we can make up some positions and certainly we will learn a lot."
More, from a press release issued by Team Suzuki ECSTAR:
TEAM SUZUKI ECSTAR 9TH AND 11TH ON BRNO GRID
Joan Mir: 9th – 1'56.512
Alex Rins: 11th – 1'56.571
The Czech Republic Grand Prix looks set to be another unpredictable and thrilling race, with tight times and drama dominating Saturday's action at the track.
The morning's FP3 session was crucial as ideal track conditions provided the perfect opportunity for riders to improve. As the session progressed times became very close; by the end, the entire field was covered by just 1.532. Both Joan Mir and Alex Rins entered laps in the high 1'56s and both were within three-tenths-of-a-second from the top of the time sheets. Mir confirmed his passage to Q2, while Rins narrowly missed-out on the Top 10.
FP4 saw Rins and Mir head straight on track, working hard to gauge the feeling with tyre options and to fine-tune the best settings to deal with degradation and the slippery circuit. Both showed good pace with Rins taking a confidence-boosting fourth and Mir seventh.
Rins did a brilliant job in Q1 despite struggling with shoulder pain. He chipped away to bring his lap down to a 1'56.230 and secure a great top spot in the session.
Both riders entered the final Q2 session with confidence and determination: Mir will start from the third row in ninth place, with Rins close behind in 11th.
Davide Brivio – Team Manager:
"We expected a little bit more in some ways, but we did a good job, nevertheless. Joan will start from the third row and that's not bad from the point of view of the race. The bike is working well so it will be a question of making the right tyre choice so that he feels comfortable in the race, I think he can do well. Alex was amazing because this weekend is still very difficult for him with his shoulder; he did a great effort in Q1 and he will start from 11th place. I think both riders can manage a good race, it will be long and difficult, but we have good pace."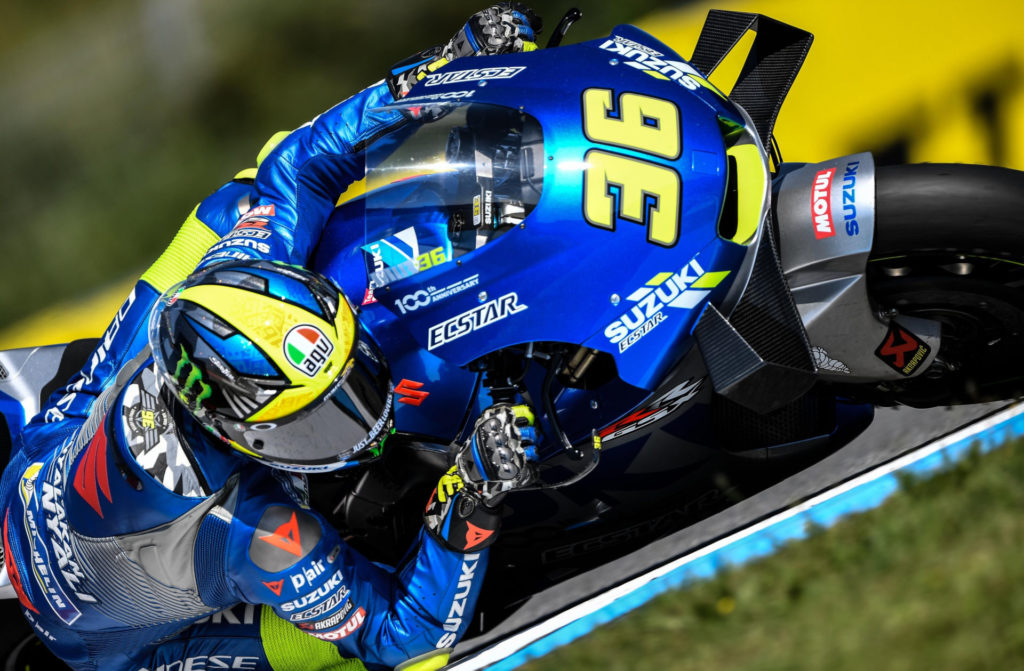 Joan Mir:
"I feel good today because we made some steps forward in regard to race pace and my set-up is nice. I know that qualifying is not exactly our strong point at the moment, but I think starting from ninth I can still manage a good race. The race will be hard tomorrow, and consistency and tyre preservation will be key. I'll try to get a good start and recover positions."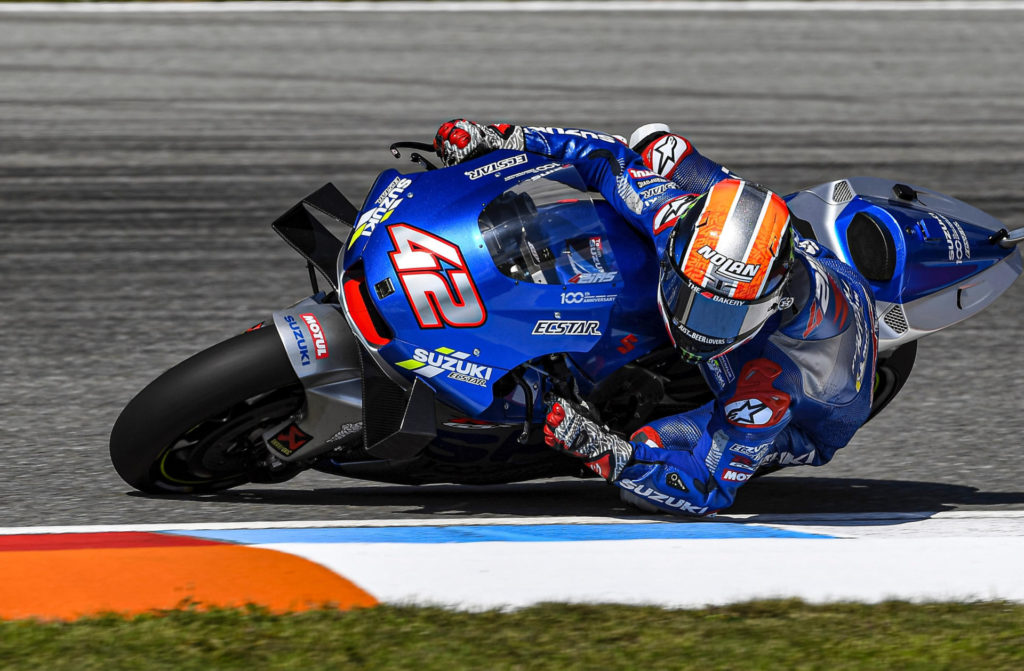 Alex Rins:
"I struggled a lot with my shoulder today. FP3 was good but I missed out on Q2 by a tiny amount, which was a pity because I really gave my all to get directly into Q2 to save myself one session and try to conserve my shoulder a bit. In FP4 I worked hard to forget about the pain and concentrate on my lap times and consistency. In Q1 I gave absolutely everything to make it into final qualifying, and despite the bad pain I managed some good lap times. Tyre life tends to drop at this track, so it will be important to be careful and manage it. I hope I can get a good result and I feel that 11th isn't a bad place to start."
More, from a press release issued by PETRONAS Yamaha SRT:
Front row start for Quartararo and Morbidelli at Brno
PETRONAS Yamaha SRT riders Fabio Quartararo and Franco Morbidelli will start tomorrow's MotoGP race from second and third respectively
After a dramatic qualifying day at the 5.4km Automotodrom Brno circuit, which saw crashes for both Fabio Quartararo and Franco Morbidelli, the pair will both start tomorrow's race from the front row of the grid – second for Quartararo and third for Morbidelli. A first for the team in 2020, and the fifth time in the year and a half history of PETRONAS Yamaha SRT.
Striving to make the bike and the tyres work for him on the bumpy, low grip Czech track, Quartararo was back to his usual form in the day's two Free Practice sessions and looked a lot more comfortable aboard his Yamaha YZR-M1. His 1min 56.134secs time in FP3, which was good enough for third, saw the Frenchman straight through to the second qualifying session. Further progress made in FP4 meant that confidence was high going into the afternoon's pole position shoot out. Fabio was on provisional pole until fellow Frenchman Johann Zarco knocked him off top spot in the closing stages. Trying one last attempt on used tyres, Quartararo unfortunately ran out of grip and crashed in the second to last corner. His initial time of 1min 55.990secs was still good enough to secure second place on the grid.
Team-mate Morbidelli was also in fine form today, helping to show the strength of PETRONAS Yamaha SRT. The closing stages of FP3 saw riders treat the last few laps as a mini qualifying session, which Franco stamped his authority on with a 1min 56.037secs lap – a time no one else could beat. The Italian did add his name to those who made a visit to the gravel traps at Brno today, but he didn't let it disturb his rhythm. A strong qualifying session, which saw him among the top riders for the majority of the 15 minutes, finished with only 0.008 seconds between him and team-mate Quartararo. Franco's time of 1min 55.998secs secured him the final spot on the front row.
The PETRONAS Yamaha SRT pairing will be back out on track at 9.40am local time (3.40pm MYT) tomorrow for Warm Up, with the 21-lap MotoGP race due to kick off at 2pm local time (8pm MYT).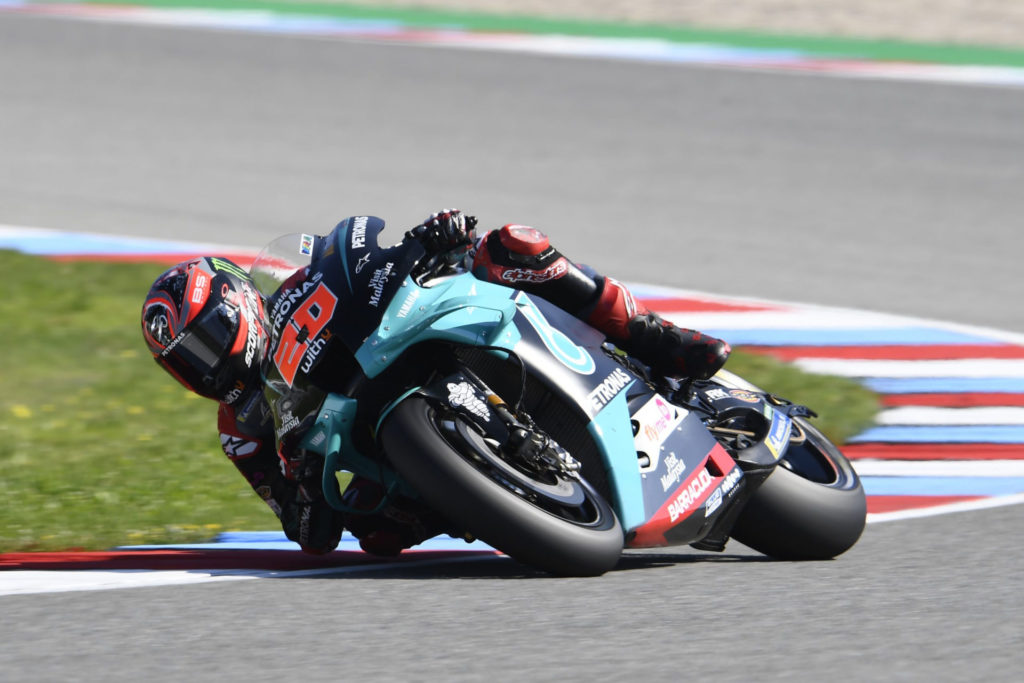 Fabio Quartararo
2nd (1'55.990)
Obviously the last lap I tried to do my best, but when the tyres have already done a flying lap on this track you know you're likely to be slower. I gave it a go anyway and unfortunately I crashed in the second to last corner. I feel great though as we made a big step forward in FP4 and the bike is feeling really good. I think it's a great moment for the team with both Franco and myself on the front row, and we can be confident that we can challenge for the podium tomorrow. The track conditions are really difficult, which makes it hard to understand the tyres properly and get them working well. It's the same for everyone though so we just have to wait and see what happens tomorrow; we are ready for the third race of the season!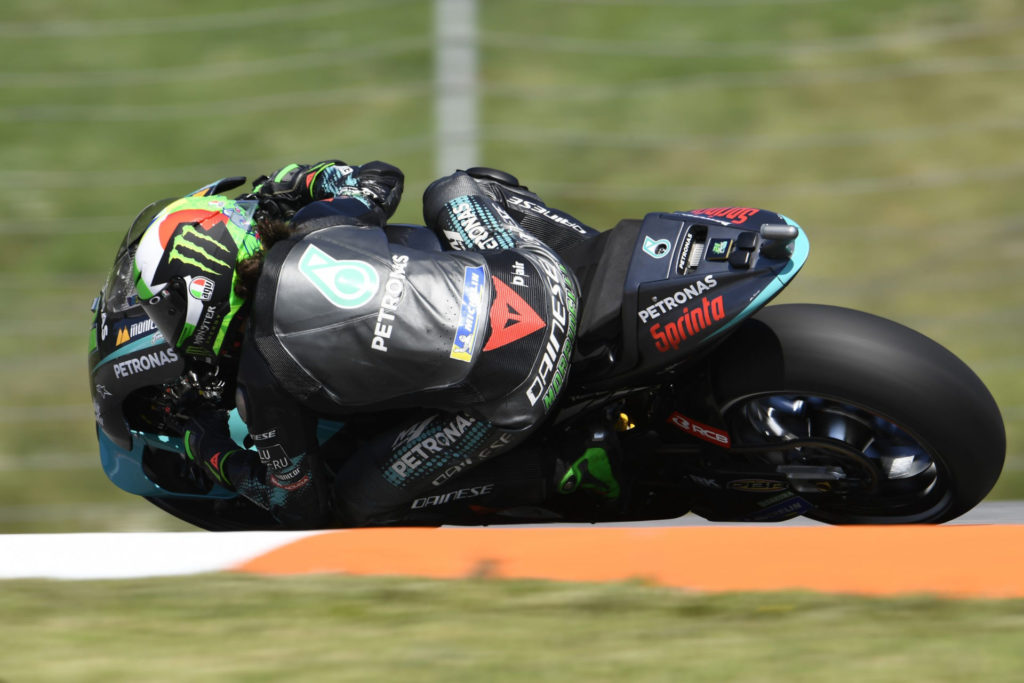 Franco Morbidelli
3rd (1'55.998)
It's been a positive weekend so far: we had a good pace yesterday and today as well. I did have a small crash, but I was able to get back my rhythm and feeling very quickly. I was able to get a good lap time in and tomorrow we will start from the front row, which is very important for me. We will have to see where we are after the first lap to understand what kind of race we will and what we need to do. Our team is very strong at the moment and we have a lot of people working very hard to make it so. This helps to give us the best situation to do our job, as riders, and I have to thank them a lot for this. The job we are doing is also a reflection of the work they put into the bike.
More, from a press release issued by Monster Energy Yamaha:
MONSTER ENERGY YAMAHA MOTOGP DUO START CZECH GP FROM SECOND AND FOURTH ROW
Brno (Czech Republic), 8th August 2020
GRAND PRIX OF CZECH REPUBLIC
QUALIFYING
Monster Energy Yamaha MotoGP's Maverick Viñales and Valentino Rossi were riding on the limit in today's Monster Energy Grand Prix České republiky Q2 session, but neither of them could get the perfect lap in. They will be starting tomorrow's race from fifth and tenth place on the grid respectively.
5th MAVERICK VIÑALES 1'56.131 / 7 LAPS
10th VALENTINO ROSSI 1'56.515 / 7 LAPS
Monster Energy Yamaha MotoGP's Maverick Viñales and Valentino Rossi put up a fight at the Automotodrom Brno this afternoon in the Q2 session but didn't obtain the results they had in mind. The team-mates will line up in fifth and tenth position on the grid tomorrow.
Viñales was the first rider out. With clear track in front of him, he was ready to clear off into the distance, posting a 1'56.633s benchmark lap for provisional fourth place. He immediately returned to the pit box with about nine minutes left on the clock.
Within a minute the Spaniard was back on his way. His next flyer, a 1'56.131s put him in third, but there was still 0.141s to breach. Coming into pit lane with two minutes remaining, the number-12 rider hoped to have another go, but he was unable to cross the start-finish line before the chequered flag came out. He ended the session in fifth place, 0.444s from the top.
Rossi didn't waste a second of his Q2 track time and headed out of the pit box as soon as the light turned green. He dropped a 1'56.696s on his initial attempt that put him behind his team-mate in fifth place when all riders had completed their first hot lap. Unable to improve on his second try, The Doctor headed back into the pits for a change of tyre with six and half minutes remaining.
Soon the Italian resumed his challenge. He had time for three more attempts and dug deep as the pace heated up in the final stages of Q2, but his fading front tyre compromised his chance of a top result. His penultimate lap, a 1'56.515s, earned him tenth place, 0.828s from first.
MASSIMO MEREGALLI
TEAM DIRECTOR
We started the day pretty well, but the end left something to be desired. Especially Valentino did a good job in this morning's FP3. The work done by our staff yesterday evening paid off: they found an improvement for the bike, and as a result Vale could join Maverick in the combined free practice top 10 and go straight into Q2. However, qualifying didn't go to plan. Maverick was on a two-stop strategy, but he just ran out of time before he could start his final run because of a last-minute change of plan. Valentino was on the one-stop strategy but wasn't quite able to challenge at the front, because his front tyre was already worn out by the time he started to push on his second run. We would have liked to have both our riders to be a bit further towards the front of the grid, but we have confidence for tomorrow. It will be a long and hard race because, for sure, tyre degradation and grip issues will come into play for all contenders. We focused on race pace during today's FP4 session and will continue to work on this tonight, so we can finalise our set-up.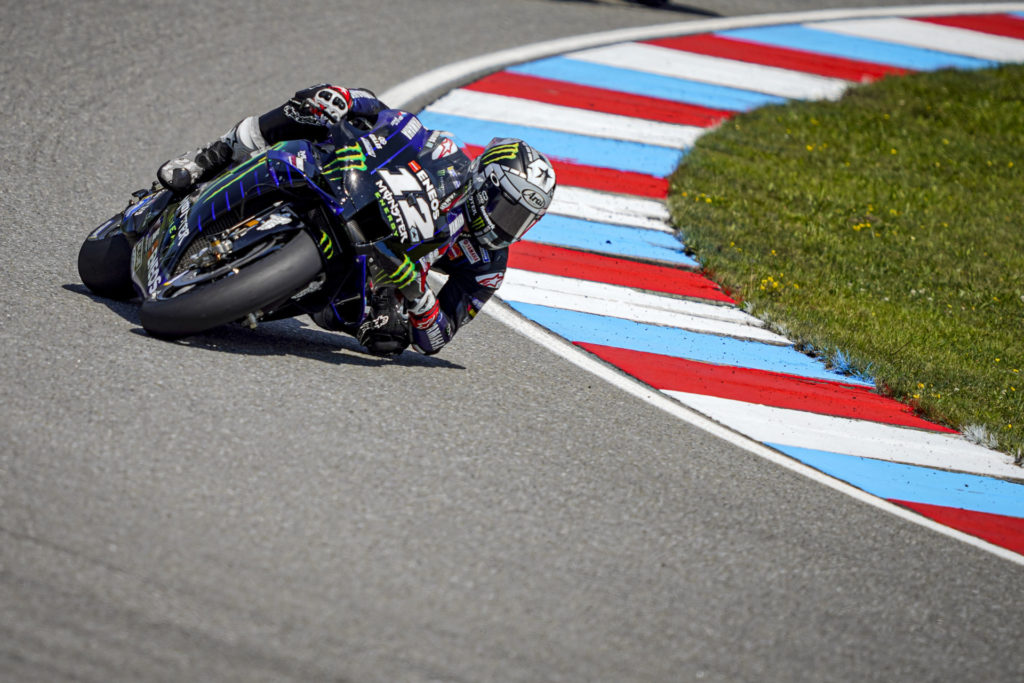 MAVERICK VIÑALES
I think we saved the day on qualifying, because we weren't very fast, especially in FP4 with the hotter temperatures. But in qualifying I immediately felt really good and on the pace. The strategy was to do two exits, but when I came back from the second run, I felt fantastic. We improved the lap time quite a bit, so I decided to run that bike again, but too late. It was my mistake, the team did a good job, because they provided the bike and put everything together. Anyway, I think tomorrow we have a good opportunity to improve and understand many things on the bike, so I'm quite curious to see what we can do, and I have a positive mindset. The race will be very long, and it will be demanding for the tyres. We're going to try to be at the front as early on in the race as we can. A positive point is that the first corner is quite far, so I think we can make up a few places at the start.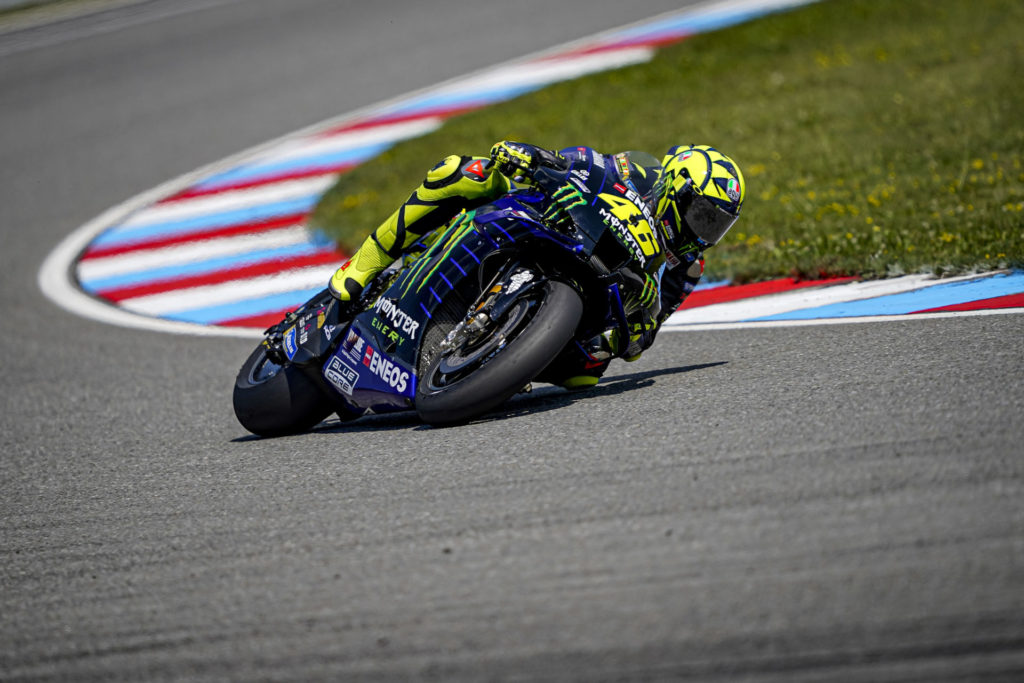 VALENTINO ROSSI
Today was a day of mixed feelings for me. In the morning I was very fast, and I felt good with the bike and the tyres. FP3 was a very good practice session, but unfortunately the temperature rose a lot in the afternoon and the asphalt was also 10 degrees hotter than yesterday, and we suffered because of this. We wanted to continue with the medium front tyre, but it was too hot in the end and I also struggled in the qualifying. Unfortunately, I will have to start from P10. This is bad news for tomorrow's race, because everybody is strong and starting from further down the grid will be very hard. But my pace is good, so I will have to start well and try to ride a good race and recover some positions.
More, from a press release issued by Red Bull KTM:
ESPARGARO AND BINDER ATTACK MOTOGP™ Q2 AT BRNO TO EARN PROMISING GRID SLOTS
MotoGP 2020 – Round 03, Automotodrom Brno (CZECH REPUBLIC)
Qualification for round three of 2020 MotoGP took place in the sun-soaked confines of the fast and slippery Brno circuit and Red Bull KTM Factory Racing's Pol Espargaro was 6th and the fastest of two RC16 riders in the top ten. Brad Binder also impressed and classified 7th quickest, just over half a second away from Pole Position.
The search for grip was a mission around the open and quick curves of Brno. A tired and bumpy asphalt created headaches for teams in the search for traction and the best acceleration as summery conditions meant more warm temperatures (+50 degrees on track) for the MotoGP elite.
Espargaro set the pace with the leaders throughout most of the Free Practice sessions and took 3rd and 2nd positions in FP3 and FP4 on Saturday. The Spaniard filled his now-customary slot in the Q2 period. Using a Medium/Soft tire combination Espargaro gunned the KTM RC16 to the 2nd best lap lap-time for a front row berth but missed waved yellow flags on Turn 9 in the wake of Cal Crutchlow's crash and his chrono was cancelled. His previous effort was good enough for the top six.
Brad Binder took the second spot in Q1 to advance to Q2 for the second Grand Prix in succession. The South African edged out Red Bull KTM Tech3's Miguel Oliveira (13th on the grid and ahead of Tech3 teammate Iker Lecuona in 16th) by less than a tenth of a second. Binder then charged hard in the final minutes to seal 7th. He will head the third row for the 21-lap chase Sunday afternoon.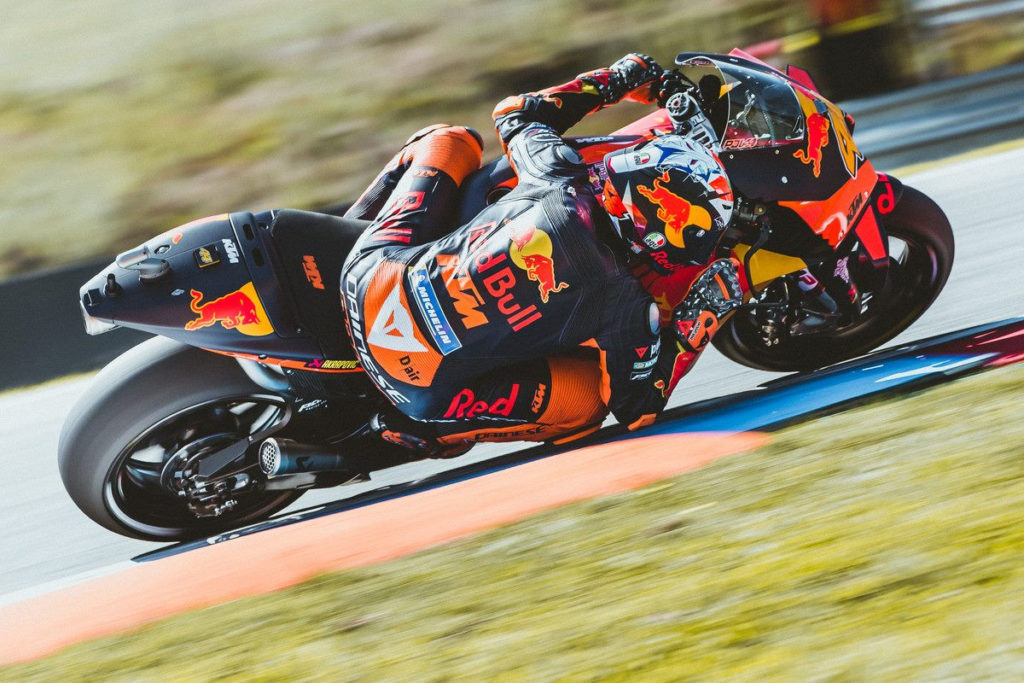 Pol Espargaro: "A good morning and a good FP3 to go to Q2 which was the target. I felt really good with the bike and I felt I could be faster. I was confident and I was pushing on the second tire. The yellow flag was in the middle of the corners was impossible to see from my position on the bike. I know we need to respect the flags but they must also do good job in making them visible. I'm frustrated but we showed our potential. The top six and the second row is always good but the lap being taken away was tough. We will reset for tomorrow and we are in a good spot for the race."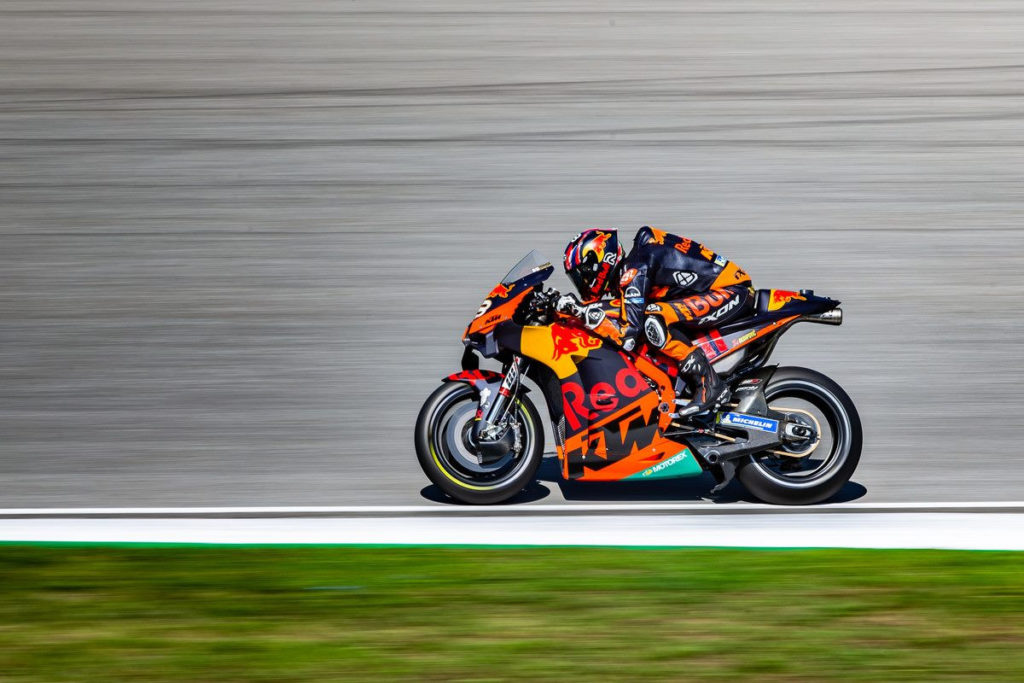 Brad Binder: "Going into FP4 we made a good step with the bike. It's strange because we did not make any big changes, but it really helped with my feeling on the bike. With more confidence I was able to give it more of a push. I was really happy and did not expect to get 7th because I'd used all my tyres in Q1. I was really shocked at the lap-time I could do. It is awesome to make it to the Q2 for the second time in a row. In general, I feel good and I need to say thanks to the team because they did a great job. I'm looking forward to getting the race underway tomorrow."
Miguel Oliveira: "Overall, it was a positive day. We knew that going through Q1, it's going to be difficult. Anyway, I gave my 'all' but it was not enough, very tight. I am very positive and confident for the race tomorrow. I feel like it's going to be a lot different. We are in a good position, we worked well, so we should be relaxed and focused."
Iker Lecuona: "Today I'm really happy because this morning I managed to improve with the bike and also regarding my pace. I continued to improve. I knew it was possible to have a really good Qualifying and finally, I improved my lap time a lot and I ended up just around one second from the top. So, the gap is very small compared to yesterday and this morning. I'm really happy and want to thank my team for all the hard work. I'm curious to see what we can do in the race."
Moto2 & Moto3
Red Bull KTM Ajo's Raul Fernandez celebrated his first ever Moto3 Pole Position thanks to his effort in Q2 that placed the Spaniard two-tenths of a second ahead of Gabriel Rodrigo. The 19-year old was one of two RC4 riders in the top ten; championship leader Albert Arenas being the other. In Moto2 Red Bull KTM Ajo's Jorge Martin was 6th.
Raul Fernandez: "I want to thank the team and my family for the support they have shown me; we have done a great job together. We have said it before: we feel very strong, and little-by-little we are taking steps forward thanks to the good work by my crew. Now we have to finish off the weekend with a strong result in the race. We have a little bit of extra strength in reserve to fight tomorrow at close quarters."
More, from a press release issued by Esponsorama Racing:
JOHANN ZARCO GETS THE FIRST 'POLE POSITION' OF THE ESPONSORAMA RACING IN BRNO AND TITO RABAT WILL START 15TH
Esponsorama Racing completed a brilliant qualifying session at the Czech Republic Grand Prix, where Johann Zarco took the pole position and Tito Rabat 15th.
The French rider, who showed a great pace all weekend with his Ducati Desmosedici GP19, managed to qualify directly in Q2. During the qualifying session, after setting a time of 1'55.687, Zarco was able to beat his rivals despite Fabio Quartararo's crash during his last lap, who came at +0.191, which would not have improved the Esponsorama Racing rider's time, achieving the team's first pole position since its debut in MotoGP.
Tito Rabat has finished in a meritorious 15th position after the great evolution he has shown since yesterday. The rider from Barcelona will fight from the first lap to climb positions and obtain the best possible result in the race.
Tomorrow at 14:00 the Czech Republic Grand Prix race will start, which, after the successful qualifying session, the team faces with great expectations.
The Esponsorama Racing team would like to apologise for the impression it may have made through the television images celebrating the crash of Fabio Quartararo. The team expressed its great joy at how incredibly close it was to achieving its first pole position since its debut in the MotoGP class in 20 years. Again we would like to apologise to Fabio Quartararo and Yamaha Petronas. Vive la France!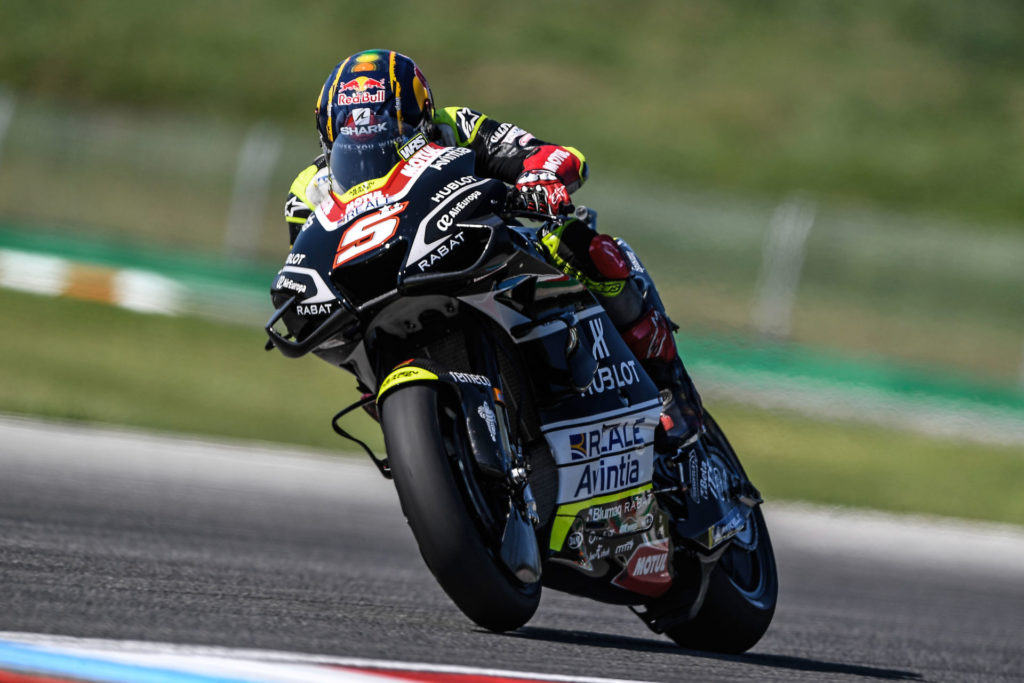 JOHANN ZARCO – P1
"Fantastic Saturday here in Czech Republic. A surprise for many people and even for me. The pole position is amazing. Friday I was performing well and with the new tyres I was much better than in Jerez, and we confirm it today. I'm enjoying a lot and I'm so happy for the team to offer them this pole position and also happy for me that it's a very good sign for all what I'm learning and all what I'm doing with the bike. Tomorrow is a good chance to have a good race."
TITO RABAT – P15
"First of all I want to congratulate Johann and the team. We had a good day today and we've been setting times that are closer to 'pole' every time. I have a good feeling, we are getting closer and better session after session, trying new things. The positive thing is that we have seen that we can be on top and keep working to follow this upward line."
More, from a press release issued by LCR Honda Castrol:
CRUTCHLOW ON THE FOURTH ROW IN BRNO
Cal Crutchlow will start the Czech Republic Grand Prix from the fourth row of the grid after a mixed day of qualifying on Saturday. As on Friday, the LCR Honda CASTROL rider again looked assured on his RC213V following his recovery from wrist surgery, but was denied a better position on the grid for Sunday's race by a late fall in Q2.
Having ended the opening day in 17th on the timesheets, Crutchlow eased into Q2 with a fine late lap that saw him claim eighth position in FP3. After focusing on his set-up in FP4, the Briton was occupying eighth in Q2 when he crashed towards the finale of the session and ultimately had to settle for 12th spot as the remainder of the group improved their times. But the 34-year-old is still pleased with the progress he has made so far and is confident of a positive result on Sunday.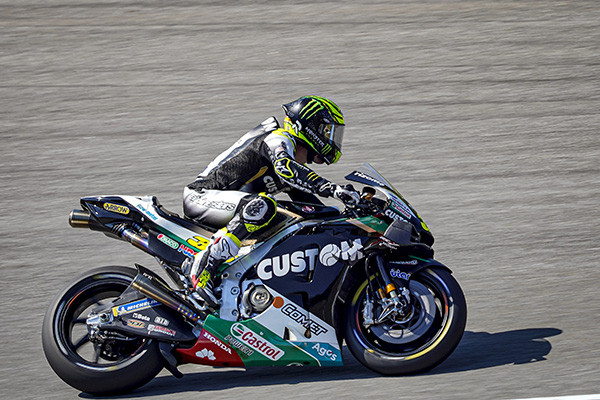 Cal Crutchlow – 12th
(1'56.797)
"Today was a good day, apart from the qualifying session when I crashed at turn nine. It was my own mistake when I leaned the bike over a little bit too much and then tried to turn back to get the best acceleration out of the corner, I had a little bit too much front brake on at that moment. It seemed to go really fast and unfortunately I didn't make a great lap, but I feel confident with what we've done over the weekend. I feel better on the bike and I believe we can have a good race tomorrow."
More, from a press release issued by LCR Honda Idemitsu:
CURB PENALTY WRECKS TAKA'S QUALIFYING HOPES IN BRNO
An unfortunate Takaaki Nakagami will start the Czech Republic Grand Prix from the sixth row after he was penalised during Saturday's Q1 session. The LCR Honda IDEMITSU rider – who was fastest in Friday's FP1 – looked to have secured his place in Q2 with a flying lap, but saw his time cancelled after an infringement and instead had to settle for 17th position on the grid.
Sitting ninth in the standings overnight, Nakagami was unable to claim automatic qualification for Q2 after ending 12th in the morning's FP1 session. But, having finished 10th in FP4, the Japanese star looked to have taken second spot in Q1 before officials spotted that he had touched the green markings on the track towards the end of his fastest lap. Despite that setback, Taka remains upbeat ahead of Sunday's race.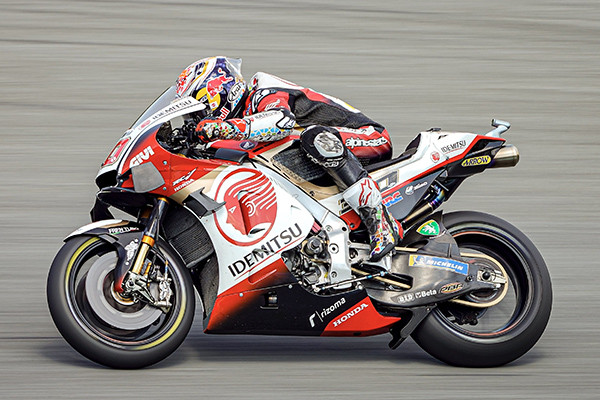 Takaaki Nakagami – 17th
(1'56.822)
"Of course I'm disappointed, because we did a quite good lap time and thought we would be able to go through to Q2, but unfortunately I touched the green and that was our best time. I got a penalty and had the lap time cancelled. I'm really disappointed about the starting grid and our position, tomorrow we will be in 17th so it's going to be difficult for the race. But as you can see, everyone is so close on the lap times so we have to be positive about this and see what happens in the race. The tyre management will be difficult, but we must make a good start and then concentrate and make no mistakes. As a minimum we must finish the race, but we are still quite confident about getting a good position."
More, from a press release issued by Ducati:
Petrucci and Dovizioso ended as eighth and eighteenth quickest respectively in the Czech GP qualifying in Brno. Johann Zarco will start from pole position with the Ducati bike of Team Esponsorama Racing
Danilo Petrucci will start from the third row of the grid in the race of the Czech Grand Prix scheduled for tomorrow at 2:00 PM local time at Automotodrom Brno. The Ducati Team rider was able to improve during this morning FP3 as he finished with the tenth fastest time overall, that sent him directly into Q2, where he finished in the eighth position with the fastest lap in 1:56.454.
It was a more challenging day for his teammate Andrea Dovizioso, who will depart from the 18th spot of the grid in the Czech GP. The rider from Forlì was thirteenth at the end of this morning FP3. Forced to take part in Q1, Dovizioso finished in the eighth position, and he will, therefore, start from the sixth row of the grid in the race tomorrow.
Starting from pole position will be the Ducati rider of Team Esponsorama Racing Johann Zarco. The Frenchman put in a sensational lap in 1:55.687 with his Desmosedici GP bike, taking the pole position with a margin of over three-tenths of a second on Quartararo in the second position.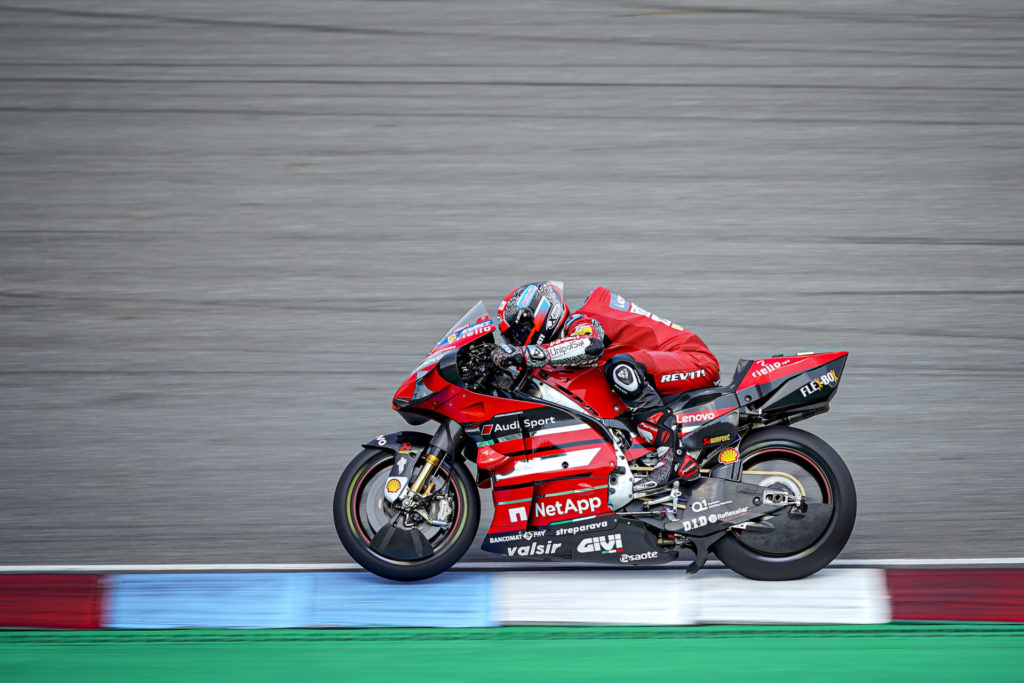 Danilo Petrucci (#9 Ducati Team) – 1:56.454 (8th)
"I am delighted with today because we have managed to achieve our main goals. Surely, the most important thing was trying to be fast in FP3 to access directly into Q2. I am also quite satisfied with the result of the qualification, but tomorrow it will be important to adopt a solid race strategy: the lack of grip makes the track conditions quite difficult, and we will also have to manage well the tyre to reduce their consumption. I will try to stay as close as possible to the front from the beginning to fight for the top positions."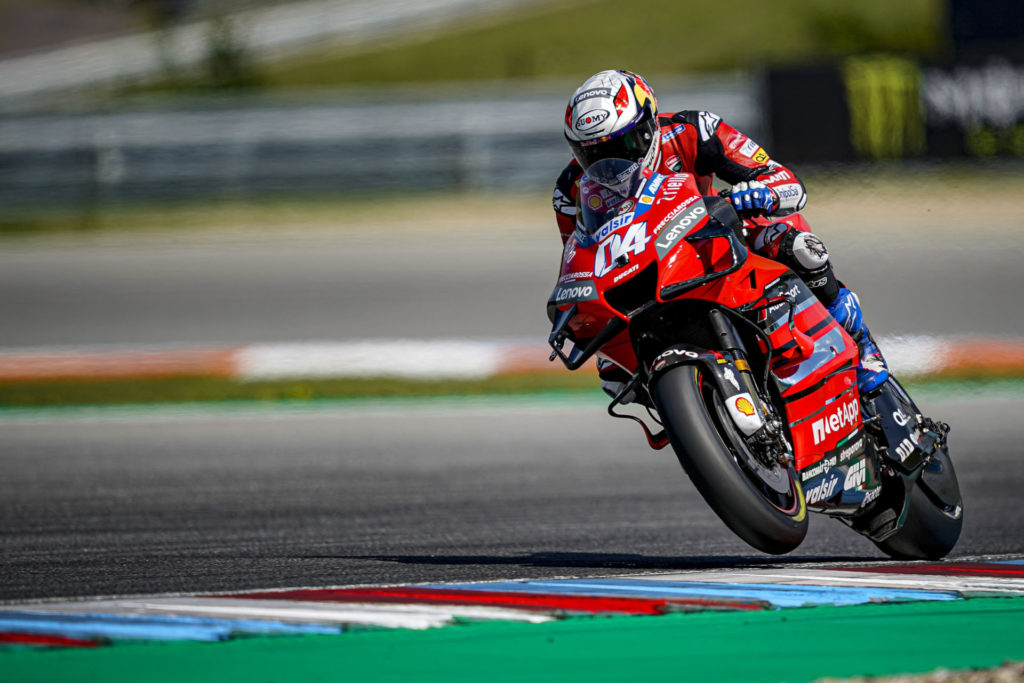 Andrea Dovizioso (#04 Ducati Team) – 1:57.034 (18th)
"It was a strange day. Honestly, I don't know what happened this afternoon in qualifying, so we will have to study well the data to figure out what the problem was. Of course, it would have been important to be able to start from the front positions: our pace is similar to that of the best riders, but in the race, the consumption of the rear tyre will put everyone to the test. Now we will do our best to be ready for tomorrow."
The Czech GP will start at 2:00 PM local time tomorrow on a 21-lap distance and will be preceded by the warm-up scheduled for tomorrow morning from 9:20 AM local time (GMT +2.00).