Fastest Race Lap, Lap 11, 1:30.904, Marc Marquez, 2019
New Race Lap Record: 1:30.904, Marc Marquez, 2019
All-Time Lap Record: 1:29.719, Fabio Quartararo, 2019
FIM MotoGP World Championship
Buriram International Circuit
Buriram, Thailand
October 6, 2019
MotoGP Race Results (all using Michelin tires):
Marc Marquez, Spain (Hon RC213V), 26 laps, 39:36.223, 111.417 mph
Fabio Quartararo, France (Yam YZR-M1), -0.171 second
Maverick Vinales, Spain (Yam YZR-M1), -1.380 seconds
Andrea Dovizioso, Italy (Duc GP19), -11.218
Alex Rins, Spain (Suz GSX-RR), -11.449
Franco Morbidelli, Italy (Yam YZR-M1), -14.466
Joan Mir, Spain (Suz GSX-RR), -18.729
Valentino Rossi, Italy (Yam YZR-M1), -19.162
Danilo Petrucci, Italy (Duc GP19), -23.425
Takaaki Nakagami, Japan (Hon RC213V), -29.423
Francesco Bagnaia, Italy (Duc GP18), -30.103
Cal Crutchlow, UK (Hon RC213V), -33.216
Pol Espargaro, Spain (KTM RC16), -35.667
Jack Miller, Australia (Duc GP19), -39.736, started from pit lane
Andrea Iannone, Italy (Apr RS-GP), -40.038
Miguel Oliveira, Portugal (KTM RC16), -40.136
Tito Rabat, Spain (Duc GP18), -44.589
Jorge Lorenzo, Spain (Hon RC213V), -54.723
Karel Abraham, Czech Republic (Duc GP18), -56.012
Hafizh Syahrin, Malaysia (KTM RC16), -61.431
Aleix Espargaro, Spain (Apr RS-GP), -9 laps, DNF, retired
Mika Kallio, Finland (KTM RC16), -23 laps, DNF, crash
World Championship Point Standings (after 15 of 19 races)
Marquez, 325 (clinches 2019 Championship)
Dovizioso, 215
Rins, 167
Vinales, 163
Petrucci, 162
Rossi, 145
Quartararo, 143
Miller, 119
Crutchlow, 102
Morbidelli, 90
Pol Espargaro, 80
Nakagami, 74
Mir, 58
Aleix Espargaro, 46
Bagnaia, 34
Iannone, 33
Oliveira, 29
Johann Zarco, 27
Lorenzo, 23
Rabat, 18
Stefan Bradl, 16
Michele Pirro, 9
Sylvain Guintoli, 7
Syahrin, 7
Abraham, 5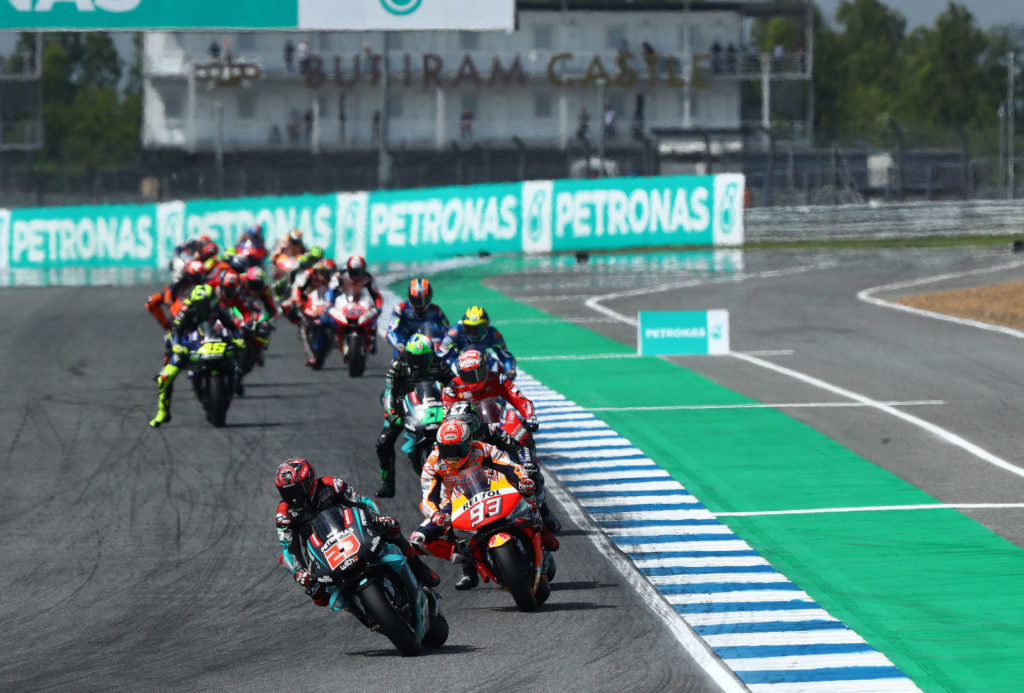 More, from a press release issued by Dorna:
Marquez vs Quartararo: the reigning Champion repels the rookie to rule in Buriram
The Frenchman took it down to the last lap once again, but Marquez plays his cards to perfection to win the race and title number eight
Sunday, 06 October 2019
Marc Marquez (Repsol Honda Team) was crowned an eight-time World Champion as he took victory in the PTT Thailand Grand Prix, but it was far from easy going as rookie sensation Fabio Quartararo (Petronas Yamaha SRT) once again took the reigning Champion to the wire on race day. The two were locked together on each and every lap, with the final corner deciding it all as Quartararo hit attack mode and dived up the inside, but Marquez kept the better of him. Behind the two, Maverick Viñales (Monster Energy Yamaha MotoGP) completed the podium.
It was Quartararo who kept the lead from pole as the lights went out, with Marquez on his tail from the off as Viñales lost a place off the line. Andrea Dovizioso (Ducati Team) did the opposite and shot through the pack, up from seventh on the grid to muscle his way into P4 straight away – first mission accomplished. Despite the start though, Marquez, Quartararo and Viñales started to pull away, with the number 12 particularly keen to make a move on Marquez. Not long after, however, the front two also started to drop Viñales.
Trying to attack Quartararo early doors, Marquez had run slightly wide and from then on, the reigning Champion seemed more content to sit behind the rookie Frenchman – just as he did at Misano. Sometimes further away, sometimes a little closer…sometimes seeming to fade and then suddenly pulling the pin to move back in, Marquez stalked his prey lap after lap.
Viñales couldn't stay with the pair, and as they moved on to the final lap it was set in stone as another rookie-reigning Champion duel. And the ball was in the reigning Champion's court, with Marquez trailing the Frenchman as he had all race. But he struck early, where he'd feinted the move a few laps before, outbraking Quartararo at the end of the back straight. Now, it was all on the rookie. Could he stay with him? Could he attack back?
Throughout the lap the Yamaha was making up the distance on the Honda in the lead, and blasting down towards the final corner it seemed he was close enough. Sure enough, 'El Diablo' pulled out, back wheel in the air as he dropped anchor, slamming it up the inside…but Marquez was ready. The number 93 cut back and gassed it towards the line, just able to stay ahead to take the win and a stunning eighth world title, his sixth in the premier class.
Quartararo, meanwhile, was left with another second place – but he was closer than last time, and will surely be closer again…
Viñales completed the podium after another solid but ultimately lonely race, not quite on terms with the duel ahead but nearly ten seconds clear of Dovizioso in fourth, who found race day tougher going in 2019. Second in the Championship, however, seems ever more likely.
Alex Rins (Team Suzuki Ecstar) recovered from a tougher qualifying and tougher start to the race to complete the top five, just two tenths off Dovi by the flag. Franco Morbidelli (Petronas Yamaha SRT) took P6 and another solid haul of points despite fading a few positions from the start.
Joan Mir (Team Suzuki Ecstar) took on Valentino Rossi (Monster Energy Yamaha MotoGP) and won, four tenths ahead of the veteran by the flag, and both leapfrogged second row starter Danilo Petrucci (Ducati Team). The Mugello winner came home in a lonely P9.
Takaaki Nakagami (Idemitsu Honda Team Asia) was the second Honda home as he completed the top ten, ahead of rookie Francesco Bagnaia (Pramac Racing). Cal Crutchlow (LCR Honda Castrol) suffered braking issues and could only manage 12th at Buriram.
Pol Espargaro (Red Bull KTM Factory Racing) was able to take P13 as he comes back from injury, impressive once again and going the distance, with Jack Miller (Pramac Racing) taking P14. Why? The Australian unfortunately hit the kill switch on the grid and had to start from pitlane. Considering that, it was quite a comeback, just edging ahead of Andrea Iannone (Aprilia Racing Team Gresini), who in turn beat Miguel Oliveira (Red Bull KTM Tech 3).
And so, that's a wrap on the 2019 Championship fight, although it's far from the end of the season. Marquez breaks more records and takes home another trophy, and Quartararo takes home yet more experience to keep improving his already impressive armoury. Next up it's the Twin Ring Motegi…tune in in two weeks, when Marquez could be unleashed…
Marc Marquez: "I am very happy because when you have this big advantage, you need to realise the Championship is very close. But then you need to find extra motivation; an extra motivation was to try to close the Championship in this way. In a nice race with a nice victory. That's what I did. I mean, Fabio was incredibly fast during the race. I never gave up in the middle of the race, it looked like he was going away but I tried to push. Until the last lap I was pushing, and I never think about the championship – just I was thinking about the race. When I crossed the line, you know, when I arrived…especially with the Repsol Honda Team that they did an amazing job this year. I was very happy dreams come true with all fan club nice celebration.
"Every year is special. First of all because it is not easy to keep the same ambition, same mentality and especially the team always understand the situation and when we had some problems…you never give up, keep calm and this is so important. This is the most difficult thing. For this reason the pressure is there, and you feel it. You are human and you feel it. Of course, the winter was hard, with a big injury on my shoulder. We didn't start the season in a hundred percent physical condition. But we've managed it in a good way and now it's time to celebrate all this.
"Now it's time to celebrate, time to enjoy. Of course, these last races our intention, our ambition, our mentality is the same. It's true that when you win the Championship your body switches off one light. We have five lights, switch off one. But we will try to push, one of the targets is to win the triple crown. Constructors we are there, team championship will be difficult. But we never give up. Now it's time to celebrate… but start 2020 in Motegi!"
More, from a press release issued by Aprilia Gresini Racing:
AFTER A VERY POSITIVE WEEKEND, ALEIX HAS TO THROW IN THE TOWEL DURING THE RACE DUE TO A TECHNICAL PROBLEM WHILE IN THE TOP TEN
ANDREA IANNONE RIDES HIS RS-GP TO A POINTS FINISH IN THAILAND
As confirmation of the progress demonstrated in recent races, Aleix Espargaró had one of his best rounds on the RS-GP during a weekend where he was always fast and consistent on a track that is traditionally difficult for the Aprilias. Aleix started well, moving into tenth place, battling with Petrucci and keeping the groups duelling for the positions from fourth to eighth in sight. However, during the eighteenth lap, he had to return to pit lane for a problem, probably of an electronic nature (the team is currently investigating) which slowed down his bike. Along with the disappointment, the satisfaction remains for a weekend that highlighted a clear improvement for the bike from Noale.
Andrea Iannone also had a weekend that demonstrated more than one positive sign. Not helped by his pace in the less flowing sectors, he finished fifteenth and in the points at the end of a race where he battled with Crutchlow and Oliveira before yielding fourteenth place to Miller, just in the final stages.
ALEIX ESPARGARO'
"This weekend, we basically worked perfectly. On what may be the most difficult track for us, we found a good setting which let me battle with Petrucci without losing sight of the group ahead of us. Unfortunately, nine laps from the end, an electronic problem forced me to stop when we had the chance to bring home a good result. Evidently, luck is not on our side this year, but in the last few races, we have demonstrated that we can take advantage of the RS-GP at the limit."
ANDREA IANNONE
"I'm not pleased with the race. I struggled from the first lap in the initial part of the track. When I am in a slipstream, I'm able to limit the damage, but the lack of speed forces me to ride in a way that is less than ideal. This triggers a series of other problems, like stress to the front tyre or an increase of the temperatures, so it is an extremely limiting factor. At the moment, this is our biggest problem. I expect Aprilia to keep working to solve it. On my part, when I got out on the track, I will always be giving 100%."
More, from a press release issued by Team Suzuki ECSTAR:
FIFTH AND SEVENTH FOR RINS AND MIR IN THAILAND
Alex Rins: 5th (+ 11.449)
Joan Mir: 7th (+ 18.729)
• Alex Rins fights through to important 5th place.
• Joan Mir impresses in rookie run to take 7th.
A packed crowd filled Chang International Circuit for Round 15 of the 2019 MotoGP World Championship, where Joan Mir and Alex Rins made solid starts from their 8th and 10th grid spots. The SUZUKI ECSTAR pair were battling for the top 7 positions from the first laps onwards, and both got stuck into a fight with Rossi. The Italian was running ahead of Mir and Rins, but with 16 laps to go, Rins made a pass and was swiftly followed by his team-mate.
Rins was keen to continue his progression through the pack, and he steadily chipped away the gap to Morbidelli and Dovizioso in front of him. With 11 laps left, he had passed the Yamaha rider and was closing in on the Ducati. Alex managed the remainder of the race well, taking 5th place at the line and securing useful points.
Meanwhile, Joan Mir put in an impressive performance on his first appearance at Buriram with the GSX-RR, gapping Rossi and settling himself into a consistent and controlled race pace. He finished in 7th place, his best result since returning from injury.
Team SUZUKI ECSTAR would like to congratulate Repsol Honda Team and Marc Marquez for the World Title they won today in Thailand.
Ken Kawauchi – Technical Manager:
"It's a pity we couldn't fight for the podium today, but Alex did well to gain five places back from grid. Joan's target was to keep up a consistent pace and get a good finish, which he achieved. So, both riders did well today, even if we would have liked slightly higher positions, so we have to come back to fight for better positions as soon as possible."
Davide Brivio – Team Manager:
"In the end it's been a positive day. Alex did a good job and recovered a lot of places, and it was difficult to get a better result in such a spread-out race considering the starting position. Joan had strong pace and he stayed with the top riders and fought well, so it was a positive step for him, especially as a rookie. We're looking forward to going to Japan next, the home race for our factory."
Alex Rins:
"Today's result is important for the championship, because I managed to get up to 5th and get good points. It was difficult to over-take Dovizioso, but I'm pleased to have recovered some places from my grid position. I'm focused on the next race and bringing a good result to the Suzuki workers in Japan, and in front of all the fans."
Joan Mir:
"I'm really happy about the work we've done this weekend. We are getting closer to the top guys all the time. I struggled a bit with the heat today; my fitness is still suffering a bit after missing training during my injury. But I'm pleased to bring home 7th place. The atmosphere in Motegi is special, I want to do well there and take another step forward."
More, from a press release issued by Monster Energy Yamaha:
VIÑALES BAGS 3RD-PLACE PODIUM RESULT IN BURIRAM RACE
Buriram (Thailand), 6th October 2019
GRAND PRIX OF THAILAND
RACE
Monster Energy Yamaha MotoGP's Maverick Viñales returned to podium form once more in today's PTT Thailand Grand Prix, taking third. Valentino Rossi was on the move in the opening laps of the 26-lap race but fell back two positions and finished in eighth.
3rd MAVERICK VIÑALES +1.380 / 26 LAPS
8th VALENTINO ROSSI +19162 / 26 LAPS
Monster Energy Yamaha MotoGP's Maverick Viñales secured third place on the podium, his sixth podium and fourth bronze trophy of the season. Rossi was strong in the early stages of the race but couldn't maintain his opening pace and finished in eighth place.
Viñales had a good start from second but had to hand over a position to Marc Marquez before Turn 1. The pace was relentless at the front of the field. The two riders ahead of the Factory Yamaha man consistently set times in the low 1'31s. The Spaniard was pushing on every lap but was unable to stay in touch with the leaders, due to a lack of traction.
After seven laps, the gap to second had grown to over two seconds, but the number-12 rider wasn't giving up. With the over 1.5s margin to the rival in fourth growing to nearly 10s, it was a lonely ride for Viñales, but he kept pushing all the way through. He finished in third place, having decreased the gap to the front to 1.380s.
Rossi briefly fell back from ninth to tenth position in the first sector of lap 1, but he made the most of the Yamaha's nimble character in the remaining three sectors and cut through the pack to seventh place. With 22 laps remaining, he also put in a move on Joan Mir. Though the Doctor's foot slipped off the foot peg in the process, he saved the moment and still managed to defend his newly conquered sixth place.
Then with 16 laps to go, the Italian experienced a severe loss of rear grip, costing him two hard-earned positions. Unable to keep up his early pace, Rossi did everything he could to defend his eighth place for the remainder of the race. He successfully held on, crossing the line 19.162s from first.
Today's third place sees Viñales move up to fourth in the championship standings, two places ahead of Rossi, with 18 points between them. Yamaha remains third in the constructor standings, and Monster Energy Yamaha MotoGP also stay in third place in the team classification.
Yamaha extend their congratulations to Marc Marquez of the Repsol Honda Team for taking the 2019 MotoGP World Championship.
Monster Energy Yamaha MotoGP will be back in action at the Twin Ring Motegi in two weeks' time for the Motul Grand Prix of Japan, held from October 18th – 20th.
MASSIMO MEREGALLI
TEAM DIRECTOR
"A podium is always positive, but we expected to be closer to the front. Maverick's third place is for sure a good result, but considering our practice session performances we thought we could fight for the victory today. From Valentino's side it was clear that it's important to start more towards the first row of the grid if you want to challenge for front positions. That said, we have to analyse the data now after the race, because both riders suffered from a lack of grip, but in different ways. Again, Valentino experienced a severe drop of the rear tyre six laps into the race. Still, overall, it's been a positive event for Yamaha. We were strong in all the sessions and there are two Yamahas on the podium. We will try harder in Japan in two weeks' time at Yamaha's home race."
MAVERICK VIÑALES
"I'm happy, I'm feeling positive, and I accept the third place, but it's not enough. We have to work harder and make another step. I noticed a difference between myself, Fabio, and Marc, especially in traction areas. But I was still able to hit good lap times and close the gap at the end of the race. This means we have some strong points, but we have to improve the weak points. When you have no traction and a full tank, it's very difficult to get the lap times. As soon as the fuel went down a bit, I could carry a lot of corner speed and make the lap times again. I had a much better feeling in today's Warm Up than I had during the race, so we need to understand this and improve for Japan."
VALENTINO ROSSI
"Unfortunately, I always have the same problem. After seven, eight, nine laps I started to suffer a lot with the rear tyre. It looks like we have a lack of grip on the rear, yet at the same time we stress the rear tyre more, so the rear tyre then loses performance. Unfortunately, I had to slow down. This race was very similar for me to the previous one, which means there's a problem, because this is not our true potential. It's a shame because this morning in the warm up we found more grip and I felt good, I was fast. My pace was not so bad, also with the used tyre it was good. But for the race, on the same tyre, but a new one, I had more problems. We need to improve and understand this, because we have four more races to go and we have to keep trying."
More, from a press release issued by PETRONAS Yamaha SRT:
Sensational podium number five for Quartararo at Thailand GP
Fabio Quartararo leads for all but final lap to take another podium finish in second for PETRONAS Yamaha SRT as Franco Morbidelli finishes sixth
Thai GP – 6 October 2019
Fabio Quartararo has taken a sensational fifth podium finish of his rookie MotoGP season for PETRONAS Yamaha Sepang Racing Team at the Thailand Grand Prix, finishing a mere 0.171 secs behind 2019 World Champion Marc Marquez. Team-mate Franco Morbidelli also enjoyed a strong result at the Buriram International Circuit, finishing just one place off his best-ever in sixth.
Quartararo was once again able to spend almost all of the race in front, converting his pole position into the race lead with a blistering start. Defending from Marquez until the final lap of the race, the newly-crowned world champion was just able to make a move in the few corners, leaving Quartararo to settle for second place for the second time in three races. The result helps consolidate his lead in the rookie of the year and Independent Riders' championship, as well as moving him to only two points from sixth in the overall title fight.
Morbidelli also enjoyed a strong race, getting a strong start of his own to spend much of the race battling for fourth place. Eventually dropping back just a little as the race progressed, he was able to rally again towards the end to secure sixth place and yet more valuable points for the team to extend PETRONAS Yamaha SRT's lead in the Independent Teams' championship in their first year in the premier class.
The 2019 MotoGP World Championship continues at the Grand Prix of Japan on 20th October, with practice kicking off at the Twin Ring Motegi on 18th October.
Razlan Razali, Team Principal: "What a race! Congratulations to Marc Marquez for his eighth World Championship. He really does set an exceptional benchmark. We were close today, so we are extremely happy with today's second and sixth positions with Fabio and Franky. For us to be fourth in the Team Championship is fantastic, especially as we extended the margin as the leading Independent Team and Fabio extended his lead as the leading Independent Rider. In Moto2, Adam impressed as we gave him the target of finishing the race to gain experience, but he not only achieved this, but was able to make a good haul of positions too. In Moto3, John and Ayumu both had great pace. John was cruelly taken out of the race, whilst Ayumu was unfortunate to fall after having pushed so hard from the back of the grid. Our focus remains the same as we continue to the next round in Japan where we will be pushing hard to get that first MotoGP win which was so very close to being achieved today."
Wilco Zeelenberg, Team Manager: "Realistically, we're a very proud team at the moment as leading the race for 25 laps is something we didn't even think about at the start of the year. The last lap was an amazing show and it's something for the team to be very proud of. A second and a sixth place means we've secured a lot of points today too, so let's hope we're able to keep that momentum going until the end of the year."
Franco Morbidelli: "I'm quite satisfied with the race as it was another positive day for us. I made a good start and was able to fight for fourth until the last quarter of the race when I just started to struggle a little bit under braking. We've been on a good trend since Silverstone and I'll try to keep that going in Japan. As always, there's room to improve, especially if we look at what the other two Yamahas in front of us are doing, so we know what we have to do."
Fabio Quartararo: "It was an amazing race, thanks largely to feeling so comfortable with the bike from the very beginning. Unfortunately, we didn't finish on the top step of the podium, but we were able to have another fight with the new world champion right to the last corner. It was an important race because we've made another step forward at a track that isn't exactly perfect for us. Marc's race pace in practice was three tenths of a second a lap faster than us, but we were able to battle with him. I gave it my all in the last corner because if I didn't, I wouldn't have been able to sleep until the next race in Japan, and I can't wait to head there next!"
More, from a press release issued by Red Bull KTM:
ESPARGARO TOUGHS OUT THAILAND GRAND PRIX TO FINISH 13TH
MotoGP 2019 Round 15 of 19, Chang International Circuit (THA) – RACE
The PTT Thailand Grand Prix saw Pol Espargaro endure a demanding 26 laps with a freshly operated left wrist to take a creditable 13th position in what was the fifteenth round of nineteen in 2019 MotoGP. KTM celebrated two podium appearances in the Moto2 class and victory in Moto3 thanks to Albert Arenas.
The Chang International Circuit drew the 2019 MotoGP series outside of Europe for the first of four rounds in Thailand, Japan, Australia and Malaysia. The second visit by the championship to the fast and hot layout east of Bangkok saw sweltering conditions influence the 26 lap race that took place early CET.
Setting off from 11th place on the grid Espargaro made his 100th start in the MotoGP class. He slotted into a group vying for positions just outside the top ten and paced himself accordingly. Espargaro gained a slot with the retirement of his brother, Aleix, but was passed late by Cal Crutchlow and reached the chequered flag in 13th with three championship points as a reward.
Teammate Mika Kallio crashed out of his second MotoGP appearance of the year at Turn 8 after just four laps. The Fin will be more hopeful at the following round in Japan where he previously celebrated three Grand Prix victories and four podium results.
Red Bull KTM Tech3's Miguel Oliveira followed Espargaro's rear wheel in the opening phases of the race but the Portuguese's weakened right shoulder meant he could not maintain his pace and capture a slot in the top fifteen. He ended the day in 16th, four places in front of teammate Hafizh Syahrin.
Pol Espargaro: "Coming here with that injury we were not sure if I could do some laps on the bike but we did the practice, Q1 and Q2 and took three points in the race and I think that is more than enough in tricky conditions because the race was very hot and it was tricky to ride like this. I managed to finish, and Japan will be a different story, so I'm looking forward to going there."
Miguel Oliveira: "My pace was very strong and then just after midrace I started to struggle with my shoulder, I was lacking power and just couldn't brake so late to go fast. It's a shame, because the pace was there. Anyway, we have to go on with this and recover as fast as possible. It's just disappointing that this small detail delivered such a huge limitation but I try to prepare myself as best as possible for Motegi."
Mika Kallio: "Unfortunately it is never good to finish the weekend like that. What can I say? We had the expectation to catch some points and I was satisfied with the feeling I had in the first laps and could pass quite a few guys and get up to 16th but the crash was so early in the race. It seems on Sunday, when the tank is full, it helps me a bit better with the grip level. The target is to improve. Today I'm really disappointed. Motegi is next and it has always been quite good for me, somehow the layout always fits quite well to my riding."
Hafizh Syahrin: "It was a truly hard race. I don't know what happened to the bike because I had the feeling there was no power and surely due to the conditions also the engine was very hot. In the exit of the corners, I lost a lot compared to the rest of the riders, therefore, I was unable to benefit from any slipstream. I could just gain a bit of time on the brakes and in entry of the corners but as soon as I picked up the bike, I lost out. I couldn't push anymore, although I pushed more than 100%. It's a pity, but I will keep my head up and fight again in Japan."
Mike Leitner, Red Bull KTM Team Manager: "It was quite a tough weekend for us because we had two riders who are not quite 100% fit. Pol did really well to start the Grand Prix just eleven days after surgery and we could not expect any more. We are happy that he was able to take at least three points for all the effort he made. Miguel is also not quite fit because of his right shoulder and at the end of the race he lost strength in his arm and had to slow the rhythm. This is not so good because he had the potential to get in the points as well. Mika had a crash in the beginning of the race while in the group and these things can happen. Overall we knew this would be a hard GP for us so we are just looking forward to Motegi where we'll hopefully have the riders a bit fitter and we know that Mika will be motivated again."
More, from a press release issued by Dorna:
#8ball: Marquez makes it a magic eighth world title in Thailand
The number 93 becomes the youngest ever eight-time World Champion with victory at Buriram
Sunday, 06 October 2019
Marc Marquez (Repsol Honda Team) is now an eight-time World Champion, with the number 93 fighting off Fabio Quartararo (Petronas Yamaha SRT) for victory at Buriram to secure the 2019 MotoGP™ World Championship in some serious style. The crown makes Marquez the youngest ever six-time premier class Champion, taking the record from Giacomo Agostini, and the youngest eight-time World Champion, taking the record from Mike Hailwood. Marquez has also joined Valentino Rossi and Giacomo Agostini as one of only three riders to have taken six or more premier class World Championships.
Marquez' rise to record-breaker began in the 125 Championship in 2010, two years after making his debut on the world stage at 15. From podium success as a rookie in that debut season, the number 93 rose to lift the crown in 2010 – and he won ten of the last 14 races of the year on his way to that first Championship.
2011 saw Marquez make the move to Moto2™. Although the first part of the season was punctuated by crashes, it suddenly all seemed to click and after his first win in the class, one became seven. Marquez was the man with the momentum as he closed down the gap to Championship leader Stefan Bradl, even taking a podium from 38th on the grid after a penalty at Phillip Island. A crash in practice for the Malaysian Grand Prix would end his charge, however, as the number 93 suffered problems with his eyesight and was forced to forfeit the rest of the season and the chance at the crown.
The subsequent winter was a worrying one as Marquez sought to cure the problem, but surgery eventually got him back to fighting fit for 2012. He came out swinging and was the pacesetter from the off, taking the Championship in style – including a win from the back in the season finale in Valencia. From there, the premier class beckoned for 2013.
No one will ever forget Marquez' debut in MotoGP™. A first podium first time out became a first win second time out, and he went on to become the youngest rider to clinch the premier class crown after a stunning rookie season. He was also the first rookie to achieve the feat in 35 years. But 2013 was only a taste of what was to come, with Marquez' march through the record books continuing the year after.
Victory in the first ten races gave him an unassailable lead in 2014, and he retained the crown at the Twin Ring Motegi. 2015 began well with a win in the Americas GP once again, but the season was characterised by a few more ups and downs as Marquez lost the title for the first – and so far only – time since moving up to MotoGP™. The end of the season was dramatic in itself too, as the number 93 clashed with Valentino Rossi (Monster Energy Yamaha MotoGP) and Rossi's then-teammate Jorge Lorenzo emerged victorious in the Championship.
2016 saw the Spaniard on a serious mission to make sure he took back the throne, adjusting his strategy and riding to take the title and not simply to win races. His new approach to the season saw him able to once again wrap up the crown in Japan on Honda's home turf. 2017 didn't quite go to plan initially, however, as the reigning Champion suffered a DNF in Argentina and had already recorded his third 0 of the campaign by Le Mans. Insurmountable? Despite the best efforts of key rival Andrea Dovizioso (Ducati Team) taking him to the wire – and the two staging some of the greatest duels in modern MotoGP™ history – it was a mountain Marquez was able to climb. That was title number six, and his fourth in the premier class.
Then began 2018 and the long road from Qatar to Valencia was reset once again. Fireworks in the desert as 'DesmoDovi' came out swinging saw their rivalry reignite and the Italian would once again prove Marquez' closest challenger. Marquez ultimately came out on top but there were hurdles on the way – a hotly-debated Argentina race that saw the number 93 get three penalties, a resurgent Jorge Lorenzo, more last corner lunges on Dovizioso – but by Japan Marquez had pulled clear and once again took the Championship on Honda's home turf at Motegi.
2019 could be Marquez' best season yet. It started with another last corner defeat to Dovizioso, but next up Argentina was utter domination to set a tone – although the one hiccup of the year came right after as Marquez crashed in the Americas GP. He bounced back at Jerez and Le Mans to win two on the bounce, however, and only lost out at Mugello by hundredths before he was back on the top step at Catalunya.
The man behind him there would prove a presence for the rest of the Championship: Fabio Quartararo. But despite a season of incredible rivals and races, the key to Marquez' success in 2019 has been consistency: even when beaten by Maverick Viñales (Monster Energy Yamaha MotoGP) at Assen, out-duelled by Dovizioso in Austria or Alex Rins (Team Suzuki Ecstar) at Silverstone; the times he didn't take the victory, the number 93 kept raking in the points and podiums. And he did win duels, including that which ultimately secured him the crown in Thailand – fighting off that very same Quartararo at the final corner.
So after a stunning season so far – because it's not even over yet – Marquez is crowned World Champion for the eighth time and the sixth in the premier class with nine wins, 14 podiums, and a whole host of new records for a man who already owns so many.
The 2019 MotoGP™ World Champion is Repsol Honda Team's Marc Marquez.
MARC MARQUEZ: STATISTICS
• Marc Marquez is the youngest ever rider to win six premier class Championships, at the age of 26 years and 231 days, taking the record from Giacomo Agostini, who was 29 years and 25 days old when he won his sixth premier class title at the 1971 East German GP.
• Marquez is also the youngest rider of all-time to reach the milestone of eight World Championships, taking the record from Mike Hailwood, who was 27 years and 112 days old when he won his eighth title, the 1967 350cc crown, at Brno.
• Marquez has joined Valentino Rossi and Giacomo Agostini as one of only three riders to have taken six or more premier class World Championships.
• Marquez is one of only six riders to have taken eight or more World Championships over all classes, the others being Carlo Ubbiali (9), Mike Hailwood (9), Valentino Rossi (9), Angel Nieto (13) and Giacomo Agostini (15).
• Marquez has won all his MotoGP™ titles riding Honda motorcycles and moves above Mick Doohan as the rider with the most premier class titles with the Japanese manufacturer.
• Only one Spanish rider has won more world titles than Marquez: Angel Nieto, who won 12+1 World Championships (seven in the 125cc class and six in the 50cc class) between 1969 and 1984.
• Marquez has won at least five GPs per season over the past ten years, across three different categories: 125cc, Moto2™ and MotoGP™, beating his own record set over the last two years. Previously, Mike Hailwood was the only rider to have achieved at least five victories per season over seven years, across at least three classes, between 1961 and 1967.
• Marquez has won at least five GPs per season (in any class of GP racing) over the past ten years, equalling the record set by Giacomo Agostini between 1966 and 1975 in the 350cc and 500cc classes.
• Marquez has won at least eight races over five different seasons (in any class of GP racing), equalling Giacomo Agostini and Angel Nieto. Only Valentino Rossi did better, with at least eight wins over eight different seasons.
• Considering only the premier class, Marquez has won at least five GPs per season over the past seven years, beating the record set by Valentino Rossi (2001-2006) and Giacomo Agostini (1967-1972), who each won at least five races over six consecutive seasons.
• Marquez' win at the Czech GP was the 76th of his Grand Prix career, equalling nine-time World Champion Mike Hailwood. At 26 years and 168 days old, Marquez became the second-youngest rider to reach the milestone of 76 GP wins, behind Valentino Rossi (26 years 165 days old).
• At the Aragon GP, Marquez became the youngest rider to reach the milestone of 200 Grand Prix races, aged 26 years and 217 days old.
• The win for Marquez at the Czech GP was his 50th since he stepped up to the premier class in 2013, making him the fourth rider to reach the milestone of 50 premier class wins along with Valentino Rossi (89 wins), Giacomo Agostini (68) and Mick Doohan (54)
• At 26 years and 168 days old, he was the second-youngest rider to reach the milestone of 50 premier class wins, behind Valentino Rossi, who achieved this at the age of 26 years 165 days old.
• Marquez' current tally of nine pole positions extends his all-time pole record (in the modern era since 1974 when full poles began being officially recorded) to an incredible 89 poles across all three classes.
• This season Marquez has won more MotoGP™ races than any other rider (9). He has also scored the most podiums (14) and the most pole positions (9).
More, from a press release issued by Pramac Racing:
ThaiGP RACE. Consistent race for Pecco who fights for the Top 10 until last lap. A fighting comeback by Jack, who was forced to start from pit lane
Francesco Bagnaia and Jack Miller are protagonists of two good comebacks in the Thailand Gran Prix but the final result is not the one hoped for by Pramac Racing.
Pecco starts from the fifth row and is good at recovering four positions in the first 2 corners. The Italian's race pace is incisive and his best lap comes after halfway through the race allowing him to get close the Top 10. In the last laps Pecco tries to catch Nakagami but finishes just 7 tenths of a second from the Japanese.
Jack makes a mistake by turning off the bike before the start so he is forced to enter the pit lane. The immediate intervention of his team allows him to start "only" 10 seconds late. Miller pushes hard and recovers positions on positions. With three laps to go he attacks first Olivera then Iannone to end 14th and take home two points for the standings.
P11 – Pecco Bagnaia
It was a pretty good weekend because we've made progress. Unfortunately, it was a difficult race, conditioned by the starting position. I'm still confident. We are working hard and I consider this weekend a starting point for further improvement.
P14 – Jack Miller
It was my fault. There's no excuse. I inadvertently turned off the bike and was forced to enter the pit lane. It's a shame because we had done a great job over the weekend and we had the race pace to stay in the Top 5. We'll try again in Japan.
More, from a press release issued by LCR Honda Idemitsu:
TAKA ACHIEVES TOP 10 TARGET IN THAILAND
Takaaki Nakagami claimed another top-10 finish at the Grand Prix of Thailand on Sunday as Honda colleague Marc Marquez secured his sixth MotoGP World Championship title. LCR Honda IDEMITSU rider Nakagami battled hard to ensure he came away with a creditable result after gruelling race in hot, humid conditions at the Chang International Circuit.
Starting from 14th on the grid in Buriram, Taka made a fine start and had climbed up into 11th place over the first couple of laps. The retirement of Aleix Espargaro after the midway point saw him enter the top 10 and he maintained that position until the chequered flag. With his home race up next, Nakagami was satisfied with his efforts on a day that ultimately belonged to Marquez and HRC.
Takaaki Nakagami – 10th
"It was a really tough race, with tough conditions for everybody. The grip level on the track was quite nice and right from the start I felt I was able to go a bit faster and I overtook a few riders and got up to P11. Then I gave it my best on every lap and my lap times were really, really consistent. For the whole race (Francesco) Bagnaia was less than a second behind me so that made it tough. But we did our best and I'm quite happy with another top-10 finish. It's important because the next race is my home GP, so I want to say thanks to my team who did a great job all weekend and I'm really looking forward to Motegi. I also want to congratulate Marc Marquez and HRC for their title victory today, they have done an incredible job all season."
More, from a press release issued by LCR Honda Castrol:
CRUTCHLOW CLAIMS POINTS FINISH IN THAILAND
Cal Crutchlow fought back to claim a points finish at the Grand Prix of Thailand as Honda colleague Marc Marquez wrapped up the MotoGP World Championship with his ninth victory of the season on Sunday. LCR Honda CASTROL rider Crutchlow was hampered by braking issues in the early part of the race, but stuck to his task to eventually take 12thposition in Buriram.
Having qualified in 13th on the grid, the Briton endured a bad start and dropped down to 17th as he battled to overcome the problem with his front brake. He was able to move up through the field as the race progressed and made sure he took points from a tough race in testing conditions. Although not satisfied with the result, Crutchlow was quick to pay tribute to Marquez and HRC afterwards as the Spaniard earned a sixth premier class title.
Cal Crutchlow – 12th
"Today was not a great result, but considering the first five laps of the race it was very difficult. I had a brake issue at the start of the race and I was unable to stop, so I had to figure out how to ride the bike with that front brake problem. Then, once I was alone and able to ride, I was able to pick riders off. So I lost a lot of time over the first laps of the race, but then I managed to ride my own race to grab a few points in what was a difficult race weekend. We know we need to improve as a team, and also myself, for the next race in Japan. We also have to give congratulations to Marc Marquez and Honda on the achievement of winning the championship and now we look forward to Japan."
More, from a press release issued by Ducati:
Andrea Dovizioso puts in a good run for fourth place in the Thailand Grand Prix at Buriram. Danilo Petrucci finishes the race in ninth position
Andrea Dovizioso finished the Thailand GP, held today at the Buriram International Circuit, in fourth position. The rider from Forlì, who started from row 3, ran at a consistent pace throughout the race and after moving up to fourth on the opening lap, kept the same position until the chequered flag, defending himself from Rins, who made a comeback in the final stages.
Danilo Petrucci, who started from the second row, was overtaken by several riders on the opening lap, crossing the line in ninth place. The rider from Umbria then began to lap with the same times as the group fighting for sixth place, but was unable to make up the gap from Rossi, who was ahead of him, and he crossed the line in ninth.
Andrea Dovizioso remains in second position in the Riders' standings, 110 points from Marquez who was crowned 2019 world champion today, and with an advantage of 48 points over Rins in third, while Danilo Petrucci drops to fifth place, 1 point behind Viñales.
Ducati still holds on to second place in the Constructors' classification, and the Ducati Team lies first in the special Teams' classification.
Andrea Dovizioso (#04 Ducati Team) – 4th
"It was rather a difficult race because unfortunately we weren't able to improve enough in T3 and T4, where also in practice we were losing out to the frontrunners. It's a pity, but I'd like to offer my congratulations to Marc and his team because they have had a spectacular season. We tried to fight against them but it just wasn't sufficient, so now we'll have to work even harder in view of next season".
Danilo Petrucci (#9 Ducati Team) – 9th
"Without doubt today I made a bit of progress compared to the last few races, but we're still missing something to get back in and fight for the top five positions. That was also my target in this race but unfortunately in the early laps I wasn't able to be quick enough and afterwards, even though I had a good pace, I was too far away from the group of riders ahead of me. In the end we took home a few points but it wasn't the result I wanted: at Motegi in a fortnight my situation will have to change".
The MotoGP World Championship now moves further east to the Land of the Rising Sun where in two weeks' time, the Grand Prix of Japan will be held at the Twin Ring Motegi circuit from 18th to 20th October.
More, from a press release issued by Michelin:
MICHELIN BREAKS ALL RECORDS AS IT POWERS MARQUEZ TO THE TITLE IN THAILAND
Michelin saw the 2019 MotoGP™ World Championship wrapped up in a winning way at the Chang International Circuit as Marc Marquez (Repsol Honda Team) took a thrilling last corner victory on the final lap to secure the title during today's PTT Thailand Grand Prix with the French tyre company seeing every record broken during this weekend's action.
Starting from second on the grid, Marquez settled into a rhythm in second place behind pole-setter Fabio Quartararo (Petronas Yamaha SRT), as the Yamaha rider – who set a new outright record around the 4,554m Buriram circuit in yesterday's qualifying – got the holeshot and led the race with confidence, belying his rookie status. The pair pushed hard at the front, showing confidence in their MICHELIN Power Slick tyres, as they traded record fastest laps, with Marquez coming out on top by logging the quickest circulation and a new race record lap on the 11th time around. As the race drew to an exciting climax, Marquez made his move on the last lap, but the Frenchman battled back and grabbed first heading to the final corner, but the reigning champion, saw an opportunity and used the grip of his Michelin tyres to the full to squeeze every bit of performance as the two headed around the concluding turn, to take a thrilling victory and secure the world title. Quartararo took an impressive second and the position of First Independent Rider, strengthening his lead in that championship and also at the head of the Rookie standings.
This weekend at Buriram has again seen a mixture of weather as warm, sunny conditions greeted the field on day one, leading to fast lap-times in the two sessions, as the riders tried all the different MICHELIN Power Slick compounds to decide on the best configurations for race day. This year saw the first time that the MICHELIN Power Rain tyres were used at the Thai circuit, as heavy rain on Saturday morning meant Free Practice 3 was wet. This gave all the riders the opportunity to use all the compounds of rain tyres to assess the performance on the Buriram asphalt. Fortunately, the track dried completely in the afternoon to witness Quartararo's record-breaking feat in Qualifying, as himself, Marquez and Maverick Viñales (Monster Energy Yamaha MotoGP) all went under the existing outright record. Race-day again witnessed dry and sunny conditions, but cloudy skies kept track temperatures at 48°C, making it perfect conditions for the grip and consistency created by the rear, soft MICHELIN Power Slick. This led to all riders choosing this option, its performance was well proven though, as the overall race duration record was broken by almost 20-seconds. This was not the last piece of record-breaking this weekend as the Event Best Maximum Speed was also beaten, as Danilo Petrucci (Ducati Team) clocked 332.3Km/h in Free Practice 2. Filling the final podium place was Viñales, with Andrea Dovizioso (Ducati Team) in fourth. Alex Rins (Team SUZUKI ECSTAR) was fifth, with Franco Morbidelli (Petronas Yamaha SRT) taking sixth and Joan Mir (Team SUZUKI ECSTAR) crossing the line in seventh. Valentino Rossi (Monster Energy Yamaha MotoGP) finished eighth, Petrucci ninth and Takaaki Nakagami (LCR Honda) rounded out the top-ten.
Another big crowd of 95,352 filled the grandstands around the circuit to witness Marquez take his eighth Grand Prix title, his sixth in the MotoGP class. This was also his fourth consecutive championship – all whilst using Michelin tyres – as he joined a select band of riders that have won four premier class titles in succession throughout the history of the sport, the others being Mike Hailwood, Giacomo Agostini, Mick Doohan and Rossi. The Spaniard's title was also the 30th time the premier class has been won by a rider using Michelin tyres.
Michelin will now briefly return to Europe before embarking on the three-week Pacific Rim tour, which begins with the Motul Grand Prix of Japan at Twin Ring Motegi in Japan on Sunday 20th October, before then heading to Australia and Malaysia respectively.
Marc Marquez – Repsol Honda Team:
"I am really happy with the race, because we won it and we also closed the championship in a champion mode! Winning the race was amazing and this was my fourth consecutive championship with Michelin, so this is fantastic and I also know this is the 30th championship of Michelin in the premier class and it's really nice to be a part of the Michelin history. It has been an incredible season and we understand the tyres really well, we work a lot with our technician, Clement, and Piero also takes care of all the riders and understands what is needed and this is really good for the championship."
Piero Taramasso – Michelin Motorsport Two-Wheel Manager:
"This has been a very impressive weekend Michelin, we broke every single record and showed that the tyres were able to push to the very limit for the whole race, so you could say mission accomplished, but we will not rest on our laurels, because we know we can improve here and we now have a lot more data after our second race visit to Buriram. When we come back next year it will be earlier in the season and conditions will be very different, so it was good that we were able to try all the tyres this weekend to see what worked to the optimum performance. With all the data we had from last year we had a compound for the front and rear that suited everyone and performed well in these particular conditions. We will now study the data so for next year we can have a more open choice, as that is what we always aim for, but from another point-of-view it is also a positive fact that all the riders found a single solution that they were every happy with for the rear and for the front.
"Well done to Marc on his fourth title, he is an incredible competitor and has shown amazing consistency this season. On behalf of Michelin I would like to send him congratulations on his fourth consecutive title with us."
More, from a press release issued by Repsol Honda:
Marquez pots the #8ball with incredible last corner win in Thailand
Marc Marquez was crowned the 2019 MotoGP World Champion in the only way he knows how: with a thrilling race win delivered at the final corner.
A full house at the Buriram Circuit were treated to an edge of their seats MotoGP race as they witnessed Marc Marquez crowned World Champion for the eighth time. From the front of the grid, Marquez charged forward and immediately began to chase pole setter Fabio Quartararo. With his only title rival, Andrea Dovizioso, a distant fourth Marquez was able to focus solely on the race win.
After trading fastest laps, the pair settled into their rhythm and Marquez waited for his moment to attack. The final laps were explosive as the 2019 MotoGP World Champion launched an all out assault on the young French rider, moving ahead as the last lap began. But it would go down to the final corner, Marquez expertly defending from Quartararo in the last corner to take the 2019 MotoGP World Championship in style.
With 325 points, nine wins, 14 podiums, nine poles and 10 fastest laps – Marc Marquez becomes the MotoGP World Champion alongside the Repsol Honda Team for the sixth time and takes the eighth World Championship of his career. The victory is also Honda's 150th in the MotoGP class – an achievement no other manufacturer has been able to match.
Jorge Lorenzo suffered a difficult race, unable to improve his feeling in the hotter conditions. Ultimately crossing the line in 18th, Lorenzo is looking ahead to the next race in Japan where he hopes to improve his current feeling and results.
Marc Marquez
2019 MOTOGP WORLD CHAMPION 1ST
"I'm very happy. I'm so happy. When you have an advantage like I had you realise you are so close to the championship but you need to find something to keep you motivated. Today it was winning the race and it's what I did. Fabio was so fast during the race but I never gave up, even during the middle of the race where it looked like he was escaping. It was a beautiful way to win the championship – even if I wasn't thinking about it on the last lap! Arriving in parc ferme with the whole Repsol Honda Team there was fantastic; it's a dream to do it with the whole fan club and the nice celebration. Every year is special, it's not easy to keep everything perfect each year to fight for the title and I had a very hard winter with the injury but myself, the team and HRC managed it well. Now we'll enjoy this feeling a little bit!"
Yoshishige Nomura
HRC President
"Marc Marquez did a magnificent job once again to win his sixth MotoGP title on Honda's 60th anniversary of World Grand Prix racing. I wholeheartedly salute his dauntless riding that mesmerizes his fans, supported by his persistent training and mature attitude towards racing. I'm grateful for all the support in winning the championship he had from the team staff, the many sponsors who support our racing activities, and MotoGP fans worldwide."
Jorge Lorenzo
18TH
"First of all I want to say congratulations to Marc and the whole Repsol Honda Team, eight Word Championships is a very impressive achievement. On my side, it's difficult to accept this result as it is very disappointing. I tried my best to be as fast as possible but in the warmer conditions I had trouble stopping and I found it difficult. We now look ahead to Motegi where we hope we can be stronger."