More, from a press release issued by Dorna:
Take a bow! Martin reigns the Red Bull Ring for magnificent maiden win
The wait is over for Pramac Racing as the rookie puts in a stunner for his first premier class win and the team's first with Ducati
Sunday, 08 August 2021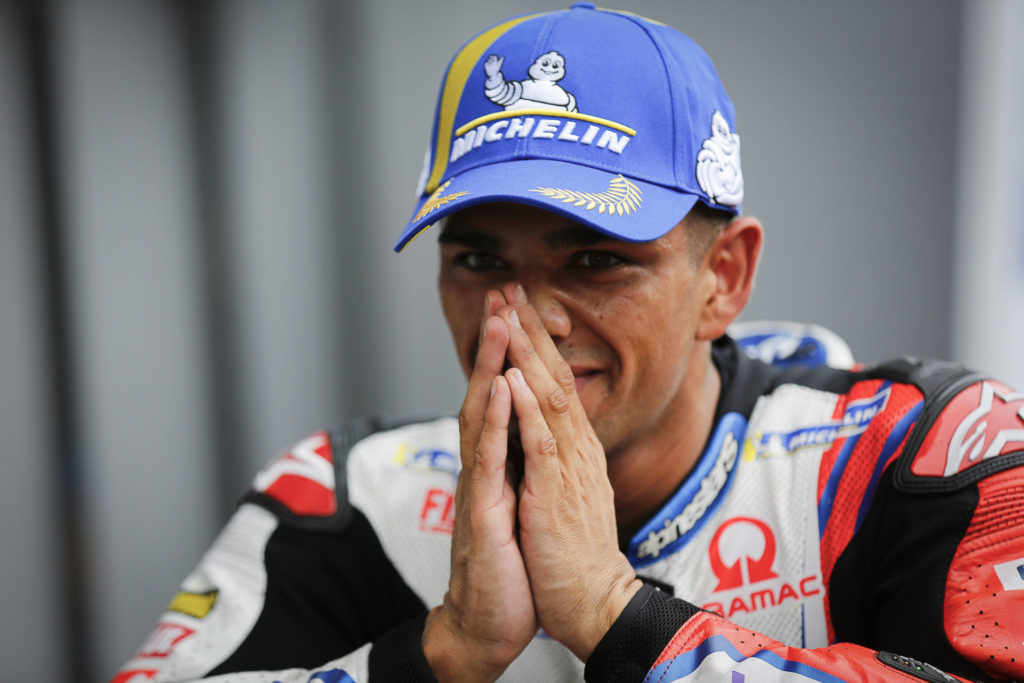 Ladies and gentlemen, there's a new MotoGP™ winner in town! From injury to pole position to top step of the podium, comeback stories don't get much better than Jorge Martin's (Pramac Racing) first weekend back from the summer break. The Spaniard broke the lap record for pole on Saturday and then put in an imperious performance to outpace reigning Champion Joan Mir (Team Suzuki Ecstar) on Sunday, taking his first premier class win and becoming the first Independent Team rider on a Ducati to win a MotoGP™ race. And for Pramac Racing, the wait is over as that victory with Ducati finally comes their way.
Mir took second and his best result of the season so far, with Championship leader Fabio Quartararo (Monster Energy Yamaha MotoGP) completing the rostrum to do some impressive damage control in the standings at a tougher venue for Yamaha.
The first race start of two saw Francesco Bagnaia (Ducati Lenovo Team) take the holeshot as Mir and Martin slotted in behind, but it wasn't long before a huge moment of drama would interrupt proceedings. A couple of laps later, MotoGP™ Legend and wildcard Dani Pedrosa (Red Bull KTM Factory Racing) slid off out of Turn 3 – and his bike was then struck by Lorenzo Savadori (Aprilia Racing Team Gresini). Both riders were up and ok after the crash, but the bikes burst into flames and the Red Flag came out immediately – leaving a clean-up job to do.
Savadori headed for a check up and was found to have fractured his right malleolis, therefore out of the restart – but Pedrosa was able to get back out. After a considerable wait for the track to get cleaned and race ready, a new distance of 27 laps was set and the grid lined up again.
But again, more drama hit – this time for Maverick Viñales (Monster Energy Yamaha MotoGP) as the number 12 couldn't get away on the Warm Up lap and was forced into pitlane. That left a gap on the grid, and the lights then finally went out for the second time.
This time around, Martin took the holeshot but Jack Miller (Ducati Lenovo Team) struck at Turn 3, with Mir slotted into third and a gap back behind the trio already. Quartararo was on the chase, with another – after the same in the first start – moment between Marc Marquez (Repsol Honda Team) and Aleix Espargaro (Aprilia Racing Team Gresini) slightly shuffling the pack just behind as El Diablo took the inside line and the room ran out.
At the front though, Miller led Martin led Mir, but Quartararo was homing in – and closest Championship challenger Zarco was the last man going with the front group. Bagnaia, meanwhile, had dropped behind both LCR Honda Castrol's Alex Marquez and LCR Honda Idemitsu's Takaaki Nakagami. Another rider of note was Brad Binder (Red Bull KTM Factory Racing), as the South African started to ignite his Sunday charge, up into ninth and looking like little would stop further progress.
Up ahead, by the braking zone for Turn 3, Martin was into the lead and past Miller though, and Quartararo and Zarco switched and switched back. Mir then got past Miller to get on the chase for victory, and a gap started to open up behind the leading duo. By 21 to go, Quartararo moved past the Australian too, and Miller responded at Turn 4 before El Diablo elbowed his way back through. With that, the gap to the lead duo only grew…
Quartararo managed to hold on in third, but then more drama hit behind him to assure it. Martin and Mir had disappeared in the distance and Miller was starting to put the pressure on the number 20 in the fight for the podium, but disaster hit for the Australian with 10 laps to go. Suddenly sliding out at Turn 7, his rostrum hopes were over and the Yamaha ahead was released into some solid breathing space.
From there on out, the key question became: Martin or Mir? But as the laps ticked down, the answer became clearer. The number 89 was edging away, and then a mistake from Mir at Turn 3 just took the gap over a second… and that was that. If Martin could keep it clean, his first premier class win was there for the taking.
Keep it clean he did. Mir did too from there on out, but it wasn't quite enough as the Pramac Racing rider in the lead just pounded on. Over the line, the comeback fairytale was complete and Martin took the flag with a second and a half in hand, making some incredible history with an emotional victory, from a pole position lap record no less. Mir was forced to settle for second but was right back in the hunt – and moved up to third in the standings – with Quartararo a distant but valuable third as Ducati territory didn't play out that way for his closest challengers in the points.
Fourth place, meanwhile, looked set for much of the race. But Brad Binder had other ideas, and the South African absolutely smashed the final lap. Beginning it behind both Nakagami and Zarco, the KTM rider wanted more than sixth and that's exactly what he got. Dispatching the Japanese rider AND the Frenchman in just one lap, the number 33 took fourth and the honour of top KTM on home turf. Sunday rider can also be a compliment!
Nakagami then snatched fifth and Zarco was forced to settle for sixth, losing out some ground to Quartararo. Alex Rins slotted into seventh, with Marc Marquez able to salvage eighth after some dramas for the number 93 on Sunday. Alex Marquez faded in the latter stages to ninth but still took a valuable top ten… as did Pedrosa, in the end. Bagnaia was given a time penalty for not taking a Long Lap – he exceeded track limits – and that puts the number 26 back into the top ten in Grand Prix racing. An impressive achievement for any rider, but especially more than two years after retirement.
Enea Bastianini (Avintia Esponsorama) took P12 and managed to stay ahead of Valentino Rossi (Petronas Yamaha SRT), who in turn held off Luca Marini (Sky VR46 Avintia). Iker Lecuona (Tech 3 KTM Factory Racing), after a stronger start, completed the points in P15.
So that's all she wrote for Styria… but not for the Red Bull Ring. The stunning venue welcomes MotoGP™ back for more next weekend for the Austrian Grand Prix, and there'll be a new premier class winner lining up: Jorge Martin. Will the deck shuffle again or can he go back to back? We'll start to see some answers on Friday!
Jorge Martin: "I can't believe it, for sure I think I still don't believe it so I'm still not so excited! What I did today was amazing, I kept a really constant pace throughout the race, in the same tenth, and I was super focused. Even if I made some mistakes, my target was to win the race. Joan was impressive today too, he was behind me almost all the race but in the last laps I tried a bit more to brake a bit harder even if the front tyre was destroyed, and I could take a gap for the lead. On the last laps I was thinking a lot of things, about everything and everyone who helped me to arrive here and that's why I was a bit worse in the last laps! But I had the gap to manage. Thanks to all my family, this is one big step towards my dream of being World Champion. Today is one big step, we're a bit closer and I want to dedicate it to all the people who've helped me and also to my grandfather who is still fighting, this is for you. I hope to keep this line for next weekend, it'll be more difficult but I think we still have some margin to work and we'll try for the win again."
Bez is back! The Italian takes victory in style in Styria
A close-fought Moto2™ races sees the number 72 on the top step for the first time this season, joined by Canet and Augusto Fernandez on the podium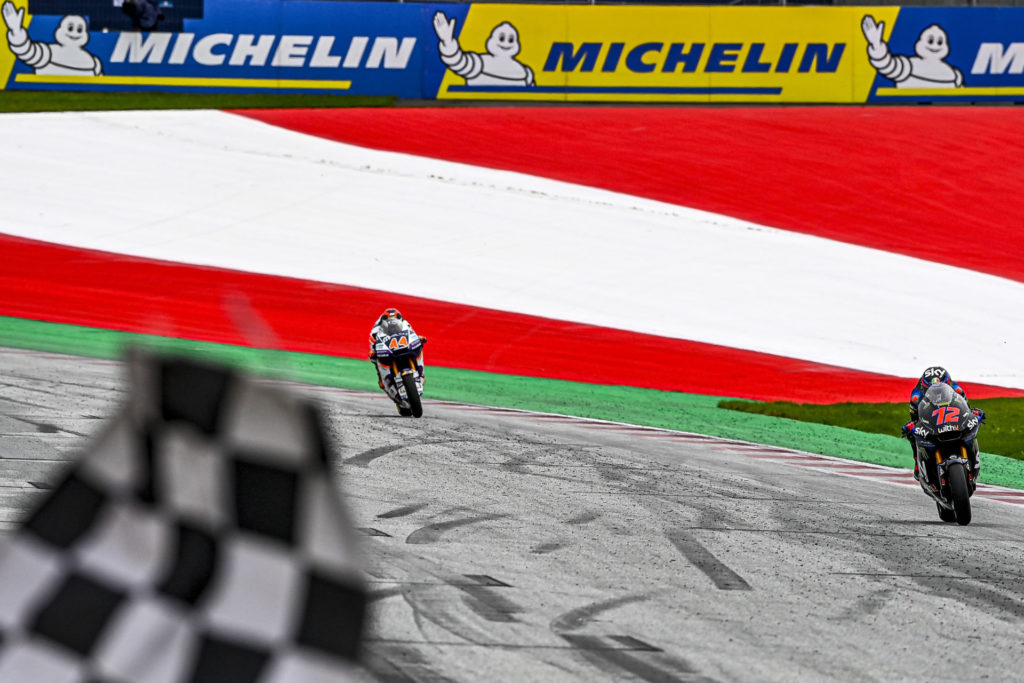 Marco Bezzecchi (Sky Racing Team VR46) was back on the top step in style at the Red Bull Ring, the Italian hunting down his rivals and keeping just enough in reserve to secure his first win of the year. Aron Canet (Aspar Team Moto2) was the rider he just held at bay after an impressive charge from the number 44, with Augusto Fernandez (Elf Marc VDS Racing Team) back on the podium in P3 to pick up where he left off in Assen.
Initially Championship leader Remy Gardner (Red Bull KTM Ajo) got the best launch from pole, but Bezzecchi nabbed the holeshot and Gardner then overcooked it at Turn 3 trying to fight back. So the Italian blasted away, with Raul Fernandez (Red Bull KTM Ajo) up into second as Gardner was forced to slot back into third, just ahead of Canet.
Turn 3 treated Gardner better with the next move he tried, the Australian getting past his teammate to slot in behind Bezzecchi once again. Canet was the next mover as he took Raul Fernandez at the final corner, with the top four enjoying a reasonable gap back to Ai Ogura (Idemitsu Honda Team Asia) on the chase. He, in turn, had Elf Marc VDS Racing's Sam Lowes and teammate Augusto Fernandez close on his tail.
With 19 to go, there was a big shuffle. Bezzecchi headed wide at Turn 1 and both Canet and Gardner swopped round the Italian on each side, the number 44 taking the lead. At the end of the lap Gardner then sliced through on the Boscoscuro to lead… just as Raul Fernandez (Red Bull KTM Ajo) headed wide as well. That left Gardner-Canet-Bezzecchi in a close trio at the front, allowing Ogura into fourth and Lowes and Augusto Fernandez past too.
As the laps ticked on though, Gardner was edging away from Canet, who in turn was edging away from Bezzecchi… and it was Ogura with the momentum as the Japanese rookie slammed in the fastest lap to home in. Augusto Fernandez was a couple of seconds back and had made it through on Lowes, with Raul Fernandez dropped by the frontrunners to head up a freight train stretching back to 12th.
At the front, it looked like Gardner was on for glory, but Canet and Bezzecchi were digging in and fighting back… as was Ogura, the fastest man on track. But Bezzecchi was the first to make try a move as he homed in on Canet, and with 11 to go at Turn 1 the Italian struck and made sure it stuck. Next there was a shuffle as Ogura took Canet and then had the favour returned, but the next move would come at the front…
Bezzechi had Gardner in the crosshairs and the Italian got closer and closer to the leader before putting in another impressive move at Turn 1 with 7 to go. The Australian slipped back past at Turn 3 though as the Italian headed slightly wide, but Bezzechi wasn't done and closed the door through Turn 4, making it stick this time around… and drama hit for Gardner soon after.
Overcooking it at Turn 4 next time around, the Championship leader had to sit it up to avoid Bezzecchi and headed into the gravel. Although upright and rejoining, that left Bezzecchi leading Ogura leading Augusto Fernandez… and then there was even more drama.
After a track limits warning earlier in the race, the message came throughas Ogura was given a Long Lap penalty. That dropped him out of contention for his first podium in some late heartbreak, promoting Canet back into second and Augusto Fernandez, waiting in the wings, into third for another podium.
Bezzecchi held up under some late pressure from Canet, crossing the line for his first win of the season and, fittingly, the 46th Italian win in Moto2™. Canet in turn got back on the rostrum after another impressive race, with Augusto Fernandez showing more solid speed to take another podium, picking up where he left off in Assen.
Gardner managed to hold off Ogura to take fourth, and the Japanese rider was also given another 3-second penalty after not completing his Long Lap within the white lines. And next up, the fight for sixth went down to the wire…
From 19th on the grid, Celestino Vietti (Sky Racing Team VR46) put on an impressive charge and right at the end of the race, the Italian was able to slice past Raul Fernandez for an impressive best Moto2™ result so far: sixth.
Eighth was another best intermediate class result yet for Somkiat Chantra (Idemitsu Honda Team Asia) as the Thai rider concluded a quick weekend with quite a nice haul of points, fighting off Xavi Vierge (Petronas Sprinta Racing), Marcel Schrötter (Liqui Moly Intact GP) and a good charge up to a better postcode from Jake Dixon (Petronas Sprinta Racing). Lorenzo Dalla Porta (Italtrans Racing Team) took 12th just behind that fight, with Fabio Di Giannantonio (Federal Oil Gresini Moto2) just a tenth further back. Sam Lowes slipped to 14th after a run off for the Brit, with Albert Arenas (Aspar Team Moto2) completing the points.
Now it's time to reset, reload and maybe relax as the summer break awaits, before Moto2™ return to action at the Red Bull Ring in August.
Marco Bezzecchi: "It was a tricky race but amazing to fight with the guys, at the beginning I started well and my rhythm  was constant but not enough, Remy passed me but then I understood more and I started to push, getting closer and closer and I thought maybe today was my day. Aron was very fast at the end but I kept something in my pocket!"

Acosta and Garcia stage a Spielberg spectacular
A duel to the final corner sees some last minute drama decide Moto3™ as Acosta continues his Championship charge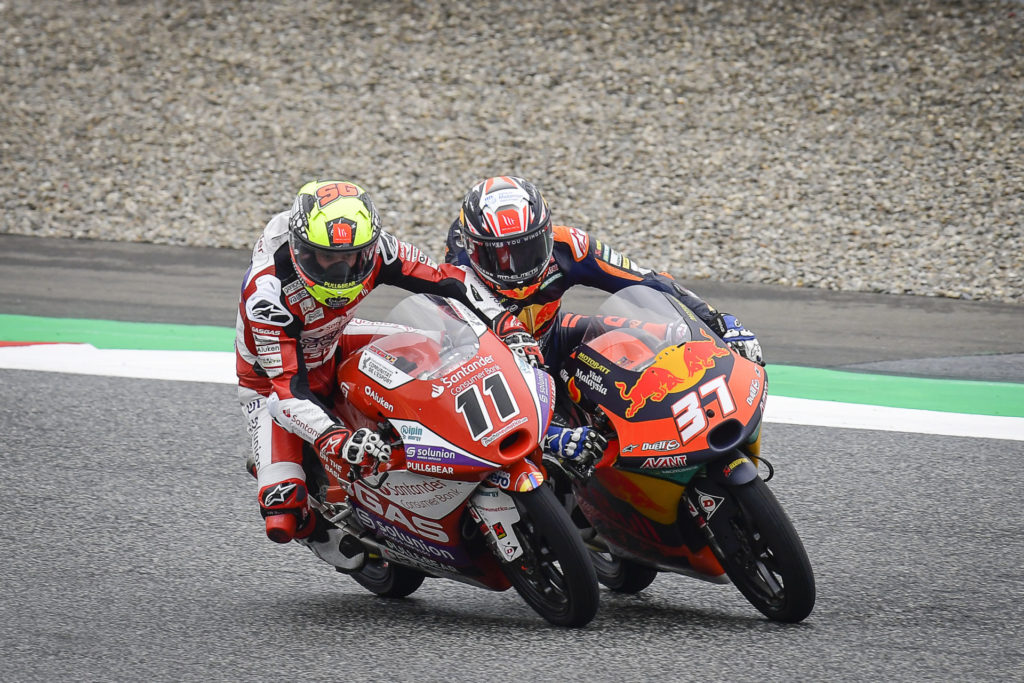 Four in a row last year in the Red Bull MotoGP Rookies Cup, a win from the year before that and now, a Moto3™ victory at the Red Bull Ring on first time of asking? Sounds about right for history maker Pedro Acosta (Red Bull KTM Ajo), but it didn't come easy. A truly epic duel for the ages saw the Spaniard take on compatriot and closest Championship challenger Sergio Garcia (Santander Consumer Bank GASGAS Aspar Team) in a half-wet half-dry Styrian showdown, with Acosta making a move at the final corner to take the win – and the number 11 just sliding out on a damp patch on the outside. But such was their domination, Garcia remounted and still made it over the line in second.
Romano Fenati (Sterilgarda Racing Team) continued his good form of late to complete the podium as he struck late against Jaume Masia (Red Bull KTM Ajo), moving up to third in the standings with the move to boot.
There was drama before lights out as polesitter Deniz Öncü (Red Bull KTM Tech 3) was pulled off the grid before the warm up lap, the Turkish rider's bike having been worked on within the 3 minute board and that sending him to the back of the grid for the race start. But what had they been doing? Changing to slicks, with a dry line fast appearing around the Red Bull Ring but the majority of the field on wets. The majority didn't include Öncü after the change, and Darryn Binder (Petronas Sprinta Racing), his teammate John McPhee, Gabriel Rodrigo (Indonesian Racing Gresini Moto3), Andi Izdihar (Honda Team Asia) and Rivacold Snipers teammates Andrea Migno and David Salvador all lined up on slicks too.
Once the start was underway, Fenati took the holeshot from the outside of the front row, the Italian away well to just slip ahead of second place starter – and second in the standings – Garcia, but the Spaniard didn't take long to hit back and hit the front. Before long, he, Acosta and Fenati already had a couple of seconds in hand over the chasing pack a lap later, with Masia and Ayumu Sasaki (Red Bull KTM Tech 3) leading that chase.
Lap by lap though, the top two were pulling away. Garcia and Acosta, the two at the top of the standings, remained the fastest two riders on track even as the dry line got more pronounced, with time starting to run out for those on slicks hoping for a change of fortune. Binder was by far the furthest forward of those trying the gamble, down in P16 but over five seconds ahead of teammate McPhee, the next rider on slicks.
11 to go was when Acosta, who'd been stalking Garcia for over ten laps, made his move. The two were nearly ten seconds clear of the rest, but Garcia hit back quickly and next time over the line, found his fastest lap not beaten straight away by the man just behind him. And so the laps rolled on, and six to go was the next attack from Acosta, again at Turn 3. But again, Garcia hit back and it was as you were.
Five to go marked the first time the fastest lap came from a rider on slicks, and it was Binder. The South African was on a charge and was already well inside the top ten even before that tipping point, leaving the rest of his fellow tyre gamblers far behind. But with time running out for it to make a big difference, it was more a mission of damage limitation.
By two to go, Acosta was ready to try it again, and the points leader pulled the same move at Turn 3. And Garcia, once again, sliced back past. And so the highspeed Moto3™ chess headed onto the final lap, and this time it was Turn 1. Acosta struck, Garcia tucked in and this time round at Turn 3 the roles were reversed – and the elbows out. The number 11 whacked it up the inside and just about made it work, some contact between the two and Acosta running wide but both soon back on track into what had become formation.
And so it rolled on to the final corner, and this time it was Acosta slicing up the inside… and this time there was no contact, but there was drama. Garcia lost it on the wider line, just touching the damp patch and sliding out into the gravel as Acosta gunned it towards the line for another impressive victory, increasing his Championship lead once again.
It wasn't quite the disaster it seemed for Garcia, however. The domination of the two was such that the Spaniard, quick to his feet in the gravel, had enough time to get back on his bike, back on track and make it to the line in second place for a valuable and hard-earned 20 points.
A duel to the end decided the final place on the podium too as Fenati struck late against Masia, the Italian just taking it by a tenth, up the inside at the final corner for another rostrum finish. Masia was forced to settle for fourth but gets some solid points after a tougher run of it before summer, with Sasaki next up as he made a great return to racing in fifth place following his injury and time on the sidelines.
Sixth place, in the end, was Binder's limit. The South African somehow did an entire race on completely different tyres to those anywhere around him at the flag, putting in an impressive day's work. He got past a close fight that saw Ryusei Yamanaka (CarXpert PrüstelGP) beat Yuki Kunii (Honda Team Asia) and Max Kofler (CIP Green Power).
Another close fight completed the points: Adrian Fernandez (Sterilgarda Max Racing Team), Filip Salac (CarXpert PruestelGP), Kaito Toba (CIP Green Power, John McPhee (Petronas Sprinta Racing), Izan Guevara (SANTANDER Consumer Bank GASGAS Aspar Team) and Tatsuki Suzuki (SIC58 Squadra Corse) in 15th.
Now the grid will recharge for another run at the Red Bull Ring next weekend – so get ready for the Austrian GP! Can Acosta make it a magnificent seven in a row at the venue?
Pedro Acosta: "Sergio was strong like always! I'm super happy after 24 laps, super long race. We have to still fully focused by in the end in the battle I could overtake him. It was a bit on the limit but to win here in Red Bull and KTM house is amazing, and I have to say thanks to all the team. We trained so hard this summer to come here prepared to fight. This is for Hugo Millan, for him, his brother and his family."