Editorial Note: Use the scrolling tool in the bottom left corner of the PDF viewer to see all pages of the results.
More, from a press release issued by Dorna:
Dovizioso victorious amidst huge drama at the Red Bull Ring 
A Red Flag for a dramatic incident at Turn 3 saw the MotoGP™ race re-started, with the Italian then able to pull clear for Ducati's 50th premier class win – ahead of Mir and Miller
Sunday, 16 August 2020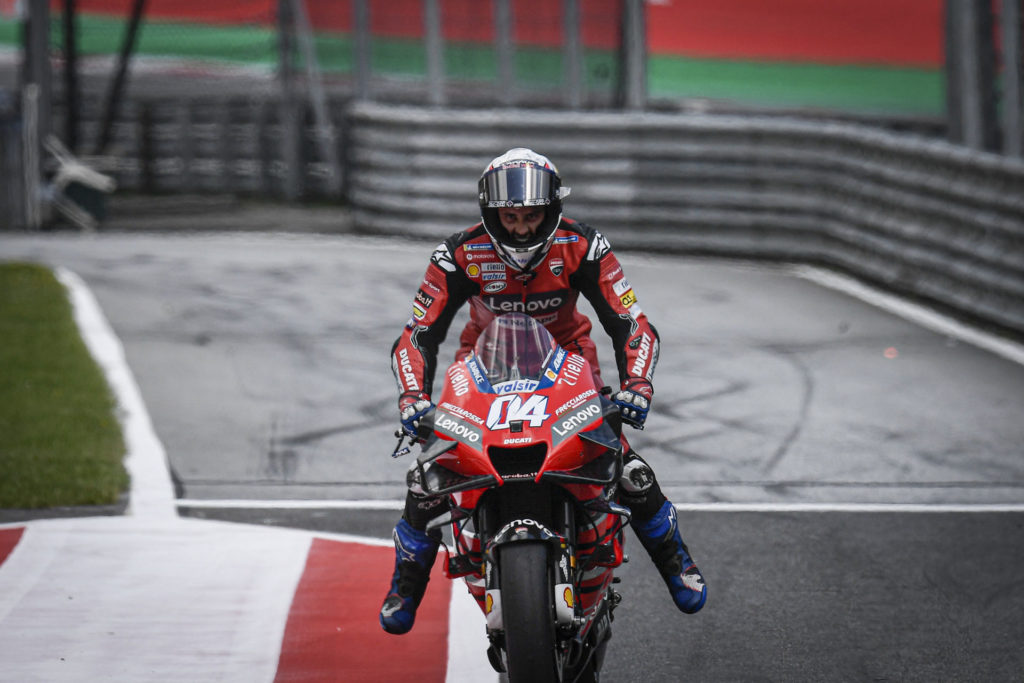 Andrea Dovizioso (Ducati Team) played his cards and his race to perfection in the myWorld Motorrad Grand Prix von Österreich, overhauling an early lead for Jack Miller (Pramac Racing) to take over at the front and then pull the pin for Ducati's 50th premier class win – keeping the marque's 100% record at the Red Bull Ring intact. Miller looked set to take second until the last two corners, with the Australian then heading ever-so-slightly wide and having his pocket picked by Team Suzuki Ecstar's Joan Mir. The Spaniard therefore took second and was on the premier class podium for the first time.
The headlines were dominated, however, by an earlier incident that brought out the Red Flag. On the initial start, Miller got a great launch from P2 and it was the Ducati rider who grabbed the holeshot, with Maverick Viñales (Monster Energy Yamaha MotoGP) also getting away well to slot into P2 from pole. Dovizioso was a fast starter from P4, with Fabio Quartararo (Petronas Yamaha SRT) dropping back. Then Pol Espargaro (Red Bull KTM Factory Racing) chipped away and got himself to the front, before Quartararo then ran off track at Turn 4 to drop to the back of the pack on Lap 6. Espargaro, Dovizioso, Mir, Miller and Miguel Oliveira (Red Bull KTM Tech 3) were leaving the rest behind, but the incident for which the race will also likely be remembered then unfolded at the Turn 3 braking zone, bringing out the red flags.
Franco Morbidelli (Petronas Yamaha SRT) and Johann Zarco (Esponsorama Racing) were almost side by side on the straight, and as they got on the anchors into Turn 3, the duo came into contact and both went down. What unfolded next was terrible luck followed by incredible luck. Zarco and Morbidelli's bikes careered towards Turn 4 and both bikes hit the air-fence, thankfully slowing them down, but the speed of the crash was such that the machines headed into the path of the riders that were coming into and out of Turn 3. Viñales and Valentino Rossi (Monster Energy Yamaha MotoGP) were the two in the firing line and somehow, the two errant bikes missed the two factory Yamaha riders. Morbidelli's bike shot through the gap between Viñales and Rossi, missing the nine-time World Champion by a matter of inches, with Zarco's bike narrowly avoiding Viñales.
The debris and aftermath brought out the Red Flag, with Zarco on his feet immediately and going to check on the stricken Morbidelli. The Italian was up initially but then taken away on a stretcher to be checked over. Ultimately, both headed for the Medical Centre and incredibly, both were declared fit and were not injured. A crash the scale of which will ensure it's remembered forever, and thankfully everyone walking away unscathed.
As the dust settled, the track was cleared and race restart prepared. This time it would be Pol Espargaro on pole, leading as he had been just before the Red Flag incident happened. As the lights went out, the KTM rider got a very good getaway but Miller came flying up the inside from P3, the Aussie running wide but was able to use the drive down the long straight to hold his advantage. Pol Espargaro was back through at T3 but Miller was trying to pull the pin from the off, and the Australian took the lead at Turn 6 and immediately got the hammer down.
Meanwhile, the opening lap on the restart was a nightmare for Viñales, who slipped to last place, with pitlane reporter Simon Crafar confirming after the race that the number 12 did have some sort of issue on his YZR-M1. And what about Quartararo? Starting from the back of the grid but at least on the pack after his earlier run off in the abandoned race, the Frenchman had started making up places but for the top two in the Championship, this was now all about damaged limitation – P16 and P20 was the situation for Quartararo and Viñales on Lap 1.
By Lap 3, Miller was nearly a second up the road from Pol Espargaro, Dovizioso, the two Suzukis and Oliveira. Mir and Alex Rins were looking very strong after making great starts on their GSX-RRs, and the duo – along with Dovizioso – were swarming Pol Espargaro. Lap 4 saw then Miller's lead creep up to over a second but on the next lap, Dovizioso set the fastest lap and it appeared a pin was about to be pulled. Just behind the Italian, Espargaro had his hands full with the two Suzukis too, the trio exchanging positions like there was no tomorrow and losing time on Dovizioso. Rins eventually made a move stick though, and the 42 bolted off to chase the Ducati Team machine.
Further back, Quartararo had made it into P13 and Viñales was still out the points, but back at the front, Miller's lead was down to just 0.4 as Dovizioso and Rins reeled in the Pramac. That left Pol Espargaro, Mir and Oliveira over a second off the podium scrap, and Espargaro looked like he was getting impatient as a potential race win was slowly slipping from his grasp. Then, on Lap 9, catastrophe struck for KTM at their home race. At Turn 4, Espargaro and Oliveira were both down, Oliveira heading up the inside and Espargaro cutting back across, contact ensuing.
Ahead of that, Miller's advantage was no more. Dovizioso and Rins were right on the tail of the GP20, with Mir clawing back the gap after the two KTMs crashed as well. At Turn 6, Rins was almost down as the front of his machine tucked, but the Spaniard saved it. Then we had a change for the lead. Dovizioso carved past Miller into Turn 1 and then, at Turn 9, Rins followed the Bologna bullet through. It wouldn't last long though, as the Suzuki rider's race then prematurely ended at Turn 6. A repeat slip of the front tyre couldn't be saved this time as Rins swept up the inside of Dovizioso, but then slid out. A four-way battle for the race win became three: Dovizioso vs Miller vs Mir, with Brno winner Brad Binder (Red Bull KTM Factory Racing) over two seconds back in fourth but the South African producing another fine Sunday ride.
With seven laps to go in Spielberg, there was nothing between the leading three, and Rossi and Takaaki Nakagami (LCR Honda Idemitsu) were chasing Binder, as Championship leaders Quartararo and Viñales remained down in 8th and 13th, although Viñales was the fastest man on track. With five to go, Dovi then really started edging clear of Miller, and with four to go, the Italian had pulled almost a second out. The Australian held firm in second, but Mir was climbing all over the back of the Desmosedici…
Coming onto the last lap, barring a mistake, the race was Dovi's. But who would take second? Miller was defending as hard as he could to make it a Ducati 1-2 and it looked like he was going to be able to do it. Heading into the penultimate Turn 9 though, Miller's defensive line took him wide on the exit and Mir swept through to steal that second place, denying the Australian as he took his first MotoGP™ podium on the second step. Dovi took the chequered flag just ahead of them to claim his third Red Bull Ring victory, and Ducati's 50th MotoGP™ win.
Binder, after qualifying 17th, finishes P4 at KTM's home race on his first visit to the Red Bull Ring on a MotoGP™ machine, the South African putting in a performance of pure class once again. Fifth went the way of Rossi, who came out after the scare of his life like nothing had happened – true testament to just how superhuman the riders are – and 'The Doctor' finished as the lead Yamaha rider. Nakagami picked up a solid P6 just behind as the leading Honda.
Danilo Petrucci (Ducati Team) crossed the line seventh to finish just 0.036 ahead of Championship leader Quartararo, but it was a great damage limitation job done by the 21-year-old who salvages eighth. 1.5 seconds behind Quartararo was Iker Lecuona (Red Bull KTM Tech3) who secures his best premier class result in P9; a top job by the rookie who will have a significant boost of confidence heading into the Styrian GP next weekend.
Viñales also did well to recover to P10 after his issues in the restarted race, and it's not what either Viñales or Quartararo would have been looking for from the front row but considering what unfolded, it was the best they could do. Quartararo's gap has been closed down to 11 points in the title fight though, with Dovizioso now overtaking Viñales in the Championship. The Frenchman and the Spaniard will both be hoping for better fortunes in seven days' time.
Completing the points were Aleix Espargaro (Aprilia Racing Team Gresini), Michele Pirro (Pramac Racing), Bradley Smith (Aprilia Racing Team Gresini), Repsol Honda Team's Alex Marquez and Cal Crutchlow (LCR Honda Castrol).
After a little history is made, the title fight gets another shake and some serious drama in Spielberg, it's now time to reset and reload to attack the Red Bull Ring once again next weekend in the Styrian GP. Thankfully and most importantly, with everyone ok after that huge crash, and thoughts all with those who were involved in the scary incident.
More, from a press release issued by Aprilia Gresini Racing:
POINTS FOR ALEIX AND BRADLEY AFTER A THRILLING RACE
Aleix and Bradley finished in the points in a race which was chaotic, to say the least. During the eighth lap on the Red Bull Ring, an incredible smash up brought out the red flag and forced a second start, for a second race, shortened to 20 laps. Starting from the tenth (Aleix) and fifteenth (Bradley) position on the grid, the two Aprilia riders concluded the Sunday race in the points, respectively in eleventh and fourteenth place.
This end result does not entirely satisfy Aleix, who felt perfectly at ease after the first start and less incisive in the second. Next week, once again on the Austrian circuit, the team will pick up from the good sensations of the first eight laps.
Bradley had an outstanding second start, moving into the top ten. The English rider then managed tyre wear with a prudent finale, where he fended off the attacks of his adversaries to finish in the points.
ALEIX ESPARGARO'
"I cannot be entirely satisfied. In the first race I felt very good, managing to maintain the pace of the best, but in the second, I did not find the same sensations. I didn't want to switch to the medium tyre, so I had to use one soft with a few laps on it. Evidently, with a shortened race, our rivals were able to use a bit of extra grip that kept us from battling like we had during the first eight laps. In any case, I gave 100% and I'll continue to do so. Maybe we just need to use our heads and not our hearts, getting the most out of the technical package."
BRADLEY SMITH
"I had two great starts and I am very pleased about that. The second race definitely went better, although towards the end I had to manage tyre wear and fuel a bit and that kept me from holding onto my advantage over Pirro and Márquez. In any case, overall it was a solid weekend, where we took some steps in the right direction, including during the race. It was a pity not to be able to use a new tyre for the second start like other riders did. I wanted to stay with the soft, but I didn't have any others available. We need to keep working hard because in warm-up, the bike gave me the right feeling. It would be a step forward if we could manage to maintain that feeling in the afternoon with the higher temperatures too."
More, from a press release issued by Repsol Honda:
Points for Alex Marquez in Austria, Marc Marquez to miss Styria race
A trying day at the Red Bull Ring with a red-flag interrupted race, but Alex Marquez salvages points to continue his top 15 run. Stefan Bradl's participation in next week's Styria GP is confirmed as Marc Marquez continues his recovery.
Weather forecasts were once again proven wrong as glorious sunshine beat down on the Red Bull Ring for the fourth MotoGP race of the year. Both Repsol Honda Team RC213Vs shot off the line, Alex Marquez and Stefan Bradl immediately gaining positions and joining the group battling for the top ten. But a red flag on lap eight for a dramatic crash at Turn 3 saw the race stopped, restarted and run over 20 laps.
Alex made another strong start from 13th on the grid with the restart, immediately moving into the top ten as the field roared through the opening corners. The fighting was fierce in the first laps and the MotoGP rookie found himself shuffled down the order after his lightning start. But Alex's trademark consistency saw him stay free of trouble afterwards and benefit from the mistakes of others, moving back into the points. The Moto2 World Champion had a tight battle with podium-finisher Bradley Smith on the last lap, losing his left wing after contact. Alex crossed the line in 14th but was promoted to 13th after the Brit was handed a penalty for exceeding track limits.
Like his team-mate, Stefan Bradl made up several positions in both starts to the Austrian GP. Staying in the mix with the full-time riders, Bradl held his own in the opening laps before eventually dropping back and losing contact with the group. Bradl took a 17th place finish, one better than in the previous round. Stefan Bradl mount the Repsol Honda Team RC213V for a third time in place of Marc Marquez at the Grand Prix of Styria next week.
Takaaki Nakagami was one of the biggest beneficiaries of the restart as he charged forward to take sixth for yet another top-ten finish. Nakagami is also sixth in the championship, four points off Binder in fourth.
The MotoGP field remains at the Red Bull Ring for round six of the 2020 World Championship and the third of three races in a row next Sunday, August 23.
Alex Marquez
13TH
"More points from the weekend is good, but the race wasn't what we wanted. In the first race I had a good feeling and we made a good start so I was able to make up some positions but then the red flag came out. For the restart of the second race, I was strong on the start again, but the feeling wasn't the same and I struggled to keep up because the feeling with the new tyres wasn't the same. Again, I had a lot of front pushing with the new tyres. I'm looking forward to coming back again next week, in Jerez we improved a lot for the second race. It was a big crash between Zarco and Morbidelli, I hope everyone who fell today is OK. Whenever you see a crash like that you get very worried."
Stefan Bradl
17TH
"It was a tough weekend for us, we didn't have the speed we needed, we were hurt by the sessions that were wet or damp because we still needed to test a lot of parts. This limited our time to prepare for the race, so our situation was not as competitive as it could have been. Either way, we learned a lot from the weekend, and we'll see what happens next weekend when I again get to ride for the Repsol Honda Team. Now it's time to sit down and analyse the data. I hope that Morbidelli and those who had crashes today are OK. I arrived at the crash soon after and there were many parts flying everywhere, it was a scary moment. I didn't see the crash itself, but seeing bikes destroyed like that is always a worry."
More, from a press release issued by PETRONAS Yamaha SRT:
Difficult raceday for PETRONAS Yamaha SRT in Austria
Austrian GP proves to be a challenging one for Quartararo and Morbidelli; Quartararo eighth; dramatic crash for Morbidelli who escapes with no serious injuries
PETRONAS Yamaha Sepang Racing Team riders Fabio Quartararo and Franco Morbidelli endured frustration and drama in a red flag interrupted Austrian GP. A dramatic crash brought out the red flags for the second time – after the same in the Moto2 race – in one day at Red Bull Ring – Spielberg. Unfortunately, Franco Morbidelli was caught up in the incident, which curtailed his race and necessitated a trip to the medical centre. PETRONAS Yamaha SRT team-mate Fabio Quartararo battled hard to take eighth, after battling brake issues.
Quartararo didn't have the best of starts to the main event at the Grand Prix von Österreich and found himself swallowed up by the pack going into the first corner. A brake issue early on saw the Frenchman overshoot Turn 4 and head into the gravel, rejoining the circuit in last position. Shortly after the red flags came out for the incident involving his team-mate, which meant he would be at the back of the grid for the race re-start. A better getaway saw Fabio immediately up into sixteenth, where he started to pick off each rider in front one by one – despite continuing brake issues. A strong ride from the Yamaha YZR-M1 rider saw Fabio cross the line eighth and hold on to championship lead.
Team-mate Morbidelli made a good start and was settling into an early rhythm, chasing down those ahead of him. Unfortunately, the Italian was forced into a dramatic and dangerous accident in Turn 3 with Johann Zarco, that brought the red flags out. His right hand, shoulder and head took the brunt of the crash but a CT scan showed that there was no major injury. Franco later returned to the pit box and has been declared fit for next week's race.
There will be no rest for the MotoGP pairing as they remain at the Red Bull Ring – Spielberg for the Grand Prix of Styria, which will take place in only one week's time (21-23 August).
Razlan Razali
Team Principal
It was certainly a crazy weekend, with a lot of incidents in MotoGP and Moto2. We are so glad that Franco is fine, it could have been a lot worse for him and for everybody else. We wish him all the best and we're sure he'll come back strong next week. We know that this track is difficult for the Yamaha, but I think we need to assess and review what happened with Fabio today. That way we can prepare for the race here next weekend and hopefully make some improvements.
It was a fantastic effort from Xavi after the race restart; this is what we expect from him. He had a great race and his fifth place finish is what we want. It was a positive and consistent race from Jake to finish 14th. We will now look to do even better and improve on this next weekend.
It was also a great effort from John to finish third in Moto3. I'm very happy that he was on the podium again and it's good to have achieved this with the next race also being at this track. It was a hard decision to take with KIP but we assessed that the best thing would be for him to rest and continue his recovery. We wish KIP the best for his recovery.
Fabio Quartararo
8th (+12.534)
I lost some positions at the start and I could feel that my brakes were quite soft in the opening laps, and then I lost them going into Turn 4. Between the two races we decided to change the calipers and we had the same issue. It was a really difficult race for me because this track is normally all about hard and late braking. Fortunately we still managed to finish in eighth, so it wasn't as bad as it could have been. We need to look and see what was causing the problem as the next race is also here, and I want to make sure we finish higher up then. We know we had the pace to finish in the top-five this weekend, so hopefully we will be able to achieve that next weekend. After the two scary crashes today I am glad everyone is okay and I send my best to all of the riders involved, especially Franco.
Franco Morbidelli
DNF
I'm a little bit sore, but everything is fine. Looking at footage of the crash it is good to be able to walk away like this. I consider myself to be very lucky. It was a strange crash because Johann [Zarco] overtook me on the straight and then changed his line under braking to go very wide. With the changed line and the slipstream there was just nowhere for me to go, it was impossible for me to avoid him. Thankfully we are both alright. It was important to get good points at this race, as it's not a strong one for the Yamaha bike, so I'm sorry to my team that we couldn't do that. I was trying my best to do my race but we were not able to this time. Now we try again next Sunday.
More, from a press release issued by KTM Factory Racing:
BINDER RACES TO 4TH AT THE RED BULL RING AS MARTIN AND ARENAS CLAIM MOTO2™ & MOTO3™ WINS
MotoGP 2020 – Round 04, Red Bull Ring (Austria) – Race
Red Bull KTM experienced the rough with the smooth at the myWorld Motorrad Grand Prix von Österreich. Brad Binder scored 4th position and moved up to the same ranking in the MotoGP standings while Iker Lecuona posted his first finish with 9th place but there was disappointment for Pol Espargaro and Miguel Oliveira who both crashed while fighting in the top five. In Moto3 Albert Arenas used his KTM RC4 to win while Jorge Martin registered his very first Moto2 victory.
The first of two home Grands Prix centered on the relentless and spectacular Red Bull Ring, with the layout requiring high speed, strong acceleration and precision in the heavy braking zones. Summer storms provided some difficult wet/dry and mixed conditions throughout practice and qualification but Pol Espargaro was able to clock the fastest lap-time in two of the four sessions across Friday and Saturday and lined-up 5th on the grid.
The MotoGP race on Sunday was halted prematurely with Espargaro leading the field after eight laps. A crash between Johann Zarco and Franco Morbidelli meant the track had to be cleaned and the grid reformed. Espargaro had run out of effective tire options and was running inside the top five when he collided with the impressive Red Bull KTM Tech3 rider Miguel Oliveira. The contact at Turn 4 put both RC16s out of action.
Czech Republic Grand Prix winner Brad Binder had made fantastic progress from 17th on the grid and after a fall for Alex Rins the South African moved into 4th spot. He defended his position from Valentino Rossi all the way to the line. Five places back fellow rookie Iker Lecuona reached the checkered flag for a well deserved top ten classification.
Brad Binder: "Today was much better than we expected. I was happy with 4th position, I have to say. It was tough at the beginning because I was able to make up places and it was a shame about the red flag but it did give me an opportunity to restart from higher up on the grid. I didn't pass too many riders after the restart but there were a lot of crashes. On one hand I'm quite satisfied but then I was also pretty lucky. Things turned out well but let's work again for next week."
Iker Lecuona: "The race was truly difficult but, honestly, I'm very happy: it's the first race I could finish in MotoGP. I lost a bit of ground in the beginning but after the first two laps I improved. I had a good pace. I went to overtake some riders and was close to the points. After the restart, I just focused on not losing positions. My pace was very good. I was fighting all race long with many riders and managed the gap to Fabio Quartararo. In the end, I'm really, really happy."
Pol Espargaro: "In the first race we were so strong and I was even able to go away and take a gap over Dovi but then we stopped. We didn't have the proper tire for the second race and I paid for that. I knew I would have only three laps before the rear tire would drop. I was wide – because I was going wide in all the corners – and Miguel in that place was a little bit wide as well. I was opening the throttle outside and so was he on the inside, he couldn't see me and I couldn't see him so we collided. This is exactly what we call a race incident. It is what it is. I felt I had the best bike, an amazing bike in the first race. So, I'm looking forward to racing here again next week."
Miguel Oliveira: "This is a tough result. We showed a lot of speed today and I think we would have been able to get a very good outcome for the team. Unfortunately, Pol was struggling to stop the bike and I saw he was going wide in a few corners, so in turn four I saw he went really, really wide, therefore I just went on the inside. Normally, when a rider goes out, you try to take advantage of it and somehow, he returned very quick and we both collided. There is no way I could have avoided the crash. It's a shame but we have another chance next week, so we start to focus on that."
Mike Leitner, Red Bull KTM Race Manager: "This GP was like a rollercoaster. Pol had the first race under control. He had the right tire, the lead and the right plan. So, the crash destroyed that rhythm but we are really lucky that nobody was seriously hurt and that was a very positive thing. Pol did not have his race tire for the restart so he was not as strong and we don't quite know what happened with him and Miguel but is was very unlucky. Brad finished the weekend in a great way after his starting position. 4th was a decent result for a rookie in his first time out at the Red Bull Ring and the same can be said for Iker. We are super-happy for him. We have always seen his potential and he just needed to bring the bike home. Overall KTM had a great weekend, especially through the other classes as well."
Moto2 & Moto3
Red Bull KTM Ajo's Raul Fernandez started from Moto3 Pole Position for the second time in a week and for the second time in his career. The Spaniard followed countryman and KTM RC4 rider Albert Arenas in the first laps with Red Bull KTM Tech3's Deniz Öncū and Ayuma Sasaki also in the large front-running group. The race was eventually won by Arenas by four hundredths of a second and he now has a 28-point lead in the series. Celestino Vietti (5th), Darryn Binder (6th), Öncū (8th and a personal best in his first GP season) and Fernandez (9th) were the other KTM racers in the top ten.
Albert Arenas: "Not easy but I really enjoyed the last lap. It was a hard race with many touches with the Tech3 guys. I'm really happy with how I managed the race. I didn't have any expectations during the laps, I concentrated on defending my position and being comfortable. I was on the limit, but it was worth it today. Thanks to KTM and everyone to help make this possible."
Red Bull KTM Ajo's Jorge Martin started from Moto2 Pole Position and controlled a restarted race to bag his first triumph in the category for only his second term in the intermediate class.
Jorge Martin: "I'm very happy with how this weekend went. After many races, we are finally back on top of the podium. It was a tricky contest, as we had to stop for the red flag and repeat the start after waiting around for a while. I am satisfied with our performance throughout this Grand Prix. We must continue in this same way, taking continuous steps forward and be prepared for another round next weekend."
MotoGP stays in Austria and at the Red Bull Ring for BMW M Grand Prix of Styria next weekend.
More, from a press release issued by LCR Honda Castrol:
POINTS FINISH FOR CRUTCHLOW IN AUSTRIA
16 August 2020 | Austrian GP Race
Cal Crutchlow had to settle for a points finish in what proved an eventful Austrian Grand Prix in Spielberg on Sunday. The LCR Honda CASTROL rider eventually ended in 15th position after the race at the Red Bull Ring had to be restarted following a huge collision between Johann Zarco and Franco Morbidelli in the early stages.
Starting from 15th on the grid, Crutchlow did not make the best start, but had made up positions before the red-flag incident on lap eight. Restarting from 14th, the Briton looked to have found his rhythm but then had to battle back from last position to secure a points finish.
Cal Crutchlow – 15th
"Today I felt quite good in the first eight-lap race – I was able to push in a good way. Then we had the red-flag situation, so we had to start again. Again I made not a great start but I was able to make up some positions until I was in eighth. But then I made a mistake with the gear change and I thought I had a problem with the bike. I was one gear too high and I felt a big reduction in power, so I pulled off the circuit. But evidently there wasn't a problem, so I have to say sorry to my team and to Honda for the mistake I made, because we could have had a good result today, better than what we've had recently. We haven't been in great shape but today I could've got a good result, so I'm sorry for that. We will look at the data and try to improve for next weekend."
More, from a press release issued by Monster Energy Yamaha:
ROSSI AND VIÑALES TAKE FIFTH AND TENTH ON SHOCKING SPIELBERG RACE DAY
Spielberg (Austria), 16th August 2020
GRAND PRIX OF AUSTRIA
RACE
Monster Energy Yamaha MotoGP's Valentino Rossi showed incredible professionalism today in Spielberg. Following an intensely scary incident that nearly took him and Viñales out in Race 1, he got his game face back on and pushed his way to a superb fifth place. Maverick Viñales suffered a technical issue in the restart and needed a bit of time to get back into the rhythm, but once he got up to speed, he rode from 20th to an impressive 10th place.
LOCAL TIME: 14:00 GMT+2
AIR TEMPERATURE: 28°C
TRACK TEMPERATURE: 50°C
WEATHER: CLOUDY / HUMIDITY 41%
MORE CIRCUIT INFO
Monster Energy Yamaha MotoGP's Valentino Rossi and Maverick Viñales impressed with their resilience and determination today at the Motorrad Grand Prix von Österreich. The team-mates narrowly escaped being struck by two crashed bikes in the initial race, whereupon a red flag was brought out. During the restart both riders had to shake off the earlier incident. Rossi claimed a strong fifth place. Viñales made up ten positions to finish tenth.
In the initial race, Viñales had a good start from pole and slotted into second position after Turn 1. He then got involved in the tussle at the front and crossed the start-finish line for the first time in fifth place. He made sure to stay with the front group, although he lost a couple of positions. He was riding in front of team-mate Rossi in sixth place, who came from 12th on the grid, when disaster struck on lap 9. A monstrous crash by Johann Zarco and Franco Morbidelli nearly took out both Factory Yamaha riders in Turn 3. The incident was followed by a red-flag situation.
With all involved riders relatively okay and with the track cleaned, it was decided to reopen pit lane at 14:28 local time. After that the riders had only 60 seconds to head out, so the team-mates had little time to get back into the zone. The grid positions for the 20-lap race part 2 were based on the standings as of lap 8.
Rossi was understandably shaken after the incident, but he regrouped quickly. He showed his incredible mental strength, stepping back aboard his bike just 15 minutes after the incident. He had a good start from seventh place and put his head down. He was fighting with Brad Binder but couldn't quite make a move on him. With multiple riders crashing out, the Yamaha rider found himself in fifth place. He kept applying pressure on Binder until the very end but finished fifth, 5.837s from first.
Viñales had a difficult time after the restart. A technical issue hindered his performance, and because of this he completed the first lap in 20th place. But the Spaniard stuck with it, and his determination paid off. He rode a very strong comeback race once he got back into the groove and made up a total of ten positions. Spurred on by the progress he was making, he began to quicken his pace and set his best time in the second-to-last lap to finally cross the finish line in tenth place, 15.276s from the top.
After today's race Viñales is third in the championship rankings, 19 points from the leader. Rossi is now in fifth place, with a 29-point gap to first. Yamaha remains first in the constructor standings, and Monster Energy Yamaha MotoGP also stay in second place in the team classification.
The Monster Energy Yamaha MotoGP Team will be back in action next week for the Grand Prix of Styria at the same venue.
MASSIMO MEREGALLI
TEAM DIRECTOR
This was a very dramatic race. We'd watched a very serious accident happen in Moto2 earlier today, and the incident in Turn 3 in the MotoGP race rivalled it. These were both heart-in-the-mouth moments for all spectators, but especially for the riders. We are so thankful that all riders involved are relatively okay. Restarts are always quite tough. As a rider and as a team you have to stay focused, as if it is the first time going out on track to race. Valentino didn't let any of it faze him, and he got down to business as usual during Race 2. Normally, fifth is a decent result, but under these circumstances it's an incredible achievement that only top riders can manage. Viñales was both incredibly lucky and unlucky today. He was riding in sixth place, ahead of Vale, when the big crash happened, and he narrowly avoided being hit. Then in the restart he soon encountered a technical issue with the clutch that held him back, especially in the opening laps. Once he found out how to ride around the issue, he was okay and able to salvage six points for tenth place, but it was far from the race he had hoped for. It's been a very eventful day, but we'll take a deep breath and keep pushing. We need to have a good look at all the data, because next week we'll have a rematch here in Spielberg.
VALENTINO ROSSI
Position: 5th | +5.837 | Laps: 20
It was very scary. All four riders, but especially me and also Maverick, were very lucky. We have to pray to somebody tonight, because the situation was very dangerous. I think it is good to be aggressive, for sure, because everybody tries to do the maximum, but for me we don't have to exaggerate, because we need to remember that this sport is very dangerous. You need to have respect for your rivals, especially at a track where you're always going at 300km/h. I have already spoken with Zarco, he promised me that he didn't do it on purpose. He went very wide in braking and he slammed the door in the face of Franco, and with this bike when you ride 300km/h you have the slipstream, so Franco didn't have any chance to brake. I was with Maverick when we entered Turn 3, and I felt something coming towards me. I thought it was the shadow of the helicopter, because sometimes it crosses the race track, but then Franco's bike passed me at an incredible speed, and also the bike of Zarco jumped over Maverick. So, we were very lucky, but we hope this type of incident is a lesson for riders to improve their behaviour in the future. I spoke with Franco, he is okay, he is trying not to think, but when he thinks, he too feels scared. What makes the difference on this occasion is that nobody got hurt, all riders are okay, so this changes the situation. If something bad had happened, it would have been completely different. It was difficult to restart, sincerely, but I didn't have a lot of choice. So I restarted, and in the race I was good. I did a good race. For us, with the Yamaha, it's not easy here. We suffer in top speed, so it's very difficult to fight with the other bikes, but I had a good pace. Unfortunately, I had a very aggressive overtake from Binder in Turn 9 that pushed me out of the track, and we lost a lot of time and lost contact with the first group. But anyway, from that moment on I still had a good rhythm, and I could arrive in fifth place. We can do better, but it was a good race.
MAVERICK VIÑALES
Position: 10th | +15.276 | Laps: 20
Today we were very lucky, this is the most important. We're good. These things can happen in races, there's always that risk. And this corner, Turn 3, we say every time that it's really dangerous. They need to do something, because it's really easy to crash there. This morning I nearly crashed in the warm-up. I locked the front and went a bit towards the walls, and that was scary. But on the bike, during the incident in the first race, I didn't see anything, honestly. I just heard the scratching sound of crashed bikes and then I felt the impact of Johann's bike hitting the wall. Then, when I looked, I saw one bike coming towards me and I covered my head and the bike jumped up. For sure we were very lucky today, someone saved us, and this is the most important. We are here and the championship is not over, because Fabio finished only two places in front of us. In Race 2, we had a big problem with the clutch. It's a shame that we lost two really good opportunities to be at the top of the championship, because I felt really strong from the beginning. It's true that in the first race our bike was quite slow, but I was waiting for lap 15 to start to push really hard. Then in the second race, after discovering the problem, I just thought my race was over. But then I stayed on the track for three-four laps, and the clutch was okay again. I just tried to be patient and overtake to get to the front. It is what it is.
More, from a press release issued by LCR Honda Idemitsu:
TAKA CLAIMS SUPER TOP-SIX FINISH AT SPIELBERG
16 August 2020 | Austrian GP Race
Takaaki Nakagami produced a superb ride to claim sixth place in an action-packed Austrian Grand Prix at Spielberg. The LCR Honda IDEMITSU rider showed great concentration and determination as the race at the Red Bull Ring was stopped and restarted following a huge crash between Johann Zarco and Franco Morbidelli in the early stages.
Fortunately both riders avoided serious injury and, having restarted in 12th, Taka picked up places as those ahead of him stumbled. The Japanese star – who was again the leading Honda – followed Valentino Rossi home to collect another ten world championship points and now sits in sixth position in the rider standings after another hugely positive weekend.
Takaaki Nakagami – 6th
"I'm quite happy with P6 and another top-six finish. It was a really great race, especially race two. Unfortunately in race one there was a big accident and I'm just glad nobody was injured. It was not easy, after they stopped the race and restarted with 20 laps, it was really difficult to switch off and then switch on again, but the team did a really great job. They gave me a lot of positive energy and our race pace was quite good. It was shame I made one mistake in the race at turn three when I went out of position, but I'm really happy to end up with a good result. We have another race here next weekend and we'll try to prepare for another great race and hopefully we can fight for the podium."
More, from a press release issued by Team Suzuki ECSTAR:
MIR TAKES HIS FIRST MOTOGP PODIUM IN SPIELBERG
myWorld MOTORRAD GRAND PRIX VON ÖSTERREICH RACE RESULTS:
Joan Mir: 2nd (+ 1.377)
Alex Rins: DNF (Lap 12)
The Austrian Grand Prix was arguably the most dramatic of the season so far, with horrifying crashes and high intensity action dominating proceedings, but ended happily for Joan Mir who took a superb second place, his first podium in MotoGP and also the first of the season for Team Suzuki Ecstar.
Both crews of the garage came into the 28 lap race with confidence after both riders felt strong with their GSX-RRs. Mir topped the morning warm-up and Alex Rins set good pace despite sitting out most of the session to preserve strength in his injured shoulder.
Both riders made a strong start to the GP, reaching fifth and sixth into the first corner. Mir quickly slotted into fourth place, before briefly making it into third. He was holding position nicely when a horrific accident caused a red-flag-stoppage to the race.
With the involved riders thankfully uninjured, the race restarted with a 20 lap distance. Once again, Team Suzuki Ecstar's riders made great starts and were firmly in the lead group: Rins made his way into a promising third place and proceeded to set his fastest lap, with his team-mate just behind him. On Lap 11 Rins took second and then also the lead, but an unfortunate crash put him out of the GP. Luckily, he did no further damage to his shoulder and was OK. In position for his best-ever MotoGP finish and first top-class podium, Mir held onto third until a spectacular last corner move allowed him to snatch a great second place.
Ken Kawauchi – Technical Manager:
"It's another week where we're half happy and half unhappy! One rider doing very well and the other one having a crash. We were very confident this weekend and our riders were very competitive. I'm so happy for Joan, he did a great job and he fought until the last moments of the race to get second. It's disappointing for Alex but luckily we have another chance next week, so let's try for the double podium!"
Davide Brivio – Team Manager:
"Before coming here we thought we would struggle at this track, but our bike has been unbelievable and our riders have ridden very well. We're very happy for Joan; he deserved this great result after trying for so long to put everything together. Unfortunately Alex crashed and it was a real pity because he could have been on the podium too, but racing is like this sometimes and luckily he is fine. We're already waiting to see what we can do next week."
Joan Mir:
"It's been an amazing day. I knew a couple of races ago that I had the pace to be on the podium but various things happened to prevent it. I got my first career victory at this track in Moto3, and for me this result is also like a win! I'm so happy to get second. I want to say a big thank you to all the team members who are here and working so hard to give me the best bike possible, and also to the crew who are at home and helping me. We've been through bad moments together and this great result is for all of them."
Alex Rins:
"I started the first race well but I then I couldn't keep the rhythm because I felt some locking, then I was behind the big crash and it was so scary – I want to send best wishes to the riders involved. In the restart I felt really good with the bike and the rear tyre, and when I was behind Dovizioso I knew I had the pace to lead, so I overtook him where I felt most confident in corner 6. But then I lost the front and crashed, which was a real shame. But everything is so close in this championship and I'm ready to put today behind me and focus on next weekend."
More, from a press release issued by Pramac Racing:
Austrian GP – Amazing Jack Miller P3, Michele Pirro did an amazing Job
Jack Miller conquered the first podium of the season, a great conclusion after an excellent weekend. Michele Pirro did an amazing job too.
Jack was one of the protagonists of an exciting race, he starts very fast and takes the leadership. After a red flag caused by an incident between Zarco and Morbidelli, Jack restarted from third position and took the lead immediately. He finished a fantastic race in third position. Michele Pirro who started from twenty-second position was able to make an extraordinary progression that let  him to finish the race in twelfth position!
Michele Pirro
It was a tough race because I was starting behind, but in the end I finished 12th and we took 4 points, Ducati won and Jack finished on the podium. Next week we will try to do even better!
Jack Miller
I'm very happy, a fantastic race, the bike was very fast and we were able to reach the result we were waiting for and deserved. I want to tanks the team!
More, from a press release issued by Ducati:
Andrea Dovizioso signs Ducati's 50th MotoGP success as he takes a spectacular victory at the Austrian GP. Seventh position for his teammate Danilo Petrucci. Third place for Jack Miller, rider of the Pramac Racing team
Andrea Dovizioso took an extraordinary victory today at the Austrian GP, signing Ducati's 50th MotoGP success. For the Bologna factory, it is the fifth consecutive triumph at the Spielberg race track, where it remains undefeated since the return of this race on the calendar in 2016.
As he started with the fourth time on the grid, the Ducati Team rider was in second place when, after only a few laps, the race was suspended due to an accident. Starting again, this time from the front row thanks to the position he occupied at the time of the red flag, Andrea managed to hook with the riders at the front, putting himself behind Jack Miller (Pramac Racing Team) who was leading the race, after only a few laps.  On lap 11, the rider from Forlì made his decisive attack, earning the first position that he kept up to the chequered flag.
For Dovizioso this is his third success at the Red Bull Ring: thanks to this victory the rider from Romagna climbs back into second place in the overall standings, only 11 points behind Quartararo. As he was overtaken in the final lap by Mir, Miller finished third with the Ducati Desmosedici of the Pramac Racing team.
Danilo Petrucci, who started from thirteenth on the grid, finished with a good seventh place, which allows him to add valuable points to the general standings that currently sees him in the eleventh position.
After the first four events of the 2020 season, Ducati is second in the manufacturers' standings, while the Ducati Team is third in the team standings.
Andrea Dovizioso (#04 Ducati Team) – 1st 
"It was a very peculiar race given the interruption due to the bad crash of Zarco and Morbidelli. Today my feeling with the bike was not particularly good, but in some areas, I felt strong, and I could make a difference. The weekend started well, but I was not sure if we could win the race: we managed to be immediately competitive, and I found good sensations, but we still lack something compared to the previous years. This track suits the characteristics of our Desmosedici GP bike, but we will still have to work to take another step forward and put ourselves in a position to fight for the victory in all the upcoming races."
Danilo Petrucci (#9 Ducati Team) – 7th
"Starting so far back, I knew that today would be a difficult race, and in the confusion of the first laps, I lost some positions. Unfortunately, I didn't feel completely comfortable: I still have problems with braking, and I don't ride as I would like. Today in the race, I had a good pace, but the front guys were too far away to reach them. We bring home important points for the championship, but for the next races it will be important to make a good qualification to be able to stay with the riders at the front from the beginning".
Luigi Dall'Igna (Ducati Corse General Manager)
"After such a difficult start to the season, this victory has an important weight. It was a bizarre race given the interruption. Dovi has proven to be strong and that our bike is competitive. After the restart, the situation on the track changed, but we reconfirmed some aspects and changed the front tyre. I want to congratulate Dovi and the whole team for their work this weekend. I hope that we will be able to be so competitive in the next races until the end of the season."
The Ducati Team will be back at the Red Bull Ring next weekend from 21st-23rd August for the Styria GP, the fifth round of the 2020 MotoGP season.
More, from a press release issued by Michelin:
MICHELIN'S GRIP MAKES DOVIZIOSO KING OF THE RING
Michelin's first race of an Austrian MotoGP™ double-header saw Andrea Dovizioso (Ducati Team) take victory at the Red Bull Ring during today's myWorld Motorrad Grand Prix von Österreich.
Changeable weather all weekend had seen the range of both MICHELIN Power Slick and MICHELIN Power Rain tyres tested in various types of situations, from wet, to drying and to today's race conditions which saw track temperatures reach 50°C, the highest all weekend.  When the lights changed to signal the start of the 28-lap race, Maverick Viñales (Monster Energy Yamaha MotoGP) was on pole, but Jack Miller (Pramac Racing) got the holeshot and led for the first lap. The race was shaping up into an exciting event, but a spectacular crash between two riders, Johann Zarco (Esponsorama Racing) and Franco Morbidelli (Petronas Yamaha SRT) – both of whom were not injured – caused the race to be red-flagged and a re-start ordered. The second attempt was cut to 20-laps and again Miller got the holeshot and led for the early part of the race, before Dovizioso took the lead and stayed there until the chequered flag, controlling from the front and getting the best from his Michelin tyres as the race progressed. His victory was his third at the Red Bull Ring, it also signalled the fiftieth Grand Prix win for Ducati, but more importantly for Michelin it was the third different marque to win on its tyres, on three separate tracks this season, following Yamaha's success in Spain and KTM's in Czechia last week.
As the race developed the battle for the podium certainly heated up and it went to the last-lap, before Joan Mir (Team SUZUKI ECSTAR) used all the grip from his MICHELIN Power Slick tyres to overtake Miller through the high-speed corners of the final sector to record his first podium position, while Miller took third and the privilege of being the First Independent Rider. Last week's winner Brad Binder (Red Bull KTM Factory Racing) was next over the line on his way to fourth. Valentino Rossi (Monster Energy Yamaha MotoGP) came home in fifth, with Takaaki Nakagami (LCR Honda) following him across the line in sixth. Seventh place went to Danilo Petrucci (Ducati Team), with  Fabio Quartararo (Petronas Yamaha SRT) in eighth, a result which was enough to see him keep his lead at the top of the championship standings. Ninth was Iker Lecuona (Red Bull KTM Tech 3) and Viñales rounded out the top-ten.
With such unpredictable weather all weekend, records were never possible as riders didn't get as much dry time as they would have liked to be able to use their Michelin tyres to the very maximum of performance, but Dovizioso did set the top-speed record with a speed of 320.4Km/h. Today's race also saw five of the six tyres that Michelin supplied for the weekend used in the second race, Dovizioso favoured a medium front, soft rear pairing, Mir used a set of mediums and  Miller went with soft front and rear, making three different configurations across the podium, with Binder in fourth using a hard front and medium rear, signalling that the five different specifications were used to fill the top-four places.
Michelin and the MotoGP will now remain in Austria as the whole field returns to the Red Bull Ring next weekend for the inaugural running of the BMW M Grand Prix von Styria.
Andrea Dovizioso – Ducati Team:
"I was able to manage the tyres and I was really happy. The feeling was very good, especially on the front and  I was able to brake very hard and I made a step with that. There was a drop, but I was able to control things and manage the consistency until the end and it was enough to win the race."
Piero Taramasso – Michelin Motorsport Two-Wheel Manager:
"The weekend never really felt settled with the weather, when we thought we would get some consistent track time it rained or we arrived in the morning and there had been heavy rain overnight, so the riders never had the chance to fully set-up their bikes to exploit the full potential of our tyres around this circuit. The one positive from this was that we were able to get some valuable data as to how the tyres worked in the quickly changing conditions. The track temperatures rose for today's race and the threat of rain never materialised, so there were lots of changes on the grid with riders and teams making informed decisions as to which tyres to use.  It looked like being a close race, but the crash caused a re-start, thankfully no-one was injured and we could begin again with a shortened race. Over the 20-laps the tyres performed very well for all manufacturers, it was good to have five brands in the top-six places as this shows the tyres work for all and it was especially pleasing to have five of the six specifications used, it was difficult at the last two circuits because of the high heat at both and the poor surface in Brno, but this week there was a bigger choice as conditions were more as we expected on race day. We have now had three winners and three different tracks, now let's see what next week brings when we do it all over again here in Austria."
More, from a press release issued by Esponsorama Racing:
THE ESPONSORAMA RACING ENDS THE AUSTRIAN GRAND PRIX
Esponsorama Racing finished the fourth round of the World Championship, the Austrian Grand Prix, with Tito Rabat in 16th position and a big crash for Johann Zarco.
The French rider, who yesterday completed a good qualifying session that allowed him to start the race in 9th position, was doing a great performance fighting for the top positions. With 20 laps to go, Zarco was involved in an unfortunate incident and was hit by Franco Morbidelli in turn three, causing a spectacular accident that didin't allow him finishing a race that promised a successful result. After the crash, both bikes were thrown out and nearly caught up with Rossi and Viñales, but fortunately both Zarco and all the riders involved were unharmed.
After the comments and declarations that have been made, Johann Zarco is very affected, as at no time did he intend to carry out a manoeuvre that would endanger any other opponent. However, the French Esponsorama Racing rider wanted to apologize and clarify with each and every one of the riders involved in this race incident.Nevertheless, after the Austrian Grand Prix, the telemetry showed that Zarco was braking later in turn 3 than in the rest of the race, so it is clear from this analysis that at no time was his intention to harm Morbidelli's braking and close his line.
For his part, Tito Rabat, who set the 21st fastest time in qualifying, had a solid race and made a comeback, although he was unable to get into the points for just a second. The Barcelona-born rider, after starting the race again after the red flag, managed to get into the top-15, but finally had to settle for 16th position.
With no time to rest, next weekend Esponsorama Racing will have another chance to show its great potential at the same Red Bull Ring – Spielberg, in this case for the Styria Grand Prix.
JOHANN ZARCO – DNF
"A pity Sunday because I got a big crash in the race with Franco Morbidelli. On the brake he touched me, and we flew away, he has been surprised because we were so close and with the speed it was not easy to slow down. Then we have been scared because our bikes really could hit somebody but finally no one was really injured, so that is the most important thing. It is a pity because I got a good weekend, I was competitive, and I could expect a great result in the race. It was maybe the race where I can have the best pace during the 28 laps, but it finished before. It is very important to have next race in the same place and next week. I need to improve to have the chance to fight for the podium, so I will rest the maximum during the three days and work well next week."
TITO RABAT – P16
"I had a pretty good start and was able to move up two positions. After that it was difficult to keep up with the pace, however, the front group wasn't far away and we were able to finish the race, although without points. We are going through a little bit of a bump, but next week we will have a new opportunity.
More, from a press release issued by Red Bull KTM Tech3:
Lecuona brings home strong 9th at Red Bull Ring
Red Bull KTM Tech3's Iker Lecuona delivered a great performance on race day in Austria. The MotoGP rookie, who was starting from 16th before and after the race was red flagged showed a decent rhythm throughout the dramatic Motorrad Grand Prix von Österreich. The Spaniard made up several positions and kept his strong pace to the flag, collecting his first seven points in the premier class.
Meanwhile Miguel Oliveira showed a stunning speed in the opening laps to be well placed in fifth when the race was interrupted. Following the restart, he had to give away one position, but was fighting bravely in sixth place until an unfortunate incident with brand colleague Pol Espargaro ended his hopes for a great result at the Red Bull Ring.
Iker Lecuona
 
Position: 9th
Championship: 18th
Points: 7
"I have to admit, that I'm quite surprised about today. In the Warm Up this morning, I did quite a lot of mistakes. The race was truly difficult as well, but honestly, I'm very happy, because it's the first race, I could finish in the MotoGP. I lost a bit of ground in the beginning, but after the first two laps, I improved. I had a good pace, I went to overtake some riders and was close to the points. After the restart, I just focused on not losing positions, so I kept my place and even improved it as my pace was very good. I was fighting all race long with many riders and managed the gap to Fabio Quartararo. In the end, I'm really, really happy, because I finished inside the top 9! For me it was perfect!"
Miguel Oliveira
 
Position: DNF
Championship: 14th
Points: 18
"This is a tough result. For sure, we showed a lot of speed today and I think we would have been able to get a very good outcome for the team. Unfortunately, Pol was struggling to stop the bike and I saw he was going wide in a few corners, so in turn four I saw he went really, really wide, therefore I just went on the inside. Normally, when a rider goes out, you try to take advantage of it and somehow, he returned very quick and we both collided. There is no way I see I could have avoided the crash. It's just a shame for this non-result, but we have another chance next week, so we start to focus on that."
Hervé Poncharal
Team Manager
"It could have been a really nice day for KTM in general and for the Red Bull KTM Tech3 team. After the first interrupted race, we talked to Miguel, who had a really great feeling. He got a better grid position for the restart and a good start and we were in the mix in the front group and just waiting to see how the race was going to develop, but in a really good position. Unfortunately, we didn't see so well on tv, but when we saw that both, Pol and Miguel were missing on the monitor, we understood there has been a problem between these two. I would say, it's an unfortunate racing incident. Unluckily, this is the second time, two KTMs colliding into each other after what happened in Jerez and in these two incidents, both times Miguel was involved and both times, it was a DNF for him, which is a shame. Because when you see the championship standings, I think we could be really up there. It's just a disappointing situation. But anyway, let's take the positives; we are here for another weekend, we've been fast, nobody is injured and we try again next week. On Iker's side, I want to say congratulations to him and his crew. The first three races of the championship were very tough, it was not easy for him and when you do three races in a row without finishing them, without points, the pressure is high. Iker is the youngest rider on the grid, he's a rookie and it's been difficult for him to cope with all these things, but he did it really well this weekend. In all sessions, he was fast, not one single mistake. The whole race he was behind Fabio Quartararo, who is the championship leader, don't forget. To end up in ninth position for your first ever MotoGP finish, I think is showing the level of Iker. I'm very proud of him. Today I would say, KTM got the best results with their two rookies. Good job for Iker, good job for Miguel. Unfortunately, we couldn't finish the race, but it's just a few days until we restart, so let's keep only the positives and forget about the negatives!"