More, from a press release issued by Dorna:
Pecco paints a masterpiece to defeat Quartararo at Mugello
Ducati take back their turf as another 63 vs 20 chess match lights up Tuscany, with Aleix Espargaro making another little piece of history in third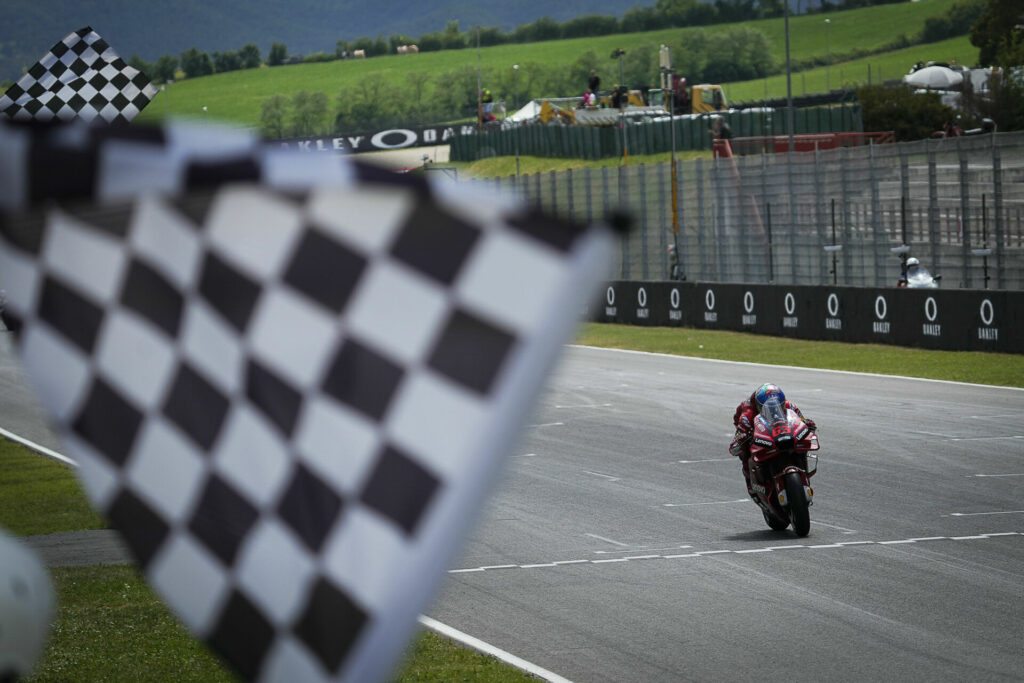 Sunday, 29 May 2022
Pecco is back on top! In another classic 63 vs 20, Francesco Bagnaia (Ducati Lenovo Team) was back to his flawless winning ways at the front of the field in the Gran Premio d'Italia Oakley, bouncing back in style from a crash out in France. Fabio Quartararo (Monster Energy Yamaha MotoGP™) nevertheless gave it everything he had, stalking the Ducati rider for the majority of the race after the two picked their way to the front. In taking second, 'El Diablo' also extends his lead in the Championship.
Aleix Espargaro (Aprilia Racing) came through into third for his fourth podium in a row, giving Aprilia some home turf glory and becoming only the third rider on the grid, along with Marc Marquez (Repsol Honda Team) and Andrea Dovizioso (WithU Yamaha RNF MotoGP™), to have taken four or more premier class podiums in a row.
Ducati had swept the top five in qualifying but, rather than the slightly more accustomed Bagnaia being on the front row, it was rookie Fabio Di Giannantonio (Gresini Racing MotoGP™) starting from pole, fellow rookie Marco Bezzecchi sitting second and Mooney VR46 Racing teammate Luca Marini alongside. Di Giannantonio made a good launch and emerged with the lead from San Donato despite an attack from the VR46 duo, but Marini got past as they turned into Materassi as Bezzecchi slotted into third at the start of the 23 laps that lay ahead.
Bezzecchi overtook Di Giannantonio through Scarperia/Palagio, before Quartararo snatched fourth spot back from Aleix Espargaro on Lap 2 after the Aprilia rider had made a bold move down the hill on the opening lap. Quartararo was third when he slipped by Di Giannantonio at Scarperia/Palagio on Lap 2, but he had a serious challenge on his hands to try and keep the Ducatis at bay given the power they had on tap up the main straight.
A new Ducati threat then emerged when Bagnaia, who had been shuffled back to ninth on the opening lap, got through on Aleix Espargaro for fifth on Lap 4. However, Quartararo was also on the march as he slipped past Marini later on that same lap, promoting 'El Diablo' to second.
Bagnaia slipstreamed past Di Giannantonio as Lap 4 became Lap 5, and then pulled off a big move the next time he charged up the hill towards San Donato, passing both Quartararo and Marini to move into second. 'Pecco' was in the lead after he overtook Bezzecchi at the start of Lap 9, while Quartararo relied on superior turning to pass the VR46 Ducati rider at Scarperia, on Lap 11. The stage was set and so began the see saw at the front. 1.2, 1 second, 1.1, 0.9… the two pounded on at the front.
Meanwhile, Di Giannantonio's charge began to fade and Aleix Espargaro again found himself in the top five, just behind a battle between VR46 teammates Bezzecchi and Marini. Enea Bastianini (Gresini Racing MotoGP™) and Johann Zarco (Prima Pramac Racing) caught that bunch around 13 laps in, but the former was then out of the race when he tucked the front through Materassi, on Lap 14. Rider ok, standings taking a dent.
Aleix Espargaro finally got back through to fourth as he went down the inside of Marini on Lap 14 at Correntaio, and Zarco relegated #10 to sixth position at the start of Lap 17. Then, Aprilia's 'Captain' got ahead of the next impressive VR46 hurdle with a pass of Bezzecchi at Scarperia on lap 17.
While that was elbows out, Quartararo was starting to make inroads on Bagnaia's margin. 'El Diablo' brought the gap back under a second with around half a dozen laps to go and was able to keep it there, but then the Ducati rider was able to respond. It was back out to 1.1 with a lap to go, and by the time he crossed the line for an emotional win, it was just over half a second. And those 25 points put Pecco fourth, 41 points off Quartararo.
Aleix Espargaro, meanwhile, finished just under two seconds further back, while Zarco passed Bezzechi on the final lap to claim fourth. Marini made it VR46 bikes fifth and sixth, while Brad Binder (Red Bull KTM Factory Racing) proved once again that he is the 'Sunday man' by climbing from 16th on the grid to seventh all-told, and only a couple of tenths off the VR46 battle.
Rounding out the top 10 were Takaaki Nakagami (LCR Honda Idemitsu), Miguel Oliveira (Red Bull KTM Factory Racing), and – in his last race before surgery on his right arm – Marc Marquez (Repsol Honda Team).
It took a video review to decide 11th position, in favour of Di Giannantonio, after he and Maverick Viñales (Aprilia Racing) has initially posted identical race times. Jorge Martin (Prima Pramac Racing) finished 13th, Alex Marquez (LCR Honda Castrol) took 14th, and Jack Miller (Ducati Lenovo Team) scored the last World Championship point in 15th. The non-finishers in addition to Bastianini were Pol Espargaro (Repsol Honda Team), who crashed out on Lap 5, and Team Suzuki Ecstar duo Joan Mir and Alex Rins, who both went down in separate incidents on Lap 8. Rins' crash was after contact with Nakagami, but the incident was reviewed and no action taken.
In the World Championship, Quartararo's lead over Aleix Espargaro has crept up to eight points, while Bastianini is now 28 points off the pace in third spot. And Pecco is on the march…
Can he make up more ground when MotoGP™ heads to the Circuit de Barcelona-Catalunya for the Gran Premi Monster Energy de Catalunya? Find out next weekend!
MotoGP™ PODIUM
1 Francesco Bagnaia (Ducati Lenovo Team) – Ducati – 41:18.923
2 Fabio Quartararo (Monster Energy Yamaha MotoGP™) – Ducati – +0.635
3 Aleix Espargaro (Aprilia Racing) – Aprilia – +1.983
Francesco Bagnaia: "Incredible. I'm already without my voice; I screamed loud and too much. it's incredible. I think all of the team and me have really deserved this victory because we have worked a lot. Last week, we were as strong, but we were more unlucky. In any case, we worked so well during this weekend. The start was not my best start ever and in the first braking zone I was a bit late, but in any case, I'm very happy to have won this race at home, in front of our fans. It's really great."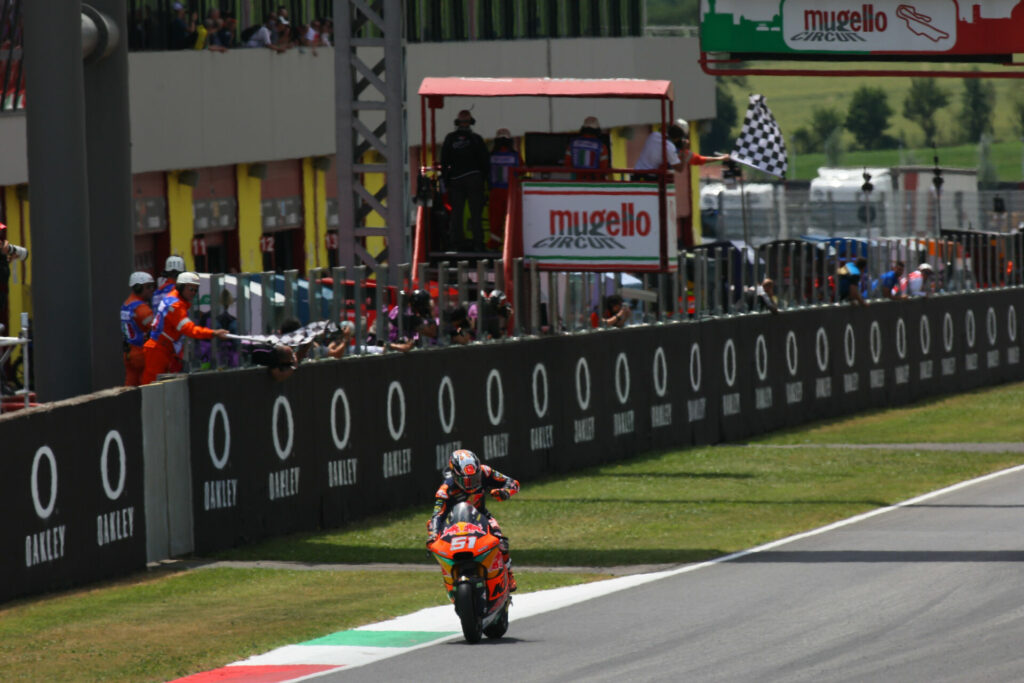 Acosta makes history to become youngest intermediate class winner
The rookie sensation reclaims his moniker, taking his first Moto2™ win at Mugello and beating Marquez' record
There's a new history maker in town, or more accurately, Pedro Acosta (Red Bull KTM Ajo) has done it again. After crashing out the lead at Le Mans, the rookie sensation reclaimed that moniker in some style as he became the youngest intermediate class winner, pulling clear in the latter stages at Mugello to take back to the top step. The previous record holder? Marc Marquez. A group fight just behind saw Joe Roberts (Italtrans Racing Team) come home second and Ai Ogura (Idemitsu Honda Team Asia) complete the podium.
In doing so the Japanese rider moves up to second overall but equal on points with Championship leader Celestino Vietti (Mooney VR46 Racing Team) after heartbreak at home for the Italian, with a technical problem taking him out the fight when sat behind Roberts. There was more drama too, with Aron Canet (Flexbox HP 40) sliding out of second earlier in the race, rider ok.
Canet had got the holeshot from pole position but Acosta outbraked him when they arrived at San Donato and he led the field down the hill for the first time. Sam Lowes (Elf Marc VDS Racing Team) went past Canet through the Casanova/Savelli complex on Lap 1 but the Spaniard returned the favour on Lap 2, and Lowes instead found himself in a battle with teammate Tony Arbolino over third spot for several laps.
Acosta rode a composed race, his only real blemish being when he ran wide exiting Arrabbiata 2 on Lap 3 and got loose on the kerb. That moment allowed Canet back past, but he held the lead only until #51 slipstreamed back in front at the start of Lap 4. They were still first and second, having pulled around a second clear of the chasing pack, when disaster struck for Canet on Lap 13. He tucked the front going through Bucine and went sliding into the gravel trap, marking the end of his afternoon but rider ok.
That incident left Acosta on his own at the head of the field, but there were battles aplenty going on not too far behind. In addition to the intra-team battle between Lowes and Arbolino, Roberts and Ogura were going hard it for fifth position initially, while Vietti was on the comeback trail after he was swamped at the first corner of the race and had dropped to 10th.
The pre-race World Championship leader was back up to seventh, albeit one second from the group ahead of him, when he passed wildcard Mattia Pasini (Inde GASGAS Aspar Team) on Lap 6, before Ogura got himself into fourth position when he got by Lowes on Lap 9 at San Donato. The Japanese rider was third when he did likewise to Arbolino on Lap 10, but the Italian got back ahead exactly a lap later.
Ogura overtook Arbolino once more into San Donato on Lap 13, just before Vietti picked off Lowes for sixth through Casanova/Savelli. With Canet out of the picture, Roberts and Vietti were third and fourth once they also got ahead of Arbolino, and then they went after Ogura. The American made a bold move at Palagio on Lap 14 which held up Ogura on exit and Vietti rode through the gap too, relegating the Honda Team Asia rider to fourth.
Meanwhile, the Marc VDS duo continued to lose touch with the four ahead as they sliced and diced with each other. Matters came to a head on Lap 19 when Arbolino had a dive at Turn 2, making contact with Lowes which caused his team-mate to crash. The Briton vented his fury from the gravel trap while Arbolino would soon be issued a long lap penalty.
It was looking like a solid recovery for Vietti, who would have extended his World Championship lead if he stayed ahead of Ogura, but then his bike suffered a problem less than three laps from home. Not only did he miss out on 16 points, the extra three which Ogura would collect by inheriting third position draws them level on points at the top of the table.
There were no such dramas for Acosta. He continued to pull away and ultimately took the chequered flag 4.051 seconds up on Roberts. Ogura finished third, and Arbolino still grabbed fourth, though just 0.015 seconds ahead of Augusto Fernandez (Red Bull KTM Ajo) after a long comeback from outside the points after a tougher qualifying and then start for the Le Mans winner.
The rest of the top 10 was Jake Dixon (Inde GASGAS Aspar Team) in sixth, from Cameron Beaubier (American Racing), impressive rookie and new full-time rider Alonso Lopez (MB Conveyors Speed Up), Marcel Schrötter (Liqui Moly Intact GP), and Albert Arenas (Inde GASGAS Aspar Team). Somkiat Chantra (Idemitsu Honda Team Asia) was a notable DNF after his spill at Scarperia on Lap 5.
That's all from Mugello, and now the field head for Barcelona for a quick turnaround and another racing Sunday. Join us next weekend for more in Moto2™!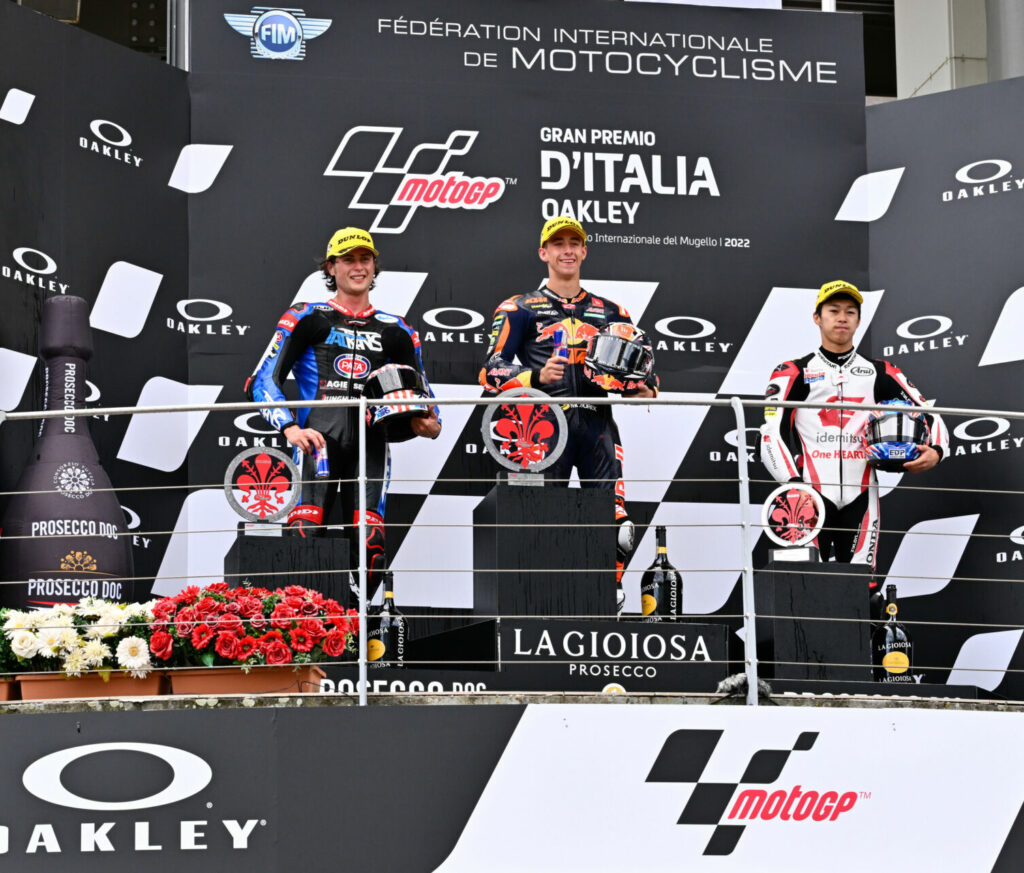 Moto2™ PODIUM
1 Pedro Acosta (Red Bull KTM Ajo) – Kalex – 39'35.930
2 Joe Roberts (Italtrans Racing Team) – Kalex – +4.051
3 Ai Ogura (Idemitsu Honda Team Asia) – Kalex – +6.749
Pedro Acosta: "It was a long way, a long way to be here. We lost a good opportunity in Le Mans, we lost a good opportunity in America, and finally we have arrived. I think we are doing an accurate job and if we can continue in this way, we can have so much fun at the end of the season."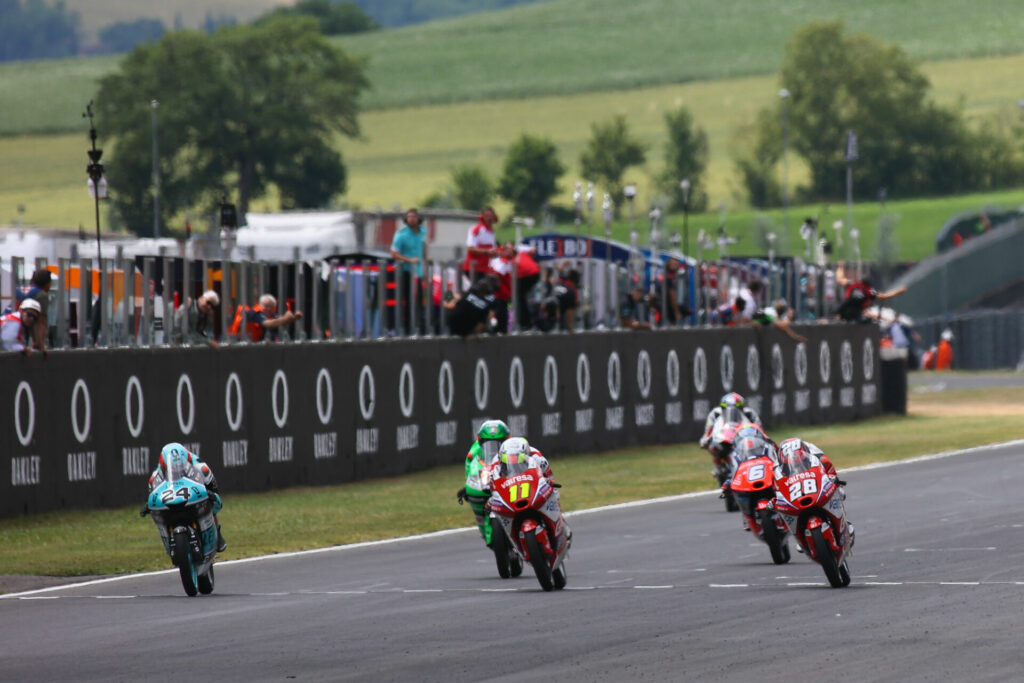 Garcia, Guevara and Suzuki decide Moto3™ thriller at Mugello
Guevara crosses the line first, gets demoted for track limits, Garcia takes the win and it's still almost a dead heat over the line
Sergio Garcia (Valresa GASGAS Aspar Team) came out on top in a last lap classic at Mugello, with plenty of drama as two title rivals failed to score and teammate Izan Guevara crossed the finish line first. The number 28 had exceeded track limits on the last lap, however, and forfeits the win to Garcia. Tatsuki Suzuki (Leopard Racing) completed the podium as his step back into frontrunning speed continued, the number 24 overcoming a Long Lap and still crossing the line almost in unison with the GASGAS duo.
Deniz Öncü (Red Bull KTM Tech3) got the holeshot and after only a lap, there was a trio at the front: the Turk leading Guevara and Diogo Moreira (MT Helmets – MSI), with Andrea Migno (Rivacold Snipers Team) on the chase at the front of a freight train. It didn't stay that way for long though, with a long snake of Moto3™ machines soon making their way round Mugello.
Drama then hit for Öncü as the fight lit up though, with contact from Suzuki seeing the Turk slide out. The Japanese rider was given a Long Lap to take, and Öncü was able to rejoin, facing a fight back from well outside the points.
Meawhile, Jamue Masia (Red Bull KTM Ajo) had a moment that dropped him down the order too, just as Dennis Foggia (Leopard Racing) had taken up the mantle at the front, the Italian starting to build a gap. It wasn't to be this time round though, with the number 7 crashing from the lead and Carlos Tatay (CFMoto PrüstelGP) avoiding that, just before some more drama as John McPhee (Sterilgarda Max Racing Team) crashed and Daniel Holgado (Red Bull KTM Ajo) went down in the incident too.
The shuffle left a gap behind the leading six of Moreira, Garcia, Guevara, Ryusei Yamanaka (CFMoto PrüstelGP), Riccardo Rossi (SIC58 Squadra Corse) and Migno, with Suzuki then tucked in on a mission to tag back on after completing the Long Lap. And he did it, creating a seven-rider fight for the win by five to go and then taking the lead with four to go.
On the last lap, Guevara was leading Garcia leading Suzuki, with Migno looking to attack the Japanese rider. And in classic Moto3™ style it all went down to the final corner as Garcia headed up the inside and Guevara tucked into the slipstream, with Suzuki doing the same and getting some great drive to add to the grunt of his Leopard Honda.
It was neck and neck all the way to the line, but Guevara got there first… just. And then news came through the number 28 had exceeded track limits on the final lap and the victory slipped through his fingers, promoting Garcia to the win and the 25 points. Guevara is classified second, with Suzuki completing the incredibly tight podium.
Migno just lost out on home glory in fourth, with Yamanaka completing the top five and taking his best race result yet. Rossi was the last of the front group in P6 after a tangle with Moreira at the final corner. The two suffered some light contact and then, trying to recover, the Brazilian overgassed it and highsided out.
Five seconds back there was another incredibly close trio, with Ivan Ortola (Angeluss MTA Team) beating Elia Bartolini (QJMotor Avintia Racing Team) and Matteo Bertelle (QJMotor Avintia Racing Team) to seventh. Adrian Fernandez (Red Bull KTM Tech 3) just pipped debutant David Muñoz (BOE Motorsports) to the top ten, with Joel Kelso (CIP Green Power) a couple of tenths back. Mario Aji (Honda Team Asia) takes P13, with Lorenzo Fellon (SIC58 Squadra Corse) dropping to 14th after a Long Lap.
The points were completed by Öncü as the Turk put the pedal to the metal on his comeback, with Kaito Toba (CIP Green Power) and Masia joining him in a three-way battle to the line. But Öncü took it, making Sunday at Mugello a 0 for both Foggia and Masia, and a day of big gains in the standings for GASGAS.
That's a wrap on Mugello, and next up it's Catalunya with a quick turnaround. What will Barcelona bring? We'll find out in less than a week!
Moto3™ PODIUM
1 Sergio Garcia (Valresa GASGAS Aspar Team) – GASGAS – 39'43.214
2 Izan Guevara (Valresa GASGAS Aspar Team) – GASGAS – -0.000
3 Tatsuki Suzuki (Leopard Racing) – Honda – +0.012
Sergio Garcia: "Yeah, I'm really happy. For me, the Mugello race last year was the most difficult. It's really difficult to win here and I'm very happy. This race is for my friend, and for all his family. Thank you."