Jorge Martin won the rain-affected, red-flag-shortened FIM MotoGP World Championship race at Mobility Resort Motegi, in Japan. The race was started as a "dry" race, but rain drops were beginning to fall as the start lights went out. As soon as the race was started, the rain flags began to wave, indicating riders could come into the pits to change to bikes with rain tires, if they chose to do so, and many did.
The rain intensified and the race was eventually stopped short on lap 13 due to the deteriorating track conditions. It was not restarted, the race was declared complete, and the finishing order was set from the lap 12 running order.
Prima Pramac Racing Ducati's Jorge Martin was awarded the victory, his third race win of the season to go with his five Sprint race wins. Defending Champion Francesco Bagnaia got second, 1.413 seconds behind Martin, on his Lenovo Team Ducati. Marc Marquez was a close third on his Repsol Honda.
The results of the race left Bagnaia with just a three-point lead in the World Championship over Martin with six rounds of racing remaining.
More, from a press release issued by Dorna:
Nerves of steel: three points in it as Martin outpaces Pecco in the rain and Marquez returns to the rostrum
Not even a flag-to-flag can dampen Martin's charge as he navigates a bike switch and heavy rain to come home ahead of Bagnaia, with Marquez making a charge to third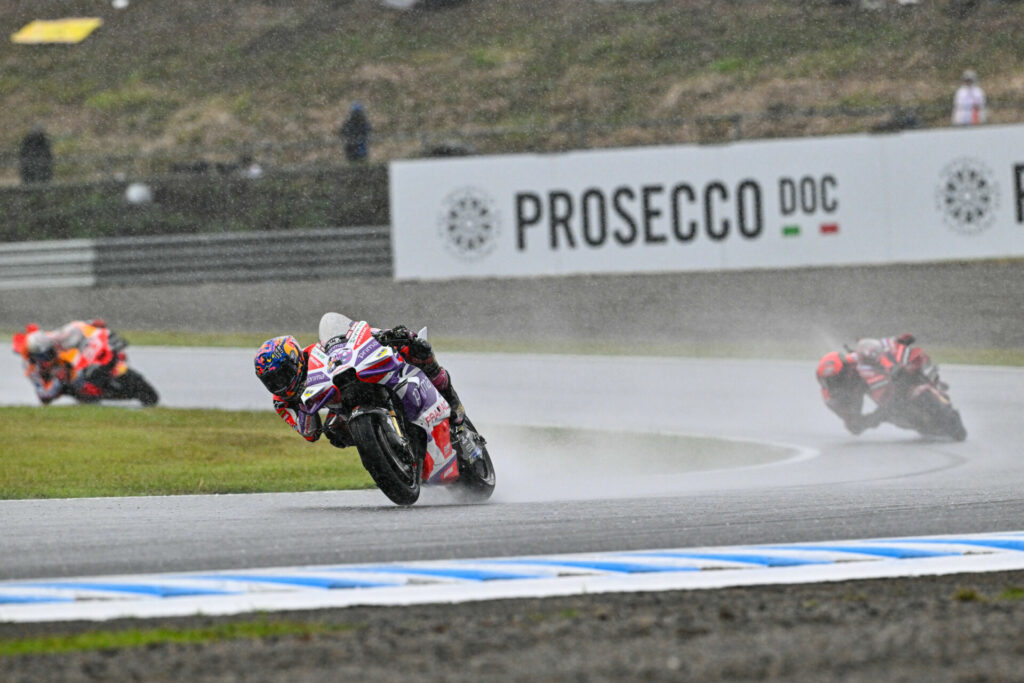 Sunday, 01 October 2023
It was a day for nerves of steel at the Motul Grand Prix of Japan, with the Championship on a knife edge before the race start and drops of drizzle becoming a flag-to-flag and then some serious rain. But on a day when faltering would likely have lived long in the memory, neither in the duel at the top of the standings did. Jorge Martin (Prima Pramac Racing) overcame arguably his biggest test of late to put on a wet weather masterclass at the front, outpacing Francesco Bagnaia (Ducati Lenovo Team) to cut the gap to just three points. The test was also a huge one for Bagnaia, on the back foot in terms of momentum and faced with the toughest conditions of the season so far, but the reigning World Champion dug in, held on, and took the necessary 20 points needed to keep that lead.
As the top two in the Championship held their nerve, so did the rider in the centre of his own storm as rumours about the future swirl: Marc Marquez (Repsol Honda Team) got back on the Grand Prix podium for the first time in 2023, and on home turf for Honda.
On the grid the tyres were slicks and the skies were grey, with Martin getting the dream start to take the holeshot, while Jack Miller (Red Bull KTM Factory Racing) also got off the line superbly. The same can't be said for reigning World Champion Bagnaia, who headed into Turn 1 in fourth as Brad Binder (Red Bull KTM Factory Racing), though the factory Ducati bit back on the exit of the second corner.
There was immediate disappointment for Maverick Viñales (Aprilia Racing) who ended up in the gravel after contact with several riders going into Turn 1, while Johann Zarco (Prima Pramac Racing) went wide with him.
As the rain started to increase, pitlane was opened almost immediately for riders to swap bikes, something which the vast majority opted to do. Martin led them into pitlane, with Bagnaia, Marco Bezzecchi (Mooney VR46 Racing Team), Marquez and Aleix Espargaro (Aprilia Racing) following closely behind. Five opted to stay out: Fabio Quartararo (Moneter Energy Yamaha MotoGP™), Franco Morbidelli (Monster Energy Yamaha MotoGP™), Cal Crutchlow (Yamalube RS4GP Racing Team), Stefan Bradl (LCR Honda Castrol) and Michele Pirro (Ducati Lenovo Team) were the quintet of riders, and all of a sudden, Pirro led the Japanese Grand Prix.
From those who chose to change bikes, Martin led a large group out onto the track, with Espargaro, Miller, Bagnaia and Marquez next. At Turn 10, Espargaro challenged Martin for the lead of the group but the Pramac rider struck back. As we went to clock off another lap, Quartararo and Crutchlow then changed machines. Pirro, Bradl and Morbidelli did not.
It was an incredibly dramatic start to the race, and it showed no signs of slowing down as Martin went wide under pressure from Espargaro, dropping to P9 before Fabio Di Giannantonio (Gresini Racing MotoGP™) picked him off. A ballsy move around Turn 6 though returned the position to the title hopeful as he went up the inside of the Gresini machine.
By the end of Lap 3, the riders on wets caught Morbidelli as Marquez tried to battle past Espargaro at Turn 11, but couldn't keep it pinned as he slipped back behind the Aprilia. A little further back, Martin was out to make amends from his earlier error and got through on Miller at Turn 3 for sixth, lining up behind title rivals Bezzecchi and Bagnaia.
Amid all that, Pirro, incredibly, still led the Grand Prix by 10 seconds, but he soon swapped bikes too, meaning we had a new race leader in the form of Aleix Espargaro, who had time to spare over Marquez in second. There were then further shifts in the pecking order, as Bagnaia and Martin both picked off Bezzecchi, before the Ducatis then flew past Marc Marquez by the end of the lap to move for the podium places.
Just five laps in, and we had enough drama to last a season… and it was far from over!
A look at the timing screens showed Aleix Espargaro out front, but his lead was cut to half a second over Bagnaia, with Martin completing the provisional podium paces. Bezzecchi picked off Marquez as the Repsol Honda began sliding the wrong way, with Miguel Oliveira (CryptoDATA RNF MotoGP™ Team) the next to get the better of him. By this stage, the race lost Binder to a crash as he slid out at Turn 3, rider ok.
Back out front, Martin was on the march, battling past Bagnaia for second and then making light work of Espargaro for the lead, and the in form Spaniard opened up a cushion of seven tenths. 1.5 seconds behind the front two, Bezzecchi moved into third place at the expense of Aleix Espargaro, who seemed to lose all drive aboard his RS-GP with Oliveira and Marquez both coming through on him seconds later.
After nine laps, it looked like the race began to settle down after probably the most hectic start to a MotoGP™ race in recent memory. Martin's lead was out to a second, with Bagnaia still holding his advantage over Bezzecchi. Oliveira was next in line, but the master of the wet in recent times couldn't mount a podium challenge and then entered the pits to retire by the end of Lap 12, a lost chance.
The action was still coming thick and fast behind the leaders though, with Joan Mir (Repsol Honda Team) and Miller staging a spectacular battle for seventh before the Aussie lost out after running it wide at Turn 11, somewhat fortunate not to crash as he rejoined the chasing pack in 10th. That suddenly put the Constructors' crown in reach for Ducati…
Conditions were worsening, with bikes spraying up water from the asphalt as the pace slowed, but that couldn't stop Marquez from making moves as the eight-time World Champion went by Bezzecchi and onto the podium on the drive into Turn 11. He then began taking chunks out of Bagnaia's advantage, and it looked like just a matter of time before he reeled him in…. but then the red flag waved. Riders returned to pitlane. Including Zarco who crashed moments before the red flag and wrote off his GP23, rider ok.
With 13 of 24 laps completed, a restart would happen if conditions were to improve, but that was a big if. It seemed that conditions had cleared enough for a restart, but before they could complete the warm up lap, the red flag was waved once again, and a race result was declared. As over 50% of the race had been completed, full points were awarded.
Martin's nerves of steel in the face of a very different challenge see him confirmed the winner, with another 25 points putting him just three off Bagnaia. But to keep that lead, if he didn't beat him and Martin won, Pecco had to follow him home. And that he did.
Bezzecchi missed the podium but collected 13 points ahead of Aleix Espargaro and Jack Miller in P5 and P6 respectively. Augusto Fernandez (GASGAS Factory Racing Tech3) finished ahead of Fabio Di Giannantonio for seventh, while Raul Fernandez (CryptoDATA RNF MotoGP™ Team) and Quartararo completed the top 10. Takaaki Nakagami (LCR Honda Idemitsu) came home in 11th in his home Grand Prix, with Mir, Crutchlow, Bradl and Pol Espargaro (GASGAS Factory Racing Tech3) completing the point-scoring places.
Perhaps it was a muted end, but it was simply a breathtaking, spectacular challenge and race at the Japanese Grand Prix. Now, we've got two weeks until the Pertamina Grand Prix of Indonesia gets underway, which might just be as well, because it's going to take some time to unpack this one.