More, from a press release issued by Dorna:
Sweet emotion: Miller silences the doubters with a masterclass at Jerez
A first win in red, a first since 2016 and Ducati's first 1-2 in three years? The Spanish GP had thrills, spills and a few surprises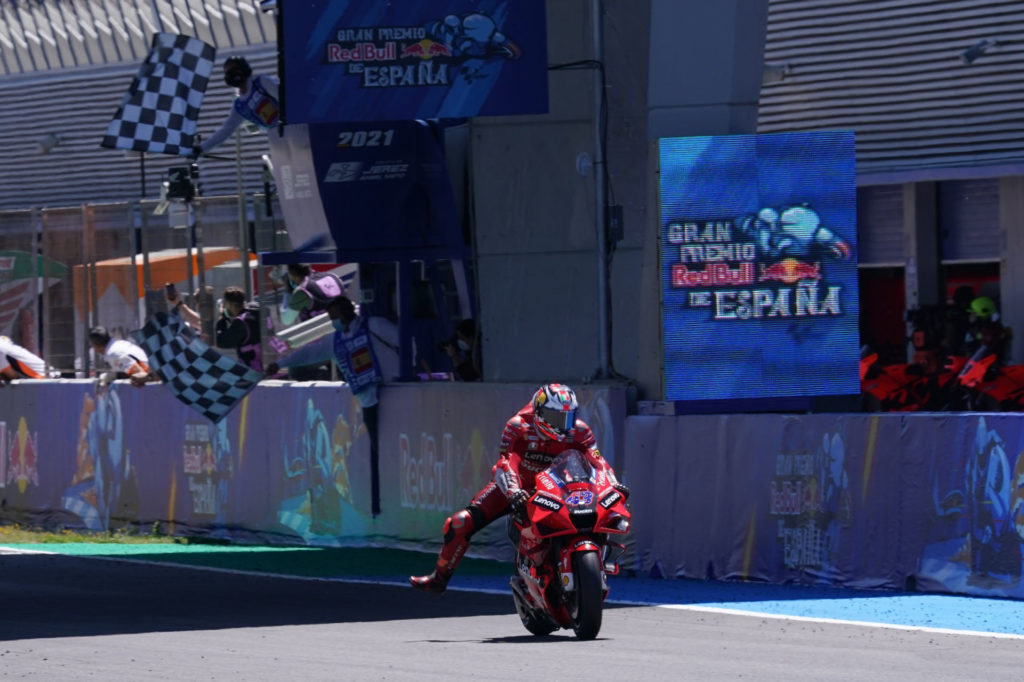 Sunday, 02 May 2021
There are few sweeter feelings for a rider than standing on the top step of the MotoGP™ podium, but doing it for the first time in five years and the first time as a factory Ducati rider adds something special. Add in two muted races, a little dash of drama, surgery and then a crash last time out on the run up to the Gran Premio Red Bull de España and Jack Miller's (Ducati Lenovo Team) emotion in parc ferme is even easier to understand. It was a masterclass to boot as the Australian got the holeshot, fought it out at the top, reeled in early leader Fabio Quartararo (Monster Energy Yamaha MotoGP) and then kept it pinned, coming home to lead the first Ducati 1-2 since 2018 as teammate Francesco Bagnaia showed more speed for second. Franco Morbidelli (Petronas Yamaha SRT) went one better than Portugal to complete the podium, keeping that momentum just as hoped and taking top Independent Team rider honours. Quartararo eventually finished just inside the points.
Starting from the outside of the front row, Miller grabbed the holeshot as poleman Quartararo lost out slightly. The Frenchman was swamped into the first corner and found himself down in fourth, just ahead of Aprilia Racing Team Gresini's Aleix Espargaro, who had a strong start to find himself in fifth. Down the back straight for the first time it had settled into Miller leading the way, from Morbidelli and Bagnaia that way round early doors.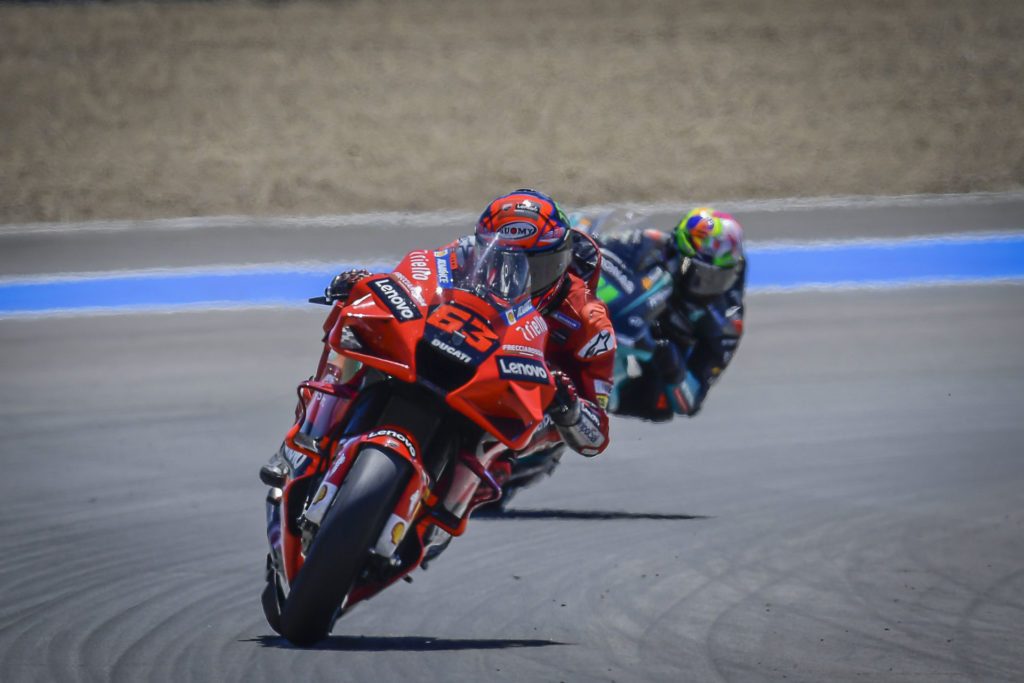 There was quick drama a little further back for a couple of riders. LCR Castrol Honda's Alex Marquez crashed out on the opening lap and he was later joined in the gravel by Red Bull KTM Factory Racing's Brad Binder, who crashed out at the start of Lap 2.
At the front though, Bagnaia and Quartararo began to duel for third. First, the Frenchman moved up the inside in the opening sector before the Bologna bullet of Bagnaia motored back past down to Turn 6. Then, for a second time, Quartararo got in front of Bagnaia, this time at the final corner. Going defensive into the first corner to make sure it stayed like that, the job appeared done.
On Lap 3 we had faller three of the Spanish GP as Alex Rins (Team Suzuki Ecstar) made it a fortnight to forget with a second consecutive crash, wide at Turn 6 and the front-end then washing away to end his Jerez hopes and loe his chance to unleash what looked like some impressive pace.
Meanwhile, Quartararo dived up the inside of former teammate Morbidelli for second as his charge back to the front continued, with Aleix Espargaro finding a way through on Bagnaia for fourth at the same time.
El Diablo's plan was coming together. He hit the front soon after with an inch-perfect move on Miller into the final corner, and alarm bells were surely ringing for Morbidelli in third as the factory Yamaha man put the hammer down immediately and stretched out four tenths over the Australian in the space of a lap. A new lap record around the Circuito de Jerez – Angel Nieto a lap later and Round 4 of the MotoGP™ World Championship was following the 22-year-old's script to a tee. So far…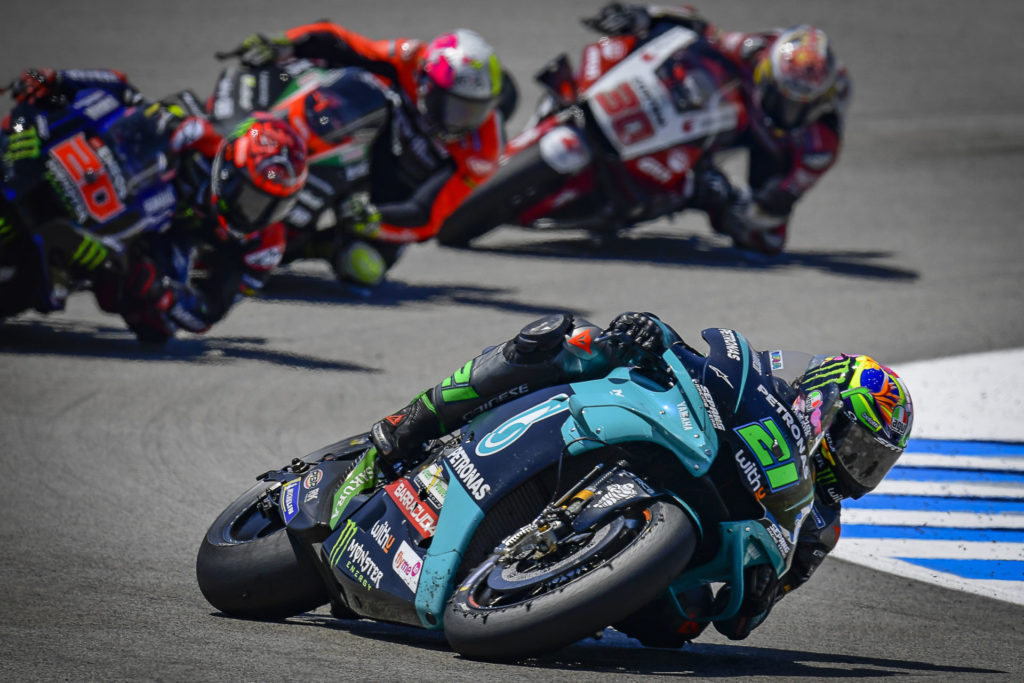 Miller has admitted in recent weeks that he's been in the trenches following a disappointing start to the year, but he was certainly gritting his teeth and digging in. Quartararo was only able to go a tenth quicker than the Ducati man and the gap was at three quarters of a second with seven laps completed. As the Frenchman edged his lead out to over a second for the first time, Aleix Espargaro slipped a place back to fifth after falling into the crosshairs of Bagnaia's Ducati down the back straight too. But as one Ducati rider moved forward, another crashed out: rookie Enea Bastianini (Avintia Esponsorama) hit the deck at Turn 2 – his first DNF of the year, although he continues leading the Rookie of the Year standings.
Bagnaia, meanwhile, had seen off the close attention of Aprilia's Espargaro and had attached himself on to the rear wheel of Morbidelli. His first look up the inside came down the hill into Turn 6, but no way through. The pair of VR46 Academy partners continued to look inseparable in the fight for the final podium place, before Bagnaia finally got his own way at the final corner. He capitalised on a mistake from the Petronas man perfectly, moving through.
Suddenly at the front, it wasn't the plain sailing we've become accustomed to for Quartararo once he's out in the lead. The Frenchman's advantage was cut from nearly two seconds down to nothing in the space of just one lap and it was well and truly game on for Spanish GP glory, with ten laps remaining. Incredibly, Miller then took the lead down the start-finish straight to start Lap 16 of 25, with Quartararo's progress halted and the Frenchman seemingly fading. In the space of half a lap, the Australian was half a second clear and it only grew.
As Miller got to 1.5 clear, Quartararo behind was nearly a second slower than Bagnaia and Morbidelli and his hopes of a podium finish had evaporated. He was a sitting duck as both the Ducati and Yamaha men scythed through and they were queuing up behind the World Championship leader soon. With seven laps to go Takaaki Nakagami (LCR Honda Idemitsu), reigning Champion Joan Mir (Team Suzuki Ecstar) and Aleix Espargaro all pushed their way past to demote him down to seventh, but the Aprilia ended up a slight loser in that fight too as he lost out to both Nakagami and Mir in the shuffle.
Five laps of a remarkable race remained and Quartararo soon pushed outside of the top ten by Pol Espargaro; a statement that was unthinkable just ten minutes earlier. A couple more laps ticked by and it seemed there could be drama brewing at the front too. Miller's lead was cut down to just a second by teammate Bagnaia as some tension suddenly appeared for the Aussie. Could the Thriller hold on for a first Ducati victory? They were a nervy final few laps but the number 43 kept his cool and, for the first time since the 2016 Dutch TT, took victory ina MotoGP™ race – Ducati's first in Jerez for 15 years.
Bagnaia put in another top performance to come across the line in second too, making it a first 1-2 for Ducati in just under three years and the first they've ever had at Jerez. There was huge delight for Morbidelli in third as well and the Italian thumped his chest with joy and declared it "as good as a victory" in Parc Ferme. There was yet more Jerez delight for Takaaki Nakagami as the LCR Honda Idemitsu man matched his career-best MotoGP™ result with fourth place too, the Japanese rider seeing off a late charge from Mir, who was forced to settle for fifth.
Aprilia finished the closest they have ever been to a MotoGP™ race winner, 5.164 seconds adrift of Miller, but in sixth so Aleix Espargaro still wanted more, such is their step forward so far in 2021. Monster Energy Yamaha MotoGP's Maverick Viñales clinched seventh place, ahead of Pramac Racing's Johann Zarco in eighth.
Repsol Honda completed the top ten as Marc Marquez bounced back from his Warm Up crash – and Saturday crash – to take a commendable ninth place as he returns from injury. The final place inside the top ten went to the eight-time World Champion's teammate Pol Espargaro, ahead of Miguel Oliveira (Red Bull KTM Factory Racing) and HRC wildcard Stefan Bradl.
Quartararo eventually limped home in thirteenth and, as a result, surrendered the lead of the MotoGP™ World Championship. The Frenchman was in visible pain on the cool down lap and seemingly suffered with his arm. So, as we head to Le Mans for Round 5, Bagnaia leads the premier class title chase for the first time in his career but has just a two point lead over what will be a fired-up Frenchman on home soil next time out. Danilo Petrucci (Red Bull KTM Tech 3) and teammate Iker Lecuona completed the points.
So that's it from the Spanish GP and a day Jack Miller will remember forever. Tune in for more from the classic Le Mans circuit in just two weeks' time, and get ready for another shuffle as MotoGP™ continues to deliver in one of the greatest eras ever. Can Quartararo bounce back or is the French town to be painted red?
Jack Miller: "I just tried to do what I could, I did a lot of laps all weekend by myself and I knew I had reasonable pace and when Fabio came past I thought ok I've got a bit better pace. I dropped down into the 37s for a few laps there with him but I wasn't able to maintain that, but neither was he. I didn't expect him to drop back to me but he did. I was just able to.. I knew I had a bit of a gap behind me and if I could get past Fabio, I could see he was struggling. Get past him, get my head down, make no mistakes and just try to punch out the laps. Those last seven or eight laps were the longest of my career. I mean, it's just indescribable what I'm feeling right now, it's a flood of emotions: happy, sad, everything. I wish my parents were here to celebrate it with me but they're back at home, I know they'll be celebrating. I want to thank everyone for all their support, I'll try do it again soon."
Di Giannantonio disappears for dominant first Moto2™ win
The Italian put in a stunner at Jerez as Bezzecchi bests some key rivals for second and Lowes gets back on the box in third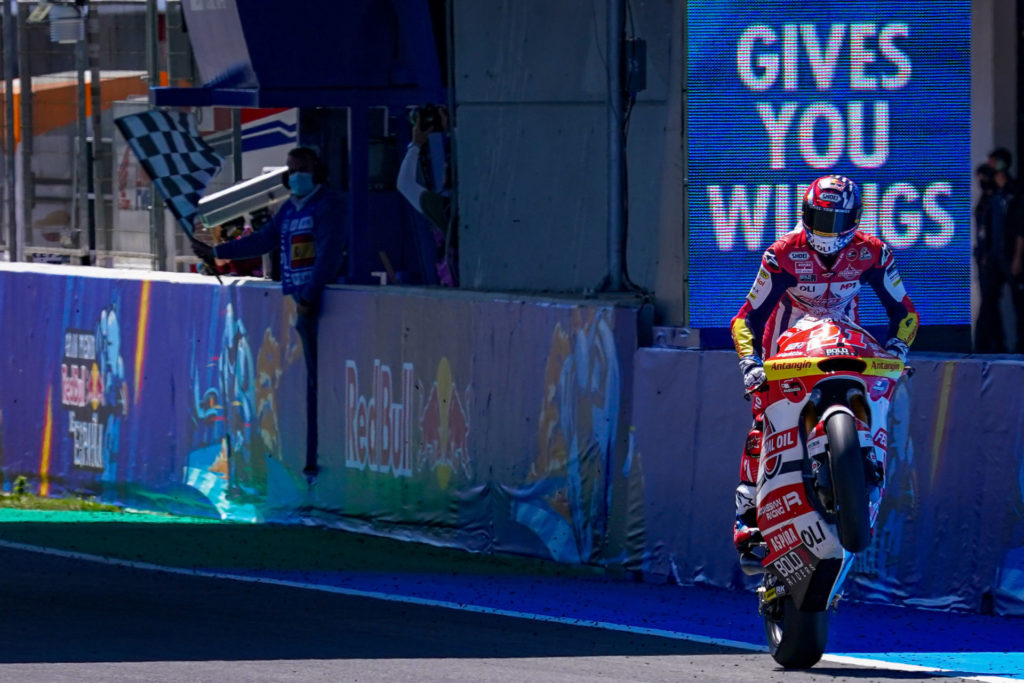 Fabio Di Giannantonio (Federal Oil Gresini Moto2) has come close before, but the Italian is finally an intermediate class race winner after a Moto2™ masterclass at the Gran Premio Red Bull de España. Getting a near perfect start from the front row, the Italian then pulled away for glory and left his rivals battling for best of the rest. Marco Bezzecchi (Sky Racing Team VR46) won that fight as the Italian took his first rostrum of the season in second, with Sam Lowes (Elf Marc VDS Racing Team) taking a solid third to get back on the box.
Di Giannantonio took the holeshot from the middle of the front row of the grid, squeezing ahead of poleman Remy Gardner (Red Bull KTM Ajo) on the brakes. Bezzecchi held third place on the first lap but then very nearly found himself in the Turn 6 gravel trap when he got it out of shape under braking, the Italian somehow missing Gardner's rear wheel but running well wide to allow both Augusto Fernandez (Elf Marc VDS Racing Team) and Raul Fernandez (Red Bull KTM Ajo) through.
It didn't take long for remarkable rookie Raul Fernandez to move into the podium places too with a smooth move on the Elf Marc VDS Racing Team's Fernandez into Turn 1. The number 25 then quickly closed on to the rear wheel of teammate Gardner, before disaster struck behind for Augusto Fernandez he crashed out at Turn 6. He was joined there by Nicolo Bulega (Federal Oil Gresini Moto2) as the front of the Italian's Kalex washed way in a very similar crash.
At the front, Diggia's lead had stretched out to 1.5 seconds as he laid down both searing pace and consistency, so attention switched to the fight for second and third, with Gardner having managed to get his nose in front of Raul Fernandez. Behind the pair of Ajo riders, Lowes was pushed back to fifth as Bezzecchi came steamrolling through. The Brit got himself back in front of the Italian but, into Turn 1, the Sky Racing Team VR46 man pulled off a carbon copy move to take fourth once more.
Raul Fernandez then pulled off a brave overtake on teammate Gardner to retake second, all the while Di Giannantonio was streaking further clear; 3 seconds his lead with 15 laps of Jerez left. It went from bad to worse for polesitter Gardner as Bezzecchi pounced on the Australian's apparent struggles, nudging him down a further place to fourth. The Italian was on a charge as he looked to make amends after his early error running wide.
A mistake then came from Raul Fernandez as a serious bobble at the final corner forced him off line and gave a chance that Bezzecchi wasn't going to turn down. The Italian moved through to second and got his head down in the closing stages as Gardner and Lowes started piling the pressure on Raul Fernandez in the fight for the final place on the podium. Only a handful of laps were left, and both Di Giannantonio and Bezzechi seemed comfortably clear in first and second.
A mistake from Gardner into Turn 6, whilst trying to find a way through on teammate Fernandez, then saw Lowes slice through and into fourth. Onto the penultimate lap and the fight for third was really heating up. Lowes elbowed Fernandez out of the way into Turn 2 as the number 25 started dropping back, sending the Spaniard wide and allowing Gardner to pounce too. The Australian was trying to apply some pressure to Lowes too but the Brit's late-race pace was untouchable and third was his.
Di Giannantonio pulled a huge stand-up wheelie over the line to celebrate a maiden Moto2™ victory in style, with Bezzecchi and Lowes joining him on the Jerez podium. Gardner took fourth ahead of Fernandez in fifth, with the title standings taking a significant shuffle as a result. Heading to Le Mans in a fortnight, it's still Gardner that leads the way but Lowes now sits only three points adrift, with Fernandez a further three back in third.
Petronas Sprinta Racing's Xavi Vierge was pushed all the way by Ai Ogura (Idemitsu Honda Team Asia) for sixth place, with the Spaniard holding on by just over a tenth of a second to the best the Japanese rider to ten valuable points. Italtrans Racing Team's Joe Roberts took the chequered flag in eighth, ahead of Inde Aspar Team's Aron Canet in ninth. The fight for the final place inside the top ten was settled on the final lap when Cameron Beaubier (American Racing) crashed out whilst trying to find a way through on Marcel Schrötter (Liqui Moly Intact GP), meaning the German took tenth.
Marcos Ramirez (American Racing), Jorge Navarro (Lightech Speed Up), Stefano Manzi (Flexbox HP40), Lorenzo Baldassarri (MV Agusta Forward Racing) and Bo Bendsneyder (Pertamina Mandalika SAG Team) completed the points. Albert Arenas (Inde Aspar Team), Somkiat Chantra (Idemitsu Honda Team Asia), Hector Garzo (Flexbox HP40) and Simone Corse (MV Agusta Forward Racing) all crashed out.
That's a wrap on the Spanish GP. Next stop Le Mans in two weeks, with the Championship remaining close as ever ahead of another classic venue.
Fabio Di Giannantonio: "I feel amazing, honestly it feels amazing to come back to first spot and take my first victory in moto2, I sweated a lot to get this victory in the last two years and now it came… wow. Amazing! The race was amazing and I made a fantastic start which I didn't expect because always at the start I'm not so good, but I made a fantastic start and when I was there I just said, 'ok do your rhythm and lines, enjoy the bike… 41.5/6 was coming quite easily so in the end just an amazing result, what can I say, just a big smile.!"
Acosta plays another ace to make more history in Jerez
The rookie sensation extends his lead with another milestone win as huge final corner drama shakes up the podium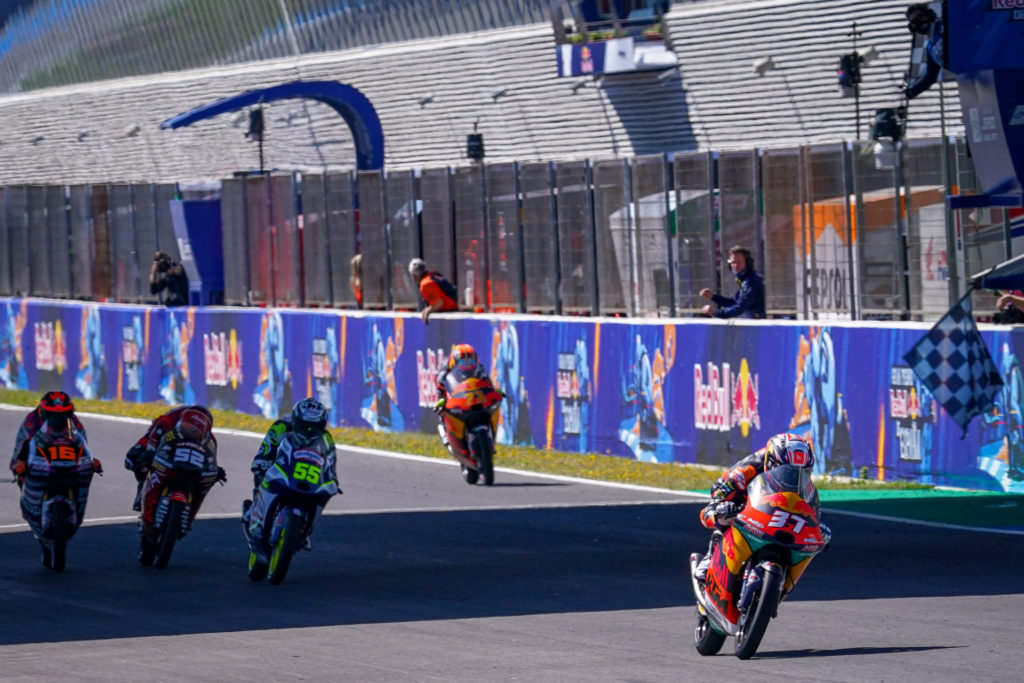 Pedro Acosta (Red Bull KTM Ajo) is no stranger to making some history in 2021, but the rookie sensation has done it again in the Gran Premio Red Bull de España, fighting through to the front and escaping some final corner drama for his third win in a row. He's the youngest rider ever to do that, and he's also the first rider ever to take four podiums on his first four Grand Prix appearances. Romano Fenati (Sterilgarda Max Racing Team) took second as the veteran got his gloves off at the front, with Jeremy Alcoba (Indonesian Racing Gresini Moto3) overcoming two Long Lap penalties to complete the podium.
As the lights went out it was Tatsuki Suzuki (SIC58 Squadra Corse) who took the holeshot from pole, the Japanese rider leading the freight train away shadowed by Andera Migno (Rivacold Snipers Team) and Gabriel Rodrigo (Indonesian Racing Gresini Moto3). Rodrigo hit quick for second though, before the Argentinean duelled for the lead and took it after a few exchanges.
Drama then hit for John McPhee (Petronas Sprinta Racing) as the Scotsman crashed out, and more drama wasn't long coming. After a shuffle just behind saw Rodrigo pull out a small gap, disaster struck as the pack started to close back in. A crash at Turn 7 saw the early leader out the running, with Deniz Öncü (Red Bull KTM Tech3) taking over at the front as he and teammate Ayumu Sasaki made early gains.
By 17 to go, two key contenders were out, those with penalties had started taking their Long Laps, and Acosta was on a charge. Up into second behind the fellow KTM of Öncü, the Championship leader had made short work of his P13 starting position to slot into the front four, and he soon hit the front for the first time not long after.
The freight train was 14 riders at the front as the classic Moto3™ melee began in earnest, but in another blink of an eye a second group managed to tag on to make it 19 riders fighting for 15 points-scoring positions once again. The next man out of that train was sadly polesitter Suzuki though, with the Japanese rider crashing and able to rejoin but then heading into pitlane.
Meanwhile, at the front it was a story of three KTMs and things were getting spicy between Öncü, Acosta and his teammate Jaume Masia. Fenati made for close company in fourth, with Darryn Binder (Petronas Sprinta Racing), Sasaki and Migno the last in a now-breakaway group of seven fighting for the win. That spice, however, made life and pace harder work at the front and soon enough the concertina drew the pack back together. There remained, however, a distinctly orange flavour to the gaggle at the front…
At the exit of Turn 6 on the penultimate lap, there was a heart in mouth moment for Acosta as he had a big moment, leaving Öncü duelling Masia for the lead and a gap back to Fenati and Acosta. After the final corner and the slipstream down the straight, however, the two leaders were back pegged to Acosta and Fenati… and in that order.
Heading into Turn 6 for the last time, there were no repeats of his moment a lap earlier for Acosta. As Öncü defended too hard from Masia, a tiny gap opened on the inside and Acosta needed no invitation. Slamming into the lead it was the number 37 on the verge of history once again, but there was more drama coming at the final corner.
Öncü, after losing the lead earlier, was looking ready to make a lunge and the Turk went for it up the inside, then losing the front and sliding out with a domino disaster: Masia was first collected before Binder also got swiped, with all three down into the run off and Acosta left with a clear run to the line. In the right place at the right time, the Spaniard had closed the door to perfection for his third win in three races.
Fenati avoided the skittle to come through for second, with Alcoba gaining from the crash ahead to convert a difficult race into an impressive ride back through to the podium. Fourth went to Migno as he retained his impressive 2021 consistency, with Sasaki in fifth after another good turn of speed from the Japanese rider fighting at the front.
Carlos Tatay (Reale Avintia Moto3) took sixth ahead of an impressive seventh for Jason Dupasquier (CarXpert PrüstelGP), with Niccolo Antonelli (Reale Avintia Moto3), Xavier Artigas (Leopard Racing) and Ryusei Yamanaka (CarXpert PrüstelGP) completing the top ten and the front group. Izan Guevara (Solunion GASGAS Aspar Team), Filip Salač (Rivacold Snipers Team), Sergio Garcia (Solunion GASGAS Aspar Team) and Yuki Kunii (Honda Team Asia) completed the points.
That's it from Jerez and another stunner from the man of the moment. What awaits in Le Mans? We'll find out soon enough with just one weekend off before the French Grand Prix.
Pedro Acosta: "Normally here I have some problems to get the pace for my racing style but the team worked so hard because in Warm Up we were changing the setting a bit to be competitive in the race. Öncü and Romano were in another world, they were so strong, but in the end I knew what the strategy for the last lap was: trying to cross the finish line first. And we're here again!"