More, from a press release issued by Dorna:
Bastianini wins, Rins duels Miller and Marquez pulls off an almighty comeback at COTA
The 'Beast' wins #GP500, Rins makes some Suzuki history and Miller takes his first rostrum of the season… as Marquez steals some headlines with 24th to sixth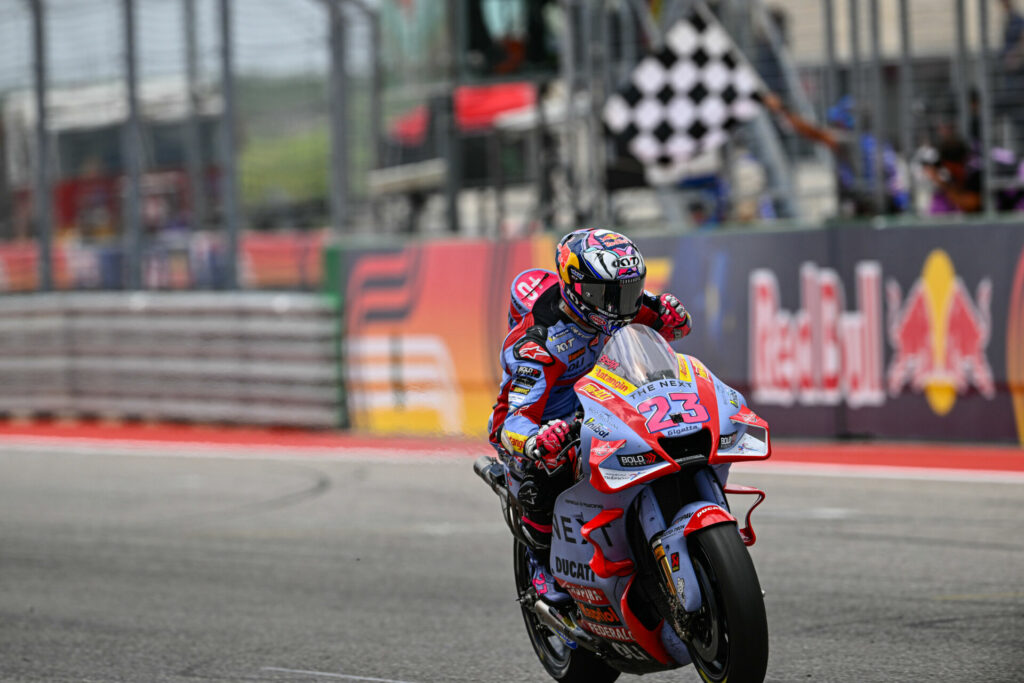 Monday, 11 April 2022
Enea Bastianini (Gresini Racing MotoGP™) is now a two-time MotoGP™ race winner! The Beast delivered a Red Bull Grand Prix of the Americas masterclass to retake the World Championship lead heading to Europe, taking Ducati's first win at the venue and staking his claim on a serious charge for the crown. Alex Rins (Team Suzuki Ecstar) and Jack Miller (Ducati Lenovo Team) scrapped it out on the last lap for second, with the Suzuki rider coming out on top with a late lunge – and thus securing Suzuki's 500th podium. Miller, nevertheless, took his first rostrum of the season.
Behind the fight for the win, there was also an almighty comeback ride from Marc Marquez (Repsol Honda Team)…
As the lights went out, Miller  got the best start of the leading Ducati trio on the front row and grabbed the holeshot ahead of Jorge Martin (Pramac Racing) and Francesco Bagnaia (Ducati Lenovo Team), but thus began the drama for the number 93. The eight-time World Champion suffered an issue off the line, plummeting through the order to the very back of the field. He got going, and then the race was on.
Up ahead, Bastianini got the better Bagnaia for P3 on Lap 1 as Martin lunged for the lead at the penultimate corner. Miller instantly retaliated though and it was the Australian who held the race lead baton on Lap 2. It was a Ducati 1-2-3-4-5, with Johann Zarco (Pramac Racing) scrapping away with Pecco for P4, followed by Fabio Quartararo (Monster Energy Yamaha MotoGP™) and Team Suzuki Ecstar's Rins and Joan Mir in P6, P7 and P8 behind the Desmosedici quintet.
By Lap 5 meanwhile, Marc Marquez had climbed his way up to 13th. Lap 7 saw him pass teammate Pol Espargaro at Turn 12 and in doing so, the number 93 was inside the top 10 – 0.6s off Aleix Espargaro (Aprilia Racing) in eighth and just five seconds off the lead.
Further up the road, Rins had pounced on Pecco and the Ducati stranglehold had been breached on Lap 6. Rins was an absolute demon on brakes into Turn 11 and the Spaniard picked off Zarco on Lap 9, crucially holding the Frenchman at bay coming out of Turn 12 too. Rins then latched himself onto the coattails of third place Bastianini, diving up the inside of the 'Beast' at Turn 11 on the next lap but Bastianini able to power back past.
Meanwhile, Marc Marquez had picked off Aleix Espargaro and had Quartararo next on his list as the number 93 set the fastest lap of the race on Lap 11 of 20.
Lap 12 saw Bastianini slice past Martin into second at Turn 1, and Rins followed Bestia through and into third. Up ahead, Miller had opened up a 0.7s lead as the Australian pushed on doing the leg work of leading, with Bagnaia, Mir and Zarco battling it out as the top nine riders down to Marc Marquez were split by five seconds – and the latter, once again, set the fastest lap of the race.
It was all happening. Lap 14 saw Quartararo push his way past countryman Zarco as the number 5 dropped backwards, and Marc Marquez then passed Quartararo on the back straight as, up ahead, both Mir and Pecco made their way through on Martin. Bastianini, in second, then set the best lap of the race as Miller's lead was cut to 0.3s, the race for the win very much on. The top two also had 1.4s in hand to Rins, who in turn had 1.3s to teammate Mir. Could the Suzukis bridge the gap?
With five laps to go, it looked like it was only a matter of time before Bastianini took the lead off Miller. Sure enough, ducking into the slipstream of the Australian, Bastianini then sliced up the inside of the number 43, hitting the front at Turn 12.
How would Miller respond? Bastianini eked out about three tenths and with three laps to go, the gap was half a second. From there, it only grew – and Rins was closing in fast, too. The Suzuki was now 0.7s behind Miller, Mir was a further second down the road, Bagnaia 0.8s off Mir, and Marquez and Quartararo were getting their gloves off as they shoved Martin down to P8.
Starting the final lap, Bastianini had 1.6s in his pocket and it seemed his to lose. Miller was now on defence duty against a charging Rins, with Mir not too far off the podium fight either. Bagnaia was in a lonelier fifth, and Marquez vs Quartararo was a sensation in the battle for sixth.
For second, the fight started at Turn 11 as the Suzuki got by, but Miller got his Ducati hooked up on the straight and the Aussie was back into P2. Rins then got a great run out of Turn 18, and at Turn 19, the number 42 went for it and dived up the inside. Stopped and turned to perfection, there was no way back for Miller and that was that: Bastianini a MotoGP™ race winner once more, Rins taking second and making that history for Suzuki, and Miller forced to settle for third but still taking a first podium of the season.
Mir's podium attack didn't quite come to fruition in the end but it's a second consecutive P4 for the 2020 World Champion, with Bagnaia also taking a second successive result, his of fifth. And then came Marquez…
From 24th to sixth was a truly stunning comeback, enough even without threatening the podium for it to be a serious warning shot for the rest. Quartararo gave it some elbows to try and deny the number 93 though, taking P7 in the end but the top Iwata machine by some margin.
Martin slipped to P8 as the Pramac duo struggled in the second half of the race, with Zarco just behind in P9. Maverick Viñales got the better of Aprilia Racing teammate Aleix Espargaro as the Aprilias pick up P10 and P11 from P13 and P14 on the grid, with Brad Binder (Red Bull KTM Factory Racing) coming home in P12 on a difficult weekend for KTM.
A fatigued and under the weather Pol Espargaro (Repsol Honda Team) saw the chequered flag in P13, just ahead of Takaaki Nakagami (LCR Honda Idemitsu). Franco Morbidelli (Monster Energy Yamaha MotoGP™) crossed the line in P15 but was demoted one place, handing Andrea Dovizioso (WithU Yamaha RNF MotoGP™ Team) the final point.
Alex Marquez (LCR Honda Castrol) and Marco Bezzecchi (Mooney VR46 Racing Team) crashed out, the former headed to the medical centre for a check-up and was declared fit.
What a way to celebrate 500 GPs of racing together, with Bastianini putting on a show to remember at the Circuit of the Americas. The Beast is back on top and in winning race #GP500, joins Cal Crutchlow (400th), Casey Stoner (300th), Valentino Rossi (200th), Kenny Roberts Jr (100th) and Mick Doohan, the first winner of the era back in 1992, with a nice little milestone.
Now the stunning Autodromo Internacional do Algarve awaits, with a very different looking Championship table to the one on MotoGP™'s last visit. What will the rollercoaster bring? Find out in two weeks!
MotoGP™ PODIUM
1 Enea Bastianini (Gresini Racing MotoGP™) – Ducati – 41'23.111
2 Alex Rins (Team Suzuki Ecstar) – Suzuki – +2.058
3 Jack Miller (Ducati Lenovo Team) – Ducati – +2.312
Enea Bastianini: "Fantastic day! It has been really hard this race. The first part of the race Miller put a very fast pace, but then during the middle of the race when I saw Rins very close to me trying to overtake me many times I decided it was time to push for the front because also the temperature of the front tyre was too high. In the end I pushed like a bastard. It's incredible to win here in America it's a fantastic track, fantastic people and now it's time to eat some hamburgers.!"
Arbolino takes maiden Moto2™ victory in Austin, Vietti and Canet crash out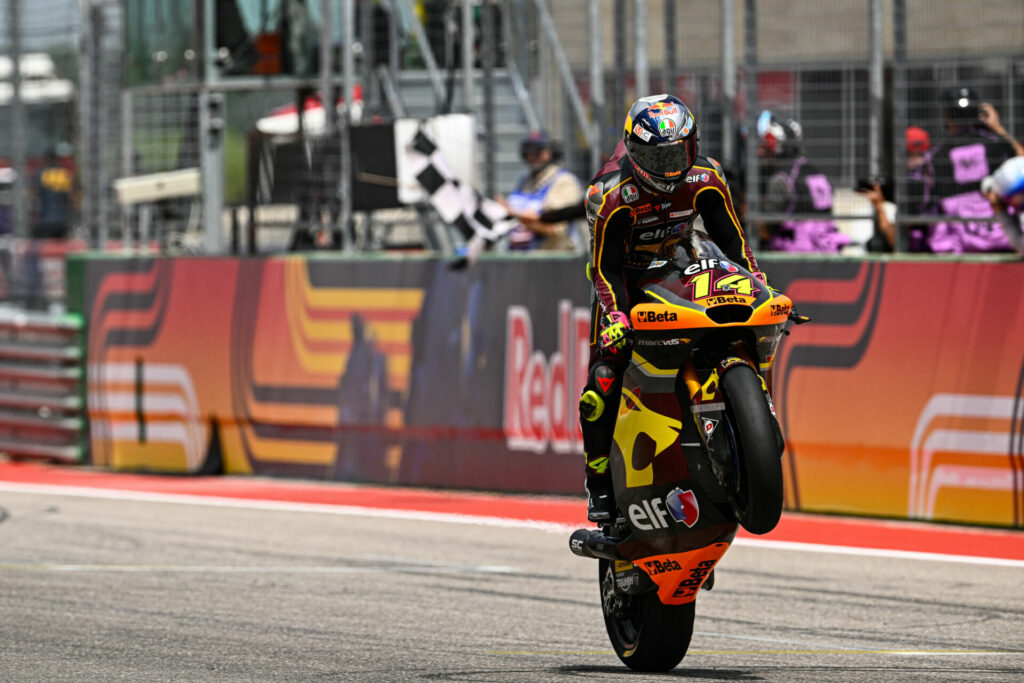 Drama hits for the early season title favourites, Arbolino emerges with the speed, Ogura takes back to back podiums and Dixon finally gets that rostrum finish – his first in Grand Prix racing
Tony Arbolino (Elf Marc VDS Racing Team) kept it calm under pressure at the Red Bull Grand Prix of the Americas, the Italian pulling clear to take his first Moto2™ win in some style. Ai Ogura (Idemitsu Honda Team Asia) charged through to second for his first back-to-back Moto2™ podiums, with another first in third: Jake Dixon (Shimoko GASGAS Aspar Team) gets his first rostrum finish in Grand Prix racing, battling Ogura and eventually taking P3.
Championship leader Celestino Vietti (Mooney VR46 Racing Team), who retains that moniker, crashed out early, and then his closest rival at the time, Aron Canet (Flexbox HP 40) also crashed out in a dramatic Americas GP.
Polemen Cameron Beaubier (American Racing) got off the line well but was denied the holeshot by a Vietti divebomb, and Canet and Arbolino then pushed the hometown hero back to P4 as the podium battle began to take shape. There was drama elsewhere early on too, first with a multi-rider crash involving, amongst others, Somkiat Chantra (Idemitsu Honda Team Asia) as he made contact with Sam Lowes (Elf Marc VDS Racing Team), before Fermin Aldeguer (MB Conveyors Speed Up) also headed into Turn 12 too hot. Gabriel Rodrigo (Pertamina Mandalika SAG Team) and Zonta van den Goorbergh (RW Racing GP) were both caught up, riders all ok. Chantra was given a Long Lap for Portugal for the incident.
The drama continued through to Lap 2, with Canet losing and then taking P2 back from Arbolino, before the Spaniard began to set his sights on the lead. The deficit between first and second had narrowed to just a couple tenths and the lead soon changed hands at Turn 9, with Canet taking charge of the race and Vietti slipping to second. Then, just a couple of corners later at 11, a Beaubier error allowed a host of riders through as he dropped to eighth.
The American wasn't the only rider struggling to keep himself upright at COTA, with Simone Corsi (MV Augusta Forward Racing) the next rider to crash out at Turn 14, before Pedro Acosta's (Red Bull KTM Ajo excellent race start, P10 to P5, was in vain, as he slid out of the race and the top five at Turn 6 – riders OK.
Turn 6 then claimed another victim, this time in the form of Championship leader and race contender Vietti. It meant Arbolino and Dixon moved into the top three, and handed a comfortable advantage to new race leader Canet, but it didn't last long. The Flexbox HP40 rider seemed to be cruising to a win before disaster struck on the eighth lap, losing the front end of his Kalex at Turn 7 to throw another twist in the tale of a fascinating Moto2™ race in Texas. As a result, three riders were thrust into victory contention, Arbolino leading Dixon and Ogura, but a classy performance from a cool and composed Tiger Tony ensured he opened up an unassailable lead over the next few laps.
Lap 12 then saw the order of the podium decided, with Ogura taking over from Dixon at Turn 12. Luckily for the Briton, he had built up enough of an advantage over Marcel Schrötter (Liqui Moly Intact GP) and Beaubier that he just had to keep it steady to claim his first-ever Grand Prix podium.
Arblolino crossed the line in some clear air for an impressive first Moto2™ win, extending the advantage lap by lap to taste Prosecco in the intermediate class for the first time. Ogura kept second despite a late nibble from Dixon on the penultimate lap, with the number 96 choosing calm and that first ever Grand Prix finish.
For poleman Beaubier, what started out as a dream home race then sadly turned into a nightmare, as he cost himself a P4 finish and 13 valuable Championship points on the final lap, sliding out and handing Schrötter a first top four finish since the Valencia GP in 2020.
Jorge Navarro recovered from a Long Lap Penalty to take a top five finish while Jeremy Alcoba made it two Liqui Moly intact riders inside the top six for his best rookie results so far. Bo Bendsneyder (Pertamina Mandalika SAG Team) and Joe Roberts (Italtrans Racing Team) were next up, Augusto Fernandez (Red Bull KTM Ajo) going from P18 to P9.
A fine ride from Barry Baltus (RW Racing GP) saw him round out the top 10 ahead of Albert Arenas (Shimoko GASGAS Aspar Team) and Marcos Ramirez (MV Augusta Forward Racing). Manuel Gonzalez (Yamaha VR46 Master Camp Team), Filip Salač (Gresini Racing Moto2™) and Romano Fenati (MB Conveyors Speed Up) complete the points finishers.
The Red Bull Grand Prix of The Americas certainly delivered Moto2™ drama by the bucketload in Austin, and next up for the intermediate class is a date at the Autodromo do Algarve in two weeks' time. Join us then for more!
Moto2™ PODIUM
1 Tony Arbolino (Elf Marc VDS Racing Team) – Kalex – 39'06.552
2 Ai Ogura (Idemitsu Honda Team Asia) – Kalex – +3.439
3 Jake Dixon (Shimoko GASGAS Aspar Team) – Kalex – +4.787
Tony Arbolino: "I want to show my eyes to prove the words are real. I worked a lot man, I worked a lot. Since Moto3 I was already feeling I could do the first year the Championship in the Moto2 class. Honestly, I worked so hard. I didn't sleep during the night because I was thinking of this moment, this is what brought me here. I swear on my life, this is an incredible feeling. I want to keep going, keep having fun. I have an amazing team, amazing crew, amazing people that work during the night for me so it's incredible. This is a win man!"
Masia back on top after classic Moto3™ finish at COTA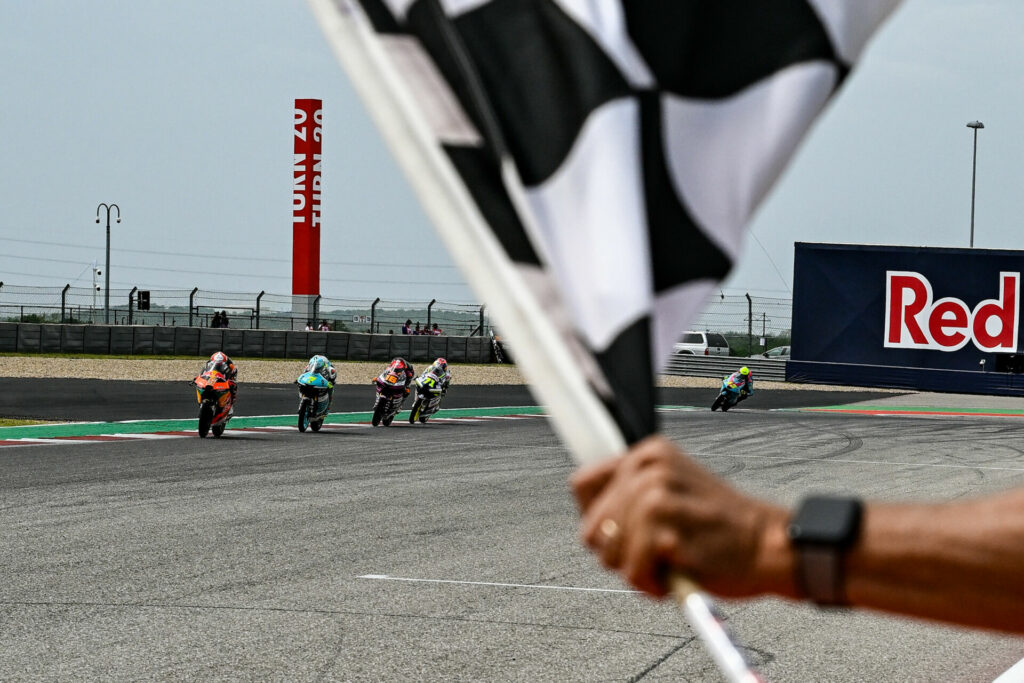 The Spaniard takes his first win of the year ahead of Foggia and Migno as Garcia crashes out
For the first time since the 2021 Qatar GP, Jaume Masia (Red Bull KTM Ajo) is a race winner after coming out on top of a classic Moto3™ battle at the Red Bull Grand Prix of the Americas. Dennis Foggia (Leopard Racing) takes the World Championship lead and with some margin after a second place finish, the Italian beating compatriot Andrea Migno (Rivacold Snipers Team) to the second step on the podium. Former points leader Sergio Garcia (Gaviota GASGAS Aspar Team) suffered a DNF, with his place in the standings taking a dent.
Polesitter Migno was able to hold onto P1 as the lightweight class field piled into Turn 1, but Deniz Öncü (Red Bull KTM Tech3) was soon the race leader, the Turk through with an aggressive move at Turn 7. Diogo Moreira (MT Helmets – MSI), after contact on the home straight with Öncü, took over in the lead on Lap 2 though, and there was big progress for Garcia as he picked his way through to P8 from P15 on the grid. Foggia was going in the wrong direction early doors, meanwhile, the Italian had been shuffled down to P10.
Xavier Artigas (CFMoto Racing PrüstelGP) took his turn leading for a couple of laps, but then came the drama for Garcia. On Lap 6 at the exit of Turn 13, there was contact between the Spaniard and compatriot Daniel Holgado (Red Bull KTM Ajo). Garcia was down and out of the running for points, as Holgado himself then tucked the front at Turn 20. Izan Guevara (Gaviota GASGAS Aspar Team), after jumping the start, had to take two Long Lap penalties.
A lead group of seven had formed at the front: Masia now led from Ayumu Sasaki (Sterilgarda Husqvarna Max), Öncü, Moreira, Artigas, Foggia and Migno with nine laps to go. With seven to go, Foggia hit the front for the first time, but a lap later, Masia was back through.
With five to go though it was a costly Turn 12 for Foggia, the Italian shuffled down to P4 behind Masia, Migno and Sasaki after running slightly wide. It was all to play for with two laps to go in Austin, the top seven all locked together.
Heading onto the last lap, Moreira highsided out – unhurt – at the final corner, as Masia and Migno scrapped for the lead. Foggia was P3, Sasaki P4, Öncü P5 – it was between these five riders for victory. Migno led onto the back straight but Masia grabbed a nice slipstream and made a move stick into Turn 12.
It was advantage Masia heading into the final sector, and Migno dived up the inside at the penultimate corner but went wide, allowing both Masia and Foggia through. The Red Bull KTM Ajo rider made no mistake at the final corner and took victory ahead of Foggia and Migno, with Sasaki missing out on a podium by 0.096s in P4.
Öncü was in the fight for victory throughout but just lost touch on the last lap and the Turkish rider came home in P5. Artigas also lost touch in the closing stages, the Spaniard finished P6 ahead of Guevara, who did well to recover to P7 from his two Long Lap penalties. Carlos Tatay (CFMoto Racing PrüstelGP), Riccardo Rossi (SIC58 Squadra Corse) and Tatsuki Suzuki (Leopard Racing) rounded out the top 10.
Rookies Ivan Ortola (Angeluss MTA Team) and Scott Ogden (VisionTrack Racing Team) produced great rides to pick up P11 and P12 on their first visits to COTA, the duo finished ahead of Stefano Nepa (Angeluss MTA Team), Adrian Fernandez (Red Bull KTM Tech3) and the final point scorer Lorenzo Fellon (SIC58 Squadra Corse) – that's the Frenchman's first World Championship point.
With Garcia eventually retiring after his crash, Foggia takes a 16-point lead to Portimão as the European leg of the season now appears on the horizon. And the Portuguese venue is one we've seen the Italian master. Will he extend his lead next time out?
Moto3™ PODIUM
1 Jaume Masia (Red Bull KTM Ajo) – KTM – 38'58.286
2 Dennis Foggia (Leopard Racing) – Honda – +0.172
3 Andrea Migno (Rivacold Snipers Team) – Honda – +0.394
Jaume Masia: "It's amazing this feeling. Winning is always incredible. It's the best taste you can ever feel. Really good weekend working. The beginning of the season has been really unlucky I have crashed two times neither my fault. So, two races I've finished, and one I could win, so I hope to finish more races like this."
Shedden does the double as the North America Talent Cup begins at COTA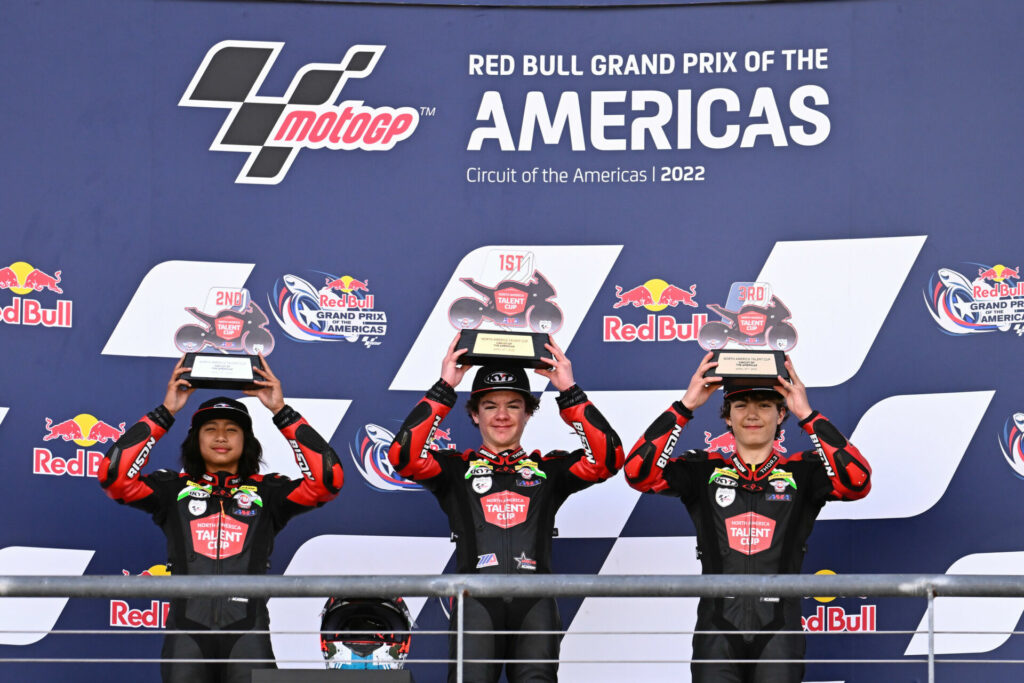 The North America Talent Cup started this weekend alongside the Red Bull Grand Prix of the Americas, and it's Jesse James Shedden who leaves with a full 50 points after doing the double.
The all-new NATC has the goal of giving riders from North America a new opportunity to further their careers, designed to become a stepping stone between lower level regional championships and FIM JuniorGP™ World Championship paddock, Red Bull MotoGP Rookies Cup, and/or the MotoAmerica championship series. The NATC is a Cup for teams and riders, using the incredibly successful European Talent Cup as a blueprint. The limit on entries is 20 riders aged between 13 and 16 in 2022, with all racing on equal Aprilia RS250SP2 machinery.
At the opener, Shedden proved the star of the show but there were some close fights for the podium. In Race 1, Aiden Sneed got the better of Alessandro Di Mario at the final corner, and on Sunday it was another close fight. This time, Alexander Enriquez pipped Di Mario to second.
More, from a press release issued by Tech3 KTM Factory Racing:
Tech3 KTM Factory Racing Completes American Rodeo with P19 and P20 Finishes
The Circuit of the Americas in Texas, Austin, hosted the fourth round of the 2022 MotoGP World Championship on Sunday, in front of American fans eager to see the action return for the first time with full capacity since the COVID-19 outbreak. After two challenging days for Tech3 KTM Factory Racing's rookies who discovered the 5.513km layout with their MotoGP engines, Raul Fernandez and Remy Gardner were set to start their fourth race of the season from the 21st and 22nd positions. They were getting ready to go for 13:00 local time (GMT-5), for 20 laps.
Raul Fernandez did not get the qualifying results he had hoped for in Austin this weekend that would have allowed him to start from better grid positions. He lined-up himself on row 7 for his first Red Bull Grand Prix of the Americas in the MotoGP class. The Spaniard found himself at the back of the grid after the race start, but he managed to re-focus very rapidly and was able to do some overtakes, including teammate Remy Gardner who had passed him. He progressively set his rhythm and started to improve his sectors, behind the Ducati of Lucas Marini. He rode his best lap on lap 7, in 2'04.621. He once again raced smartly and with regularity throughout the entire race, taking again a lot of experience from the wheels of MotoGP riders Andrea Dovizioso and Franco Morbidelli. He finished the race in P19.
Australian Remy Gardner was starting from the 22nd position on the grid. After a good start that placed him in P19, the number 87 lost his gained positions after a couple of laps, overtaken by Fernandez and Morbidelli. Remy seemed to struggle to set a good race pace, and unfortunately regularly lost time with small mistakes. It appears that Remy suffered from his wrist, still fragile from his February injury, on this physically demanding track. He finished the race in P20, in 42'05.553.
The first series of races overseas comes to an end for the Tech3 KTM Factory Racing, at the end of which our two rookies are now going to Europe to race on circuits they are more used to, with incredible MotoGP experience in the bag gained since the start of the season. It is now Portuguese rollercoaster time, as we will be heading to Portimao, Portugal, for the Grande Prémio Tissot de Portugal, on April 22-23-24, 2022.
Raul Fernandez
Position: 19th
Championship: 23rd
Points: 0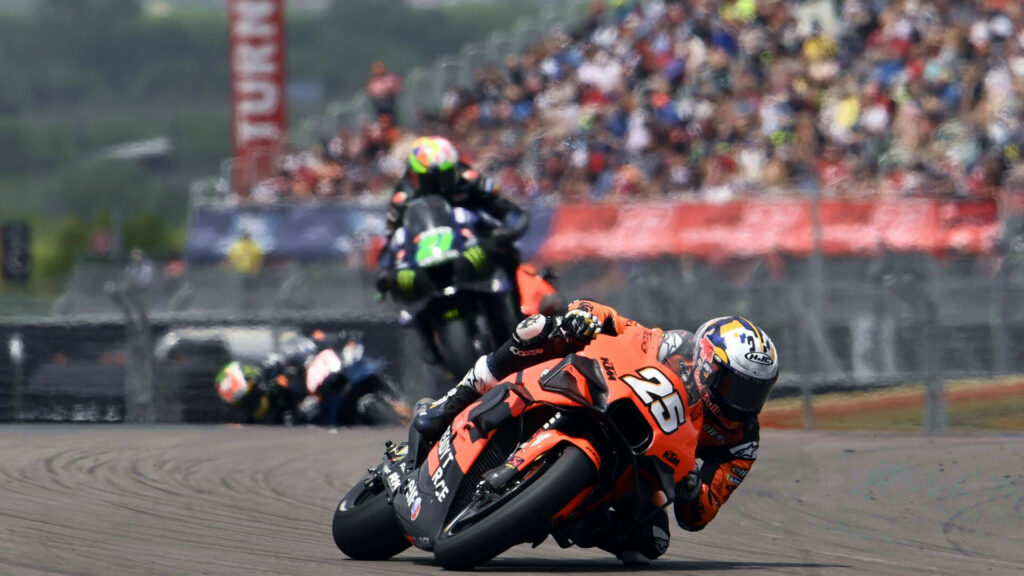 "It was not the result I had hoped for today, but this race was dedicated to Hervé Poncharal, and Thomas Galloux from WP, as it was both their birthdays. The race was really difficult, especially if your regular pace is in 2'05 and you try to go down to 2'04, you destroy everything (tyres, body). Anyway, the team did a great job again this weekend and we will continue the learning process in Europe, where we are hoping to get better results."
Remy Gardner
Position: 20th
Championship: 22nd
Points: 1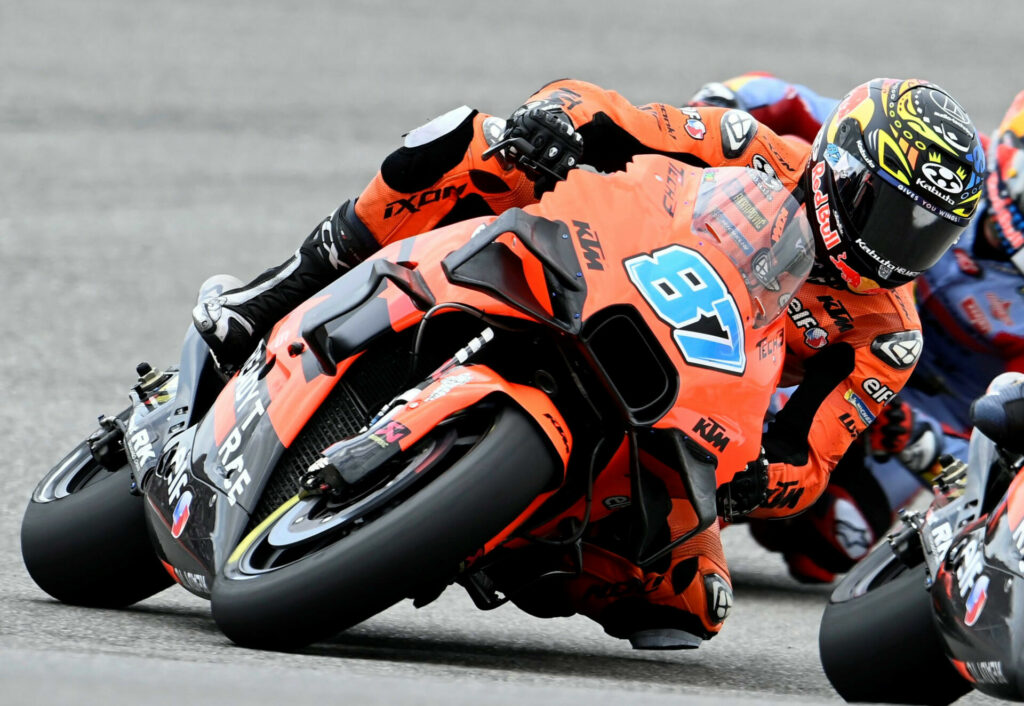 "It was not a great day. After 6 or 7 laps, I was physically exhausted, and I was not feeling comfortable on the bike. Towards the end, I managed to do a good lap, but I had to put my heart and soul to every corner, and to do that during an entire race is not possible. We also had a big drop with the soft tyres, so maybe we did not pick the right option for the race, and I think that we are still missing a lot."
Hervé Poncharal
Team Manager
"What an incredible MotoGP race here in Austin. I hope that the fans who attended the event really enjoyed the show, because it was awesome. It might sound difficult to understand that we can be happy, but I am reasonably happy because our two riders completed the 20 laps. This track on a MotoGP bike is by far the most demanding physically. Remy, who was not able to train and prepare like he would have wanted due to his wrist injury before the start of the season, suffered a lot today. He arrived in the pit box very tired, so I want to thank him for holding on and doing a good MotoGP rookie race.
On the other side, Raul Fernandez did not have a good start and he found himself last at the end of the first lap, but he managed to recover a few positions. Already in Argentina, he learned a lot, but today with Dovizioso and Morbidelli ahead of him, he continued to learn even more. He did a good race in the end, and finished behind Miguel Oliveira. We know that this is not enough, but we are here to learn and pass on as much knowledge and feedback as we can to KTM Factory engineers in order to speed up the development of the RC16. This is what we are doing, so I would like to thank both Remy and Raul, and the team.
It is now time to go home after a hectic start to the season. Europe will be a bit easier and more comfortable, so we look forward to being in FP1 on Friday, April 22, in Portimao."
More, from a press release issued by WithU Yamaha RNF MotoGP Team:
Challenging Americas Grand Prix for WithU YAMAHA RNF MotoGP Team
Andrea Dovizioso scores the final point in Texas, while Darryn Binder completes one of the toughest rounds.
It was a sunny but windy race day for the fourth round of the MotoGP World Championship at the Circuit of the Americas in Texas today. Yet, the WithU Yamaha RNF MotoGP Team pair of Andrea Dovizioso and Darryn Binder crossed the finish line after 20 demanding laps, facing hard conditions.
Dovizioso, who started the American round in P15, completed lap one in 16th position. The Italian fought hard to keep his place, but struggled to find a decent rhythm aboard his Yamaha YZR-M1. On lap nine, he lost another place, but could improve his lap times towards the end of the race. Before the start of the final lap, he reclaimed P16 and was battling Franco Morbidelli for the final championship point in the race. He finally crossed the line in P16, but eventually got promoted to 15th and with this managed to score a point.
On the other side of the WithU Yamaha RNF MotoGP Team garage, Darryn Binder had to start last after a tough day in the office on Saturday. Nevertheless, the MotoGP rookie took every opportunity to learn and understand about the demanding race distance at COTA. He made up one position after the start and moved forward to the top 20 around half distance, fighting with his fellow rookies until with four laps to go he got in trouble with some electronic issues, had to stop at the pits and afterwards continued and finished the race in P22.
With another lesson learned, the entire WithU Yamaha RNF MotoGP Team is looking forward to return home for a week and kick off the European season in less than a fortnight in Portimao, Portugal.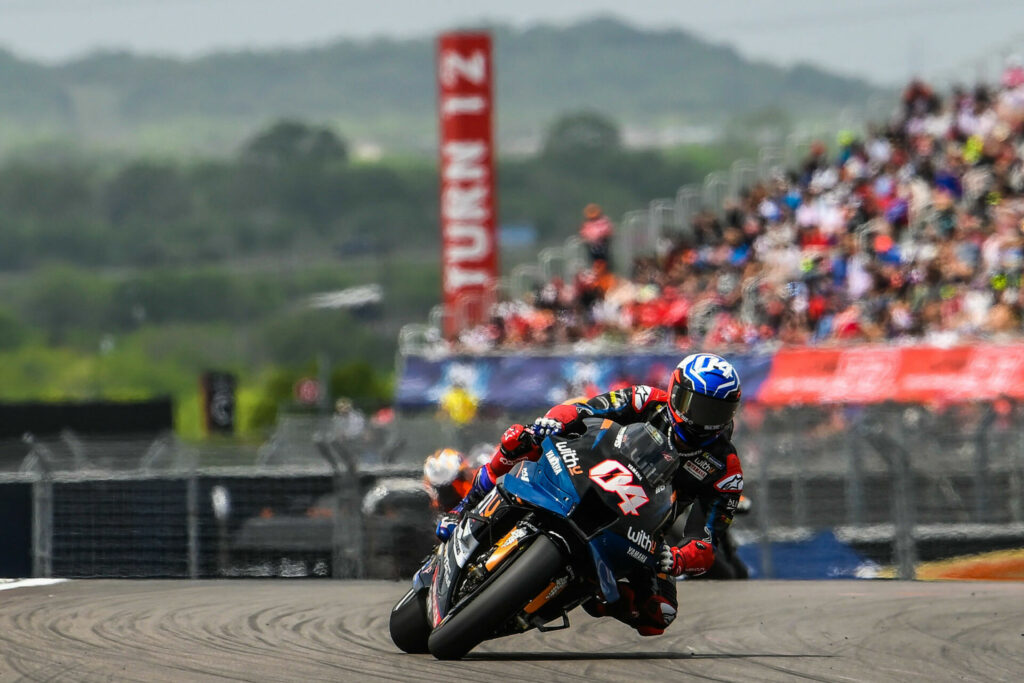 ANDREA DOVIZIOSO
"I expected a bit more. I'm honestly very disappointed. My feeling is not improving while trying to reduce the gap and I can't be happy about that. I tried to be consistent, but when you don't ride in a relaxed way, you use more energy in the practices already, so I didn't have a lot of energy left for the race itself. I was fighting with Marini, Oliveira and Morbidelli, but we haven't been fast and that's not a good feeling. At the end, we got one point, but the 29 seconds is the fact that we have to check. The gap to the top is big. I'm not happy, but I didn't have the feeling to be any faster."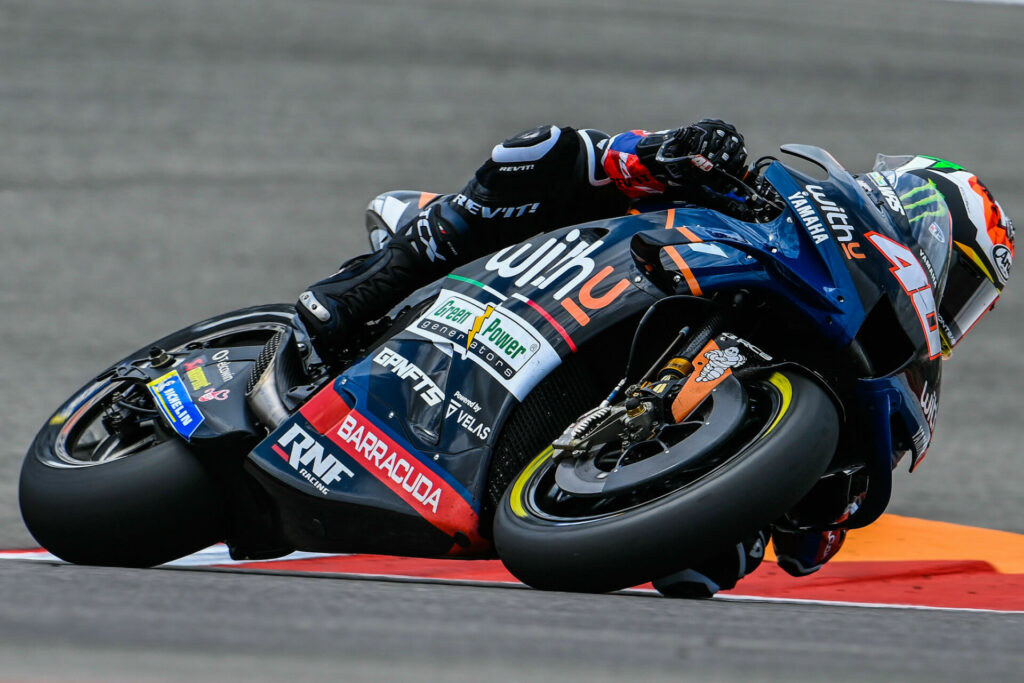 DARRYN BINDER
"All together it has been a difficult weekend, I crashed a couple of times, which definitely did not help with my confidence going into the race. Anyway, I started the race and made a mistake at the beginning, which made me fall back a couple of position. I then caught back up to a couple of guys and was fighting with the other rookies for a while, unfortunately we had a little technical issue and I had to stop at the pit lane with three laps to go. Overall, I felt like I learned a lot from this weekend. It's been a really hard weekend physically and riding this bike around this track is super demanding. I'm just glad I was able to get a lot of laps and now I know exactly on what I need to work on, get stronger and fitter and be ready for Portimao."
More, from a press release issued by Michelin:
Record Breaking Weekend in Austin
Enea Bastianini (Gresini Racing MotoGP) wins the Red Bull Grand Prix of the Americas
Jorge Martin (Pramac Racing) sets new all-time circuit lap record of 2'02.039
Bastianini sets new race lap record of 2'03.521
New race duration record of 41'23.111
Enea Bastianini was crowned the new King of COTA this weekend after crossing the line to take victory in the fourth round of the MotoGP™ World Championship at the Red Bull Grand Prix of the Americas in Austin, Texas. In second place was Alex Rins (Team Suzuki Ecstar), followed by Jack Miller (Ducati Lenovo Team) who took the final place on the podium.
Race tyre choice was Hard front and Soft rear MICHELIN Power Slicks for almost all of the riders, with just two KTM riders opting for the Medium rear, hoping to profit from the harder tyre's performance in the later stages of the race.
Using the consistent grip of his tyres, Bastianini set very fast lap times throughout the race, culminating in a new race lap record time of 2'03.521 on lap 14.
The Free Practice sessions on Friday gave the riders their first taste on the new track surface which was laid to try to eradicate the bumps that caused the riders numerous problems in 2021. While the severity of the bumps was reduced, the new asphalt was green and needed time to get a coating of rubber and improve grip levels. In FP1 the riders chose Soft front and Medium rear MICHELIN Power Slick tyres, but in FP2 when temperatures had increased, a variety of compounds saw the lap times drop to a best of 2'02.542 set by Johann Zarco (Pramac Racing) using a Hard front and Soft rear.
Saturday mirrored Friday in terms of track temperature evolution, with a cool FP3 to kick-off the day followed by a much warmer FP4 and Qualifying in the afternoon. FP3 started with some teams doing longer runs on worn tyres, and this was followed by time-attacks to try to secure a direct place in Q2, with the majority using new Soft compound tyres front and rear.
Qualifying was as competitive as ever, with the riders pushing the limits of machine and tyres to get the best start positions for the race. At the final reckoning in Q2, Jorge Martin took pole with a lap time of 2'02.039, setting a new all-time circuit lap record in the process and beating the previous record which had stood since 2015. Ducati Lenovo Team team-mates Jack Miller and Francesco Bagnaia completed the front row, with all riders using the outright grip and stability of the Hard front and Soft rear tyres.
Commenting after the race, Piero Taramasso, Michelin Two-Wheel Motorsport Manager, said: "This was another interesting weekend for us due to the new track surface between Turns 2 and 10, and Turns 12 to 15 but the tyre allocation worked very well. It allowed the riders to post fast lap times from day one, and this was further highlighted by the fact that two riders beat the previous all-time lap record during Q2.
"During the race, the windy conditions added to the challenge for the riders, but the consistent grip of the tyres from start to finish meant that the fans were treated to a thrilling race. The icing on the cake for us being the new all-time circuit lap record, the new race lap record, and the new race duration record – beating the previous best race time by almost 20 seconds."
More, from a press release issued by Mooney VR46 Racing Team:
P17 FOR LUCA MARINI AT THE AMERICAS GP
Difficult race for rider of the the Mooney VR46 Racing Team who is out of points for the first time in this S22. Marco Bezzecchi was forced to retire due to the black flag with an orange disc after a crash
Austin (USA), April 10th 2022 – A more complicated Sunday than expected for the Mooney VR46 Racing Team at COTA in Austin where the Americas GP took place today. Luca Marini crosses the finishing line in 17th place while Marco Bezzecchi is victim of a crash.
At the start from the P11 on the grid, Luca struggles to keep up the pace of the group fighting for the very first positions and is forced to give up position. He closes the weekend in the slipstream of the points and confirms the P17 in the general standings (10 points, Bezzecchi P18, 7 points).
Retirement after a crash for Marco who started from the 16th box of the starting grid. On the ground during the second lap, he manages to get back on track to complete the race, but is forced to retire due to the black flag with an orange disc exposed following the damage suffered on his Ducati Desmosedici GP.
Next appointment on the track for both in Europe, with the inauguration of the European MotoGP season at the Algarve circuit, in two weeks, for the Portuguese GP.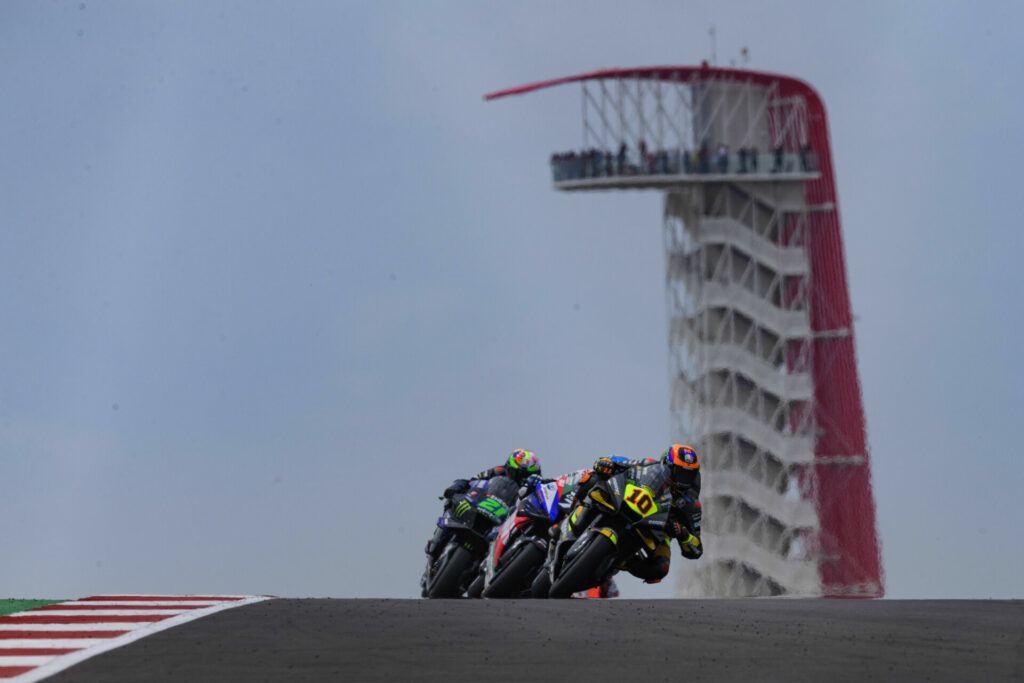 Luca Marini #72
An uphill weekend: I always missed something in acceleration and speed on the straight compared to the other Ducatis. We need to analyse and understand exactly why. This was the main problem and the rest only a consequence. In the race then, in the battle of the first laps, I cut the variant between turns 2 and 3, I slowed down so as not to take the penalty and then I was unable to recover from the group. A pity, I can't wait to get back at work in Europe.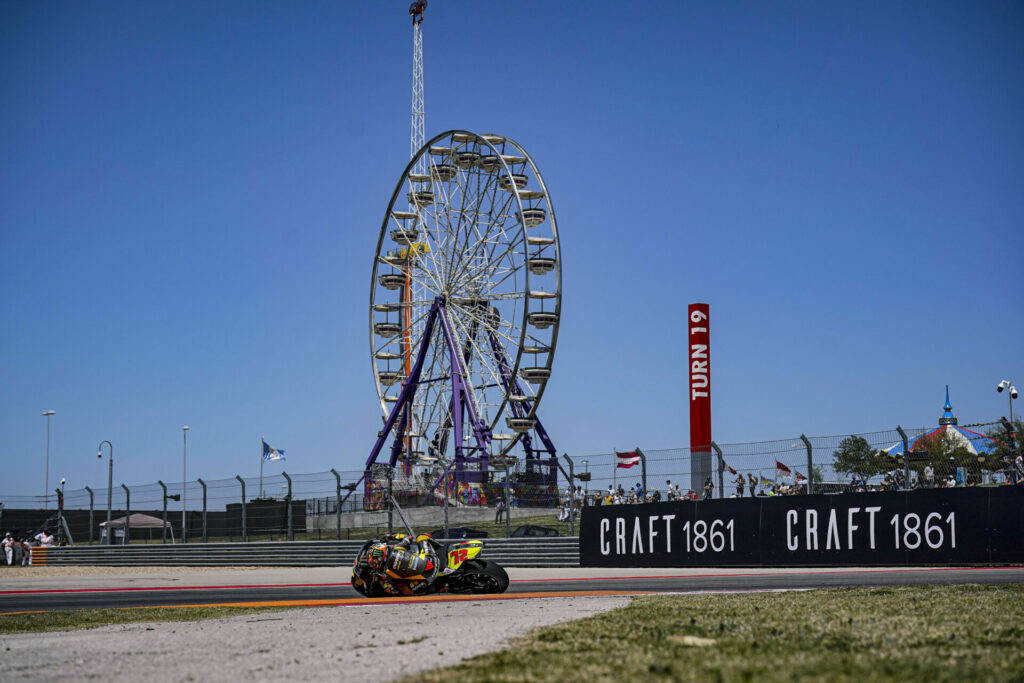 Marco Bezzecchi #72:
A much shorter race than expected after a positive weekend. We have struggled on Friday, but today in the warm up we were fast and the pace was also very good. Unfortunately, the mistake was not needed, I then tried to get back on track to finish the race and gain experience but I saw the flag. Let's analyse the data, understand exactly what happened and try to take all the positive of this GP for the future.
Pablo Nieto, Team Manager:
A complicated weekend and a difficult Sunday for our riders. Immediately after the start, Luca has struggled to keep pace with the group, he lost a lot in the first laps and the gap from the very first guys became unbridgeable. A pity for Marco: it was a missed opportunity due to the crash. For a rookie, doing kilometers on a track like this one is very important. We will continue to work, soon we will return to Europe and there we will understand our real potential.
More, from a press release issued by Pramac Racing:
AMERICAS GP – The Americas GP ended with both riders in top ten
The weekend in Austin ended with both Pramac Racing riders in the top ten, Jorge Martin in eighth and Johann Zarco in ninth position. After a practically perfect weekend where the whole team has given its best from the beginning, unfortunately we were not able to achieve the desired result. We remain confident for the next race.
Jorge Martín
A very difficult race, I started very well and I really gave everything I had but unfortunately it was not enough. We have to understand where we can improve.
Johann Zarco
I'm quite happy, a very difficult race that involved a lot of physical effort. I had a good feeling all weekend but I had some difficulties with the rear tire and after that it was impossible to recover.
More, from a press release issued by Repsol Honda:
Marquez steals the show in Austin with scintillating recovery
An Americas GP masterclass was put on by Marc Marquez as he carved through the field, overcoming a problem at the start to show what he and the Honda RC213V are capable of. Pol Espargaro dug deep to conquer illness and net more points.
The King of COTA may not have walked away with another crown, but a heroic recovery after problems on the start line showed that Marc Marquez has lost none of his speed or talent – especially in Texas. A technical problem at the start, which Honda HRC are investigating, saw Marquez drop back from ninth on the grid. Arriving last into Turn One, the seven-time Americas GP winner put the start behind and began his comeback through the field with unrelenting efficiency. By the end of the first lap the #93 had already made up six places and would continue with the laptimes of the race leaders.
As the race entered its second half, Marquez continued to increase his pace, improving on the fastest lap of the race on multiple occasions as he reeled in the likes of Quartararo, Martin and Bagnaia. Firmly inside the top ten, the Repsol Honda Team rider spent the closing laps fending off a ferocious Fabio Quartararo who launched a late counterattack.
Welcomed back to the garage with a round of applause by the team, Marquez's champion spirit shone through as he was left wanting more from a race which promised so much. Sixth place moves Marquez to 13th in the championship points table, 40 points behind World Championship leader and Americas GP race winner Enea Bastianini. Although sixth left him unfufilled, Marquez leaves America with renewed and refreshed confidence upon his return from injury.
On the other side of the Repsol Honda Team garage, Pol Espargaro's incredible physical effort was rewarded with a handful of points for 13th place. Battling against illness throughout the weekend, Espargaro used all of his remaining energy and effort to finish the race. A promising start had the #44 well placed in the top ten after another lightning launch aboard the RC213V. Doing all he could to maintain his position, Espargaro put together an overall consistent race to collect valuable points before the paddock returns to Europe. With 23 points, Espargaro is 11th in the championship.
The MotoGP World Championship now prepares for its return to Europe, the Portimao circuit in Portugal starting the calendar's European tour.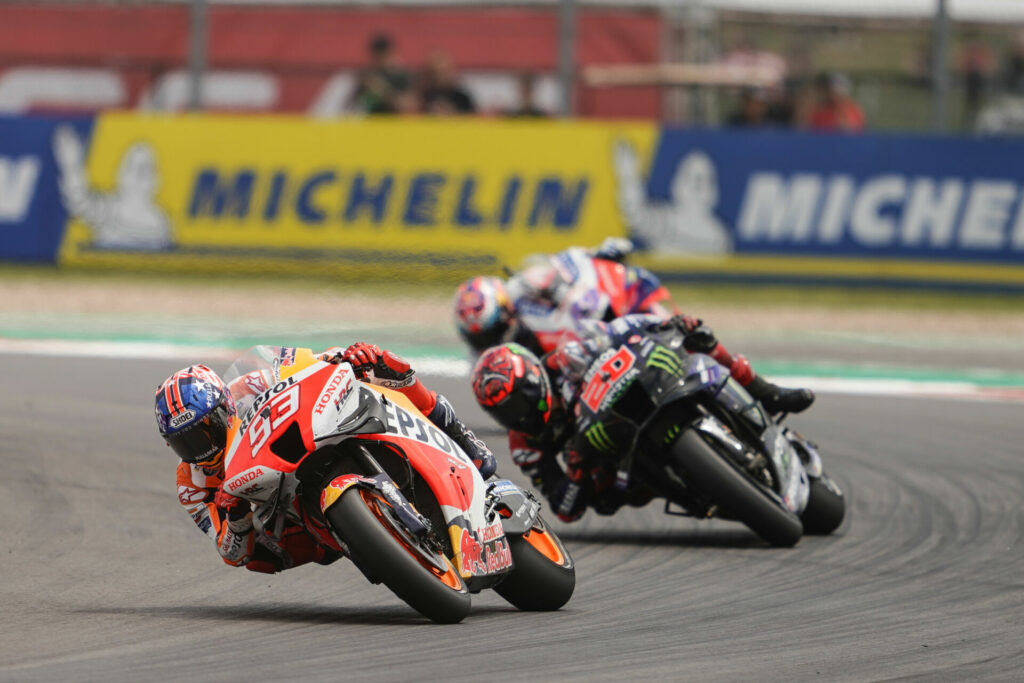 Marc Marquez
6TH
"On one hand I am disappointed because it is clear we had the speed today and I was able to enjoy the race a lot, coming through from the back, but 25 points were possible today. We had a technical problem at the start, but it resolved itself and the bike was working well after that – even if I was last. I recovered many positions and had a great race despite some mistakes, which is normal when you are recovering like this. We can see the speed is there and we can walk away from here with a lot of confidence which is important. At the end we had a really nice battle with Fabio but when the race finished, I was destroyed, from that first lap I was giving everything I had on track to recover and finally finish in sixth. Another exciting race in Texas."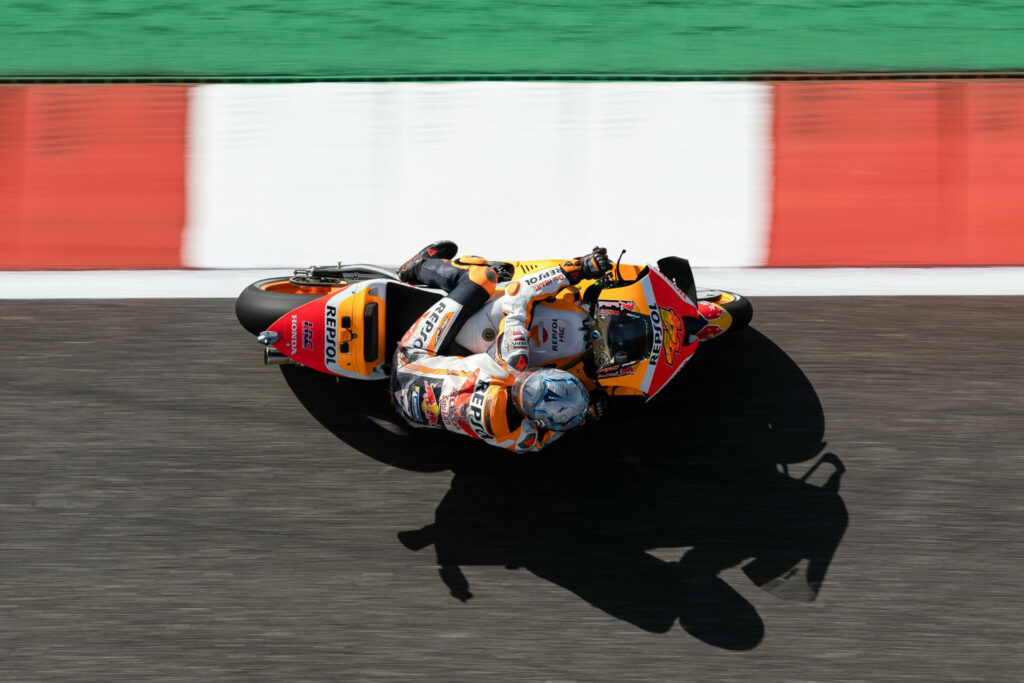 Pol Espargaro
13TH
"Physically, this was maybe the hardest MotoGP race of my life. With about ten laps remaining I was honestly thinking about retiring from the race because I was feeling so weak. But I saw that we were in the points and I wanted to do it for the team. I was slow and the fast changes of direction were almost impossible. I am finished, I am exhausted. Now we can go home and recover and prepare for the races in Europe. The bike's potential is much higher than what we have shown and where we are in the standings."
More, from a press release issued by Team Gresini:
BASTIANINI DOES NOT DISAPPOINT, HE WINS IN AMERICA AND GETS BACK IN THE LEAD
#AmericasGP race. He was the favourite for the win yesterday, despite a fifth place on the grid behind other four Ducati machines: today Enea Bastianini showed he can excel under pressure in a race that in many ways remembered the triumphant ride in Qatar.
After a good start, he managed his pace in the first part of the race behind Miller and Martin, before unleashing the 'beast': thanks to a frenetic pace, he crossed the finish line a lonely winner in Texas. The tally goes up to two wins (out of four races) with the rider #23 who returns to the top of the standings with a five-point advantage on Rins and 11 points on Espargaró.
It was a difficult race on the other side of the pit-box, with Fabio Di Giannantonio unable to find the best feeling with the track as he struggled on corner exit on his way to a sub-par 21st place at the chequered flag. The return to Europe in two weeks will surely bring new energy to the #49, who is still looking for his first championship points.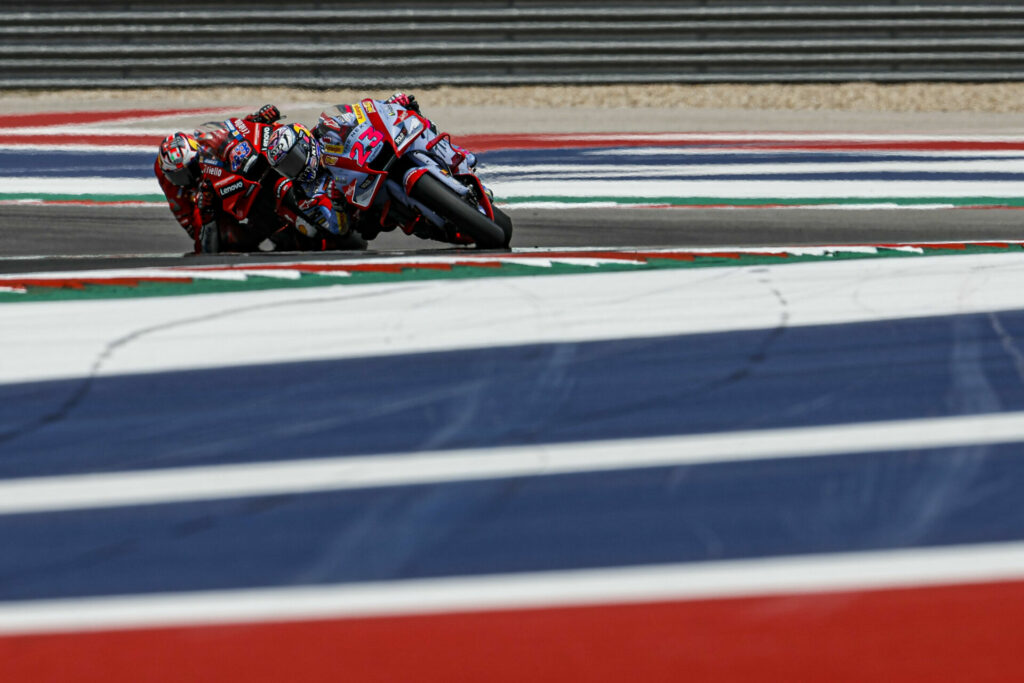 ENEA BASTIANINI #23 (Championship leader – 61 points)
"We had exactly this time of plan for the race. In the beginning I struggled a little in the first sector, but I chose to not take too many risks and try to tail Martin. Then when Rins came from behind and we almost collided, I decided it was time to push harder. I passed Jorge and then Jack: I saw I had a little extra and I tried. I made a few mistakes during my first lap in the lead, but then I was able to put together a good pace. This is a fantastic win, which is the result of incredible teamwork. We can be quick on every track, even though I'm living this season like a rookie, as I see that we still have something to learn from the others on the track."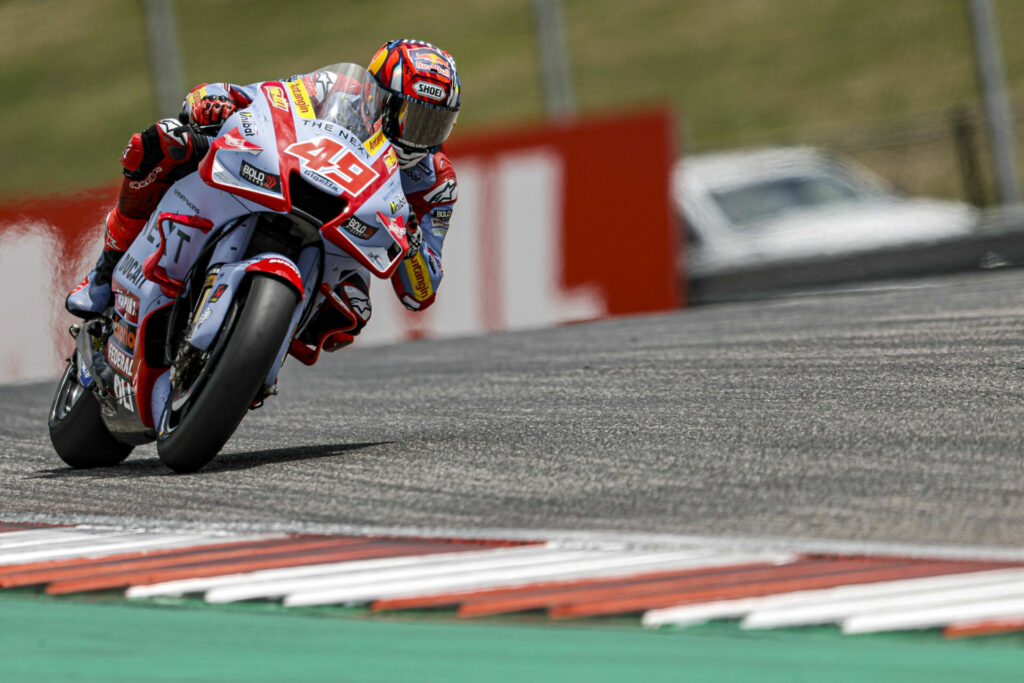 21st – FABIO DI GIANNANTONIO #49
"We improved a lot during the weekend, but then the result in the race didn't come. We still need to keep working and improving in every area. The race today was extremely hard, as I was losing a lot on corner exit: we're still missing something in terms of electronics, so in the upcoming European back-to-back we will focus on that."
More, from a press release issued by Monster Energy Yamaha:
BRAVE FIGHT REWARDED WITH 7TH FOR QUARTARARO IN AMERICAS GP 
Austin (Texas), 10th April 2022
GRAND PRIX OF THE AMERICAS
RACE
Monster Energy Yamaha MotoGP's Fabio Quartararo rode on the limit at the Circuit of The Americas for all 20 laps to collect seventh place and nine valuable championship points. It was a day to forget for Franco Morbidelli. He had a strong end to the race, but a one-place penalty for exceeding the track limit saw the Italian finish outside the points.
7th FABIO QUARTARARO +6.760 / 20 LAPS
16th FRANCO MORBIDELLI +29.129 / 20 LAPS
Monster Energy Yamaha MotoGP's Fabio Quartararo showed his tenacious fighting spirit during today's Grand Prix of The Americas. He battled like a gladiator at the Circuit of The Americas to bring home 7th place and nine championship points. Franco Morbidelli made the most of a difficult race by saving his tyres and making three overtakes at the end. However, a one-place penalty due to exceeding the track limit on the last lap pushed him back to 16th place.
Quartararo had a strong start from P6 on the grid and gained a place as he stalked the leading group. Despite fighting tooth and nail, he lost a couple of positions in the opening laps and found himself in eighth place after lap 5.
With Marc Marquez on the charge, the current World Champion spurred on his YZR-M1. He made the most of his bike's corner speed to overtake Johann Zarco and briefly take P7 before Marquez overtook him. El Diablo shrewdly followed Marquez in the hopes of using him to get past other riders. Jorge Martin was up first. Though the Spaniard put up a fight, the Frenchman was ready to take high risks and fight to the limit for every championship point. In the last two laps, the number-20 rider was putting Marquez under pressure and narrowly avoided clipping his rival when the latter had a moment in Turn 6 with two laps to go, briefly allowing the Yamaha-rider through. Quartararo quickly regained his composure and had another try in Sector 2, but ultimately finished in seventh place, 6.760s from first.
Having struggled to find a good feeling on the bike all weekend, Morbidelli knew he was in for a difficult race. He gained a position at the start, after launching from P19 on the grid. But having dropped back to 20th place in the early stages of the race, he bided his time knowing that preserving tyre life could play a key role at the partly resurfaced COTA track today.
By lap 7, he was starting to get into a solid rhythm and overtook Remy Gardner. He kept hold of 18th place and was pushing to the limit. With nobody close in front or behind him, it was a lonely ride for the Morbido, until there were 3 laps left. As predicted, tyre degradation was starting to take its toll. The number 21-rider overtook Miguel Oliveira, Andrea Dovizioso, and Luca Marini, moving up to 15th place, which he held across the finish line, with a 29.129s margin. However, he was handed a one-position penalty due to exceeding the track limit on the last lap, leaving him 16th in the timesheets.
Today's results put Quartararo and Morbidelli in fifth and fifteenth place in the championship standings, with 44 and 14 points respectively. After Round 4, Yamaha and the Monster Energy Yamaha MotoGP team are in fifth place with 44 points in the Constructor championship and sixth position with a 58 points total in the Team championship.
Monster Energy Yamaha MotoGP will be back in action at the Autódromo Internacional do Algarve from April 22-24 for the Grande Prémio de Portugal.
MASSIMO MEREGALLI
TEAM DIRECTOR
We already expected a tough race, and both riders got the maximum out of today's race in this current situation. Fabio rode both defensively and on the attack. He always gives his 100%, but today he added another 10% if possible. For Franco the race was even more difficult because he started from 19th place, which is far from ideal. But as the race progressed, he got more and more used to a new setting that he was trying, and he was able to overtake. Unfortunately, he lost the championship point he scored because of a penalty. We're not satisfied with our results so far after the first four races overseas. We are looking forward to going back to Europe to circuits that suit us better.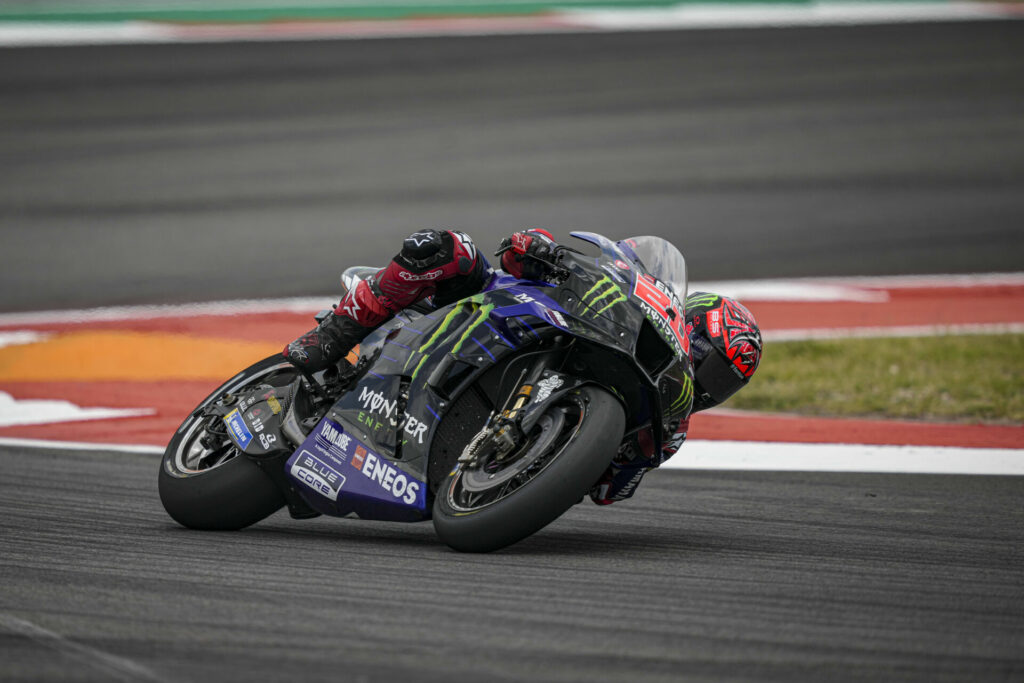 FABIO QUARTARARO
At the beginning of the race, I had a little bit of the same problem I had in Argentina, but much less. That made me miss some grip compared to the others, but I think I did quite okay. In the beginning it's more difficult to defend your position because everyone is close together, but I think we did a good race. I enjoyed it a lot! We battled really hard and, even if it was for sixth position, I enjoyed the battle with Marc. Even though we struggled quite a bit this weekend, this race was beneficial to me: I learn much more from these kind of races than I did in some of the races that I have won. Today I learned a lot, and I'm happy. We have pushed ourselves to the limit. Now we're going to Europe, which has better tracks for us, I think. I'm just going to do my best to fight for the championship.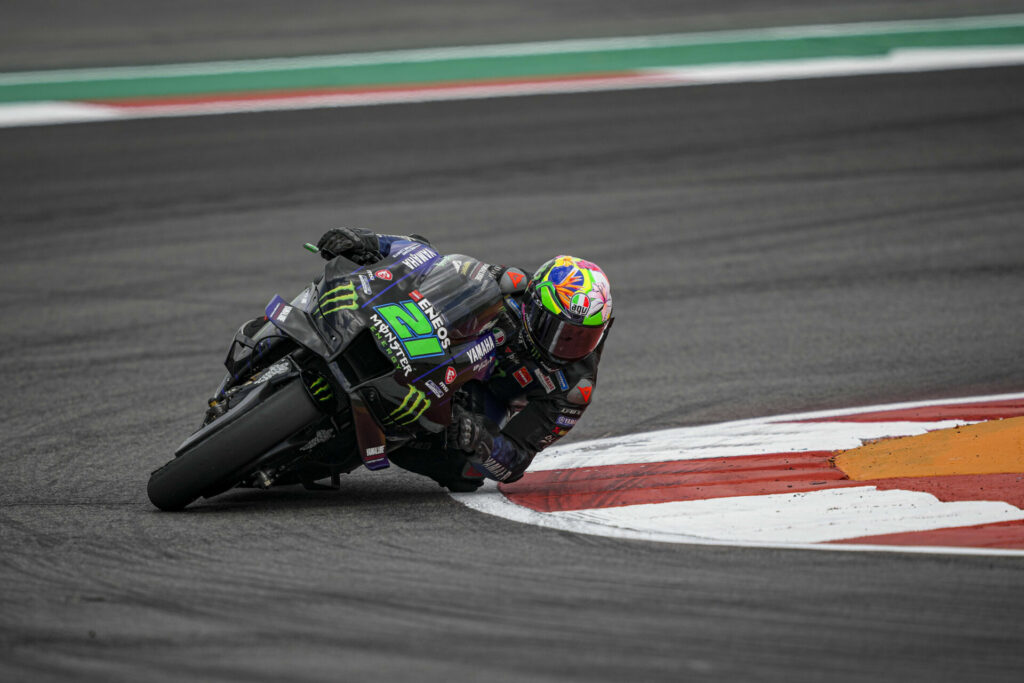 FRANCO MORBIDELLI
It was a tricky race because finally we used a different setting for the warm-up, but we couldn't try it, so I needed to try it in the race. Actually, I wasn't feeling so bad, but it needed adjustments, and I needed to learn how to ride with it during the race. So, I learned it step by step and lap by lap. It was nice, because I could overtake, that's positive. We will keep working and trying to understand what we need, and we will try to get back stronger in Portimao.
More, from a press release issued by Aprilia:
BOTH APRILIA RS-GP MACHINES IN THE POINTS IN TEXAS
MAVERICK VIÑALES TENTH AND ALEIX ESPARGARÓ ELEVENTH IN THE GP OF THE AMERICAS
ON A DIFFICULT TRACK, ANOTHER SOLID WEEKEND THAT BOOSTS CONFIDENCE AHEAD OF THE EUROPEAN PORTION OF THE SEASON
Both Aprilias finished the Grand Prix of the Americas in the points, with Maverick Viñales tenth and Aleix Espargaró eleventh when the chequered flag waved. It is a result that does not reflect the true potential of the bike, but it should be considered positive bearing in mind that on the same circuit just a few months ago – in the race held in October – the RS-GP was clearly in difficulty.
Starting from the fifth row of the grid, Maverick and Aleix took home valuable points for the championship and were the protagonists of another solid weekend which instils hope ahead of the European portion of the championship season. Viñales felt particularly at ease in the race, doing the third best time, whereas Espargaró is leaving a track that is particularly hard for him with third place in the overall rider championship.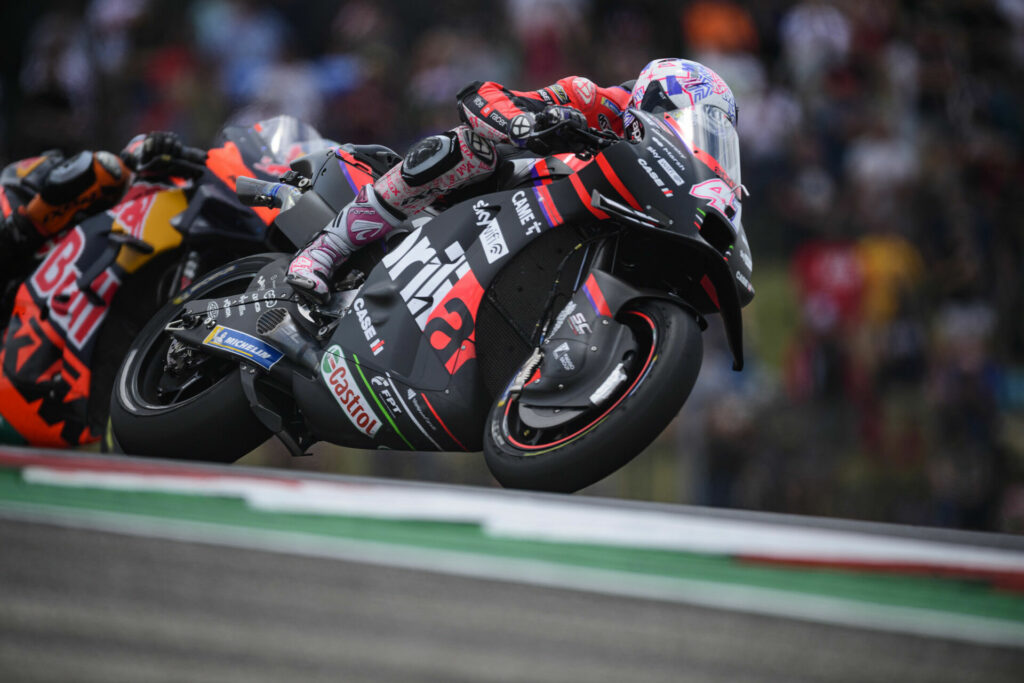 ALEIX ESPARGARÓ
"I tried my best to be competitive here, but this is a track that I have never liked and it is also not the most favourable for our bike. In free practice and even in the warm-up session, I managed to maintain a good pace anyway, but from the first lap in the race I struggled with grip. Knowing that I wouldn't be able to maintain the same pace as the best, I tried to be as fast as possible without making mistakes, because it was important to capitalise and earn some points even on a complicated weekend like this one. We have reason to be satisfied with this first portion of the season."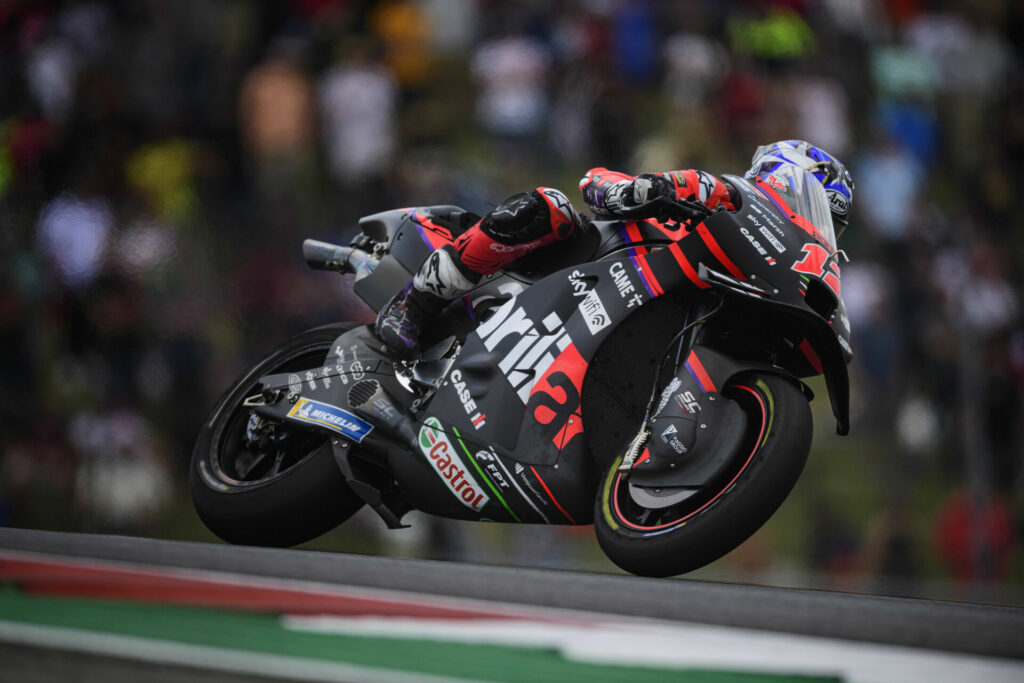 MAVERICK VIÑALES
"To be honest, the bike was working extremely well today. I couldn't have asked for more. The limitation, which we are working on intensely, is speed on the flying lap. In this season, with this level, starting from behind means compromising the race, even if your potential pace is high. In any case, I'm happy because the right feeling is just about there. I feel good on the Aprilia and I can't wait to begin the European part of the calendar."
More, from a press release issued by KTM Factory Racing:
RED BULL MOTOGP™ OF AMERICAS DELIVERS TOP TWELVE FOR BINDER & KTM
MotoGP 2022 – Round 04 of 21, Circuit of the Americas (USA) – Race
KTM left a hot and challenging Red Bull Grand Prix of the Americas with Brad Binder clutching 12th position and four world championship points as MotoGP completed the fourth and final 'flyaway' event of the 2022 campaign in the United States.
Top twelve for Binder after a strong recovery from his grid position
KTM hold 6th place in the Riders, 2nd in Teams and 2nd in the Manufacturers standings
Miguel Oliveira, 17th, now anticipates home Grand Prix in two weeks time
The Circuit of the Americas was the captivating stage for round four of 2022 MotoGP and after the series had clocked-up airmiles with trips to Qatar, Indonesia and Argentina since the season launched. A decent resurfacing effort of the 20-turn, 5.5km layout that features a wide range of varied corners and speed demands provided more grip and less bumps. Temperatures were pleasant without being oppressive, but a strong wind was another complication for the riders to handle for 20-laps on Sunday afternoon.
The KTM quartet searched in vain for usable traction and effective one-lap pace in practice and qualification but had to accept slots in the second half of the start grid. Binder was the furthest ahead with 17th place but still had to attack the field in the first laps to gain ground. The South African reached the top ten at one stage before classifying 12th and having recouped five spots. Teammate Miguel Oliveira finished just outside the points in 18th.
COTA was another 'debut' experience for Tech3 KTM Factory Racing pair Remy Gardner and Raul Fernandez. The Moto2 World Champion rode to 20th and was five seconds behind Fernandez who chased Oliveira and took 19th.
Europe beckons and the first of another back-to-back double begins with the Grande Premio Tissot de Portugal at Portimao in two weeks time.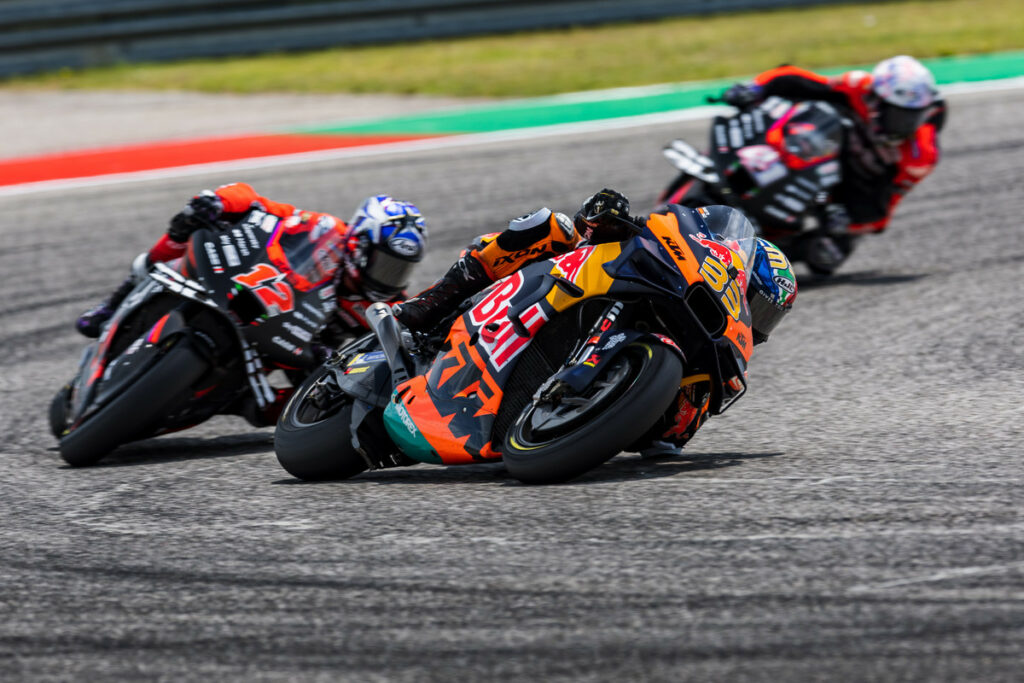 Brad Binder: "The race was going well from the beginning and we made the right choice with the tires because the soft option lasted until the end. I'm not happy at all to finish 12th because I got up into the battle for 9th and ended up tagging the back of a rider and falling back again. There were two laps to go and I couldn't get back. It's been a tough weekend but we managed to salvage some points. Let's see what we can do at the next one."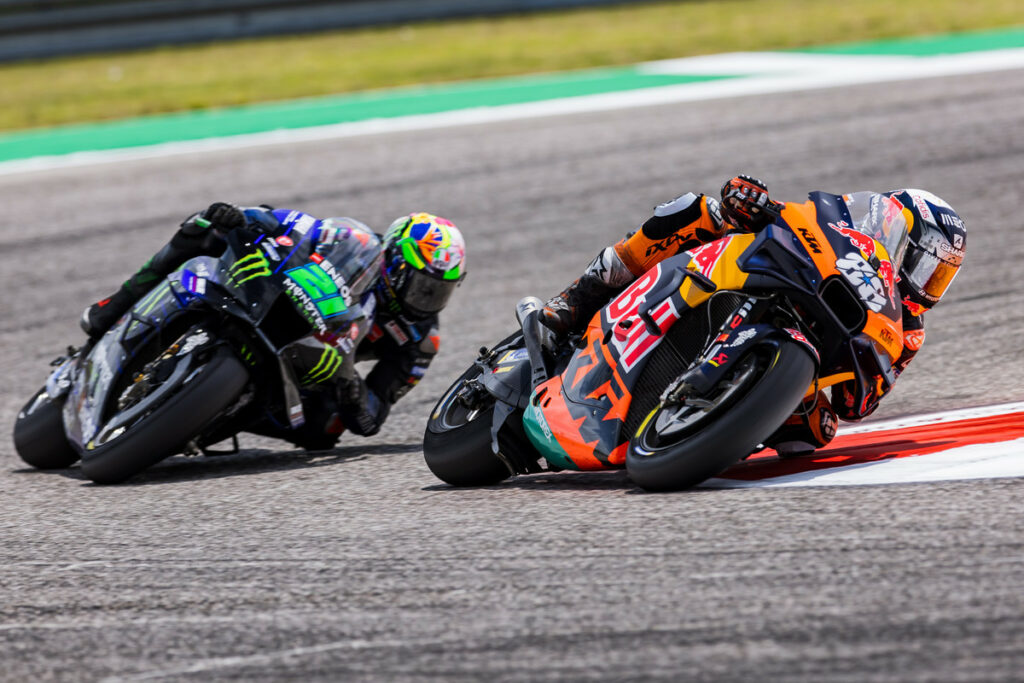 Miguel Oliveira: "As expected it was a hard race. I really hoped we'd finish with some points. We had good speed with the medium tire in FP4 so we thought that would be the tire for the race but it turned out to be the opposite of what we expected. After five laps it started spinning and was getting worse and worse. I couldn't avoid being overtaken and we missed those points. We learned from this weekend and in terms of making changes. We now go to a track where we have been competitive in the past and where we know we can be competitive again. We will go there with zero negativity from this weekend and with full motivation."
Raul Fernandez: "It was not the result I had hoped for today, but this race was dedicated to Hervé Poncharal, and Thomas Galloux from WP, as it was both their birthdays. The race was really difficult, especially if your regular pace is in 2'05 and you try to go down to 2'04, you destroy everything! Anyway, the team did a great job again this weekend and we will continue the learning process in Europe, where we are hoping to get better results."
Remy Gardner: "It was not a great day. After 6 or 7 laps, I was physically exhausted, and I was not feeling comfortable on the bike. Towards the end, I managed to do a good lap, but I had to put my heart and soul to every corner and to do that during an entire race is not possible. We also had a big drop with the soft tyres, so maybe we did not pick the right option for the race, and I think that we are still missing a lot."
Francesco Guidotti, Red Bull KTM Team Manager: "A tough weekend. We tried to get the best from the race. Brad nearly finished 9th but had a moment with [Johann] Zarco with two laps to go and lost two positions because of this contact. We will analyze deeply why we had a hard time here this weekend and will be a bit more aggressive for the next Grand Prix. Overall, here I don't think it is as bad and what we see in the results, today especially we found some good points and maybe we were a bit too conservative on the first day and stretched our problems. A learning experience and we will work better."
Results MotoGP Red Bull Grand Prix of the Americas
Enea Bastianini (ITA), Ducati 41:23.111
Alex Rins (ESP) Suzuki +2.058
Jack Miller (AUS), Ducati +2.312
Joan Mir (ESP), Suzuki +3.975
Francesco Bagnaia (ITA) Ducati +6.045
Brad Binder (RSA), Red Bull KTM Factory Racing +13.376
Miguel Oliveira (POR), Red Bull KTM Factory Racing +32.002
Raul Fernandez (ESP), Tech3 KTM Factory Racing +37.062
Remy Gardner (AUS), Tech3 KTM Factory Racing +42.442
More, from a press release issued by Team Suzuki ECSTAR:
RINS TAMES TEXAS RODEO TO TAKE 500TH PODIUM FOR SUZUKI
Alex Rins: 2nd (+ 2.058)
Joan Mir: 4th (+ 3.975)
Team Suzuki Ecstar and Suzuki Motor Corporation are celebrating in style today after Alex Rins clinched the factory's 500th podium across classes with his second place at the Circuit of the Americas. This impressive milestone comes on the same day that the MotoGP™ series celebrates its 500th Grand Prix in the 'Racing Together' era (the partnership between the FIM, Dorna, the MSMA, and IRTA). Joan Mir put in another solid race; riding his way from eighth on the grid to fourth at the chequered flag.
After a clean start, at the end of the first lap, Mir and Rins were on the back of the leading riders, in seventh and eighth. The pair proceeded to set their sights high while keeping their cool as the race shook out. By Lap 6 Rins had made his way into the Top 5, simultaneously setting the fastest lap of the race.
With five laps left in the 20 lap race, Rins was in a comfortable third position with air either side of him. Meanwhile, Mir, who had impressively pushed through to fourth, was easing away from those behind and setting himself up for another respectable and consistent finish just off the podium – the same position he now holds in the Riders' World Championship.
On the penultimate lap at the Circuit of the Americas, Rins had gained considerably on Jack Miller and a great battle between the pair ensued. Rins made the pass at Turn 11 but lost the position, and in one final determined and brave move at Turn 19 he snatched an excellent second place, which also gives him second place in the World Standings.
Rins and Mir will now head to Portugal in two weeks' time holding second and fourth in the Riders' Championship, first in the Teams' Championship, and third in the Constructors' Championship.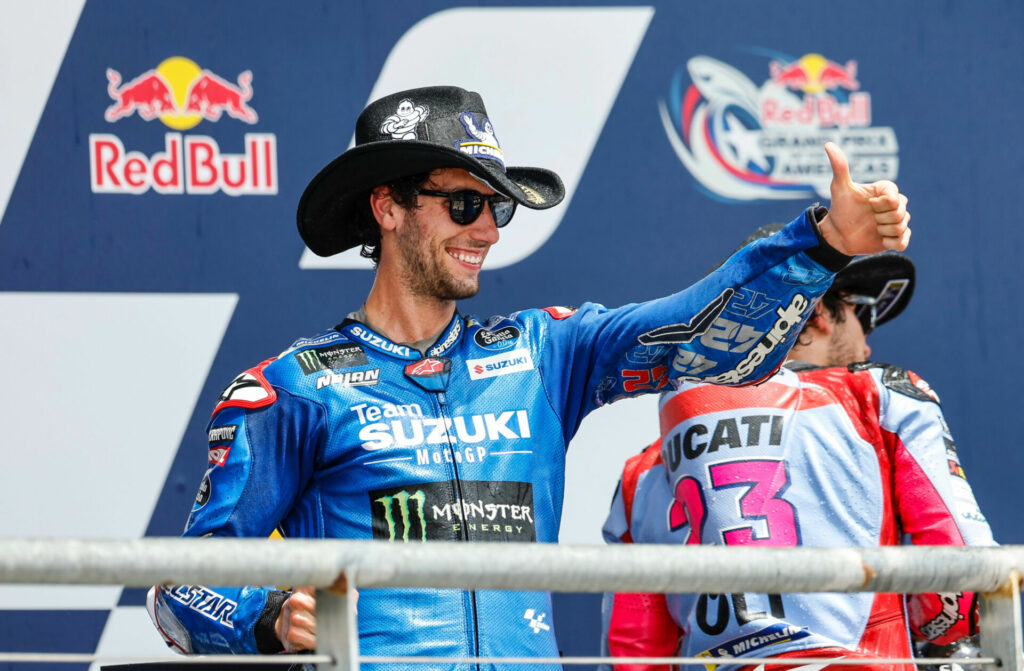 Alex Rins:
"I'm so happy! I didn't actually expect to get the podium, because in the first few laps I was struggling a bit and in risk to lose ground. I had to try and push the tyres more, to brake later, to make good overtakes. When I got into third I had a couple of moments on the front, some mistakes, and I knew that finishing the race was the most important thing. Then, with just two laps to go, I felt better and my pace was good, it meant I was able to overtake Jack and get second. This result is great, and I want to dedicate this podium to Suzuki for their amazing achievements, but also to the people of Ukraine, and those around the world who are suffering."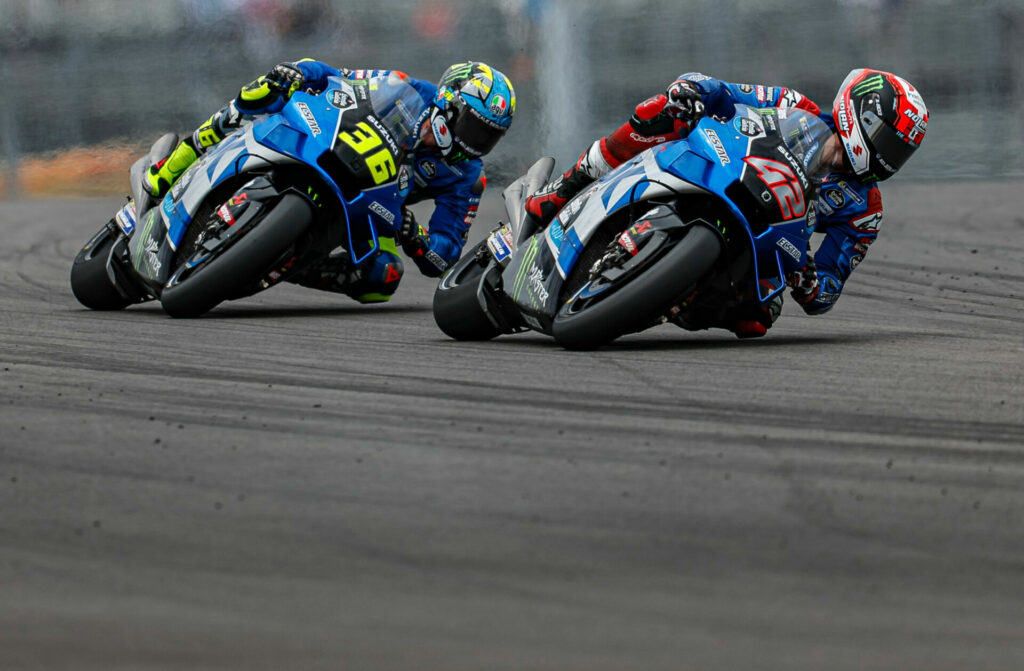 Joan Mir:
"I'm super happy because this is my best result in Austin, and it's a very difficult track to ride. So, for me, to finish in fourth is a great thing. We managed to do a great race and my performance with the bike has improved race by race, thanks to my team. I started today's race in a calm and careful way, and I was able to build and up my pace, eventually passing quite a few riders to get fourth. I'm happy and excited to go to Portugal with the improvements we've found, starting this European section of the season means a lot of races and pressure but we're exactly where I hoped to be so far."
Livio Suppo – Team Manager:
"Our riders had a great race today; both showing determination but balancing it with smooth moves and careful consideration. Both Alex and Joan had really nice pace, the GSX-RR was also working well, and this makes us feel good. I'm proud to be part of this Suzuki squad on the day the brand takes its 500th podium, it's a special feeling. Now let's stay grounded and keep our focus on Europe."
Ken Kawauchi – Technical Manager:
"We are very happy with today's result. We had a podium with Alex last week in Argentina, and we were able to repeat it here at a very different track. This was a 'classic Suzuki race' in the sense that we didn't start high up but we kept our determination and fighting spirit, then both Alex and Joan got the best from themselves and their bikes. It was an excellent way to celebrate 500 podiums for Suzuki. We've had a consistent start to the season, and now we'll go to the European rounds to try and keep this momentum and aim for a win."
More, from a press release issued by Ducati Lenovo Team:
Miller finishes third in the Grand Prix of the Americas. Bagnaia finishes the race in fifth place in Texas
Enea Bastianini (Gresini Racing) takes his second MotoGP victory and is back leading the Championship
Jack Miller scored his first podium of the 2022 season at the Circuit of The Americas near Austin, Texas, where the Grand Prix of the Americas, the fourth round of the 2022 MotoGP World Championship, was held this weekend. The Australian rider, who started from second on the grid, did a fantastic race, which saw him in the lead for almost the entire duration.
As he got off well at the start, Jack immediately moved into first place, holding off the Ducati of Jorge Martin (Pramac Racing Team) and then Enea Bastianini (Gresini Racing) for over half of the race. However, with five laps to go, Miller no longer had the pace to defend himself from his rivals and got overtaken first by fellow Ducati rider Bastianini -winner of today's race – and then by Rins, finishing third. For the Ducati Lenovo Team rider, this is his second podium finish at the American track after his third-place here in 2019. Thanks to today's result, Miller moves up to seventh place in the overall standings.
Pecco Bagnaia, on the other hand, finished the race in fifth place. After a promising start that saw him stay hooked to the leaders in fourth place, the Italian rider could not remain in the fight for the podium. After the Americas GP, Bagnaia is now twelfth in the overall standings, while Ducati leads the constructors' standings with a 27-point advantage over KTM.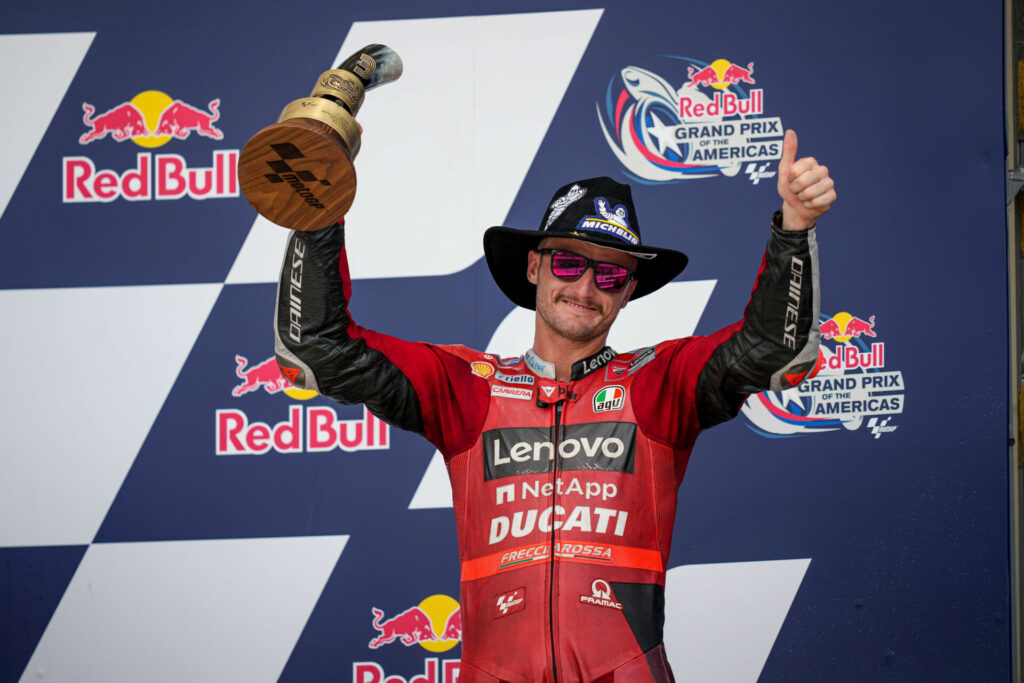 Jack Miller (#43 Ducati Lenovo Team) – 3rd
"Honestly, I don't know if I could have done any better today. I knew I didn't have the pace to escape and leave the group behind me. When Enea passed me, I tried to follow him, but at a certain point, he went wide. I made the same mistake risking going off the track and getting overtaken. I knew that Rins was very close behind me. I tried to defend myself, but in the end, he overtook me. I'm really happy with this result, although I'm a bit disappointed having tasted victory for so long. The team and I needed this third place, so I'm happy."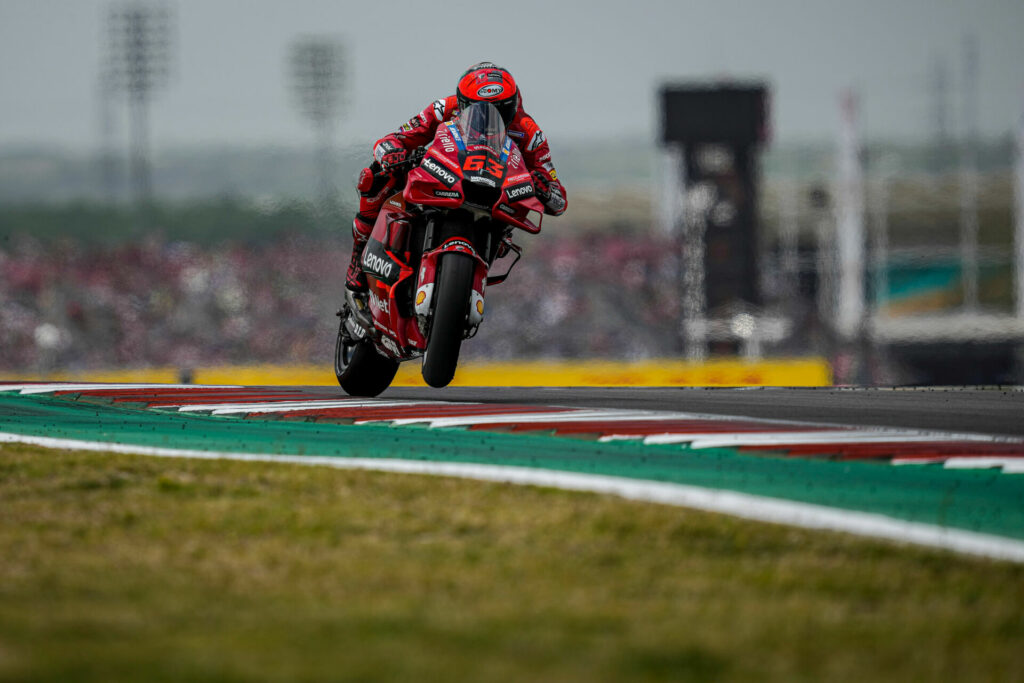 Francesco Bagnaia (#63 Ducati Lenovo Team) – 5th
"After FP4 and this morning's warm-up, I expected a more consistent pace in the race, but that wasn't the case. Jack was great because he was fast right from the start with the same specs as me, while I struggled a bit in the early laps. Today the goal was to be in the top 5, but I hoped to fight a bit more with the others. Instead, I had to defend myself. This weekend will help us understand where we need to improve to be more competitive in the upcoming Grands Prix".
The Ducati Lenovo Team riders will be back on track from 22nd-24th April at the Autodromo Internacional do Algarve, near Portimão (Portugal), for the first European race of the 2022 MotoGP season.
More, from a press release issued by LCR Honda Idemitsu:
TAKA TAKES POINTS FINISH AT GP OF AMERICAS
10 April 2022 | Americas GP Race
Takaaki Nakagami rider claimed a points finish in Sunday's Grand Prix of the Americas after a tough race in round four of the MotoGP World Championship in Austin. Despite early promise, the LCR Honda IDEMITSU rider could not find the race pace he was hoping for and ultimately had to settle for 14th position after 20 laps around the Circuit of the Americas.
The Japanese star enjoyed a positive start to race day as he went third quickest in warm-up, emerging as the leading Honda. Departing from tenth, he got away well and moved into seventh on the opening lap before losing a number of positions after before forced to sit up to avoid contact. Having dropped into 14th by lap six, he stayed there for the remainder of the race, following home HRC colleague Pol Espargaro.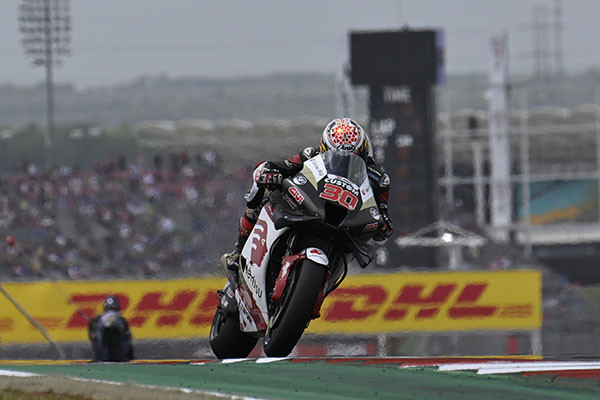 Takaaki Nakagami – 14th
"It was a tough race, but I made a really good start from the first lap and got in a good position, but unfortunately the lack of grip and the strong wind didn't help with the front stability. All the weekend we tried many things to get the best balance from the bike, but unfortunately, we couldn't find it, so it was a long and really tough race. I tried my best, but I didn't have enough speed and the performance was not what we were looking for. So now we're on to the European rounds starting in Portimao and we need to spend a few days analysing what's happened in these four races."
More, from a press release issued by LCR Honda Castrol:
CHALLENGING WEEKEND FOR ÁLEX MÁRQUEZ AT COTA
10 April 2022 | Americas GP Race
The Grand Prix of the Americas ended in disappointment for Álex Márquez as he exited Sunday's race at COTA in the early stages. Departing from the back row of the grid in Austin, the LCR Honda CASTROL rider pushed hard from the start as he looked to make up ground, but subsequently slid out of round four of the 2022 MotoGP World Championship.
Having gone 16th fastest in the warm-up session, the Spaniard knew he needed to start well and made up places on the drag to the first corner. By the fifth lap he had climbed into 16th place, but, as he looked to pass Miguel Oliveira to move into the points positions, he crashed out at corner 10 to bring a premature end to his race weekend.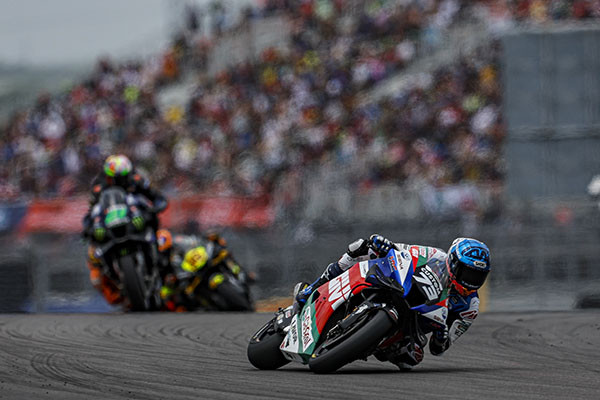 Álex Márquez – NC
"We suffered a lot this weekend. On Sunday we didn't even finish the race, we managed five and a half laps, but I'm quite happy. I recovered some confidence during the warm-up, I was quite constant and I was able enjoy a little bit. During the race, I made a good start, was able to overtake some guys and had a good rhythm, but I made a mistake, for which I want to apologise to the team for. Anyway, I want to try and keep this feeling for Portimao, we know we have to improve and score more points, but I'm motivated for Portugal and at least we have some things to take from this weekend."