MIGUEL OLIVEIRA AND RAÚL FERNANDEZ JUMP ON THE APRILIA PROJECT
TWO YOUNG WINNERS FOR RAZLAN RAZALI'S RNF TEAM
RAZALI: "WE BELIEVE IN TALENT, THEY ARE THE RIDERS WE DREAMED OF"
RIVOLA: "TWO GREAT TALENTS TO MAKE APRILIA'S MOTOGP PROJECT GROW FASTER"
Riders Miguel Oliveira and Raúl Fernandez will be riding Team RNF's Aprilia RS-GP machines for the next two seasons of the MotoGP World Championship.
After the confirmation of Aleix Espargaró and Maverick Viñales in the official Aprilia Racing team, the pair of riders for the RNF Team is now also defined. Miguel and Raúl will race on the RS-GPs of the team captained by Razlan Razali. Both riders chose and strongly wanted Aprilia, despite several alternative offers, showing great confidence in the project and the potential of the new team.
This completes Aprilia's rider line-up for 2023 and 2024, with significant timing of the solidity of the Italian project and its new ability to attract winning riders and young talent. The credit goes to the growth of the RS-GP, a protagonist in the current season and now firmly among the most interesting prototypes in the world's premier motorbike championship.
Miguel Oliveira, Portuguese born in 1995, made his debut in MotoGP in 2019 after emerging as one of the best talents of his generation in the smaller classes. In the premier class he has already collected four victories and two podiums, an enviable list of honours but still not entirely truthful about the real potential of the rider from Almada.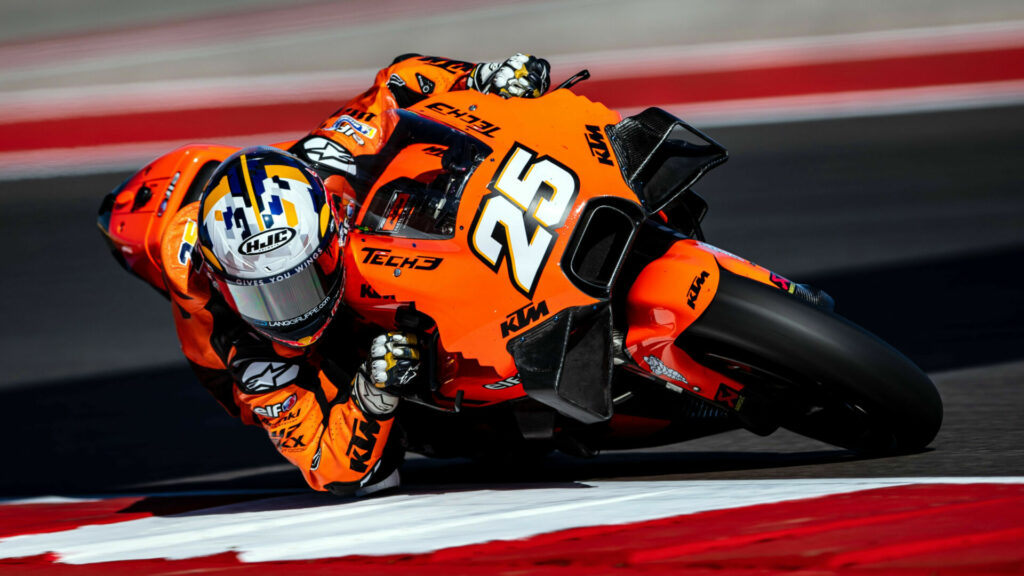 A Spaniard from Madrid, where he was born in 2000, Raúl Fernandez seized his first major result by winning the 2018 CEV Moto3. The promotion to the top-class came after an outstanding rookie season in Moto2. On his debut in 2021, the Spanish rider finished in second place, with a haul of 8 wins, 12 total podiums and 7 pole positions.
Razlan Razali – Founder and Team Principal WithU RNF MotoGP Team
"We are extremely excited to welcome Miguel Oliveira and Raúl Fernandez to the WithU RNF MotoGP Team from 2023. It has not been a simple process, but together with Aprilia we are very clear on the riders that we wanted. They are both young riders with a good combination of experience coming from Miguel and Raúl who I'm personally a fan of since he shocked the Moto2 category last year to become Vice Champion. To finally secure him, is fantastic. Both, Aprilia and we believe in the talent of both riders, so we can't wait for them to ride for us next season!"
Massimo Rivola – CEO Aprilia Racing
"Our satellite project together with Team RNF is taking shape in the way we conceived it from the very beginning. We have succeeded in securing two extraordinary talents, two riders that I really respect both from a human point of view and for their technical skills. Miguel has shown his talent in all categories, although he is still very young he has already accumulated a lot of experience by winning four races in MotoGP, sometimes with dominant performances. At his side will be Raúl, a rider I make no secret of having sought out several times. I think he is one of the most crystal clear promises of recent years, what he did in Moto2 on his debut speaks volumes about his speed. We'll have to be good at offering them both a technical package that will allow them to perform to their full potential. I would like to take this opportunity to thank KTM who, showing great sportsmanship, have allowed Miguel and Raúl to ride on our bike immediately after the end of the 2022 championship."
More, from a press release issued by Tech3 KTM Factory Racing:
Tech3 KTM Factory Racing Wishes the Best to Raul Fernandez 
Following the recent news of Raul Fernandez joining the RNF team next season, the entire Tech3 KTM Factory Racing team would like to wish him the best in his new adventure. The team takes great pride in having had amongst us the Moto2 Vice-Champion make his MotoGP debuts this season. Raul is a great sportsman, very professional, hard worker and a talented rider, who has a bright future in the MotoGP category. With seven races left, Tech3 KTM Factory Racing, together with Raul Fernandez, will make the most of the remainder of 2022 and hope to finish this adventure on a high note.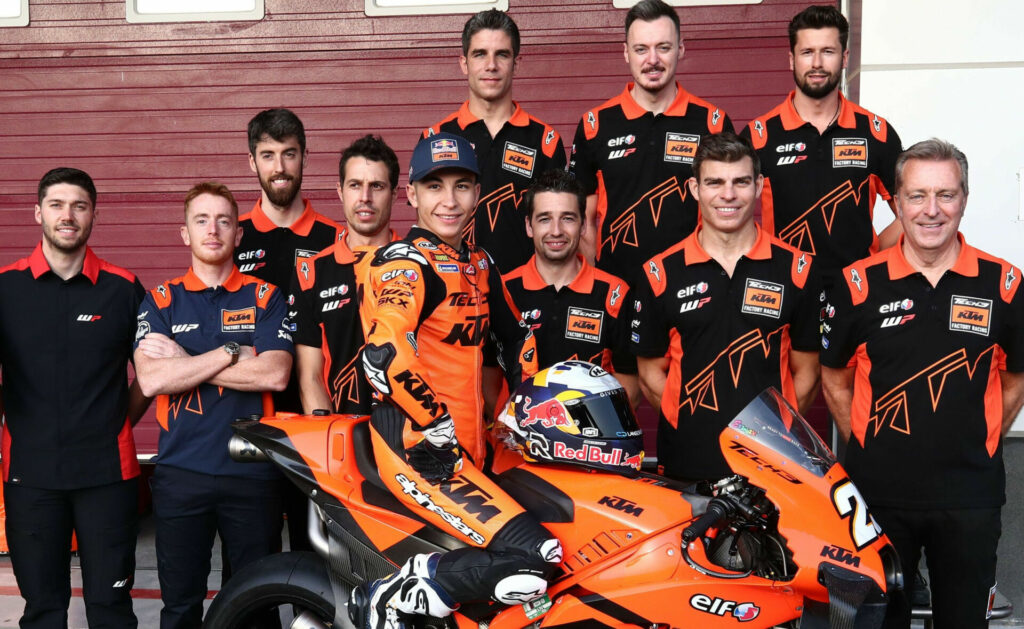 Hervé Poncharal
Team Manager
"Tech3 KTM Factory Racing would like to wish Raul Fernandez the best of luck in MotoGP for next season. Our paths will split at the end of the season, but we were honoured to have the Moto2 Vice-Champion joining us for his debuts in the MotoGP class this year.
Although the results were not the ones expected by both parties in the first half of the season, Raul remained very professional and it was great working with him. He is an exceptional rider and I am confident that he has a bright future in the category.
We still have seven races left in 2022 so we will continue to work hard together to finish our adventure in the right way. Now that he has his future clear and less pressure on his shoulders, I hope that he will enjoy his last few months with us, and hopefully this includes good results.
We look forward to heading to Misano this week."
More, from a press release issued by KTM Factory Racing:
KTM CONVEY THANKS AND BEST WISHES TO MIGUEL OLIVEIRA AFTER OUTSTANDING JOINT MOTOGP™ STORY
2022 MotoGP news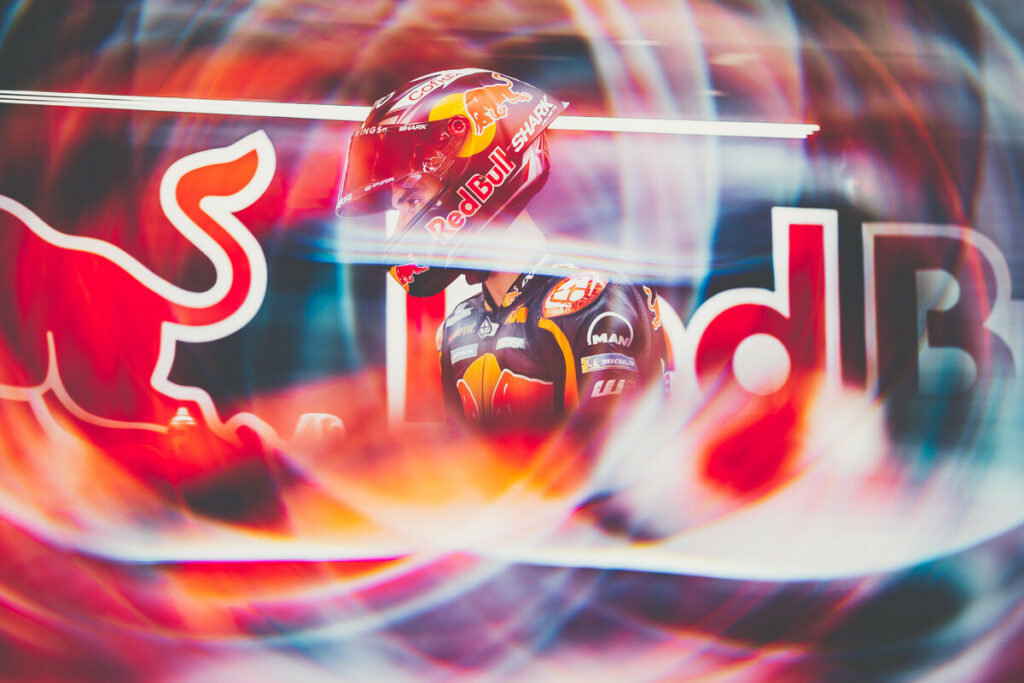 Red Bull KTM Factory Racing and Miguel Oliveira will bring a memorable MotoGP™ run to an end with the conclusion of the 2022 MotoGP season.
The Portuguese will leave the Austrian set-up and the KTM racing structure he has been a part of since 2017 in the Moto2™ class. The 27-year-old has won Grands Prix at every single level with KTM and after initially shining as a racer of promise in the 2008 Red Bull MotoGP Rookies Cup (where he won two rounds in the UK and the Netherlands). His initial GP success, at the 2015 Moto3™ Italian Grand Prix at Mugello, was the first for a Portuguese in the world championship and he was runner-up at the end of that year for the Red Bull KTM Ajo team.
More wins and two top-three championship finishes in three years of Moto2 followed with the Red Bull KTM Ajo squad before Oliveira entered MotoGP in 2019 with Tech3 Racing. Miguel was the first athlete to have scaled each step of the Red Bull Rookies/Moto3/Moto2 and MotoGP KTM GP Academy ladder.
Oliveira completed an educational term in the premier class but used the progressive potential of the KTM RC16 to log two fantastic victories in 2020 – in Austria and at his first ever home Grand Prix appearance at the Algarve International Circuit.
After that campaign he joined the Red Bull KTM Factory Racing squad and was again successful: winning the 2021 Catalan round and appearing on the podium in Italy and Germany. Oliveira made it four wins in three seasons by claiming the inaugural MotoGP event at Mandalika in Indonesia this year. He currently sits 10th in the riders' standings and has scored points in 11 of the 13 rounds to-date approaching the Gran Premio Gryfyn di San Marino e della Riviera di Rimini.
Francesco Guidotti, Red Bull KTM Factory Racing Team Manager: "We've been lucky to have a rider of Miguel's intelligence, talent and professionalism in the factory team. When we've been able to create the right package for him then he has shown his class and brought some important input into the development of the KTM RC16. It's something we'll always appreciate. Obrigado, Miguel!"
Pit Beirer, KTM Motorsports Director: "A big thanks to Miguel for everything he's brought to our MotoGP programme and for all the strong values that he represents. He came through our KTM system but he also helped make each step valid and competitive by being on the podium 36 times and taking 16 wins for us, four of those in MotoGP. The victory in Austria in 2020 was simply amazing and only bettered by the dominance and emotion in Portugal later in the season. He really showed young riders the 'orange way' through the MotoGP pyramid. He's a total Pro, a family man and he'll be missed in our section of the paddock for sure. We wish him all the best for his future in the MotoGP class."