"The atmosphere is fantastic!": Thursday talking points in Jerez
Hear from Bezzecchi, Bagnaia, Rins, Viñales, Marini, Quartararo, Alex Marquez, Martin and… Bastianini! 
Thursday, 27 April 2023
We are BACK! Jerez hosts as we gear up for the Gran Premio MotoGP™ Guru by Gryfyn de España, and three press conferences kicked us off on Thursday. The first comprised Marco Bezzecchi (Mooney VR46 Racing Team), Francesco Bagnaia (Ducati Lenovo Team) and Alex Rins (LCR Honda Castrol), the second Maverick Viñales (Aprilia Racing), Luca Marini (Mooney VR46 Racing Team) and Fabio Quartararo (Monster Energy Yamaha MotoGP™), and the third Alex Marquez (Gresini Racing MotoGP™), Jorge Martin (Prima Pramac Racing) and the returning Enea Bastianini (Ducati Lenovo Team). Here are some key quotes!
How important were the two top 6s in COTA?
MARCO BEZZECCHI: "Yeah, as you said Texas for me was not easy. I had some issues on Friday and then I was outside of qualifying two, so I had to pass through qualifying one. But anyway, I was able to recover in a normal way and bring home a decent race. Of course, it wasn't the best, but it also wasn't the worst, I hope. In the end I got some points, even if I was struggling, so it was important to make it better than last year in Texas, which is what I needed, so it was OK."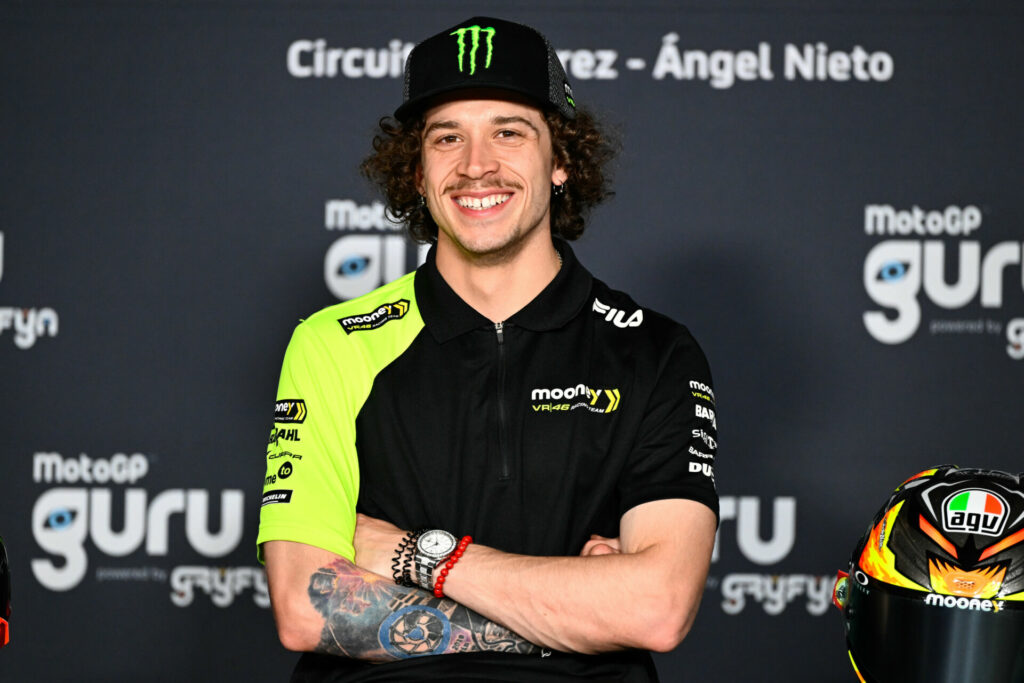 Do you expect do be as strong here as you were in Portimao and Termas?
"Well, honestly I don't know what to expect. It's a track that I really like and it's a fantastic track. All the atmosphere and the weather are fantastic as well, so I'm really looking forward to riding the Ducati here and also with this new bike. I've never tried it at this track so now I can do it. I've studied a lot, I've studied Pecco's lap from last year, but also every Ducati rider as well, so I can't wait."
These are special times for the team…
"Yeah, the team is really working well. The atmosphere in the team is fantastic. We also eat very well because our hospitality guys are fantastic as well. So yeah, everything's nice at the moment. My crew personally is really putting a lot of effort into what they're doing, but also Vale from home and also all the other VR46 Academy guys. So yeah, we are now in a positive trend and we hope to continue like this and continue to fight for some more races!"
Do you have a clear understanding of what caused the crash?
FRANCESCO BAGNAIA: "Sincerely I think not just the Saturday but all weekend in terms of performance it was one of my best in MotoGP. We were so competitive, we were going very very fast in the Sprint and in the race on the Sunday. I think after seeing the data and checking everything, I think I maybe underestimated the conditions at Turn 2 because it was a corner where all weekend I was faster than all the Ducatis, and I followed doing the fastest there in the race and maybe it wasn't the conditions. But I want to remain with the positives, I think we were so competitive so I think for the race we were there fighting again like Saturday, but that's it. We have to take the positives and remain at the same level this weekend, it's one of my favourite races, favourite weekends, favourite tracks, so I'm confident and happy to start a new weekend."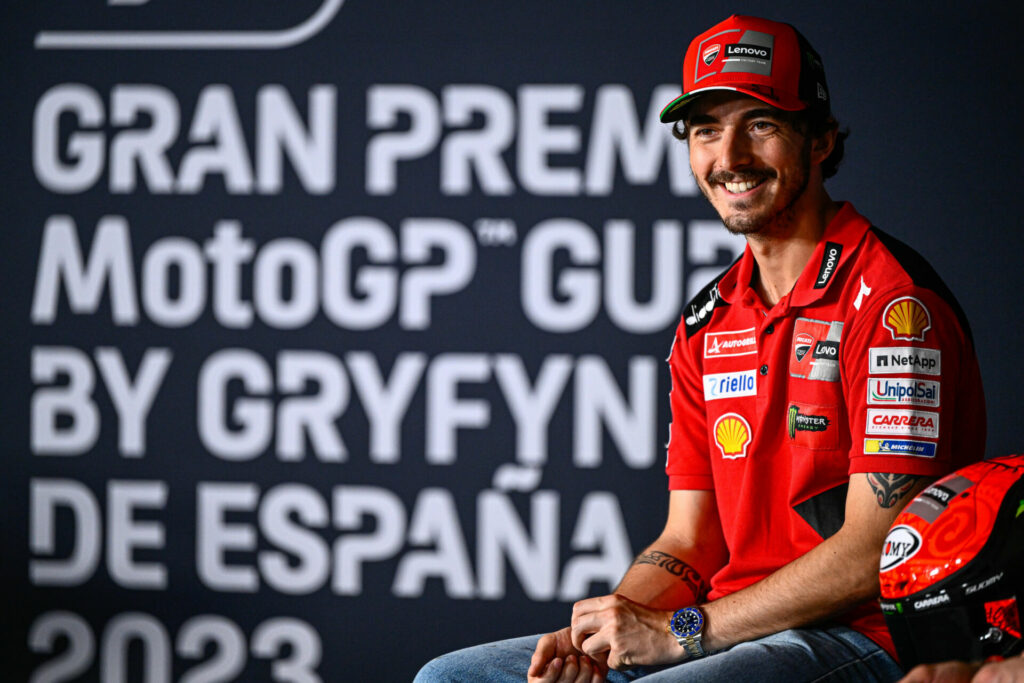 Where do you think the new bike will be strong in Jerez?
"In terms of handling this track is one of the more technical, you have to be very precise and the new bike is a bit better on handling. We have three strong brake points where you have to be very competitive and it's a point where I think we can be strong, but let's see. Every year the conditions are changing and it looks like it will be very very hot like 2020. So let's see."
What are Ducati bringing to the test?
"Sincerely we don't have many things to try because the season started one month, two months ago. It's something where we can improve the feeling on the bike but nothing too big."
How do you assess your start to 2023?
ALEX RINS: "Well for sure, as you mention, more than the race, we had a very good weekend. Starting on Friday, going direct to Q2 then in QP, for some moments I had pole and then Pecco arrived. Starting second, we finished second in the Sprint, and then in the race it was unbelievable, when I was trying to follow Pecco, and when he crashed, I was never in that position with the Honda. That lap I did some small mistakes but then I was trying to focus on myself and my way. The pace was super nice, and super-fast and I was able to get the victory. For this GP, we haven't made any bet yet with the team members, but you know, here we start from zero. It's my first time with Honda here. It's a track, as Marco mentioned, that many riders like. It's quite different to the previous tracks. This is quite small, less wide than COTA for example. We will try to be at the maximum as always starting from Friday and we will try to go to Q2 and then let's see what we can do!"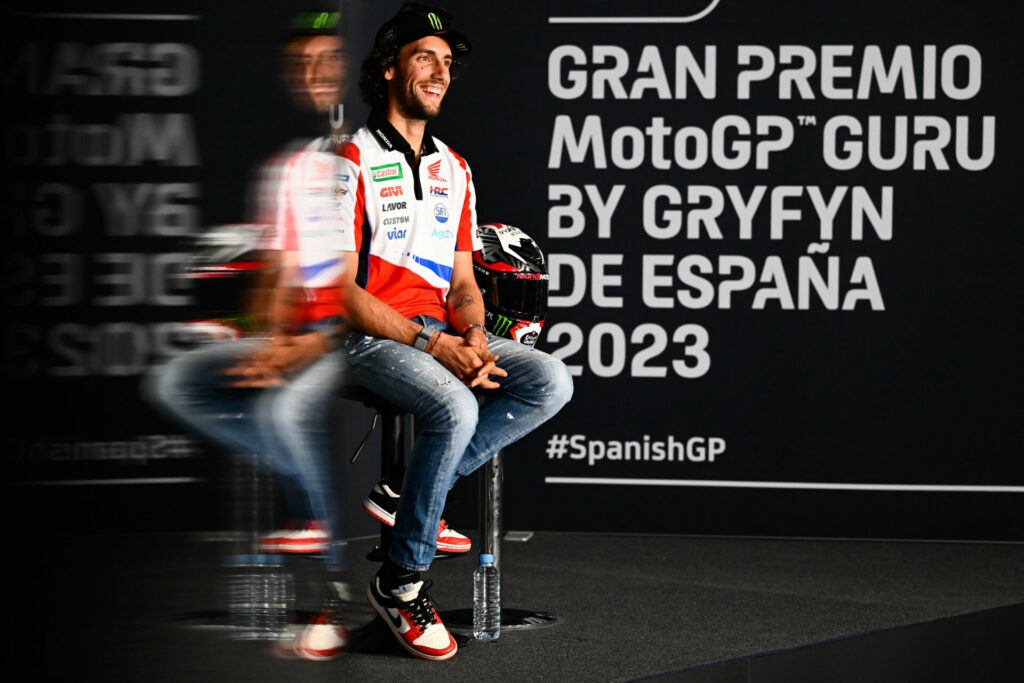 What are the expectations in Jerez?
"We got the victory in Texas but the target is the same. We need to improve the bike. We need to find a good base and try to be close to the top guys. There two with the Ducati are going super-fast. So, the target, whether winning in COTA or finishing ninth in Argentina, is the same."
Is there a change of status after a win?
"Maybe yes, maybe no. Every time I jump on the bike I give my best. Every time I go back to the box I try to be clear, to give them my experience to improve the bike. If they want me to test something, I'll test it. I want to improve the bike. This morning my crew chief told me they'll give me the chassis to try that Joan is using for this race, but with the schedule, we don't have too much time to test. I prefer to stay focused this GP with the two bikes at the same level, same chassis and everything, and on Monday we will test."
Is there more to come?
MAVERICK VIÑALES: "Yes, the feeling is that we have a good speed. Still we have to improve in a few areas. There are a few points where we will suffer here in Jerez. As last year it was easier, we had the tests and we had time to work on it, but this year we have a tight Grand Prix schedule. But yes, somehow I feel the potential is really high. Every time I feel like I have more speed and I feel better on the bike. Austin, on paper, wasn't the best track for Aprilia. But yeah, I rode as fast as the front guys and I feel like we could have achieved better in Austin. We missed the start on the two starts and I let some points slip. But I feel like we could have done a good result and we could have been on the podium, especially on Sunday. So it's a matter of putting everything together. I feel really ready, I feel motivated, I feel as happy as ever and honestly I want to start the weekend because I know if we do well, we're going to be able to fight for the victory. So qualifying is something that we always try to be very concentrated on but it's an important thing that we are improving on. I had bad luck in Austin when I had the yellow flag because we could have gotten onto the front row, but overall I think everything is very positive. I feel every time I can push more and more. So yeah I want to start pushing here a little bit more."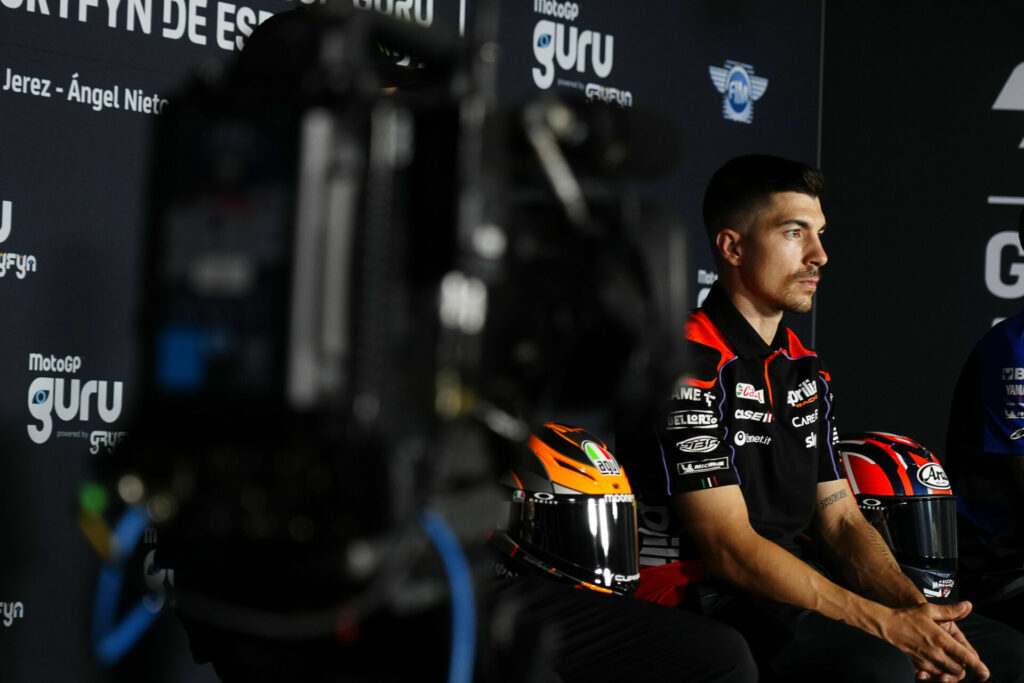 Is there anything you're going to try differently on the starts?
"Yes, somehow we need to find the thing we need to improve which is the bite on the clutch. The way I was always used to starting was in a different way, so we are working more. But it's clear that as a manufacturer we are not the best for starts, so it's something that we must improve. For me, honestly, it's a shame because I always feel like I have an amazing potential, especially in Portimao I started in the front, I did my own race, and I was closing the gap to Pecco at the end, so somehow I feel if we can make clear that point, our objectives can be the ones we are fighting for, so we must push for that."
How do you think the weekend will pan out?
"Yeah, the chances are there and they're high. I must have a good weekend. I think this is one of the tracks where the bike works in a good way and I feel like we have a good potential. Last year I was struggling but the lap times were really good, so this year now that I come here with a lot of motivation and a different feeling with the bike, and especially the team has changed quite a lot. I think we have a lot of possibilities to have a fantastic weekend."
Must be really satisfied after the start to the season?
LUCA MARINI: "Yeah exactly it's like this. I have now very good memories from Austin which I've never had good results there but now it's the past and I need to focus on this race. I think this race will be even more difficult because everyone is really strong here, every manufacturer has done a lot of tests here and has a lot of data, so it won't be easy. For sure the qualifying is the key to have two good races here.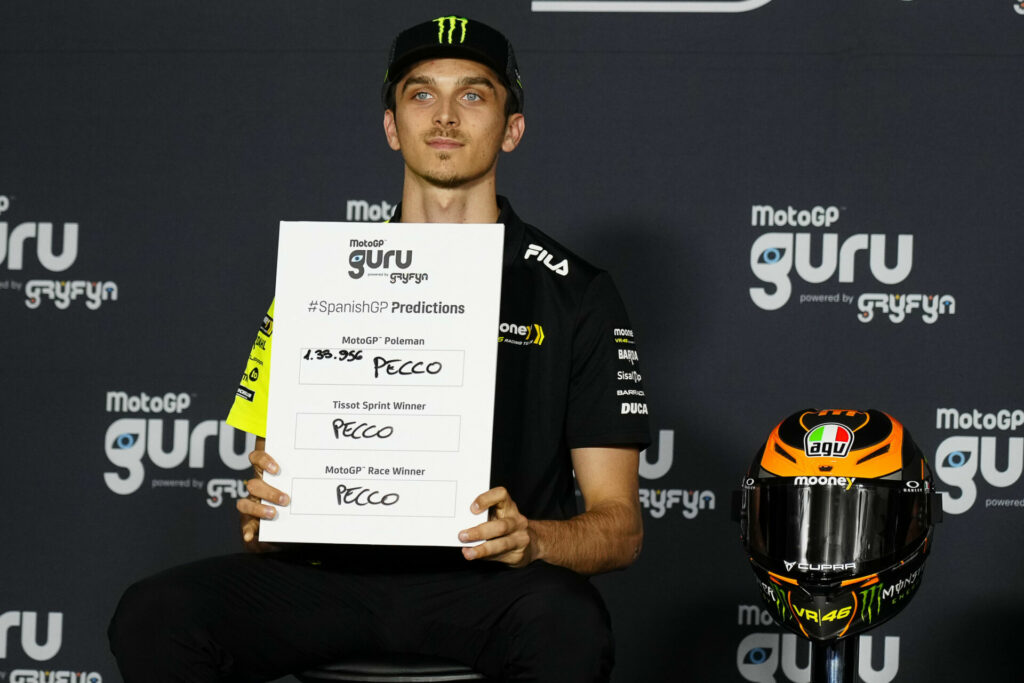 Studying other riders: have you learnt from Rossi or is it natural?
"I think everybody more or less does the same thing. You want to watch the best rider in that moment, looking at the data if it's the same manufacturer and you try to improve what you did. So it's just something natural, Alex is really strong in Austin and I would like to understand where he can make the difference with two different manufacturers."
Will you have anything to test in Jerez?
"Nothing!"
Is that a worry?
"No, I'm just focused on myself and what I can do with my team. I think that it will be a very important weekend, if the weekend isn't so good it will be bad, maybe my lap time is bad or my pace in the race isn't strong we can work a little bit, but if everything is good as in the past races I think on Monday we don't have to ride so much!"
On having Valentino Rossi in the paddock:
"It's amazing, fantastic to have him here. I hope he can give me some good advice!"
Was it the perfect time for a podium?
FABIO QUARTARARO: "Well yeah, we had great pace in Austin. Of course, the podium felt great but the goa lis to be up there for many more races and this is a good place to do it so let's see how it's going.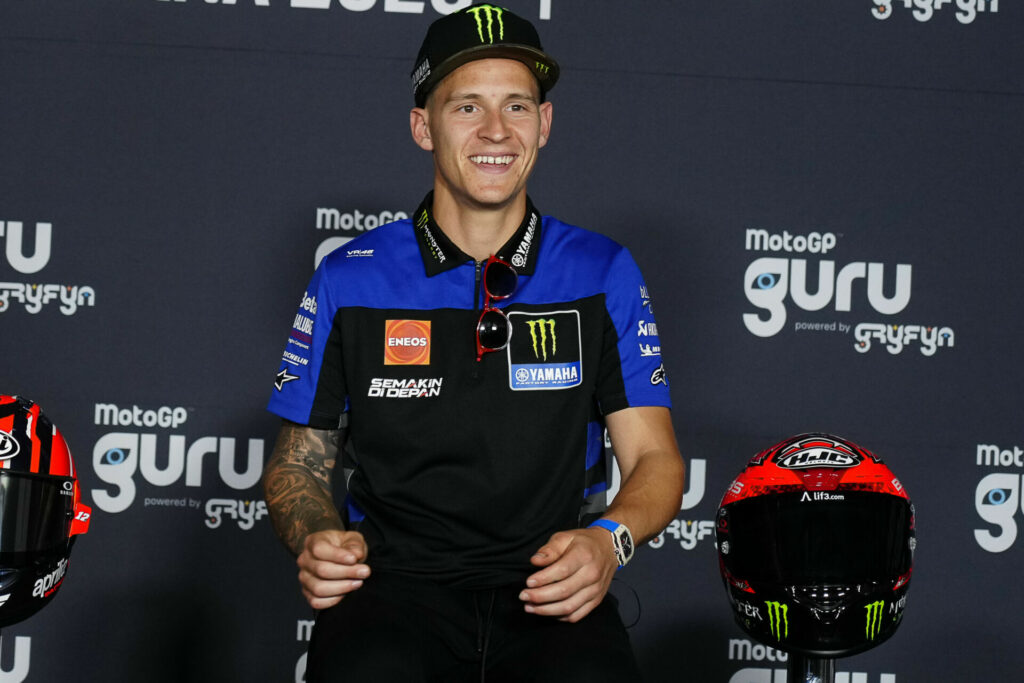 You have a great record here. It suits the Yamaha, or do you really like it?
"Both. We do many laps on the track, a track I really like. I've always been fast…in Moto3™, in Moto2™, well I've never been fast at all tracks but in MotoGP™ I've always been fast. It's been to be great, we just need to focus and be clear about… and set our target in qualifying because this year has been pretty tough."
What's the importance of the test and any new toys to bring?
"Basically, I've heard nothing big about the problem. We know where it is but we cannot sort it for this year so…. We will have some items, but nothing crazy.
"To be honest I don't know. I report clearly after all three race where is the problem, where we can improve, considering we can't touch the engine. It's up to them to find the solution and find me something in this area especially at tracks like Austin."
Is it acceleration?
"It's many things, not just acceleration. We cannot use the power because we have wheelie and this is the main problem right now and we have to fix it but we can't put wings because on the straights we are not that fast, so we can't put bigger wings. In the end, it's one problem that brings many more."
Fitness update:
ALEX MARQUEZ: "Yeah, we were really unlucky, unfortunately at the weekend in Austin with the Sprint race and later in the big race. We lost a really great opportunity to have my first win in MotoGP. But anyway, I think the potential that we showed during the weekend was really good. You know, the crash was really, at one point I was going towards the wall between both bikes and I was really scared. But I'm quite OK, I just have a small fracture on my muscle, on the external muscle, and a little bit in the ligaments, but in the end I'm quite fine. I'm not 100%. I'm about 95% I would say, but we are here to again keep our progression going because we're coming quite good after Austin."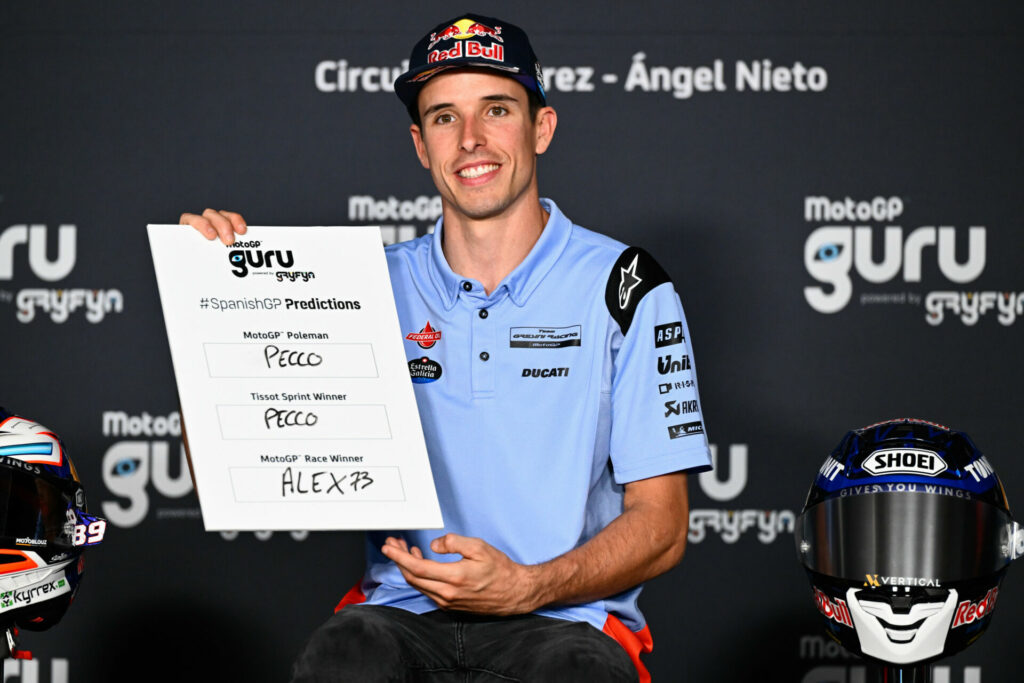 Do you expect to be battling for the podium?
"Yeah, I mean, for sure we will try. It's true that we are coming to a track that's really different compared to Argentina and compared to Austin, but we've come back to Europe and now the tracks and the layouts will be really different compared to them too. We need to keep going on like we have done, we are in a better position than how I expected to start the season, unfortunately like you said, we have two DNFs in Austin and so it's really important to achieve points and go up in the championship. But anyway, we need to keep going. I'm really happy about how I'm feeling on the bike and with the team and we will try to do our best things step by step."
How special would it be to get your first MotoGP™ win here in Jerez?
"Yeah, I mean for sure it's a dream for all the Spanish riders. It's a dream to win here in MotoGP. I had the opportunity to win my first Moto2 race here in Jerez and it was really special so i can't imagine how it would be to win the MotoGP one. But it's not our targer we need honestly more to arrive and be able to come and fight for a win in normal conditions. It's true that in Austin we were not really far compared to Pecco, who was the maximum opponent for us, he was really fast and really consistent. But anyway, I think as we said, we start again here and everyone starts from zero so we need to keep the mentality cold to achieve points for the championship."
How much you looking forward to Jerez?
JORGE MARTIN: "First of all I'm happy to see Enea back after his injury because I know it's never easy to have an injury and to see Alex is ok. About the season it's been a rollercoaster but it's been like this in all the races. I had a good opportunity in Austin on Sunday, I felt super strong, I had a good start and then I made this big mistake but anyway I feel we are strong, we have a good package and I am fast. This is the main thing, now the important thing is to put everything together and finish races.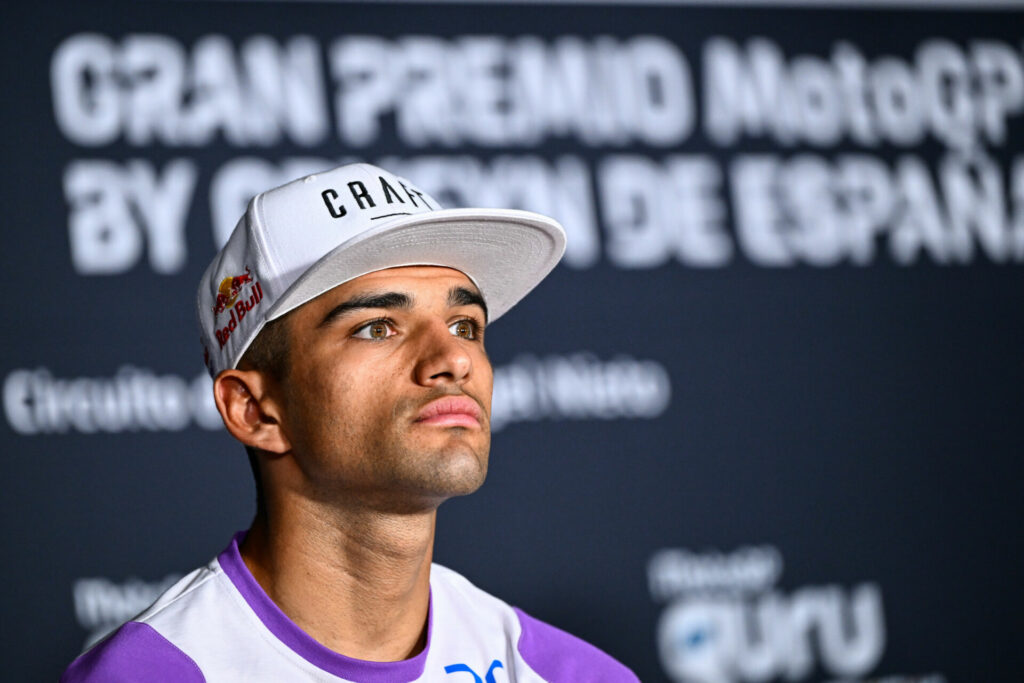 Expect the Sprint to be a crazy fight?
"Let's see. It will be important to understand which tyre to use in the Sprint, I remember last year here with the soft you couldn't do a lot of laps so maybe it's the first time we can use the medium, it's important to understand well. Depending on the tyre, depends on the type of race but I think we will all push a lot, and yeah it will be a fast race for sure."
Areas to work on in testing?
"It will be a difficult test, we don't have a lot of things to try so that's why it will be difficult, you need to try things but not lose the way. I think we need to find a bit of rear grip, this is the main thing, but the rest I'm quite happy and I don't need to change the bike a lot."
How is the shoulder?
ENEA BASTIANINI: "I'm very happy to be here again. It's difficult to watch the Grands Prix from home but now it's better. On Monday I tried to get back on the bike with the Panigale, the feeling was quite good. I know the situation, I'm not 100% but it's important for me to get the confidence with the bike again and try to bring up some points, no? I'm not here to win this event, but I have to try 100% and will be important to gain my confidence back. That is my idea for this weekend!"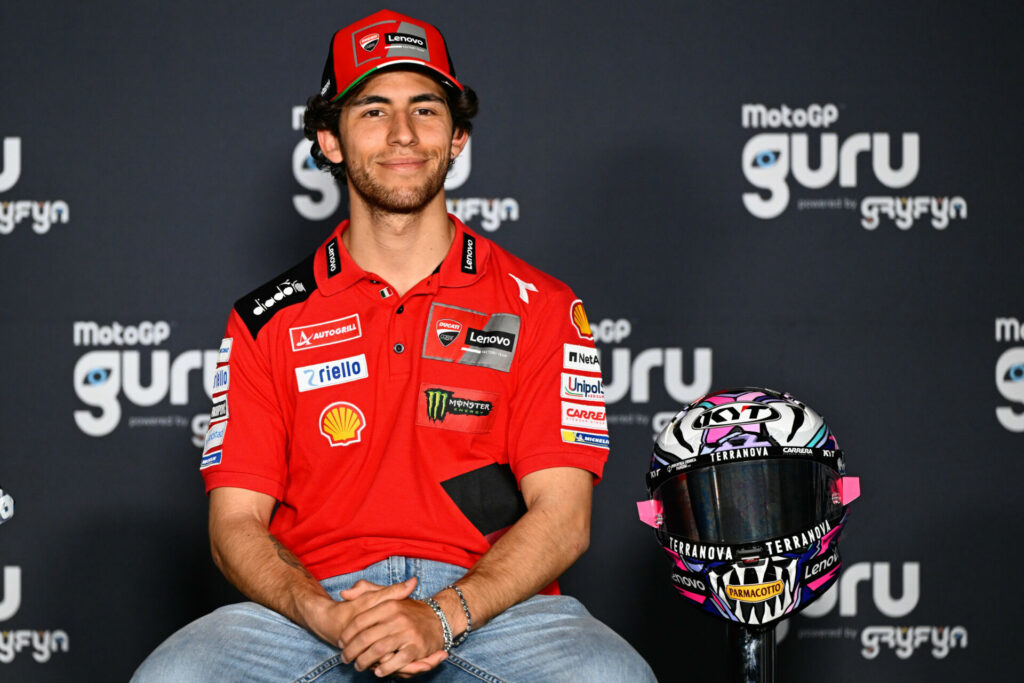 How long will it take to get up to speed?
"Depends on the shoulder recovery. I want to arrive at Mugello at 99%, this is possible. From that race, my Championship starts. Right now, I'm not in a situation to be strongest for all the race distance but maybe in Mugello I can be ok."
Thoughts on 2023 so far?
"It's very strange the first part of the Championship. Strange situation and this new format is different and for some riders it can be a bit strange. I saw Pecco is competitive but made some mistakes. I saw Alex is very fast, but he crashed with Jorge in the last one. Marco Bezzecchi is also really fast and won his first Grand Prix and is quite consistent and this is important for the Championship. But there is a long list, all the MotoGP riders are fast! Let's see how it is at the halfway point of the season."