More, from a press release issued by Dorna:
Pole for Pol! Espargaro heads Rins and Nakagami as a tenth covers the front row in Valencia
Rins second, Mir fifth, Morbidelli ninth, Quartararo 11th, Dovizioso 12th and Viñales in pitlane sets us up for a rollercoaster race day
Saturday, 07 November 2020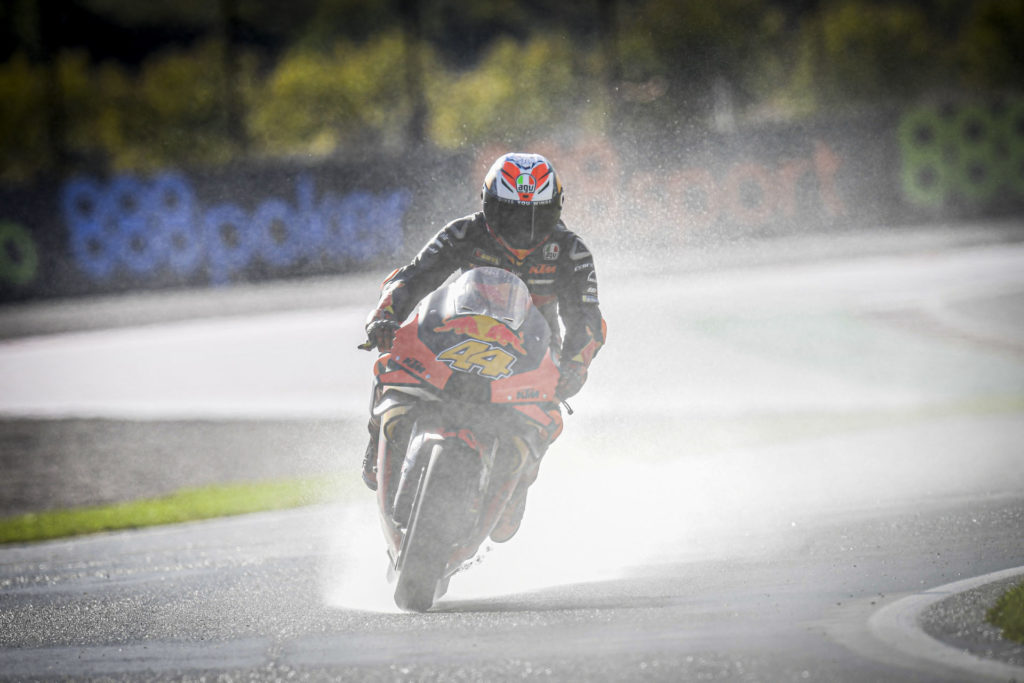 Red Bull KTM Factory Racing's Pol Espargaro picked up a phenomenal second pole position of 2020 after mastering the wet conditions in Q2 at the Gran Premio de Europa, the Spaniard slamming in a late 1:40.434 to head a front row covered by less than a tenth. Alex Rins (Team Suzuki Ecstar) starts second as the top title challenger, just 0.041 back, with Takaaki Nakagami (LCR Honda Idemitsu) claiming the final front row slot despite a late crash. The grid is a fascinating one ahead of lights out, with Championship challengers scattered throughout and, of course, Maverick Viñales (Monster Energy Yamaha MotoGP) also starting from pitlane due to exceeding his engine allocation.
First, FP4 pacesetter Miguel Oliveira (Red Bull KTM Tech3) and FP3 leader Johann Zarco (Esponsorama Racing) emerged through the Q1 shootout on top in wet but drying conditions. The sun was shining for Q2 but the asphalt still wet; a dry line appearing but nowhere near dry enough to risk slicks. High stakes, anyone?
Franco Morbidelli (Petronas Yamaha SRT) pulled straight back into pitlane after his out lap, a tyre change on for the Italian, but it wasn't to slicks. Rins then set a 1:42.420 and the first time of the session, but that was going to be beaten fairly quickly as some of the Q1 contenders dipped into the 1:41s, already dialled in. The number 42 Suzuki did then set a 1:41.714 to extend his lead though, and teammate Joan Mir (Team Suzuki Ecstar) was next up as he went quicker by a tenth to sit on provisional pole.
The Suzuki stranglehold was then beaten by Nakagami as Andrea Dovizioso (Ducati Team) peeled into the pitlane despite being on a great lap, but the lead then changed again. Morbidelli was back on top, but Rins was on a roll and topped the session for the third lap in a row; the Aragon GP winner in fine form.
Nakagami was then on another flyer. The Japanese rider was 0.3 seconds faster at the second split and over half a second up through Sector 3, coming round the final corner and firing his RC213V to the line to take over by seven tenths – goalposts well and truly moved. Jack Miller (Pramac Racing) was the first man trying to respond, the Australian straight down to business to take P2 despite waiting to head out, but a mistake at the final corner cost him time.
Meanwhile, Mir then improved his time to go P3 as Dovizioso's next time was only good enough for P12 as the wet weather form book seemed to take a hit. There was time left yet though and Rins was through the third split 0.041 up, the number 42 just pipping Nakagami by 0.005 seconds over the line. The Japanese rider then crashed at the final corner though, so that was his session over…
In the end, it all came down to a tense final minute. Rins was once again going faster and  faster, 0.079 seconds under and looking set to challenge, but there was a flying KTM about to join the party at the top: Pol Espargaro. The Spaniard, who picked up both his and KTM's first MotoGP™ podium at the Circuit Ricardo Tormo in 2018, crossed the line to take provisional pole and show yet more wet weather mastery. Could Rins ruin KTM's afternoon? Not quite – but it was close. 0.041 was the gap between the two and next attention turned to Zarco, because the Frenchman was flying.
0.196 up through Sector 3 looked like it might be the two-time Moto2™ World Champion's time to shine, but a mistake at the final corner then saw the Ducati man lose time. Just enough, although it was only covered by a tenth, to lose out on the front row. The number 5 went fourth, and it all came down to Rins. Could the Suzuki rider make one last ditch attempt to snatch pole? Not quite. It was another good lap but the Spaniard had to settle for P2, the search for premier class pole continuing.
And so, another breathless wet qualifying session ends with Pol Espargaro and KTM on top. The number 44 earns his second pole position of the season as Rins claims his second consecutive front row, and that can also be said for Nakagami. Three manufacturers in the top three positions, and all three are looking strong in Valencia. Two could also become the ninth different winner of 2020 on Sunday…
So could Zarco, who was unlucky to miss out on the front row but after negotiating Q1, heading up the second row is a solid Saturday afternoon. Championship leader Mir will launch from P5 after some good work on home soil, and he's another big candidate to become that ninth winner. Aleix Espargaro (Aprilia Racing Team Gresini) completes Row 2 and that's the Aprilia rider's best Saturday afternoon outing since his P4 at the Czech GP earlier this year, and Aprilia's best at Valencia in the MotoGP™ era.
After showing strong pace all weekend, Miller was forced to settle for P7 and the head of the third row, ahead of Oliveira. The Portuguese rider was the last man within a second of Pol Espargaro after improving on his last lap. Next up is top Yamaha rider Morbidelli in ninth and the Italian has some work to do on Sunday afternoon, with Mir and Rins ahead of him. Crucially, however, there are three title contenders behind him…
Brad Binder (Red Bull KTM Factory Racing) rounds out the top 10, the South African just over a tenth faster than one of said title challengers: 11th place Fabio Quartararo (Petronas Yamaha SRT). It wasn't the ideal Saturday for the man second in the standings but thankfully for El Diablo, Sunday looks like it will be dry – he'll likely be hoping so. Dovizioso's Q2 didn't go to plan either, the Italian well adrift of Pol Espargaro by the flag and set to start P12.
And then, in terms of the top six in the standings, there's Viñales. The Spaniard will start from pitlane on Sunday, looking to do some damage limitation. His returning teammate Valentino Rossi (Monster Energy Yamaha MotoGP) starts from P17 too… so what can they each do?
The scene is set with a grid that promises another truly stunning Sunday. Will it be a ninth winner? More Championship drama? Another maiden winner? Some history-making is entirely possible, with Pol Espargaro, Nakagami, Zarco and Mir all starting in the top five and on the verge of some serious stats. Tune in for the MotoGP™ race at 14:00 local time (GMT+1) on Sunday for another unmissable twist in the tale of 2020!
MotoGP™ front row
1 Pol Espargaro – Red Bull KTM Factory Racing – KTM – 1:40.434
2 Alex Rins – Team Suzuki Ecstar – Suzuki – +0.041
3 Takaaki Nakagami* – LCR Honda Idemitsu – Honda – +0.096
*Independent Team rider
Pol Espargaro: "That qualifying was crazy, we have not so much to lose, we're not fighting for so much in the Championship. We're not far but not close enough which is a pity but a reality. Today was difficult because we have three races in a row and these conditions made it so so so difficult to make a good laptime and so easy to crash, so I wanted to finish that session and with a good result, especially after seeing Miguel in Q1 who was very fast. I'm super pleased, I couldn't believe it when I crossed the line and my mechanic put P1 on the board, it's difficult to believe because when it comes in difficult situations it's even more tasty!"
Vierge strikes late to deny Roberts in Valencia
The Spaniard takes it in a last dash on a drying track, ahead of Roberts and Championship leader Lowes 
On a drying Circuit Ricardo Tormo that saw the Moto2™ riders attack Q2 on slicks, Xavi Vierge (Petronas Sprinta Racing) produced the goods to bag his first pole position of the season. The Spaniard's last lap was good enough to see him beat Joe Roberts (Tennor American Racing) by just under two tenths, with Championship leader Sam Lowes an infinitesimal 0.002 back in P3. The British rider's main title rival, Enea Bastianini (Italtrans Racing Team), will start from 15th.
Hafizh Syahrin (Inde Aspar Team Moto2) topped a tricky Q1 from Andi Izdihar (Idemitsu Honda Team Asia), with Championship contender Luca Marini (Sky Racing Team VR46)  and Bo Bendsneyder (NTS RW Racing GP) also moving through. A dry line had appeared in Valencia, meaning it was just about time for slicks although it was by no means a fully dry qualifying session for the intermediate class.
Marco Bezzecchi (Sky Racing Team VR46) was fastest after the first flurry of laps in Q2, but as everyone got going, the lap times tumbled. Roberts set a 1:44.604 to sit on provisional pole with eight minutes to go but once more, the time wouldn't be quickest for long. Vierge was the first man into the 1:43s as Lowes slotted into P2, three tenths off the Spaniard.
Bezzecchi then went back to P1 with Roberts going a tad slower to take second, but Lowes went quicker than the lot of them to go top by three tenths. Again though, the lead changed. Roberts once more took provisional pole and this time, Lowes didn't beat his time – but it was close between the Brit and American.
Red sectors for Bezzecchi, Roberts and Lowes lit up the screens, but the latter was on a different planet. A 1:39.790 saw the Championship leader soar to 1.1 seconds clear of anyone else, decimating the competition. And yet, the gap was soon cut by Vierge, although Lowes hit back once again to extend it to seven tenths.
It remained far from over though. Bezzecchi, Roberts, Vierge, Remy Gardner (ONEXOX TKKR SAG Team) and Lowes all had red sectors. First it was Roberts who took provisional pole, but Vierge demoted the American to second almost immediately. Could Lowes respond to get back on top? Not this time! The points leader stayed third despite improving his laptime, advantage overcome and Vierge securing pole position in Valencia, his first since the 2019 Argentina GP. Roberts stayed second, too, just 0.002 ahead of Lowes as the duo finish just under two tenths down.
Gardner spearheads the second row in P4, the Aussie pipping Bezzecchi by just 0.033 to demote the Italian to fifth. Jorge Martin (Red Bull KTM Ajo) completes the second row in P6 as the front two rows are split by 0.520 seconds, with seventh place Marini next up but 1.3 seconds back from pole. The newly-announced 2021 Ducati rider needs a big result on Sunday to keep tabs on Lowes and Bastianini in the title race, and P7 is a solid place to start.
Flexbox HP 40 teammates Lorenzo Baldassarri and Hector Garzo picked up P8 and P9 respectively, both a good day's work, with Nicolo Bulega (Federal Oil Gresini Moto2) closing out the top 10.
So where's Bastianini? The number 33 produced a miraculous save in Q2 to keep himself upright but he couldn't keep himself nearer the front, set to start P15. What can he do on race day? We've seen him bounce back before…
Tune in for a crucial Moto2™ encounter at 12:20 local time (GMT+1) on Sunday!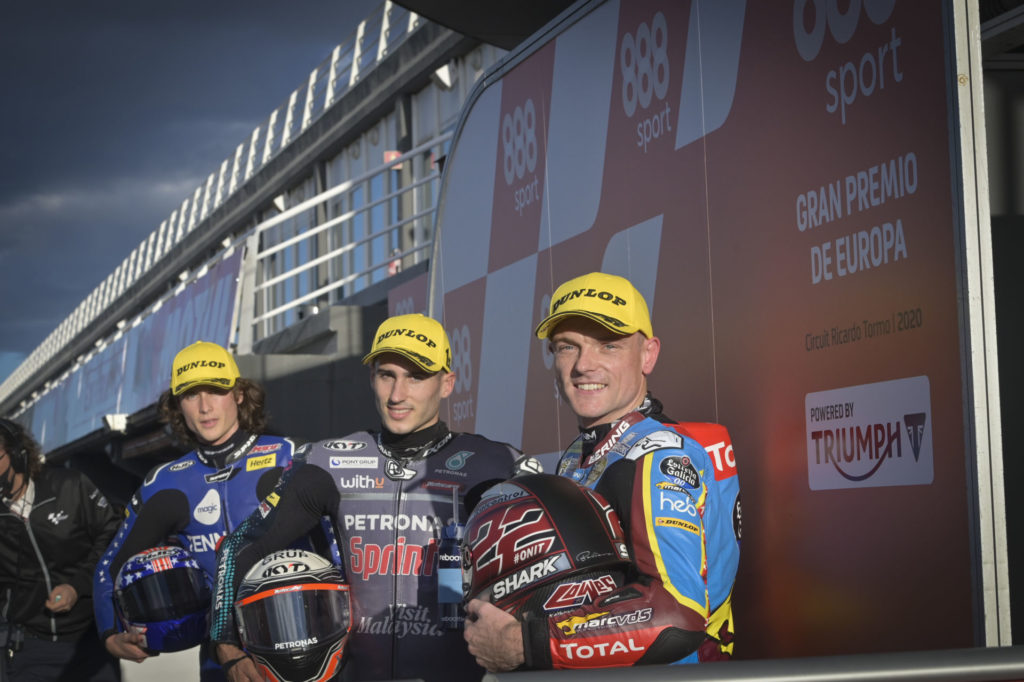 Moto2™ front row
1 Xavi Vierge – Petronas Sprinta Racing – Kalex 1:38.936
2 Joe Roberts – Tennor American Racing – Kalex +0.181
3 Sam Lowes – EG 0,0 Marc VDS – Kalex +0.183
Xavi Vierge: "I'm so happy, again difficult times and injuries, it wasn't easy to ride but these conditions mean it doesn't affect it. The weekend was tricky conditions, in the rain I never felt comfortable so when I saw the conditions I wanted to start on slicks because I knew on the dry line I could go fast. I went step-by-step and lap-by-lap, and like always on the last lap you have to give it all and I made it this time. Super happy, thanks so much to the team they're always supporting me and working so hard."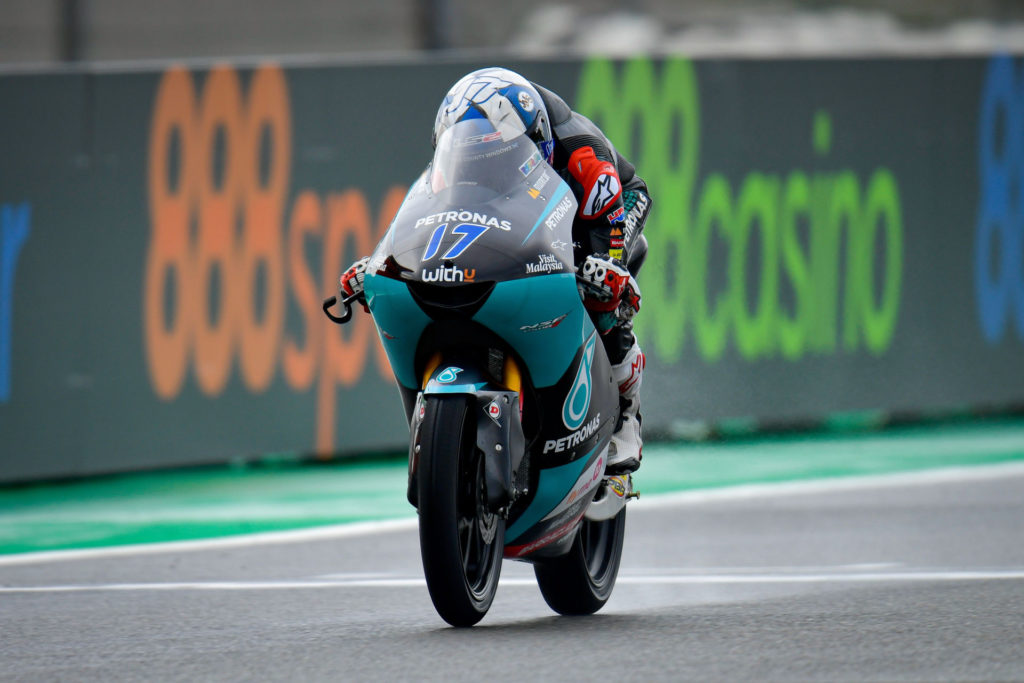 McPhee reigns wet qualifying for first pole of 2020
The Brit has Fernandez and title rival Vietti for company on the front row as the heavens open again in Valencia 
John McPhee (Petronas Sprinta Racing) claimed his first pole position of 2020 in a wet Moto3™ qualifying session at the Gran Premio de Europa, the British rider's 1:52.252 enough to pull over three tenths clear of second place Raul Fernandez (Red Bull KTM Ajo). Title rival Celestino Vietti (Sky Racing Team VR46) completes the front row, just ahead of Championship leader Albert Arenas (Valresa Aspar Team) as the grid promises another Sunday stunner.
Ahead of Q1, very dark clouds were threatening at the Circuit Ricardo Tormo. Three title contenders were in the opening qualifying session, Arenas, Ai Ogura (Honda Team Asia) and Jaume Masia (Leopard Racing). It was a crucial and tense start to the session as the riders piled out on slick tyres, and Arenas had a big moment on his out-lap as the rain started falling – albeit lightly. But after overnight rain as well, there were still plenty of wet patches on track.
Ogura and Arenas were the early leaders in the session, the rain just about holding off, with Masia struggling. Gabriel Rodrigo (Kömmerling Gresini Moto3) then crashed before CarXpert PrüstelGP's Barry Baltus and Jason Dupasquier went down as well, and then Jeremy Alcoba (Kömmerling Gresini Moto3) took a tumble too as the rain came down at Turn 14. Rodrigo crashed again at said corner to make it a hugely dramatic start to the afternoon. Masia remained three seconds off Ogura's time at the top, the double MotorLand winner heading back out on wet tyres… but to no avail. He finished P14 in the session, which is P28 on the grid and quite a mountain to climb on Sunday.
Ogura, Rodrigo, Arenas and Dennis Foggia (Leopard Racing) were the four contenders going through to Q2 by the flag, and it would be a wet session to decide pole. The heavens had fully opened for the second part of qualifying and it was Darryn Binder (CIP – Green Power) who set the first banker time. That was immediately beaten by Sergio Garcia (Estrella Galicia 0,0), Arenas and Riccardo Rossi (BOE Skull Rider Facile Energy), but there were going to be plenty of changes in the next 10 minutes.
At the front, Alonso Lopez (Sterilgarda Max Racing Team) had taken over ahead of Binder and McPhee, but the provisional polesitter was the next man down as he crashed unhurt at Turn 4. McPhee then went three tenths clear of Arenas with a 1:52.514, with Garcia tumbling at Turn 9 and Carlos Tatay (Reale Avintia Moto3) at Turn 12 – proving the conditions were continuing to get trickier.
Nevertheless, Fernandez then threatened McPhee's time to take second, just over a tenth off with two minutes to go. McPhee was responding though, the Scotsman 0.3 under his best time by Sector 3 and as the sun started to pierce through the clouds, the number 17 extended his advantage by another two tenths. Just ahead of McPhee on the road, title contender Vietti crashed at Turn 6 while occupying P3 – the end of his session, but with a good lap in the bank beforehand.
It came down to the final push. Could Fernandez spoil McPhee's party? On his final lap the Spaniard gave it a cracking shot and coming across the line, he was just 0.064 off the Petronas rider. But then drama hit, with that lap cancelled for the Spaniard. Ultimately, his second best lap was enough, however, giving the Red Bull KTM Ajo rider second on the grid.
He'll start alongside polesitter McPhee after the Scot took his first pole since the 2019 Austrian GP, with Vietti completing the front row. Arenas heads up Row 2 after coming through Q1,  late laptime shuffle not bumping him forward in the end.
The Championship leader will be joined by Lopez, who crashed twice in Q2 but took P5, with Rossi completing the second row. Garcia spearheads Row 3 ahead of the man second in the standings, Ai Ogura, with Darryn Binder taking P9. Kaito Toba (Red Bull KTM Ajo) rounds out the top 10.
A hugely dramatic Saturday afternoon in Moto3™ sees one title contender suffer as Masia is left with a mountain to climb on Sunday afternoon – and his main rivals all sit inside the top 10. What will the weather bring for another crucial showdown? Find out at 11:00 local time (GMT+1) on Sunday morning!
Moto3™ front row
1 John McPhee – Petronas Sprinta Racing – Honda 1:52.252
2 Celestino Vietti – Sky Racing Team VR46 – KTM +0.411
3 Albert Arenas – Valresa Aspar Team Moto3 – KTM +0.569
John McPhee: "It was a tricky session for us because with the conditions looking like it would be dry we had the bike ready to go with slicks and dry settings, and then part-way through Q1 when the other guys were on track we saw it was getting wet and we didn't know whether to go half-half or fully wet. When the rain started to come down we went for fully wet, which was a good call from the team to do that. It was difficult because the first couple of flaps weren't so wet and then lap-by-lap there was more and more water to the point where at end of the session there was even some standing water. It was hard to improve but we got a good banker in at the beginning and were able to improve at the end which I was more happy with, because like I said with more water it was more difficult. Overall we've been strong in all conditions, in the small dry part we had although it wasn't fully dry, we were strong as well so I'm looking forward to the race tomorrow. I think we can have a good day."