BAUTISTA IS TOP INDEPENDENT DUCATI IN SEVENTH PLACE
Ángel Nieto Team rider starts from ninth and fights at the front for another top ten finish
The 2018 Malaysian Grand Prix looked to be heading for another classic head-to-head between Valentino Rossi and Marc Márquez in the final laps. The Italian, who has not won since Assen in 2017, dominated the race at Sepang but as the laps ticked by Márquez closed in and with four remaining the veteran crashed out, leaving the Spaniard to take a comfortable win. Attention at that point turned to the battle for second place between Álex Rins and Johann Zarco, with the Spaniard closing down the Frenchman's advantage before making the telling pass on the final lap. Meanwhile Andrea Dovizioso secured the runner-up position in the MotoGP World Championship with sixth place today.
Álvaro Bautista and the Ángel Nieto Team continued their recent good form together, ending the flyaway races with a seventh-place finish in Malaysia, where Bautista crossed the line as the top Independent Ducati rider. The Spaniard struggled for rear grip during the race but gave everything to finish just four seconds behind factory Ducati rider Andrea Dovizioso. After taking fifth in Japan and fourth in Australia, Bautista's latest effort keeps him twelfth in the championship, just a point behind Dani Pedrosa in eleventh. His teammate Karel Abraham was unable to finish the race in Malaysia because of an electronic problem, which ruled him out from the fourth lap when he was in nineteenth position. The Czech rider has had an unlucky weekend, with his crash yesterday in the sudden rainstorm, and he is hoping to be back in the battle for points at Valencia.
7th Álvaro Bautista: "I struggled quite a lot with rear grip, I was losing a lot of traction on the exits of the corners and the bike was sliding around and running wide. I was quite limited with what I could do but I gave the maximum I could. We have finished as the second Ducati, four seconds behind Dovizioso on the factory bike, which I think is a good result and it keeps up my recent run of top ten finishes. It has been a good spell for us here in Asia."
Karel Abraham (DNF): "It is incredible how much bad luck we have had this weekend. We had a technical problem on the first day, I had a crash as soon as it started raining yesterday and that left me in pain for today, when we had an electronic problem that shut the bike down and wouldn't restart. I was feeling better this morning and I was close to the top ten in warm-up. I didn't get a great start in the race but I had passed a couple of riders and was closing on Nakagami, who ended up fourteenth, when the bike stopped. We will work out the problem but I am disappointed because I think we could have repeated the performance from Japan and picked up some points, but unfortunately we go home with nothing."
More, from a press release issued by Monster Yamaha Tech 3:
Zarco reconquers podium – Syahrin storms to outstanding top 10 at home
Starting from the first place of the grid, Monster Yamaha Tech3's Johann Zarco came off the line well and was on an impressive pace from the word go. For 20 scorching laps, he was following the top and eventually fought the heat to be back on the podium with an amazing third place. Thereby, he was the fastest independent rider and retook the lead in the independent riders' championship before the last round of the season in Valencia.
However, on the other side of the Monster Yamaha Tech3 garage, Hafizh Syahrin delivered a sensational start, making up 11 positions in the first corners. In the course of the very demanding and hot race, the local hero fought his way up to 10th place and pleased his home crowd with a breathtaking top 10 result. With it, the Malaysian MotoGP newcomer closes up again on Franco Morbidelli in the fight for the Rookie of the Year title, but still sits 10 points behind his opponent.
Johann Zarco
Position: 3rd – Championship: 6th – Points: 149
"I'm pretty happy, it was a fantastic race! But also difficult like usually in Malaysia. I was tired at the end, but the energy is coming back already. I think the key for that podium was the beginning of the race. I was thinking about overtaking Valentino (Rossi), but he was fast and it was good to be behind him. I could go away, but did a little mistake, when Marc overtook me. I tried to stay behind Marc, had a little gap, but was able to keep a good pace and then Valentino crashed, so I was second. I thought I can control, but four laps to the end Alex (Rins) was faster than me. Even if I was controlling the race well, when I tried to push a little bit more on the last laps, but I just got three tenths faster, which was not fast enough to keep the gap. He overtook me on the last lap. I tried to fight again, but I didn't have any rear grip anymore. Anyway, the third place is a good finish."
Hafizh Syahrin
Position: 10th – Championship: 16th – Points: 40
"It's just unbelievable! First of all, I want to say thank you very much to my team, because they always believe in me and give me great motivation. Yesterday has been a disaster for us, but we made up for it. In the starting grid, I saw my father and was just emotional and had to hug him. I want to thank everybody that came here. To arrive in the top 10 for my home GP was my target, but to be honest, I didn't believe it was possible. But in the end, we did it, which is incredible. I want to thank everybody; I love my family and my fans. I'm so happy!"
Hervé PONCHARAL
Team Manager
"What an unbelievable day today here in Sepang Malaysia. I think the race direction took the right decision to move everything forward two hours. We had great sunshine, a beautiful race and regarding Monster Yamaha Tech3, I'm very proud. For Johann, after getting that great pole position last night, he got a great start, put his head down, followed Valentino (Rossi) for quite a few laps, then Marc (Marquez) came into that group and this trio has been almost leading the race for two thirds, then Johann dropped a little bit, but he was always in contention for that so dearly awaited podium, where we haven't been since Jerez. I feel very sorry for Valentino, but he crashed, although I think he was doing a great race. At that moment we thought, the podium is almost in the bag and second position was quite easy and then we saw Rins coming from nowhere, doing incredible lap times. Congratulations to him. He passed us, but we are anyway very happy with the podium, a really strong weekend. It was a tough day today with the heat, with managing the body for the riders and also the tyres, so this is great. We are now leading the independent riders' championship, which is the main target for us now – in fifth, joint with Alex Rins, so Valencia is going to be something to challenge for us. But of course, this is only one part of the garage. On the other side, I was feeling very sorry last night after Qualifying for Hafizh, because I know how important this Malaysian Grand Prix was for him. I know the effort he put in to reach MotoGP and finally for his first home GP he was so disappointed, so sad. I tried to cheer him up this morning, I tried to cheer him up on the grid and – I don't know if there is a link in between what I told him and what he did, but the start was unreal. Maybe one of the best starts I've ever seen, at least this season and from that moment he was fighting with Miller, Petrucci and even Viñales at some stage. He finished the race in 10thposition, which is a dream for us and for him and I'm so happy, because Hafizh is not only an incredible team player, but he is a charming young man and he is the best ambassador Malaysia could have in MotoGP. I could feel how disappointed he was to see all the people coming to support him and him not delivering. Finally he did deliver and this is the cherry on the cake. We are going to fly back home after five weeks on the road, but we go home happy, positive in mind and ready to challenge what we have to do in Valencia."
More, from a press release issued by Alma Pramac Racing:
#MalaysianGP The Race – Jack 8th and Petrux 9th respectively at Sepang
Alma Pramac Racing wins the Best Independent Team title in the 2018 MotoGP World Championship.
Alma Pramac Racing is the best Independent Team of the 2018 MotoGP season. With one race the end of the championship, the squad from Siena (Italy) wins the coveted prize reserved for Independent teams thanks to the 17 points obtained by Jack Miller and Danilo Petrucci who finished the #MalaysianGP in P8 and P9 respectively. After occupying for most of the season the fourth position overall in the team standings, Alma Pramac Racing obtains the mathematical certainty of the TOP 5 behind the Honda, Ducati, Yamaha and Suzuki factories with 46 points of advantage over Yamaha Tech 3. The season, however, is not over. In Valencia, in fact, Danilo Petrucci will have all the chance to win the First Independent Rider Trophy. On the eve of the last race of 2018, the rider from Terni is 3rd in the Independent Riders classification, 5 points behind Zarco (5th overall with Rins) and 4 behind Crutchlow.
Paolo Campinoti (Team Principal Alma Pramac Racing) –
"This is a result that rewards us a lot, also because it was achieved in the season in which MotoGP wanted to make the classification reserved for Independent Teams official. Now we ask Danilo to put the icing on the cake and also give us the First Independent Rider award in Valencia".
Francesco Guidotti (Team Manager Alma Pramac Racing) –
"We are extremely happy to have won this important award. It is the right reward for the professionalism and dedication with which the whole team has worked this season. Thanks to Danilo, Jack and all the technicians, mechanics and staff who, with their commitment, have made it possible to achieve such a prestigious goal".
P9 – Danilo Petrucci
"I'm not happy with the way things went today. We had a good pace throughout the weekend but today I couldn't manage the tyres and I struggled since the start. I tried to do my best but the temperature didn't help. Conditions will be different at Valencia and I hope to get a good result to finish the season".
P8 – Jack Miller
"We chose to use the medium tyre at the rear to try to do something different than the others. But we didn't get the results we hoped for. From the beginning, I felt a lot of vibrations that didn't allow me to have a competitive race pace. Honestly I expected more from this race".
More, from a press release issued by Aprilia Gresini Racing:
GOOD COMEBACK BY ALEIX ESPARGARÓ, ELEVENTH ACROSS THE FINISH LINE
In the preparatory session for the race today, Aleix Espargaró proved to be a candidate for a top 10 finish, a result that escaped him by a hair due to a less-than-perfect start. In fact, the Spanish rider had to make up positions after finishing the first lap eighteenth during a physically and mentally demanding race. In fact, the high temperatures and constant threat of rain forced the riders to put forth extra effort in managing the race.
With this eleventh place finish, the Aprilia rider takes home his third good result in the last four races and, along with it, another confidence boost in view of Valencia.
It was a difficult race for Scott Redding, hindered by the same grip problems that compromised his entire Malaysian weekend.
ALEIX ESPARGARO'
"This was certainly one of the three most physically demanding races of my entire career. I started very badly and lost a lot of positions on the first turn, so I had to make up ground. After a few passes, a gap formed behind my brother, Pol. I managed to overtake him after a good battle. At that point, I was making up ground on the tenth place rider, but there were only a few laps left. Today's result is positive, but we want to do more and we know we can, so we need to keep working and preparing our 2019 season as best we can."
SCOTT REDDING
"Unfortunately, my race today ended after six laps. We had problems with grip throughout the weekend and as soon as the tyres began to wear a bit, it was impossible for me to push. Riding very aggressively, the improvement in times was minimum, so I was forced to set my sights on just finishing the race."
More, from a press release issued by Reale Avintia Racing:
Simeon rides to 17th at the Grand Prix of Malaysia
MotoGP GP of Malasia – Sepang
In blistering heat and extreme humidity, conditions that challenged the riders to the maximum, Reale Avintia Racing Xavier Simeon rode to 17th place at the Grand Prix of Malaysia.
Simeon was the only one representing the team at Sepang, since his teammate Jordi Torres suffered an injury to his left hand in a crash during FP4 on Saturday. The Spanish rider will undergo surgery in the Dexeus University Hospital of Barcelona next week.
Simeon started from 15th place on the grid, after his best qualifying result in the MotoGP class so far. But once again, he struggled at the start and lost a number of positions that were very difficult to recover. Race pace was higher than expected, so the lost seconds on the opening lap cost the Belgian rider dearly and eventually he finished outside of the point rankings.
The MotoGP World Championship will conclude in two weeks with the Grand Prix of Valencia on the Ricardo Tormo circuit. If everything goes according to plan and the expectations of doctors and patient, Tito Rabat will celebrate his comeback aboard his Ducati GP17 at this final round.
Xavier Simeon | P17
"I knew that it would be a difficult race in dry conditions. Even though my start was better than in Australia, it still wasn't good and I lost all the advantage I had with my starting position. But all in all, I am still satisfied with the outcome of the race, because I hadn't felt comfortable in dry conditions before and in the race, my pace has been quite consistent and similar to the riders that finished close to the Top 10. Considering this, I am a little frustrated, because I did most of the things right to achieve another place within the point rankings, but I still struggle to put all the pieces of the puzzle together. In MotoGP, everything needs to be perfect and little details can make all the difference. Apart from that, the team has done a great job once again and I reduced the gap to the front runners a lot. In fact, I didn't expect to be that close. Now we have to wait and see what will happen at Valencia. I hope Tito can ride again and for myself, I hope to enjoy my last race in MotoGP with the team."
More, from a press release issued by Honda Racing Corporation (HRC):
Marquez wins in Malaysia to secure 2018 Constructors Title for Honda
Marc Marquez took a brilliant 70th career win today at the Malaysian Grand Prix, earning Honda the 2018 MotoGP Constructors title. The success marks a record 24th Premier Class Constructors trophy for the Company and its seventh in the past eight years.
This year the prestigious achievement was claimed thanks to the points earned by 2018 World Champion and Repsol Honda Team rider Marc Marquez, LCR Honda Team rider Cal Crutchlow and EG 0,0 Marc VDS rider Franco Morbidelli.
Newly crowned Moto3 World Champion Jorge Martin's success today won Honda also the Moto3 Constructor Title bringing the tally for the Company to 69 over all classes
Honda's 24 Constructors World Championships in the Premier Class
•1966 500cc (RC181 four-stroke)
•1983 500cc (NS500 two-stroke)
•1984 500cc (NS500/NSR500 two-strokes)
•1985 500cc (NS500/NSR500 two-strokes)
•1989 500cc (NSR500 two-stroke)
•1992 500cc (NSR500 two-stroke)
•1994 500cc (NSR500 two-stroke)
•1995 500cc (NSR500 two-stroke)
•1996 500cc (NSR500 two-stroke)
•1997 500cc (NSR500 two-stroke)
•1998 500cc (NSR500 two-stroke)
•1999 500cc (NSR500 two-stroke)
•2001 500cc (NSR500 two-stroke)
•2002 MotoGP (RC211V four-stroke)
•2003 MotoGP (RC211V four-stroke)
•2004 MotoGP (RC211V four-stroke)
•2006 MotoGP (RC211V four-stroke)
•2011 MotoGP (RC212V four-stroke)
•2012 MotoGP (RC213V four-stroke)
•2013 MotoGP (RC213V four-stroke)
•2014 MotoGP (RC213V four-stroke)
•2016 MotoGP (RC213V four-stroke)
•2017 MotoGP (RC213V four-stroke)
•2018 MotoGP (RC213V four-stroke)
Honda tops the rankings as the most successful Manufacturer ever, with 69 Constructors Titles across all classes
24 x MotoGP/500cc Constructors World Championships
6 x 350cc Constructors World Championships
19 x 250cc Constructors World Championships
18 x Moto3/125cc Constructors World Championships
2 x 50cc Constructors World Championships
Yoshishige Nomura
HRC President
"We are very happy for this new Constructors World Championship. Two weeks ago, we earned the Riders title in Japan with an amazing performance from Marc Marquez. He has been so consistent and fast all the season. Today he won again and we took our seventh MotoGP Constructors Title out of the last eight seasons, and our third in a row. It's the 24th Premier Class Constructors crown for our Factory, which also tops the rankings as the most successful Manufacturer ever, with 69 Constructors Titles across all classes. Moreover, the numbers Honda has achieved are unprecedented in motorcycling racing: since 23 April 1961, when Thomas Edward Phillis took Honda's first ever win in Montjüic, our history has been filled with victories, having reached 750 across all classes with Cal Crutchlow's MotoGP win in Argentina this year."
More, from a press release issued by Movistar Yamaha:
MOVISTAR YAMAHA PUT UP FIERCE FIGHT IN THE MALAYSIAN GP
Movistar Yamaha MotoGP's Maverick Viñales smoothly rode his Yamaha through the rider field today at the Shell Malaysia Motorcycle Grand Prix to take a solid fourth place. Valentino Rossi showed great pace, leading for most of the race, but a fall on lap 17 denied him the victory. He finished in 18th place.
Sepang (Malaysia), 4th November 2018
Movistar Yamaha MotoGP's Maverick Viñales pushed to the max during today's Shell Malaysia Motorcycle Grand Prix, putting on a brave ride from 11th on the grid to 4th position over the finish line. Valentino Rossi had a heroic run at the Sepang International Circuit, but it ended in heartbreak on lap 17 when he crashed out of the lead. He was able to rejoin the race and took the chequered flag in 18th place.
Viñales started from 11th on the grid and soon found himself in 10th position. After warming up his tyres on the first two laps, he began his charge. His pace was as strong as the front group, meaning he had no problems cutting through the field, though there was a lot of ground to be made up.
With nine laps to go he took over sixth place from Andrea Dovizioso. The Spaniard didn't waste any time to also pass Dani Pedrosa. He was trying to close the gap to Álex Rins but was unable to catch him. As his teammate at the front made a small mistake, Viñales crossed the line in fourth place, 4.667s from first.
Rossi had a perfect start from second, taking the hole shot and holding the lead superbly. He had a stunning consistent pace that allowed him to make a clean getaway from his pursuers.
Though his advantage went up and down over the first half of the race, there was no one who could really reach Rossi at the front, let alone make an attempt at passing the nine-time World Champion. However, in the final ten laps the heat and the tyre degradation meant Marc Márquez was closing in.
The Doctor responded by picking up the pace and defended his first place brilliantly, but a small mishap in Turn 1 on lap 17 caused him to slide down the tarmac. He was able to rejoin the race in 18th place and finished in the same position, 58.288s from first.
Today's results see Rossi hold on to third position in the championship standings with a 25-point gap to second. Viñales, in fourth place, reduced the gap to his teammate to 2 points. Yamaha is still in third place in the Constructor Championship after the race in Malaysia, with a 38-point margin to second, while the Movistar Yamaha MotoGP Team remain in second position in the team standings, with now a 39-point gap to first.
The Movistar Yamaha MotoGP Team will be back in action at the Circuit Ricardo Tormo in two weeks' time for the final showdown of 2018, the Gran Premio Motul de la Comunitat Valenciana, held from November 16th – 18th.
MASSIMO MEREGALLI
TEAM DIRECTOR
For sure this is not the ending we had hoped for this weekend. The final results don't do justice to the pace of our riders, because they both had really strong form this weekend. Maverick had to start from the fourth row and make up a lot of ground. If he had started a bit more towards the front, he would have been a top contender today, because his pace matched Vale's. Valentino did exactly what he needed to do at the start. He was leading the race perfectly, so it's a great shame it ended the way it did. Nevertheless, we can take some positives from these last three races, as we made a step with the bike and were consistent in our performance. Today we were competitive at a circuit that doesn't necessarily play to our bike's strengths. So, with that in mind, we head to Valencia eager to fight at the front again during the season finale.
MAVERICK VIÑALES
I already said yesterday that we lost the race in qualifying. This morning I went out in the wet again and I finished first. Everything in MotoGP is so close now, so you have to start at the front. The tyre wear also gets worse when you're fighting your way up from the back, you destroy the tyres. I was close to the podium, but with four laps to go the tyre dropped a lot and I couldn't do anything about it. The team worked very well this weekend, they provided me with a really good bike. I think that, if I had started from the front, I would have been fighting for the race. I'm actually really happy that at three different tracks I was in contention to win. I think there are still many things that we can improve on, but things are better compared to before, and now I can be more consistent. I think Valencia will be a good track for us, I really like the track, it's good for my riding style, so let's see.
VALENTINO ROSSI
It was a great shame because this was my best race of the season. I felt comfortable, I had a good pace, I pushed, and I had the chance to win, but unfortunately with four or five laps to go I fell – I don't understand what happened. I made a mistake, because I crashed. It's such a pity, but it still remains a good weekend, because we improved the setting of the bike. I think we have to do some more work, but it looks like we were able to use the bike in a better way in the last few races. This is good, but we have to see if we're also strong in Valencia. It's a difficult track for us in general, but we have to try.
More, from a press release issued by Red Bull KTM:
Bradley Smith in the points at Malaysian Grand Prix as Miguel Oliveira on Moto2 podium
RACE 18th Rd. MotoGP 2018 – Sepang International Circuit (MAL)
MotoGP sizzled around a packed and dry Sepang International Circuit for the eighteenth round of nineteen in 2018 and Red Bull KTM's Bradley Smith scored a point thanks to 15th position after the 20 lap affair. Red Bull KTM Ajo's Miguel Oliveira pushed Luca Marini hard in an attempt to win the Moto2 Grand Prix at Sepang to finish in the end second both in the race and champhionship. Marco Bezzecchi's fifth place meant that the battle in Moto3 is also over with Jorge Martin taking both the win and title.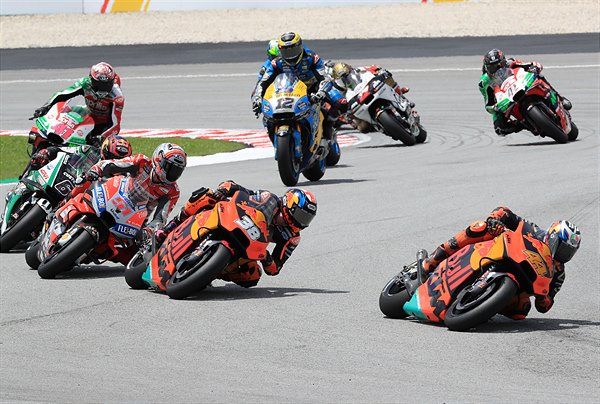 MotoGP
The tricky climate and technical prospect of the Sepang International Circuit created another unpredictable and challenging Grand Prix of Malaysia for what was the penultimate fixture on the 2018 calendar and the third race in a week. Red Bull KTM returned to the site of their opening test of the year and a term in which they have made significant progress in chasing the leading factories and top ten of the premier class grid.
The mix of dry and wet conditions on Saturday meant a sixth row starting berth for both Pol Espargaro and Bradley Smith when the red light closed for the second-to-last race of the season. Thankfully the track was dry and the temperatures were high after a weekend of varying set-up work with the KTM RC16.
Both riders circulated on the border of the top ten in the formative laps as the combination of pace and heat took their toll on the race rubber. Smith battled adversity and maintained a rhythm to classify 15th and obtain points for the fifth Grand Prix in a row; his longest streak of the season. Espargaro unfortunately drifted back and out of contention for tenth position with a technical problem.
Smith: "We were lacking performance all race with some technical issues which meant I couldn't set my normal lap-times. I could still finish the race and took a point, which was a positive and there are just five points between Pol and me going into the last race. Five points is difficult to gain but it is still fun to be going into that situation. We worked well all weekend and the guys clearly know what they need to do and what they need to fix. I'm quite excited about Valencia. It will be my last Grand Prix and it is a track I enjoy. We'll go there optimistic and keen to finish this chapter with KTM in a positive way."
Espargaro: "I was losing power while I was eleventh and we don't know at the moment what the problem was, the guys are checking. It has been a tough couple of weeks: we didn't have a good feeling in Japan and in Australia we were fast but the tyre blew and now we've had this issue. It has a been a tough end to the season but we'll go to Valencia looking to finish things in a good way before we already think about 2019."
Mike Leitner (Team Manager): "Disappointing today. Pol had good pace in the middle of the race and was going for tenth place but then we had a technical problem and we are still looking into the cause. Bradley got one point and while we cannot be happy with that we know that he gave his best. We'll keep our motivation up for Valencia and look towards our next chapter in 2019. I think moments like these and the difficult first seasons are part of the learning process; it is a challenge, and we chose to be here. In Moto2 and Moto3 we were fighting until the end for the titles but it didn't happen and we'll look at things this winter and see what we can do better for next year."
Moto2
Red Bull KTM Ajo's Miguel Oliveira pushed Luca Marini hard in an attempt to win the Moto2 Grand Prix at Sepang. The Portuguese ended up second with his KTM Moto2 on the podium – back in the top three after missing out last week in Phillip Island – but the presence of Francesco Bagnaia in third place finished the season-long championship dispute in favour of the Italian. Miguel is already confirmed as 2018 runner-up courtesy of his points tally and teammate Brad Binder is third for the year after taking 8th place in Malaysia.
Oliveira: "This was a Grand Prix in which we went very well. From the beginning I felt good, but Pecco (Bagnaia) was also strong; I was able to pass him and I went after Marini. Finally I couldn't get close enough to overtake him. It was a very hard fought race. I'm very proud of the efforts I have made this year, of my riding, my season and our perseverance, although unfortunately it just wasn't enough to beat Bagnaia. Pecco has been very strong and we have both been very consistent. We have battled with everything we had, my team have done a great job and I have also given 110%. Overall, it has been a season full of emotions that we want to finish with a victory in Valencia."
Aki Ajo (Team Manager Red Bull KTM Ajo): "Miguel (Oliveira) had a great race. He has been fighting hard all weekend and was very focused and confident, so we expected a strong race. He fought until the end to win, because it could be the last chance to keep the title race open for Valencia. Unfortunately, despite his great performance, it wasn't possible. Even so, we can't be disappointed with the season we have had, because in the end our riders are second and third in the World Championship – but it is obvious that we all prefer to win. Congratulations to Bagnaia and his team. For Brad (Binder) it was a difficult race because first he was caught in traffic and then it was impossible to climb positions, because he had grip problems. We need to analyse what happened. We are very motivated for Valencia. We want to get a good result there and fight for the Team World Championship."
Moto3
In Moto3 Jorge Martin claimed the chequered flag. Red Bull KTM Ajo's Moto2 rider for 2019 also sealed the 2018 championship by one point as Marco Bezzecchi could not finish higher than fifth and was just one position behind Australian Grand Prix winner Albert Arenas.
MotoGP now travels back to Europe and for a week of respite before the traditional season curtain-closer at the Ricardo Tormo Circuit in Valencia, Spain.
Final Race: November 18, 2018 – Comunitat Valenciana – Ricardo Tormo (ESP)

Results MotoGP Sepang International Circuit 2018
1. Marc Marquez (ESP), Honda, +40.32.372 min
2. Alex Rins (ESP), Suzuki, +1.898 sec
3. Johann Zarco (FRA), Yamaha, +2.474
4. Maverick Vinales (ESP), Yamaha, +4.667
5. Dani Pedrosa (ESP), Honda, +6.190
KTM
15. Bradley Smith (GBR), KTM, +39.675
DNF Pol Espargaro (ESP), KTM, +4 laps (technical problem)
Standings MotoGP 2018 after 18 of 19 rounds
1. Marquez, 321 points
2. Andrea Dovizioso (ITA), Ducati, 220
3. Valentino Rossi (ITA), Yamaha, 195
4. Vinales, 193
5. Rins, 149
KTM
18. Espargaro, 35
19. Smith, 30
22. Kallio, 6
Results Moto2 Sepang International Circuit 2018
1. Luca Marini (ITA), Kalex, 38:25.689 min
2. Miguel Oliveira (POR), KTM, +1.194
3. Francesco Bagnaia (ITA), Kalex, +3.020
4. Mattia Pasini (ITA), Kalex, +4.497
5. Fabio Quartararo (FRA), Speed Up, +5.250
KTM
8. Brad Binder (RSA), KTM, +8.943

Standings Moto2 2018 after 18 of 19 rounds
1. Bagnaia, 304 points (2018 Moto2 World Champion)
2. Oliveira, 272
3. Binder, 201
4. Lorenzo Baldassarri (ITA), Kalex, 162
5. Alex Marquez (ESP), Kalex, 147
Results Moto3 Sepang International Circuit 2018
1. Jorge Martin (ESP), Honda, 38:34.799 min
2. Lorenzo Dalla Porta (ITA), Honda, +3.556 sec
3. Enea Bastianini (ITA), Honda, +3.757
4. Albert Arenas (ESP), KTM, +3.795
5. Marco Bezzecchi (ITA), KTM, +4.095
KTM
7. Darryn Binder (RSA), KTM, +4.232
Standings Moto3 2018 after 18 of 19 rounds
1. Martin, 240 points (2018 Moto3 World Champion)
2. Bezzecchi, 214
3. Fabio Di Giannantonio (ITA), Honda, 205
4. Bastianini, 166
5. Dalla Porta, 151
KTM
7. Gabriel Rodrigo (ARG), KTM, 116
8. Jakub Kornfeil (CZE), KTM, 115
9. Arenas, 107
10. Marcos Ramirez (ESP), KTM, 95
17. Binder (RSA), KTM, 57
More, from a press release issued by LCR Honda Idemitsu:
TAKA IN THE POINTS AGAIN AT SEPANG
LCR Honda IDEMITSU rider Takaaki Nakagami claimed another points finish after a battling performance at the Malaysia Grand Prix on Sunday. The Japanese talent started from the eighth row of the grid, but made up places to eventually finish in 14th position at the Sepang International Circuit as HRC secured the 2018 MotoGP Constructors title for the seventh time in the last eight years.
Having been moved forward two hours to avoid further bad weather, the race took place in warm, cloudy conditions. But despite a dry track, Taka was unable to find the kind of rhythm he'd demonstrated earlier in the weekend. In the end, he had to settle for two more championship points and is now looking to sign of his season in style at Valencia.
Takaaki Nakagami – 14th
"The race was a bit of a struggle. The track temperature was quite good, although the condition wasn't perfect. We chose a medium tyre for the front and a soft for the rear and I think that was the correct choice for us. But we couldn't find the same kind of performance as in FP3 when we had a strong pace, around 2'01 laps. I wasn't able to do that in the race and for me it was difficult to find the rear grip. The team did a great job all weekend and hopefully we can get our best result of the season in the last race in Valencia."
More, from a press release issued by Ducati Corse:
Andrea Dovizioso comes home sixth in the Shell Malaysia Motorcycle Grand Prix at Sepang. The Italian rider and Ducati clinch second place in the 2018 Riders' and Constructors' classifications. Michele Pirro crashes out and DNFs
Andrea Dovizioso and Ducati clinched second place in the 2018 MotoGP Riders' and Constructors' championships today following a sixth-place finish by the Italian rider in the Shell Malaysia Motorcycle Grand Prix at Sepang. Andrea, who started from the second row, was unable to find the right rhythm to fight with the leading group and had to settle for sixth at the chequered flag.
Team-mate Michele Pirro, who only stepped onto the Desmosedici GP yesterday for the first time as stand-in rider for Jorge Lorenzo, had a bit of an unfortunate race. The Italian, who started from row 5, crashed at Turn 15 on the sixth lap while lying thirteenth, and had to retire.
The next and final round of the 2018 MotoGP season is the Gran Premio de la Comunitat Valenciana at the Ricardo Tormo Circuit in Cheste from 16th to 18th November.
Andrea Dovizioso (Ducati Team #04) – 6th
"I have to admit that today I'm disappointed because I wasn't able to do the race I expected and suffered a lot with a lack of grip. As I said on Thursday, I had hoped for a dry race because we have always gone well in testing and practice in these conditions, but today I really struggled a lot and now we have to understand exactly what happened. In the end, thanks to Rossi's error, we succeeded in taking home second place overall both in the Riders' and Constructors' standings, and I'm happy with this result even though this year we weren't really able to oppose Marquez. I wish to thank the team because we have managed to do a great job, especially from mid-season onwards, but it's not enough and we will still have to continue to work with commitment."
Michele Pirro (Ducati Team #51) – DNF
"The fact that I only did one session on a dry track, with the race today being dry, for sure put me at a bit of a disadvantage. I started quite well and bit by bit was making up places when I lost the front at the last corner, probably because I pushed a bit too hard, and I crashed. I didn't expect that to happen because I was trying to do a consistent race. I'm sorry for the team, and it's a pity to finish the race in this way, because I could have got into the top 10 and instead I wasn't able to bring home any points for the team."
More, from a press release issued by Team Suzuki ECSTAR:
SUPERB SECOND PLACE IN SEPANG FOR ALEX RINS
Alex Rins: 2nd (+ 1.898)
Andrea Iannone: DNF
• Alex Rins rockets up standings, and brings Suzuki third podium in a row.
• Andrea Iannone very unlucky with crash on opening lap.
• Team SUZUKI ECSTAR end fly-aways on a high.
The 18th round of the 2018 MotoGP Championship got underway in blazing hot temperatures in front of over 100,000 fans. With a constant threat of rain and a track temperature of over 50c it was to be a challenging 20 laps.
Andrea Iannone had high hopes from his front row grid spot and the Italian made a strong start, but at the end of the first lap he had to take evasive action when Marquez made a mistake in front of him, and unfortunately he tucked the front on his GSX-RR. Iannone was luckily uninjured.
Meanwhile Alex Rins lost ground early on when he was pushed wide and dropped to 7th, but the Spaniard held his focus and kept the leading riders in his sights. On Lap 5 he set the fastest lap of the race and before long he had worked his way into 4th place. With just four laps remaining Rins was promoted to 3rd place when Rossi went down, but he continued to fight until the chequered flag and managed an excellent 2nd place. This moved him up five positions in the standings to 5th, and gave Team SUZUKI ECSTAR their 3rd consecutive podium – making them the only team to achieve the rostrum in all three fly-away races.
Ken Kawauchi – Technical Manager
"Finally everything was OK and we did a good job. Today is a bitter sweet feeling because both riders had great pace but sadly Andrea couldn't finish the race – I'm sure he would've also fought for the podium. But Alex managed to achieve 2nd and we're so happy because it's our third consecutive podium and we've had two second places in a row. I really want to thank everyone involved in this project, this season has been so positive. In the final race we hope to achieve that one thing we've been missing…"
Davide Brivio – Team Manager
"Of course we're very happy! We took another podium, our eighth of the season! It's great that our riders have had four podiums each, it's good news for us and for all of Suzuki. I want to congratulate Alex for keeping his head down and fighting until the end to take 2nd position, it was excellent. I'm very sorry for Andrea because he could've been fighting for the podium too but he incurred in a very unlucky crash. I would like to say a big thank you to all the Team staff that are working very hard on improving our level and of course to all the Japanese guys back in the factory. We are living a positive moment and now we look forward to the last race of the year!"
Alex Rins
"I feel very happy because our race pace was strong and I was able to close the gaps to the other riders and pass them during the race. I still had very good pace even in the last few laps because I was able to manage the tyres well, but I lost time earlier in the race so that made it more difficult. We're working really hard and we have found important things and learned more for next year. I'm very excited to go to Valencia, especially as we are feeling very strong with the bike now, and Suzuki deserve to end the season on a high."
Andrea Iannone
"I'm a bit disappointed because we had the chance to take another podium, but I don't want to focus on what happened today. I always try to think positively, and the good things are that I had strong pace and I had a really good feeling with the bike after the team and I worked hard together. So I'll just remain focused on the last race of the season and I will give my all to have a good result there."
More, from a press release issued by Repsol Honda:
Malaysia Motorcycle Grand Prix
MotoGP 2018 Round 18
Marc Marquez dominant 70th career win in Malaysia earns Honda the 2018 MotoGP Constructors Title
From seventh on the grid to the 70th win in his career: In Malaysia, Marc Marquez took his ninth win this season and his 44th in MotoGP, earning Honda its 24th Premier Class Constructors Title. Furthermore, thanks to today's win of newly crowned Moto3 World Champion Jorge Martin, Honda has achieved also the Moto3 Constructor Title bringing its tally to 69 over all classes, a record in the Championship's history.
Such were the numbers, but today's competition was also another master class race for the 2018 MotoGP World Champion, who recovered from the third row of the grid to second place within five laps of the start before beginning a long chase of erstwhile leader Valentino Rossi. Marc was preparing for what seemed certain would be a battle for the victory when the Italian slipped off four laps from the end.
On the other side of the garage, Dani Pedrosa matched his best result of this season, taking fifth place after displaying a strong pace during the race.
Now the Repsol Honda Team will pack up and fly back to Europe, where Marc will pay a visit to the Honda stand at the EICMA motorcycle show in Milan, Italy, on Tuesday before heading home to Spain.
Marc Marquez 93
WINNER
"It was a hard race, first of all because I was starting from seventh place. I didn't get a perfect start, and then my first lap was good but not one of the best of my career. Step by step, I overtook some riders and got to second place. I saw that Valentino was pushing and I started to chase him, lapping at qualifying pace! But in the process, I overheated the rear tyre; the front was also warming up quickly and the feeling wasn't good. So for a few laps, I just tried to cool down and in so doing I began to feel better and better. I saw I was getting closer to Valentino and honestly that gave me extra motivation. At that moment, it was just a matter of instinct and pushing, something that you can do when you've already got the Championship. Unfortunately, he made a little mistake in turn one, which is a shame as it would have been nice to see how the duel would have ended. Anyway, when I saw him crash, I just cooled down and focused on finishing the race. We won, and that was the best way to seal the Constructors Championship. I would also like to congratulate Jorge Martin and "Pecco" Bagnaia for taking Championships. We'll celebrate together in Valencia."
Dani Pedrosa 26
5TH
"Today I focused a lot on the start because I was very far back on the grid. The start itself wasn't perfect, but then I was able to recover a few places in the first corner. Unfortunately, I lost some ground with Dovi and Marc just a couple of turns later. Anyway, the feeling at the beginning of the race was good enough and I was able to stay there close to the front. On the other hand, toward the end I began struggling with grip again and I was passed by Rins and Viñales. All in all it was a little bit better race than usual. I would like to congratulate Martin for his title. He was able to overcome some difficulties this year, an injury and other issues, and he had a strong race today. He totally deserves this result."
More, from a press release issued by LCR Honda Castrol:
BRADL IMPRESSES IN SEPANG COMEBACK
LCR Honda CASTROL rider Stefan Bradl secured a creditable points finish as he deputised for the injured Cal Crutchlow at the Malaysia Grand Prix. The German fought hard to claim 13th position at the Sepang International Circuit on a day when Honda HRC clinched the MotoGP Constructors title once again.
After a rain-affected qualifying on Saturday, the race took place in dry conditions after being moved forward two hours. As he did all weekend, Bradl adapted well to the challenge of lasting the full 20 laps on his RC213V and achieved his target of a points finish. He came home just in front of LCR team-mate Takaaki Nakagami (14th) to claim three championship points.
Stefan Bradl – 13th
"I'm happy, we finished in the points and that was my target. Of course, it was a tough race as I'd not ridden the bike in almost two months and then I arrived here in Malaysia and the conditions were unbelievably hot. Also the weather was inconsistent, so overall I think we did a good job and I'm happy with the team because they helped me a lot. As soon as I started with them this weekend it felt like I was back home, so I have to thank Lucio (Cecchinello) and the guys in the garage who did an incredible job. A big thanks to HRC as well as they built up a test schedule this year which allowed me this opportunity. Also I want to wish Cal (Crutchlow) a speedy recovery, I hope he's recovering well and can come back as strong as he was before."
More, from a press release issued by Dorna:
Marquez wins, Rossi crashes and Syahrin storms into the top ten at Sepang
Victory number 70 for the seven-time Champion comes after 'The Doctor' crashes with four to go
Marc Marquez (Repsol Honda Team) claimed his 70th career win after taking victory at the Shell Malaysian Motorcycle Grand Prix. The 2018 Champion looked set to lock horns with nine-time World Champion Valentino Rossi (Movistar Yamaha MotoGP) in the final stages, but the race would end in disaster for 'The Doctor' as he crashed out with four to go. Alex Rins (Team Suzuki Ecstar) and Johann Zarco (Monster Yamaha Tech 3) completed the podium at Sepang International Circuit, the latter from pole, and home hero Hafizh Syahrin (Monster Yamaha Tech 3) stormed from the back of the grid to the top ten in a race to remember in Malaysia.
When the lights went out it was Rossi who got a stellar launch from P2, with pole man Zarco slightly sluggish off the line and 'The Doctor' getting a comfortable holeshot ahead of the the Frenchman, who managed to brake late to slot into P2. Jack Miller (Alma Pramac Racing) was able to leapfrog Andrea Iannone (Team Suzuki Ecstar) into P3 at the start, with Marquez making up one position into P6. The premier class riders then settled, but this came after Marquez and teammate Dani Pedrosa (Repsol Honda Team) exchanged paint on the opening lap. The 2018 Champion would soon start to make his way forward though, despite a hairy last corner moment at the end of the opening lap that led to Iannone crashing out directly behind the seven-time Champion.
Back at the front, Rossi and Zarco were off as Yamaha had a 1-2 in the opening exchanges, but Marquez hunted them down after making his way past Miller. The Honda rider was on the exhaust of Zarco's M1 machine and soon enough he managed to slice his way through. Turn 14 was the chosen destination after a slight error from the number 5 machine, with arch-rival Rossi now in his sights. But the number 46 was in an excellent rhythm at the front as the gap between the duo hovered at 3/4s of a second, with Zarco beginning to lose touch at the halfway stage of the race as Rossi continued to press on. 1.1 seconds was the gap to Marquez as 10 laps ticked over at Sepang.
With eight to go, Rossi was still pumping in the lap times to keep the gap above a second to Marquez, with Zarco now over three seconds behind his fellow Yamaha rider. However, the gap then dipped below the one-second barrier with seven to go and the seven-time Champion was hunting down the nine-time Champion. As ever, Marquez was pushing the limit and there was a slight scare for the number 93 at Turn 5; a 'mini Marquez moment', let's say.
With five to go at Sepang, the gap was just 0.7, as we set ourselves for a grandstand finish between two of the sport's all-time greats. But then, disaster struck 'The Doctor'. A return to victory after 26 races went begging as he lost the front of his YZR-M1 at Turn 1 with four laps to go and he picked up his stricken Yamaha in front of the Rossi grandstand, leaving Marquez with a lonely ride home to the win. The result also sealed the Constructors' crown for Honda, adding yet more to celebrate for the number 93 and his factory.
The battle for P2 and P3 between Zarco and Rins was far from finished, however. As the last lap began, Zarco led but Rins was soon past, with the Frenchman having no answer for the Suzuki and the Spaniard crossing the line to take his fourth podium of the season. Zarco took his first since Jerez in third, not able to quite strike back but completing a top weekend for both.
After a less than impressive start, Maverick Viñales (Movistar Yamaha MotoGP) recovered to string together a strong latter half of the Grand Prix to finish P4, with Pedrosa crossing the line P5 on his final racing visit to the Sepang International Circuit. It was a subdued race for one of the pre-race favourites Andrea Dovizioso (Ducati Team), however, as the winner here for the last two seasons couldn't replicate those results and took P6. After Rossi's crash though, the Italian has sealed P2 in the Championship.
Angel Nieto Team's Alvaro Bautista was P7 in his penultimate MotoGP™ race and he led fellow Desmosedici rider Miller as the Australian slipped down to P8 after a good start. P9 was his teammate Danilo Petrucci, but arguably ride of the day went to a certain Malaysian: Hafizh Syahrin (Monster Yamaha Tech 3). Starting P23, the home hero was able to get a stunning start as he got himself up to P12 on the opening lap, eventually claiming P10 to close Franco Morbidelli (EG 0,0 Marc VDS) down in the battle for 'Rookie of the Year'. Emotional before and after the race, it was the first time a Malaysian had ever competed in the premier class and Syahrin marked the occasion in style – even heading out onto the main straight to throw his gloves into a deservedly adoring crowd.
Morbidelli took P12 to limit some of that damage in the standings and remains ahead, just behind Aleix Espargaro (Aprilia Racing Team Gresini). LCR Honda Castrol replacement rider Stefan Bradl claimed P13 and points, the German finishing just ahead of teammate Takaaki Nakagami (LCR Honda Idemitsu), with Bradley Smith (Red Bull KTM Factory Racing) completing the points.
A scorching encounter in Sepang ends with Marquez on top once more, with Rossi left to ponder on what could have been. Valencia in a couple of weeks' time brings to 2018 Championship to a close, don't miss any of the action from there as the engines go on for the final time this season – and the top Independent Team rider and Rookie of the Year titles are decided.
A hero's welcome: Syahrin stormed from the back of the grid to the top ten in one of the rides of the day in his first home GP in the premier class
MotoGP™ Race Results
1 – Marc Marquez (SPA) HONDA 40'32.372
2 – Alex Rins (SPA) SUZUKI +1.898
First Independent Team Rider
3 – Johann Zarco (FRA) YAMAHA +2.474
Marini takes maiden win, Bagnaia takes the Championship
Double delight for Sky Racing Team VR46 on Sunday at Sepang
Francesco Bagnaia (Sky Racing Team VR46) clinched the 2018 Moto2™ World Championship at the Shell Malaysia Motorcycle Grand Prix after finishing P3 at Sepang, with title rival Miguel Oliveira (Red Bull KTM Ajo) just up the road in second. Bagnaia's teammate Luca Marini made it an even more memorable day for Sky Racing Team VR46 as he secured his maiden Grand Prix victory in style after coming so close on a number of occasions.
As the lights went out, both of the Championship rivals got off to a flyer but it was Marini who led coming out of Turn 1 after a messy opening corner for his fellow front row starters; Fabio Quartararo (MB Conveyors – Speed Up) and Alex Marquez (EG 0,0 Marc VDS) both running in hot. This allowed Bagnaia and Oliveira to slip through up the inside to get into P2 and P3; pretty much the perfect getaway for 'Pecco', who slotted in behind teammate Marini.
Marini then got himself into a rhythm at the front, with Bagnaia and Oliveira battling away for P2 – the title firmly in Bagnaia's hands at this early stage of the race, even with Oliveira making a pass stick at Turn 4 with 12 laps to go. The Portuguese rider then locked his radar on race leader Marini, who now had a one second lead, with Bagnaia starting to slip into the clutches of compatriot Mattia Pasini (Italtrans Racing Team). Polesitter Marquez and Lorenzo Baldassarri (Pons HP40) were also in hot pursuit of the Championship leader.
Oliveira had reeled in Marini 11 laps remaining, with a win for the KTM rider enough to take the title chase down to Valencia if Bagnaia dropped below the podium positions. With six to go, it seemed the battle for the win was between Marini and Oliveira, with both Baldassarri and Marquez losing touch in the fight for the final podium spot – and Pasini still 0.4 behind countryman Bagnaia.
In sweltering Sepang conditions, Marini was being made to sweat by Oliveira as the continued to look strong for a first Grand Prix win. But the Italian was on rails as he soaked up the pressure from the KTM behind and with two to go, a 0.7 gap had appeared. Going into the final lap, Marini had the biggest lead he'd had for a while, with Bagnaia sitting comfortably in a Championship clinching P3 – and with over a second cushion back to Pasini.
As the chequered flag was waved it was double delight for Sky Racing Team VR46 as Marini took a magnificent maiden Grand Prix victory, with Bagnaia coming home third to seal the 2018 Moto2™ World Championship. Oliveira didn't go down without a fight as he took P2 at the Sepang International Circuit – and his 11th podium of the season, but it wasn't quite enough.
Pasini crossed the line in P4, with Quartararo rounding out the top five after getting the better of sixth place Baldassarri and seventh place Marquez in the latter stages. Australian GP winner Brad Binder (Red Bull KTM Ajo) took P8 in Malaysia after struggling with grip, with Marcel Schrötter (Dynavolt Intact GP) and Joan Mir (EG 0,0 Marc VDS) rounding out the top ten in P9 and P10 respectively.
Iker Lecuona (Swiss Innovative Investors), Xavi Cardelus (Marinelli Snipers Team), Remy Gardner (Tech 3 Racing), Tetsuta Nagashima (Idemistu Honda Team Asia), Niki Tuuli (Petronas Sprinta Racing) and Augusto Fernandez (Pons HP40) crashed out.
Just like the lightweight class, the 2018 intermediate class crown was decided in Malaysia and it went the way of 'Pecco'. A stunning season for the Italian, with teammate Marini continuing his fantastic 2018. Valencia is next and with nothing to lose, who will take victory in the final race of 2018?
Moto2™ Race Results
1 – Luca Marini (ITA) KALEX 38'25.689
2 – Miguel Oliveira (POR) KTM +1.194
3 – Francesco Bagnaia (ITA) KALEX +3.020

Martin seals the crown with a masterclass
Spaniard crowned Champion after taking a sensational Sepang win with main rival Bezzecchi finishing P5
Jorge Martin (Del Conca Gresini Moto3) was crowned the Moto3™ World Champion at the Shell Malaysia Motorcycle Grand Prix after claiming a stunning Sepang International Circuit victory, with main Championship rival Marco Bezzecchi (Redox PruestelGP) slipping down to P5 on the final lap to hand the title to the Spaniard. Leopard Racing teammates Lorenzo Dalla Porta and Enea Bastianini completed the podium after another hard-fought contest in Malaysia.
It was Martin who got the best launch off the line from pole position but with a long run down into Turn 1, Bezzecchi was able to get in his slipstream and brake later to get the holeshot. A tentative lap followed for the Spaniard, who dropped down to P5 by the end of the first lap and at the end of Lap 2, the Championship leader was P8. Bezzecchi, meanwhile, was heading the pack…
The latter then lost the lead of the race at the start of Lap 4, with fellow KTM rider Darryn Binder (Red Bull KTM Ajo) getting aggressive heading into Turn 1, forcing Bezzecchi out wide and dropping him to sixth, just ahead of Martin. Meanwhile, Fabio Di Giannantonio (Del Conca Gresini Moto3) had got past his teammate as the duo battled for P8 – and Martin dropped to P10 at the end of Lap 5.
You could cut the tension with a knife and on Lap 6 there was a nerve-wracking moment between Bezzecchi and fellow Italian Tony Arbolino (Marinelli Snipers Team) as they came together on the exit of Turn 6, both – thankfully – staying upright. Then, with 10 laps to go, Martin started to make progress and at the final corner, a phenomenal late lunge underneath race leader Bezzecchi from P6 almost paid off. The slipstream down the straight, though, did pay off as Martin took the lead of the race. Was this his time to pull the pin?
The answer was yes, but he couldn't break away. Bezzecchi was back through with nine to go at the final corner and then, with eight laps to go, contact between the two main title leaders at Turn 1. Aron Canet (Estrella Galicia 0,0) then took the baton and started to create a gap but suddenly, at Turn 1, the Spaniard tucked the front and crashed out of contention – rider ok. The gloves were now off at the front with a huge seven laps remaining and a title on the line.
The hustle and bustle at the front kept on going in true Moto3™ style. But then in true Martin style, with three laps of the race to go and the Championship firmly in the balance, the pin was definitely pulled this time. The Spaniard hit the front and suddenly there was a 0.8 second lead appearing, with Bezzecchi unable to get past Lorenzo Dalla Porta (Leopard Racing) and Arbolino. This gap continued to grow as it looked increasingly difficult for Bezzecchi to get the better of Martin, and the Italian's attention firmly switched to keeping his title aspirations alive.
On the prowl behind Bezzecchi were a gaggle of hungry Moto3™ riders. Di Giannantonio, Dalla Porta, Arbolino, Albert Arenas (Angel Nieto Team), Tatsuki Suzuki (SIC58 Squadra Corse), Enea Bastianini (Leopard Racing) and Binder were all there in the hunt for P2. The last lap started and at Turn 4, Bezzecchi was out on the curb and down to P5 – a Championship losing position. Could the Italian recover? The answer was no, Bezzecchi pushed all he could but would cross the line P5. Despair for the Italian, and jubilation for Martin who took the victory by an impressive 3.5 seconds.
Dalla Porta crossed the line in P2 for his fifth podium of the season, with teammate Bastianini recovering in the latter stages to grab a podium that means he becomes the most successful Moto3™ rider in history on rostrum count. Australian GP winner Arenas missed out on a podium by 0.038, with Bezzecchi pipping 'Diggia' on the line – and the duo now have P2 in the Championship to fight for in Valencia. Binder ended the race in P7, Arbolino was eighth, Suzuki P9 and teammate Niccolo Antonelli securing a top ten on his return from injury.
Starting from the pitlane, home hero Adam Norrodin (Petronas Sprinta Racing) produced a stunning comeback rider to get himself into the lead group. But with little over two laps to go, the Malaysian rider crashed out at the final corner. John McPhee (CIP – Green Power), Dennis Foggia (SKY Racing Team VR46) and Alonso Lopez (Estrella Galicia 0,0) all crashed at Turn 9, with Celestino Vietti (SKY Racing Team VR46) also crashing in a separate incident at the same place.
So that's it, Martin becomes the #Mart1nator to take the Moto3™ World Championship in Malaysia. A wonderful season capped off in sensational style, with Bezzecchi and Di Giannantonio now battling for P2 in the Championship in Valencia.
Moto3™ Race Results
1 – Jorge Martin (SPA) HONDA 38'34.799
2 – Lorenzo Dalla Porta (ITA) HONDA +3.556
3 – Enea Bastianini (ITA) HONDA +3.757
More, from a press release issued by Michelin:
MICHELIN AND MARQUEZ TAKE A RECORD IN MALAYSIA
Michelin saw its MotoGP™ tyres take the race duration record at the Sepang International Circuit this afternoon as Marc Marquez (Repsol Honda Team) secured victory in today's Shell Malaysia Motorcycle Grand Prix.
Michelin and the MotoGP field faced the highest track temperatures of the weekend before today's 20-lap race, as the sun heated up the asphalt to 53°C. This led to a tyre choice by the grid, which although featuring four of the six available compounds, favoured a selection of a medium front and soft rear MICHELIN Power Slick. This afternoon's race had already taken on a different feel as weather forecasts for heavy rain at the 5,543m track forced the organisers to bring the race forward by two hours to miss the expected downpour. As it was the rain never materialised at the earlier time and the whole event was run in dry and warm conditions, which led to the race duration record being broken by more than five-seconds as the main protagonists pushed the tyres to the extremes of performance in the hot conditions. Marquez took victory – this also sealed the constructor championship for Honda – but not after an eventful lead up to the race. The reigning champion set the best time in qualifying to secure Pole Position in a wet qualifying session yesterday after torrential rain had delayed Saturday's proceedings, but an infringement on another rider saw him relegated six places to seventh on the grid and Frenchman Johann Zarco (Monster Yamaha Tech 3) inherit the pole. As the lights changed it was Valentino Rossi (Movistar Yamaha MotoGP) who got the holeshot and then led the race for the next 17-laps, but with Marquez hunting him down, Rossi pushed to sustain his lead and crashed, leaving the Spaniard to take over at the front and ride to victory.
With Marquez crossing the line in first, the battle for the remaining podium places raged on as Alex Rins (Team SUZUKI ECSTAR) – setting the fastest lap of the race in the process – fought through the field from eighth on the grid, before catching and passing Zarco in the closing stages to take second, leaving the Yamaha-man to secure third and the position of First Independent Rider, a result that moves him to the top of those standings. Encounters throughout the pack entertained a record crowd for Sepang of 103,984 people at trackside, as they witnessed Maverick Viñales (Movistar Yamaha MotoGP) push from eleventh on the grid to take fourth, ahead of Dani Pedrosa (Repsol Honda Team). Andrea Dovizioso (Ducati Team) was sixth, a position that confirmed his runners-up spot in the championship. Alvaro Bautista (Angel Nieto Team), led a trio of Ducatis across the line as he took seventh, with Jack Miller (Alma Pramac Racing) and Danilo Petrucci (Alma Pramac Racing) coming home in eighth and ninth respectively. The top-ten was rounded out by a rider who received the biggest cheer of the day, with local hero Hafizh Syahrin (Monster Yamaha Tech 3) riding a superb race from last on the grid to take tenth, as he became the first Malaysian to race at his home Grand Prix in the MotoGP class.
The Malaysian Grand Prix brings to an end the four fly-away races which have seen Thailand, Japan, Australia and now Malaysia produce a whole array of weather and challenges which Michelin has faced and conquered throughout the five week tour. Today's event also saw the Moto3™ and Moto2™ Champions crowned as Jorge Martin and Francesco Bagnaia took their titles respectively, with the latter now moving to MotoGP for next season to become the latest star to race on Michelin tyres.
Michelin and MotoGP now return to Europe for the final race of 2018, as the paddock moves to the traditional season-ending event at Valencia in Spain on Sunday 18th November.
Marc Marquez – Repsol Honda Team:
"Today was a really hard race, for us, for the bike, for the tyres, for everything, because the warmer temperatures made it really difficult. It was extremely hot today and you could feel this on the tyres, but the race pace was very fast. We were pushing hard from the beginning and it was not about managing tyre life, it was just pushing, pushing, pushing, it felt as though it was more like a qualifying practice! I was not thinking about tyre life or the championship, it was just about being there. It was a great fight with Valentino, it was not about overtaking, but were always close, one-tenth slower, one-tenth faster than each other all the time. In the end I was catching him, which was a great feeling, but he made a mistake and crashed, so I just rode the last few laps in an easy way."
Piero Taramasso – Michelin Motorsport Two-Wheel Manager:
"This has been another Grand Prix where we have seen the tyres tested to extremes. The weekend began with lower temperatures than expected for Sepang on Friday – although still quite high – and the tyres performed really well and some very fast lap-times were set. This continued on Saturday morning and it looked like we were in a position to break the outright record in qualifying, but then it rained very heavily. This meant the MICHELIN Power Rain tyres were used in anger for one of the few times this year and again they gave excellent results in the difficult conditions. The times were quick and the grip was really good and it produced an exciting qualifying. Today then saw temperatures rise to more than we had seen all weekend and with the information the teams had and with the assistance from their respective technicians, the best tyres were chosen. This produced a fast race which saw us break the duration record, this is one of the most important time benchmarks for us, as it shows the durability and consistency over race distance. There were also three different manufacturers on the podium, which is again a very important marker for Michelin, as it shows performance for all types of bikes. This has been a long trip, but we have had some very good results, learned a lot about the overall performance of the slick and wet tyres and the different compounds in many changeable conditions. We now head back to Europe for the final round and then get ready to start testing for 2019."