More, from a press release issued by Dorna:
Morbidelli fights off Miller for pole, Mir faces first match point from 12th
The Italian balances risk vs reward for a second MotoGP™ pole, with Quartararo 11th, Mir 12th and Rins 14th after a Saturday shake-up
Saturday, 14 November 2020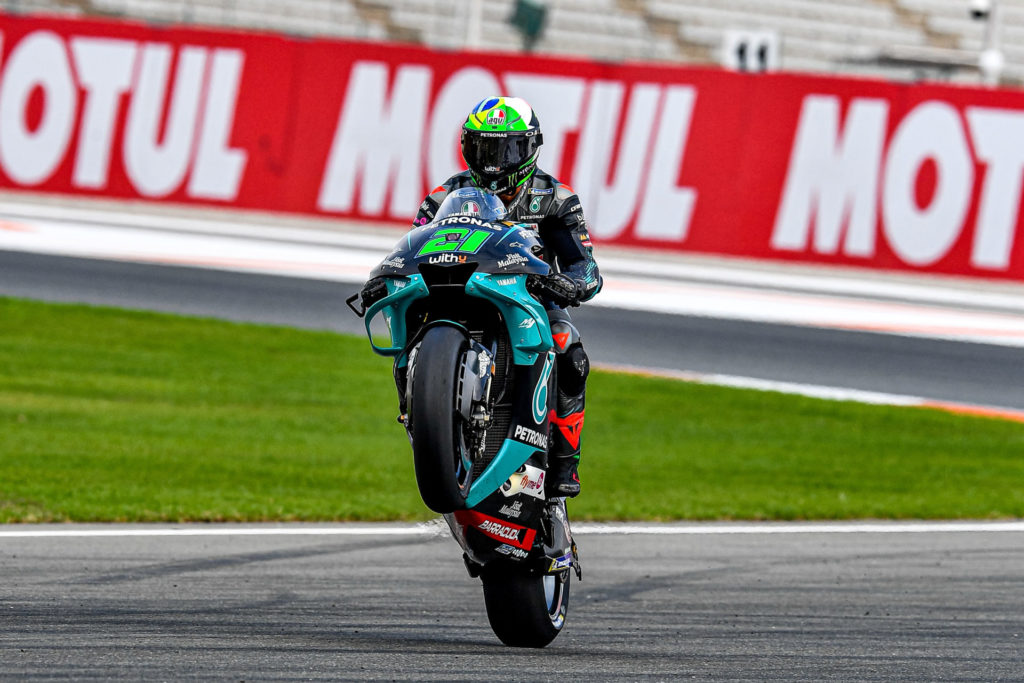 Franco Morbidelli left it late, but the Italian pitched it to perfection to take his second MotoGP™ pole position at the Gran Premio Motul de la Comunitat Valenciana. Friday's fastest Jack Miller (Pramac Racing) was pipped to the post by less than a tenth, with Takaaki Nakagami (LCR Honda Idemitsu) completing the front row once again – both men candidates to become that record-breaking tenth winner of the year and starting from the front. There were some big headlines slightly down the order too as Championship leader Joan Mir (Team Suzuki Ecstar) took 12th, Fabio Quartararo (Petronas Yamaha SRT) 11th and Alex Rins (Team Suzuki Ecstar) only 14th as none the top three in the standings managed to make it onto the first three rows… setting up another rollercoaster Sunday.
It began in a tense Q1 packed full of key players, including the men second and third in the Championship – Quartararo and Rins – as well as Andrea Dovizioso (Ducati Team) and Valentino Rossi (Monster Energy Yamaha MotoGP). Big drama hit on the timesheets for Rins as he ended the session fourth and therefore 14th on the grid, and big drama hit on track for Alex Marquez (Repsol Honda Team) as the Spaniard had a huge highside right in front of Brad Binder (Red Bull KTM Factory Racing). Thankfully the South African took quick evasive action and the number 73 got to his feet, even able to head back out on his second bike.
Binder, at the time, was top of the pile too and no one could overhaul his lap. He moved through along with Quartararo, with Rins left in 14th, Rossi 16th and Dovizioso 17th after a difficult session at the office for a good few famous faces.
After the first runs in Q2, it remained advantage KTM. Binder was on provisional pole and Miguel Oliveira (Red Bull KTM Tech 3) in second as Mir languished down in tenth, but there was more to come. Pol Espargaro (Red Bull KTM Factory Racing) added to the KTM party next as he slotted into second once the final shootout was on, before Maverick Viñales (Monster Energy Yamaha MotoGP) then suddenly shot straight to the top.
Still, it wasn't done. Mir had got himself up to seventh but the man on the move was Miller as the Australian slammed in a lap that saw him take over on provisional pole, backing up his Friday speed with another impressive Q2. That was with two minutes to go and it seemed it could be his – but one man wasn't quite done, and that man was Morbidelli.
The number 21 said Saturday, on an overcast day after some minor rain earlier on, was a balance between risk and reward and the Italian walked the tightrope to perfection. Right at the end of the session, his red sectors kept rolling and he eventually crossed the line to deny Miller by less than a tenth, taking his second MotoGP™ pole position ever and of the year. Nakagami then took his second front row in a week, slotting into third, making a front row with three different manufacturers, and not one of the top three in the title fight in sight…
Fourth went to an impressive Johann Zarco (Esponsorama Racing) as he moved up to take over as the second Ducati in the session, with Pol Espargaro – last week's polesitter – forced to settle for fifth. Sixth is where Viñales was eventually shuffled down to, but it's a lot further forward than the Yamaha rider's pitlane start for exceeding his engine allocation last weekend. What can he do?
Seventh saw Aleix Espargaro put his Aprilia Racing Team Gresini machine in the mix to head up the third row, ahead of Francesco Bagnaia (Pramac Racing) as the Italian continues to show solid speed at Valencia. Binder completes Row 3, the South African getting shuffled down late on, as did Miguel Oliveira as the Portuguese rider completes the top ten.
So where are the key players in the title fight? Rins' work was over early as he didn't make it out of Q1, but it couldn't have been much better news for the number 42 as the flag flew for Qualifying 2. Mir is only two places ahead of him, in 12th and last in Q2, with Quartararo only managing one better. But then we've seen many a Suzuki comeback on Sunday as the Hamamatsu factory slice through the field…
A podium would be enough for Mir to lift the crown. Past that it's a maths game – and everything will be on the line as the top three blast away from 11th, 12th and 14th.  Miller and Nakagami, meanwhile, have the chance to become that tenth winner from the front row – as do Zarco and Pol Espargaro right behind them. What will Sunday bring? Tune in to find out as MotoGP™ chase more history at 14:00 (GMT +1).
MotoGP™ front row
1 Franco Morbidelli* – Petronas Yamaha SRT – Yamaha – 1:30.191
2 Jack Miller* – Pramac Racing – Ducati – +0.096
3 Takaaki Nakagami* – LCR Honda Idemitsu – Honda – +0.222
*Independent Team rider
Franco Morbidelli: "It's been a great weekend so far, we've worked very well, we were able to immediately improve the rhythm compared to last weekend's race. The qualifying was a bit of strange one because the conditions weren't so easy and it was important to have a good amount of risk in order to make the laptime. I managed to do it, because I feel great with the bike I managed to risk it. I'm happy, now it's important to get a good start tomorrow and make a nice race, in whichever position we are, and try to collect some points!"
Manzi masters Valencia to make MV Agusta history, Bastianini and Lowes outside the top ten
The Italian takes a stunning first pole position as he pips home hero Garzo, with Marini 10th, Bastianini 12th and Lowes 18th – the Brit after a big crash on Saturday
Not since 1976 in the 350cc class has an MV Agusta started a Grand Prix race from pole, but Stefano Manzi (MV Agusta Forward Racing) changed that on Saturday at the Gran Premio Motul de la Comunitat Valenciana. He took his first pole position with a new lap record to head a front row split by just 0.076, with home hero Hector Garzo (Flexbox HP 40) forced to settle for second and Marco Bezzecchi (Sky Racing Team VR46) completing the top three. Of the top three in the title fight it's Luca Marini (Sky Racing Team VR46) who starts furthest up the grid in 10th, with Enea Bastianini (Italtrans Racing Team) 12th and Sam Lowes (EG 0,0 Marc VDS) in P18 after a big crash in FP3.
In Q1 it was Lorenzo Baldassarri (Flexbox HP 40) who led the way, but the gap was infinitesimal for the Italian as Jorge Martin (Red Bull KTM Ajo) slotted into second just 0.004 back. Simone Corsi (MV Agusta Forward Racing) was closer still in third, 0.002 in further arrears, with Tom Lüthi (Liqui Moly Intact GP) the fourth man through and still within less than half a tenth. That left Europe GP podium finisher Remy Gardner (ONEXOX TKKR SAG Team) just missing out, and the Australian will be looking to move forward quick-sharp on Sunday.
As Q2 began, a lot of eyes were on Lowes. After a huge FP3 crash, the Brit was back on track sporting a bandaged right wrist after being declared fit. His opening lap time was nearly four seconds down on Bo Bendsneyder's (NTS RW Racing GP) 1:35.131 lap time, but that wasn't the case for long. Garzo then took turn to lead the session before Fabio Di Giannantonio (MB Conveyors Speed Up) shot to the summit; Q1 graduate Simone Corsi then moving into third with eight minutes to go.
Manzi was on a march though. The Italian was top of the tree by 0.004 over Di Giannantonio as Marcel Schrötter (Liqui Moly Intact GP) climbed to P3 soon after, puting three manufacturers sat on the front row in Moto2™ as the clock ticked down and down…
The times were again incredibly close. Less than a tenth covered the top five before Marini slotted into fifth, just 0.095 off the top. Red sectors were everywhere though and soon there was another man on a mission: Garzo. A 1:34.431 came in from the Spaniard as Bezzecchi clawed his way up to P2, with Championship leader Bastianini still down in tenth with two minutes to go.
Manzi then grabbed the spotlight for the second time. On his final lap, the Italian sliced round to claim provisional pole and break Garzo's heart, making MV Agusta history with their first pole position since MotoGP™ Legend Giacomo Agostini in 1976 at Le Mans. Rookie Garzo's second place is nevertheless his best yet in Moto2™, with Bezzecchi striking late to give both a scare as last week's winner slotted into third.
Di Giannantonio spearheads Row 2 in P4, and he's joined by Jorge Martin and rookie Marcos Ramirez (Tennor American Racing). Schrötter eventually slipped to P7, just ahead of Q1 graduate Baldassarri as he returns to form to start from P8. Bendsneyder took ninth as the Dutchman got his third top 10 qualifying result of the campaign.
Marini was under four tenths away from pole but ends up down in P10. However, importantly for the Italian, he's ahead of the two riders ahead of him in the Championship: Bastianini will start P12 behind Corsi, three places better than last weekend but still far from ideal after another tougher session. Lowes, although cutting his gap to the top down and down, struggled in Q2 and immediately had ice on his right wrist when he was back in the box. The Brit has a salvage job on his hands from P18.
Bastianini has the chance to win the title in Valencia. The easiest way is if he wins, Lowes doesn't finish better than 11th and Marini no better than third. But can he do it? Watch how the Moto2™ title race unfolds at 12:20 local time (GMT+1) on Sunday afternoon as the penultimate race of 2020 gets underway!
Moto2™ front row
1 Stefano Manzi – MV Agusta Forward Racing – MV Agusta 1:34.418
2 Hector Garzo – Flexbox HP 40 – Kalex +0.013
3 Marco Bezzecchi – Sky Racing Team VR46 – Kalex +0.076
Stefano Manzi: "This morning I was 11th, at only two tenths, but I was 11th. So many riders are so close and it's difficult to make the difference but today in qualifying I did a really good lap and took pole, and I'm so happy. I think there is a potential podium, my rhythm wasn't bad all weekend, yesterday and this morning, we have to see on a full fuel tank but I think I can do a good race."
Binder takes first career pole, Arenas and Ogura line up sixth and seventh
The South African edges out Toba for pole position as the top two in the Championship are split by a single thousandth
Darryn Binder (CIP – Green Power) went from Q1 to the top as the South African took his first Grand Prix pole position in qualifying for the Gran Premio Motul de la Comunitat Valenciana, edging out Kaito Toba (Red Bull KTM Ajo) by just 0.043. Raul Fernandez (Red Bull KTM Ajo) completes the front row after a tricky session in Valencia, with rain falling lightly and then stopping but the skies remaining grey. Championship leader Albert Arenas (Gaviota Aspar Team Moto3) was sixth quickest, beating key title rival Ai Ogura (Honda Team Asia) by a single thousandth.
Q1 began with all eyes on Arenas as the points leader found himself on the back foot after Free Practice, but he kept it calm to top the timesheets and move through along with Riccardo Rossi (BOE Skull Rider Facile Energy), John McPhee (Petronas Sprinta Racing) and Binder, joining the fray in the fight for the top 18 on the grid.
After the first runs it was Ogura on provisional pole, but a late flurry of laps as the clock ticked down put paid to his hopes of holding onto it. Second time out the Japanese rider also had Arenas on his tail, the points leader right behind him on track, and by the end of the session the two would be even closer together on the timesheets.
Binder's 1:38.286 proved a late lunge to put the South African on top as the timesheets shuffled behind him, riders crossing the line as the flag flew or just after. Toba got closest to denying the number 40 as he cut the gap from considerable to just 0.043, but Binder held on – as Ogura and Arenas got shuffled back.
Fernandez completes the front row just over a tenth off Toba, with the same 0.043 that splits the top two making the difference for the number 25 ahead of Jaume Masia. The Leopard Racing rider is forced to settle for fourth, joined on the second row by Andrea Migno (Sky Racing Team VR46) in fifth and Arenas.
Ogura, that single thousandth off the Championship leader, heads up Row 3 ahead of Tatsuki Suzuki (SIC58 Squadra Corse), with Celestino Vietti (Sky Racing Team VR46) down in ninth and needing to move forward on Sunday. Niccolo Antonelli (SIC58 Squadra Corse) completes the top ten.
Deniz Öncü (Red Bull KTM Tech 3) was P11 ahead of one of the best Saturdays of the season for Yuki Kunii (Honda Team Asia) in 12th. Free Practice pacesetter Tony Arbolino (Rivacold Snipers Team) was shuffled down to 13th, ahead of Romano Fenati (Sterilgarda Max Racing Team) and Jeremy Alcoba (Kömmerling Gresini Moto3). John McPhee ended up in 16th, with work to do on Sunday.
Arenas starts his first chance at the crown from sixth, but Ogura couldn't be any closer. Can the Spaniard stake his claim on home turf or will the Japanese rider – or those just behind them – hit back? Find out at 11:00 local time (GMT+1) on Sunday morning!
Moto3™ front row
1 Darryn Binder – CIP – Green Power – KTM 1:38.286
2 Kaito Toba – Red Bull KTM Ajo – KTM +0.043
3 Raul Fernandez – Red Bull KTM Ajo – KTM +0.161
Darryn Binder: "It was crazy to get my pole today, yesterday I was 16th and unfortunately this morning with the strange conditions I had to pass through Q1. I knew if I could just get a lap together I could do a good laptime. On the last run I came past and saw on my dash 8.2 and thought, 'ok that's good enough for the front row maybe'. I came past the flag and saw my team shouting on the wall and I thought 'ok, I'm definitely on the front row'. To get pole I'm so happy!"