Imola, 15 February 2020. The World Championship project of Gresini Racing is an ever-growing process and this year is no exception: along with the confirmation of reigning MotoE World Cup champion Matteo Ferrari and Moto3 ace Gabriel Rodrigo, four more or less new faces are joining the #GresiniFamily.
Alongside the aforementioned Matteo and Gabri, there will be Alessandro Zaccone for Team Trentino Gresini MotoE and Jeremy Alcoba for the Kömmerling Gresini Moto3 outfit: two raw diamonds that Fausto Gresini selected between the CIV and CEV championships – and strongly wanted on board. If the 21-year-old Italian will make his world championship debut this year, for the Catalan #52 this is true only partly: Alcoba earned his full-time spot last year after doing well as substitute rider for Rodrigo in Austria and doing even better in England.
The most ambitious project becomes the middleweight class one, where everything has changed: first of all, the team will be back to a two-rider line-up with Edgar Pons and Nicolò Bulega forming a duo of young age but great potential. If the Spaniard already has two world championship seasons under his belt – and makes his return as reigning CEV Moto2 champion – Bulega has already shown last year to be ready for this category. The team will have Federal Oil as main sponsor – for one of the longest-running partnerships in the world championship.
FAUSTO GRESINI – TEAM MANAGER
"The Gresini Family keeps growing and this year we will have six riders across three classes by adding one rider in Moto2 – which is something crucial to be competitive. We're reigning champions in MotoE and we know it won't be easy to repeat the same achievement, but there's no better way to try it than by confirming Matteoto begin with. Alongside him there will be Zaccone, a young rider who followed on Matteo's footsteps first in the CEV and now here: this is an innovative category in which I believe young riders are key. Regarding Moto3, we come from a year of great disappointment, but we know we have a very competitive team. We strongly wanted Rodrigo as our first-choice rider, and I must admit I saw him in great form in this preseason. Sharing the pit-box with him will be Alcoba, who will need to adapt to the Honda after racing with a different bike – but he's already on the task. I'm fully convinced we can do very well in this category and race at the front. Finally, Moto2 is the category in which we invested the most and finally we'll have an Italian rider to defend our colours. With Bulega and Pons I believe we have a strong and competitive line-up. I would like to end by thanking all of our sponsor – who believe in us. We would like to repay them with a high-level season."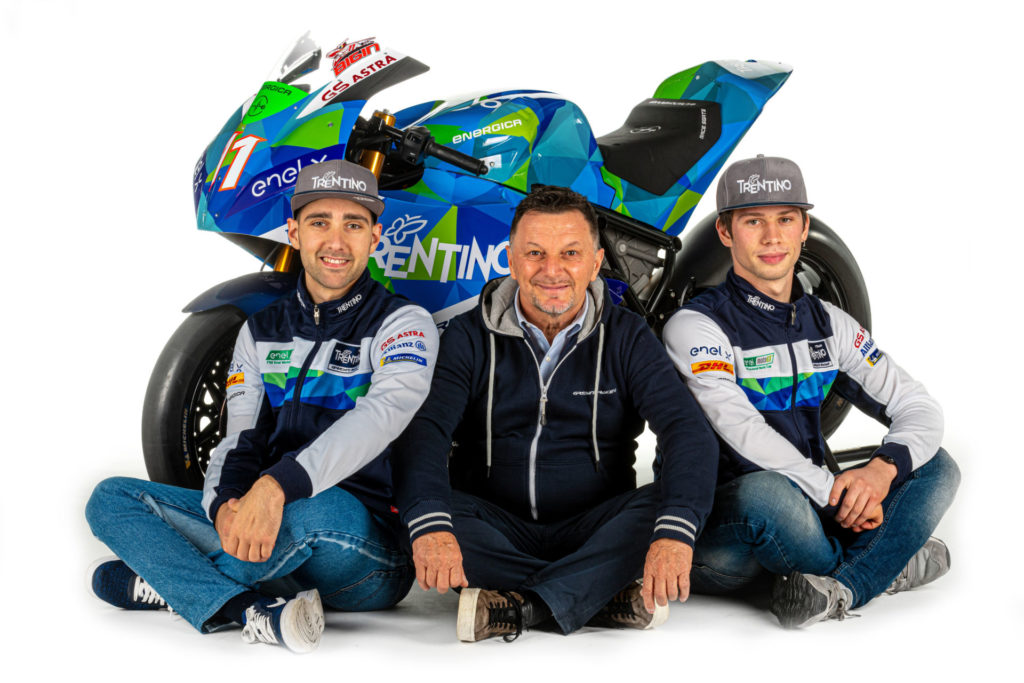 MATTEO FERRARI #11
"This season, with one year of experience which we can exploit, it will all about fine-tuning… We already analysed all races and tests from last year and we need to understand where I can improve my riding style and where we can improve the bike set-up. It'll be crucial to see what modifications Energica will implement in the new bike and adapt to them as quick as we can. This year, Assen is the new venue on the calendar and I must say Jerez it is kind of new as we didn't lap much last year. With six days of testing there we will all be very competitive come the first race. The goal is to improve, so we start we a very clear idea."
ALESSANDRO ZACCONE #61
"It's my first year to the 'real' world championship, even though I already raced in SBK. I'm very excited, but at the same time very charged up. It's a dream come true, so the first crucial test for me will be to stay focused and with both feet on the ground, especially in the first races as I'll need to understand the bike. I already asked Matteo (Ferrari) for advice, and he explained me something, but obviously as a rider I cannot wait to try the bike. Through the years I basically 'stalked' Fausto in order to race for him, so now I hope this is only the beginning of a dream that has in part already come true."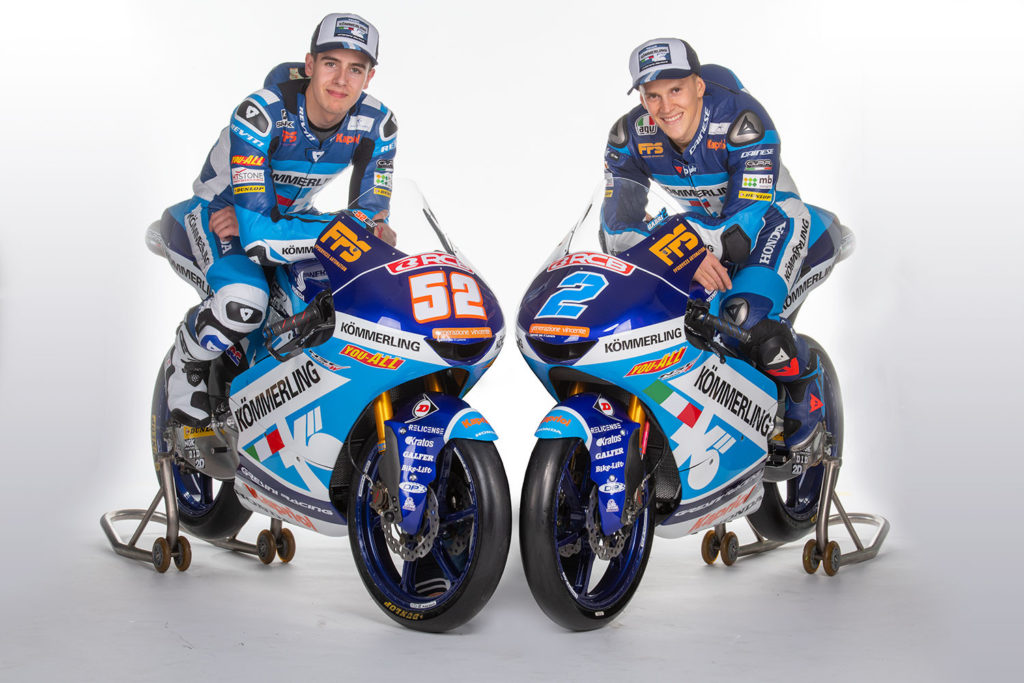 GABRIEL RODRIGO #2
"Let's say that I've been thinking about changing my number for a while. 2019 was a really tough year, both on and off the track. Many crashes and injuries from one side and especially the passing of my brother Juan at the start of the year had a huge impact, even though I tried to keep this pain for myself. I would have liked to change it last year already, but it was too late, so I chose #2 which represents my brother and I, and also if you turn it upside down it looks like a "J" for Juan. It will be a way to have him always with me. We are working well also with Jeremy, who's a great addition to the team. He might be shy, but he's a very quick rider so I think we can complement each other well. For me this year it will be about changing my mentality, be calmer and therefore make less mistakes. If we can do that, then we'll be near the front and battle with the best riders."
JEREMY ALCOBA #52
"I gelled immediately with the Team. Ivano is a very relaxed guy – a bit like me – and we understood each other straight away. I thought it would have taken longer to familiarise with the team given the different nationalities, but I must say they're all very professional and they always wear a smile on their faces. I'm still trying to fully understand the Honda as I'm still riding it as it was a KTM… but this is only a matter of time. I got along very well with Gabri immediately, and I must admit that whenever I need some advice he was always available. Now it's only about staying focused and wait for the start of this great opportunity that is the world championship – and for this I would like to thank Team Gresini from the bottom of my heart.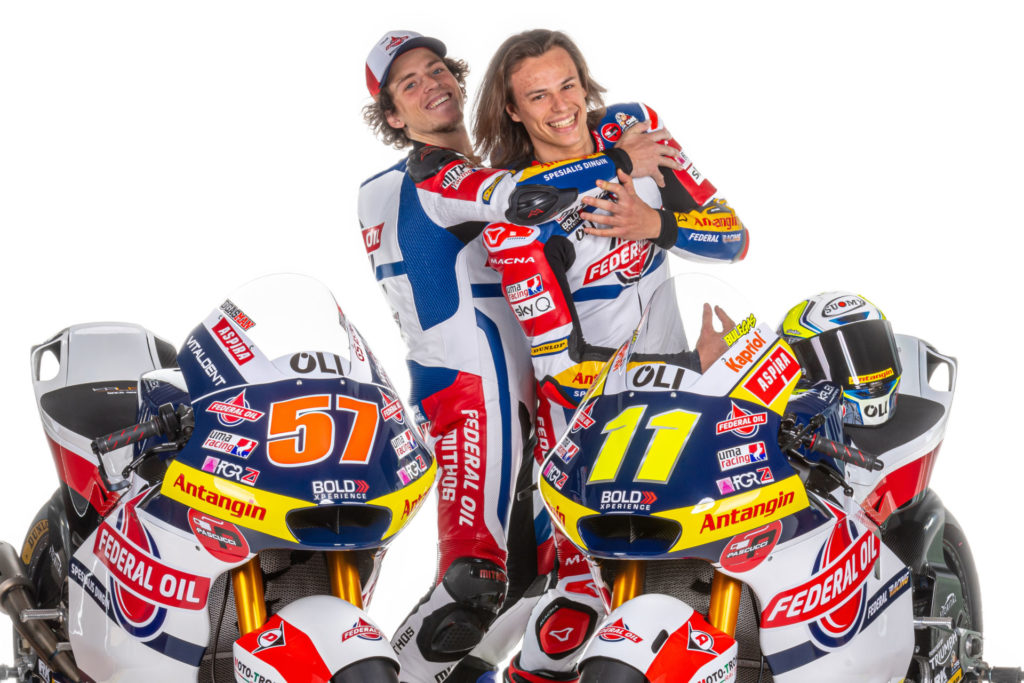 EDGAR PONS #57
"It's been a long winter, in which together with my trainer we tried to improve some aspects that may help me on my return to the world stage. The training has been very positive and the desire to jump back on the bike is huge. The Triumph engine makes the bike a lot more fun compared to what I was used to, but I will need to adapt my riding style. It's always difficult to set goals, but we want to get into the top-ten as soon as possible and then step by step make our way into the top-five. Obviously the first races will be crucial to get comfortable in this championship, but then we will aim at the positions we think we should be in."
NICOLÒ BULEGA #11
"I trained hard throughout the winter and I'm charged up. There's a lot of confidence and I believe the path we're in is very positive. With the team there has been great synergy straight from the get-go, both in November's test and in the one performed last week. There's a relaxed atmosphere and a great amount of professionalism in the team and I believe this is exactly what I needed. Obviously there's a lot of work to do and we're discovering the new bike bit by bit, but already in Jerez we managed to makes some step forwards and the confidence grew with it."