Best Race Lap Record: 1:59.661, Valentino Rossi, 2019
All-Time Lap Record: 1:58.303, Fabio Quartararo, 2019
FIM MotoGP World Championship
Sepang International Circuit
Sepang, Malaysia
February 7, 2020
Day One Test Results (all on Michelin tires):
Fabio Quartararo, France (Yamaha), 1:58.945
Franco Morbidelli, Italy (Yamaha), 1:58.996
Alex Rins, Spain (Suzuki), 1:59.195
Cal Crutchlow, UK (Honda), 1:59.234
Jack Miller, Australia (Ducati), 1:59.236
Maverick Vinales, Spain (Yamaha), 1:59.367
Aleix Espargaro, Spain (Aprilia), 1:59.427
Pol Espargaro, Spain (KTM), 1:59.536
Joan Mir, Spain (Suzuki), 1:59.568
Valentino Rossi, Italy (Yamaha), 1:59.569
Andrea Dovizioso, Italy (Ducati), 1:59.666
Marc Marquez, Spain (Honda), 1:59.676
Alex Marquez, Spain (Honda), 1:59.918
Danilo Petrucci, Italy (Ducati), 1:59.939
Dani Pedrosa, Spain (KTM), 2:00.017*
Miguel Oliveira, Portugal (KTM), 2:00.131
Francesco Bagnaia, Italy (Ducati), 2:00.136
Sylvain Guintoli, France (Suzuki), 2:00.371*
Johann Zarco, France (Ducati), 2:00.464
Iker Lecuona, Spain (KTM), 2:00.511
Brad Binder, South Africa (KTM), 2:00.519
Tito Rabat, Spain (Ducati), 2:00.750
Takaaki Nakagami, Japan (Honda), 2:00.815
Yamaha Test Bike 1, Japan (Yamaha), 2:01.080*
Yamaha Test Bike 2, Japan (Yamaha), 2:01.744*
Lorenzo Savadori, Italy (Aprilia), 2:03.150*
*test rider
More, from a press release issued by Dorna:
#SepangTest: Quartararo strikes first to go fastest on Friday 
A Petronas Yamaha SRT 1-2 locks out the top for the Iwata marque, with Rins putting Suzuki in third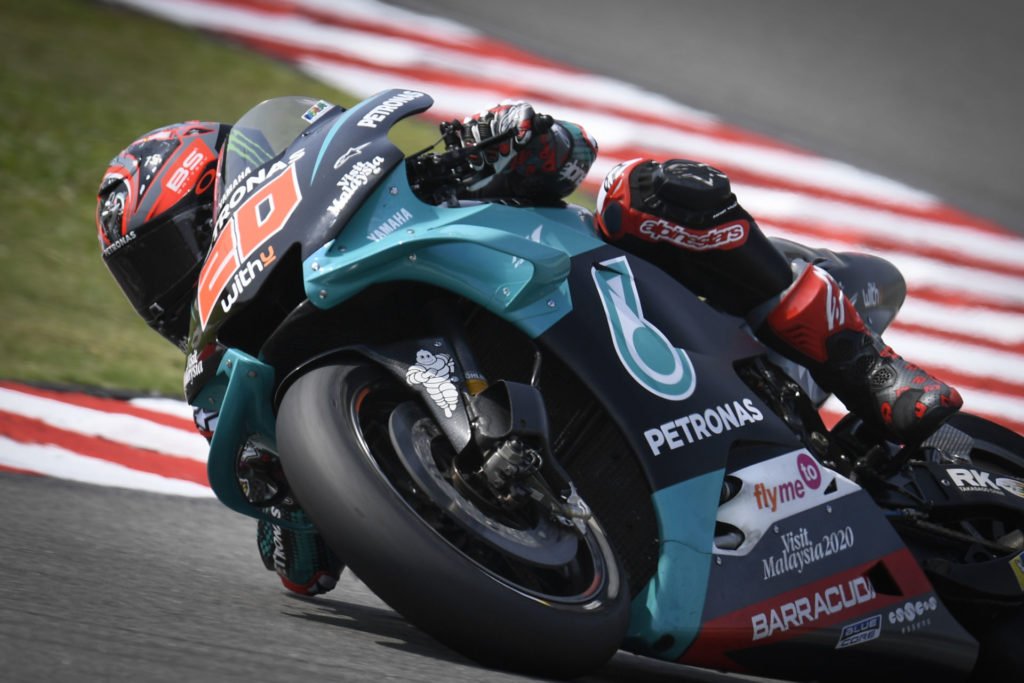 Friday, 07 February 2020
Fabio Quartararo (Petronas Yamaha SRT) began the Sepang Test in an increasingly familiar position: first. The Frenchman was the first man into the 1:58s and his laptime remained largely unthreatened thereafter, although some rain in the afternoon did stop play for a while and limit track time. Teammate Franco Morbidelli was second overall on Day 1 and came the closest to deposing him, only 0.051 off, with Alex Rins (Team Suzuki Ecstar) next up as the Spaniard completed the top three on Friday.
Quartararo did 41 laps on Day 1, lapping on the 2019 Yamaha, with a best of 1:58.945 on Lap 22. Teammate Franco Morbidelli was the only man able to get close and he was on 2020 machinery, putting in 50 laps overall – ending the day just 0.051 off Quartararo's best as the Petronas Yamaha duo proved the only two men able to dip under the 1:59 barrier.
At Monster Energy Yamaha MotoGP, there was no Jorge Lorenzo out testing on Day 1, with the focus instead on Maverick Viñales and Valentino Rossi. They both had three bikes each in the garage: two 2020 machines with the new engine and frame and a 2019 version in order to test back to back. Viñales' best was a 1:59.367 in sixth and Rossi's a 1:59.569 in tenth.
Rins, meanwhile, put Team Suzuki Ecstar in third after a half century of laps for the Spaniard on Friday. There was aero on the agenda, and plenty under the covers for the Hamamatsu factory to focus on – including more work on the engine and a new swingarm, chassis, electronics… Rins' best was a 1:59.195 in P3 and teammate Joan Mir took P9 with a 1:59.968 after a similar amount of laps. Test rider Sylvain Guintoli was also out on track to add another 48 laps to the count.
Cal Crutchlow (LCR Honda Castrol) was the fastest Honda on Day 1. The Brit leapfrogged up into the top three briefly before ultimately ending Friday in fourth after 33 laps, but it was a busy day for the number 35 as he spearheads much of Honda's testing – with Marc Marquez (Repsol Honda Team) coming back from shoulder surgery, Takaaki Nakagami (LCR Honda Idemitsu) likewise, and Alex Marquez (Repsol Honda Team) making his premier class debut. Crutchlow had three bikes in the garage, one of which was a 2019 machine for back-to-back comparisons. The other two were 2020 machines, although not identical…
Marc Marquez's best, a 1:59.676 after 37 laps, put him in 12th – with the focus on trying only the essentials as his recovery limits his laps somewhat. Reigning Moto2™ Champion Alex Marquez did a similar number of laps though, and he faced a 0.242 deficit to his teammate by the end of play despite finishing Friday just a position behind him. Nakagami had a steadier start to the test; his best a 2:00.815 as he comes back from injury.
Jack Miller (Pramac Racing) was the fastest Ducati man on Day 1. An improvement on his penultimate lap put the Australian up into fifth with a 1:59.236, behind Crutchlow by just 0.002. He had two 2020 bikes as well as a few "small parts" to try, with positive feedback coming from the Queenslander. Andrea Dovizioso (Ducati Team), meanwhile, put in a 1:59.666 and was just outside the top ten, doing 35 laps, with teammate Danilo Petrucci putting in a fastest lap of 1:59.939 after 42 laps. Francesco Bagnaia (Pramac Racing) was P17, Johann Zarco (Reale Avintia Racing) P19 and Tito Rabat (Reale Avintia Racing) P23.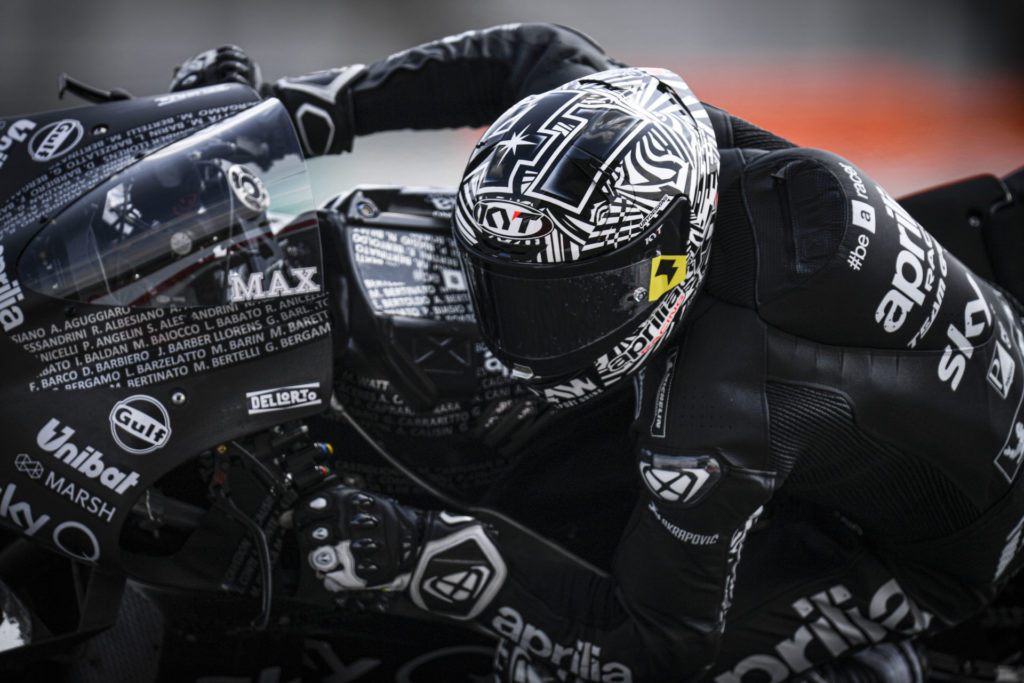 Aprilia were ahead of the game early doors, with Aleix Espargaro (Aprilia Racing Team Gresini) top of the pile after the first hour and ten or so laps. After positive comments on the new 2020 bike following the shakedown test, that seemed to continue on the timesheets on Friday: Espargaro ended the session on a 1:59.427 in P7 after 40 laps, the laptime the same one with which he topped the timesheets earlier in the day. Lorenzo Savadori was also on duty for the Noale factory after the Italian had also taken part in the shakedown test, and he did 30 laps. Test rider Bradley Smith is expected to join the lineup as the test continues.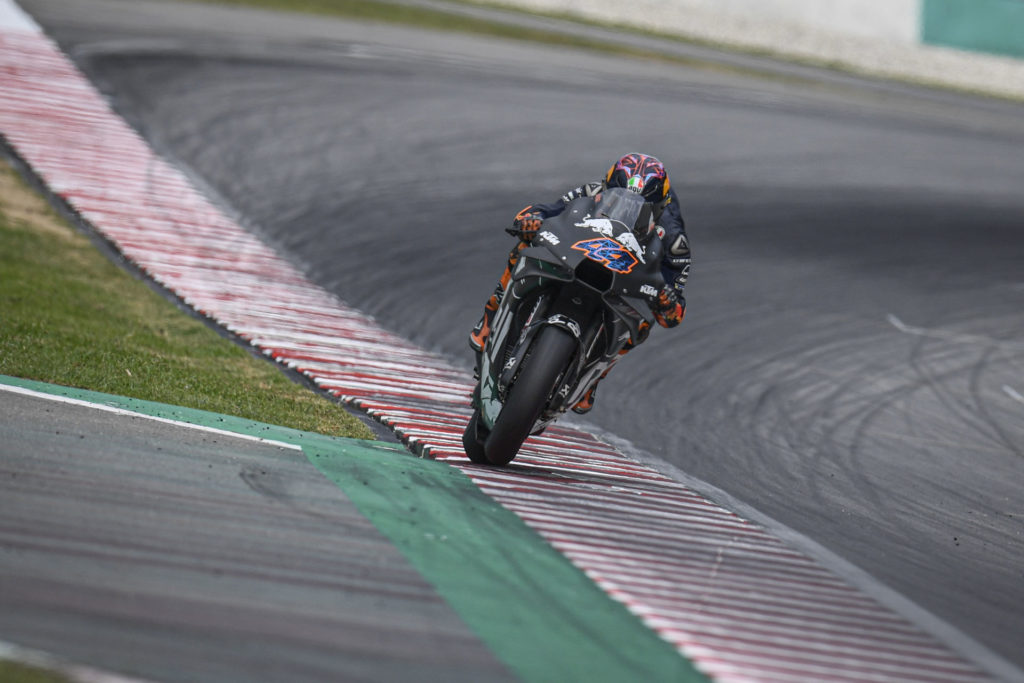 Pol Espargaro (Red Bull KTM Factory Racing) led the way for KTM on the first day. The Spaniard ended the test in P8 after a best of 1:59.536, and he put in 50 laps. The Austrian factory worked with their new chassis – on both factory and Tech 3 machines – as well as some aero, and the engine, and Espargaro says there's more to do on the rear with a new swingarm… as always, it's a packed program.
Test rider Dani Pedrosa was the next KTM on the timesheets in 15th, with the Spaniard doing nearly 50 laps. Miguel Oliveira (Red Bull KTM Tech 3) was close though, just over a tenth off Pedrosa and doing a similar number of laps as he comes back from injury that dogged the latter half of his 2019. Iker Lecuona (Red Bull KTM Tech 3) just pipped fellow rookie Brad Binder (Red Bull KTM Factory Racing)… but the two were only 0.008 apart in P20 and P21 respectively.
That's it from Day 1 but there are plenty more videos and rider reactions on motogp.com – check them out and gear up for more on Saturday as the #SepangTest continues.
More, from a press release issued by Red Bull KTM Tech3:
Red Bull KTM Tech3 duo kicks off 2020 in Sepang
After Miguel Oliveira and Iker Lecuona have been arriving in Malaysia last week already and completed three days of a very positive shakedown test, they started the official Sepang test today side by side with the entire 2020 MotoGP grid. Thereby, Red Bull KTM Tech3's Oliveira did a fastest lap of 2:00.131 minutes, doing 49 laps in total.
Meanwhile premier class rookie Lecuona managed to live up to his progress of the first days at the hot and humid Sepang International Circuit and improved by impressive 1.148 seconds compared to his fastest lap from Tuesday, which made him concluding day one just 0.380 seconds behind his teammate.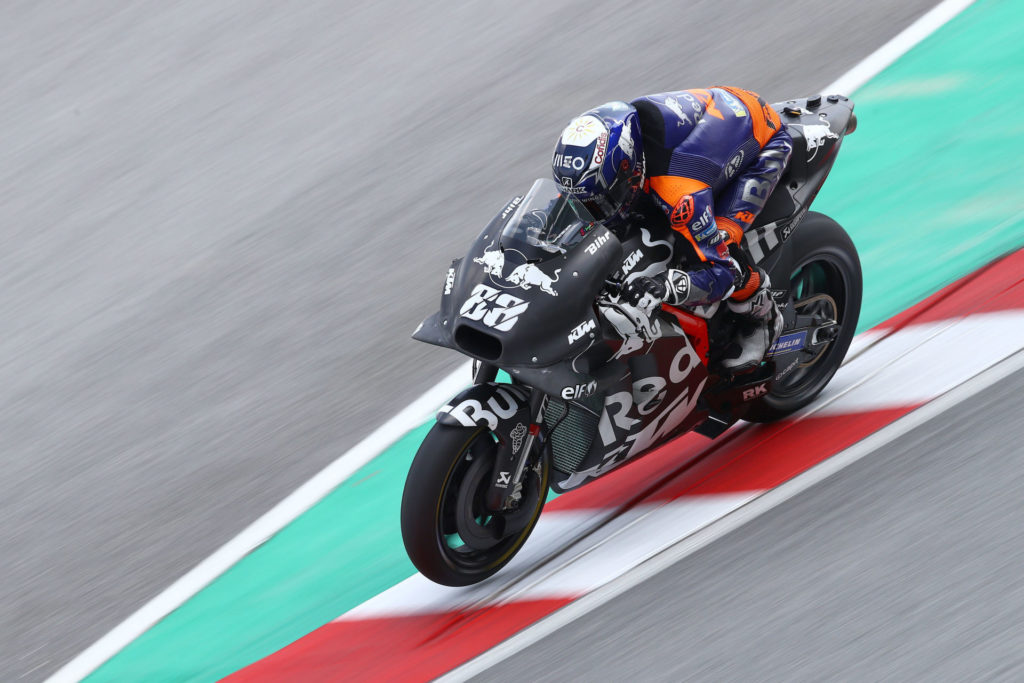 Miguel Oliveira
 
Position: 16th
Time: 2:00.131
Laps: 49
"Today started a bit up and down with quite a lot of test duties regarding the engine, but we were able to find a good feeling before the lunch break. For sure, we lost some time, but at this moment it's not important for us to do the fastest lap time. We finished the day with good feelings about a change that we made on the electronic side. I'm quite happy with that and above all, my pace was pretty strong with used tyres, so I think we have much more room to improve there. Anyway, it was a positive day."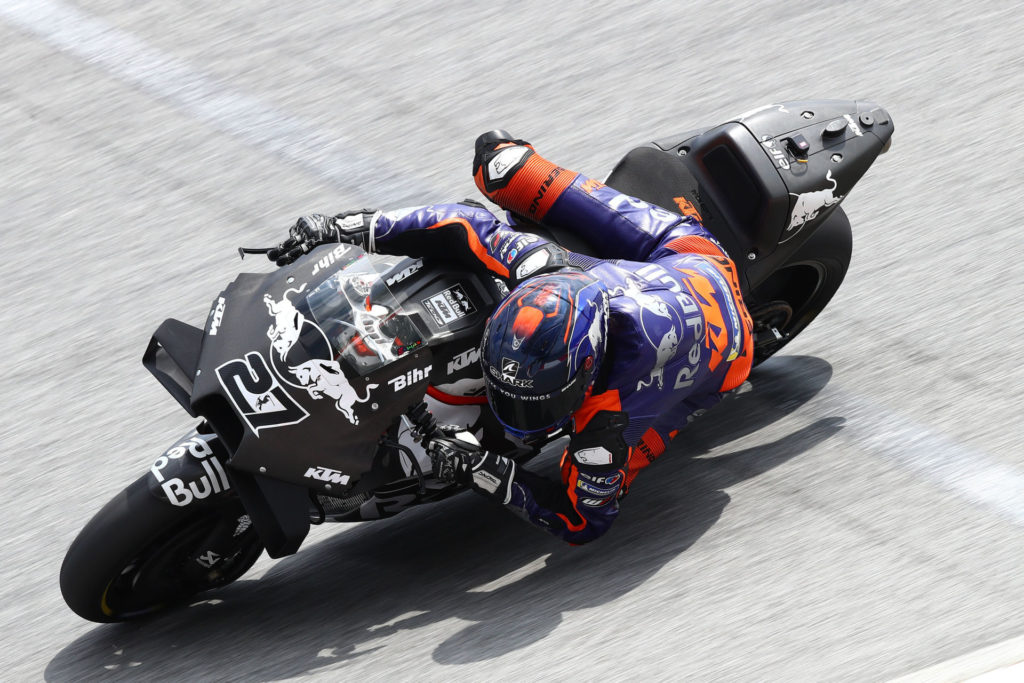 Iker Lecuona
 
Position: 20th
Time: 2:00.511
Laps: 44 
"Today has been quite difficult due to the conditions. After lunch it started to rain and when it stopped, it took quite long to dry up, so we lost a lot of time and the track surface wasn't as good as before anymore. But in the morning, I managed to continue to learn and lower my lap time. I was working a lot together with the team, also with the setting of the bike. Overall, I feel good, I improved a lot, so I'm happy. Although the track conditions have not been ideal this afternoon, I could try something, which I liked, so we continue from there tomorrow."
More, from a press release issued by PETRONAS Yamaha Sepang Racing Team:
Quartararo and Morbidelli lead the way on opening day at Sepang test
The PETRONAS Yamaha SRT pairing of Fabio Quartararo and Franco Morbidelli end opening day first and second at Sepang International Circuit.
The PETRONAS Yamaha Sepang Racing Team pairing of Fabio Quartararo and Franco Morbidelli ended the opening day of the Sepang Test first and second respectively. The first outing with the new livery was a positive one as the duo racked up the kilometres at the Sepang International Circuit, despite rain holding up proceedings in the afternoon.
Taking to the track immediately at 10:00, Quartararo was quick to make his mark on the timing screens and soon placed his Yamaha YZR-M1 at the top of the standings. The afternoon downpour helped him spend the rest of the day there, finishing the session aboard his 2019 machine with a lap time that was 0.051 seconds faster than his competition. Fabio completed 52 laps of the Malaysian track, with a best time of 1min 58.945secs.
Team-mate Morbidelli focused on testing the latest evolution of the A-spec machine, which he last rode in November at the Jerez test. After spending the first hour getting up to speed with the new improvements, he soon joined Quartararo at the top of the timing screens, just 0.051 seconds behind. Despite the rain restricting track time, Morbidelli completed more laps during the afternoon and finished the day in second, 0.199 seconds faster than Alex Rins, having racked up 62 laps with a best time of 1min 58.996secs.
Testing will resume tomorrow at Sepang International Circuit at 10:00 (local time), when Fabio will be able to ride the Factory-Spec YZR-M1 for the first time. The second day of action will draw to a close at 18:00 (local time), ahead of the final day on Sunday.
Fabio Quartararo
1st (1:58.945)
It feels good after almost three months to be back on track. Today was just about getting used to being back on the MotoGP bike. We used last year's version just to get a few laps in, and we set a really good lap time with the medium tyre at the beginning of the day. We're hoping for better weather tomorrow so that we can work even more and I'm looking forward to see what my first impressions of the new bike are. I'm really happy with today, it's always good to start quickest but it's only the first day of the test – everybody starts with new bikes, it's not easy for them. The 2019 bike is one I really know from last year, but of course is always better to be P1 than P10 and I can't wait for tomorrow to start with the new bike.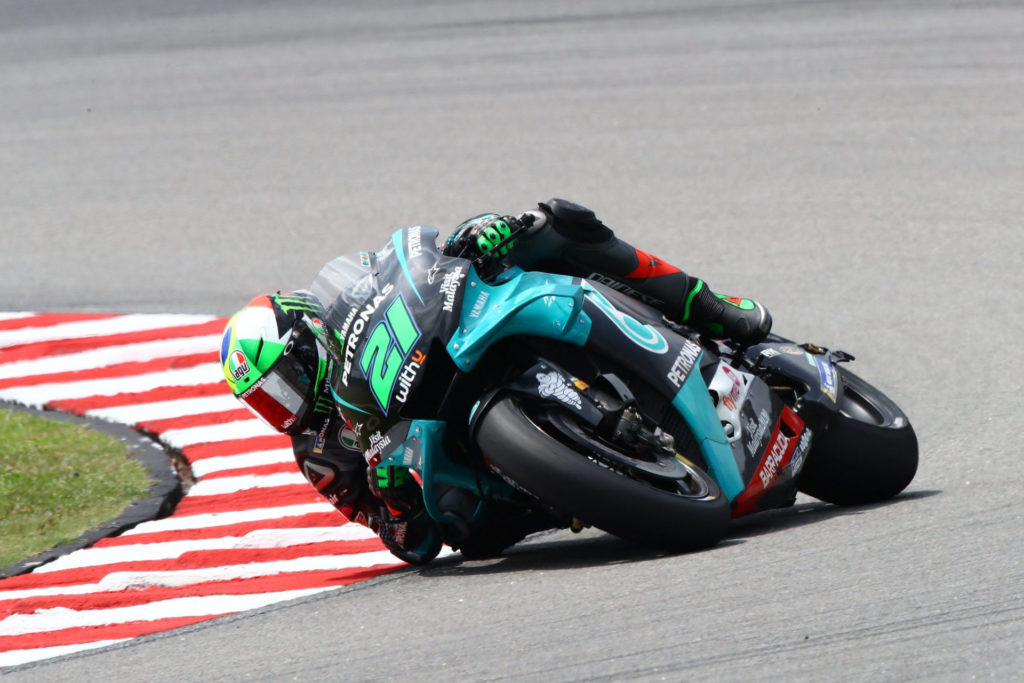 Franco Morbidelli
2nd (+0.051)
I feel good, it was a positive first day for us. We were immediately fast and made the right changes to the bike to get the right feeling. We managed 62 laps, which is a good amount for the first day. Some rain came and this slowed down the working process of the afternoon, but we did a good job in the morning and early part of the afternoon. Tomorrow we will try some other small things that we have on the programme to try but overall I am very happy. We are a little bit faster on the straight, so that is a positive and what we wanted. The behaviour of the bike remains the same though so it is still nice to ride and flowing, but we have a little bit more top speed. I'm happy with the work Yamaha has done and I'm happy with what they are supplying me.
More, from a press release issued by Monster Energy Yamaha:
MONSTER ENERGY YAMAHA KICK OFF 2020 TESTING PROGRAMME IN MALAYSIA
Sepang (Malaysia), 7th February 2020
Today, the Monster Energy Yamaha MotoGP Team got back into action after the winter break. Maverick Viñales and Valentino Rossi rode 49 and 48 laps respectively, ending the first day of the Sepang MotoGP Official Test in sixth and tenth place.
6th MAVERICK VIÑALES 1'59.367 / 49 LAPS
10th VALENTINO ROSSI 1'59.569 / 48 LAPS
Monster Energy Yamaha MotoGP Team's Maverick Viñales and Valentino Rossi were back where they belong, aboard their YZR-M1s, on the first official IRTA MotoGP testing day of 2020. The riders got down to business immediately in the typical Sepang International Circuit heat. They faced wet conditions at times but worked tirelessly, ending in sixth and tenth place respectively in the Day 1 timesheets.
Having presented this year's line-up at the Sepang track yesterday, the team was in high spirits. They commenced their 2020 testing programme with three bikes for each rider.
Viñales was greatly motivated to get back into action, knowing he had various setting options to try today. The Spaniard suffered a small crash just before lunch, but little damage was done. After his planned midday break, he completed his afternoon stint without any trouble. He ran 49 laps in total, securing sixth place with a 1'59.367s, 0.422s from first, and ended the day with positive feelings.
Eager to be back aboard his YZR-M1 again after the winter break, Rossi also had a good day at the office. He quickly got into the swing of things in the morning before moving on to improving the settings of the YZR-M1 in the afternoon. He rode 48 laps over the course of eight hours of high-temperature and occasionally rainy testing, and set a best lap of 1'59.569s, taking tenth place, 0.624s from the top.
MASSIMO MEREGALLI
TEAM DIRECTOR
The riders spent the first two runs focused on getting back their feeling after more than two months of no riding. We have brought six bikes to this test to evaluate the improvements made between the end of 2019 and the start of 2020 testing. For the moment we have been able to confirm an improvement in top speed and potentially tyre life too. But there are other areas that need to be improved, which is to be expected at the start of the season. Tomorrow we will also test other new items that have already been tried by the testing team these last few days.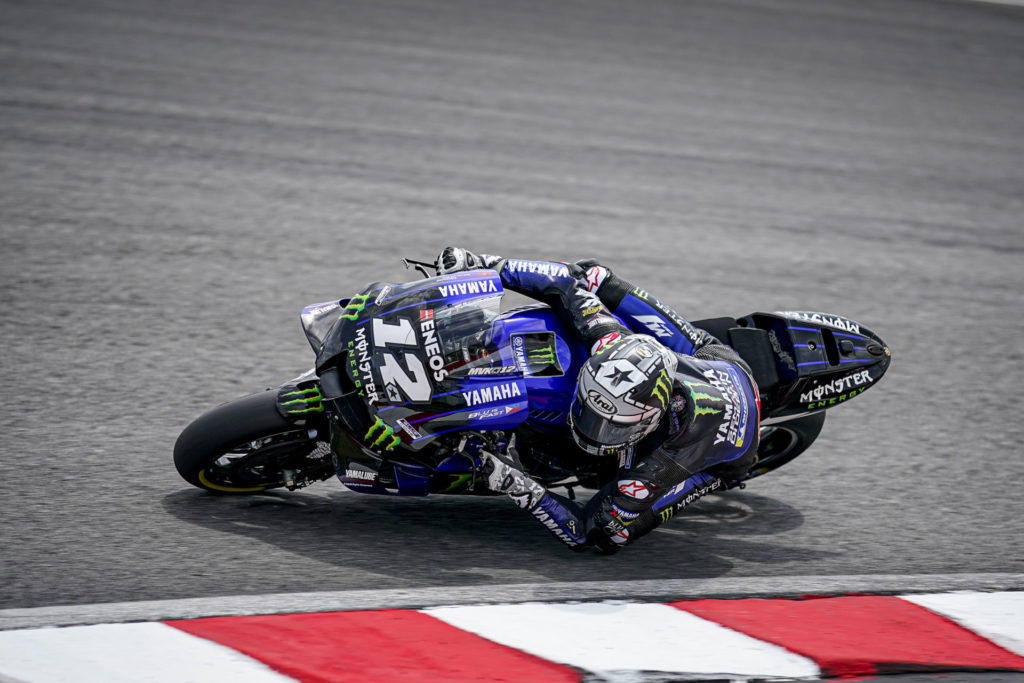 MAVERICK VIÑALES
We are working very hard. Honestly, it's difficult to draw a conclusion already, because it's only the first day. The feeling has been great, a 1'59s lap here is always really good for me. I had the feeling I expected on the bike. We need to keep going so we can try to understand many things, because we have a lot of things to test, especially tomorrow. On the third day I will concentrate a bit more on myself. On the second day I will be trying many parts, so it will be difficult to get a clear conclusion again. But the first day of training in the heat was good. I'm happy because I felt good on the bike straight away, which is always very positive. I rode fast, I had a good rhythm, and I can't wait for tomorrow.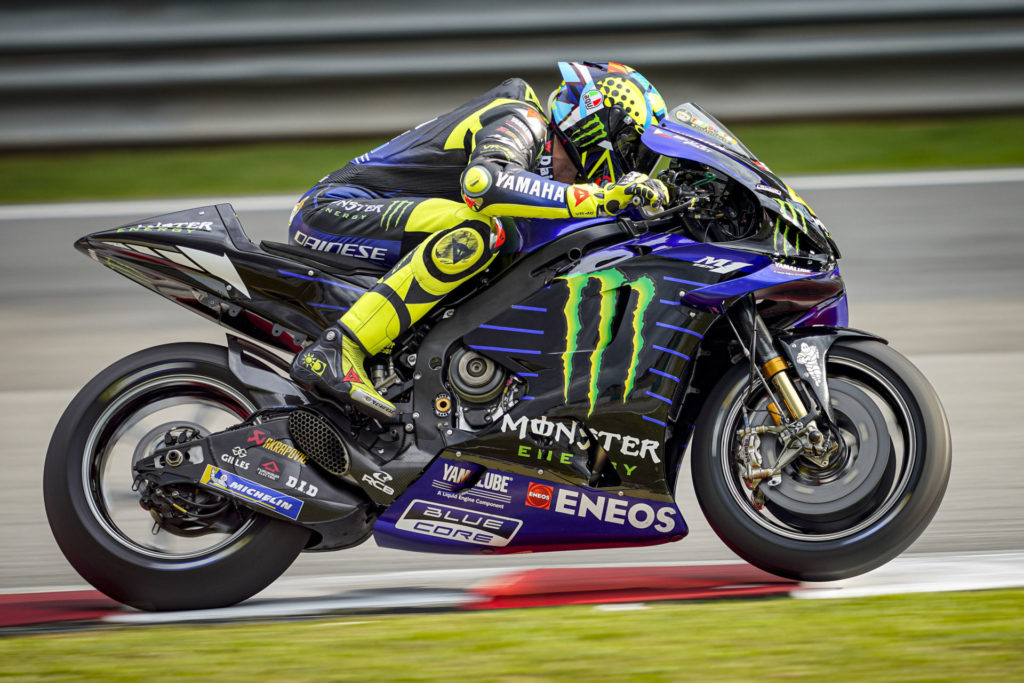 VALENTINO ROSSI
It was a difficult day, especially because of the conditions. It rained, so we didn't finish our programme, but anyway we were able to do a little less than 50 laps. My time over one lap and my position aren't fantastic, but we worked well. We have the M1 2020, which is different, so we need to get to know it better. The first feeling is positive, but we have to work because some things are better, and some are worse. But I'm happy about the first day. You always work on the chassis, the engine, and the electronics. The 2020 bike is a bit different to ride, so we need to get a better understanding. From a certain point of view, we have a margin for improvement, but on the other hand we are already not so bad and the feeling with the bike is quite positive.
More, from a press release issued by Repsol Honda:
Repsol Honda Team back on track at the Sepang Test
Reigning MotoGP World Champion Marc Marquez returned to his RC213V for the first time in 2020 alongside rookie team-mate Alex Marquez as the new MotoGP World Championship season commences with testing in Malaysia.
Proceedings started almost as soon as the track opened in Malaysia, the Repsol Honda Team working for 2020 from early in the day. Unfortunately rain just after lunch limited track time.
Eight-time World Champion Marc Marquez completed a total of 37 laps before stopping just ahead of the lunch break. Having had his right shoulder operated on during the winter and completing 250 hours of physiotherapy, Marc is focusing on the quality of laps rather than the quantity of laps around the 5.5-kilometre-long Sepang International Circuit. Lapping with a best time of 1'59.676, Marc ended the day within a second of the fastest time as he looks ahead to the remaining two days of the test.
With two days of running already under his belt at the Sepang Circuit, Moto2 World Champion Alex Marquez picked up where he left off and continued building his confidence aboard the Honda RC213V. It proved a busy first half of the day for the rookie who completed 38 laps and set a best time of 1'59.918, Alex and the Repsol Honda Team pleased with the progress made so far.
The pair will be back out on track for day two of the Sepang Test, hoping for more cooperative weather.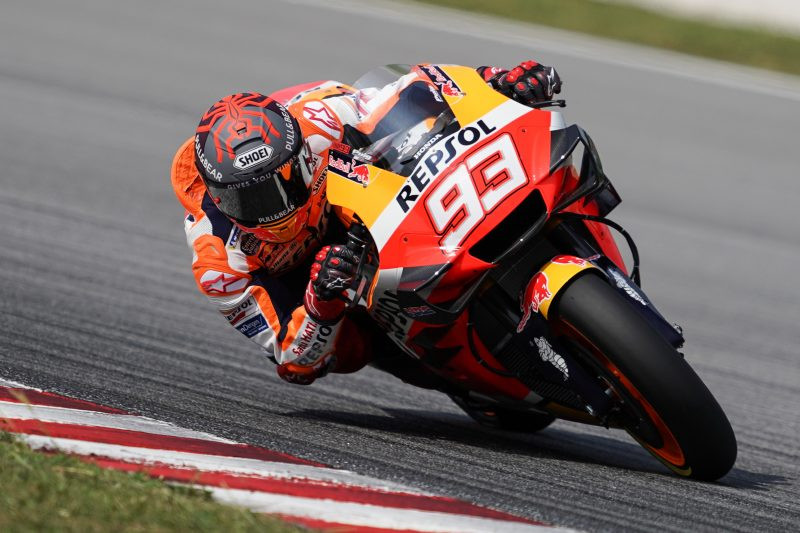 Marc Marquez
1'59.676 
"It is really important to be back on the bike and I'm happy to be back but unfortunately I felt a little worse than I was expecting. I started with good energy in the first run but I had to calm myself down a little bit to make sure we can finish the day. I just tried to find my rhythm and work on what I needed to. The plan stays the same, 35 laps today, 45 laps tomorrow and see on the final day. The important thing is that the shoulder was stable and in the afternoon the pain wasn't worse, step by step we just have to be patient."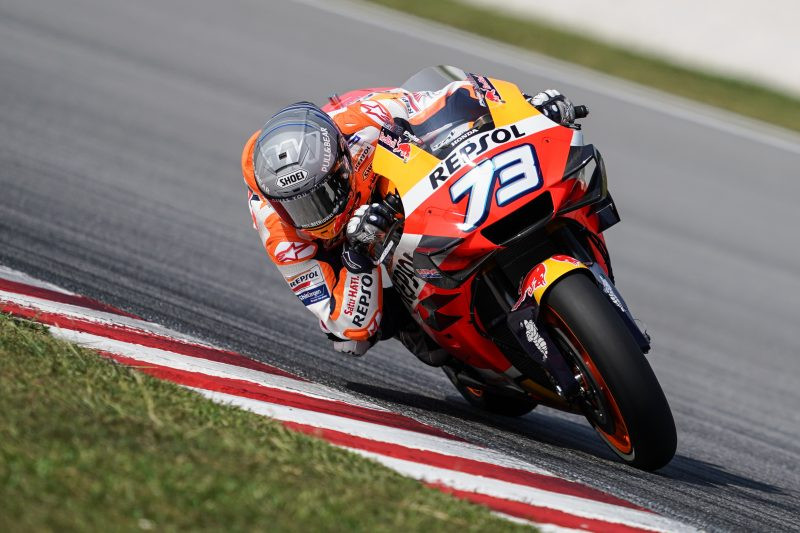 Alex Marquez
1'59.918 
"I am happy with how today went. The shakedown test allowed us to get a base and helped a rookie like me to begin to understand a MotoGP bike at this circuit. Today we are still improving, and we made some steps with used tyres. The track is in a better condition than at the shakedown and having more riders on track lets me learn more things from those around us. We still have a lot of work to do, but the team are great and using their experience to give me new things to focus on each run. Every day we have been faster and I am looking forward to tomorrow."
More, from a press release issued by Team Suzuki ECSTAR:
RINS AND MIR ENJOY SOLID DAY 1 AS SEPANG TEST OPENS 2020
Alex Rins: 3rd – 1:59.195 (+ 0.250)
Joan Mir: 9th – 1:59.568 (+ 0.623)
Sylvain Guintoli: 18th – 2:00.371 (+ 1.426)
The Sepang International Circuit played host to the first test of 2020, where useful progress was made by Team SUZUKI ECSTAR's riders.
Work began with confirmatory runs for the engine spec which was debuted in the Valencia and Jerez tests at the end of last year, this allowed the riders to reconfirm the positive feelings experienced previously.
Alex Rins then switched his attention to trying a new aerodynamic package with additional wings, which he found beneficial. Rins completed a total of 56 laps, finishing with a best time of 1:59.195 and third position.
Joan Mir spent time trying various points including new swingarm and the new chassis, he also tried a modified tank cover to assist with ergonomics and braking. The youngster also reported positive findings, finishing the session in ninth and completing 51 laps.
Test Rider Sylvain Guintoli also worked on the aerodynamic package and continued in his important role collecting data for the team by putting in 48 laps.
Davide Brivio – Team Manager:
"It has been a positive start to the test, we've been working through the list of items we wanted to try. Alex concentrated mainly on confirming the engine spec, as well as working on different fairing options, and this was the key focus today for him. Joan tested the new chassis and new swingarm and some other things such as electronics. By the end of the three-days test everyone will have tested everything, so the work is going well. Our pace seems quite consistent so let's continue like this."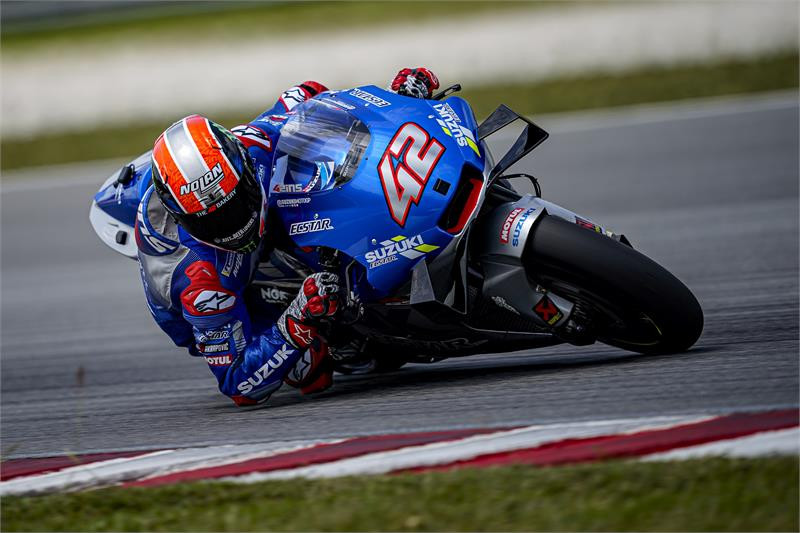 Alex Rins:
"Today was a really good day! I'm excited and happy to be back on my bike, I really missed it during the winter. Today I spent some time on the fairing area, and I tried some new variations of the package. I found a configuration I liked, so we've taken a step forward and I'm happy about that. Tomorrow we'll work on the electronic area and the chassis. We're using the same engine as in the tests at the end of last year, and the feeling is still very positive. We'll continue to work!"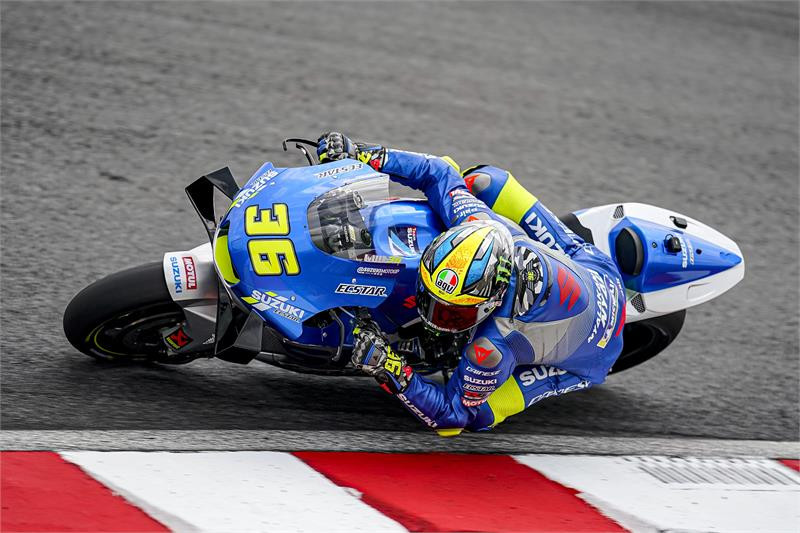 Joan Mir:
"One of the things that we worked on today was my bike position, and this was something really important to do because I already feel better and more comfortable when riding, so that's a positive. I also tried a new chassis and a new swingarm and worked towards confirming the engine. It's important to find out what works well, and not so well, so we'll use these days to try and get lots of information."
Sylvain Guintoli:
"We've already done a lot of work in the days ahead of this test and made lots of selections for Alex and Joan to try. So today we continued, and we worked on things like the aerodynamic package. The weather wasn't ideal as it was quite windy and also a bit wet, so it made it a bit trickier. But anyway, everything felt good and I managed to improve my personal best time here at Sepang so that was positive. Let's see what we can do tomorrow!"
More, from a press release issued by LCR Honda Castrol:
CAL CRUTCHLOW BEGINS CRUCIAL 2020 TESTS WITH LCR HONDA CASTROL
The first on-track action of the 2020 MotoGP World Championship season began at the Sepang International Circuit in Malaysia on Friday, with all teams and riders out in the tropical heat of Malaysia for the first of three days' testing.
It promises to be a tough first outing for LCR Honda Castrol's star rider Cal Crutchlow, who has a hefty schedule of testing to do to help HRC fine-tune their 2020 RC213V prototype. Just like Cal's team-mate Taka Nakagami, reigning world champion and Honda colleague Marc Marquez is also returning from surgery, and with him joined by younger brother Alex in the factory ranks as a rookie, Crutchlow's valuable input to the project will be more significant than ever before.
The British racer completed a total of 39 laps on day one, with an impressive best lap time of 1'59.234 putting him fourth overall in the standings. Progress was hampered by a heavy downpour in the afternoon, however the hopes are for a fully dry day on Saturday to continue with the planned schedule.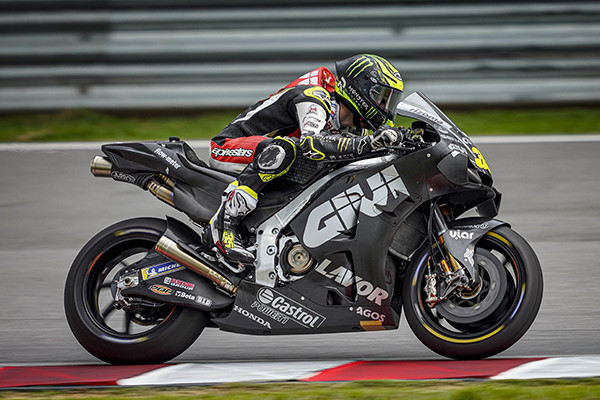 #35 Cal Crutchlow – 4th
(1'59.234 lap 28 of 39)
"It was a shock to the system to get back out there, but it was a good day to be back on the bike. I was very happy to be back working with the LCR Honda Castrol Team again, and it's always good to see the boys again after a good winter break where I've been preparing well over in California.
"Now the work starts. We continue to try and improve the RC213V from last year; we had two 2020 models in the garage and one "sort-of-2019" spec machine which was a bit more half and half. We worked our way through the test programme, with a slight delay halfway through the day when we had to work on the bikes, which is completely normal. Unfortunately, when I returned to the track again it was raining and we could only get in another short stint right at the end of the day.
"Overall, it was nice to get back working with the crew again, but tomorrow will be a longer and tougher day when we'll learn a lot more about what we've got."
More, from a press release issued by LCR Honda Idemitsu:
NAKAGAMI FINALLY BACK ON TRACK AFTER SHOULDER SURGERY 
The first on-track action of the 2020 MotoGP World Championship season began at the Sepang International Circuit in Malaysia on Friday, with all teams and riders out in the tropical heat of Malaysia for the first of three days' testing.
For LCR Honda Idemitsu's Takaaki Nakagami it represented the first time he has been out on a MotoGP bike since his home grand prix in Japan in October. It was then that the Chiba-born rider took the difficult decision to miss the final few races of 2019 to undergo shoulder surgery, with a view to returning fit to this test.
After nearly four months recovery, Nakagami was obviously delighted to be back in the saddle, but admitted that it would take time to get back to full motorcycle fitness. He spent the day getting reacquainted with the MotoGP machine, with his first laps on his new RC213V.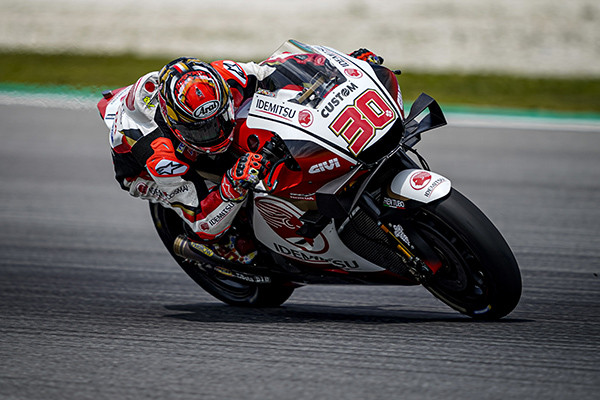 #30 Takaaki Nakagami – 23rd
(2'00.815 – lap 25 of 31)
"I think for everybody it's a tough first day back, but the track conditions were quite good for a first day and you can see the lap times were quite fast. On my side it has been a bit of a struggle. I think it's four months since I last rode at Motegi, which is quite a long time without riding a MotoGP bike so it's been a hard first day.
"Physically it's not the best situation yet, but I am so happy to jump on the bike again. We simply didn't look at our position or lap times today, I'm was just happy to be back out on track.
"Of course, we need to improve our potential with the new bike, it's the first time on the 2019 model for me. There are lots of things I have to understand, there's quite a big difference between the '18 and '19 models and the character is not quite the same. My first impression is not negative though. I understand some people in the past might have said it wasn't easy, but I think it's just that the concept is different. What I feel is that it is a different bike, but I wouldn't say it was negative. It's just the first day and I need more laps to give proper feedback."
More, from a press release issued by Mission Winnow Ducati:
Rain disturbs action on the first day of testing in Sepang with Dovizioso eleventh and Petrucci fourteenth.
After having unveiled the new livery of the Desmosedici GP20 bikes on the last 23rd January in Bologna, the Ducati Team has finally taken to the track for the first of three days of Official MotoGP Test at Sepang Circuit in Malaysia.
For both Andrea Dovizioso and Danilo Petrucci, the day started a few minutes after 10 am this morning when the sky was still bright, and the track conditions were perfect to begin the demanding testing program. Eleventh and fifteenth respectively before the lunch break, the Ducati Team riders were hoping to resume their work in the afternoon finding the same weather conditions. But a sudden downpour disturbed the program leaving just two more hours of dry track before the rain started to fall again a few minutes before the session end.
Dovizioso closed in 11th position in 1:59.666, while Petrucci ended the day 14th, just 0.263 s behind his teammate. The first day of testing featured close gaps and quick paces with the top 14 riders within less than 1 second and under the 2-minute lap time. The Ducati Team riders will still have two days available at the Malaysian race track where test rider Michele Pirro concluded the preparations for the test during the Shakedown.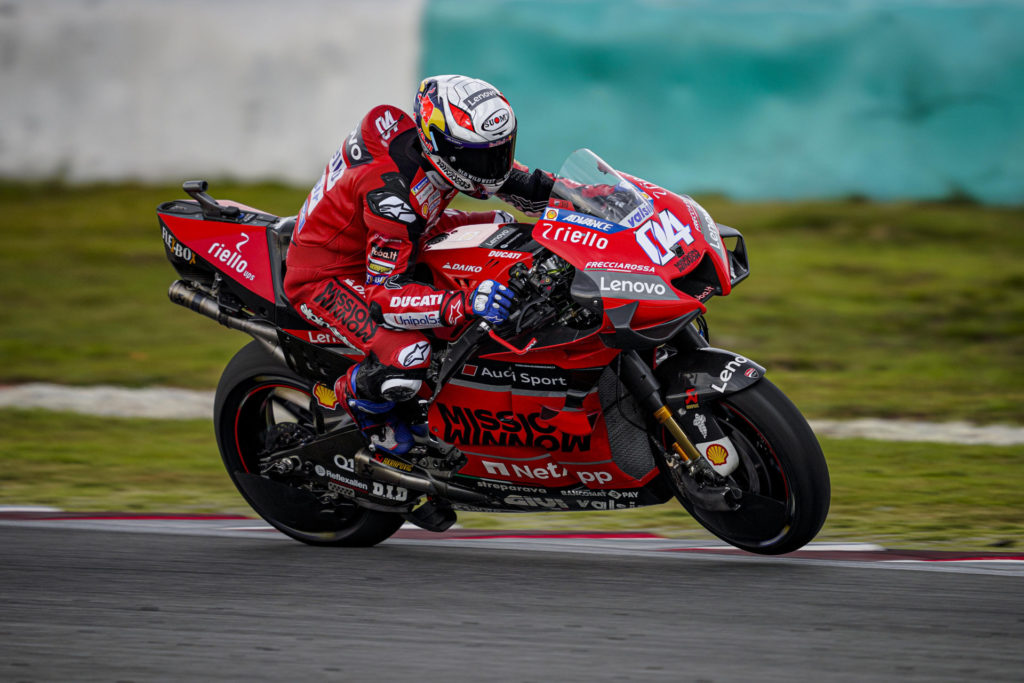 Andrea Dovizioso (#04, Ducati Team) – 11 (1:59.666)
"It has been a hard day. We have introduced a few new items, and we had to focus more on certain aspects of the bike setup. We hope to be able to use our time better tomorrow and to concentrate on the rest of the program. We would like to work on the new rear tyres because we think that this is a fundamental aspect. We are trying to improve the riding style and the bike setup because we believe that these will help us to take the right advantage from the new solutions brought by Michelin".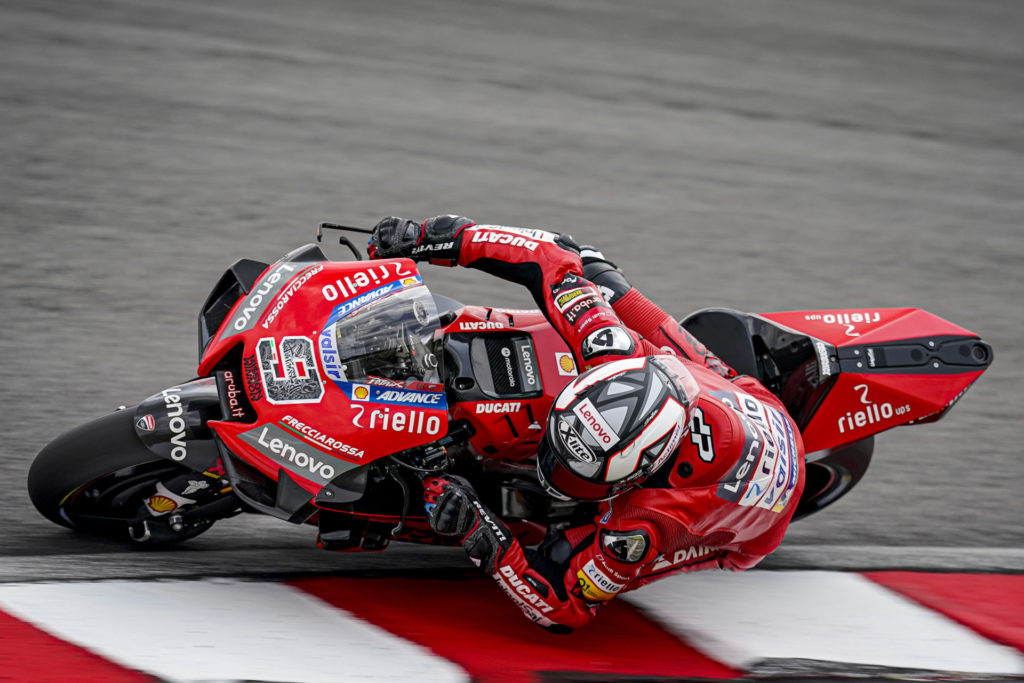 Danilo Petrucci (#9 Ducati Team) – 14 (1:59.939)
"I am happy to be back on track. Today we didn't focus on the lap time, but we worked on trying to rebuild a good feeling with the bike after this long break away from my Desmosedici GP. It had been difficult at the beginning, but in the afternoon, I think I was able to find the right path that will help me also improve in the next days. Today there were mixed weather conditions that made hard to understand our real potential: I always ran with used tyres and with the rain we couldn't try the new items that we need to test. In general, it was a positive day, and it leaves me confident for tomorrow".
More, from a press release issued by Reale Avintia Racing:
THE REALE AVINTIA RACING TEAM MAKES A GOOD START TO THE 2020 PRE-SEASON IN MALAYSIA
It took more than a hundred days for the engines to roar again on a circuit after the end of last season in Valencia. The bikes are back in action at the Sepang International Circuit for the first pre-season test of 2020.
It was an expected start for the Reale Avintia Racing Team, where Johann Zarco was able to make his first contact with the Ducati Desmosedici GP19, his new bike for this coming season and his new team. The French rider achieved a time of 2:00:464, finishing in 19th position after completing a total of 54 laps in a first day of adaptation and set-up.
For his part, Tito Rabat, who had the opportunity to ride the new bike in the past tests at Valencia and Jerez, continued with the learning and development period of his Ducati and managed to finish the first day of testing in Malaysia in 22nd position after setting a time of 2:00:750 accumulating a total of 54 laps.
It has been a very fruitful and effective first day, as the team has managed to accumulate and collect a lot of data that will be analysed for the evolution and development of the bike.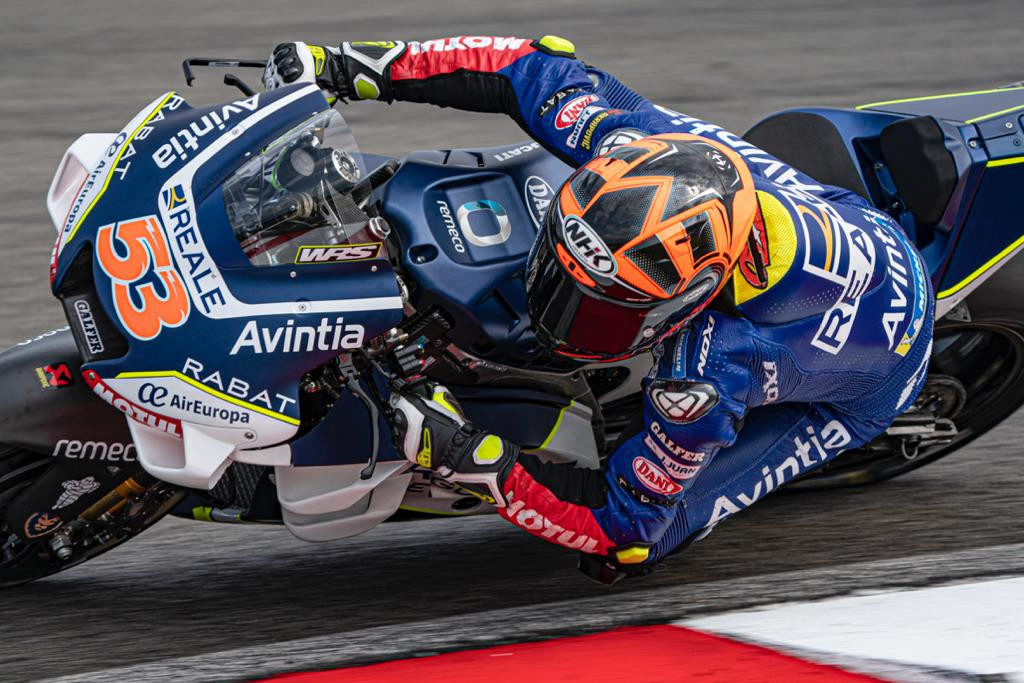 TITO RABAT – P22
"This morning I was very happy, it was easy, we hadn't changed any tyres and I really felt good. It's still too early to draw conclusions, we're on the first day. We went out for a couple of hours in the morning to test the bike. In the afternoon, after the rain, I was a little bit confused, it was a little bit harder and we didn't ride too much. Tomorrow we will try to start well from the beginning and attack."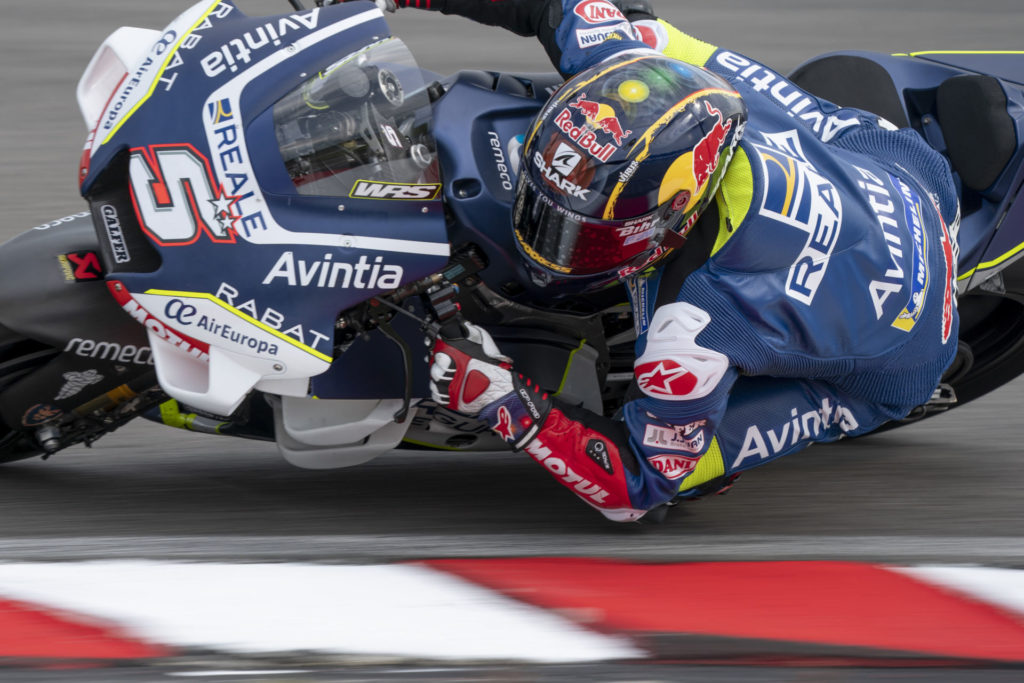 JOHANN ZARCO – P19
"I was expecting better for me and to be little bit faster. I learnt a lot and I did a lot of laps. After some months, it has been very long time. I stayed calm and at the end of the day I did a very important step understanding my mistakes and how to ride better this Ducati bike. The are some points of huge potential. Step by step I will understand, I keep smiling because I'm living a good feeling. I don't have any problem to have a bike from 2019 because it's official and it's a satellite team. My working plan for the remaining days is to understand more this bike and to be relaxed. If I do a good job I can be in the low 1:59."
More, from a press release issued by Pramac Racing:
Sepang Test – the first day of testing brings positive feelings for both riders
Today officially opens the 2020 MotoGp season with the first day of testing at Sepang International Circuit.
There was great enthusiasm for the long-awaited return to the track after the winter break.
The day started in a positive way and the riders immediately had a good feeling with the new bike.
The weather wasn't entirely forgiving and it affected our work, the afternoon storm delayed our return to the track and then stopped it a few minutes before the end of the session.
Jack still managed to complete 47 laps, with the fastest lap time in 1:59.236, while the bike's best lap time was 1:59.236.
Pecco ended the day with 53 laps with the fastest lap in 2:00.136.
The first day of testing was certainly more than satisfactory.
Pecco Bagnaia
"We are quite satisfied with the first day's work. We still have a lot of work to do but the feeling is definitely good. It was a positive comeback after finishing last year with a crash, so I am happy to be back here again and have the opportunity to ride this bike that seems to have great potential"
Jack Miller
"I am really satisfied with all the training I have done over the winter, I immediately had a good feeling with the bike and I started again with very good sensations. There is certainly some work to set up but we had a good feeling, the first day given to us good indications".