"We need to push to the limit. I'm ready to go!": Thursday talking points at Mugello
Hear from Bagnaia, Bezzecchi, Viñales, Marc Marquez, Binder, Martin, Quartararo and Bastianini!
Thursday, 08 June 2023
And we're BACK! The Gran Premio d'Italia Oakley kicks off a triple header for MotoGP™ this weekend, with the stunning Mugello playing host. Ahead of track action, two press conferences covered some key talking points withe some key faces:
The first comprised Francesco Bagnaia (Ducati Lenovo Team), Marco Bezzecchi (Mooney VR46 Racing Team), Maverick Viñales (Aprilia Racing) and Marc Marquez (Repsol Honda Team), before the second saw Brad Binder (Red Bull KTM Factory Racing) joined by Jorge Martin (Prima Pramac Racing), Fabio Quartararo (Monster Energy Yamaha MotoGP™) and the returning Enea Bastianini (Ducati Lenovo Team).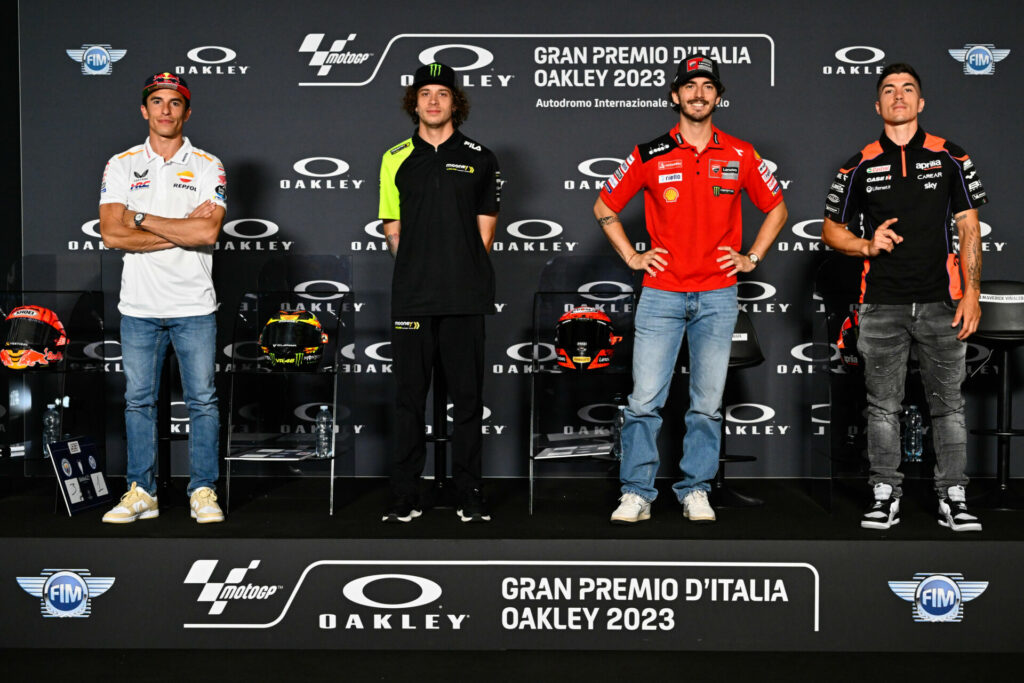 Here are some key quotes!
Do you see this a big opportunity to take control of championship?
FRANCESCO BAGNAIA: "I'm very happy like always to start this race weekend because it's one of my favourites at one of my favourite tracks. As an Italian it's very important, very special, and I'm really looking forward to riding."
On his ankle injury:
"Sincerely, I'm not 100% but I'm struggling more with walking than riding. Because after four days without knowing that I broke my ankle, I was riding here just to train. I was feeling pain, but nothing that with a bit of focus was impossible to ignore and think just about the riding so I think that it will not affect my race weekend. Let's see, but I'm quite sure that there will be everything OK."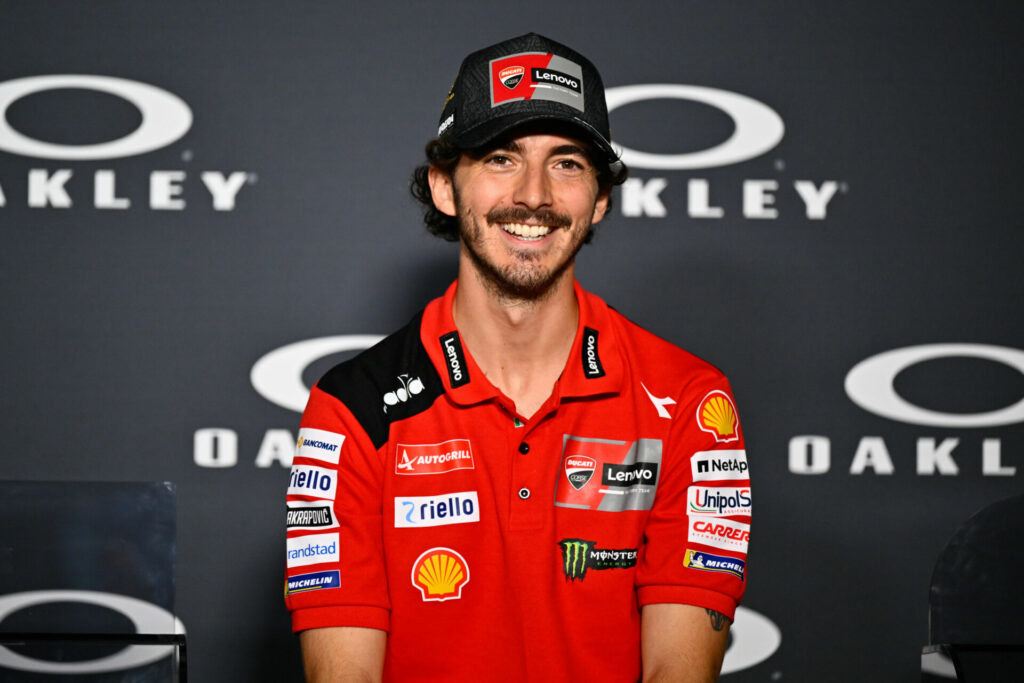 On MotoGP™ On Stage in Milan:
"It was great to be in a city where MotoGP has never been to. Looking at the stands and seeing many people cheering for us and being happy for us and supporting us was great. We had fun and maybe we'll repeat it again!"
MARCO BEZZECCHI: "Here, as Pecco said, is a fantastic track and very special for the Italian riders, so it will be fantastic to start the weekend after the long break to finally get back on the bike on this amazing track and I hope with a lot of fans!"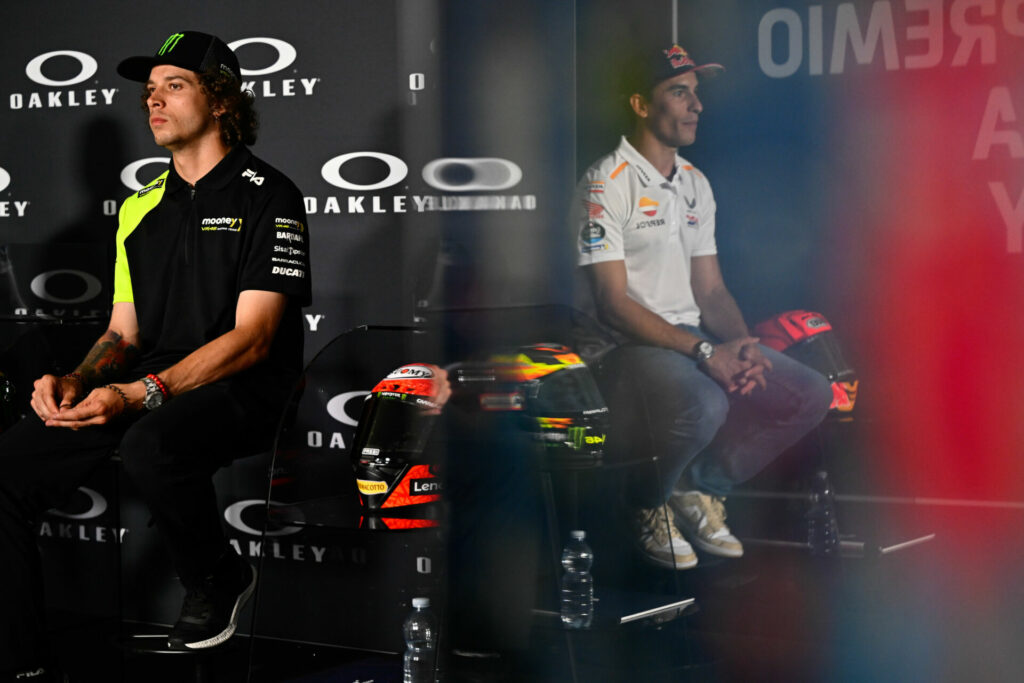 Tech updates for the bike this weekend?
"I don't know. I think so but I don't know because I still have the meeting with my team so I will let you maybe tomorrow."
Must give you confidence Ducati are working to give you more support…
"Yeah Ducati are working very well and already before giving me any update they were supporting me a lot and also in Le Mans they helped me quite a lot before the race. I feel a lot of support from them, I feel good with them so I can't complain about anything."
Gigi told motogp.com Ducati will start talks about 2024, what's plan A?
"For the moment my plan is to continue in this way, trying to improve each race and trying to get positive results. My dream is to step on a factory bike and if it's a Ducati then it's better because I already know the bike and I feel very good, but for the moment I don't know what I can do."
On MotoGP™ On Stage in Milan:
"I enjoyed it a lot. In the end, it was really nice to get in touch with a lot of our fans and to see them from very closely and also to give them the possibility to meet us and to get a signature, a picture and to spend some time with us. It was fantastic. So yeah also we were in a very beautiful place in Italy so I enjoyed it a lot!"
MAVERICK VIÑALES: "These three weeks have been fantastic to understand. To internally process all the information received and all the potential we have. It's been good to understand how to improve. Three weeks training hard, understanding and put my best version here for Mugello, which is an important track for Aprilia but it is important in any case because we need to push, we need to go on the limit, to fight at the front and I think this is what we are capable of. I work with this mentality and yeah I'm ready to go…honestly I've only worked these three weeks, I never stopped and I feel in really good shape!"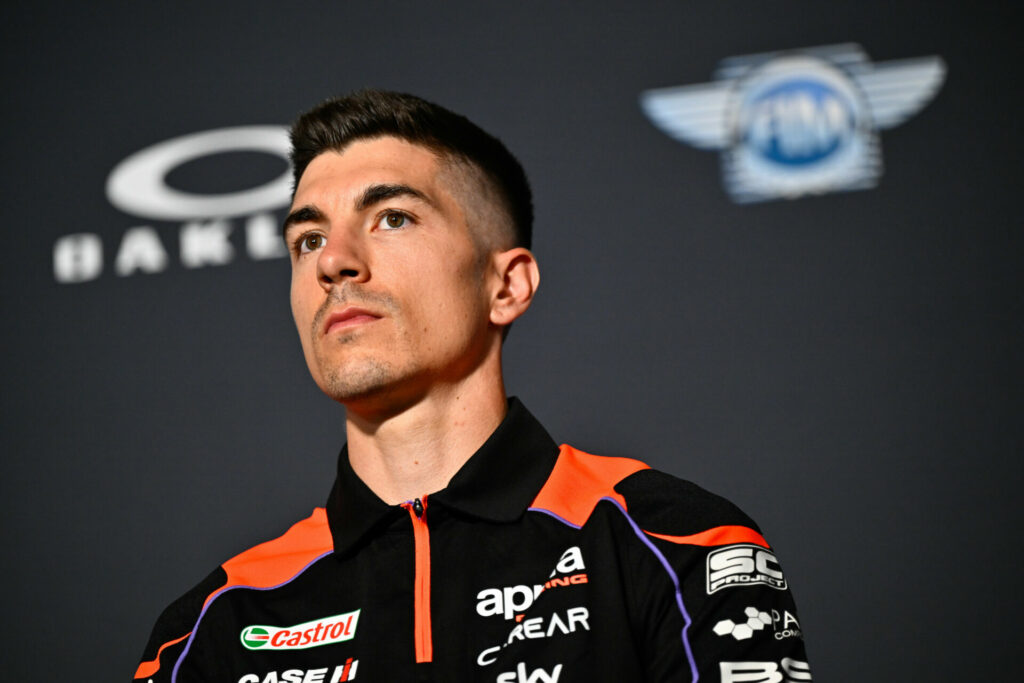 So what about the Aprilia at Mugello?
The bike is good at any track. At any track I've been to, in at least the lap times, to be fighting at the front of races. It doesn't matter the track, we need to take the maximum out of the bike and to put up a performance and if we do we know we will be fighting for the victories and that's what we are working to do."
And how was MotoGP™ On Stage in Milan?
"Obviously, I'm not an Italian but the crowd were fantastic! They cheered the riders a lot. We really like it. It's nice to get in touch with people not involved in racing. Yeah, the place was unbelievable. I had never been there and it was such a nice moment."
MARC MARQUEZ: "In Le Mans I enjoyed it a lot. During the weekend and during the race especially the pace was much better than what they expected. But it's true that I took a lot of risks, especially in the end of the race, the limit was more my physical condition than the bike. And I was destroyed with some arm pump, but then is where I forgot and I didn't think about where I was coming from. I just kept going and to keep going and when you are not riding well on these MotoGP bikes that you can do a small mistake as as I did. But yeah I feel that I'm in a very good moment about physical condition I am back to my top level like in Portimao. But let's see, I mean here I think we will struggle more because there's many weak points of our bike, one of my riding style are in this circuit. But anyway, we'll try to do our best."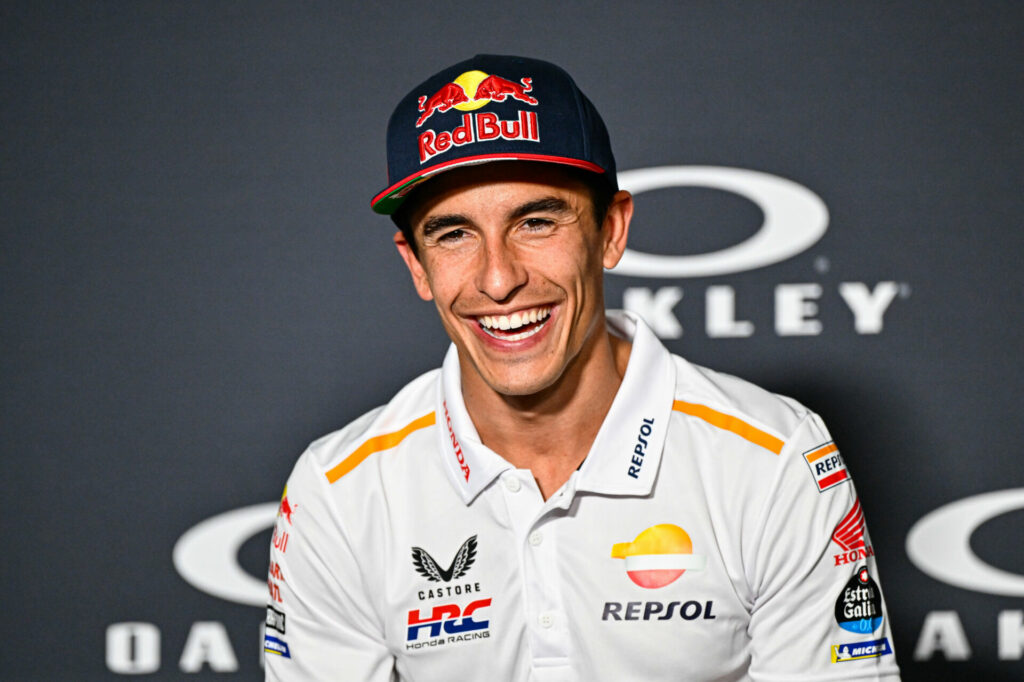 "I mean in 2022 at the Mugello GP it was one of the most difficult of my career, because my head was in America at the Clinica Mayo and my body was here riding a MotoGP bike. Even like this I was able to finish in the top ten. I don't remember well But yeah, we will see this year of course the target is not to be in the top 10 it's to try to be a bit closer to the top guys. It's true that there are 8 Ducatis plus two Aprilias that are very very fast and they are riding very well. But we will try to do our best. We will try to find, as we did in Le Mans and try to understand where is our position and work from FP1 until the race.
On the future re: Ducati:
"I mean I have contract next year with Honda. I'm fully committed to them because this will be always my plan A. But it is true that always I will look for a winning project. Doesn't matter the colours, doesn't matter the names, and doesn't matter where. I mean, I know that the years are passing, and this is something that we already know for every rider but anyway, I'm trying my best. I've had my first surgery on the arm to try to come back at my top level in terms of physical condition. Now I am, so I'm ready to fight for the championship. Let's see, my plan A will always be Honda."
BRAD BINDER: "This whole season so far has been good for us. It started off a bit tough but so far it has been getting better, and I really believe that Mugello is going to be a good circuit for us. It was really good for us here in 2021. Last year it was a little bit challenging, but I'm confident with the way things are at the moment. With our new package we can definitely be competitive here. I think Mugello is such a special place that it's not only my favourite tracks, but I think almost everybody's. So it's going to be a cool weekend, I'm looking forward to it it'll be fun."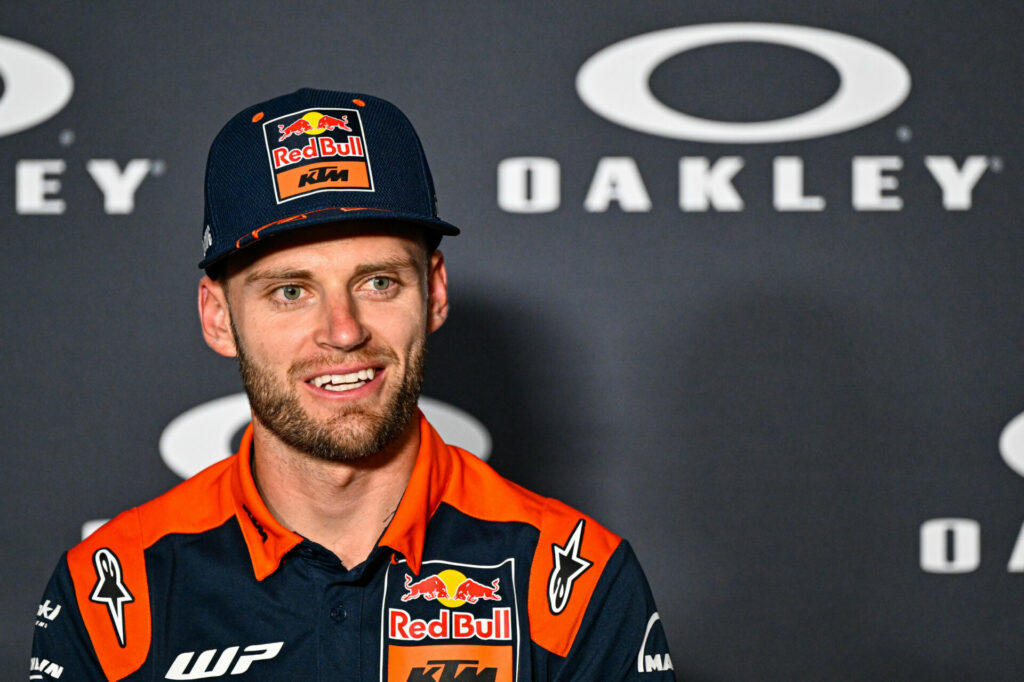 How important is consistency?
"Yeah, for sure. I think it's been so easy to see how up and down the order of the riders are this season. I think with this new format and there's so many points on offer and small little mistakes can really hurt in the long run. So it's of course really important to finish. I wanna be fighting for podiums and at the sharp end."
Did that first quarter go better than expected?
"I think of course the preseason was tricky. In Portimao, the guys brought us a small update, which for me just made everything start to work much better. And yeah, I think even though the points are looking quite good and it hasn't been a bad start to the year, it's been a tricky one too. I mean out of the five main races I've had three where we've had some sort of issue. One falling off myself, once I got wiped out, and last week going back to 20th and then going off track and in a long lap didn't help either. So yeah, it's I think so much can happen nowadays and things were so tight, and you know when you're strong you really need to take advantage of it. But when things aren't going well, it's important to bring the points home."
JORGE MARTIN: "For sure Le Mans was a great weekend in general, but not only Le Mans. I think I've been fast all season so this is the most important thing for me. Coming to Mugello, last season I struggled a lot but I also struggled last year in Le Mans and I was super fast so I'm confident. I'm with another mindset this season, trying to get the maximum out of the situation and I feel with a strong package and I think we can do a good job.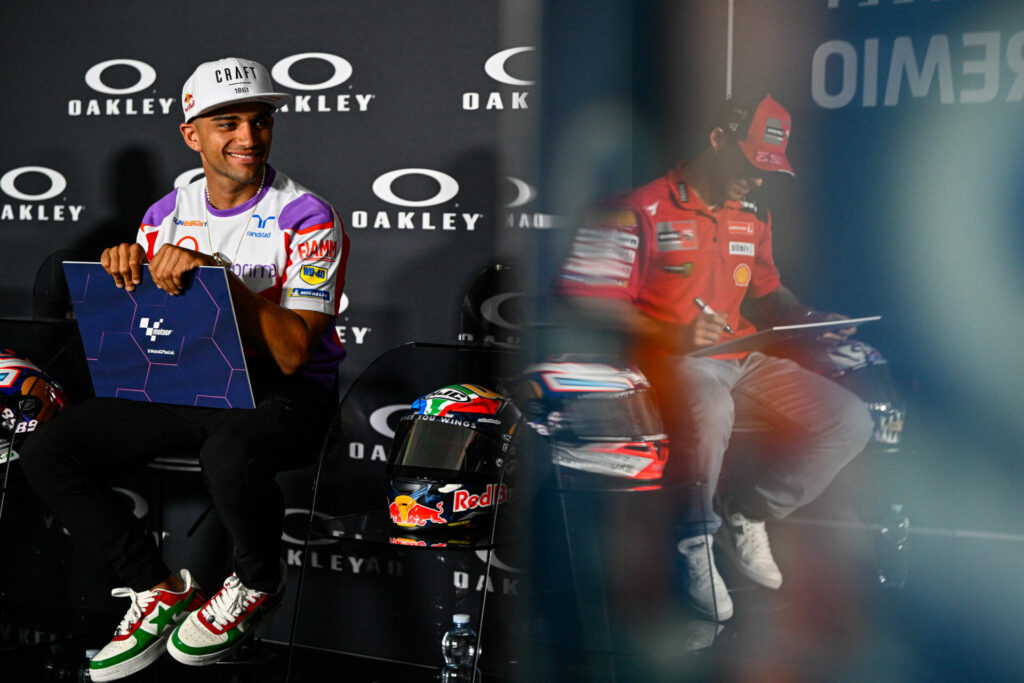 Ready for a title fight?
"Yeah I think I'm one of the strongest this season, one of the fastest, but I need to be clever. I need to finish races but it's too soon to understand this, I need to focus on every weekend and yeah I hope to do these three races in a good way, go into the summer break in a good position in the Championship and in the end we will think about it."
And what about 2024 talk?
"I know nothing about it, I just focus on racing."
FABIO QUARTARARO: "Here we arrive in a different situation than the past. In 21 and 22 we arrived with more speed and more podiums but anyways, it's a new race and we'll give our best to fight for the best position as possible. Saturday will be most important for us and hopefully we can do a great qualifying."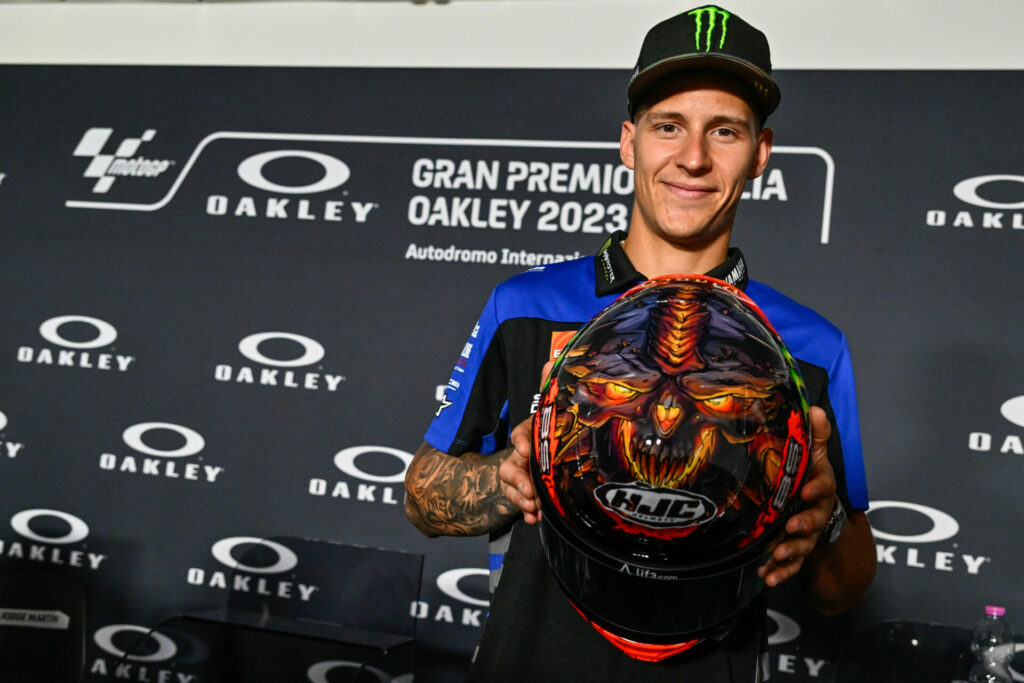 How to improve in QP?
"We are struggling much more than the past. I think in the past four years I missed Q2 just once and this year twice already. For sure I can improve myself, we have to find a different mode to fight for better positions in qualifying. For the upcoming three races we will keep the same bike for the three races and stop touching it to try find something better. We will just go with the safe setting and try to see if it is working."
And we saw that special moment with a young fan in Le Mans…
"Actually I thought he was feeling bad because he had the head down. I was asking if he was ok because he was crying, yeah, it's always a pleasure to make kids happy! It was the gesture to do at the moment. He was surprised (when I gave him the boot). He came from being there squeezed out by everyone to having this souvenir from Le Mans, it was a great thing for him!"
ENEA BASTIANINI: "For me, it's really beautiful to be here again especially also at my home Grand Prix. This break has been really long for me but now I have to reset and I have to restart well. I'm ready now. The shoulder is working it's working well, probably I'm not at my 100%, but I'm really close to it and I have to bring the confidence tomorrow again with my bike because I haven't ridden the bike a lot. I've only done one test two weeks ago it was okay but let's see tomorrow how it is in MotoGP because it's a little bit different!"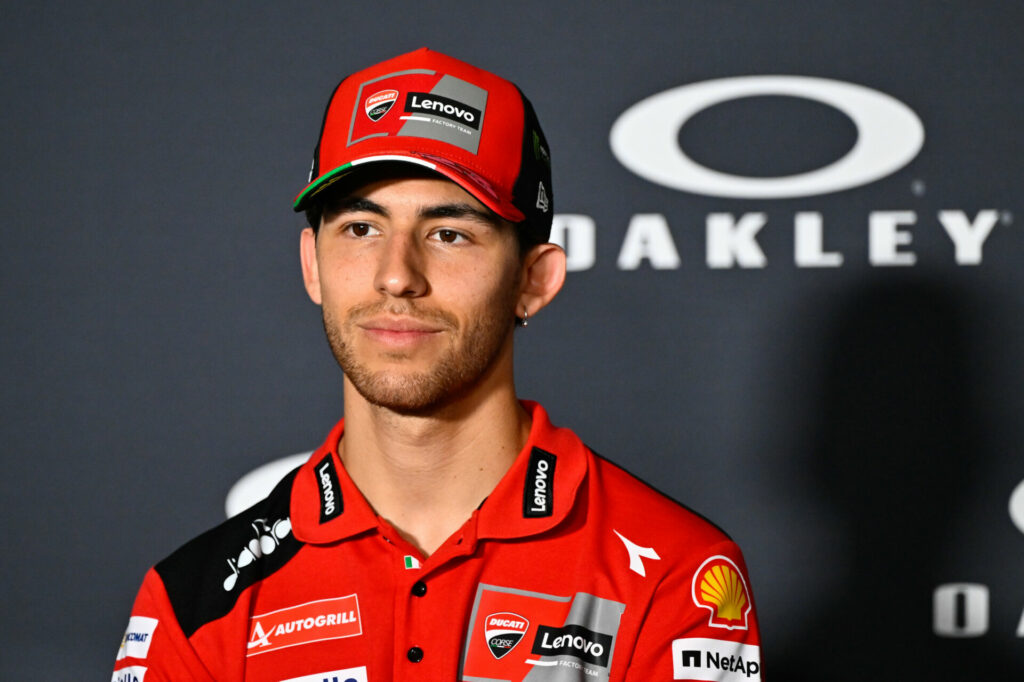 How did you feel riding again recently?
"Yeah, I was comfortable. The second day I was a little bit tired, especially at the end but I imagined it would be like this. Also, the day after I was a little bit tired but it's normal but the weekend before I worked a lot better I've been training a lot more, and I think I can be a little bit more competitive during this weekend, but it won't be simple, especially on Sunday's race because it's very long but I'm confident!"
"Here it's like a test for me but I have to check tomorrow my goal. This weekend is to try to be in the top 10. It could be a great result for me and then after I have to improve at the next one at Sachsenring and then at the final one before the break in Assen, but now I have to stay focused on this race because it's one of my favourites. Let's see how it will be tomorrow!"