2022_MISANO_MotoGP____OFFICIAL_TEST__classification_4

2022_MISANO_MotoGP____OFFICIAL_TEST__combined_sessions_4

More, from a press release issued by Dorna:
Quartararo quickest, Marquez hits 100 laps at Misano
Yamaha progress plain on Wednesday, MM93 back out to reach a full century of track time over both days
Wednesday, 07 September 2022
Crews are packing up after the completion of two days of action at the Official MotoGP™ Misano Test, and it is the Monster Energy Yamaha MotoGP™ Team on top of the timesheets. Fabio Quartararo finished Day 2 with a 1:31.054, the fastest time of the test overall, while at the Repsol Honda Team, Marc Marquez continued to accumulate laps in his comeback.
YAMAHA
Much of the pre-test talk centred around Yamaha's new engine, and the top speed charts made for very encouraging reading indeed. Quartararo clocked 298.3km/h in the pre-lunchtime running on Wednesday, third on that metric at less than 2km/h slower than Jorge Martin (Prima Pramac Racing) recorded on one of the Bologna bullets otherwise known as a Ducati. 'El Diablo' admitted he used a slipstream to achieve that speed, but was still quite happy with what the Iwata manufacturer has rolled out. He was fastest in that morning session on a 1:31.116 before shaving off a little more time in the afternoon to consolidate his place at the top.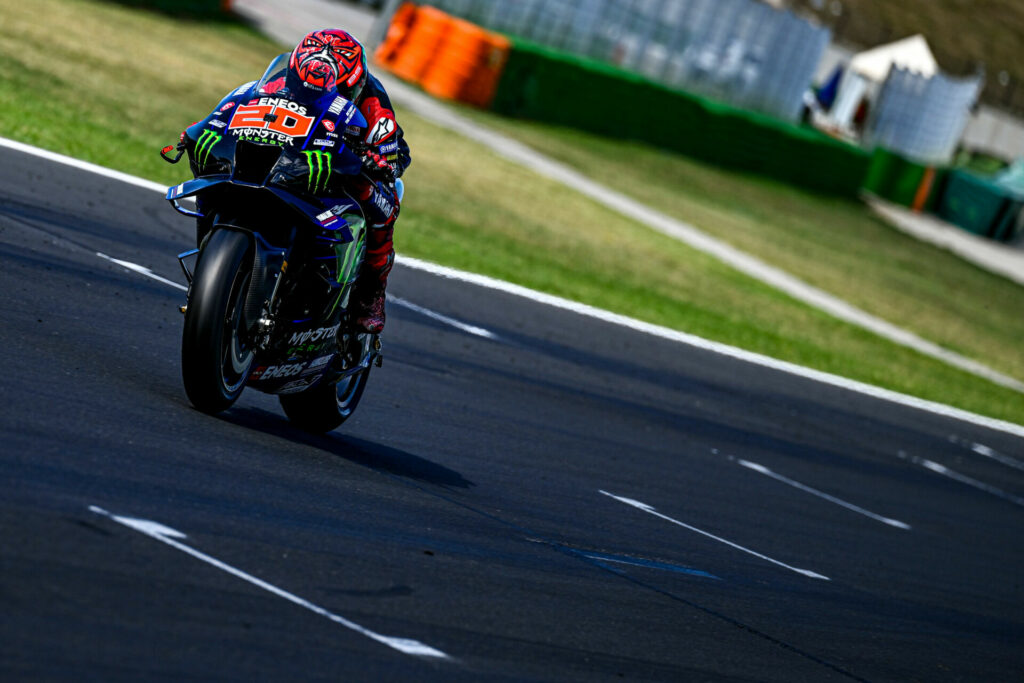 Yamaha also worked on a new chassis, as well as new aerodynamic pieces, with different versions seen on the bikes of Quartararo and Franco Morbidelli, who finished the test 12th-fastest overall. While Misano is very much about developing a bike for the following season, it might also give Quartararo a big boost to his hopes of back-to-back World Championship titles, given Team Manager Massimo Meregalli says that the new chassis could appear as soon as the upcoming Gran Premio Animoca Brands de Aragon.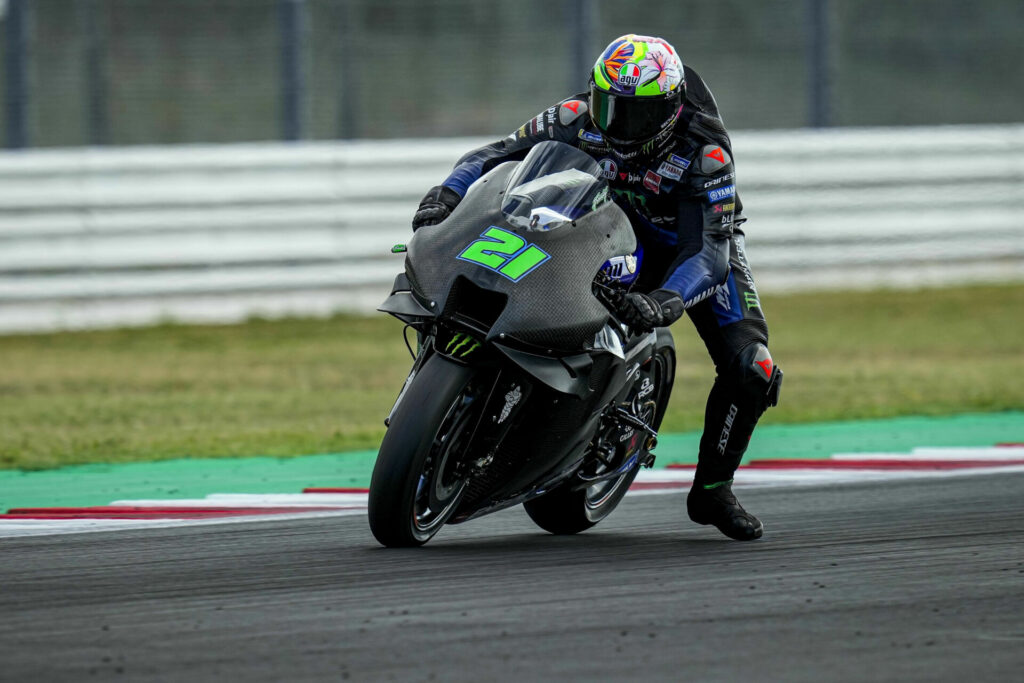 Intriguingly, Meregalli also reported that Yamaha may have found a way to achieve more power this year, which would require a development somewhere other than the engine. What have they got up their sleeve, and we will see the evidence of that in Aragon also?
HONDA
Marc Marquez fans rejoice! The eight-time World Champion completed another 61 laps on Day 2 of the Misano test. It was certainly not the most mileage, but he notched up a solid haul in both of the Wednesday sessions – an extremely positive sign for the Honda rider's fitness after his arm surgery in June, and therefore an extremely positive sign for Honda in general.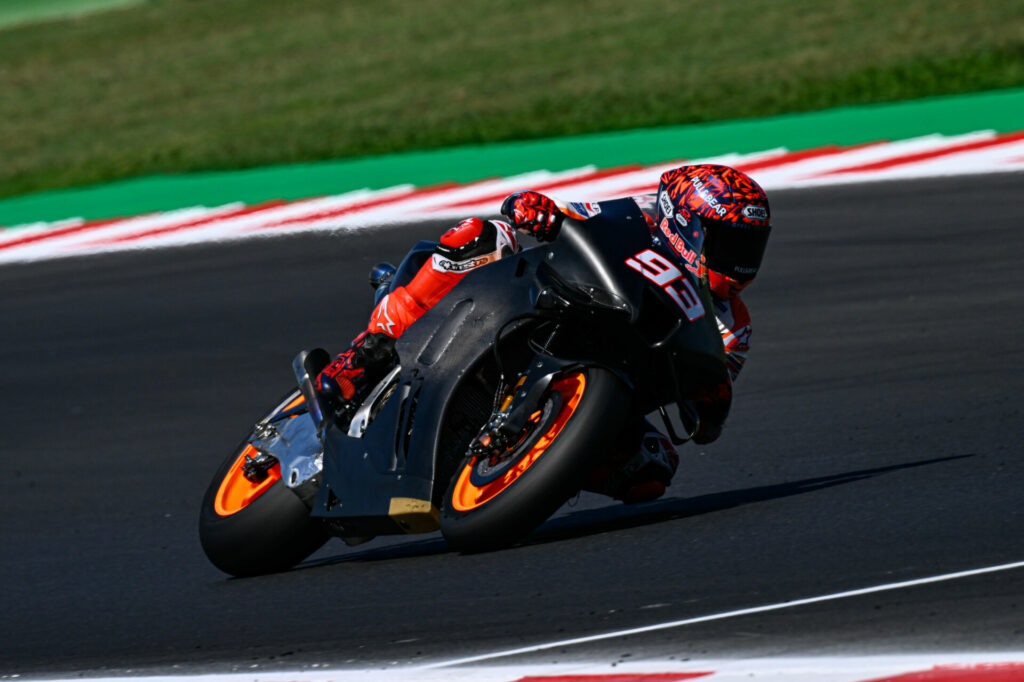 As for the machinery, there was plenty going on at Honda as well. The Kalex swingarm which HRC Test Rider Stefan Bradl tried out on Day 1 was back again on Day 2 – and this time, it was seen on one of Marc Marquez's bikes. The #93 had three different examples of the RC213V at his disposal, those being a pair of 2022 versions and more of a 2023 model, and Honda tested three different air intakes across its fleet of motorcycles. Bradl also tried out a different exhaust, and even did some back-to-back running with the 2021 bike.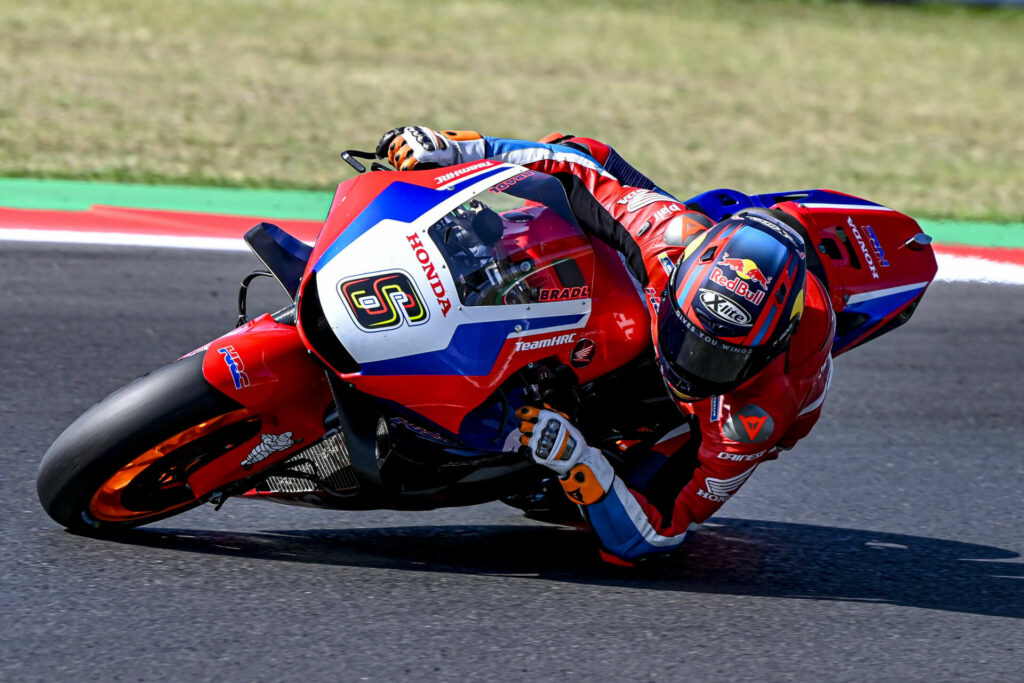 On the timesheets, Marc Marquez was Honda's best in 13th for the test on combined times, having gone as fast as a 1:31.642 in the morning session on Day 2. More importantly, however, there is plenty for the Japanese marque's technical gurus to pore over in coming weeks and months as preparations for next season ramp up.
DUCATI
San Marino GP winner Francesco Bagnaia (Ducati Lenovo Team) finished the test second-fastest thanks to the 1:31.172 which he set before lunchtime on Day 2, while the man who was runner-up last Sunday, Enea Bastianini (Gresini Racing MotoGP™) claimed fourth in the test on a 1:31.260. None of the Ducati riders ventured onto the track in the afternoon, while Mooney VR46 Racing Team had already wrapped up its testing on Day 1.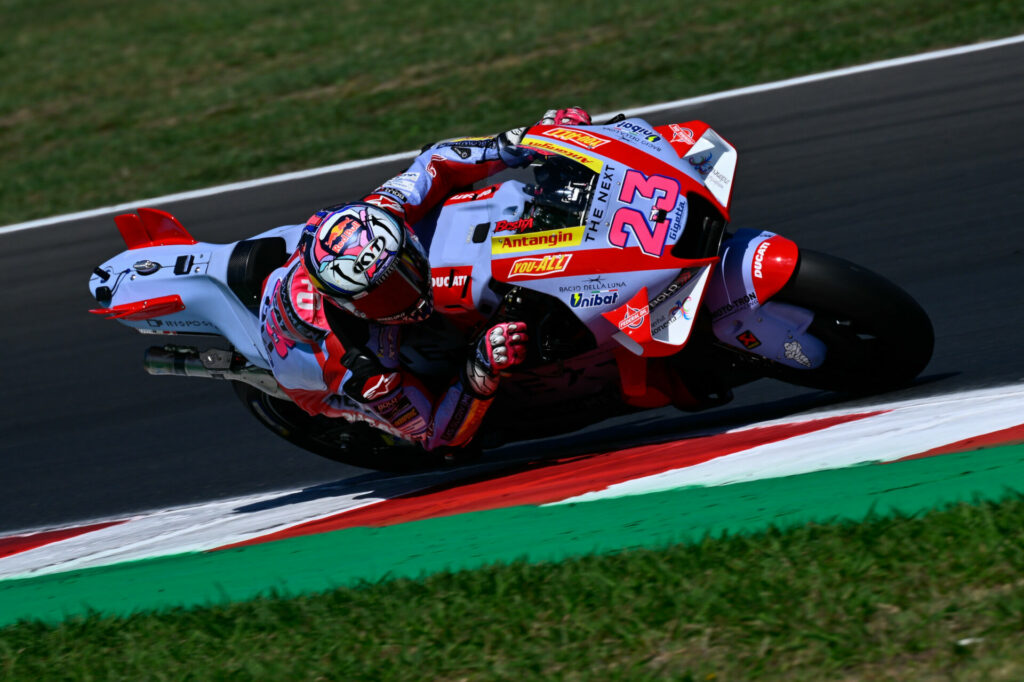 In the main, the Bologna marque worked on chassis and new aerodynamics, although only with Bagnaia and Bastianini. Meanwhile, Jack Miller (Ducati Lenovo Team) had a spill at Turn 4 – rider okay.
APRILIA
Both of Aprilia Racing's full-time Grand Prix riders, Maverick Viñales and Aleix Espargaro, finished in the top five, the former third on a 1:31.189 and the latter fifth on a 1:31.333 – both set in the morning session on Day 2. Of particular note, however, was that Espargaro's crash in that session has left him with a broken little finger on his left hand. Thankfully, he will not need surgery, and while the Argentina GP winner admitted to being in pain, he expects to be okay to ride at the Aragon GP.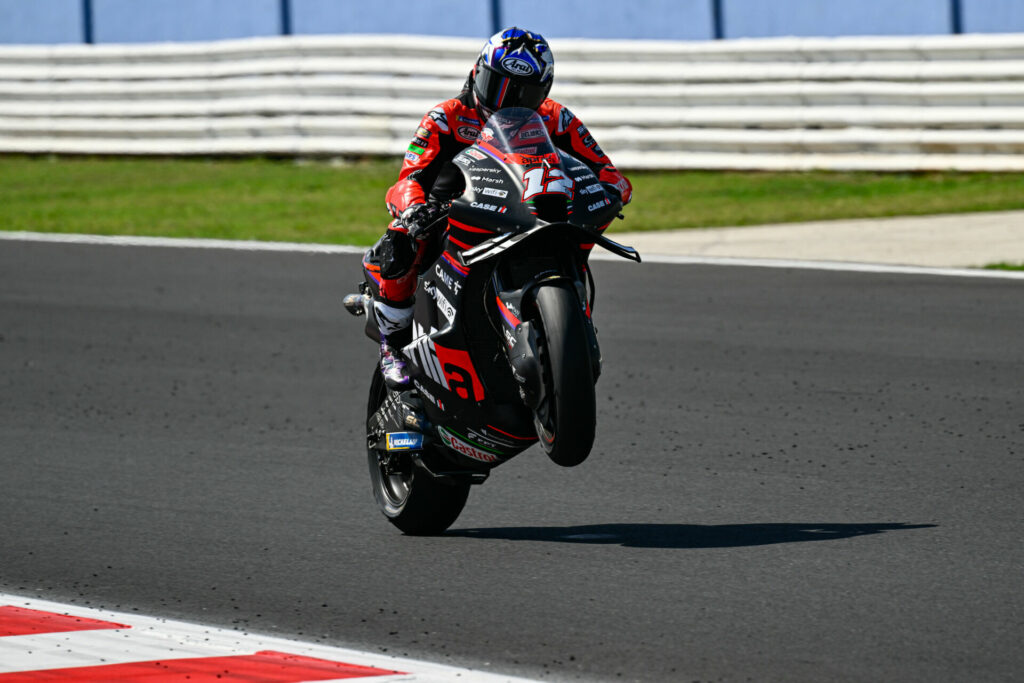 The Noale manufacturer tested different chassis and, like Yamaha, could roll out a new specification as soon as Aragon. There was also new aerodynamics to trial as well.
KTM
Despite chatter in the paddock, Red Bull KTM Factory Racing Team Manager Francesco Guidotti said that the Austrian manufacturer did not have a 2023 prototype at Misano, although it did test 2023 parts. Miguel Oliveira was quickest of its riders on a 1:31.585 although much of the development work was done by Brad Binder and test rider Dani Pedrosa – with the former putting in a big effort of 46 laps on the Wednesday afternoon.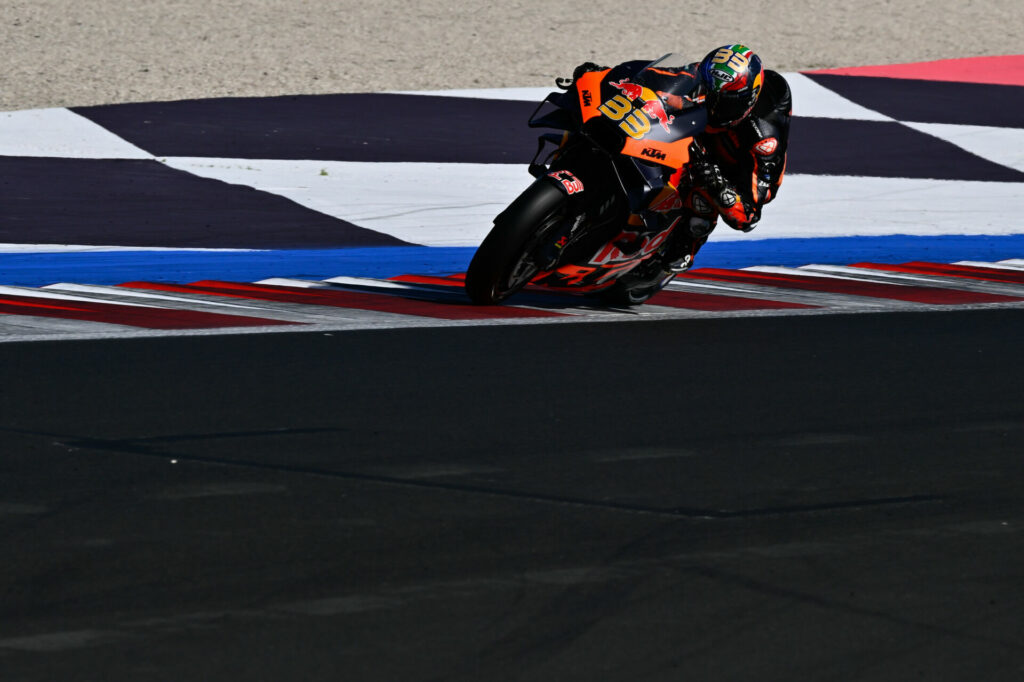 SUZUKI
Team Suzuki Ecstar completed its programme on Day 1 of the test, and was not in action on Day 2.
That's a wrap on the Misano test, but make sure you check out motogp.com for more news and insights from two fascinating days of action which will shape not only next year, but also the rest of the 2022 season. Then, tune in for MotorLand on September 16-18!
More, from a press release issued by Monster Energy Yamaha:
MONSTER ENERGY YAMAHA MOTOGP TOP MISANO TEST
Misano Adriatico (Italy), 7th September 2022
MISANO TEST
Monster Energy Yamaha MotoGP's Fabio Quartararo and Franco Morbidelli spent the second day at the Misano World Circuit Marco Simoncelli confirming their initial positive feeling with all testing items. They ended the Misano MotoGP Official Test in 1st and 12th place respectively in the combined timesheets.
1st FABIO QUARTARARO 1'31.054 (FP4) / 40+32 LAPS
12th FRANCO MORBIDELLI 1'31.614 (FP3) / 35+33 LAPS
Monster Energy Yamaha MotoGP's Fabio Quartararo and Franco Morbidelli were back aboard their YZR-M1s today for the second and last day of the 2022 Misano MotoGP Official Test. They secured 1st and 12th place respectively in the overall combined timesheets.
The teammates used today's two sessions (09:00–13:00 and 14:00–18:00) to get into the nitty gritty of the data required to evaluate the new testing items: including a prototype 2023 engine, a new chassis, and winglets.
Quartararo focused on electronics work in the morning. It was clearly to his liking. El Diablo completed 40 laps in FP3 of the Misano Test and clocked a 1'31.116s on lap 39, the top time of the session, with a 0.056s margin. His improved feeling with his YZR-M1 put the Frenchman in a great mood as he tested fairings and winglets in the afternoon. He ran another 32 laps and bettered his personal best lap of the test to a 1'31.054s on lap 26. It made him the fastest rider of the Misano Test, with a 0.118s advantage over his closest rival in the final combined results, although his morning time would also have done the trick.
Morbidelli had enjoyed the first day of the Misano Test, especially as the new engine ticked all the boxes of what he had hoped for, making for a smooth yet powerful bike. The Italian dedicated the FP3 practice time to gathering further data. He got in 35 laps and set a 1'31.614s for ninth place in the FP3 results, 0.498s from first. Morbido continued work in the afternoon session until the chequered flag, riding another 33 laps, setting a 1'31.714s for third place in the FP4 timesheets on his final try. However, he didn't improve on his best time. It was his morning lap that put him in 12th place in the overall results, 0.560s from the top.
The team will be back in action on 16-18 Sept at Round 15 of the 2022 MotoGP World Championship, held at the MotorLand Aragón circuit in Spain.
MASSIMO MEREGALLI
TEAM DIRECTOR
We are quite satisfied because the test went well. Overall, for what we've tested – mainly a new engine for next year and also a new chassis – all the information we gathered was very good. We gained some top speed, and the lap times are becoming quicker and are coming easier for the riders. They are happy because they clearly felt the improvement with the new engine. This is very important for next year, but it's also important for the mindset of the riders this year. It puts their minds at ease, because they got to experience for themselves what Yamaha promised them for this test. We are really happy and are looking forward to the next step for the Valencia Test.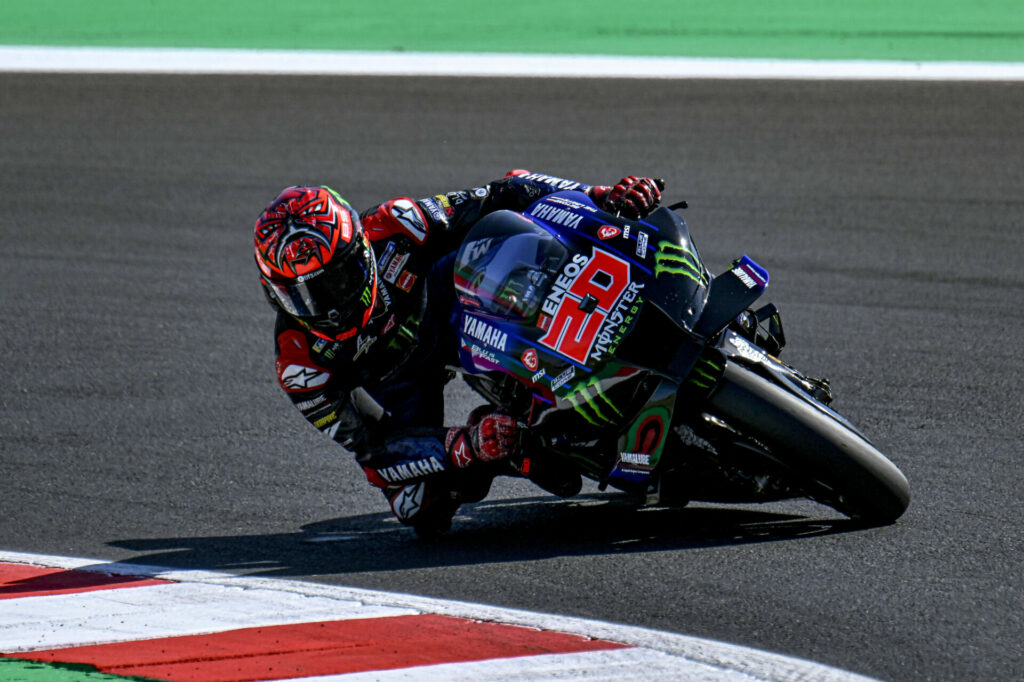 FABIO QUARTARARO
It was a good test. This morning we worked pretty well on the electronics of the new bike. In the afternoon we had fairings and wings to test. I'm feeling pretty positive about next year's bike. The top speed looks good, so I feel super happy! It's a great feeling. I got a great slip stream to set the 298km/h top speed this morning. But the average of the speed was also good, this is super important. So, I'm looking forward to having this engine in a proper race.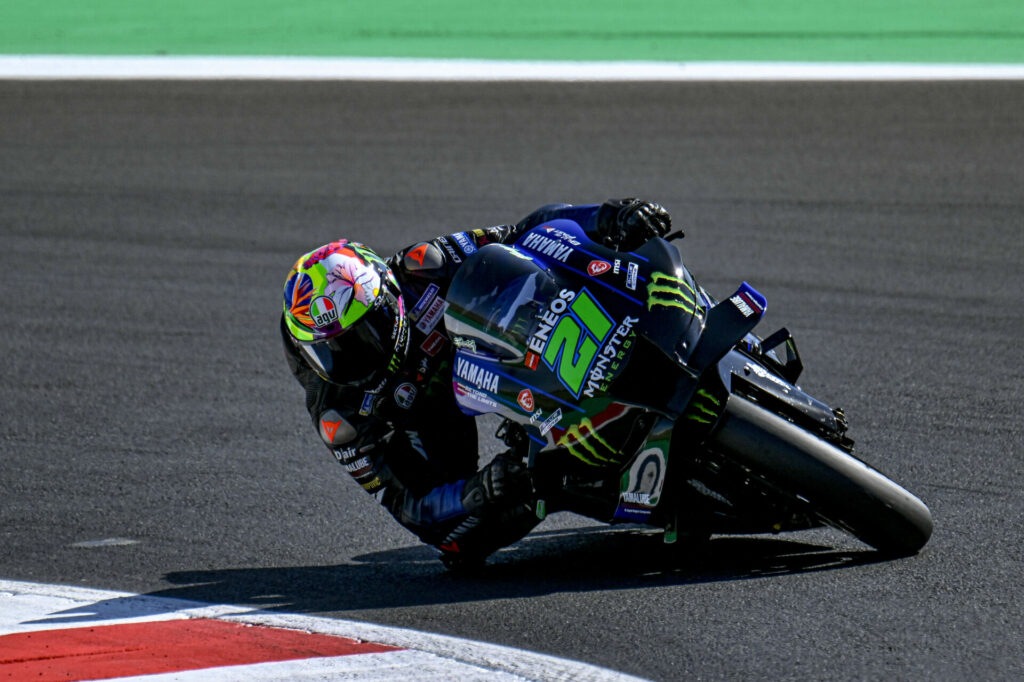 FRANCO MORBIDELLI
It was a busy day, tough. Also today, we've gone over, analysed, and tested many things. I have to say that it was a positive day. Unfortunately, the hot lap didn't come out well. But anyway, our pace and our average level were really good. We found many different solutions. They are all interesting, so we need to make the right choices. But the team and Yamaha did a wonderful job in stepping up in terms of items for the bike. They did a great job at home, and these two days of testing were really good to appreciate the job they did.
More, from a press release issued by Gresini Racing:
GOODBYE ITALY AS TESTING CONCLUDES AT MISANO
#MisanoTest. An important, two-day test has drawn to a close for Team Gresini MotoGP on the track that last weekend hosted the fourteenth round of the World Championship. The Faenza-based squad worked at full capacity with the goal to better prepare for what is going to be a really demanding last stretch of the season.
After being very quick throughout the race weekend, Enea Bastianini kept the momentum going in this last official test of 2022. The Italian, who came extremely close to winning the race on Sunday, has worked on some fine-tuning ahead of the next races with excellent speed and pace (he was fourth quickest). The rider #23 did not have time to test an experimental front tyre brought by Michelin, which could be used next year.
Fabio Di Giannantonio worked on the bike set-up and found a great feeling with his Desmosedici GP21, especially with higher temperatures. With many laps completed and an improved confidence, the #49 was the tenth quickest rider in the test.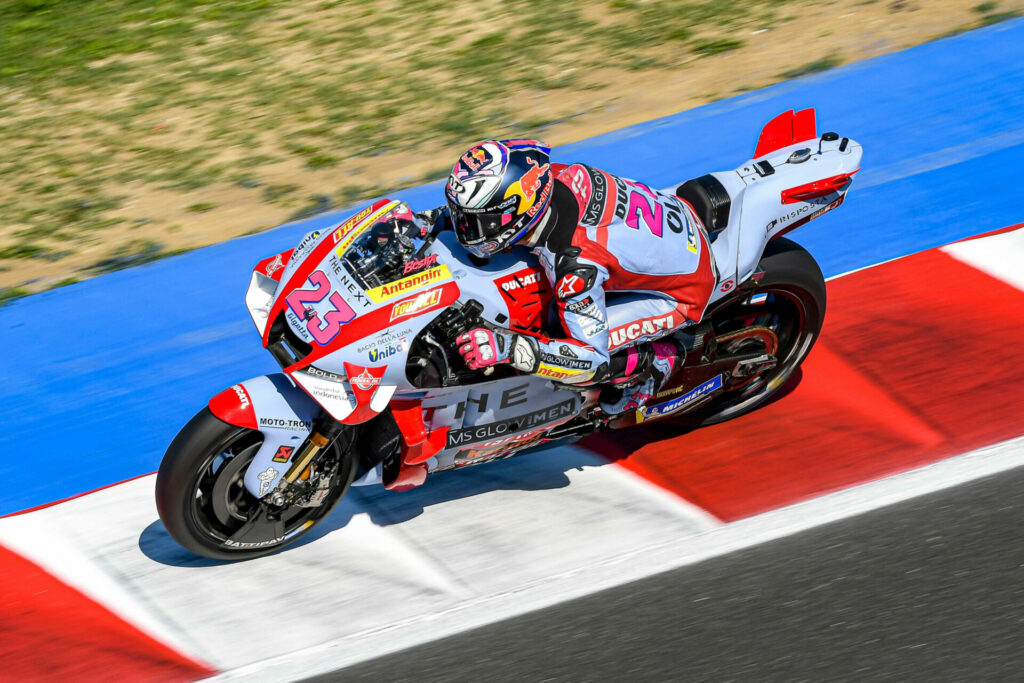 ENEA BASTIANINI #23 (1'31.260)
"It was a positive test. We completed a lot of laps, we were quick and we also tried something set-up wise that improved the feeling with the bike. My personal quickest lap was set yesterday after 27 laps with the same tyre, so I feel very positive. We haven't made huge steps forward, but we were already very so we only had to do some fine tuning. We are leaving Misano with great expectations for the last races of the year."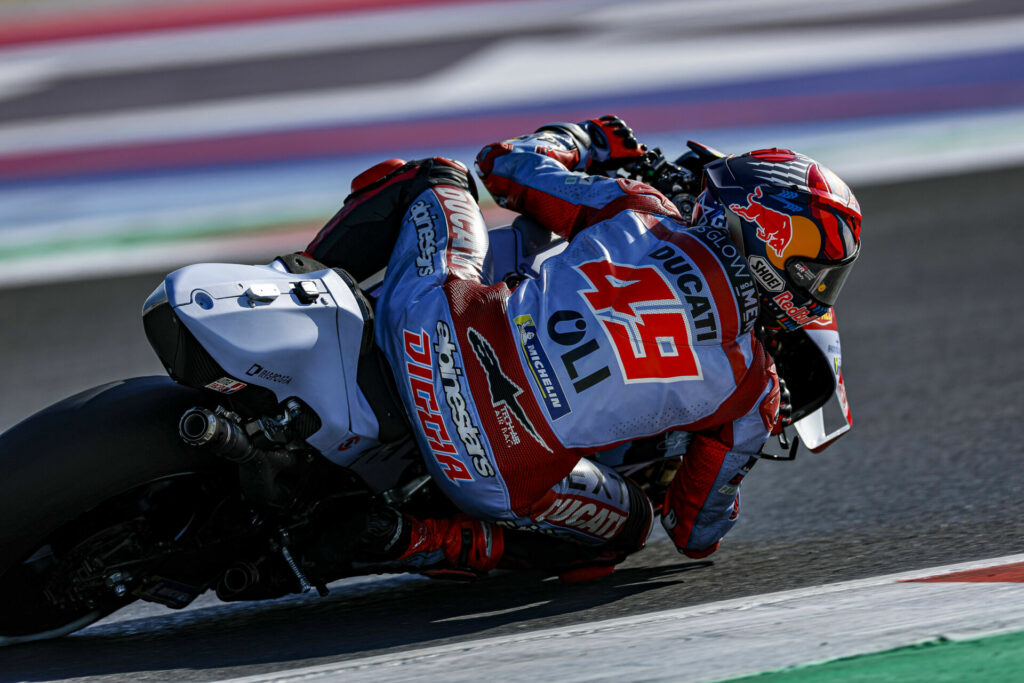 FABIO DI GIANNANTONIO #49 (1'31.605)
"This test was a very positive one. Honestly, I wasn't expecting that much because we didn't have new parts to try, but we tested some different configurations that I liked and I felt very good on the bike. We gathered plenty of data without going for longer runs and we're happy. It's true that this track was perfect and we'll need to test these solutions at other tracks and in different conditions. Now we will rest a bit before the three consecutive rounds waiting for us."
More, from a press release issued by WithU Yamaha RNF MotoGP Team:
Binder uses valuable track time in Misano to progress
WithU Yamaha RNF MotoGP Team's rookie uses the two days test after the San Marino Grand Prix to spin laps and adapt further to the MotoGP bike.
Following a very intense and emotional weekend for the WithU Yamaha RNF MotoGP Team with Andrea Dovizioso's retirement from his racing career in MotoGP, the squad has been back at the Misano World Circuit – Marco Simoncelli on Tuesday for two days of important testing ahead of the Aragon Grand Prix and the flyaway races, mainly with Darryn Binder learning more about his Yamaha YZR-M1.
The South African concluded Sunday's race in P16, almost reaching the points and was just missing his decent and consistent pace in the final six laps. Therefore, the MotoGP rookie together with his crew was trying to find the reasons and mainly working on improving the second half of the race, wherefore he played with the electronics and settings in order to be more conservative with the tires throughout race distance.
Binder did a total of 133 laps in the course of the two days and improved his fastest time from the race weekend, which he set in Free Practice three, by 0.420 seconds to eventually assessed the test as a success.
Despite he retired from MotoGP racing last Sunday, Andrea Dovizioso was riding on Tuesday morning in Misano to assist Alpinestars in terms of product development. His participation in the test was confirmed before his decision to retire. The Italian did a total of 16 laps in the morning session, before he packed up and finally called it a conclusion.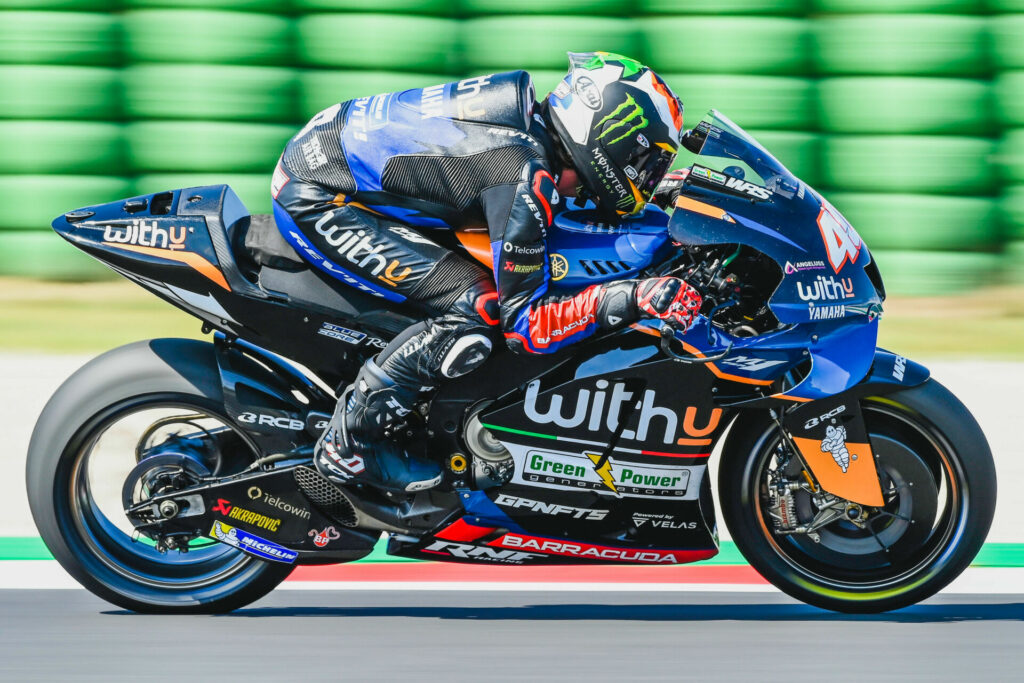 DARRYN BINDER
"It's been a good test in my eyes. We tried lots of little things like with the electronics, a bit different setup with the rear shock and the front fork, stuff like that, but overall, I feel we made positive small gains. I was able to be a lot more consistent and quicker than I was over the race weekend, which I was quite happy about. We only rode on the medium rear and the hard front on both days. I never really did a time attack, but overall, I was faster than last weekend and I'm happy with the steps we made. We did a couple of back checks to make sure we are still heading in the right direction. Everything we've tried has been positive, so I'm happy with that. Spinning a lot of laps on this bike can only benefit me at the end of the day. It's always nice to get more laps under your belt."
Wilco Zeelenberg, Team Manager WithU Yamaha RNF MotoGP Team 
"Last Sunday was Andrea's last race and he did a test on Tuesday morning for Alpinestars and we gave him the green light to do that on his MotoGP bike. With Darryn we continued our work after the races on Sunday. There have been some parts to try, also some settings to test, especially electronics, because we found out during the race it was quite fine until lap 21 and then the bike started to get loose because the grip drops and you have to control it. So, we tried to focus on that. Finally, he improved his lap times compared to the weekend, the grip level was quite good during this test, but everyone was really fast."
More, from a press release issued by Tech3 KTM Factory Racing:
Tech3 KTM Factory Racing Completes Two-Day Test Programme in Misano
With just one day of rest following the exciting Gran Premio Gryfyn di San Marino e della Riviera di Rimini, Tech3 KTM Factory Racing's Remy Gardner and Raul Fernandez returned on track on Tuesday and Wednesday at the Misano World Circuit Marco Simoncelli for the IRTA Misano MotoGP™ Official Test. Both were looking to try out several settings in order to boost their performances for the remaining six races of the 2022 season.
Coming from a positive result with a P13 finish on Sunday at the San Marino GP, Raul Fernandez went full in on Tuesday with different settings to test in order to help him continue his progress this season. His first day was highlighted by his great consistency in the lap times registered as he rode mainly on his own. He completed seventy-four laps with a best in 1'32.395 and finished the day in P19, 0.952 seconds from the top. On Wednesday for day 2, Raul was on track all morning until the practice start session before the lunch break. Another forty-four laps in the bag allowed him to gather valuable information for his team for the upcoming races. He slightly improved his time to 1'32.344 and finished the Misano Test in P22, with a very positive feeling.
Remy Gardner also had a busy track schedule on day 1 of the Misano test. He rode all day as he also worked mainly on bike settings in order to try getting the maximum of his MotoGP engine to help him progress. There was positive information and interesting data which came out of the sixty-one laps of the first day as he finished in P23, his fastest lap being in 1'32.739. Remy concluded his day with the practice start session. On Wednesday, he completed his Misano Test programme with positivity after another thirty-eight laps during which he rode in 1'32.433, classifying him twenty-third at the end of the two days.
Raul Fernandez
Position: 22th
Time: 1'32.344
Laps: 118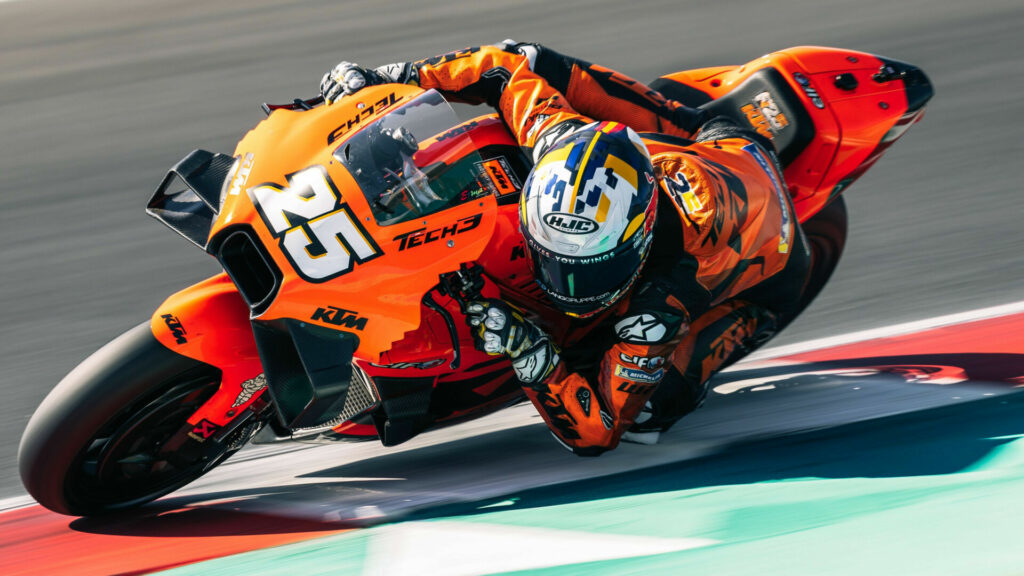 "On Tuesday, we had a really good day with almost eighty laps. We improved our pace a lot and my riding style is more natural. I understand the carbon brakes better, the tyres better and the whole bike in general is suiting me better. I had a small crash at the end of the first day but I was ok. Today, we continued trying different settings and we found interesting data. The most important thing for me is that we have found a way for me to feel good on this bike, especially on the front, and I hope that we will be able to use this setting for the next races. These two test days in Misano were very positive and I have enjoyed working with Guy Goulon. He is a special man so I would like to thank him for his work."
Remy Gardner
Position: 23rd
Time: 1'32.433
Laps: 99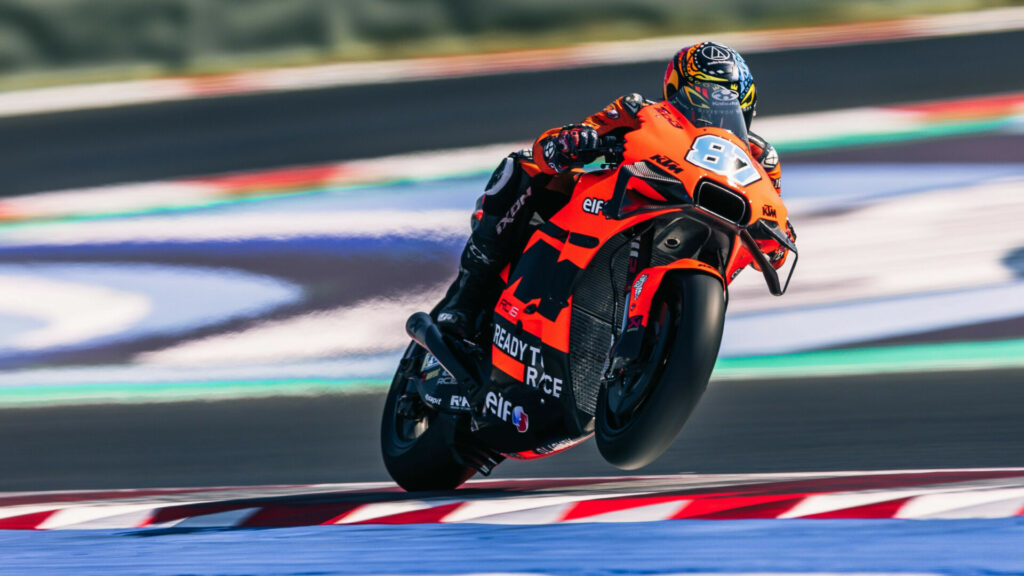 "Over these two days we focused a lot on trying different settings so that we can have the best feeling possible for the six races left. This morning, we did some back checking from the work done on Tuesday and tried different things. We improved by about one second from the race so we can take positive out of this and use this information for the next races. In general, I was looking for more confidence on the front tyre for turning and braking, and I think that we managed to get some interesting data and a better feeling on the bike, so I am satisfied with this. Time to head home for some rest before Aragon."
More, from a press release issued by Repsol Honda:
Marquez and Espargaro push for productive end to Misano Test
Another productive day out on track for the Repsol Honda Team as Marc Marquez and Pol Espargaro completed 128 laps between them today and leave Misano with a wealth of data and a positive mindset.
The second day of the Misano Test saw both Marc Marquez and Pol Espargaro return to the track and continue the work they started the day before. For Marquez, it provided more crucial time on the RC213V to build his own fitness as well as help to define the progression of the bike. There was an intensive schedule as Marquez completed 61 laps on the second day, one of the final riders on at track as the clock hit 17:00 Local Time. The intensive work was rewarded with positive feedback towards a number of new items brought by Honda HRC.
Marquez's efforts were rewarded with a quickest time of 1'31.642, 0.6s faster than his best time from Tuesday and 13th in the combined test rankings. But the most important aspect of the test was the information gained about his physical condition and the feedback given to HRC's engineers for the future.
Working mostly on setting for during the race weekends, Pol Espargaro completed an additional 67 laps today for a total of 117 across the two days of testing. The work allowed the #44 to compare a variety of components including aerodynamics and shocks in back-to-back runs. With the knowledge gained, Espargaro's side of the Repsol Honda Team box feel they have made progress to improve on both Saturday during Qualifying and with overall pace for the race. A fastest time of 1'31.707, set in the morning of the first day, has the Repsol Honda Team rider end the test in 14th place overall.
Now the Repsol Honda Team begin preparations for the Aragon GP, the last European race before the four flyaway races in Japan, Thailand, Australia, and Malaysia. The Aragon GP will begin on Friday, September 16.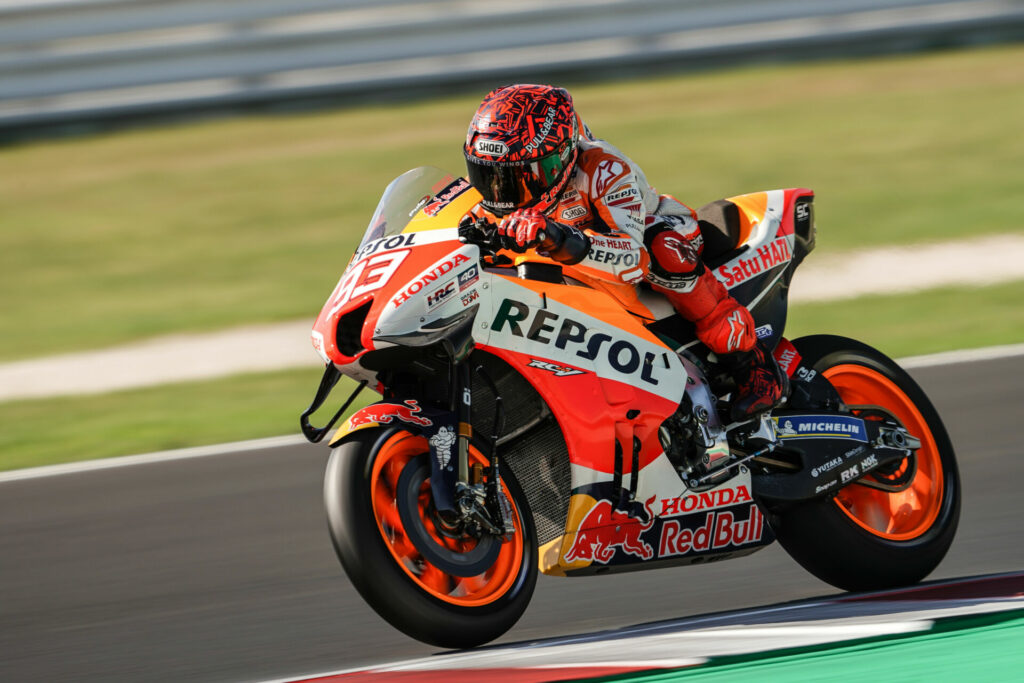 Marc Marquez
13TH  1'31.642
"It was a really successful test for me, especially because after such a long time away it was not easy yesterday. But today I started to feel the bike more and run at my pace, this allowed me to try some different components for Honda for the future. This was also good. The most important aspect was how the arm recovered between the two days and, ok I struggled at the end of today, but this is what the doctors and physios were expecting. Let's see how the recovery in the next few days goes to understand what the next steps are."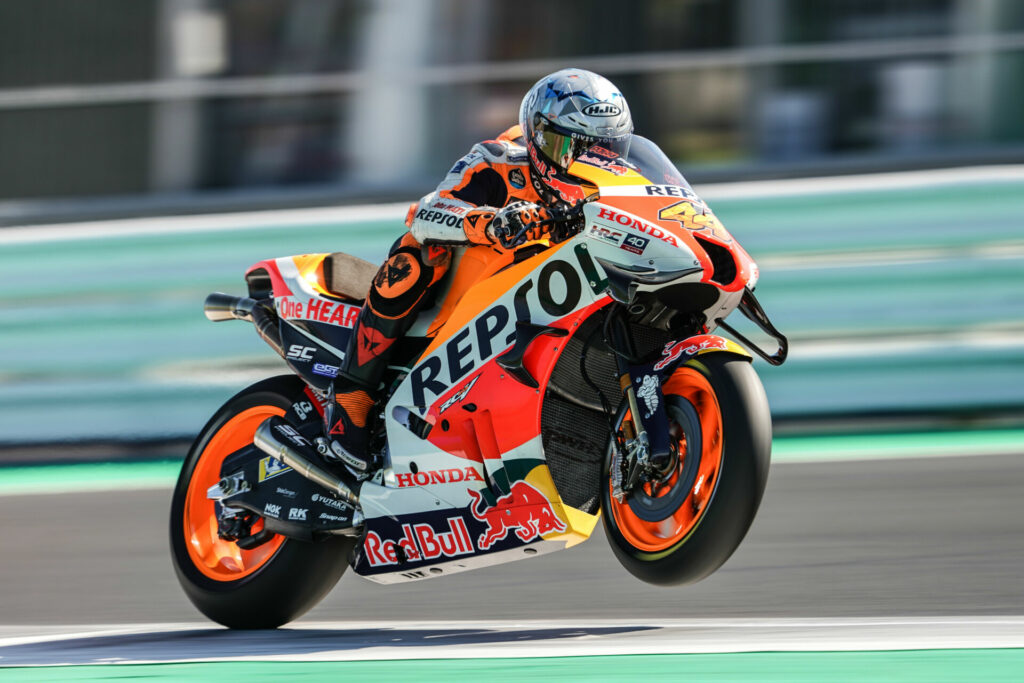 Pol Espargaro
14TH  1'31.707
"Today we were riding well in the morning and even with my wrist I was able to find a better rhythm. In the afternoon I was very tired and I had to keep adjusting the brake a lot with my wrist. We stopped a little earlier because of this but it was still a good two days. We kept working and were able try a number of items from during the year which made some points more clear as we look ahead to Aragon. I am glad we had this test to push into the final races."
More, from a press release issued by Lenovo Ducati Team:
Positive feedback for the Ducati Lenovo Team riders in the two days of post-race testing at Misano
The two days of post-race collective testing concluded this afternoon at the Misano World Circuit Marco Simoncelli, stage last Sunday of the San Marino GP. For the Ducati Lenovo Team riders, it was a chance to work on their Desmosedici GP machines before tackling the last part of the season. It was as well an opportunity to start testing the latest innovations ahead of next year.
Francesco Bagnaia, fresh from winning his home Grand Prix at Misano, was one of the first riders to hit the track on Day 1, which saw him using all the track time available to complete his busy testing schedule. On the other hand, today, Pecco only took part in the morning session. With 131 laps completed, Bagnaia ended the test in second position with a fastest time in 1:31.172.
Jack Miller also made the most of the first day and the morning of the second before both of his final sessions were cut short by a crash just minutes from the end. During the test, Miller focused mainly on testing different setup configurations, completing a total of 86 laps and setting the eighteenth time overall in 1:31.927.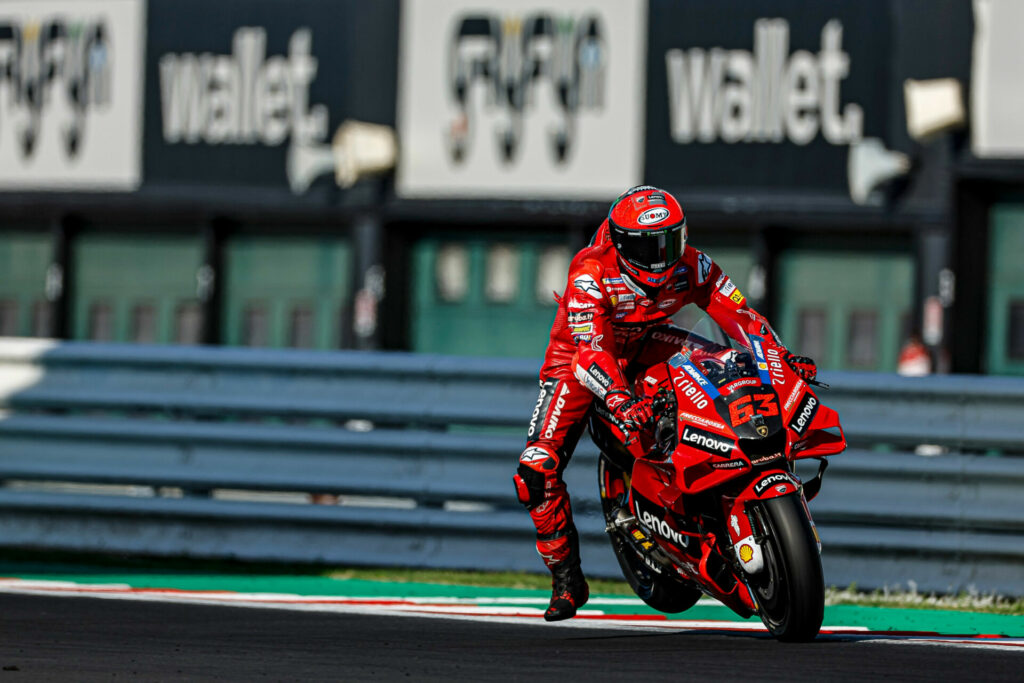 Francesco Bagnaia (#63 Ducati Lenovo Team) – 2nd (1:31.172 – 131 laps)
"These were two very productive days of testing: we tried several new things, and the Ducati engineers now have a clearer idea of which direction to take to continue the development work on next year's bike. During these two days, we focused mainly on our corner speed, and every test gave positive feedback. The feeling with the bike was excellent, as demonstrated by my consistent and competitive pace on used tyres. I'm satisfied with the work completed over these two days, and I can't wait to get back on track next week in Spain."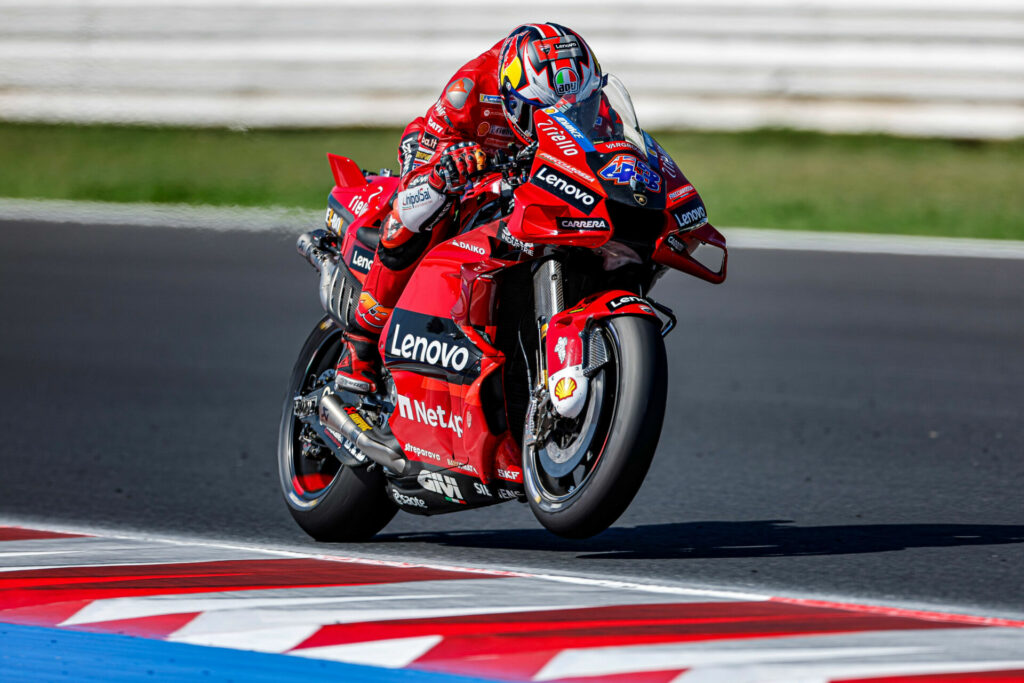 Jack Miller (#43 Ducati Lenovo Team) – 18th (1:31.927 – 86 laps)
"This morning's crash at Turn 4 was very similar to the one I suffered in the race, and now we'll have some more data to analyse to understand what exactly happened, as, at that point, I had the feeling I was doing the same as the lap before. In any case, yesterday and today, we worked on different setup configurations but didn't try any new components. Now we'll analyse the information gathered over these two days to improve the bike further ahead of the next race at Aragon".
The Ducati Lenovo Team will be back in action from 16th-18th September for the fifteenth round of the 2022 MotoGP World Championship, the Aragón GP, at the MotorLand Aragón in Alcañiz, Spain.
More, from a press release issued by Aprilia:
BUSY APRILIA IN MISANO TEST
ALBESIANO: 'WE CAN'T BE SATISFIED, WE HAVE TO KEEP WORKING'
The main news of the two days of MotoGP testing at Misano is the enormous amount of work carried out by Aprilia. Always among the first to take to the track and the last to close, with practice starts on the main straight, even today. An unmistakable sign of the constant ambition to improve, despite an absolute competitive situation.
A total of 427 laps were clocked over the two days by the RS-GPs of Aleix Espargaró, Maverick Viñales and Lorenzo Savadori, all of whom were involved in both tests related to the current season and in comparisons and simulations that could help the development of the 2023 prototype.
Caught up in a crash at Turn 13, Aleix had to interrupt his test towards the end of today's morning session, having suffered a micro-fracture to the little finger of his left hand that is not cause for concern ahead of Aragón.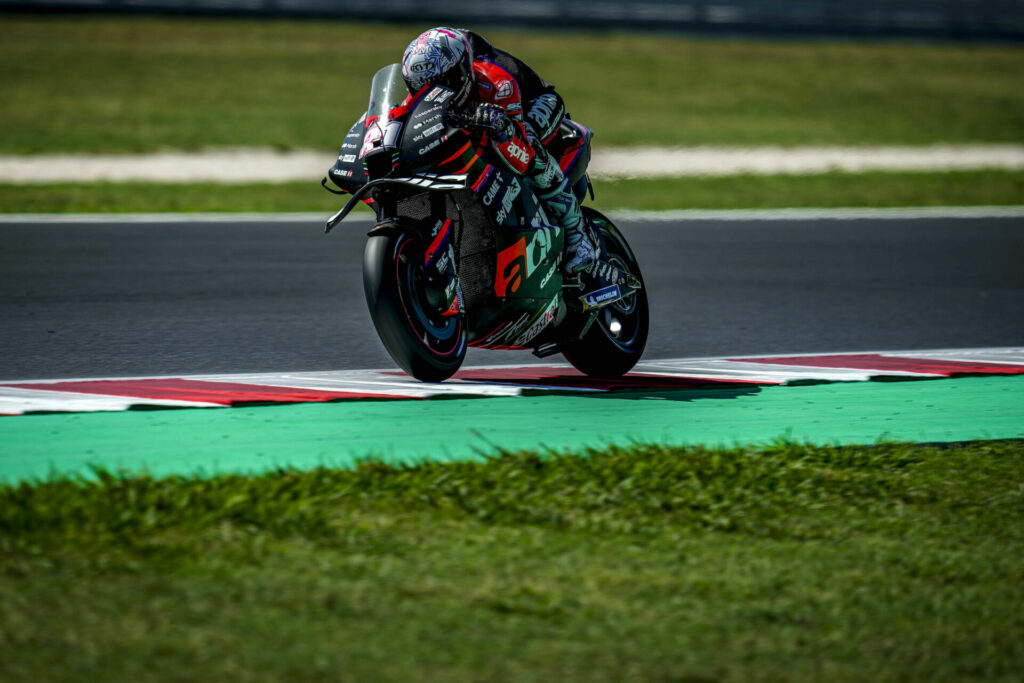 ALEIX ESPARGARÓ
"The injury will fortunately only require a little rest. We'll check it tomorrow with more detailed tests but I'm not worried ahead of Aragón. The test overall was positive. We tried some concepts with a view to 2023 but we will have to analyse the data well, because Misano is a track with a lot of grip, especially after a race weekend. So it will be necessary to reconfirm the sensations on other tracks".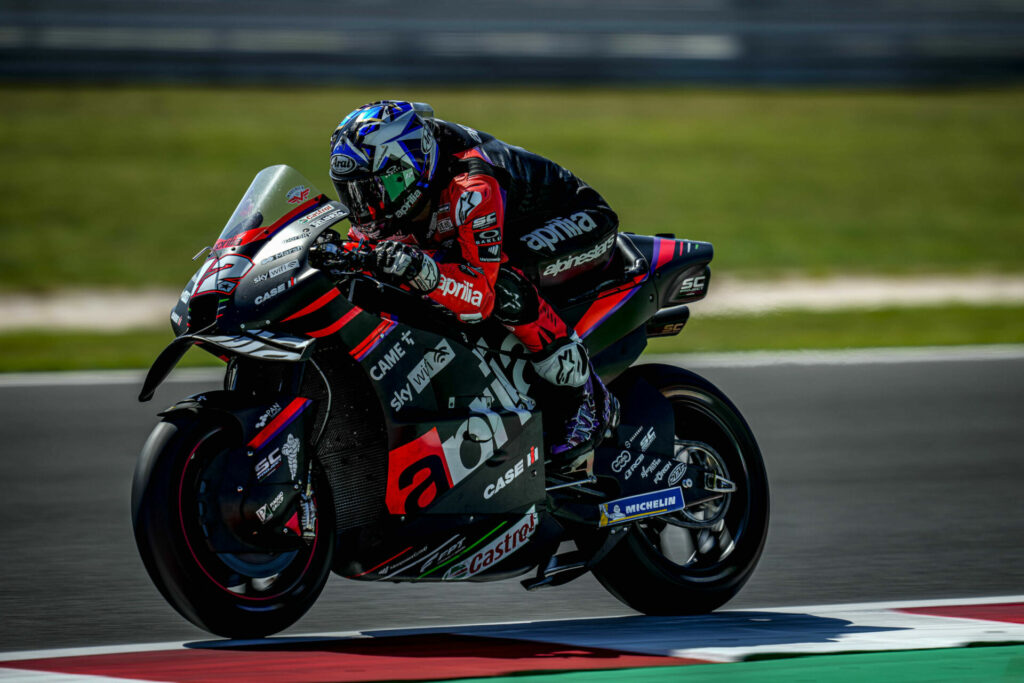 MAVERICK VIÑALES
"We have definitely taken a step forward with these tests. I am satisfied with the work Aprilia is doing, both with a view to 2023 and to help me in this season finale. In the second part of the race on Sunday I lost something compared to the best riders and in these two days we have also had the opportunity to analyse that situation and work to improve it."
ROMANO ALBESIANO
"Despite what might come naturally seeing the results of this season, our path to perfect competitiveness is still a long one. We are not satisfied and we won't be until we manage to fill all the gaps in the RS-GP. We are already working on the ideas that will go on to define the 2023 prototype but the analysis process has to be meticulous, the risk of missteps is always just around the corner. There are concepts that seem to work, others that don't clearly improve, so after so many laps we will have to be good at analysing the data collected. We are at a good level of performance, but this does not allow us to slow down development."
More, from a press release issued by LCR Honda Idemitsu:
TAKA PUTS IN HARD YARDS AT MISANO TEST SESSION
Takaaki Nakagami was pleased the progress he was able to make during the official two-day MotoGP test at Misano this week. The LCR Honda IDEMITSU rider clocked up over 150 laps at the Italian venue as he worked tirelessly to improve the set-up of his RC213v ahead of the final six rounds of the 2022 World Championship.
The Japanese star focused his efforts on finetuning his existing package and made notable steps forward on Wednesday. Taka closed out the session with a series of consistent lap-times, dipping under the 1'32 mark, and is now relishing the chance to compete again at the next round in Aragon.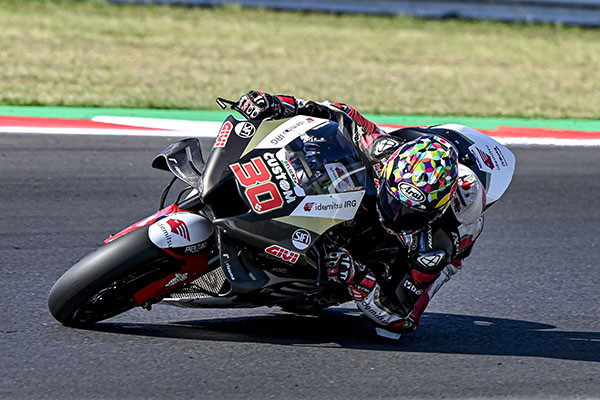 Takaaki Nakagami – 15th
(1'31.786)
"It's been a busy two days of testing here in Misano and we had a lot of time to do. First of all, I really appreciate all the work from my team. I did many laps and, especially on Wednesday afternoon, the lap times were quite good and quite consistent. The feeling of the bike is much better than the weekend in Misano, so in the end we're quite happy about the performance and lap times. I'm now really looking forward to the Aragon GP, so thanks again to all my team and let's keep pushing."
More, from a press release issued by LCR Honda Castrol:
ÁLEX MÁRQUEZ UPBEAT AFTER PRODUCTIVE TEST AT MISANO
Álex Márquez praised his team after getting the most out of the final in-season MotoGP test which was held at Misano on Tuesday and Wednesday. The LCR Honda CASTROL man worked hard across both days to finetune his package and is now looking forward to implementing the improvements in his home Grand Prix in Aragon.
While the Spaniard and his team were not given any new items to test by HRC, they took the opportunity to refine existing parts and settings and made encouraging progress. As ever, Álex got through a heavy workload to rack up nearly 140 laps over the two days, finishing 19th fastest on day one, before breaking the 1'32 lap barrier on Wednesday afternoon.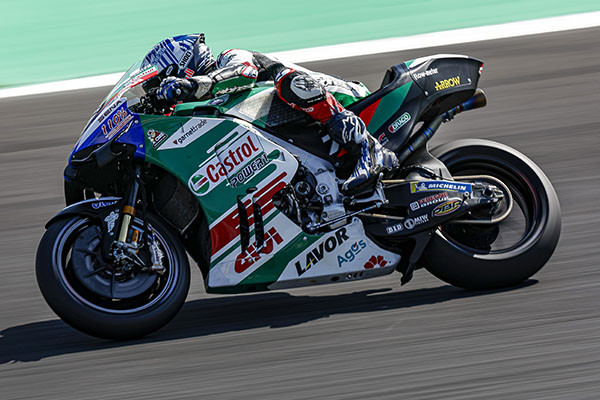 Álex Márquez – 17th
(1'31.864)
"Today was a positive second day of tests. We had zero items from Honda to try, so we focused on our package and to evaluate the items that we have (received) during the season and not to make the mistake of trying them and confusing things during a GP (weekend). So we made progress on that and have improved our package a lot with things like the feeling. I'm really happy how the team worked in this situation because having no items is not easy. We did a good job and everyone worked really hard, so I'm happy about that and ready for the home GP in Aragon."
More, from a press release issued by KTM Factory Racing:
KEY MISANO MOTOGP™ TEST WRAPS A WEEK IN SAN MARINO
Two warm days of testing action brought an end to an intense week of activity for the Red Bull KTM Factory Racing and Tech3 KTM Factory Racing teams in San Marino. Miguel Oliveira was highest placed on the combined time sheets as the crews ran through both short-term and 2023 development options for the KTM RC16.
One day after engines had cooled in the wake of the San Marino Grand Prix and round fourteen of the 2022 MotoGP season, the grid was busy again for the sixth official test of the year. Both KTM squads were joined by the official test team and Dani Pedrosa at the sun kissed Misano World Circuit Marco Simoncelli where the workload was split between gaining hard data on current set-up suggestions for the KTM RC16 and future ideas that might have a bearing on the 2023 version of the racebike.
After work on Tuesday and Wednesday, Brad Binder, Oliveira and Pedrosa had accumulated nearly 400 laps of the track between them, while rookies Remy Gardner and Raul Fernandez clocked over 210 circulations with a view to improving their competitiveness for the six Grands Prix that remain on the calendar. Oliveira was quickest by the end of the session with Binder 16th, Pedrosa, Fernandez and Gardner 21st, 22nd and 23rd.
MotoGP now drives across the continent to eastern Spain. The Gran Premio Animoca Brands de Aragón will pull the series to the MotorLand Aragon circuit near Alcañiz on September 17-18.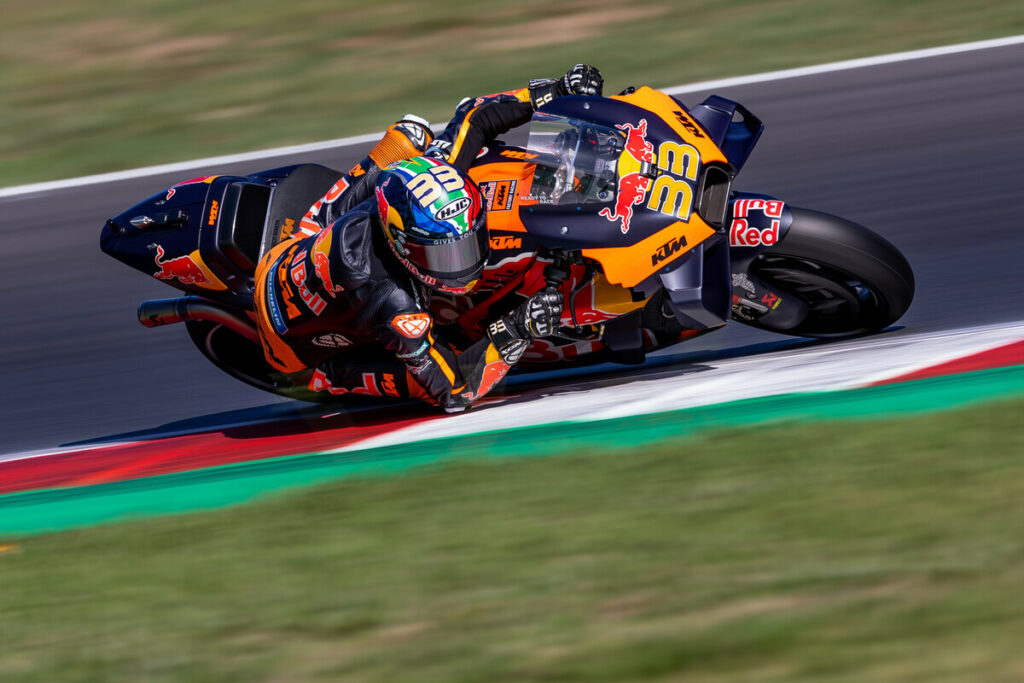 Brad Binder: "We did a lot of testing! We wanted to search for a better feeling for braking and stopping on one wheel and we made some improvements with the clutch setting and engine braking. As usual some ideas worked, some didn't and we had some plans for today that we couldn't quite finalize. Anyway, small things can make a big difference and we really tried to optimize what we had."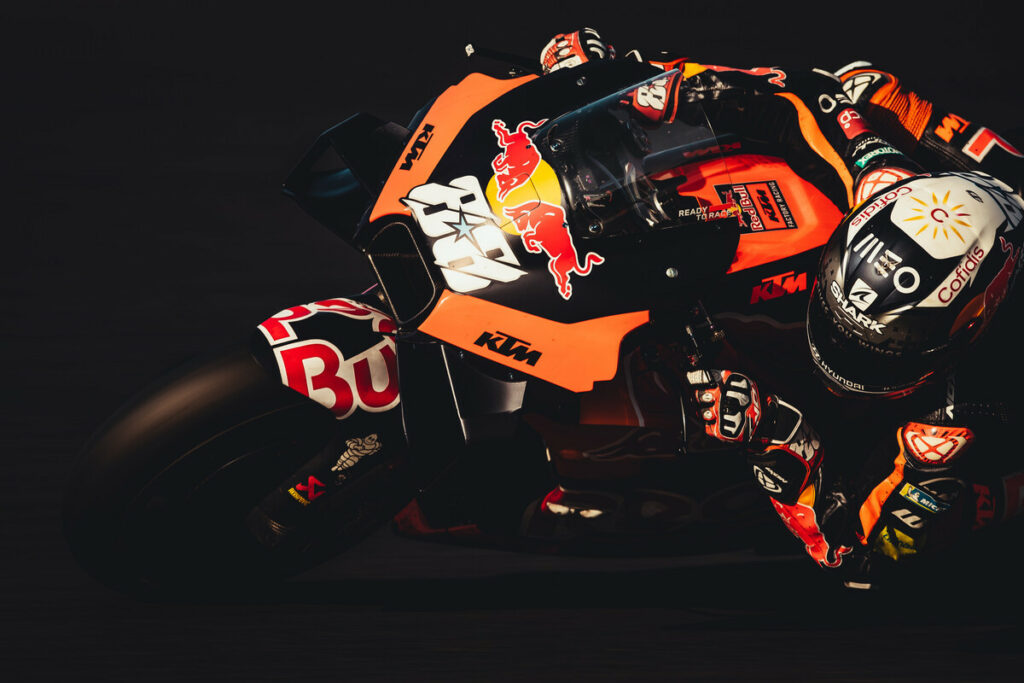 Miguel Oliveira: "We worked on our settings and took advantage of the good conditions at Misano. We found some little things that should help us on other racetracks. I'm happy with what we were able to do. We kept things simple, even though it is never that simple! Our focus will be on the package we have now, some tire choices and we worked on stability for corner entry. We prioritized that area and also found a few little things for corner exit."
Raul Fernandez: "On Tuesday, we had a really good day with almost eighty laps. We improved our pace a lot and my riding style is more natural. I understand the carbon brakes better, the tires better and the whole bike in general is suiting me better. Today we continued trying different settings and we found interesting data. The most important thing for me is that we have found a way for me to feel good on this bike, especially on the front, and I hope that we will be able to use this setting for the next races. These two test days in Misano were very positive and I have enjoyed working with Guy Goulon. He is a special man so I would like to thank him for his work."
Remy Gardner: "Over these two days we focused a lot on trying different settings so that we can have the best feeling possible for the six races left. This morning, we did some back-checking from the work done on Tuesday and tried different things. We improved by about one second from the race so we can take positives out of this and use this information. In general, I was looking for more confidence on the front tire for turning and braking, and I think that we managed to get a better feeling on the bike, so I am satisfied with this. Time to head home for some rest before Aragon."
Francesco Guidotti, Red Bull KTM Factory Racing Team Manager: "Having these two full days has been very helpful. It's been busy! With a lot of laps, so there will be a lot of information to go through. With Brad and Dani we have been testing some parts for 2023 and to understand if our direction for the new bike is the right one. It was also the chance for Brad to have a first taste of some of these parts. With Miguel we wanted check our work so far this season and how we can still improve for the races ahead. Thanks to all the guys for their efforts here. We've been at Misano for some time now but with just one testing day left this year it was important to get through our workload."
Sebastian Risse, Red Bull KTM Technical Manager MotoGP: "This morning we looked at some bigger test components and items for the longer term and that took a bit more time but once we were going then it was very interesting. Brad and Dani were carrying out this work while the other guys focused more on 2022 improvements. We are quite confident that we have a baseline for next year's bike that is quite promising. On Tuesday we worked on single items that are interchangeable with the platform that is in development and our current race bike, some of them we can race with already, some of them next year but we found some good puzzle pieces. It's been an intense two day period but we're all happy that we got something out of it."