90_Classification_Combined_Day_3

More, from a press release issued by Dorna:
MotoE™: Granado fastest as Spinelli wins race simulation
Testing has now concluded and it's a familiar name on top – with a new one making waves
Wednesday, 05 April 2023
The three-day FIM Enel MotoE™ World Championship Test at the Circuit de Barcelona-Catalunya has drawn to a close, with Eric Granado (LCR E-Team) continuing his streak at the top of the timesheets. The Brazilian's best lap of the Test was a 1:47.221, while it was Nicholas Spinelli (Pons Racing 40) who won Day 3's race simulation run.
The race simulation took place in the early afternoon of the final day, as the riders lined up on the grid and took part in a seven-lap dash as a warm up for the start of the season at the French GP. Randy Krummenacher (Dynavolt Intact GP MotoE™) and Mattia Casadei (Pons Racing 40) took the chequered flag in P2 and P3, two seconds adrift of Spinelli, but not all riders showed their full potential.
In terms of the combined top five across Monday, Tuesday and Wednesday's dry weather running, it was race sim winner Spinelli who set the second fastest time – 0.189s adrift of Granado. Casadei, Matteo Ferrari (Felo Gresini MotoE™) and Andrea Mantovani (RNF MotoE™ Team) rounded out a fastest quintet split by 0.642s on their Ducati V21L machines.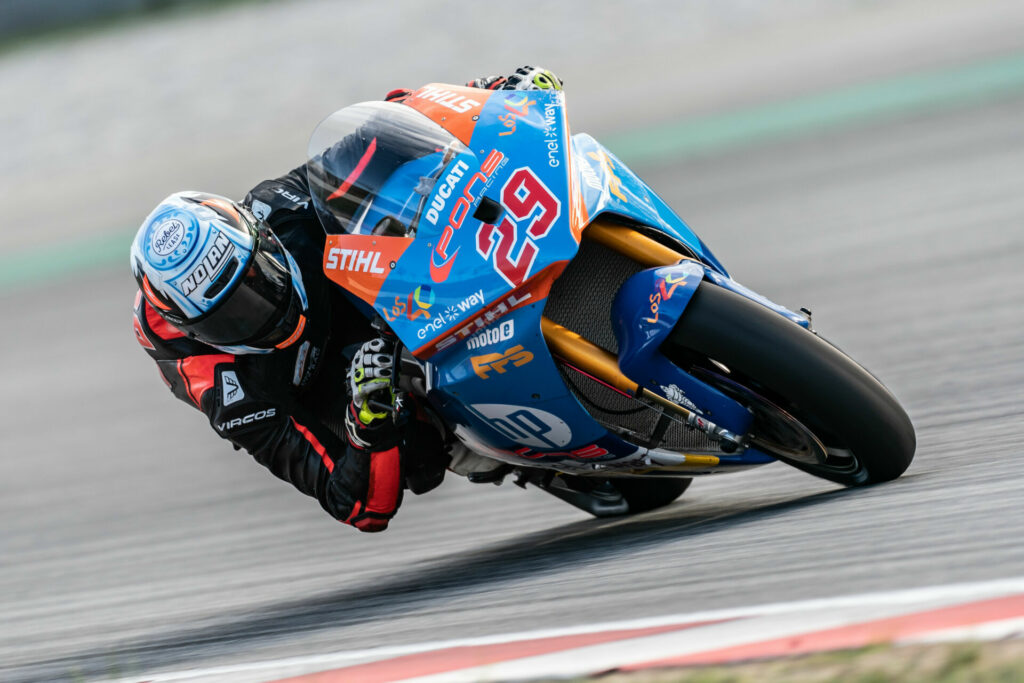 There's just over a month until the 2023 MotoE™ field get their campaigns up and running at the French GP, and that's the next time we'll see the electric category on track. Stay tuned to motogp.com for all the latest news as MotoE™ gets set for its biggest year yet, and find the combined timesheets below courtesy of the Circuit de Barcelona-Catalunya.
Follow MotoE™'s new social media channels!
The FIM Enel MotoE™ World Championship now has its own presence across a number of social media platforms! With an action-packed content plan coming your way in 2023, make sure to follow the electric World Championship by clicking on the icons below… and we can also be found on TikTok @motoe!