This weekend's results are brought to you by Blud Lubricants – Racing Is In Our Blud!!!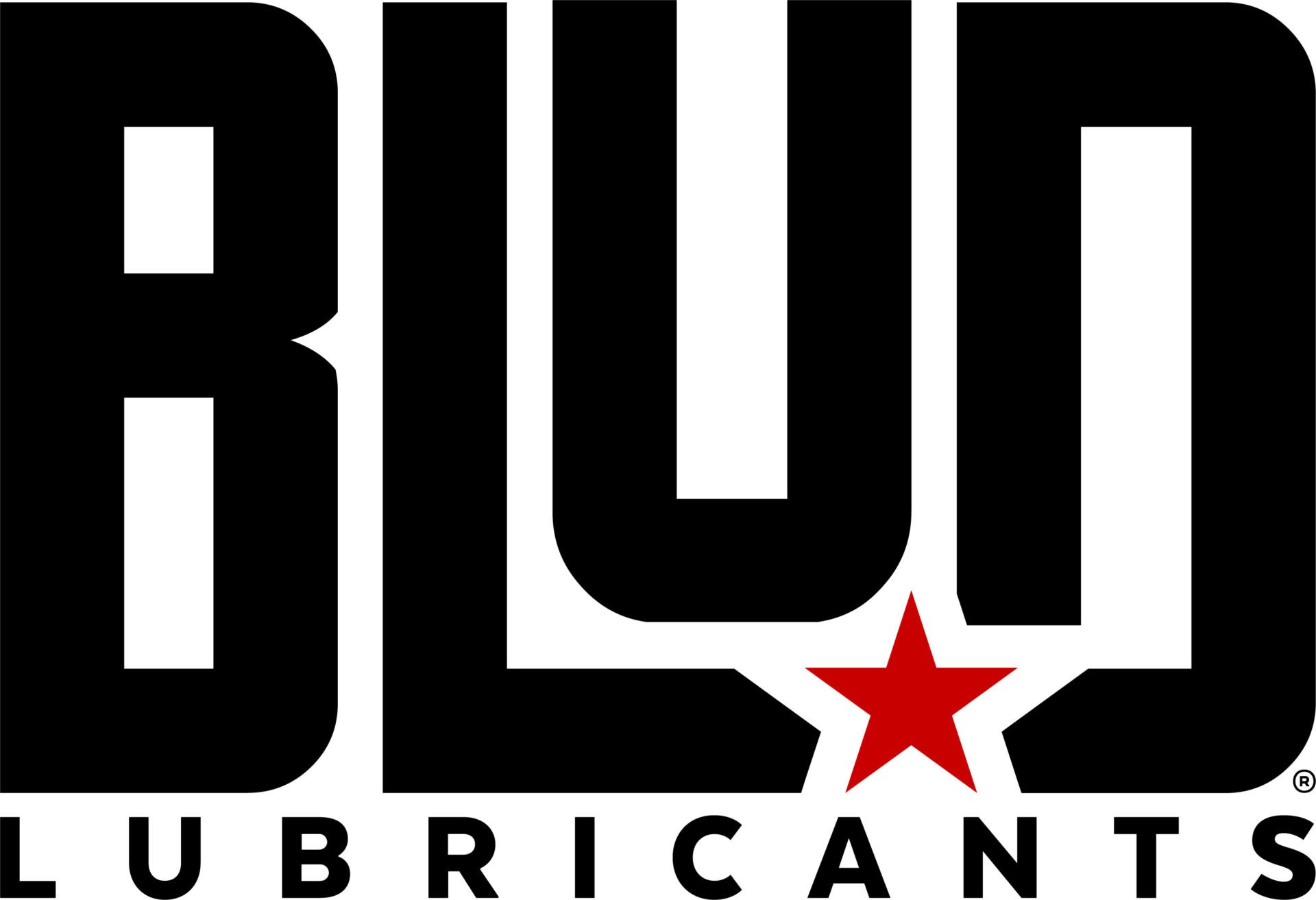 Blud Lubricants – Designed For Performance And Protection
MotoAmerica Twins Cup
Michelin Raceway Road Atlanta
May 1, 2021
1. Kaleb De Keyrel (Apr)
2. Jody Barry (Apr) -0.614-second
3. Hayden Schultz (Apr) -5.196 seconds
4. Trevor Standish (Suz) -5.266
5. Toby Khamsouk (Apr) -5.483
6. Chris Parrish (Suz) -18.776
7. Corey Hart (Suz) -47.019
8. Ryne Snooks (Yam) -47.243
9. John Knowles (Suz) -47.513
10. Liam MacDonald (Suz) -47.792
11. Chris Bays (Suz) -48.022
12. Joe Melendez (Suz) -54.757
13. Dustin Walbon (Suz) -79.235
14. Robert Bettencourt (Yam) -81.627
15. Heather Trees (Suz) -81.646
16. Rodney Vest ((Suz) -97.281
17. Michael Henao (Suz) -97.771
18. Cliff Ramsdell (Suz) -101.098
19. Christopher Evans (Apr) -101.432
20. Gino Angella (Yam) -101.999
21. Edwin Cosme (Apr) -1 lap
DQ, Jumped Start, Teagg Hobbs (Suz)
More, from a press release issued by Aprilia:
APRILIA DOMINATES IN MOTOAMERICA IN THE DEBUT RACE
THE ADVENTURE OF THE NEW RS 660 STARTS WITH A HAT-TRICK IN THE AMERICAN CHAMPIONSHIP
DE KEYREL, BARRY AND SCHULTZ TAKE THREE APRILIAS ON THE PODIUM IN THE OPENING RACE OF THE TWINS CATEGORY IN ATLANTA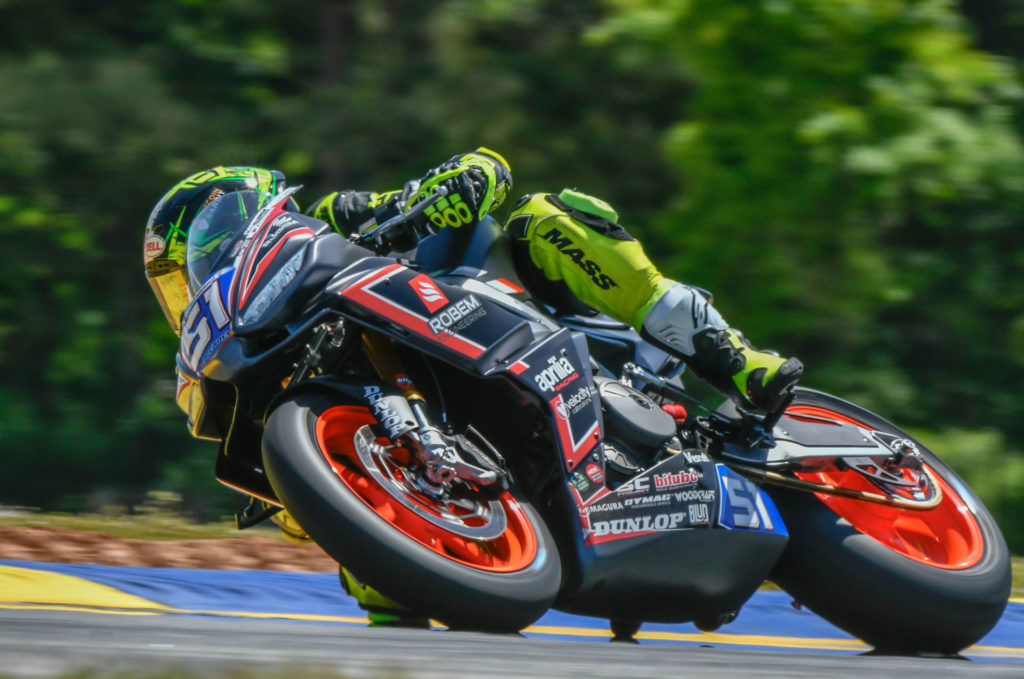 A perfect start for the debutant Aprilia RS 660 in the Twins category of the MotoAmerica Championship. On the Road Atlanta circuit, three Italian motorcycles conquered the first three positions in a fierce grid of 23 contenders.
An extraordinary demonstration of strength that exalted the dynamic and engine qualities of the new RS 660. Especially considering that the teams had very little time to prepare the season and carry out tests with the brand new twin-cylinder from Noale, homologated in America just in time for the start of the championship. It is a dazzling start, in some ways unexpected, that places the RS 660 among the favorites for the final victory in the prestigious US championship.
Winner Kaleb De Keyrel, who started from the second position on the grid, gave the Robem Engineering team its first satisfaction, ahead of Jody Barry (Righteous Racing) and teammate Hayden Schultz.
"It was super fun – says the winner – really a good battle. To come here with virtually no riding on the new bike and already be so fast shows that I did my homework well. The Aprilia came out so close to the championship that we didn't have much time. I wouldn't be here without Matt Spicer and Gene Burcham and all of Robem Engineering who put so many hours into the Aprilia RS 660 and worked on everything to get it ready for the race. Obviously, I was involved in the championship fight last year but didn't win, so now I'm hungry to prove that I can stay out front and win races."
Aprilia RS 660, launched last October is revolutionizing the concept of sportiness, it is so light and effective between the curves that, while designed to be usable daily on the road, is capable of transforming itself with a few changes into an extremely fast and fun bike between the curbs. The dynamic qualities, the rigour of the frame, the reduced weight and the exciting performance of the new 100 HP twin-cylinder engine enhance the driving pleasure of a motorcycle that, after being one of the most eagerly awaited novelties, has proved to be fun and enjoyable, able to give emotions in every situation of use.
More, from a press release issued by Robem Engineering:
De Keyrel scores Robem Engineering's first MotoAmerica victory while debuting Aprilia RS 660 in Saturday'sTwins Cup race at Road Atlanta
Schultz, Khamsouk claim podium, top-five finishes Saturday at season-opening MotoAmerica Superbikes at Atlanta round
BRASELTON, Ga. — When the season-opening MotoAmerica Superbikes at Atlanta round got underway on Friday at Road Atlanta, none of the three Robem Engineering riders had turned a lap in the offseason aboard a race-spec Aprilia RS 660. By the end of Saturday's MotoAmerica Twins Cup race, Robem Engineering rider Kaleb De Keyrel was celebrating his first victory aboard the Italian machine, and his teammate Hayden Schultz was standing next to him on the podium.
The pair of riders represented two-thirds of an all-Aprilia podium. The team's third rider, Toby Khamsouk, finished in the top five – giving Aprilia four top-five finishes in the RS 660's debut in MotoAmerica Twins Cup.
Despite having no track time aboard their race-spec machines, all three Robem Engineering riders were up to speed aboard the newly-homologated-for-2021 Aprilias by the end of the class' practice session on Friday, with 2020 Twins Cup runner-up De Keyrel finishing the session in second, Schultz in third and Khamsouk in fifth. By the time Twins Cup qualifying has wrapped up early Saturday afternoon, De Keyrel had secured second place on the starting grid, Schultz fourth place and Khamsouk sixth.
When the lights went out and the first Twins Cup race of 2021 got underway late Saturday afternoon, it was De Keyrel who was leading the field of 24 riders into Road Atlanta's Turn 1. All three riders found themselves in race-long battles for the lead or the podium, with De Keyrel in a three-way scrap for the lead and Khamsouk and Schultz vying with another rider for a possible podium finish. After one of the lead trio dropped out of the race due to a penalty, it was De Keyrel who methodically built a small lead he maintained to the checkered flag. For Schultz, it was a last-lap, last-turn pass that allowed him to claim his third-place finish.
All three riders will be back in action on Sunday for the second and final Twins Cup race of the weekend. Coverage of the race starts at about 4 p.m. on MotoAmerica's over-the-top steaming service, MotoAmerica Live+. To learn more about MotoAmerica Live+ and to watch the Robem Engineering riders vie for another Twins Cup victory, visit www.motoamericaliveplus.com.
Kaleb De Keyrel / No. 51
"Overall, it was an epic race. I had a crash in qualifying, which left my crew with a lot to do before the race. The Robem Engineering team did an amazing job getting the bike back together, and I got a great start in the race. My plan was to get to the front and charge hard, and I was able to get the holeshot. I got passed by a rider on the first lap, and I could tell he was pushing really hard. I knew tire wear was going to be an issue later in the race, so I was patient and worked on figuring out where I could make a move for the lead. It ended up being a heated, three-way battle for the lead most of the race, but I was able to bring it home for the victory. It was an amazing first win for Aprilia in MotoAmerica Twins Cup and I was able to get Robem Engineering its first win. We have a lot of changes we're working on for Sunday's Race 2 to make the bike go even faster."
Hayden Schultz / No. 49
"Saturday's Race 1 was quite the experience. It's been a challenging weekend for the whole team, considering we did not have any time on these new Aprilias before the first practice session. The fact that we've been been able to improve so much and put the bike on the podium is awesome. We didn't really know what to expect this weekend, so to get a podium with an undeveloped bike is pretty amazing. It's a long championship and we're going to have lots more opportunities to score more podiums and wins this year. I'm looking forward to seeing what the team and I can do to continue improving the bike. We've got another race on Sunday, and I need to clean up a few things in my riding. I ran off track once in Saturday's race and didn't get the best start. If I can clean those things up, I think I can fight for the win Sunday."
Toby Khamsouk / No. 27
"My start wasn't the best, so I just put my head down and made some passes. I was happy to have posted the fastest lap of the race, and the Aprilia RS 660 was great to ride. I'm looking forward to Race 2."