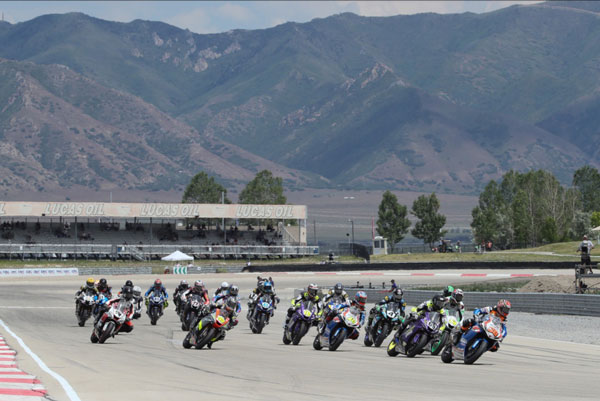 (Above) The start of Supersport Race One at UMC. Photo by Brian J. Nelson.
MotoAmerica Championship Of Utah
MotoAmerica AMA/FIM North American Road Racing Series
Utah Motorsports Campus (East Course)
Grantsville, Utah
June 15, 2019
Supersport Race One Results (all on Dunlop tires):
1. Hayden Gillim (Yam YZF-R6), 14 laps, Total Race Time 21:46.777, Best Lap Time 1:32.386
2. Bobby Fong (Suz GSX-R600), -0.101 second, 1:32.381
3. Richie Escalante (Yam YZF-R6), -10.925 seconds, 1:32.918
4. Sean Dylan Kelly (Suz GSX-R600), -11.553, 1:32.951
5. PJ Jacobsen (Yam YZF-R6), -19.967, 1:33.366
6. Bryce Prince (Yam YZF-R6), -23.447, 1:33.803
7. Josh Hayes (Yam YZF-R6), -25.024, 1:34.136
8. Braeden Ortt (Kaw ZX-6R), -30.136, 1:34.695
9. Nick McFadden (Yam YZF-R6), -30.452, 1:34.767
10. Lucas Silva (Suz GSX-R600), -30.687, 1:34.760
11. Jason Aguilar (Yam YZF-R6), -35.337, 1:34.692
12. Ashton Yates (Yam YZF-R6), -43.540, 1:35.188
13. Jaret Nassaney (Suz GSX-R600), -43.988, 1:35.298
14. Cory Ventura (Yam YZF-R6), -46.860, 1:34.948
15. Carlos Abraham Garcia (Yam YZF-R6), -46.937, 1:35.427
16. Caroline Olsen (Yam YZF-R6), -47.490, 1:35.621
17. Benjamin Smith (Yam YZF-R6), -69.902, 1:36.123
18. Aaron Graham (Yam YZF-R6), -86.138, 1:37.816
19. Robert Pierce (Yam YZF-R6), -98.843, 1:39.146
20. Jeremy Simmons (Yam YZF-R6), -1 lap, 1:40.148
21. Jason Johnson (Kaw ZX-6R), -1 lap, 1:40.113
22. Alejandro Thermiotis (Yam YZF-R6), DNF, 1:37.727
23. Nolan Lamkin (Yam YZF-R6), DNF, 1:37.994
More, from a press release issued by Team Hammer:
FONG ON THE PODIUM IN UTAH
Team Hammer continued its trophy-winning ways on Saturday as the 2019 MotoAmerica AMA/FIM North American Road Racing season resumed at Utah Motorsports Campus.
Coming off a remarkable 1-2 finish last time out at Road America, M4 ECSTAR Suzuki teammates Bobby Fong and Sean Dylan Kelly were once again battling for podium positions in the MotoAmerica Supersport category.
Fong got an outstanding launch off the front row of the grid aboard his Suzuki GSX-R600 and led the opening lap before settling into a strong second place lap two. From there he applied immense pressure on the race leader for the rest of the race.
The Californian showed his opponent a wheel in the race's final corner, but there was no room to make a pass safely, forcing Fong to accept a runner-up result on this day, just 0.101-second off the win.
After claiming his fifth podium of the 2019 season, Fong said, "There were some spots where he was he was a little better than me, and other places I was a little better, and it kept changing as the race went on. I couldn't quite get close enough to make a move, but I'm happy to finish second and get some points. We'll move on to tomorrow. I think we can make some adjustments and get faster. But as for today, we're on the podium and we can't complain."
Kelly was in the opposite position as he attempted to lock down the final spot on the podium. The 17-year-old made a move early in the race to take over third, at which point he found himself defending the position in a two-rider duel of his own.
He was relegated to fourth with just over a lap remaining and took the checkered flag in fourth position. Like Fong, Kelly will look for improvements overnight in hopes of keeping his record of securing a podium at every stop in his rookie season alive tomorrow.
Meanwhile, M4 ECSTAR Suzuki's Jake Lewis registered one of his strongest rides of the Superbike season. He ran as part of a tight seven-rider freight train at the front of Saturday's premier-class race aboard his Superbike-spec GSX-R1000 for just over half distance.
At that point, he gradually faded off the fight for the win, but continued on to solidify his position. Lewis was rewarded for his patience, gaining two positions late in the race to take his fourth fifth-place finish of the year.
Roadracing World Young Guns' Alex Dumas was the fastest rider in the solitary Twins Cup practice on Saturday, putting his Suzuki SV650 on top of the charts by a full 1.188 seconds.
Autovest Suzuki's Joseph Blasius impressed as well, running fourth-quickest in the session, ahead of Sunday's qualifying Twins Cup session and race.
Team Hammer is looking forward to more success at UMC on Sunday!
About Team Hammer
The 2019 season marks Team Hammer's 39th consecutive year of operating as a professional road racing team. Racebikes built and fielded by Team Hammer have won 72 AMA Pro and MotoAmerica National races, have finished on AMA Pro and MotoAmerica National podiums 214 times and have won five AMA Pro National Championships, as well as two FIM South American Championships. The team has also won 135 endurance races overall (including seven 24-hour races) and 13 Overall WERA National Endurance Championships with Suzuki motorcycles, and holds the U.S. record for mileage covered in a 24-hour race. The team also competed in the televised 1990s Formula USA National Championship, famously running "Methanol Monster" GSX-R1100 Superbikes fueled by methanol, and won four F-USA Championships.