More, from a press release issued by MotoAmerica:
Scott Wins His First Career MotoAmerica Supersport Race
Youth Is Served In Supersport Final At Road America
ELKHART LAKE, WI (June 4, 2022) – Sixteen-year-old Tyler Scott won the first MotoAmerica Supersport race of his career on Saturday at Road America, the Vision Wheel M4 ECSTAR Suzuki rider trailing Josh Herrin for the race distance and then drafting past the veteran and his Warhorse HSBK Racing Ducati NYC Panigale V2 at the finish line.
Margin of victory: .039 of a second.
Scott winning a Supersport race wasn't a matter of if, but when. Today it was when as the Pennsylvanian earned what is certainly the first of many Supersport wins for last year's SportbikeTrackGear.com Junior Cup Champion.
Yuasa Stock 1000 – Alexander's Bounce Back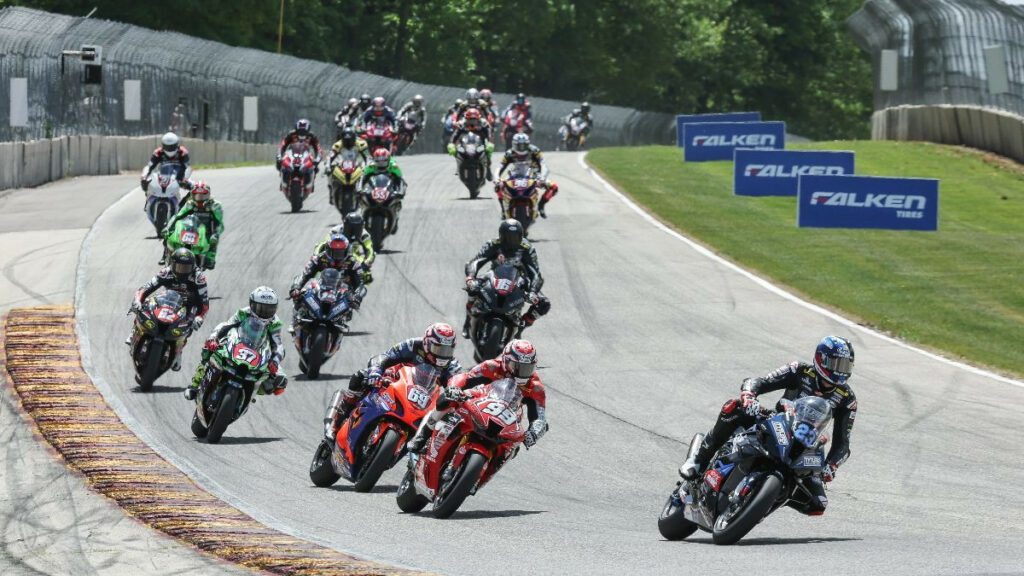 Tytlers Cycle/RideHVMC Racing's Corey Alexander made a big comeback from his crash at VIRginia International Raceway when he began the weekend at Road America by setting a new Yuasa Stock 1000 lap record in first qualifying, then going even faster in final qualifying to lower his record even more and set the pole. Then, in the literbike riders' feature race of the weekend, Alexander led every lap of the event aboard his BMW M 1000 RR and took the checkered flag by nearly three seconds over his teammate Travis Wyman. VisionWheel/DiscountTire/KWS Honda rider Geoff May rounded out the podium in third.
"For sure, this was our plan all year to try to be one and two, Travis (Wyman) and me," Alexander said. "That's what we're here for. Definitely coming into the weekend, I honestly wasn't 100 percent sure what it would feel like to get back on the bike. It took me every bit of the two weeks to do everything I possibly could to recover for this and get back to a head space where I was comfortable with getting back on the bike. So, just to be out here riding again after that crash, obviously it was very scary. Fortunately, I don't remember any of it. But it was scary to watch. Just super thankful for my guys and the whole team. This is what we're here to do. It's great to have Travis up here with me, and unfortunate for Hayden (Gillim, who is leading the Yuasa Stock 1000 Championship, but suffered a mechanical failure on Saturday). But we need every point we can get after missing those two. I keep bringing it up, but we don't have double-headers every weekend, so these single-header weekends, there are not that many races left. We're only three races into the season, but we don't have a ton left in Stock 1000. So, we've got to get every point we can to try to get back in the hunt for the championship."
Supersport – Scott's First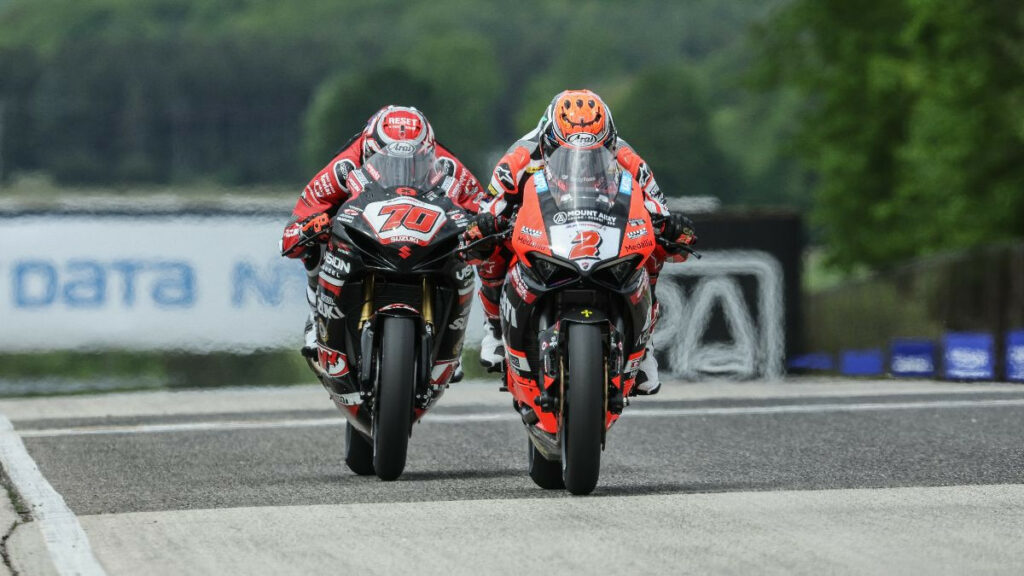 Sixteen-year-old Tyler Scott, who won last year's SportbikeTrackGear.com Junior Cup Championship, moved up to Supersport for 2022, and in just his fifth race in the class, the Pennsylvanian notched his third podium of the season, but more importantly, his first victory.
Scott stalked Warhorse HSBK Racing Ducati NYC rider and current point leader Josh Herrin for almost the entirety of the race. And then, on the final go-around of the 11-lap race, Scott made a perfect pass on Herrin and prevailed in a drag race to the checkered flag, winning by just .039 of a second. Third place went to Landers Racing Yamaha's Rocco Landers, who prevailed in a battle of his own for the final step on the podium.
"I tried to break away in those first couple laps and saw that wasn't a possibility of happening," Scott said. "So, I just tried to follow Josh and learn what I could and use it on the final lap and try and draft him to the line. I didn't expect (to win). I definitely wanted it, but I knew it was going to be a little bit to get used to the team and the bike. I wanted the first win to come as soon as possible."
SportbikeTrackGear.com Junior Cup – LiMandri Gets It Done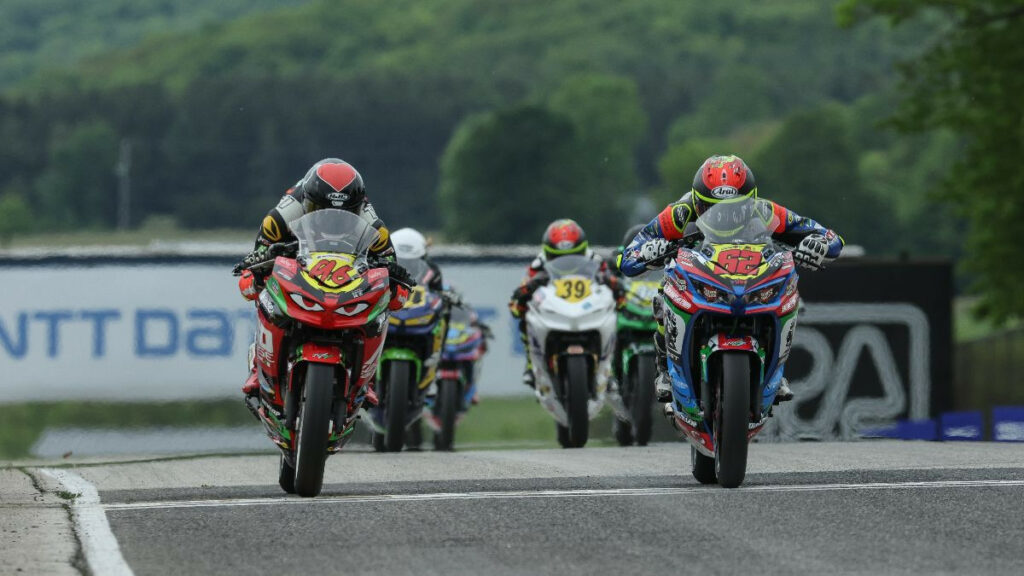 Saturday was a breakthrough day for SportbikeTrackGear.com rider Joseph LiMandri Jr. as the Kawasaki rider won the first race of his career in the SportbikeTrackGear.com Junior Cup class…but it wasn't easy. LiMandri Jr. need every one of the seven laps and every inch of the four-mile track to win over Rodio Racing/Warhorse HSBK Racing's Gus Rodio, who finished second and just six milliseconds behind LiMandri Jr. Rounding out the podium was Altus Motorsports rider Kayla Yaakov.
"A lot of my strategy was kind of what Gus was doing," LiMandri Jr. said. "I wanted to be out front. Usually I play tag behind, or I just follow behind someone. Obviously, that hasn't been working too much lately. I've either been second or third. Like Gus said, there was so much carnage. There were bikes everywhere. I got hit a couple times. I hit a couple people. So, I was like, you know what? I'm just going to try to get to the front. I messed around with maybe I could pull away. So, I tried to pass in turn five and lead hopefully through the infield and see if I could put a gap, but that didn't work. So, on the last lap I was hoping to stay in second by the time I got to the front straight, but I got shuffled back. So, I just kind of put my head down. I was really aggressive, and I knew I had to make passes. So, I planned it out in my head right before. I just started making passes right when I saw the opportunity. I saw Gus got a gap, and my confidence was starting to go down a little bit. I didn't know if I could catch back up. Down the back straight I saw we were closing in Kayla was going in deep into Canada Corner, so I just went a little deeper. I was hoping that it panned out. It worked. Then going down the front straight, Gus was close. I got a good drive out of the last turn. It was just far enough where I knew I could get sucked into that draft and pulled right up next to him and I just popped out. It worked."
Twins Cup – Barry. Again.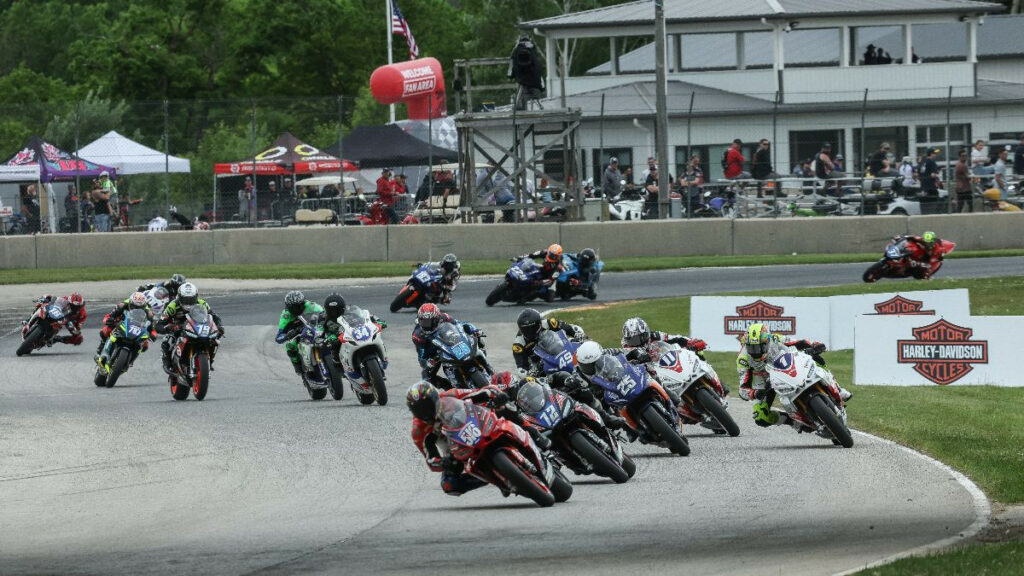 Veloce Racing Aprilia rider Jody Barry had a short hiatus from the MotoAmerica series a couple of years ago, but ever since he returned and started racing in the Twins Cup class, he's had a lot of success. This year, he's become the odds-on favorite to win the class championship.
On Saturday at Road America, Barry bided his time at the beginning of the eight-lap race, but then, he took the lead on lap two and held steady to take his fourth straight win this season. BARTCON Racing Yamaha rider Dominic Doyle looked to have second place wrapped up, but Rodio Racing/Warhorse HSBK Racing Aprilia's Anthony Mazziotto seemingly came out of nowhere and overtook Doyle on the final lap to finish as runner-up, which relegated Doyle to the final step on the podium.
"Daytona was a wild round, so, I figured it would be like that all year," Barry said. "Thankfully, (Veloce Racing is) putting together a good bike, allowing me to get consistent wins and everything. My rear tire was going and everything, and I figured everybody else's rear tire was going. Coming to the white flag lap, I'm like, 'If somebody passes me into five, we can see what we can do for the draft,' but no one did. So, I was like, 'Let's see what we can do as far as lap time goes and just put down a good lap.' "
More, from a press release issued by Suzuki Motor USA, LLC:
TYLER SCOTT WINS HIS FIRST SUPERSPORT RACE FOR VISION WHEEL M4 ECSTAR SUZUKI
Suzuki GSX-R750s Dominate the Top Ten Results at Road America
BREA, Calif., June 4, 2022 — Suzuki Motor USA and Team Hammer celebrated a landmark victory in spectacular fashion as the 2022 MotoAmerica AMA/FIM North American Road Racing season resumed on Saturday at Road America in Elkhart Lake, Wisconsin.
That celebration came courtesy of rising star Tyler Scott, who demonstrated both wisdom beyond his years and a flair for the dramatic in a perfectly executed MotoAmerica Supersport contest.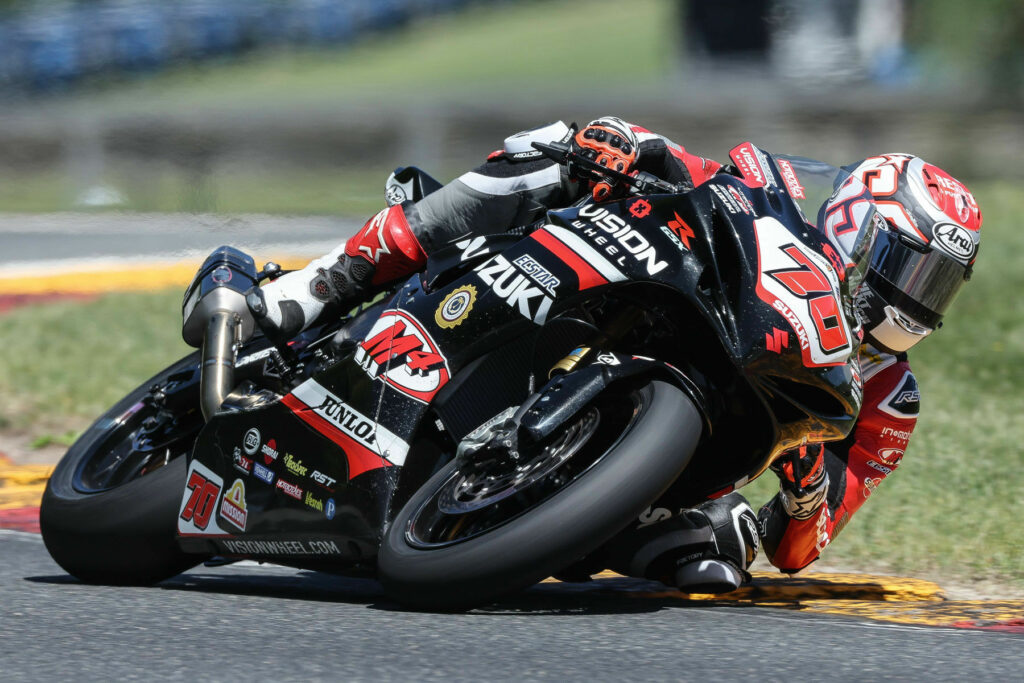 Even before the race, the 16-year-old made his intentions clear by hustling the Vision Wheel M4 ECSTAR Suzuki GSX-R750 to his, and the bike's, first-ever Supersport pole position in just their third attempt.
Scott made the most of that prime starting position by rocketing out in the lead at the start. However, once he saw it would be impossible to escape at the front, he made the cagey decision to slot into second position, go to school on a vastly more experienced rider, and then strike at the last possible moment.
He played his cards perfectly, pulling out of the draft in the final sprint to the checkered flag at the last possible moment, sling shotting to a 0.039-second margin of victory.
Scott said, "I tried to break away in the first couple of laps, but I saw there wasn't a possibility of that so I decided to follow and learn what I could before attempting to draft him to the finish line."
"I definitely wanted it, but I didn't expect a Supersport win to come quite this early. I knew I would have to get used to the team and the bike, but I wanted the first one to come as soon as possible. The Vision Wheel M4 ECSTAR Suzuki GSX-R750 was amazing for the entire race. All thanks to my entire Suzuki team."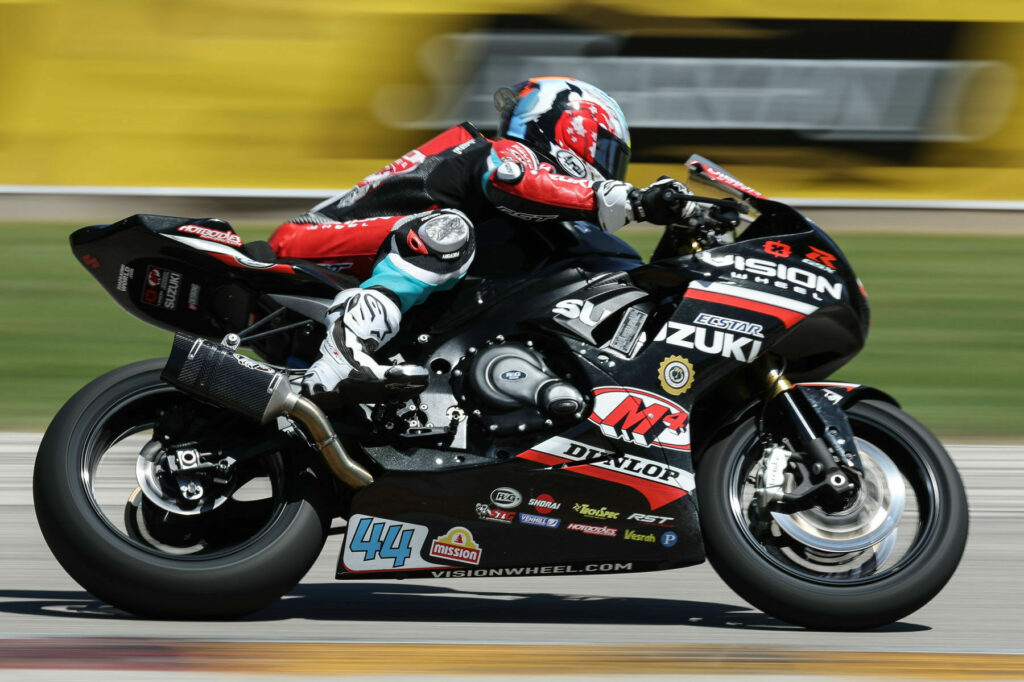 While Scott's breakthrough win obviously made him the headliner, it was a banner day for Suzuki in the class all around.  Scott's Vision Wheel M4 ECSTAR Suzuki teammate, Sam Lochoff, engaged in a heated battle throughout the race and came in seventh, Vision Wheel M4 ECSTAR Suzuki rider Liam Grant finished in tenth. And Suzuki riders from multiple teams accounted for six of the top ten positions, a dominating performance for the new generation Supersport Suzuki GSX-R750.
Lochoff said, "I got a strong start; I came up to second from fifth, but I outbraked myself in Turn 12 and lost some positions. After that, I settled down and rode what I thought was a pretty good race. I knew I could catch the guys in front of me, but I was weak on the brakes and couldn't get a good drive out of the chicane. We'll work on the setup and look forward to tomorrow."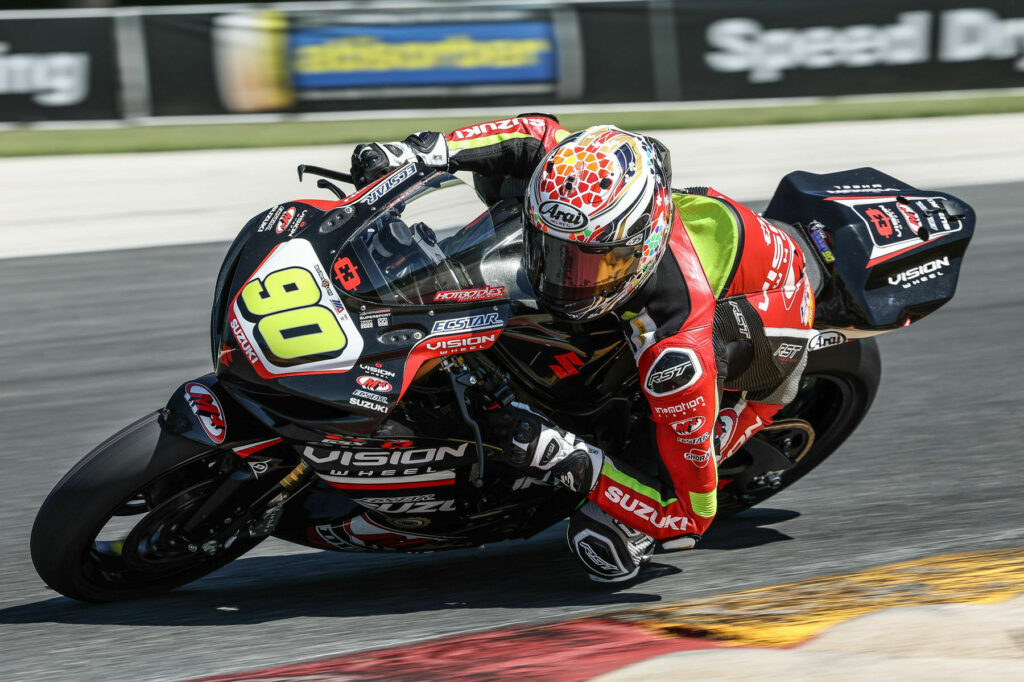 Saturday's MotoAmerica Superbike race saw Vision Wheel M4 ECSTAR Suzuki teammates Jake Lewis and Richie Escalante both improve upon their starting positions aboard their twin GSX-R1000Rs. Both riders suffered crashes earlier in the weekend that hindered their qualifying performances.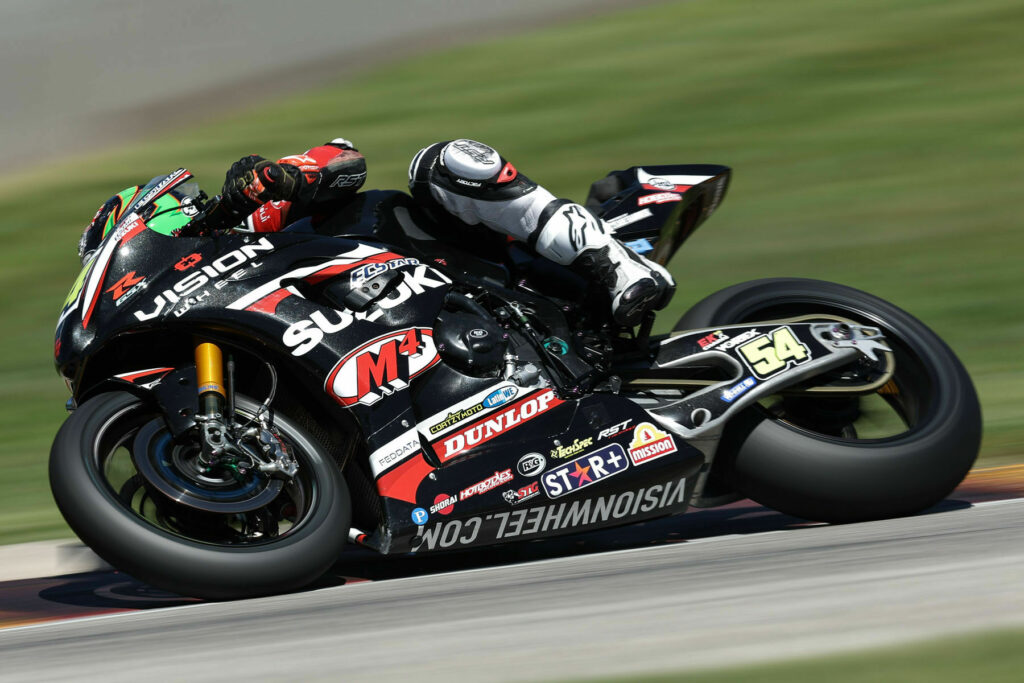 After qualifying ninth, Lewis fought forward and only surrendered a top-five finish late, ultimately coming home in sixth. Premier-class rookie Escalante, meanwhile, made an identical improvement, transforming a fourth-row grid position into a seventh-place result.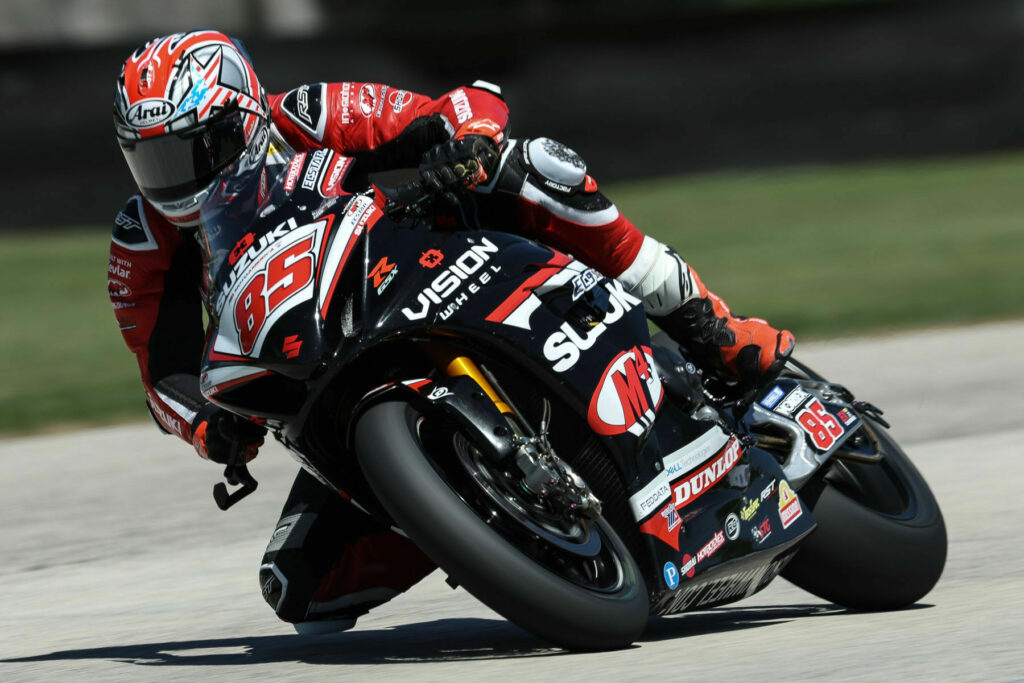 Lewis said, "We definitely wanted to be a little bit better, but we put ourselves on the back foot yesterday with a crash early in qualifying. We missed out on some time to get the bike set up and it knocked my confidence down a little bit in qualifying. Still, we got a good start in the race and pretty much held our position. We'll try to make some changes for tomorrow and see if we finish better."
Team Hammer and the rest of the Suzuki-mounted contingent will be back hunting more trophies on Sunday at Road America.
ABOUT TEAM HAMMER
The 2022 season marks Team Hammer's 42nd consecutive year of operating as a professional road racing team. Racebikes built and fielded by Team Hammer have won 128 AMA Pro and MotoAmerica National races, have finished on AMA Pro and MotoAmerica National podiums 332 times, and have won 11 AMA Pro and MotoAmerica National Championships, as well as two FIM South American Championships (in Superbike and Supersport.) The team has also won 137 endurance races overall (including seven 24-hour races) and 13 Overall WERA National Endurance Championships with Suzuki motorcycles and holds the U.S. record for mileage covered in a 24-hour race. The team also competed in the televised 1990s Formula USA National Championship, famously running "Methanol Monster" GSX-R1100 Superbikes fueled by methanol, and won four F-USA Championships.
ABOUT VISION WHEEL
Founded in 1976, Vision Wheel is one of the nation's leading providers of custom wheels for cars and trucks, and one of the first manufacturers of custom wheels and tires for ATVs, UTVs, and golf carts. Vision Wheel looks beyond the current trends and to the future in developing, manufacturing, and distributing its wheels. Vision's lines of street, race, off-road, American Muscle, and Milanni wheels are distributed nationally and internationally through a trusted network of distributors. Vision Wheel also produces the Vision It AR app to allow users to see how their wheel of choice will look on their vehicle before purchase and installation. For more information on Vision Wheel, visit www.visionwheel.com.
ABOUT SUZUKI
Suzuki Motor USA, LLC. (SMO) distributes Motorcycles, ATVs, Scooters, Automotive Parts, Accessories, and ECSTAR Oils & Chemicals via an extensive dealer network throughout 49 states. Suzuki Motor Corporation (SMC), based in Hamamatsu, Japan, is a diversified worldwide manufacturer of Motorcycles, ATVs, Scooters, Automobiles, Outboard Motors, and related products. Founded in 1909 and incorporated in 1920, SMC has business relations with 201 countries/regions. For more information, visit www.suzuki.com.