This weekend's results are brought to you by Blud Lubricants – Racing Is In Our Blud!!!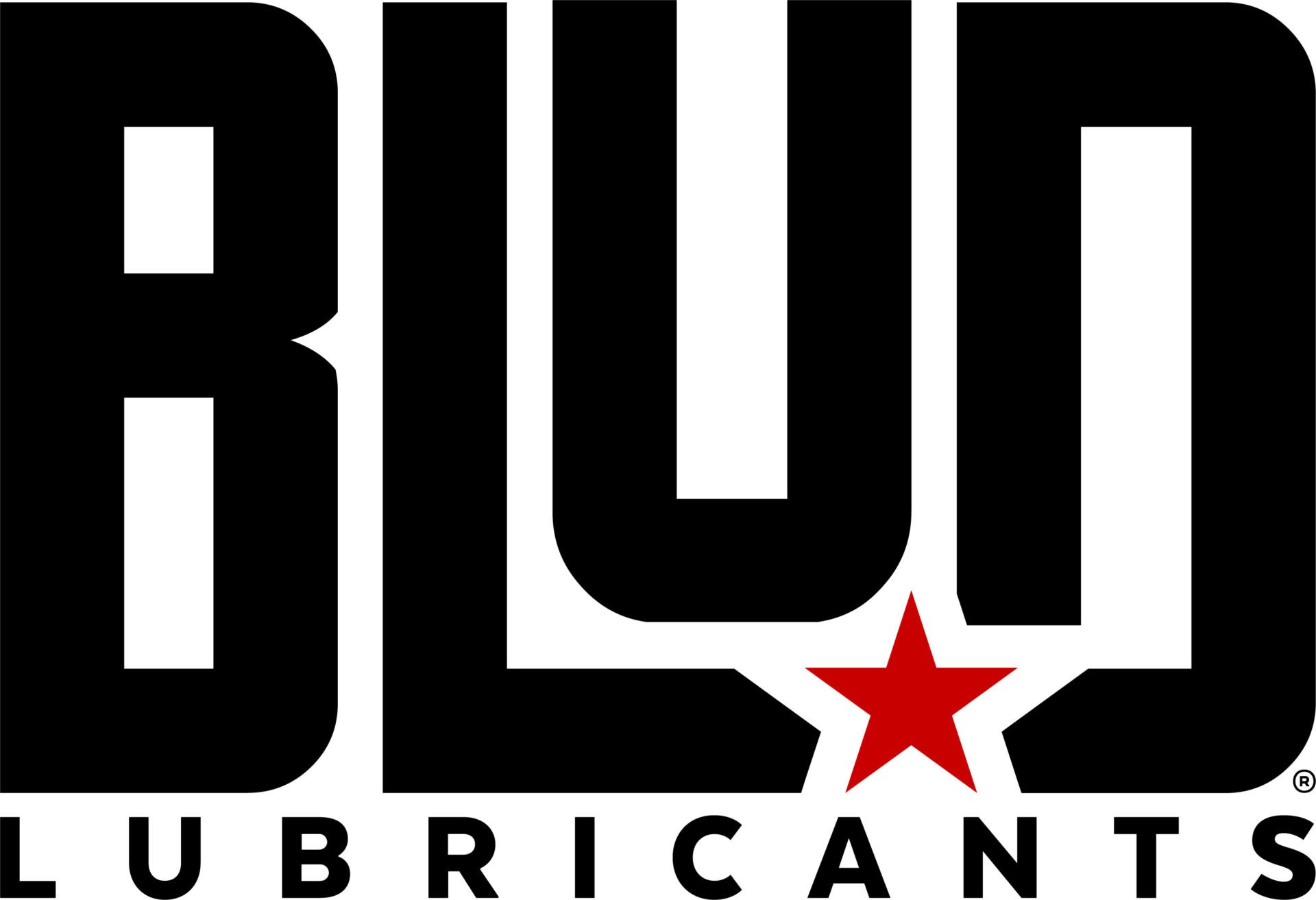 Blud Lubricants – Designed For Performance And Protection
More, from a press release issued by MotoAmerica:
Kelly Over Escalante, Scott Over Gloddy On Day One At WeatherTech Raceway
The Two Pairings Destined To Battle At Every Round In Supersport And Junior Cup
MONTEREY, CA (July 10, 2021) – There are two things that seem to be predictable in the 2021 MotoAmerica Series: Sean Dylan Kelly and Richie Escalante will battle in every Supersport race and Tyler Scott And Ben Gloddy will do likewise in the SportbikeTrackGear.com Junior Cup. It was no different today at WeatherTech Raceway Laguna Seca.
Supersport: Kelly Wins Another Battle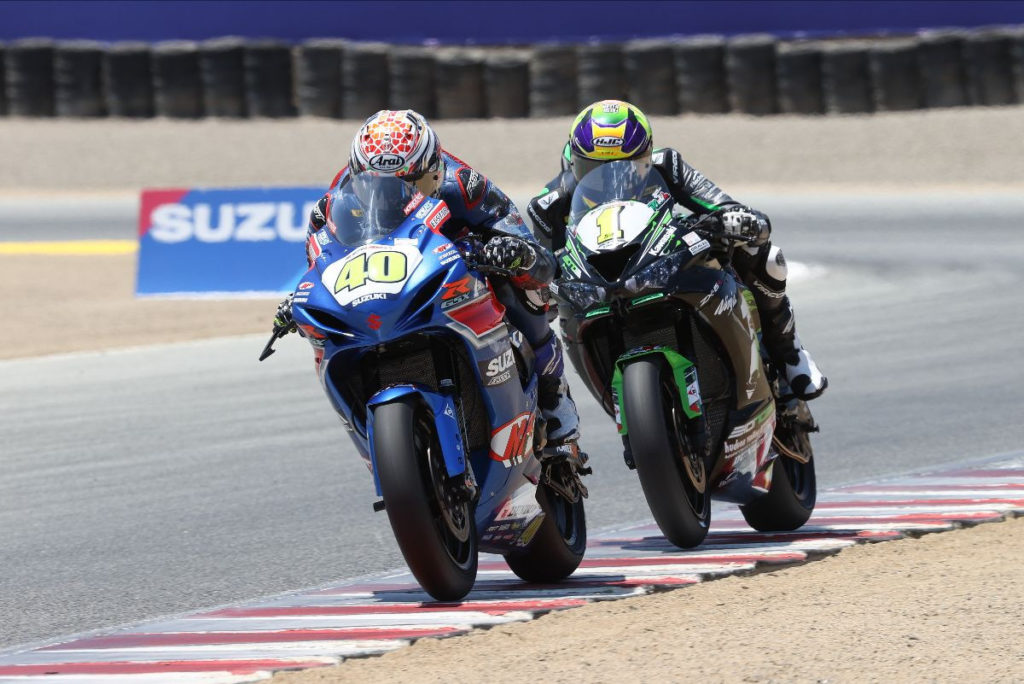 One thing that has been a consistent theme in the Supersport class over the past two seasons is the friendly, but also red-hot, rivalry between HONOS HVMC Racing Kawasaki's Richie Escalante and M4 ECSTAR Suzuki's Sean Dylan Kelly. In Saturday's race one at WeatherTech Raceway Laguna Seca, Kelly started from the pole, and while he did lead every lap of the race, he was also challenged in virtually every lap of the race by defending class champion Escalante.
For Kelly, it was his sixth win of the season and third in a row to match the three-race winning streak with which he started the season. At the checkers, Kelly prevailed by just .099 of a second over Escalante. Third place went to CV28 Racing Yamaha's Cory Ventura, who also podiumed last year at Laguna Seca, which was also the last time he raced in the MotoAmerica Series.
"It's been a change of types of races compared to last year," Kelly said. "I need to adjust a little bit how I'm racing and how I'm thinking. I was kind of in the opposite role last year. I was mostly behind and having to study and having to see where to pass. Today, I think he only got by me one time for a little bit. It's definitely much different riding up front the entire race and hearing him right behind me in certain sections of the track. I knew that he was stronger in some areas – quite a lot stronger. I saw his wheel a few times. He passed me coming out of Rainey Corner. I knew he was going to save up for the end. But it feels really good to win again at Laguna Seca. I've been waiting. We needed to do our homework. The pace wasn't as good as I was expecting. My bike is good. I'm feeling good. I just need to change some things up for tomorrow to get a better base from the beginning and maintain a little bit better. I had some different decisions compared to the morning, but all good. Really happy that we got the win today. I had to play it as smart as I could the last couple of laps. I expected Richie to go by, so I just pushed really hard, as hard as I could and then just defended the few last corners. It worked out well. Definitely feels good to pass first at Laguna."
SportbikeTrackGear.com Junior Cup: Great Scott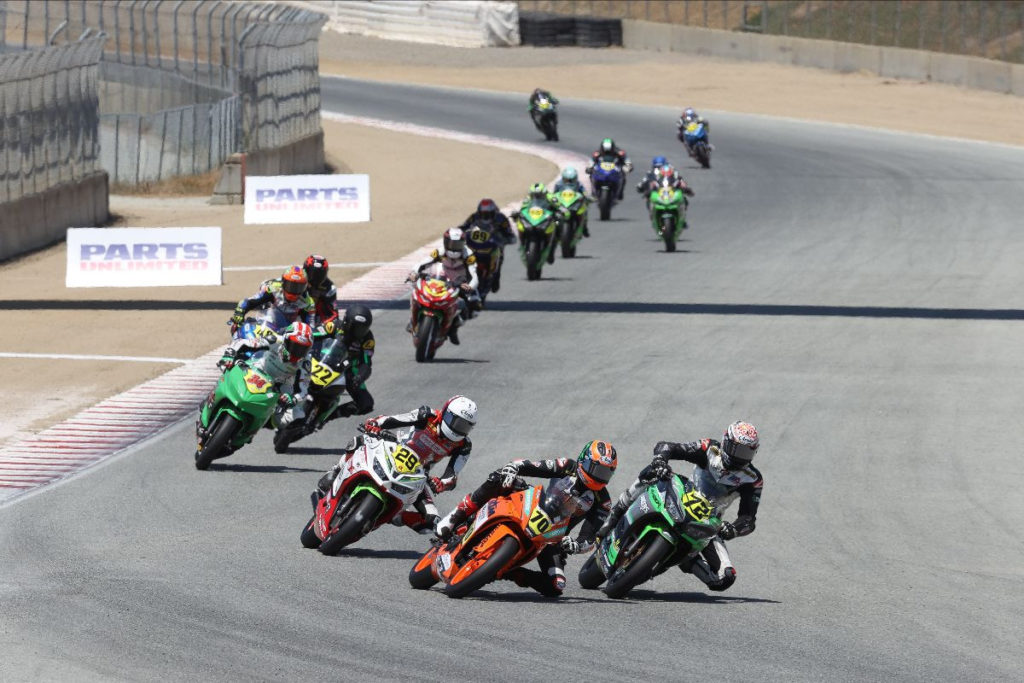 In SportbikeTrackGear.com Junior Cup race one, Scott Powersports KTM rider Tyler Scott started from the pole, got the holeshot, and appeared to be headed for a dominant win. However, Landers Racing Kawasaki's Ben Gloddy chased down Scott and overtook him on lap eight, but he was unable to make it stick. Scott retook the lead and crossed the finish line .216 of a second over Gloddy. Meanwhile, 24 seconds behind the leaders, Veloce Racing Kawasaki's David Kohlstaedt and Rodio Racing Kawasaki's Gus Rodio were waging their own war for the final spot on the podium. At the checkers, Kohlstaedt secured third place.
"I kind of expected to create a gap off the start," Scott said. "I was trying to do that, and I kept looking back, and it was the same distance. Then, I think it was about halfway, I made two or three mistakes in one lap. That's all he needed to catch back up to me. In the end, it was a really good battle, and I'm happy with the championship points."
Twins Cup: De Keyrel Over Mazziotto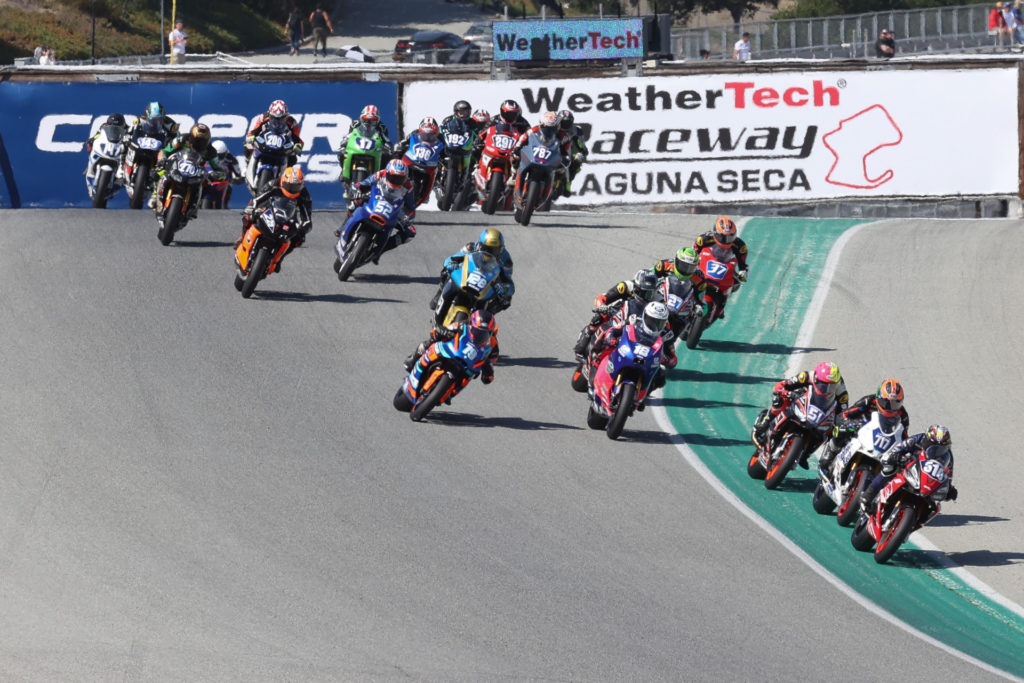 The final race on Saturday was in Twins Cup, and Robem Engineering Aprilia's Kaleb De Keyrel seems to have WeatherTech Raceway Laguna Seca absolutely dialed.
Despite starting fifth on the grid, De Keyrel progressed quickly to the front, taking over the lead on the first lap and holding off polesitter and Veloce Racing Aprilia rider Anthony Mazziotto to notch his third podium in a row at Laguna Seca and his second win in his past three annual visits to the venue. At the stripe, Mazziotto was just .217 of a second behind De Keyrel, while third place went to Righteous Racing Aprilia's Jody Barry to complete an all-Aprilia RS 660 podium. Barry, incidentally, overtook De Keyrel on lap five, but he was unable to make it stick.
When asked if he felt pressure from the riders behind him, De Keyrel said, "To be honest, I didn't feel a whole lot of pressure just because I didn't know where everybody was. So, I was just like, well, I'm going to push as hard as I can. I kept seeing plus zero on the board and I'm like, come on. What's going on here? I was just pushing as hard as I could. It was pretty greasy, so it was kind of sketchy because we were pushing really fast and the bike definitely kind of wasn't liking it for a while there. Then towards the end I was just like, well, I've got to put in as hard as I can possibly go. The lappers always kind of come into play here at Laguna. It's always that last lap. Last year, I kind of got the short end of the stick on that so I had to keep the momentum rolling up that hill. I was coming up behind them and it was either go inside or outside, but there was only like two feet or not even. They were coming out and I'm like, I'm going. I'm committed. So, I'm on just the curbing. There's sand here and a guy right here, and I'm squeezing through the outside. It paid off. I figured either one, they were going to follow me through that little hole, which I was like, that would be really sketchy. But even I had to go pretty tight coming into six. So, I knew I had to get around them as fast as I could. I had to kind of do a little bit of a sketchy pass to make that happen, but then again, if I would have killed all my momentum, they would have sucked right back up onto me. So, I knew I had to do it. It paid off. It was a super fun race. Just kind of got out there and got in a groove. I was surprised I was able to click off 31's I think pretty consistent, so that was good. Just felt pretty comfortable. Hopefully, we can just keep the momentum rolling to Brainerd, the hometown."
More, from a press release issued by Team Hammer:
SIXTH 2021 WIN FOR M4 ECSTAR SUZUKI'S SEAN DYLAN KELLY AT LAGUNA SECA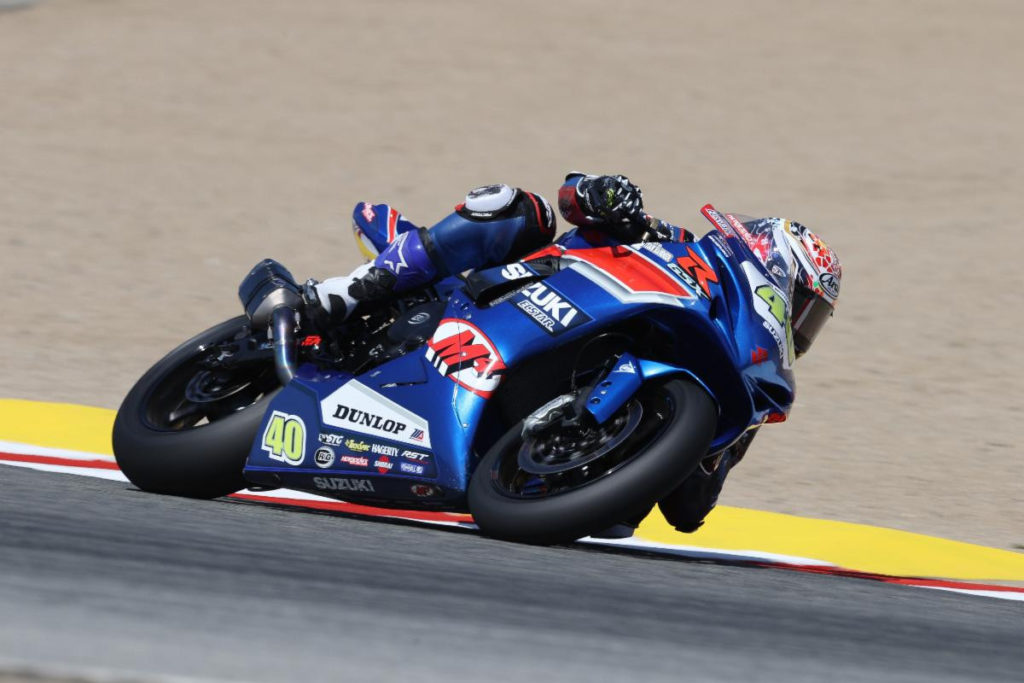 Team Hammer extended its storming mid-season form, snaring another race victory and a pair of podiums as the 2021 MotoAmerica AMA/FIM North American Road Racing Championship season picked back up on Saturday at Weathertech Raceway Laguna Seca in Monterey, California.
It came as no surprise that the win was scored by the surging Sean Dylan Kelly aboard his M4 ECSTAR Suzuki GSX-R600 in the day's MotoAmerica Supersport contest.
'SDK' followed his typical script, leading from pole and fighting off an intense challenge to claim the checkered flag by a narrow 0.099-second. Despite feeling the pressure from close behind throughout, the Floridian only saw his rival come alongside on a single occasion on lap 14 of 19. Kelly countered immediately, striking back in the very next corner before keeping his opponent corralled behind him for the remainder of the race.
The win was Kelly's third in succession and sixth overall in 2021, extending his championship advantage beyond a race at 26 points.
He said, "It feels so good to win again at Laguna Seca. It was definitely a hard race… The lap times have been really close and I knew it was going to be a tough race. It was close, but we're here to show we can fight it out and win. A huge thanks to my M4 ECSTAR Suzuki team for getting my bike ready to go."
Kelly was joined in celebration by his M4 ECSTAR Suzuki teammate, Cameron Petersen. The South African, who earned his maiden MotoAmerica Superbike podium just five races back, already boasts a career tally of four thanks to another standout performance on Saturday.
Petersen suffered off the line despite his front-row grid position, dropping to fifth in the early stages of the race. However, an early red flag provided him another opportunity and he made the most of it. Petersen got away in second aboard his GSX-R1000 Superbike and quickly settled into third, where he would remain to the race's conclusion.
"For sure, that red flag played to my advantage, big time," Petersen said. "I got such a horrible start that first time and I could see the front three guys getting away. I was getting a little bit frustrated, but I made up for it on the restart. I managed to get a good start and put in a good race.
"Hats off to the M4 ECSTAR Suzuki team. They keep working hard and keep giving me the best possible bike every weekend. That's allowing me to show that I can do my thing and get on the podium in the Superbike class."
Meanwhile, second Superbike pilot Bobby Fong and second Supersport rider Sam Lochoff added to Team Hammer's points haul on the day with a seventh-place finish apiece.
Earlier, M4 ECSTAR Suzuki's Wyatt Farris qualified 11th for Sunday's Stock 1000 race with a best lap of 1:28.592.
All five riders will be back in action and clawing for top positions on Sunday at WeatherTech Raceway Laguna Seca.
About Team Hammer
The 2021 season marks Team Hammer's 41st consecutive year of operating as a professional road racing team. Racebikes built and fielded by Team Hammer have won 116 AMA Pro and MotoAmerica National races, have finished on AMA Pro and MotoAmerica National podiums 311 times and have won nine AMA Pro and MotoAmerica National Championships, as well as two FIM South American Championships (in Superbike and Supersport.) The team has also won 137 endurance races overall (including seven 24-hour races) and 13 Overall WERA National Endurance Championships with Suzuki motorcycles, and holds the U.S. record for mileage covered in a 24-hour race. The team also competed in the televised 1990s Formula USA National Championship, famously running "Methanol Monster" GSX-R1100 Superbikes fueled by methanol, and won four F-USA Championships.