This weekend's results are brought to you by Blud Lubricants – Racing Is In Our Blud!!!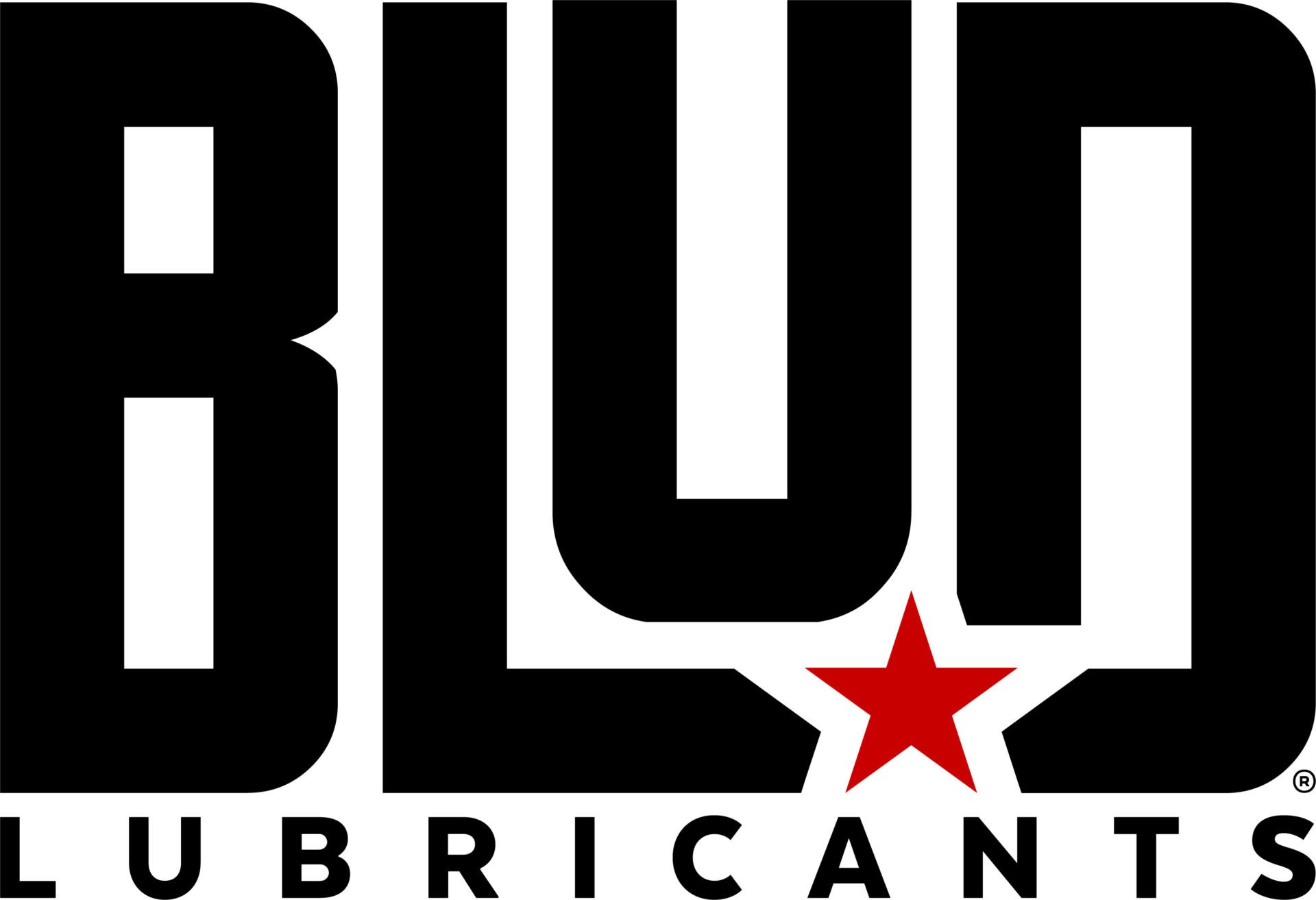 Blud Lubricants – Designed For Performance And Protection
More, from a press release issued by MotoAmerica:
Gagne Does It Again At Road America
Jake Gagne Wins His Fourth Straight MotoAmerica HONOS Superbike Race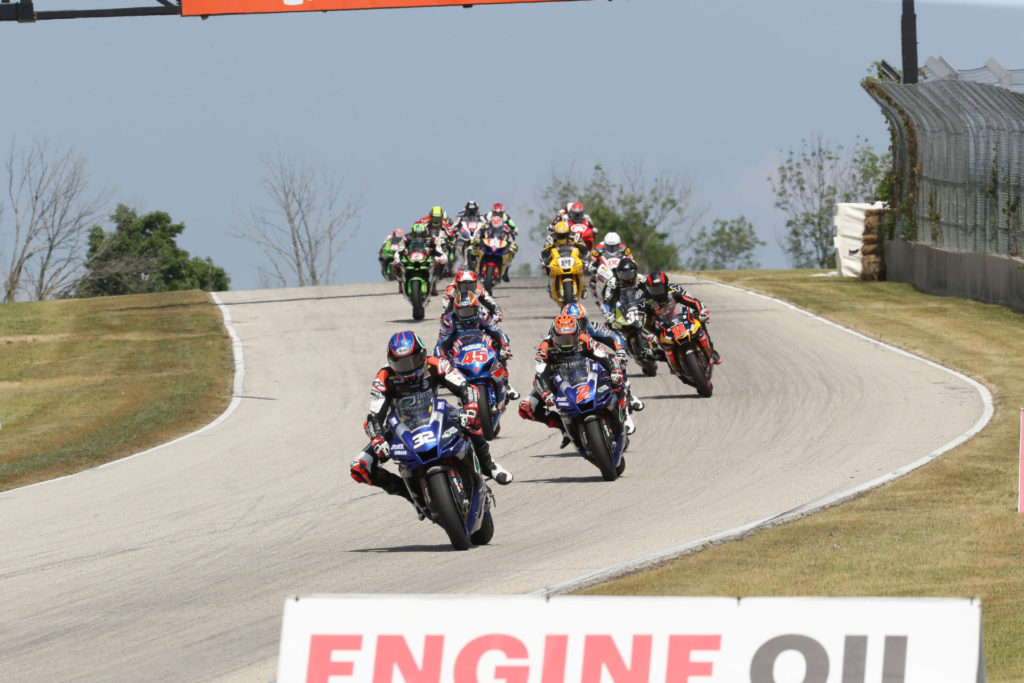 ELKHART LAKE, WI (June 12, 2021) – Fresh N' Lean Attack Performance Yamaha's Jake Gagne continued his domination of the 2021 MotoAmerica HONOS Superbike class, the Californian winning a fourth straight race while also taking over the lead in the championship on a hot and sunny day at Road America.
In a carbon copy of his three other victories, Gagne led from pole position and was never headed. He was the only rider to lap in the 2:11s and pulled away to what was ultimately a 5.987-second victory.
When we brought this Yamaha off the truck on Friday it felt really, really good," Gagne said. "This track is just unique. I knew these guys were going to go. When you get to a race here at this track, we've got these long straightaways and people can make up time. It's one thing doing it in practice, but these guys will step it up in the race. My first couple laps were really, really solid. Didn't want to make any mistakes. Just tried to be smooth, be easy on these tires. Just kind of barely creeped away. It wasn't much. It wasn't like VIR. These guys were on my toes. I could see a couple of those spots you can see the big TV and you see those blue bikes and the red bike battling around. Hats off to the crew. They keep working, working, working no matter how fast we are. Even if we've got a little gap, they keep working and we keep going faster and that's the plan. I think we learned a lot even today. I think we can try to brush some things up tomorrow because these boys are going to be coming."
The battle for second was a good one with Warhorse HSBK Racing Ducati New York's Loris Baz storming through in the last few laps to go from fourth to second, passing both M4 ECSTAR Suzukis to finish behind Gagne after making dramatic changes to his Ducati Panigale V4 R prior to the race.
"We changed the bike a lot," Baz said. "Every session I would go out with a completely different bike. In race one, we changed the swingarm more than once just 20 minutes before the race because we got a lot of data. We tried a lot of things. That bike never rode actually with the Dunlop tire. We have to find the setup and work with the style. I was struggling all weekend. Finally, I trust my guys. The early laps it was really hard because when you go with a new bike and everyone is pushing hard, I was just slow. Then I took pace. I saw Cam (Petersen) was really fast coming on Bobby (Fong) and I just hope that he overtake him really soon so I can come back, and (this) is exactly what happened. Going into the last lap, I managed to overtake Bobby before the finish line. So, I said, 'okay.' I just tried to stay with Cam, but it was hard because also Bobby was just behind. In the last corner, I just wanted to open the line to have a good drive, but I had to close the door for Bobby. It was tough. But we're getting there step by step. It's really hard getting to try so many things in such a small amount of time, but that's our challenge. Congrats to Cam. Hats off to Jake. We have to work really hard to catch him. Massive thanks to all the team. That one goes to Jason (Dupasquier, who passed away from injuries suffered in a qualifying crash for the Italian Moto3 Grand Prix)."
Baz passed both Bobby Fong and Cameron Petersen on the run to the flag with just .073 of a second covering the three-rider battle for second. Petersen held on for third for his first MotoAmerica Superbike podium with his teammate Fong a shadow fourth.
"I'm super happy," Petersen said. "Obviously, I've been working for this for a long time. I've had a few opportunities at it, and it never seems to go my way. So, to finally get one it feels so, so good. I kind of keep going on about it, but this one's for my family. They sacrificed everything. So, this one goes out to my dad, my mom, my sister, my fiancé. They've sacrificed pretty much everything for me to get to this point, so this one's for them."
Some eight seconds behind the battle for second, the battle for fifth was settled at the line with Gagne's teammate Josh Herrin barely besting Westby Racing's Mathew Scholtz for the spot.
Another some 11 seconds behind came a tussle for seventh that went to Panera Bread Ducati's Kyle Wyman over Scheibe Racing BMW's Hector Barbera, the Spaniard ending up eighth in his Road America debut.
FLY Racing ADR Motorsports' David Anthony and Geoff May Racing/VisionWheel.com's Geoff May, the Georgian taking the Superbike Cup as the top-finishing Stock 1000-spec mounted racer.
With his third win in four races, Gagne leads the championship by nine points over Scholtz, 100-91. Herrin is third with 72 points, 10 points clear of Petersen's 62. Fong is fifth with 59 points.
More, from a press release issued by Yamaha Racing:
Gagne Takes Over Championship Lead with Fourth-Straight Win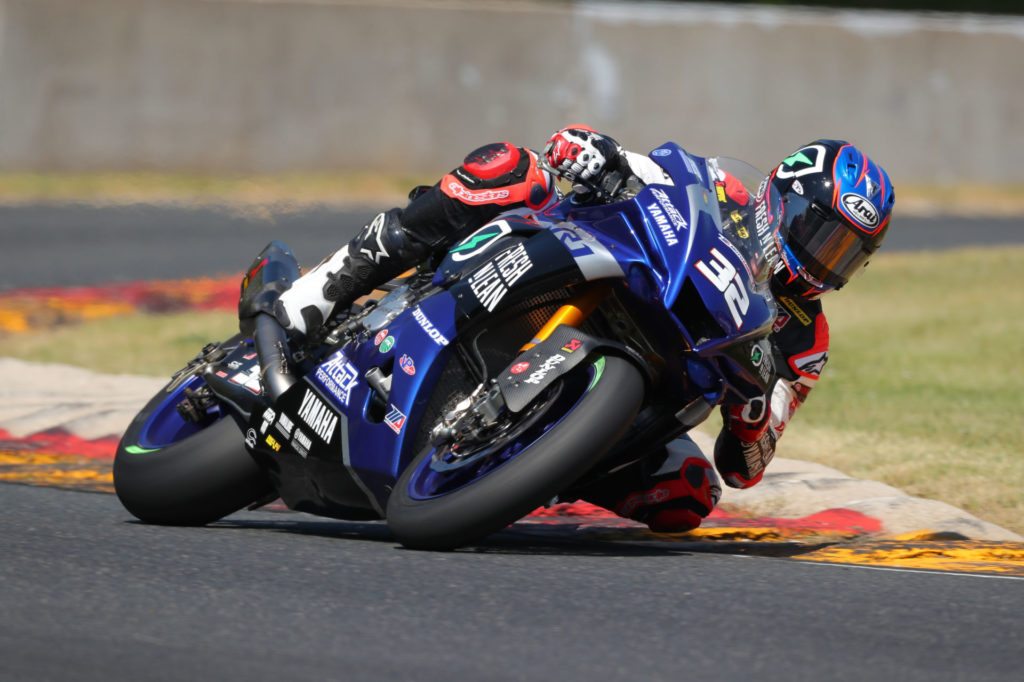 Fresh N' Lean Attack Performance Yamaha Racing's Jake Gagne put on another masterclass performance to earn his fourth-consecutive victory today in MotoAmerica Superbike Race One at Road America. Teammate Josh Herrin rebounded from a tough start to the weekend with a top-five finish.
Gagne broke another track record to stay perfect in qualifying so far this season. The Californian then went on to get a great start from pole position and grabbed the holeshot. He set a blistering pace, including the fastest lap of the race on Lap 2, and built a comfortable gap on the competition to cross the line with nearly a six-second lead. Gagne's dominant victory moves him into the top spot in the championship with a nine-point lead.
After a tough Friday, Herrin made progress and qualified second behind his teammate. He then slotted in behind Gagne at the start but had another multi-rider battle on his hands and was shuffled back to third. The 2013 Superbike Champion tried to hold onto the final podium spot, exchanging positions for a couple of laps but ultimately found himself fifth. Herrin continued to fight, holding off the competition to end the day with a top-five finish.
Tomorrow, the Fresh N' Lean Attack Performance Yamaha Racing Team returns for more action at Road America, lining up for Race Two of the third round of the championship on Sunday, June 13.
Richard Stanboli – Fresh N' Lean Attack Performance Yamaha Racing Team Manager
"I was happy to see both of our riders put our R1s first and second on the grid. Jake did what was expected and led every lap for the win. Josh found the pace in qualifying, but we still need to improve his race pace. We have a lot of ideas for tomorrow's morning warmup, and we will push hard to improve both bikes for Jake and Josh. We are also looking forward to seeing all of the fans that came to see us race today on Sunday. The spectator turnout here at Road America has been amazing!"
Jake Gagne – Fresh N' Lean Attack Performance Yamaha Racing
"It's great to get a win at Road America! This bike has been on rails all weekend. It was definitely a hot one here, which was different than in the years past, but we learned a lot today, and we'll keep the momentum rolling into tomorrow!"
Josh Herrin – Fresh N' Lean Attack Performance Yamaha Racing
"We didn't get the finish we wanted today, but I know we have the pace to be at the front. We just need to do some more fine-tuning, and we will be there soon!"
More, from a press release issued by Westby Racing:
Westby Racing Finishes 6th in Superbike and 14th In Junior Cup On Saturday At Road America
 
Elkhart Lake, WI – June 12, 2021 – Saturday was one of the tougher days that Westby Racing has had in its many visits to Road America over the years. Superbike rider Mathew Scholtz finished an uncharacteristic 6th in his race, and teammate Jack Roach came in 14th in Junior Cup. Both riders have struggled from the get-go of the weekend, and Mathew qualifed sixth in Superbike, while Jack lined up seventh on the Junior Cup starting grid.
Mathew had hoped to move up as the 12-lap Superbike race progressed, but he was only able to move into fifth a couple of times during the race, and he just couldn't make it stick or advance any further.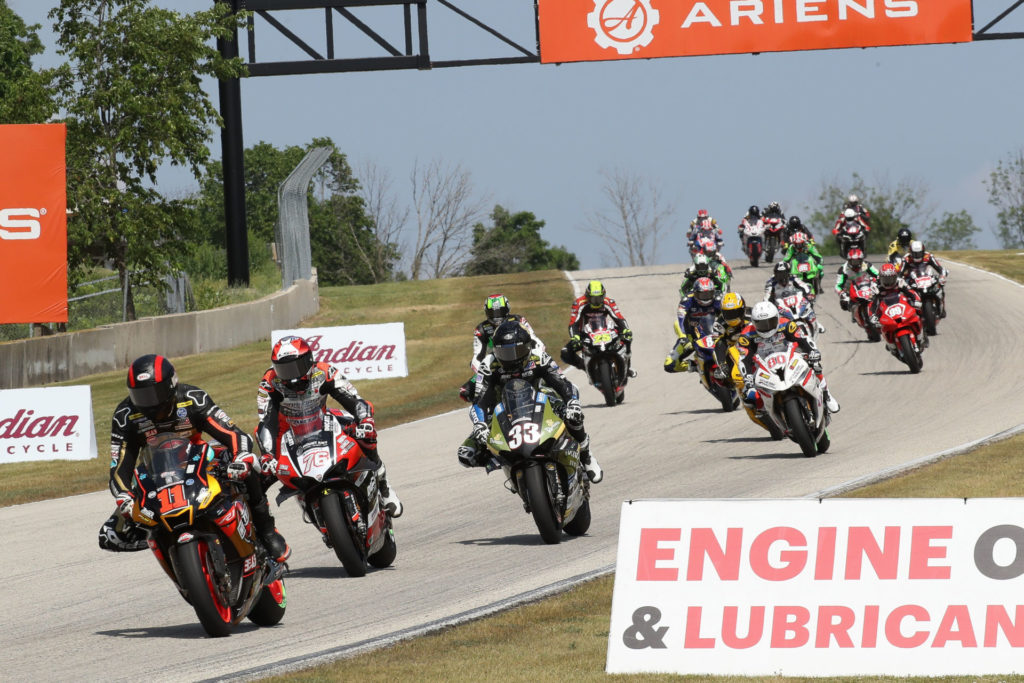 "It was a really difficult day," Mathew said. "We knew from looking at Friday's data that we were struggling a little bit with the top speed of the bike and also the acceleration, but we definitely improved the setup for the race. We were able to do a couple of 12's (laps in the 2:12 range) during the race, which was positive. Right now, we know it's not going to be our weekend to challenge up front, and we knew these weekends would happen, so we are just going to salvage as many points and try to do as best as we can. The team is working extremely hard to try and improve the overall package, and I need to improve myself in a couple of corners. Sixth place is definitely not what we were looking for. We're going to try a couple of changes on Sunday to hopefully get better drive out of the corners and also improve our corner speed. Hopefully, we can finish higher than we did in race one and learn from this experience as we continue through the season."
Sunday's Superbike race two is at 3 p.m. CT and will be broadcast live on FOX Sports 1 (FS1), as well as streamed on MotoAmerica Live+.
In Saturday's Junior Cup race, Jack started from the inside of the third row, but he quickly got swallowed up by the pack, which moved him further back. He stabilized his situation and remained in 13th place for five of the seven laps in the race, but he lost another position as the race neared its conclusion, and he had to settle for 14th at the checkered flag.
Jack and the team will re-group and try for better results in Sunday's Junior Cup race two, which is at 2 p.m. CT and will be streamed on MotoAmerica Live+ as well as broadcast via tape-delay on FOX Sports 2 (FS2) this Tuesday, May 25, at 9:30 p.m. ET.
For more updates about Westby Racing, including news, photos, and videos, visit http://www.WestbyRacing.com
Also, follow "Westby Racing" on your favorite social media sites.
More, from a press release issued by Team Hammer:
300 PODIUMS FOR TEAM HAMMER AS PETERSEN AND LOCHOFF EARN BEST RESULTS YET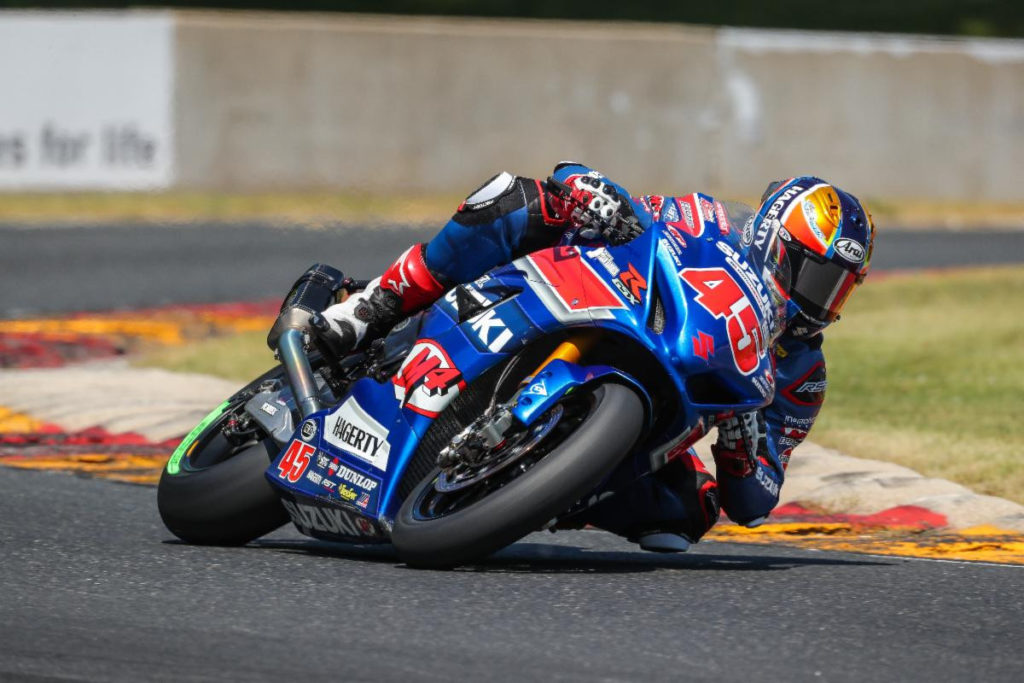 Team Hammer notched up podiums 299 and 300 in its illustrious MotoAmerica/AMA Pro history as the 2021 MotoAmerica AMA/FIM North American Road Racing Championship fight resumed on Saturday at scenic Road America in Elkhart Lake, Wisconsin.
Adding a dash of added flair to those podiums was the fact that they were delivered in breakthrough fashion by South Africans Cameron Petersen and Sam Lochoff, who earned their maiden podiums in MotoAmerica Superbike and MotoAmerica Supersport, respectively.
Who would score the 300th podium was in doubt right up to the checkered flag as it was actually Petersen's M4 ECSTAR Suzuki teammate, Bobby Fong, who spent the bulk of the race slotted in second position.
On Lap 5, Petersen joined Fong and the two flew their twin GSX-R1000 Superbikes in tight formation along the fabled circuit from that point forward. With just over a lap remaining, they were joined by a third rider, who ultimately hit the stripe ahead of them by mere fractions of a second as the three-rider pack powered past the line.
Petersen came home third, just 0.04 seconds back of second, while Fong took fourth, another 0.03 seconds back.
"I'm so stoked, but at the same time, I'm a little bit disappointed," Petersen said. "We've had such good pace all weekend. It feels so good. I'm so happy to get my first Superbike podium — hopefully the first of many to come.
"Massive shout out to the whole M4 ECSTAR Suzuki team. I can't thank everybody in my corner enough. We finally did it… We finally got that Superbike podium! Let's just keep the ball rolling."
The day's Supersport contest was even more dramatic, both generally and for M4 ECSTAR Suzuki specifically.
Series points leader and pole winner Sean Dylan Kelly became embroiled in an intense two-rider dogfight for the win that saw nearly three dozen lead changes executed. However, 'SDK' hit a bump and lost the front while attempting a last-lap overtaking maneuver in Turn 5, as he and his rival both crashed out of contention for the win.
That opened the door for Lochoff, who had systematically worked his way into the mix after running a distant seventh in the race's early going.
After steadily clawing his way forward, Lochoff finally joined what became a three-rider battle for third with two laps remaining. That instantly became a final-lap fight for the win after the leaders crashed in Turn 5, and rookie Lochoff capitalized with a sensational runner-up result, 0.803 seconds off of victory.
Lochoff said, "This whole team is great. I want to thank everyone on M4 ECSTAR Suzuki — they're the best."
Meanwhile, Kelly managed to quickly remount and reenter the fray, minimizing the damage and retaining his points lead by salvaging sixth place in the end.
"That was honestly one of the best races I've ever had," Kelly said. "We fought from the first lap until the last lap. It's pretty disappointing inside to have both of us finish on the floor. On the bright side, we're both okay, and we both finished and got some points.
"We're good. We're feeling strong for tomorrow."
Earlier, M4 ECSTAR Suzuki's Wyatt Farris qualified 14th for Sunday's solitary Stock 1000 race with a best lap of 2:18.474.
Team Hammer will look to take another step forward on Sunday at Road America with multiple wins and podiums within its grasp.
About Team Hammer
The 2021 season marks Team Hammer's 41st consecutive year of operating as a professional road racing team. Racebikes built and fielded by Team Hammer have won 112 AMA Pro and MotoAmerica National races, have finished on AMA Pro and MotoAmerica National podiums 300 times and have won nine AMA Pro and MotoAmerica National Championships, as well as two FIM South American Championships (in Superbike and Supersport.) The team has also won 137 endurance races overall (including seven 24-hour races) and 13 Overall WERA National Endurance Championships with Suzuki motorcycles, and holds the U.S. record for mileage covered in a 24-hour race. The team also competed in the televised 1990s Formula USA National Championship, famously running "Methanol Monster" GSX-R1100 Superbikes fueled by methanol, and won four F-USA Championships.