From a press release issued by Jeremy Cook's publicist:
Stock 1000 competitor Jeremy Cook reinjures right collarbone, will miss inaugural MotoAmerica Superbikes at Minnesota
Maryland rider struggled through motorcycle problems, physical ailments at MotoAmerica Superbike Speedfest at Monterey
Jeremy Cook (81) will miss the next MotoAmerica round at Brainerd International Raceway due to reinjuring his right collarbone last weekend at the MotoAmerica Superbike Speedfest at Monterey.
After enduring one challenge after another at last weekend's MotoAmerica round at WeatherTech Raceway Laguna Seca, BMW rider Jeremy Cook got more bad news from his doctors. The MotoAmerica Stock 1000 Class competitor found out that the screws in his surgically repaired right collarbone had come loose, which requires a second surgery to repair and rules him out of competing at the next MotoAmerica round.
Cook broke his right collarbone – among a slew of physical injuries – in a crash on the opening lap of the MotoAmerica Stock 1000 race at Road America on June 13. Though he returned to the Stock 1000 grid at the MotoAmerica Superbikes at the Ridge round on June 25-27, Cook's collarbone could not withstand the strain that racing a 1000cc sportbike at Laguna Seca placed on it.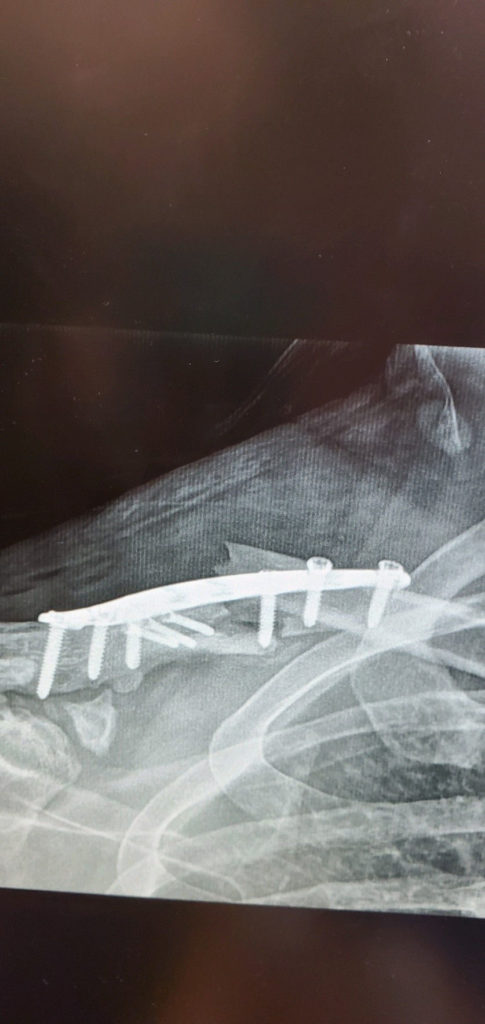 Cook's injuries and unbeknownst problems with his BMW S 1000 RR kept him from showing his usual racing form at the July 9-11 MotoAmerica Superbike Speedfest at Monterey. It was Cook's first time competing at WeatherTech Raceway Laguna Seca, and his only experience riding the 2.2-mile circuit was a California Superbike School event in 2016. The team continued its partnership with the nonprofit Veterans Empowered Through Motorsports at the Laguna Seca round, as two active duty Marines from nearby Camp Pendleton served as volunteer members of the team.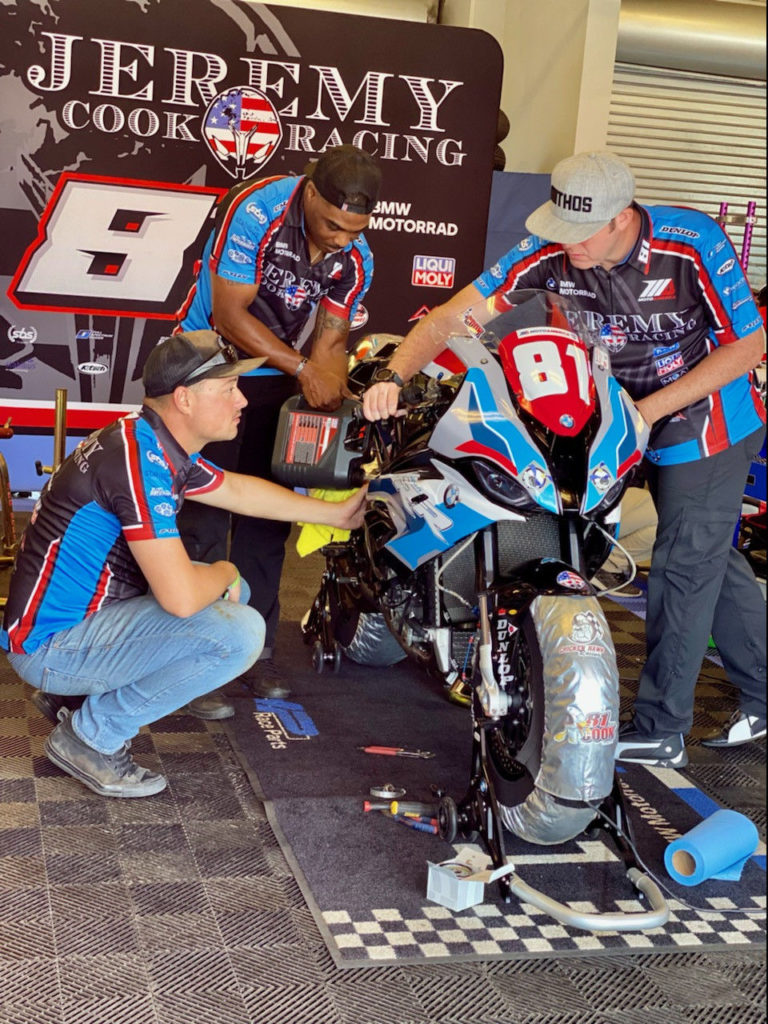 Cook ended the Stock 1000 Class' only practice session of the weekend in 21st with a best lap time of 1:34.834. The team made a few changes to its setup for Friday's Qualifying 1, and Cook ended that session 21st fastest as well with a 1:33.714. Cook felt a pop in his right arm during Q1 and had weakness in his right arm later in the day.
On Saturday, Cook's BMW suffered an equipment failure after just three laps. His time from Friday qualifying allowed him to qualify 34th for Sunday's Stock 1000 race. It was a challenge for Cook to just be on track for qualifying, as he had to be re-cleared by the MotoAmerica medical staff before he could participate in the Saturday session. The team later deduced that its BMW had stopped running due to a failed ECU and was able to source a new ECU from another BMW team. Cook and his team got the bike running again less than an hour before the Sunday Stock 1000 race.
Cook's physical ailments and then-unknown damage to the bike curtailed his pace during the race. He began to lose strength in his right arm and began experiencing arm pump about halfway through the race, and a crack in the subframe and brake fade reduced Cook's pace even more in the race's latter stages. Cook had to settle for a 27th-place finish. After the race, the team discovered that its triple clamps were severely damaged, which had been causing Cook's BMW to experience instability under braking.
Cook hopes that his injuries will be healed enough for him to compete at MotoAmerica's round at Pittsburgh International Race Complex on Aug. 13-15. The team also is evaluating the situation with its current BMW S 1000 RR and is considering running a BMW M 1000 RR at the remainder of MotoAmerica rounds Cook competes in this year.
Jeremy Cook / No. 81
"It was an incredibly frustrating weekend at Laguna Seca with the physical and mechanical setbacks we endured. Though I didn't have a lot of experience riding at Laguna Seca, I was hoping for a repeat of what the team and I did at The Ridge or better. Unfortunately, my BMW and I were still on the mend. I was really looking forward to competing at Brainerd International Raceway, but right now I need to stay focused on doing everything I can to get healthy again and minimize the number of rounds I miss this year. The team's plan had been to use 2021 as a testing and development year with our BMW S 1000 RR package before upgrading to a M 1000 RR for the 2022 season. With all the gremlins we've been running into with our S 1000 RR since my big crash at Road America, now may be the right time to get in the saddle of a M 1000 RR a little early and get some races under our belt with it."