KurveyGirl.com brings you the results of this weekend's events.

At our online motorcycle parts store, you'll find a specialized selection of quarter turn "Dzus" fasteners, titanium hardware, premium tire valve stems, Vesrah racing brake pads, Brembo parts and accessories, and other unique hardware specifically designed for race and trackday motorcycles.
The MotoAmerica Mission Mini Cup Presented by Motul series held two rounds of racing Saturday on the kart track at New Jersey Motorsports Park (NJMP), in Millville, New Jersey.
Below are PDFs of the race results. The first PDF shows the Race Three results for each of the five classes, and the second PDF shows the Race Four results for each class.
Use the scroll and zoom tools in the PDFs to better see the results.
More, from a press release issued by MotoAmerica:
Champions Crowned In New Jersey Motorsports Park Mini Cup Finale
Mission Mini Cup By Motul Action From A Wet NJMP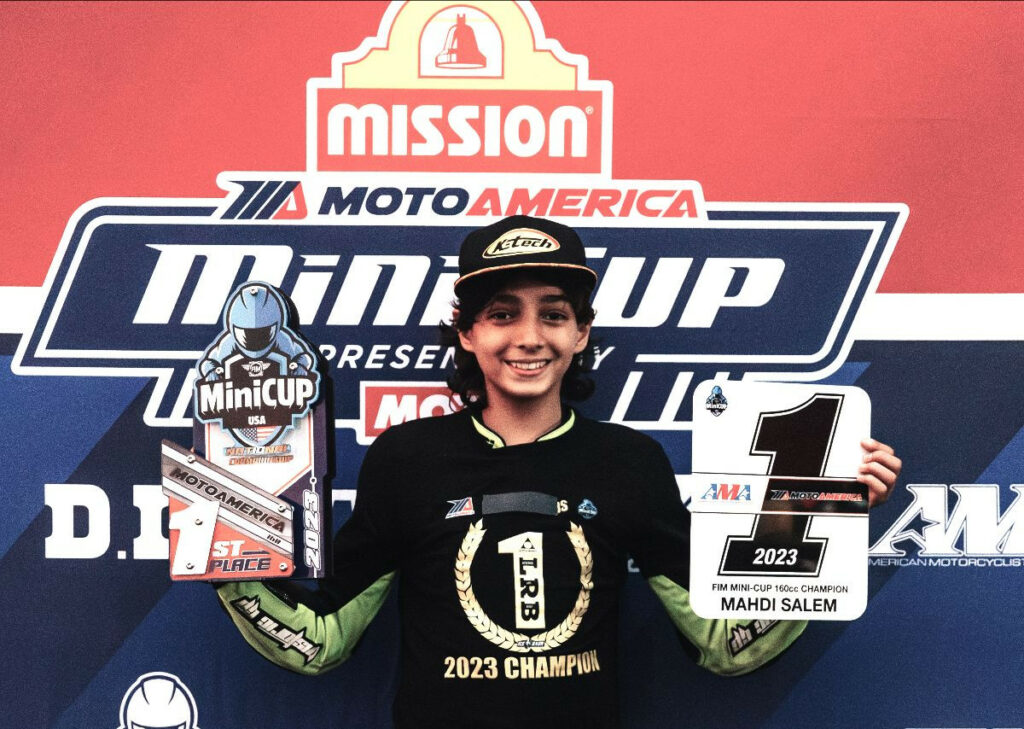 MILLVILLE, NJ – The FIM Mini Cup Championship came to a thrilling climax on Friday afternoon at New Jersey Motorsports Park with Historic GP's Mahdi Salem taking victory in both of the Ohvale 160 classes to take the title over Stadler America's Nathan Gouker by just a single point.
Salem topped Gouker by .113 of a second in race one and by .192 of a second in race two to take the title. Salem's victories were his third and fourth of the season and it put him ahead of Gouker and his five-win season. American Racing's Connor Raymond was third in both races and third in the title chase.
Meanwhile, in the 190 class, American Racing's Joshua Raymond, and Alpha Omega's Ryder Davis split wins in the two close races, but it was Davis who came away with the title by 45 points over Raymond after his eight-win season. Jacobsen Motorcycle Training/Bettencourt Racing's Nathan Bettencourt finished third in both races and third in the championship.
In the Mission Mini Cup By Motul Stock classes, it was Apex Racing's Chase Jazikoff and Beastmode Racing's Christian Berlowitz splitting wins in Stock 50. In the Stock 110 races, it was Xtreme Autoglass Pro's Jacob Davis and Varnes Racing's Cole Varnes atop the results and Nathan Bettencourt rode his Jacobsen Motorcycle Training/Bettencourt Racing's Honda to a sweep of the two Stock 150 races.
Saturday afternoon's Mission Mini Cup By Motul action at NJMP was wet and it was a new winner in the Ohvale 160 class with WrenchRite Racing's Joel Laub taking the win in race one over Giga Racing's Alessandro Giganti and Madd Will Racing's Kruz Maddison.
Ryder Davis was up to his old tricks in the Ohvale 190 class with a victory over American Racing's Joshua Raymond and Jacobsen Motorcycle Training/Bettencourt Racing's Nathan Bettencourt.
In race two for the Ohvale 160s, American Racing's Connor Raymond topped Maddison and Laub while Davis again scored the win over Raymond in the Ohvale 190 division.
Gouker and his 11 wins on the season was crowned as the Ohvale 160 Champion with Davis and his 11 wins earned the Ohvale 190 title.
The Stock classes also battled on a wet racetrack on Saturday with Cory Texter Racing/Roof Systems' Cruise Texter winning the first of two Stock 50 races. Xtreme Autoglass Pros' Jacob Davis scored the win in Stock 110, and Bettencourt emerged victorious in Stock 125.
Texter did the double with a second win in Stock 50 with Laub riding his Kawasaki to victory in Stock 110. Bettencourt did what he's done all season long in the Stock 125 class with another runaway victory.
Texter, Ryan Clark Racing's Ryan Clark and Bettencourt all earned class championship for the 2023 season.
About MotoAmerica
MotoAmerica is North America's premier motorcycle road racing series. Established in 2014, MotoAmerica is home to the AMA Superbike Championship as well as additional classes including Supersport, Stock 1000, Twins Cup, Junior Cup, and King Of The Baggers. MotoAmerica is an affiliate of KRAVE Group LLC, a partnership including three-time 500cc World Champion, two-time AMA Superbike Champion, and AMA Hall of Famer Wayne Rainey; ex-racer and former manager of Team Roberts Chuck Aksland; motorsports marketing executive Terry Karges; and businessman Richard Varner. For more information, please visit www.MotoAmerica.com and follow MotoAmerica on Facebook, Instagram, TikTok, Twitter, and YouTube.